You can make crappy, trashed, falling-apart furniture look good with paint and a little love. This chest of drawers is a prime example, and it was the perfect candidate for a coastal-style paint makeover. When I think of a little cottage on the coast, I think of white paint, white shabby chic furniture, white curtains, and open windows. The chest is white with layered paint, and the drawers have a surprise for you. Some of you might call this look shabby chic....and that fits too.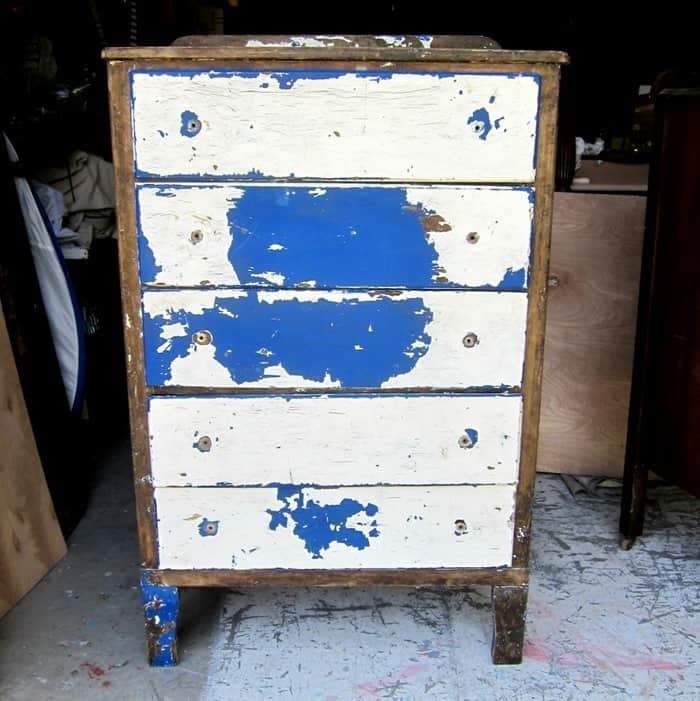 This is how the chest looked before the makeover. I paid $20 for it at a local flea market/antique shop and don't ask me what I was thinking. I like chippy paint but the shabbiness of this piece should have been a warning to me. Stay away.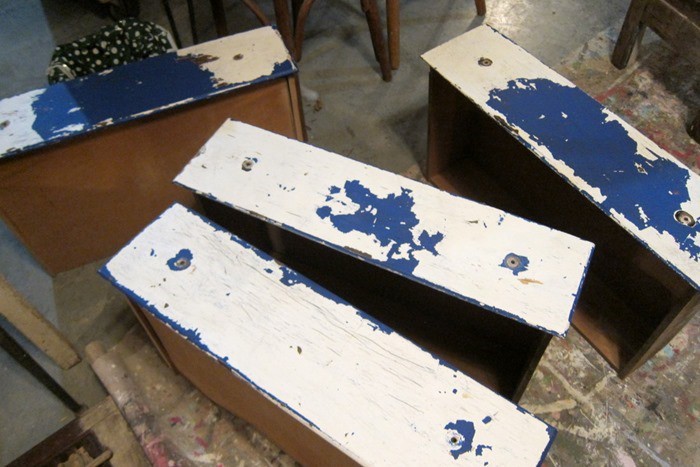 The chest has been sitting in the workshop for a while, and now that I'm cleaning out the workshop, I didn't have any more excuses for not working on it. I almost had the JTS take it to the garbage dump……but nope, I needed the challenge. The first thing I did was use the shop vac on it, inside and out. Next, I cleaned it inside and out with Simple Green.
The bottoms of the drawers were a mess. The veneer layers were separating a bit, and one drawer bottom had a split on the top veneer layer but it didn't go all the way through the drawer bottom. I did the best I could to repair these areas, but it's not perfect. The drawers work fine and they will hold clothes. I promise.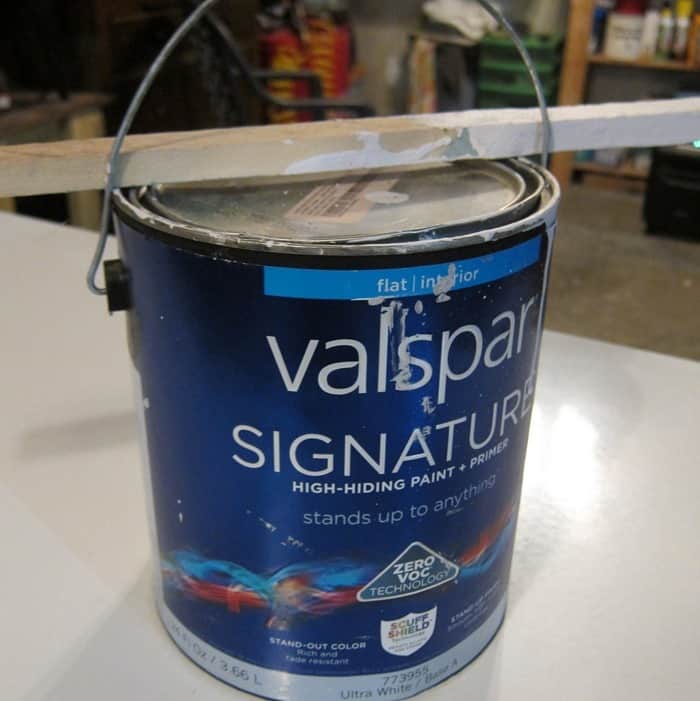 I was out of my favorite off-white paint, which happened to be a good thing. This Valspar oops paint I found on my paint shelf is white in a flat finish. Perfect color for coastal, and I love the look of flat paint.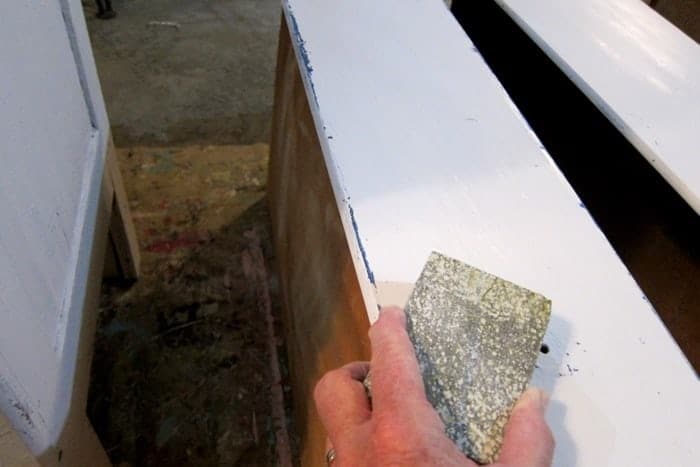 I brushed on two coats of paint back to back because the paint dried fast. I distressed the paint using a sanding block so that lovely blue could peek through. The blue paint was a plus. It is so much fun when I have something like blue paint to work with. Just paint over it with white paint and distress. Perfect.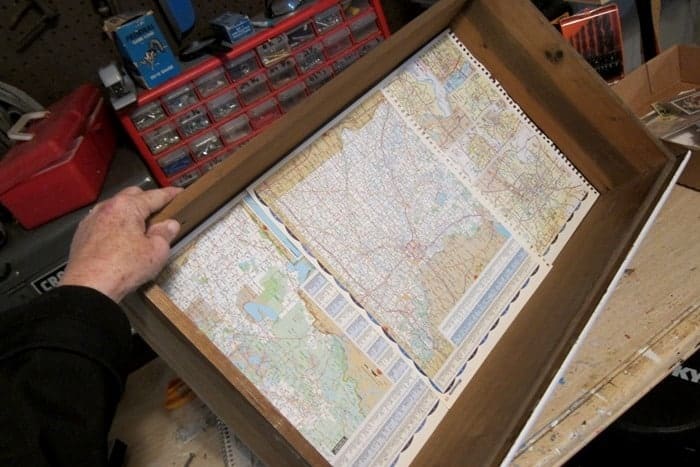 I wanted to line the drawers because they were so ratty looking. Now, they weren't splintered or chipped or anything that could damage clothes or stuff stored in the drawers…..they were just stained. I cleaned and cleaned, but there was no getting rid of all the stains. I found an old Rand McNally atlas on the junk shelf. We used to keep the atlas in our car, but GPS and phones made it obsolete. The pages of the atlas were just the right size!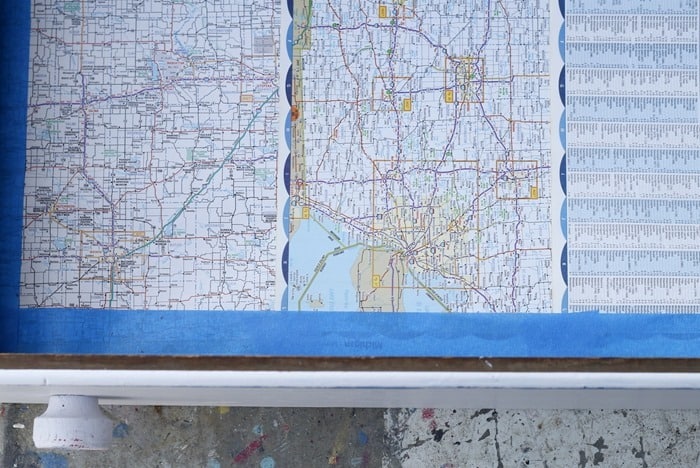 I lined each drawer with three atlas pages, and just for fun, I taped them down with blue painter's tape. Bet you haven't seen that before. This way, the drawers are lined, but the lining can be easily removed if the buyer doesn't like it.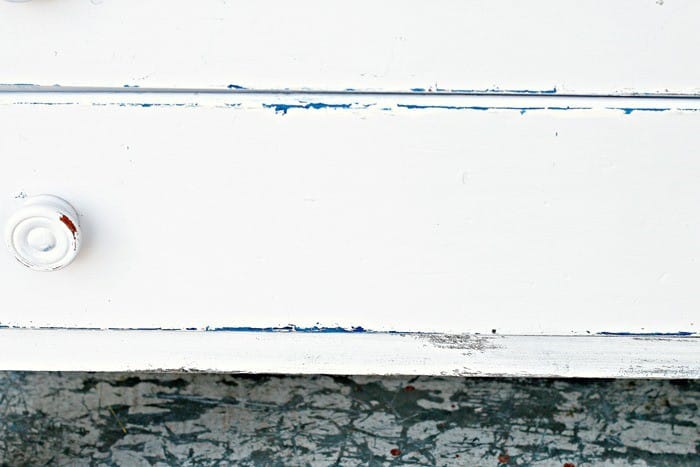 The bits of blue look good with the white paint. The chest didn't have a single knob when I bought it. I found various sizes and styles of wood knobs in my stash and painted them the same color as the chest. Then I distressed the painted knobs.
The mismatched knobs look great. I know the chest is still far from perfect, but it makes me smile just looking at it.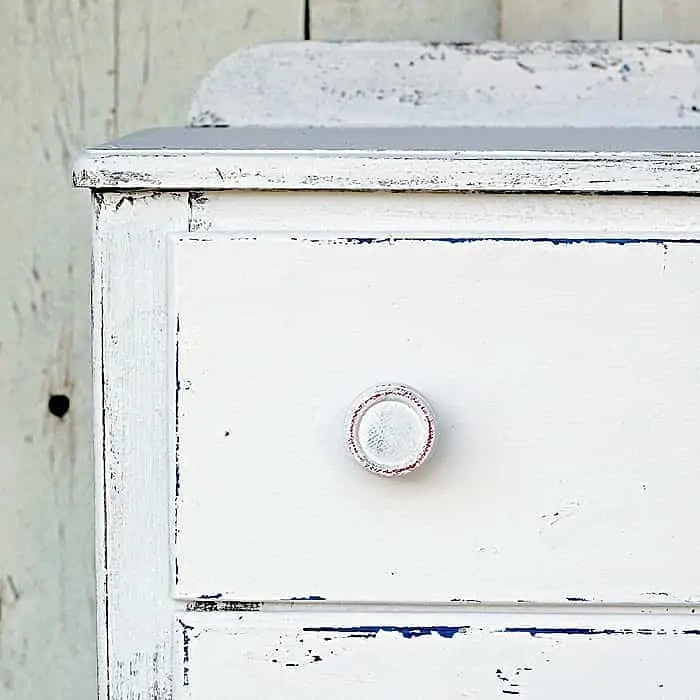 At one time, I had painted a few of the knobs red for another project. The knobs didn't work for that project, but they are perfect for this one. Can you see the bits of red where I distressed the white paint?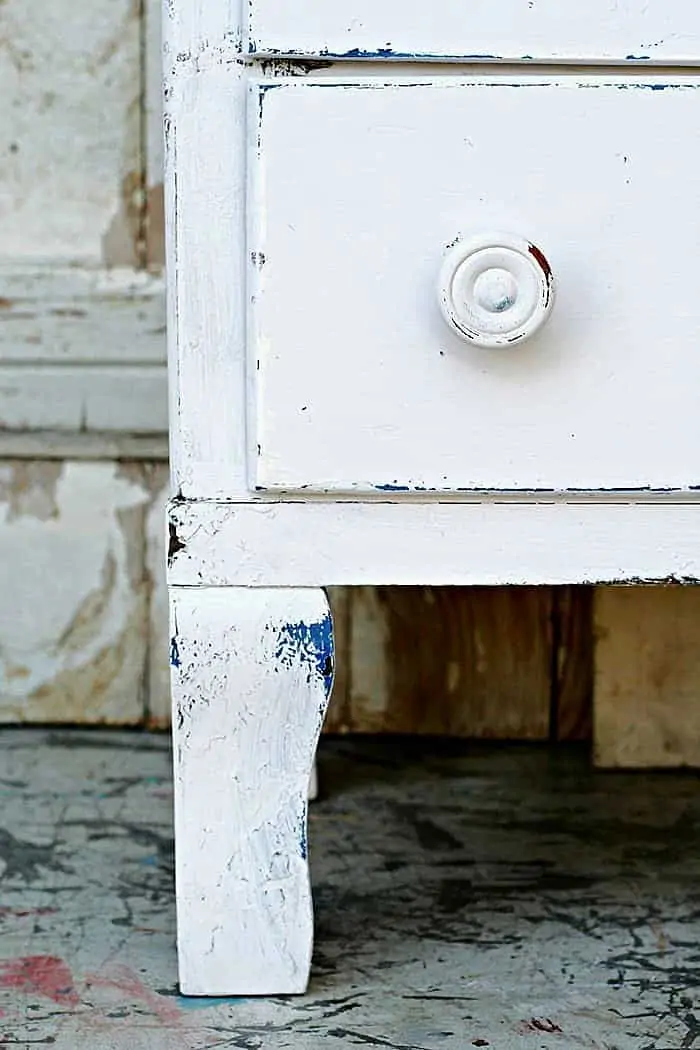 The curvy legs still had remnants of blue paint on them too. I love those bits of blue That's it for the trashy chest. Do you think it was worth saving? I took it to my booth, and the price is only $79. A steal. It would look great in a sunroom, covered porch, or patio…..or you tell me.
If you like shabby chic check out the project below.....
You can find the extreme shabby chic makeover here....Shabby Chic Distressed White Furniture
As always, thanks for being here, and have a great day, Kathy
Author: Kathy Owen (Petticoat Junktion)
Kathy is the founder of PetticoatJunktion.com, a home décor blog focused on repurposing and upcycling furniture, old hardware, rusty stuff, and thrifty finds into unique home décor. Kathy's projects have been featured on the Home Depot Blog, Plaid Crafts, Behr Designer Series, and in numerous magazines. Read more about Kathy here.