With this quick technique, you can make white furniture look distressed naturally for a shabby chic look or that oh-so-popular worn look. If you have white furniture, then you just need a piece of sandpaper and a bit of time to get this distressed look.
Distress Furniture For A Natural Worn Look
You guys know I'm all about bringing color into my world but sometimes I see a piece of furniture that screams for the simplicity of white paint. This piece was one of them. Even the hardware wanted to be white.
But the best part of this DIY project is the distressing. I love the look of distressed paint! Distressing is one way to age white paint or to give the furniture an old or antique look like it's been around for a while.
Select The Right Furniture
When you distress wood that's been painted you usually distress along the edges of drawers and the casing of the furniture, so select a piece of furniture with a lot of raised details.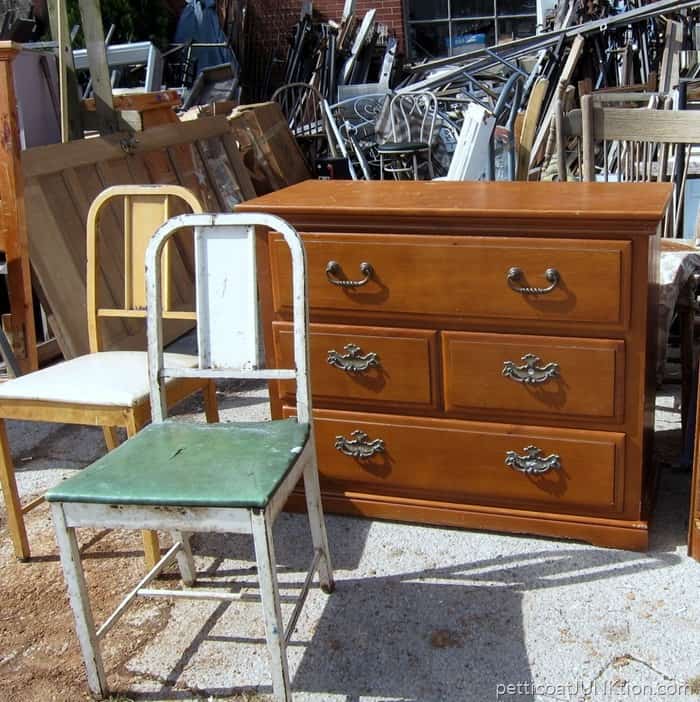 I bought this chest at my favorite junk shop. I believe it was $30. Just looking at the chest makes me think it belongs in a nursery. Perfect size and low enough to use as a diaper changing station. Those raised edges on the drawers are perfect for the distressing technique.
Prep The Furniture For Painting
Painting furniture doesn't take long it's the prep work that takes the biggest amount of time. The first thing to do before painting is remove the drawers and the furniture pulls or knobs. I couldn't get the drawers out. I've never had this problem before.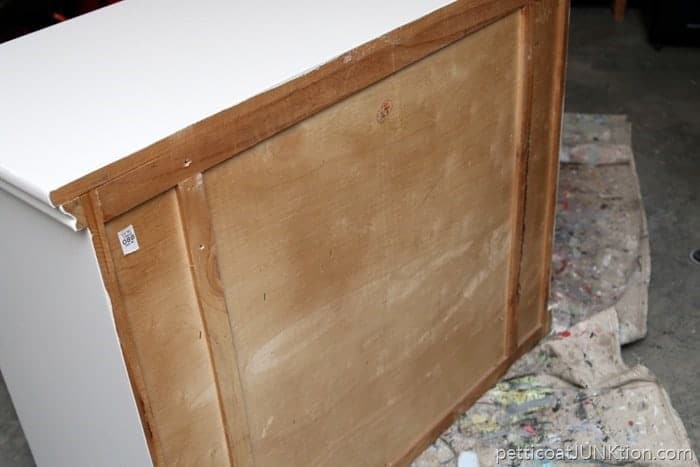 The JTS and I pulled and pulled on them every way we could think of but they wouldn't come out. We were going to remove the back but look at that. The chest was solid wood and well made. Well, I will just paint with the drawers in place.
Prime The Wood Chest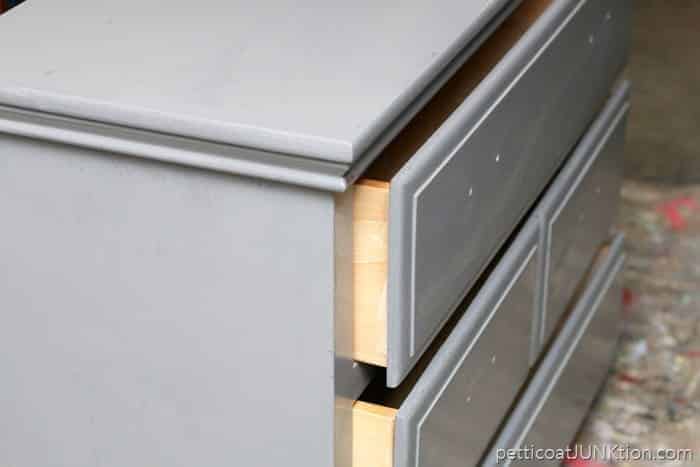 My favorite primer is Glidden Gripper and I always have it tinted Gray because gray works well under any paint color. I do not like using white primer under red or black or any other color. It is too hard to cover. White primer doesn't make sense in those instances but it would have been okay for this project since the latex paint is white. I only applied one coat of primer.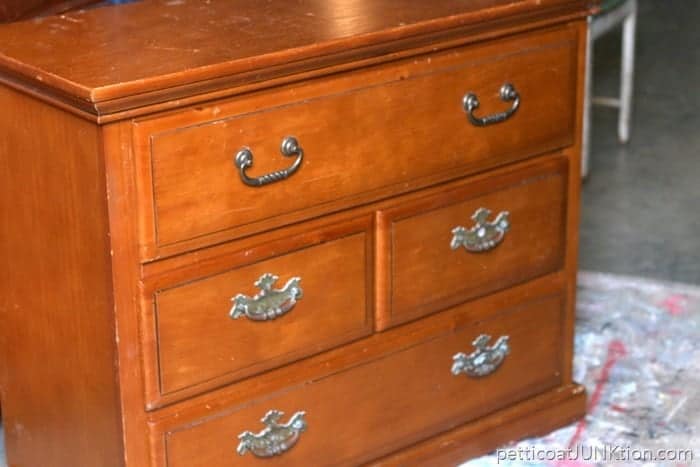 After priming I painted the chest with white latex paint I had on hand. The first coat of paint covered really well but I always apply two coats just in case I missed a spot somewhere. After the paint dried I started distressing the paint. I was distressing the drawers when I noticed something interesting. Take a look at the before photo above.
The drawer in the middle has divided panels. Now we all know that drawer should go in the top slot. I pulled the middle drawer and it came out easily. ????
The chest has these plastic flaps on each end of the drawer slots. That's why we couldn't get the drawers out. I called the JTS and he helped me get the other drawers out. We did have to wiggle and pull sideways and tug and work and work on them for a bit but they eventually came out. I was scared we were going to pull the drawer apart.
How To Distress Paint With Sandpaper
It was much easier to do this furniture makeover once we got the drawers out. I used 100-grit sandpaper to sand the layer of white paint by hand. It takes a little longer to distress the paint by hand but I have more control than with an electric sander. I like to tear a small piece of sandpaper and fold it at least double. It is easier to handle that way.
Sandpaper comes in a variety of grit sizes from 60 grit up to 7000. I personally have never used anything above 220. Sixty grit is the coarsest and sometimes, if the paint really adheres to the wood, I will use 60 or 80 grit but very seldom. One hundred or one hundred fifty are my go-to grit sizes for most projects.
Next, I run the sandpaper over all the edges of the furniture where it would naturally wear. The amount of pressure you apply while sanding will depend on the type of paint and how long the paint has been cured.
Usually, chalk paint will be harder to remove than latex paint but some of the latex paints are so well made that it takes a while to sand the paint from the furniture. I sanded right through the paint and the primer on this project. When sanding the paint you can remove a lot or a little depending on your preference.
After sanding the wood showing under the paint may look light or raw. I sometimes run a little dark wax on a rag over the raw wood to darken it. In this case, the wood didn't look too light so I left it as is. It is not necessary to apply a sealer over distressed furniture, but you can if you like.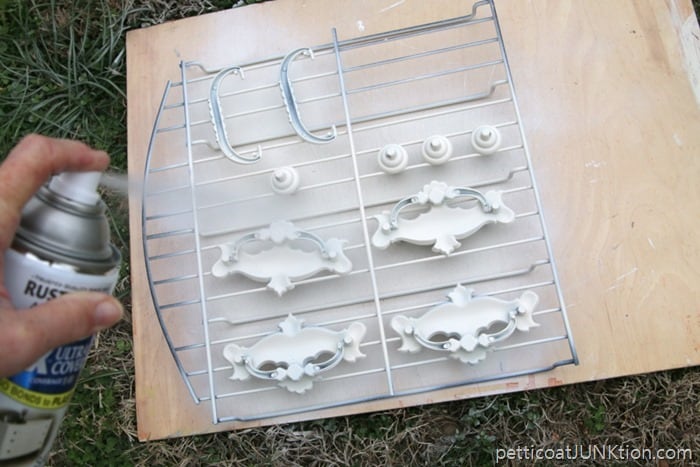 Update The Hardware
The drawer pulls needed a fresh look so I spray painted them with RustOleum Spray Paint in Heirloom White (one of my favs). The color is off-white but looks white until you put it up against something that is really white.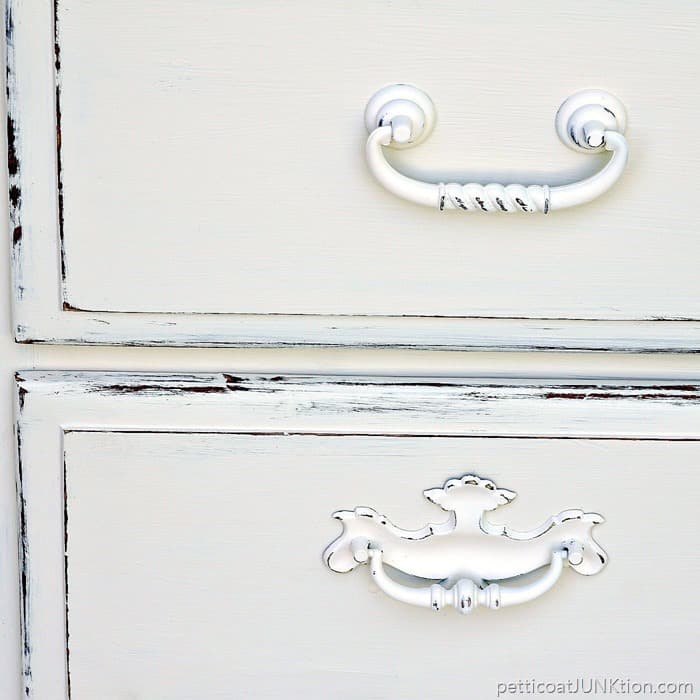 Distress The Painted Drawer Pulls
A little distressing for the hardware too. This part takes just a few seconds per drawer pull. I also sanded the drawer pulls by hand.
Aren't those rain boots cute. I was standing in line at the local thrift store when I spotted them on a shelf by the cashier. I picked them up and almost put them back. The price was $3.89. Kind of high for the thrift store. But I do get a discount (golden oldie). So I bought them.
Do you think I made the right call to distress the paint? You can use the distressing technique to distress any color of paint! I love black distressed paint too. I would call this a moderate amount of distressing. How do you like it?
I have gone all out before and removed a bunch of paint. Heavily distressed paint isn't for everyone but this piece is one of my favorites diy projects.....Over-The Top Heavily Distressed White Furniture | Love Or Hate
How To Distress Paint Video Tutorial......
Similar Posts For You....
As always, thanks for being here, Kathy
Author: Kathy Owen (Petticoat Junktion)
Kathy is the founder of PetticoatJunktion.com, a home décor blog focused on repurposing and upcycling furniture, old hardware, rusty stuff, and thrifty finds into unique home décor. Kathy's projects have been featured on the Home Depot Blog, Plaid Crafts, Behr Designer Series, and in numerous magazines. Read more about Kathy here.