Time for another trip to my favorite junk shop. I bought a truck load of stuff including rusty junk, a table, chairs, and lots of blue Ball jars.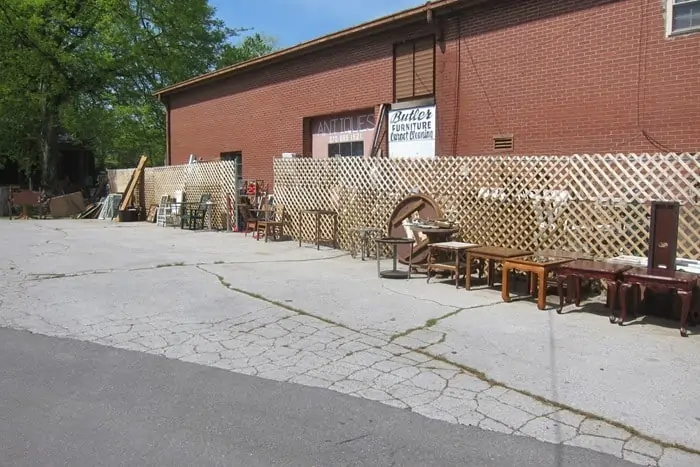 First I wanted to show you how the outside of the junk shop looks now. Mr. Butler cleaned it up a few months ago because the city was giving him a hard time. I don't know why. All of the stuff was confined to his parking lot and he does have a commercial business.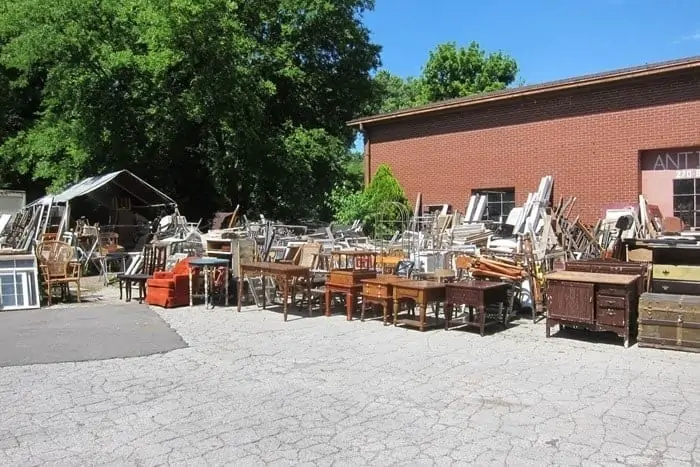 The photo above is a shot from one of my many shopping trips before the clean up. See, doesn't look bad and it looks a lot more inviting than that woo fence.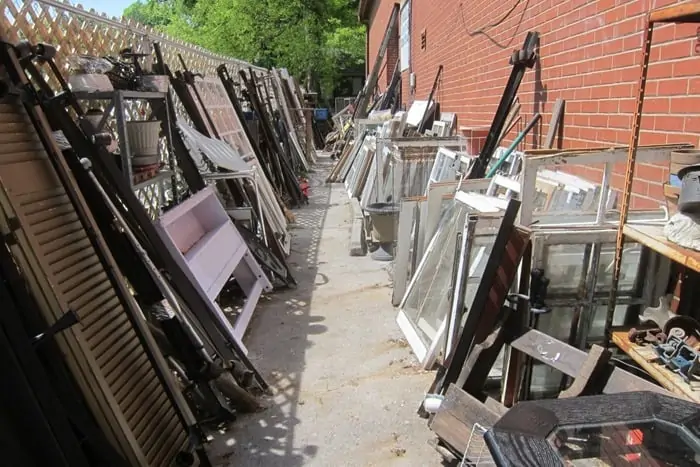 This is a look at what's behind the lattice fence. A lot of reclaimed windows, bed rails, shutters, etc.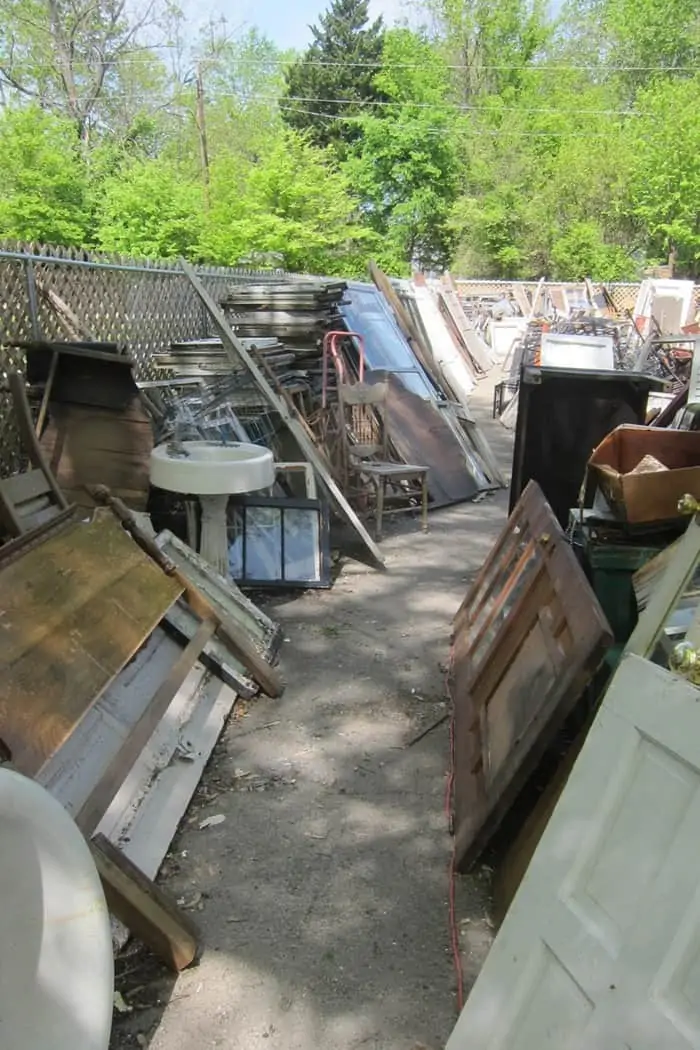 The view above is the side of the shop and it's all fenced in too.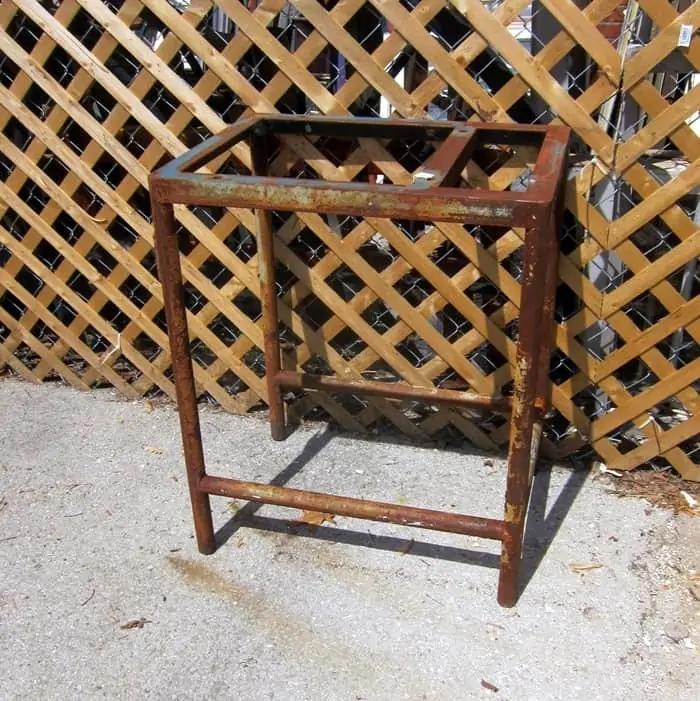 Moving on to my purchases. What do you think of the iron piece? It is really heavy and the rust and chippy paint are perfect. The cost was $20. It would make a nice work table or maybe a kitchen island.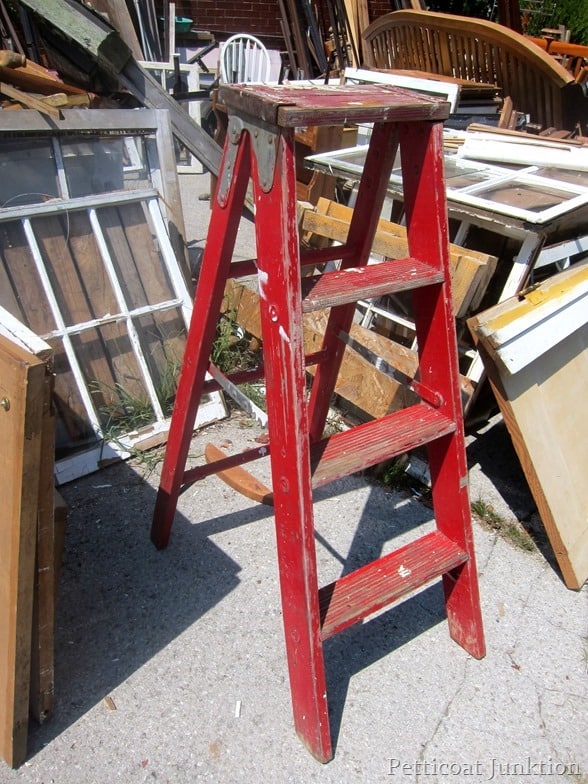 Of course this red ladder caught my eye. You guys know how I love red. This piece will be great for displaying things in my booth.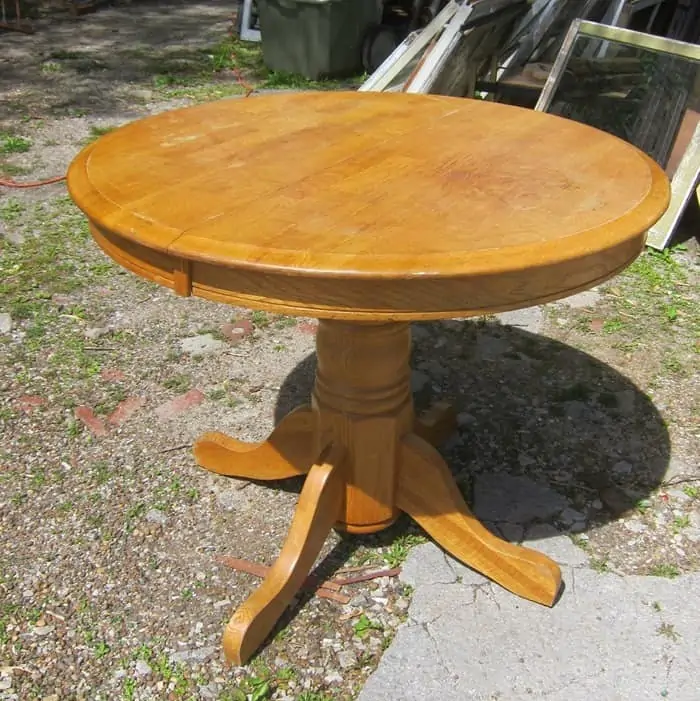 The round oak table was $25 and I'm already painting on it. The style might be a little outdated but painting it will change the yellow oak look completely.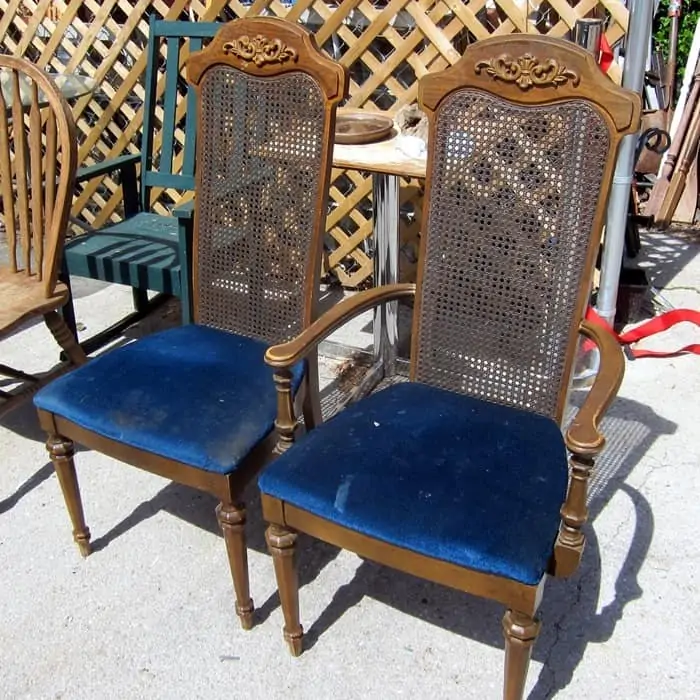 I bought 4 cane back chairs. I don't plan to match them with the round oak table because the styles are too different. The plan for the chairs is white paint and a pretty fabric for the seats with a lot of color.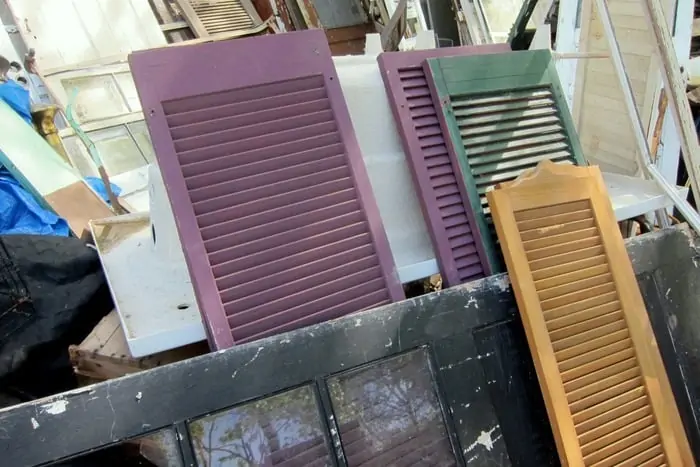 I bought 4 large purple shutters at $4 each.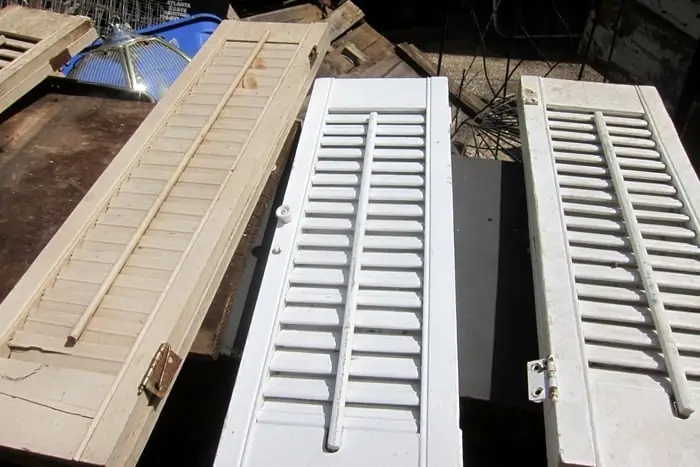 I bought the pair of small indoor folding window shutters for $10.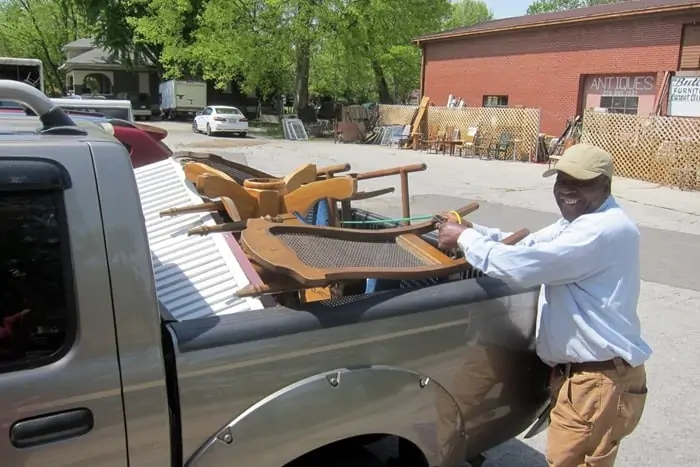 I also bought 7 blue Ball jars with old zinc lids and forgot to get a photo of them. I plan to sell them at the shop. You can see the truck was loaded down and I had stuff in the back seat. Mr. Butler is always smiling.
Where you can find my favorite shop…..Butler's Antiques, 17th and Walnut Street, Hopkinsville KY 42240,  phone no. (270)885-1521
Butlers is about 40 minutes from my home in the Clarksville area. From downtown Nashville the drive is about 1½ hours. Store hours are Monday- Saturday, 9-5 or 6 depending on daylight hours and how busy the shop is.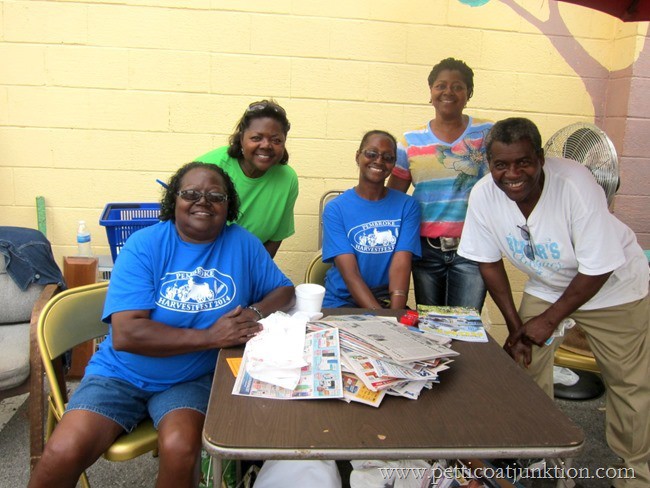 Mr. Raymond Butler is the shop owner. He has several sisters who work in the shop with him on various days. Ms Francis is usually there every day and when I try to get a photo of her she takes off. I did manage to get her on video once. Ms Carrie is the organizer and wow has the shop gone through a major transformation since I started visiting.
The building is two stories and there is a living area up top. I've never been to the second floor. The bottom floor is the shop and there are 7 or 8 rooms. At one time some of the rooms were so full of junk that we couldn't shop them. Now all the rooms are open and have big walkways. We have Ms Carrie to thank for that.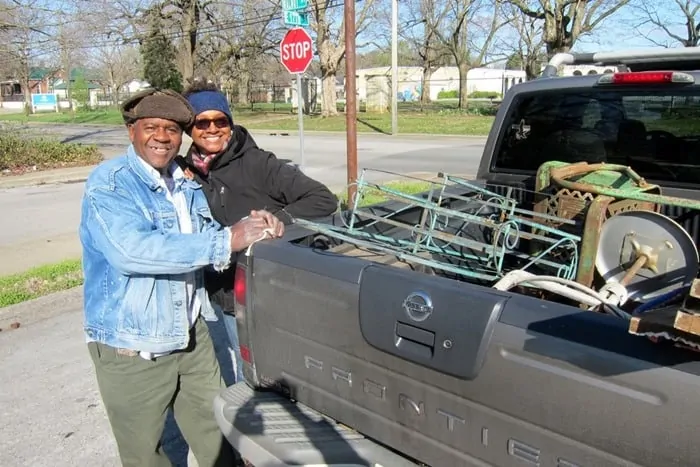 Ms Suzette is the sister who works at a factory in Hopkinsville. She stops by after work some days and on Saturday. She is always smiling and likes to have her photo taken. Mr. Butler is also a camera hog.
This is not a paid advertisement!!! You guys are interested and I thought it was time to share. And now…as I do after every trip…..here's the pics of some of my all time favorite finds from the junk shop.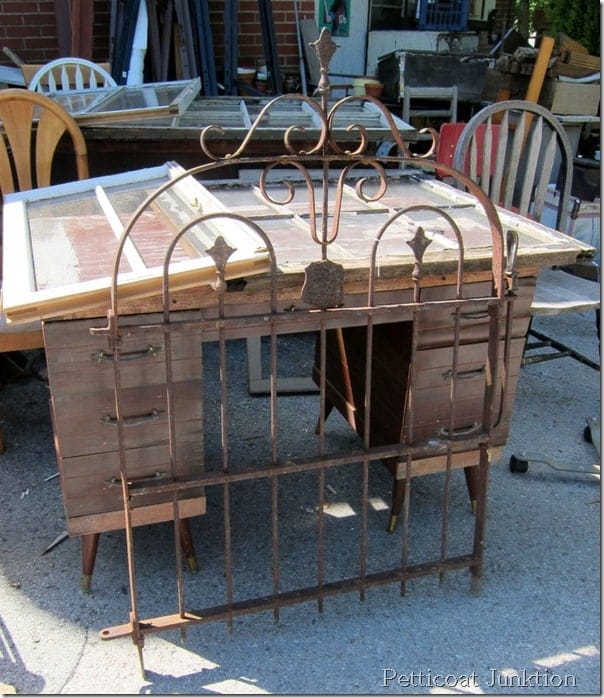 Isn't this gate awesome! I looked at the tag and almost had a heart attack, $175.00!!! Not the piece for me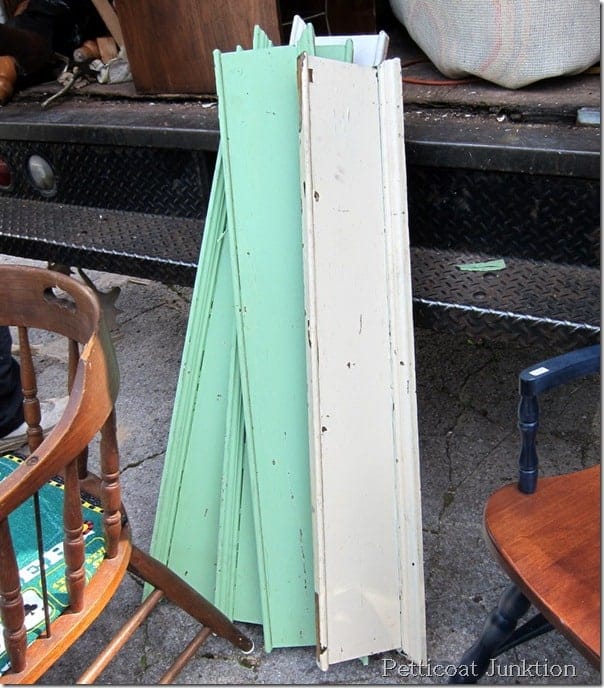 I loaded up 6 of these door headers.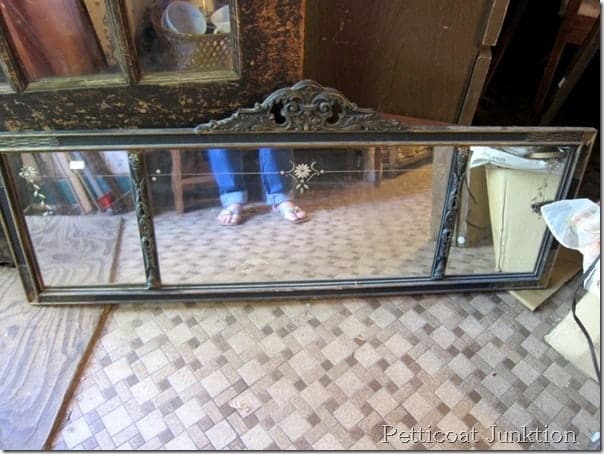 I debated a long time over the mirror. It would have been for me and not for resale so I decided against it.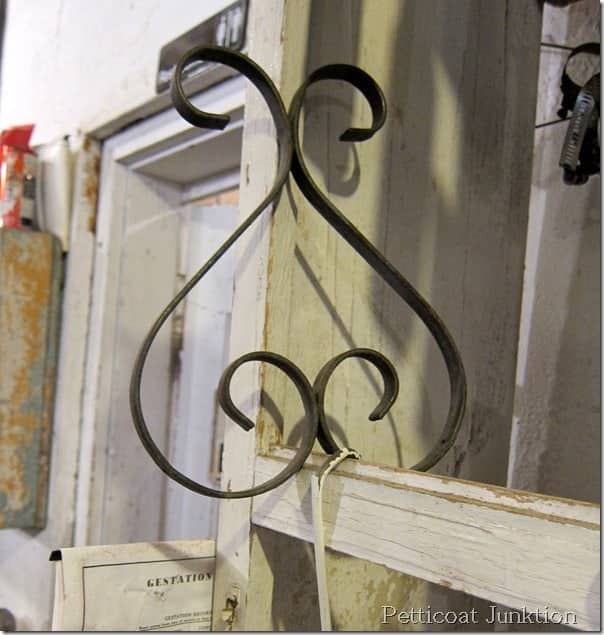 Heart Ironwork for me. Take the junk shop video tour I made on another junk shopping day.....
Junk Shop Video Tour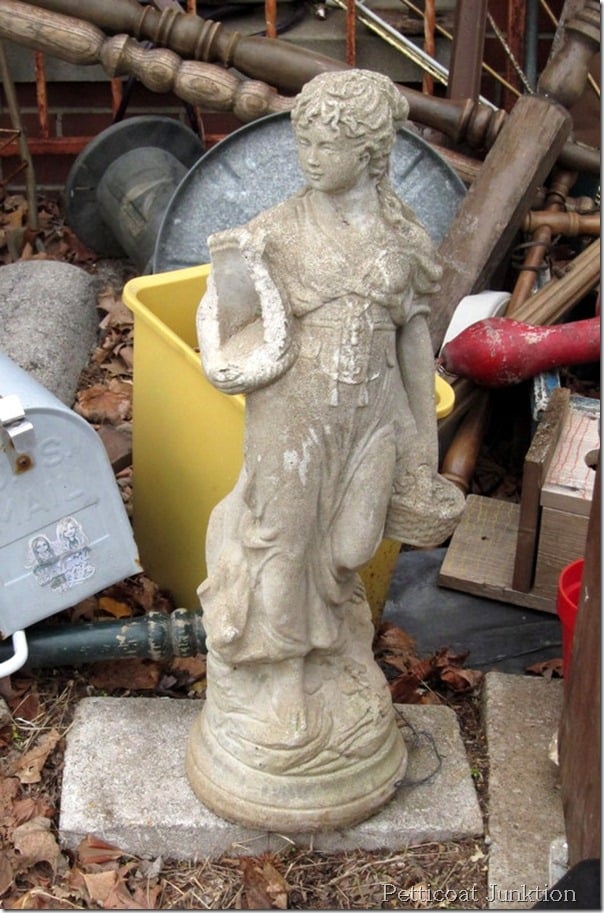 Poor little girl, her flower pot is broken. She's still a beauty and somehow I left without her too. I meant to bring her home and got sidetracked. That happens a lot! Well, that's the info on My Favorite Junk Shop.
If you like flea market shopping you can find everything you always wanted to know about the Nashville Flea Market here.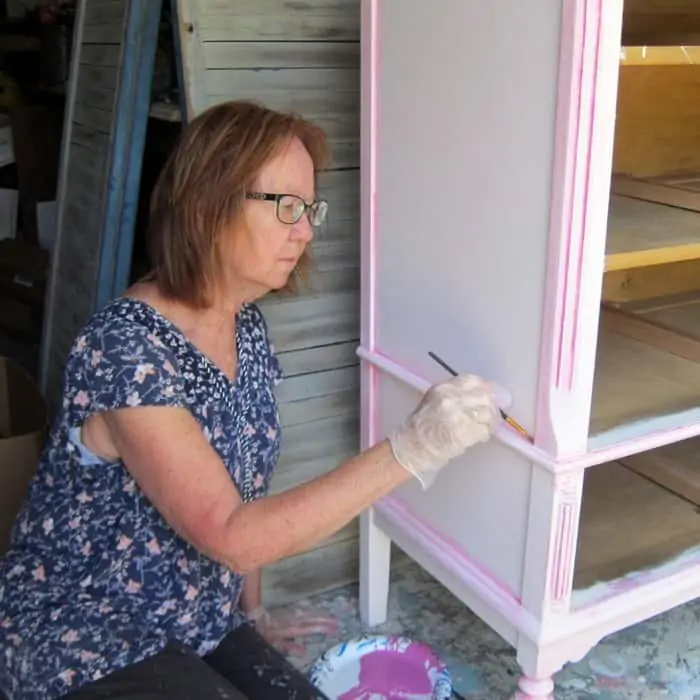 Now you get a peek at my latest project and me working. (update: see finished project here)I plan to put myself out there a little more. You might have noticed the new photo on the sidebar of the desktop website or on the bottom of the mobile website. This is me everyday, no makeup and paint clothes.
What did you like the best out of my junk haul? Leave a note if you have time and thanks for being here, Kathy
Author: Kathy Owen (Petticoat Junktion)
Kathy is the founder of PetticoatJunktion.com, a home décor blog focused on repurposing and upcycling furniture, old hardware, rusty stuff, and thrifty finds into unique home décor. Kathy's projects have been featured on the Home Depot Blog, Plaid Crafts, Behr Designer Series, and in numerous magazines. Read more about Kathy here.