I made a trip to my favorite junk shop yesterday and found all kinds of goodies. I didn't get one piece of furniture but I still have several pieces in the workshop to paint so that's okay. Just wait until you see the awesome things I bought! My total for everything was $75. You guys need to tell me if I did good or spent too much.
I tell you what, it is so hot I can't hardly take it. Is it hot where you live? We don't have air conditioning in the workshop so I haven't been doing a whole lot out there. I've painted 4 chairs this week, two pairs of different style chairs. I painted them outside in the shade and the seats I re-covered in the house on the kitchen table. Wait until you see the vintage metal dining chairs with new seat covers. I outdid myself. I will have that post next week.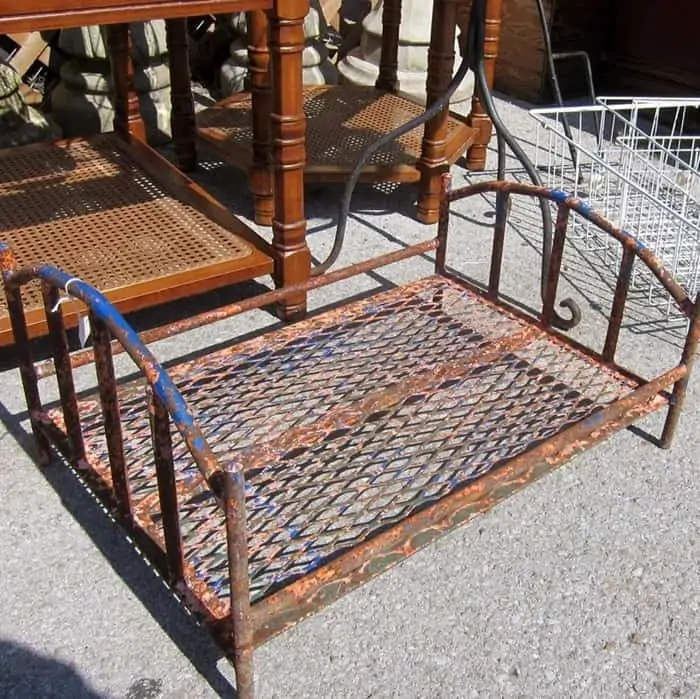 The perfectly chippy wrought iron baby doll bed is my favorite purchase of the day and maybe the year. Those colors and the rust called my name. What would you do with this bed?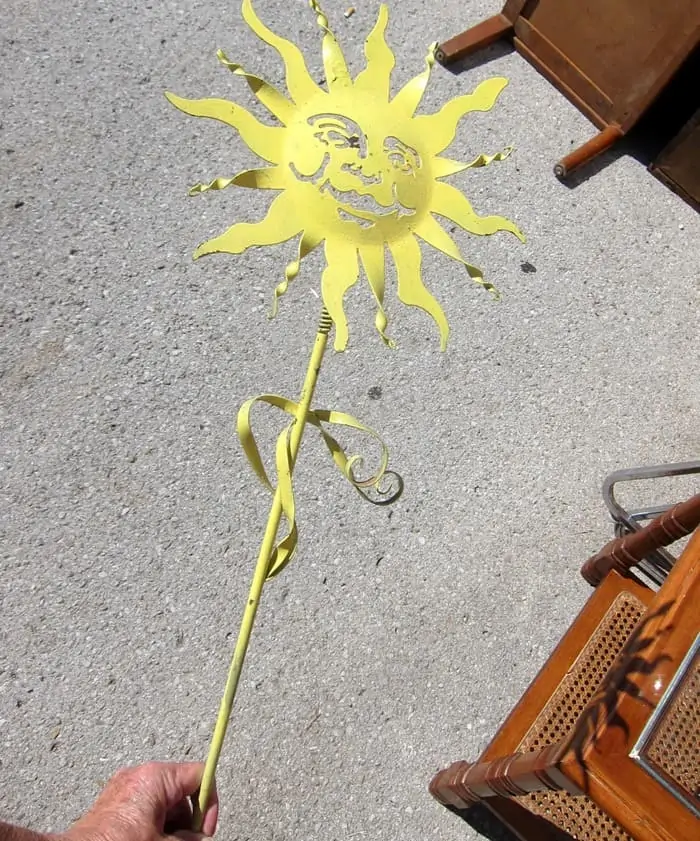 Next I saw the sun garden stake. Yellow is one of my favorite colors.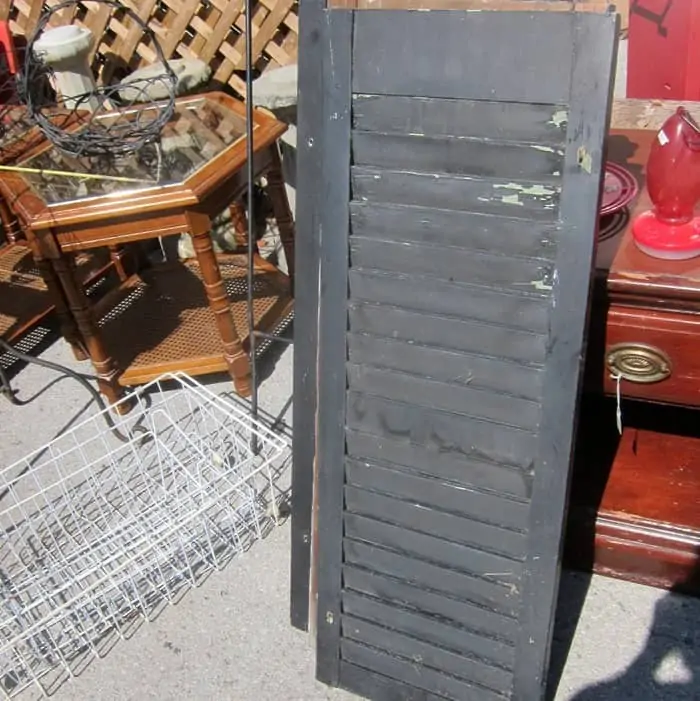 I got 4 of the short black shutters. I may keep a couple and sell a couple.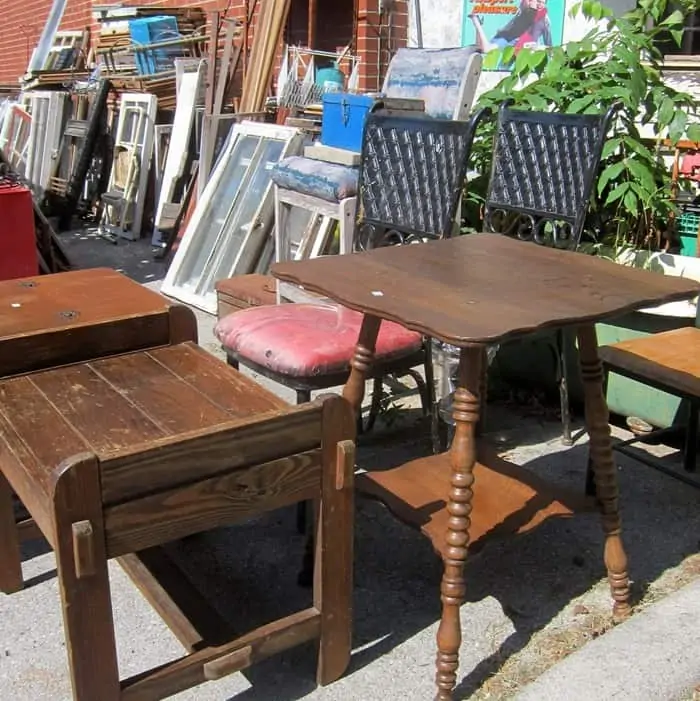 I passed on the vintage table on the right. I like them but have a hard time selling that style table.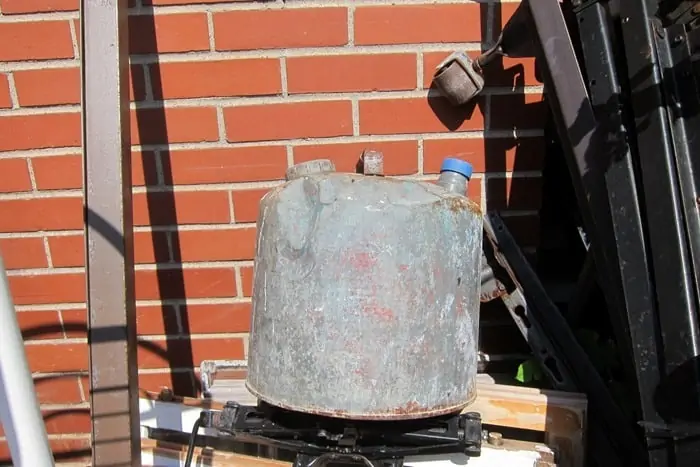 Some of you are probably wondering why I buy some of the things I do like the bent up gas can in the photo above. I think I can sell it and make a little profit and if not it will look great with my junk style porch decor. It's almost time to decorate the porch for Fall. Well, maybe in 3 or 4 weeks. Can you tell I'm trying to rush Fall? It is my favorite season.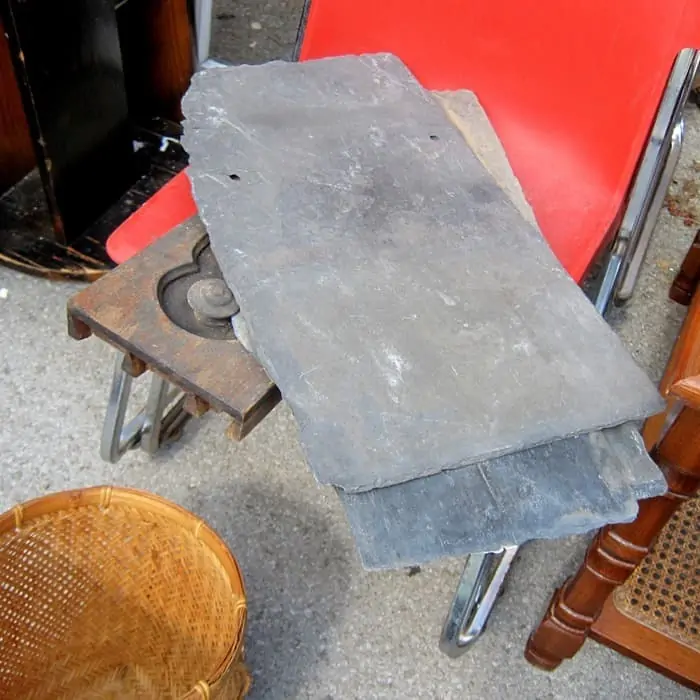 Mr. Butler had a bunch of slate roofing tiles and I bought a few to see if they will sell in my booth. I may have to make some kind of project with one of them.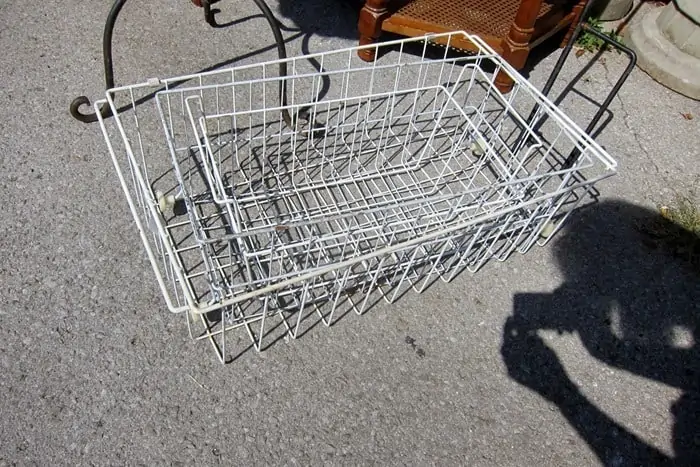 I couldn't pass up the three white baskets. I'm thinking of spray painting at least one metallic copper and giving it an aged patina. See how that works.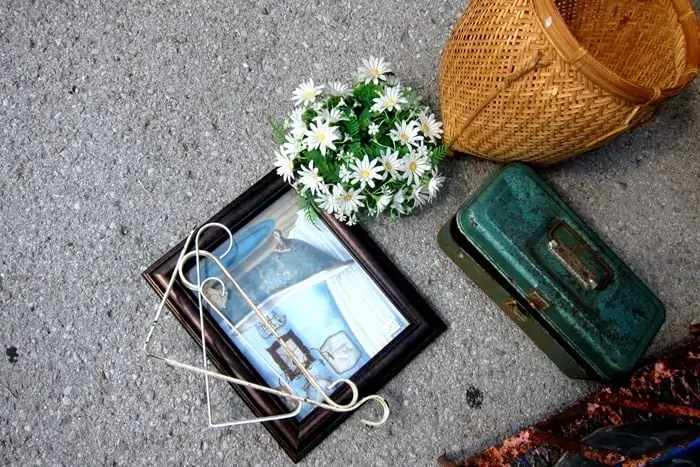 Several small items I bought. I plan to spray paint the basket white and the small framed picture is going on our bathroom wall.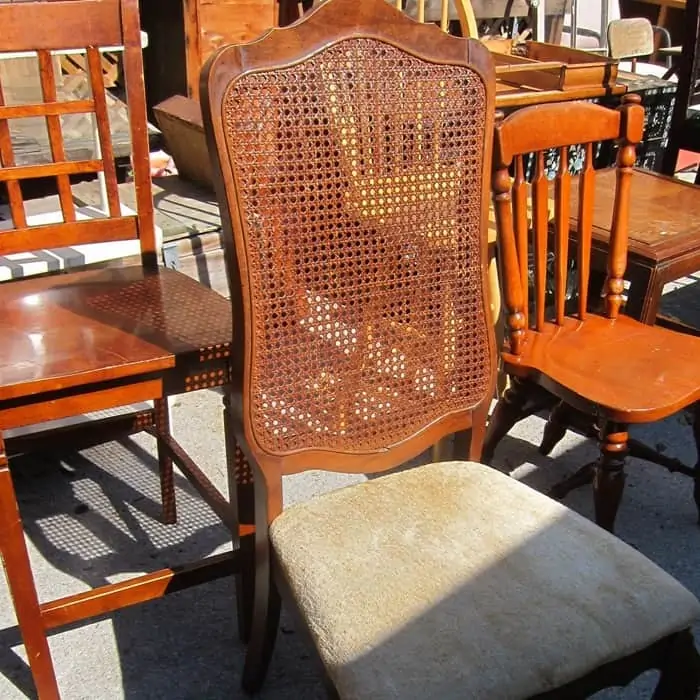 I passed on the cane backed chair although it is one of my favorite chair styles to paint. I've painted more than my share of chairs lately.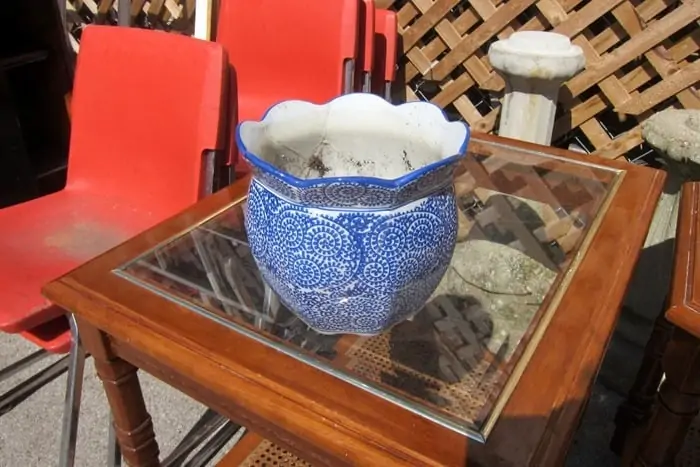 The blue and white ceramic pot was broken but it will still hold a plant or look good on the dresser in the blue and white bedroom once it's cleaned up.
Going to spray paint the horn design candle holder.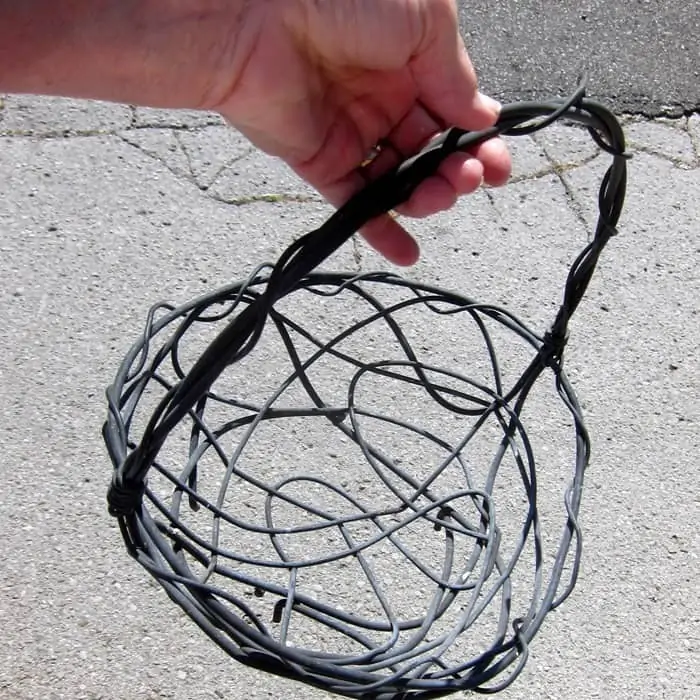 Notice a theme in my purchases. There were a lot of metal and iron things to be had today. This was a weird basket and it's heavy too.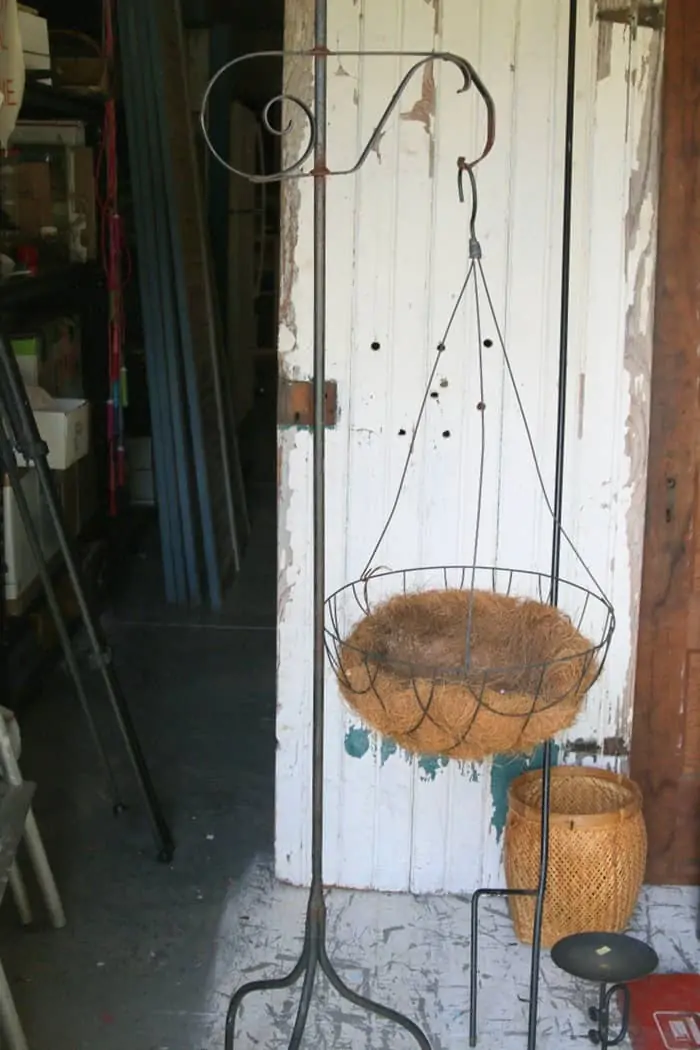 I didn't get a photo of the iron stand at the junk shop. I took a few photos in the workshop. I'm not sure the planter basket originally went with the stand/hanger. I like these pieces because they come in handy for hanging all kinds of things. I also got a double Shephard's hook and you can see it's legs to the right of the iron stand. The Shephard's hook is really tall.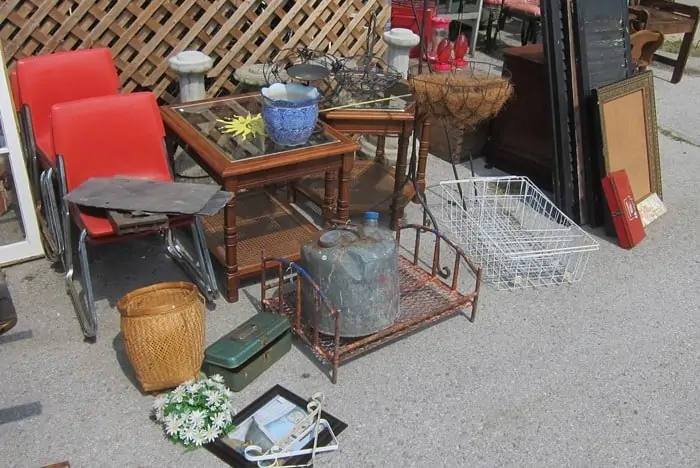 Looking at my pile of finds at the junk shop.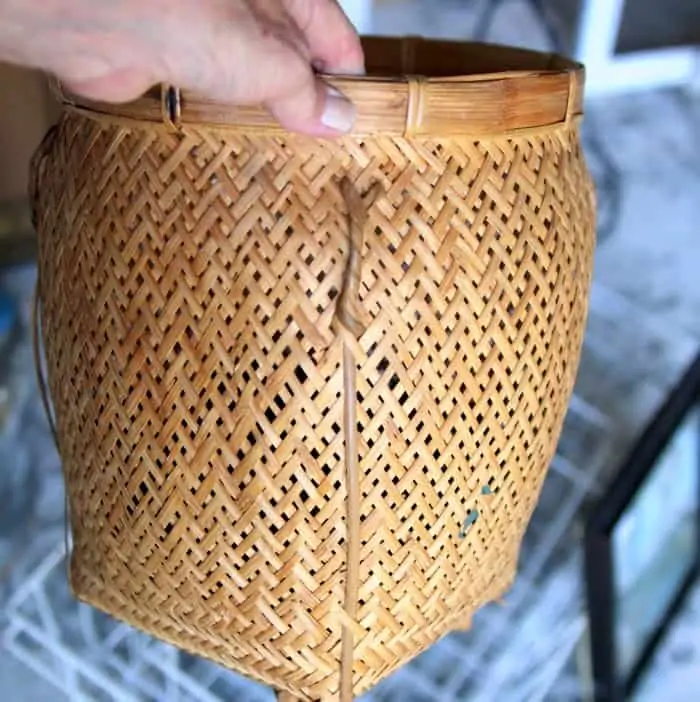 I really like this basket style.
I liked the colors of the small canvas print.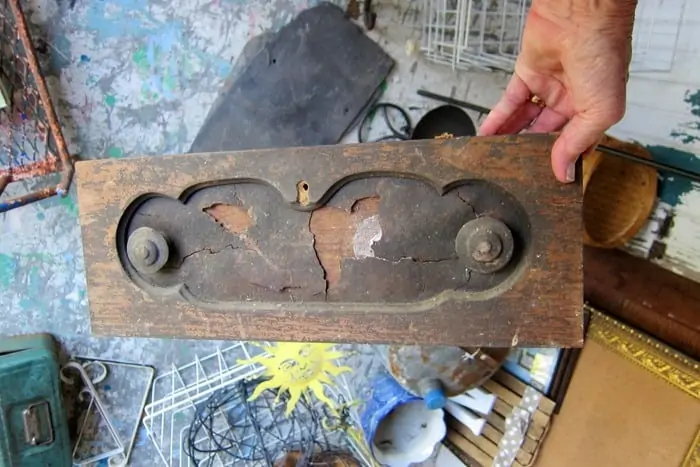 The drawer front with the two knobs still attached is going to get a makeover and be repurposed as a jewelry hanger.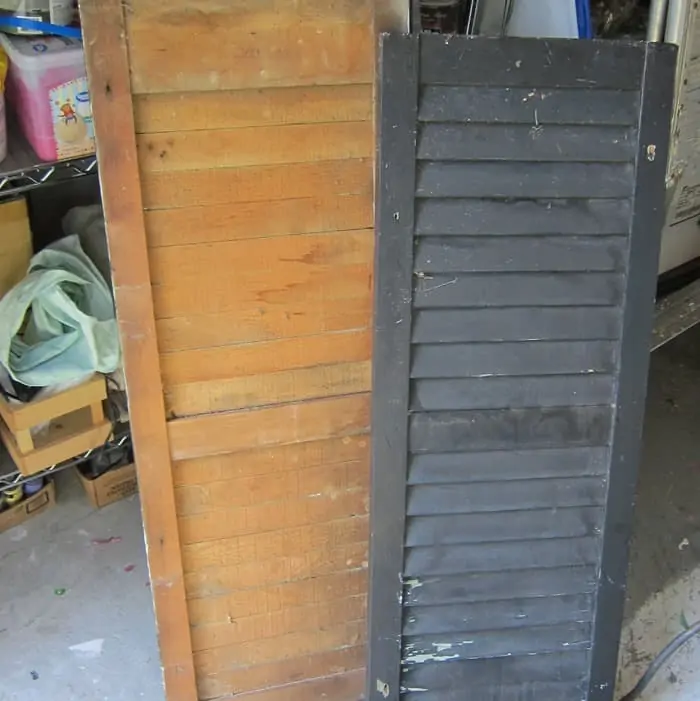 I  wanted to show you the backside of the black shutters. They are unpainted and I like that side a lot. For those of you who are new here I have a video I made on one of my junking trips that gives you a look at the shop and I share the prices of the things I bought. View the video below...
Junk Shop in Hopkinsville, KY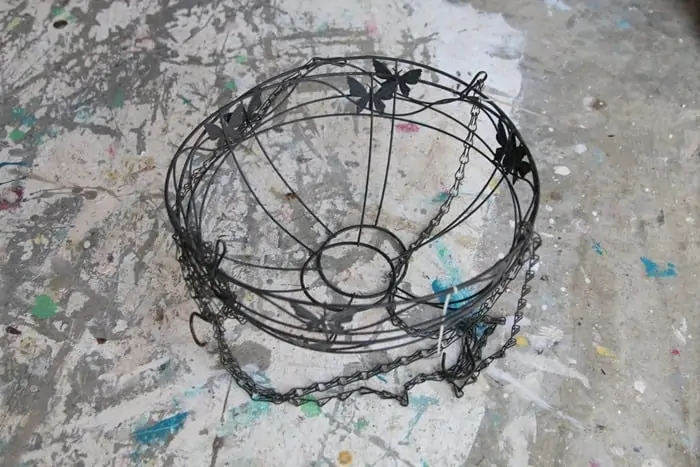 The two "butterfly" wire flower baskets are kind of thin and lightweight but still cute.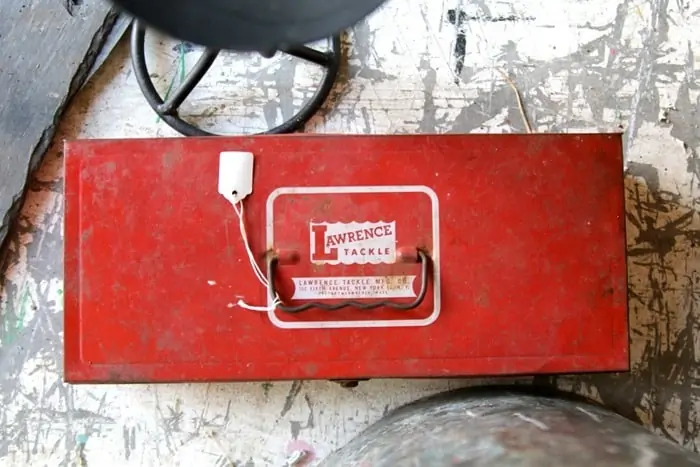 You guys know how I love metal boxes and red is the best.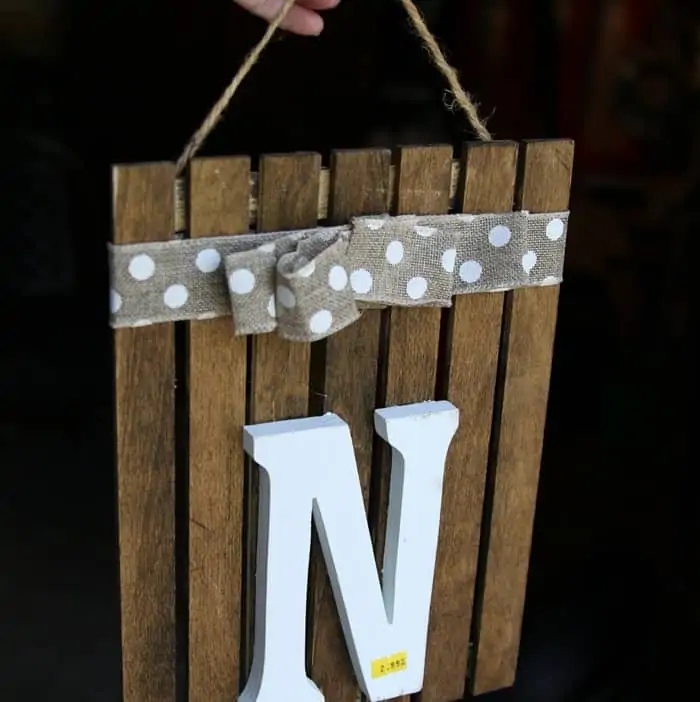 The "N" sign came from the Goodwill. I plan a big makeover for it.
I stuck the sun stake in the yard by the workshop. It makes me smile.
What did you like the best? Any makeover ideas for any of the pieces? What did you think about paying $75 for the lot of stuff? Too much or a deal? Comment if you have time and thanks for being here, Kathy
Author: Kathy Owen (Petticoat Junktion)
Kathy is the founder of PetticoatJunktion.com, a home décor blog focused on repurposing and upcycling furniture, old hardware, rusty stuff, and thrifty finds into unique home décor. Kathy's projects have been featured on the Home Depot Blog, Plaid Crafts, Behr Designer Series, and in numerous magazines. Read more about Kathy here.