I decorate with old shutters in various ways. Shutters can be recycled or upcycled into all types of home decor. I use old shutters just as they are in my porch decor. Painted chippy shutters are great staging pieces. I also like to use them as backdrops on my mantel because our brick fireplace is so busy I need a solid color backdrop. They look fantastic with a stenciled welcome sign board attached to them.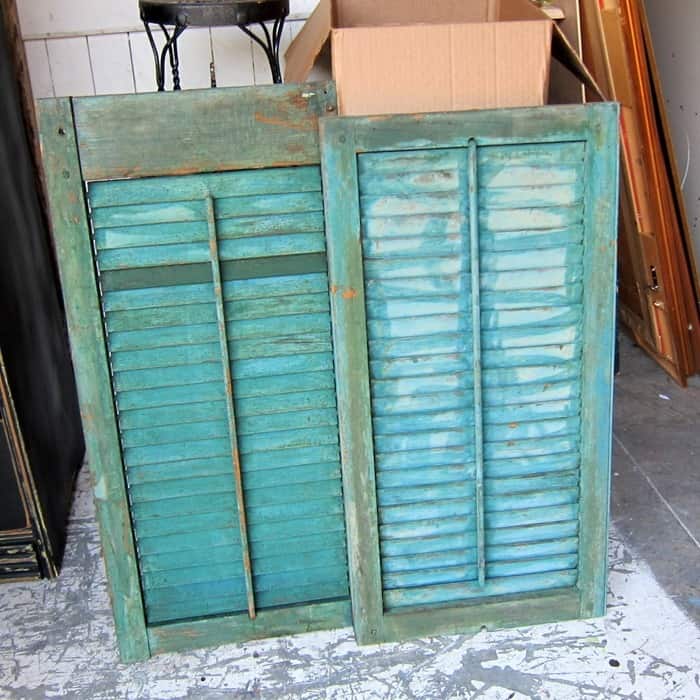 I bought some green shutters a few months ago at the Nashville Flea Market and I haven't used them yet. I'm thinking about hanging some kind of wreath from them and putting it all on the mantel.
The shutters definitely need to be cleaned up. After cleaning I would apply a coat of dark wax to change the color up a little bit. I've been scouring the internet for wood shutter repurpose ideas because I have some larger shutters at my booth and I may bring them home if I find a project that looks promising.
I'm sharing the ideas with you because I bet you have one or two old shutters just waiting for a purpose. Let me know what you think of the ideas. My favorite one is……the to-do list shutter……or maybe the shutter side table………or the shutter planter boxes…….it's hard to choose. (click the orange text links to see the complete project)
20 Ways to Recycle Shutters
I love how Jane painted these shutters and used them in different displays changing colors with holidays or the seasons.source

I especially like the green Spring time color. The entire display says Spring and that bird is too cute.

I put the red, white, and blue shutter together using stuff from

my junk stash. I bought the yarn wreath at My Favorite Junk Shop.

I didn't make this headboard but I took photos of it when we stayed at the little cottage on Tybee Island. The decorator made a headboard using vintage shutters. They were the perfect color for an island cottage.

I stenciled the Hello Sunshine wall decor for Sofi's bedroom at our house.

Repurposed Welcome Shutter with Flowers

The pretty welcome shutter sign with the faux hydrangeas is one I made many years ago when I lived in Florida. No link to a post on this one. I have to say it's one of my favorites. I purchased the Welcome part of the sign and had the old shutter and the project developed from there.

This is a sweet sign made from part of an old shutter. Sweet story to go with the sign too.

This project is mine and it's one of my favorites. The shutters are really, really old. I hung them on our front storm door as a wreath backdrop.

Old Shutters to Upcycle from the Nashville Flea Market

I spotted these antique shutters at the flea market and just love the really skinny ones. How could we recycle those? I could always use them in my porch decor as backdrops for pretty flower displays.

This is an interesting take on a shutter flower planter. Usually those involve mason jars.source

This shutter planter incorporates a small wood crate………and mason jars.

Another idea using the shutter as a wreath backdrop……but this sign is definitely seasonal decor....for Wintertime.

A really unique idea. I haven't seen this one before. I like the way they painted the top part of the shutter doors a bright color and angled the lines.

The solid wood panel shutter table kind of reminds me of my vintage wardrobe chalkboard table. I really like the hairpin legs they chose for this project.

Have you ever wanted (or needed) to cut down a pair of shutters?? You can get all the details here including diagrams and tons of photos. After being cut to size the salvaged shutters frame the mirror perfectly.

One of my projects. Making welcome signs out of shutters works well if you use the right size shutter. You can't use the really large ones…..or I haven't.

Well, there is a lot going on here but sometimes more is better. Love the color scheme.

Yep, this is one of my favorites. I want to try making a similar side table. I just have to find the right shutters. source

The color, age, and chippiness of the shutters is just perfect.

The second shutter headboard in this series is totally different from the first one. This headboard is made from the typical louvered shutters whereas the one I shared from the Tybee Island cottage was made from solid panel shutters.

Hang a shutter by your door and hang various items from the shutter changing them with the seasons or your mood.

A totally deconstructed shutter can be turned into a unique wreath in no time flat. Add a bit of color and you have a designer looking wreath. It's easy to take a louvered shutter apart especially the older ones where the joints have loosened up through the years.

Another of my favorites. These planter boxes are the cutest. I like how they left the latches and knobs on some of them. Adds more character.

Unique Ways To Reuse Old Shutters
Which ideas did you like the best? It's hard to choose just one isn't it??
I can't wait to put together my Spring mantel. I'm going to use those green wood shutters in the first photo as the focal point. As always thanks for being here and have a great day, Kathy
Author: Kathy Owen (Petticoat Junktion)
Kathy is the founder of PetticoatJunktion.com, a home décor blog focused on repurposing and upcycling furniture, old hardware, rusty stuff, and thrifty finds into unique home décor. Kathy's projects have been featured on the Home Depot Blog, Plaid Crafts, Behr Designer Series, and in numerous magazines. Read more about Kathy here.