A DIY shutter wreath craft idea that's just right for any season. Customize the wreath to fit your decor.
The Fall wreath I put together just wasn't working for me. Too plain or small or something. The vintage shutter from my junk stash was the perfect backdrop.
The is day 3 of our Fall tour but this wreath idea will work for all seasons! I hope you guys have been following along. If you missed the first two days you need to back track.
The displays are amazing. Wreaths is the theme of the day and I have mine hanging on our front door. I bet I'm the only one with a shutter wreath.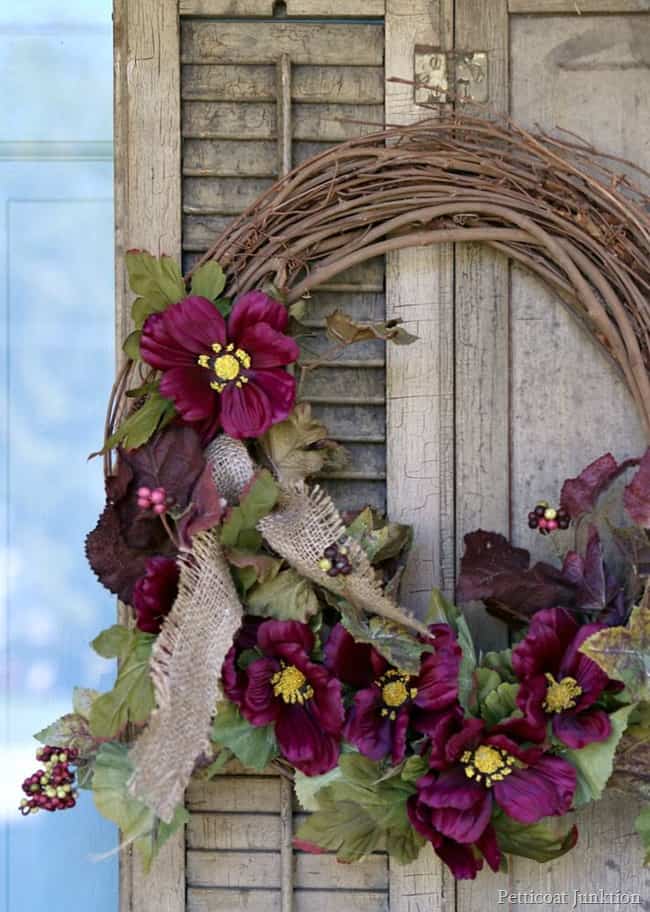 Shutter Wreath
I love color, you guys know that. I didn't want to use the traditional oranges, browns, etc., etc., of Fall. I found the purple flowers at Old Time Pottery in Nashville.
Purple is not a color I use very often but this shade of purple is perfect for Fall.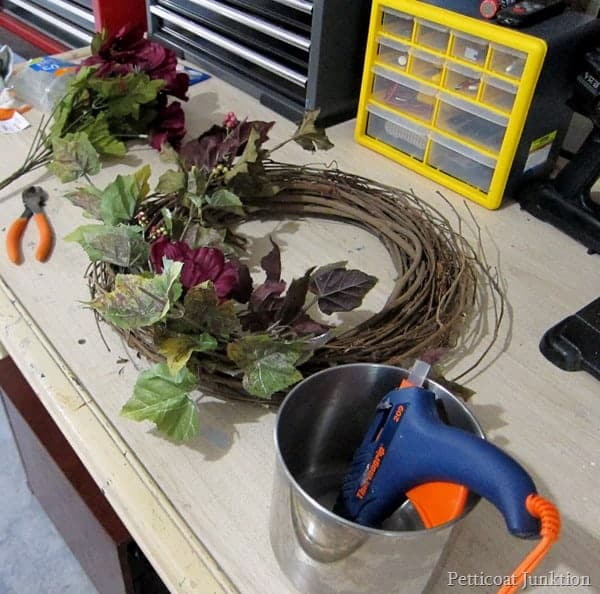 I gathered some Fall greenery, a grapevine wreath, and a piece of burlap from my junk stuff then grabbed the glue gun.
How do you guys feel about glue guns? I have a love/hate relationship with mine.
I love how I can throw a craft together in no time at all with the glue gun but I hate the fact that I usually end up with a burn or two every time I plug it in.
I do have a great tip for using glue guns. Grab a wood Popsicle stick or a screwdriver and use them to hold the two glued parts together until the glue is set. Saves your fingertips that way.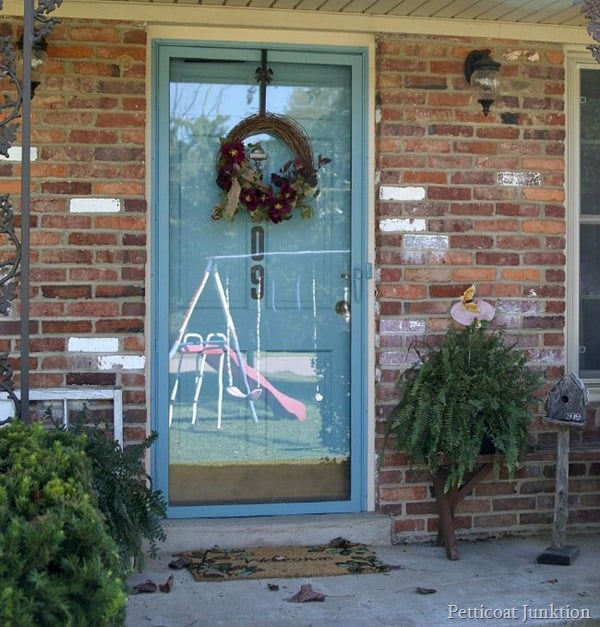 I put the wreath together and knew even before I hung it on the door that it wouldn't do. Way too small and skimpy. No character either.
Don't you guys love how I just left all those dried leaves on the porch. No clean up at all for the photo.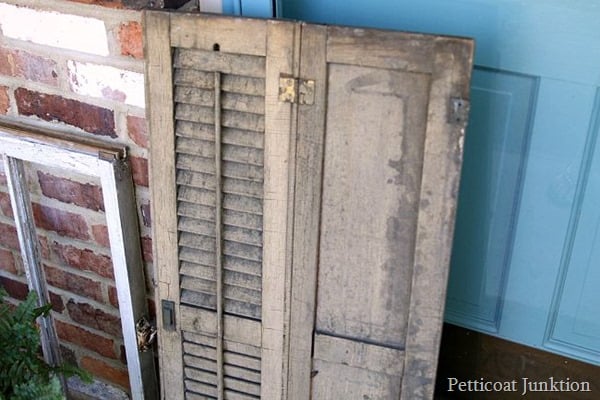 This antique shutter has been hanging out at the back door in a display. Just what I needed. I added a wire hanger to the back, left the finish all crusty and gritty, and hung it on the front door. I nailed the wreath to it and …..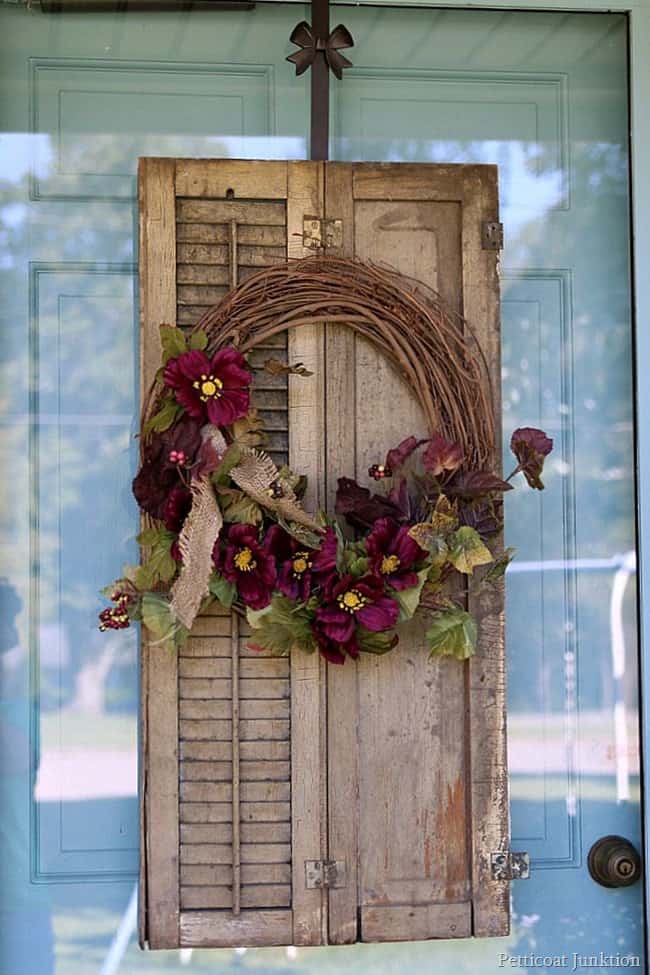 ….ta-dah! Much better. That's how to snazz up a small, skimpy, wreath. I love that shutter. The chippy, crackle look is my favorite and the real thing is hard to find.
In the past when I've hung a wreath on the front door the house numbers running down the middle of the door are distracting. The shutter covers them up perfectly. I think the size and shape is a good fit for the front door too.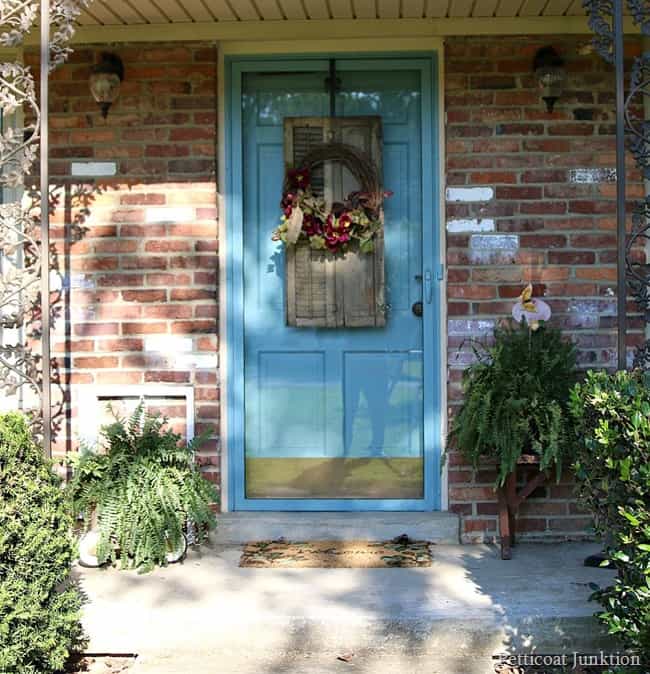 Yeah, I still have ferns and summer décor out. I just couldn't get it together to change out the whole front décor yet. I mean, it's still hot as heck here.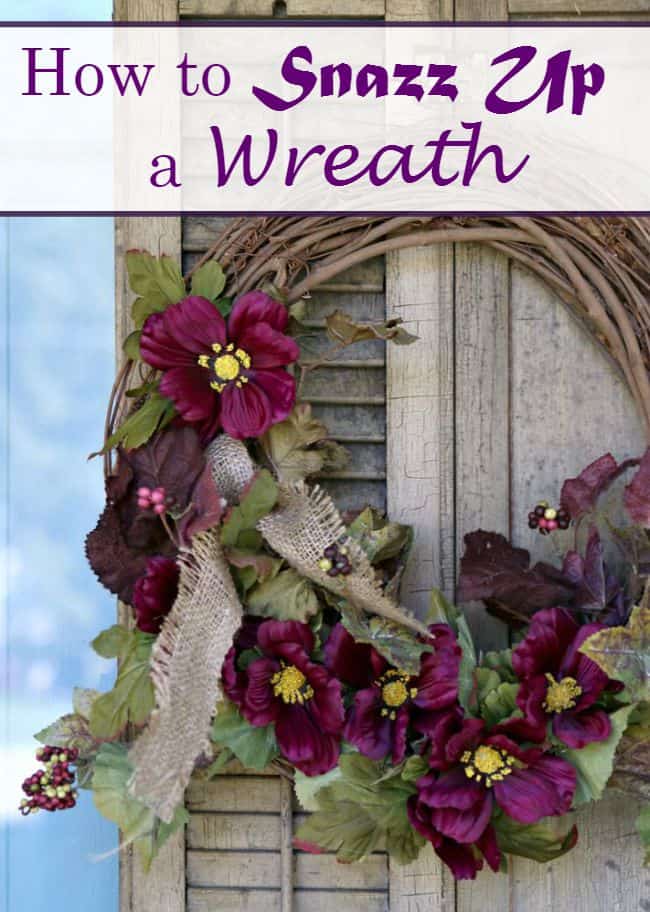 DIY Shutter Wreath Craft Idea
Did you think adding the shutter to the wreath was a good idea....or not so much?
How about putting a wreath on a frame. See the one I did here.....Super Simple Wreath on Frame.
Time to take the wreath tour. Just click the "pink links" below.
Wednesday- Wreaths
H2OBungalow | Cottage at the Crossroads
Today's Creative Life | Dukes and Duchesses
Hunt & Host | The Interior Frugalista
Sweet Pea | Petticoat Junktion
Thank you for being here! Kathy
Author: Kathy Owen (Petticoat Junktion)
Kathy is the founder of PetticoatJunktion.com, a home décor blog focused on repurposing and upcycling furniture, old hardware, rusty stuff, and thrifty finds into unique home décor. Kathy's projects have been featured on the Home Depot Blog, Plaid Crafts, Behr Designer Series, and in numerous magazines. Read more about Kathy here.