I'm ready for cooler weather and I made a DIY Fall sunflower purse wreath in anticipation! Yeah, not sure I should call it a wreath but that's what I'm going with. Making wreaths out of purses is one of my favorite DIY's. I mean how easy is it to stuff a bunch of pretty flowers in a purse and hang the purse by it's straps on a door?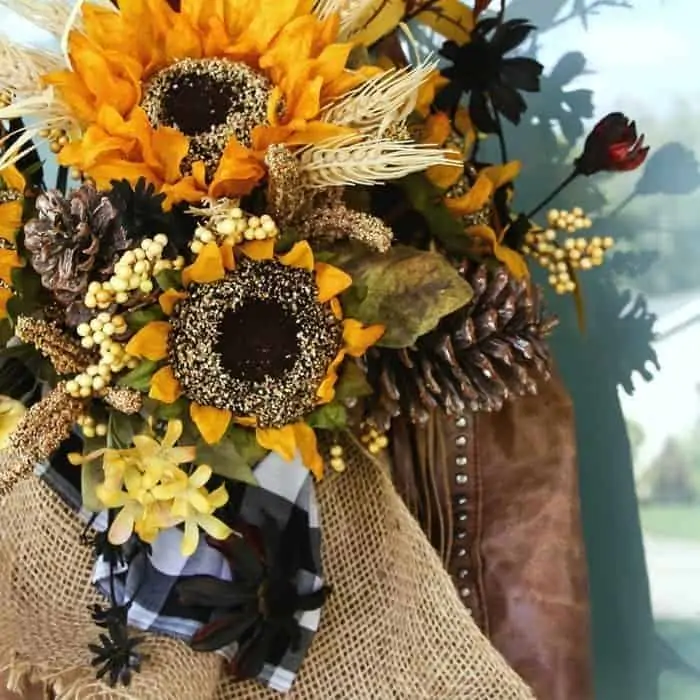 DIY Fall Sunflower Purse Wreath
This week we are celebrating 5 years of the Fall Ideas Tour. Each day we have a different décor focus and today is wreaths. The links to the tour are at the bottom of the post. Let's get on with the purse wreath tutorial.
Supplies Needed:
Old Purse (mine came from my closet)
Flower Stems (Hobby Lobby)
Recycled Flower Stems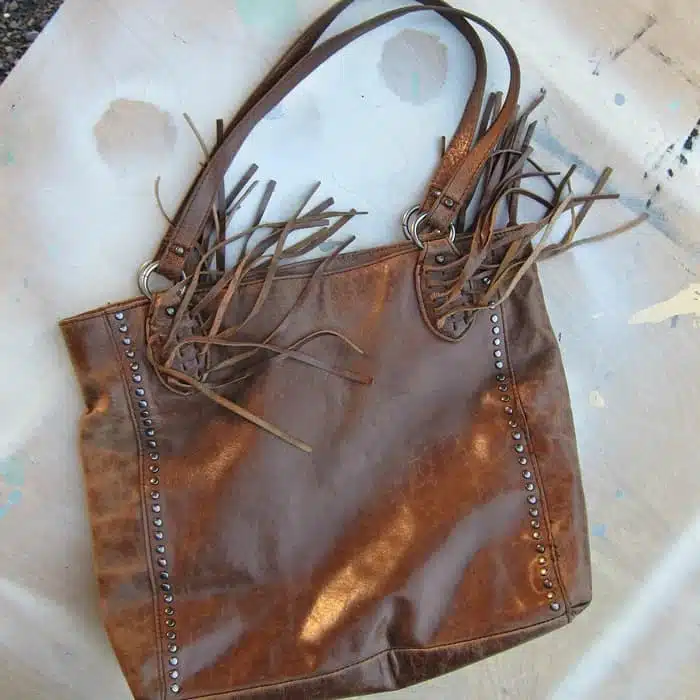 I sometimes get tired of starting my wreath with a round grapevine wreath or anything round. Plus a purse makes such a nice wreath/door décor because it has a natural hanger…..aka straps. When I buy a new purse I usually save my old ones at least for a time. I like to buy quality purses and always get them on sale or at TJMaxx. They usually hold up well and I keep my favorites when I change to a new purse.
When I decided to make a purse wreath for Fall I searched the thrift stores and even bought a couple of thrifty purses with this project in mind. But when it came down to it I pulled this one from my purse stash. It fit my color scheme better.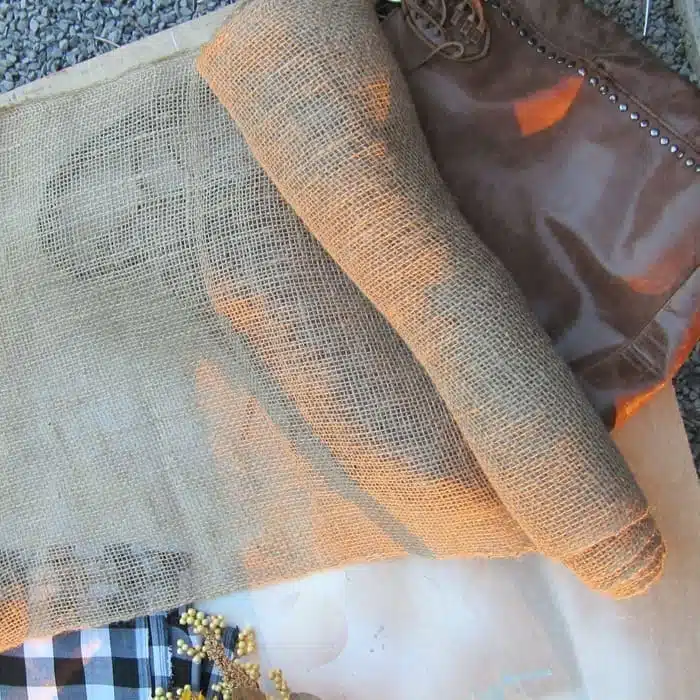 My plan was to layer items in the purse. I found the roll of burlap in the workshop. I'm lucky to have a big stash of good junk.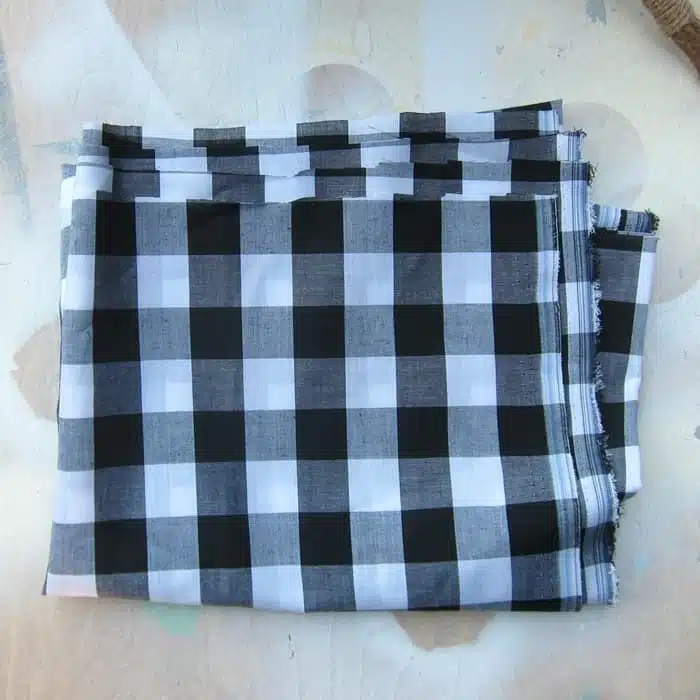 The black and white buffalo check fabric is from Hobby Lobby. I had to get in on the buffalo check trend and black and white is one of my favorite color combos.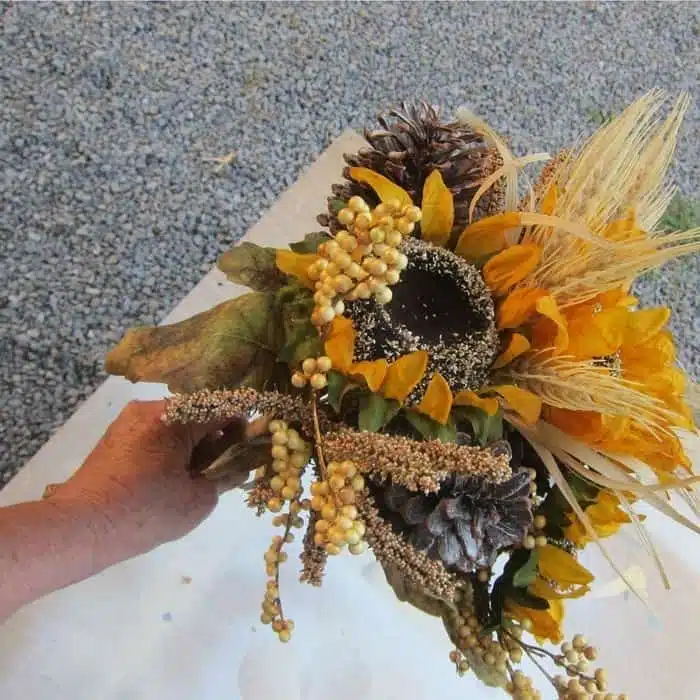 The bouquet of flowers came from Hobby Lobby too, half price of course. I like the colors in the bouquet, not too orange and bits of neutral colors. You can't go wrong with sunflowers and pinecones.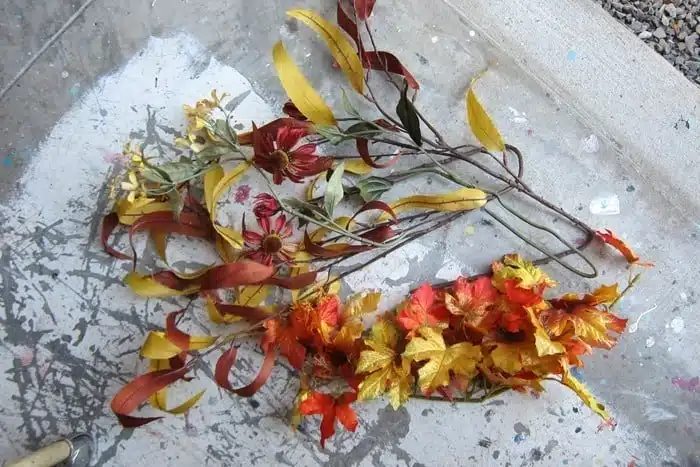 For filler I pulled out Fall flowers from my flower stash. You never know what you might need.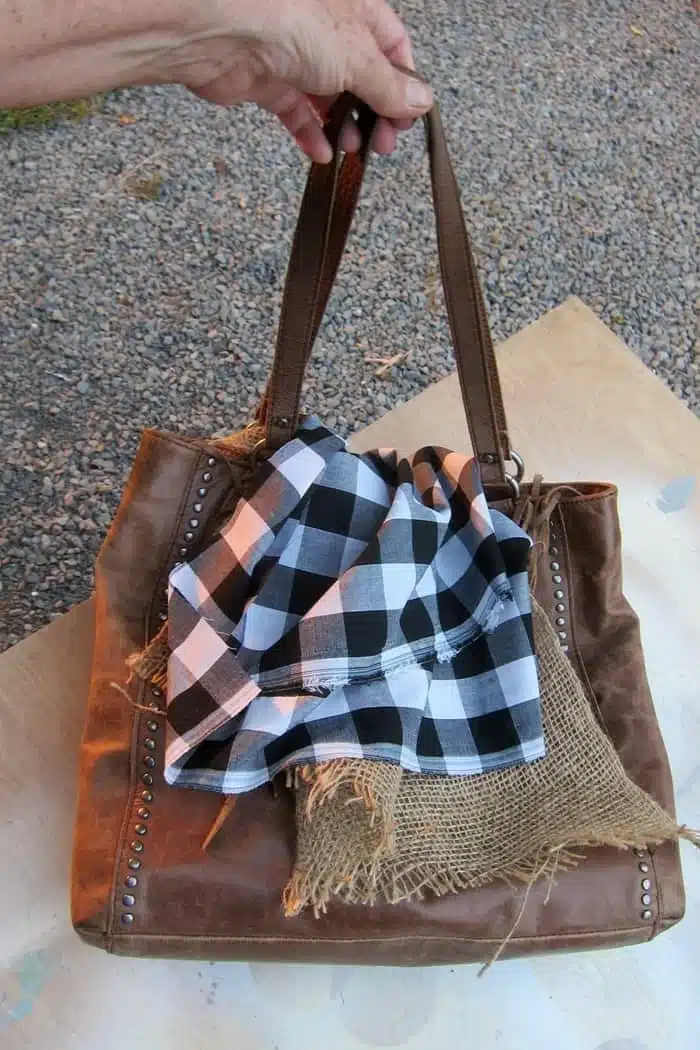 Step 1. Arrange The Flowers In The Purse
Time to put the wreath/door décor together. The first layer I added to the purse was a piece cut from the burlap roll. Next I cut a strip of the black and white buffalo check fabric. At this point they are just kind of hanging out. Everything has to be adjusted and re-adjusted as things go in the purse.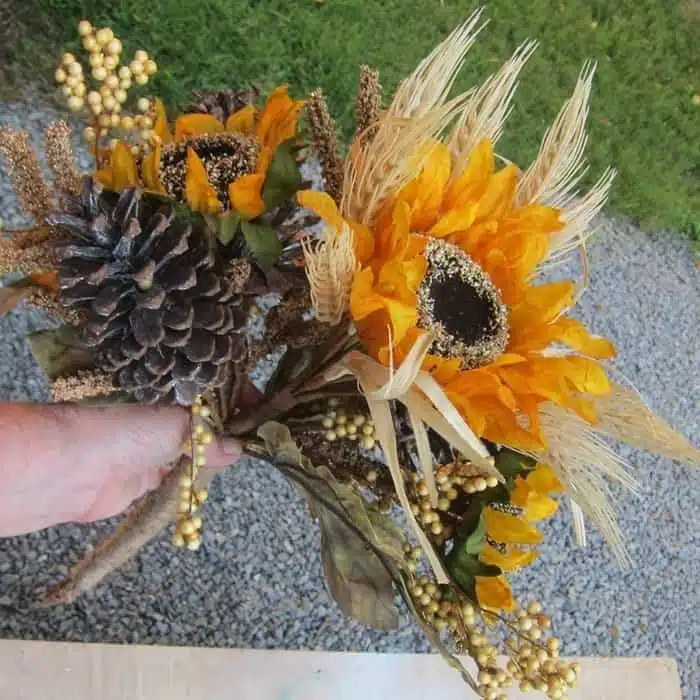 The sunflower and pinecone flower bouquet was in a rounded bunch and I spread each piece out as far as I could without cutting the bouquet apart.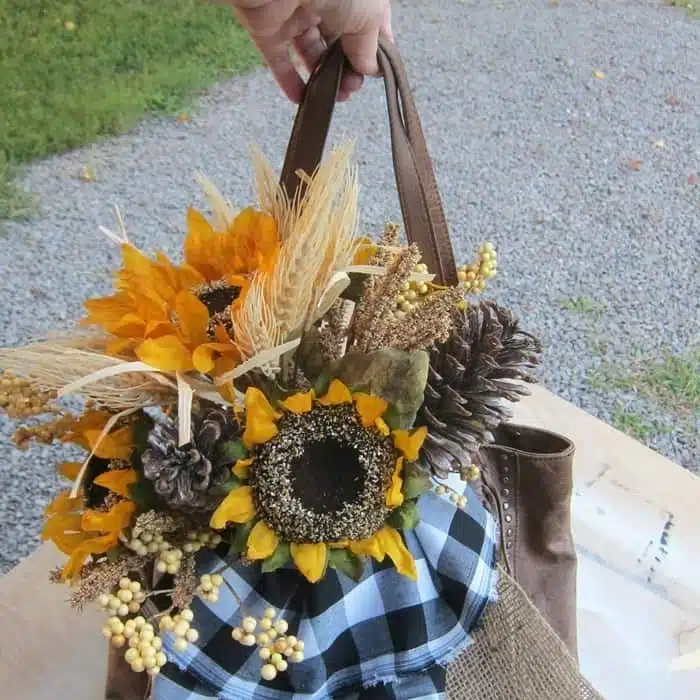 Then I stuffed the bouquet into the purse. At this point I'm looking at what I have and deciding I need a few more pops of black.
Step 2. Put The Finishing Touches On The Sunflower Purse Wreath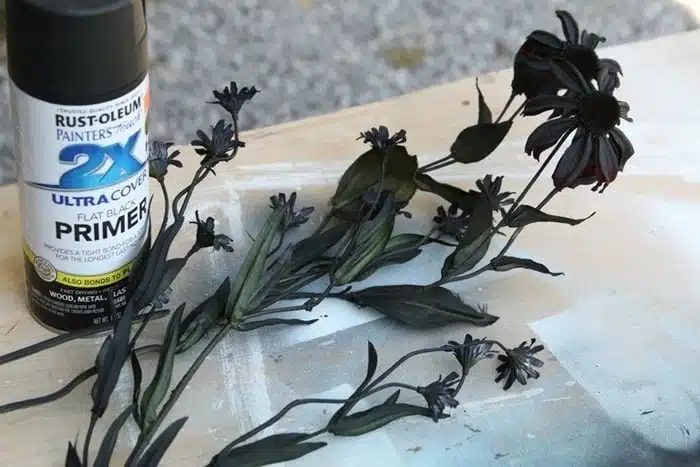 I took a few of the flower stems from my stash and spray painted them with Rustoleum Flat Black Primer. I thought the primer would stick well to the flowers and it did. The flat sheen is a plus-plus for this project.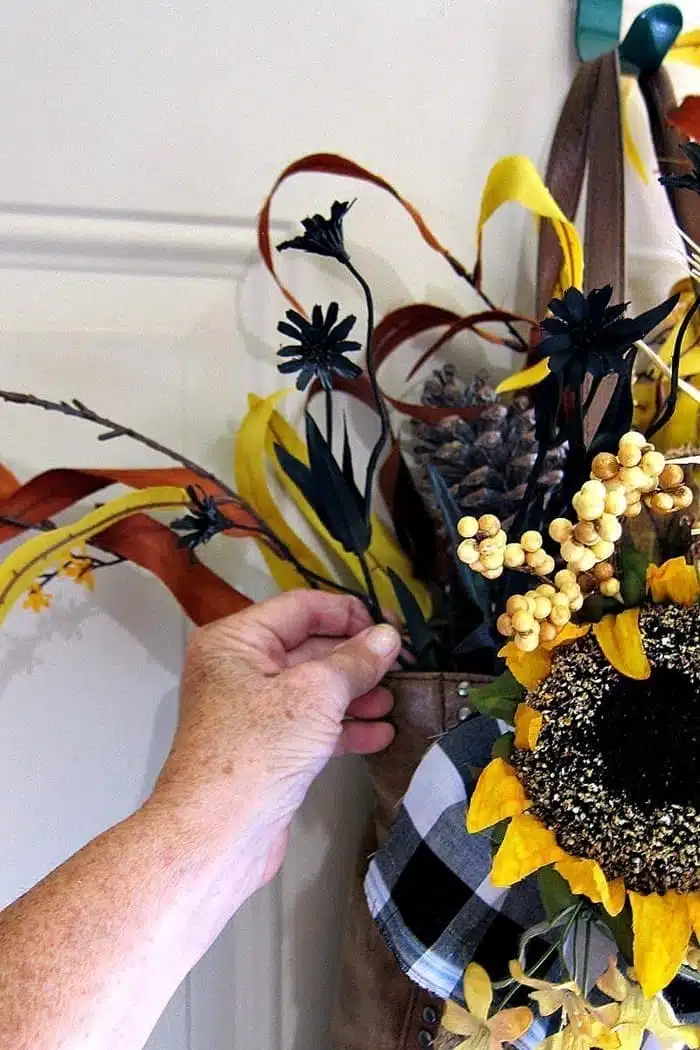 You guys know those purses are floppy especially if you are holding them by the straps and trying to fill them up. I finally got smart and hung the purse on the workshop door so I could finish putting it together.
The flower bouquet was on the heavy side and it kept wanting to lean too far over the front of the purse. No problem. I stuffed the first thing I could find, a cloth shop towel,  down in the purse in front of the bouquet to push it back.Sometimes you have to get creative. No one can see that shop towel and it worked! I added the curly cue Fall leaf stems and the painted black flowers to the purse. Then I did some adjusting and fluffing and more adjusting and fluffing.
Step 3. Hang The DIY Sunflower Purse Wreath On The Door
Ta-Dah! All done. I could have went with a black purse or maybe a black purse and neutral no color flowers but where is the fun in that. You guys know I don't care for matchy matchy.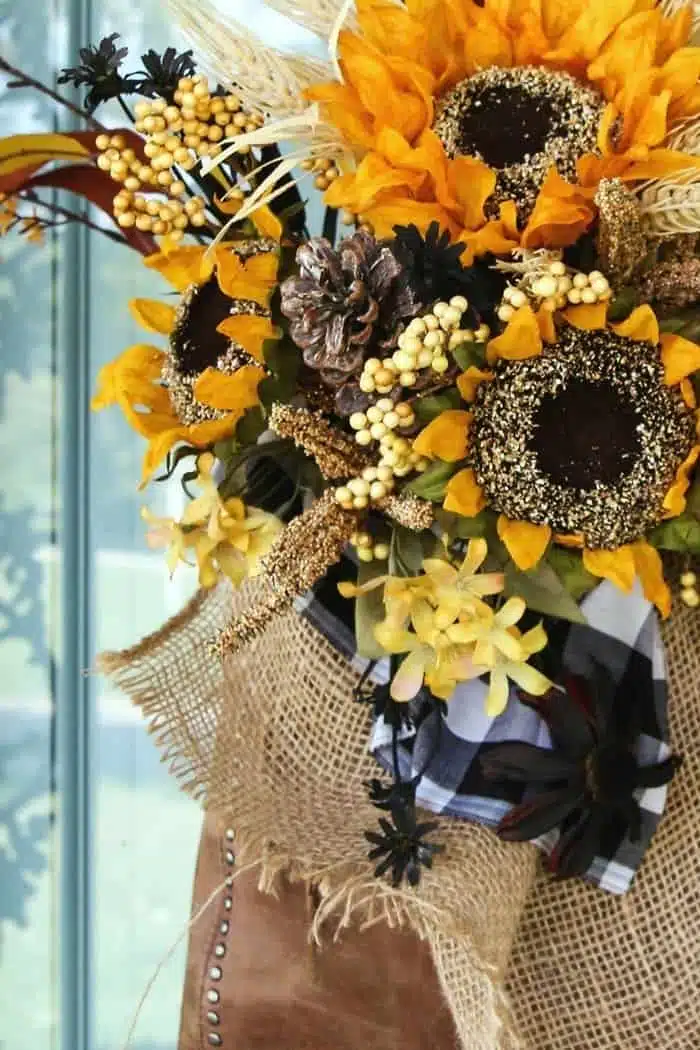 I think the coolest part of the whole purse wreath is the spray painted black flowers. The most inexpensive part too. You never know what actually works until you start putting a project together. I probably should have painted those pale yellow flowers too. You will notice that I just left the raw edges of the buffalo check and the raw frayed edges of the burlap. Adds more depth (and it's easy). I should have added a bit more buffalo check fabric but this looks okay.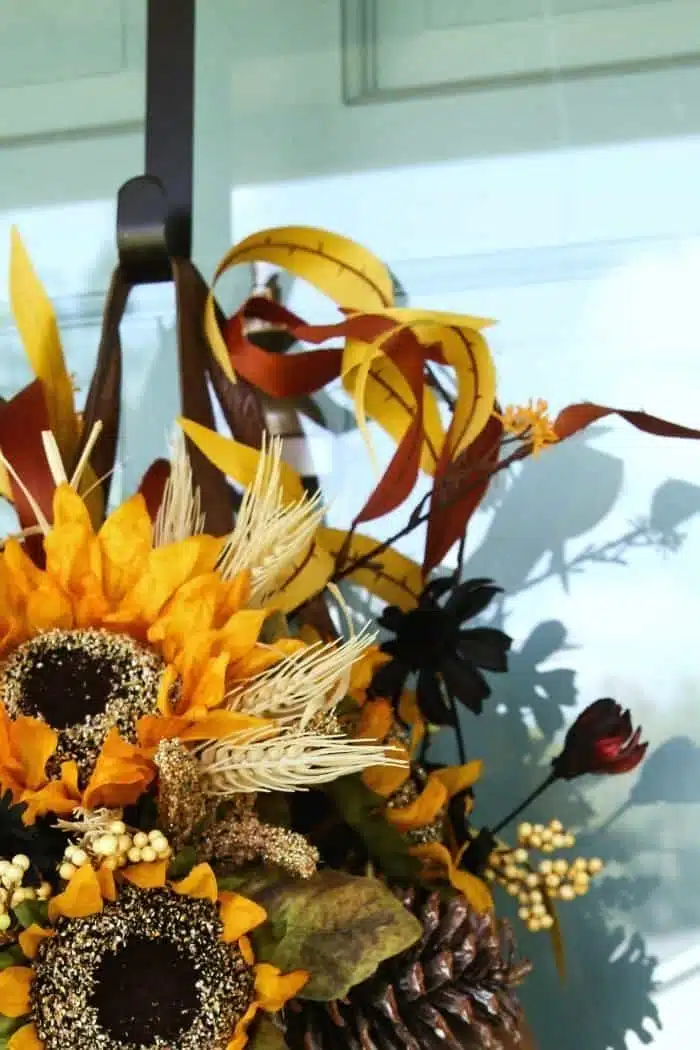 I used a wreath hanger and hung the purse from the straps. Our front door is blue and the wreath is a nice pop of color.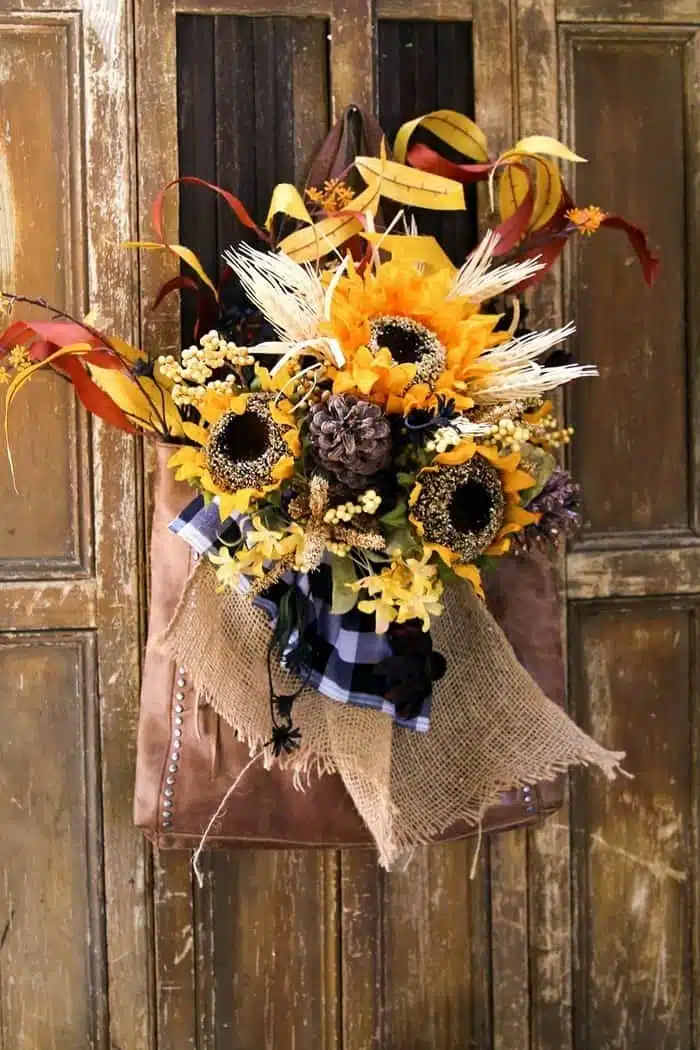 I had these awesome vintage shutters in the workshop. The wreath looks great against the worn shutters. I may put the shutters on the mantel later along with the wreath. What do you guys think of that idea?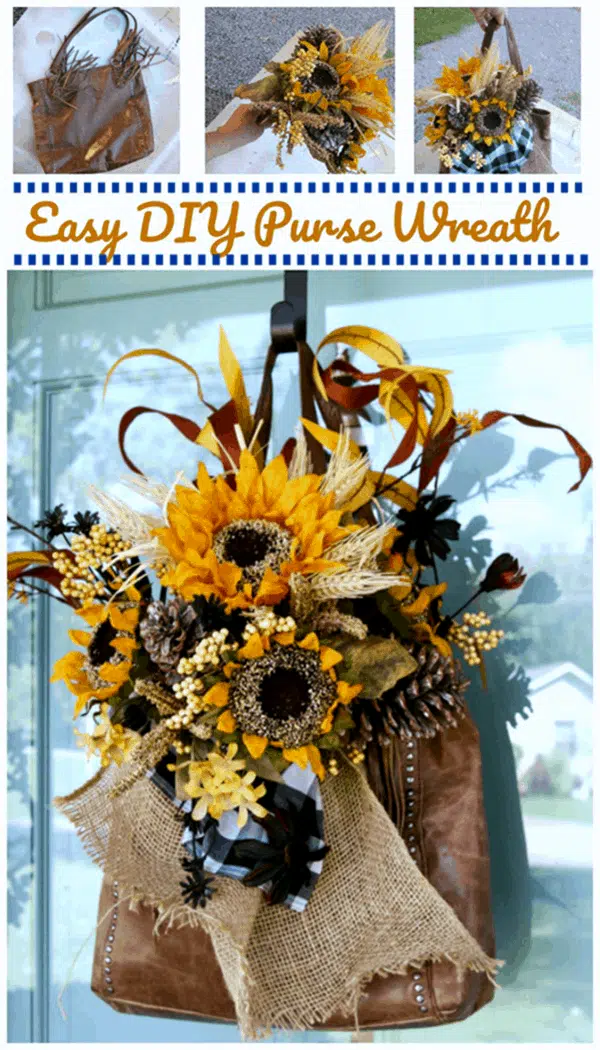 I mentioned earlier this is the 5th year for our Fall Ideas Tour. Want to see my projects or displays from the past 4 years? Just click any of these links and when you get through viewing the Fall project you will be right back here….Antique Shutter Wreath 2015……Fall Mantel Décor 2016……Fall Birdhouse Flower Container 2017…… and for you recipe fans….Chile Ham Cheese Dip 2018.
Take The Fall Ideas Tour......
Wednesday - Fall Wreaths
Petticoat Junktion / Lora Bloomquist / Exquisitely Unremarkable
Bliss Ranch / The Interior Frugalista / Chatfield Court
Fall Mantels - Monday
Tuesday - Fall Tablescapes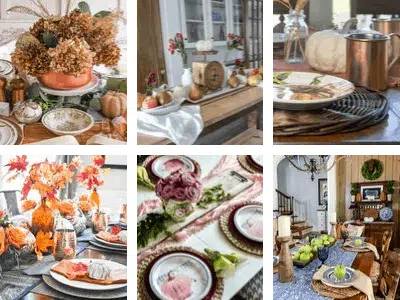 Sand Dollar Lane / Aratari at Home / Nourish and Nestle
JenRon Designs /Salvaged Living / Our Southern Home
Thursday - Fall Crafts & DIY
Domestically Speaking / DIY Beautify
Homeroad / Christina Faye Repurposed
not pictured Weekend Craft
Friday - Porches
As always thanks for being here and have a great day, Kathy
Author: Kathy Owen (Petticoat Junktion)
Kathy is the founder of PetticoatJunktion.com, a home décor blog focused on repurposing and upcycling furniture, old hardware, rusty stuff, and thrifty finds into unique home décor. Kathy's projects have been featured on the Home Depot Blog, Plaid Crafts, Behr Designer Series, and in numerous magazines. Read more about Kathy here.