Make A Cool Wreath With Recycled CD's
This Christmas DIY CD wreath is a stunner in black and white. I'm pretty sure you'll love it as much as I do.
The recycled, never used, CD's are white and the bow is black and white buffalo check. Very classy looking.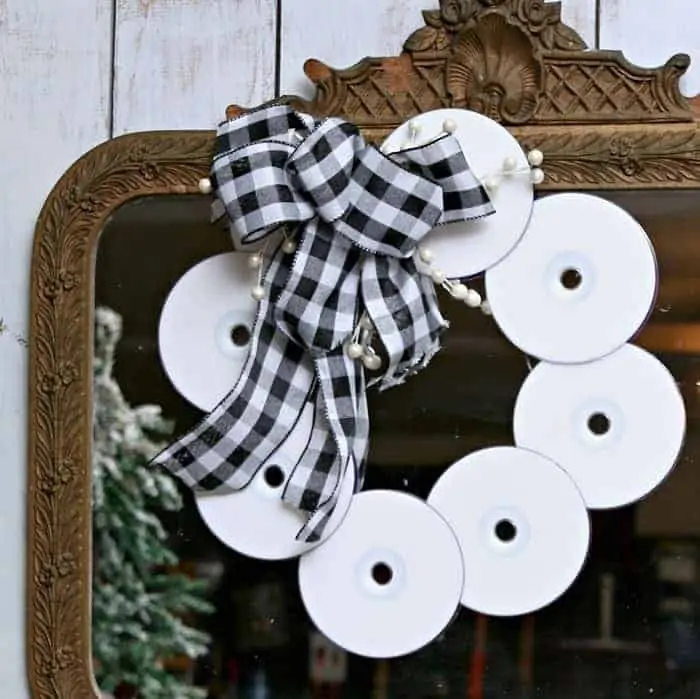 The wreath could be used year round by just removing the white berry stem I added to the bow. Since the CD's are white you can decorate the wreath with any color bow and maybe some other add-ons. I wanted to keep this wreath simple.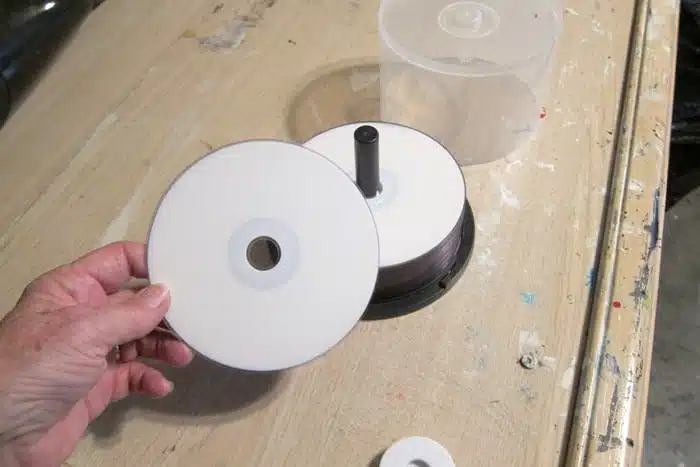 The stack of CD's (compact disc) was in the house in the computer desk until one of my "too much stuff" purges. All of these discs are blank and I don't see me burning any music CD's in the future. Instead of tossing them out I put them on a shelf in the workshop waiting for inspiration to hit. It finally did.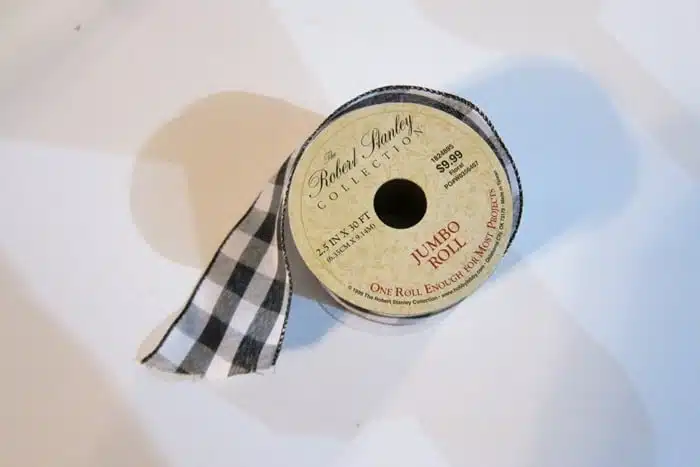 I pulled out a roll of black and white buffalo check plaid ribbon I purchased earlier this year when the buffalo check craze started. I'm a big fan of buffalo check. What about you guys?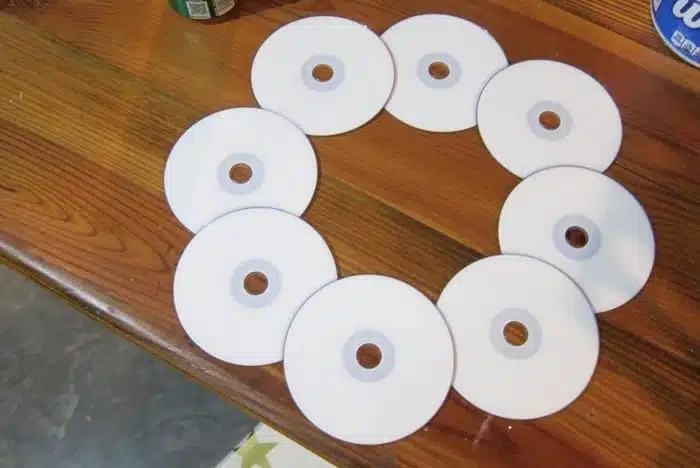 First thing I did was lay the CD's out in a circle. No measuring anything just eyeballing. It doesn't have to be perfect you know.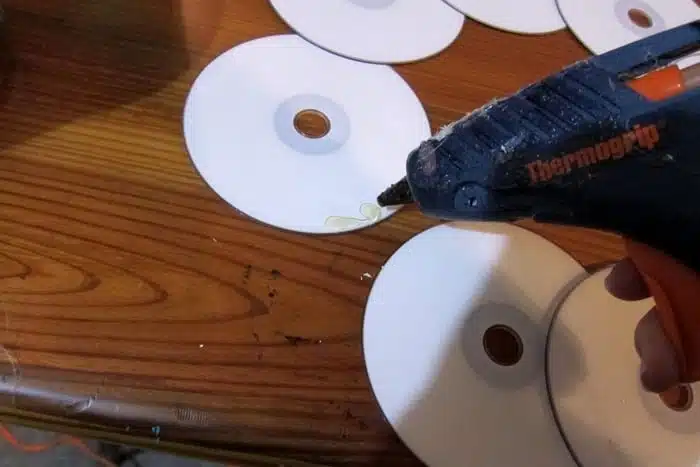 I pulled out my trusty glue gun and went through the circle of discs one by one adding a few drops of glue, then…..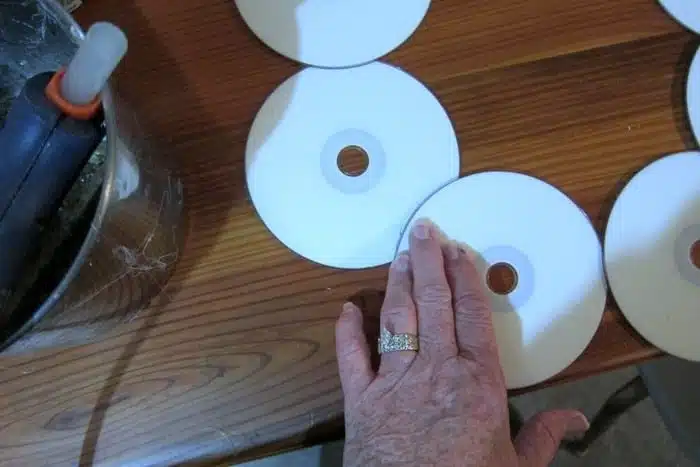 …..pressing the two CD's together until the glue dried (or cooled off). Again I didn't measure I just lifted each CD and put the glue on the CD below it.
The glue gun has to be one of the greatest things ever invented. Am I right or not?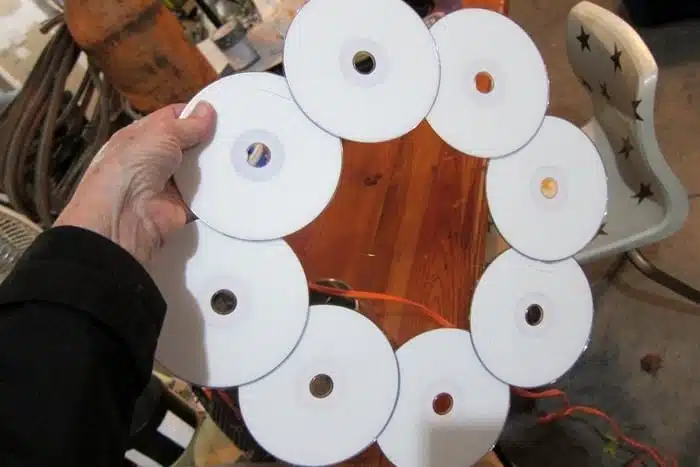 It was surprisingly easy and the CD wreath came out looking pretty much like a wreath with no awkward jigs or jags.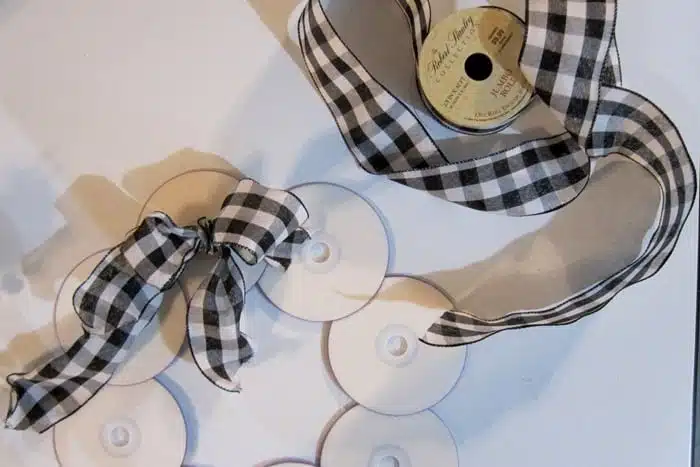 Now to try and make a bow. I first made a little bow and it didn't have enough umph.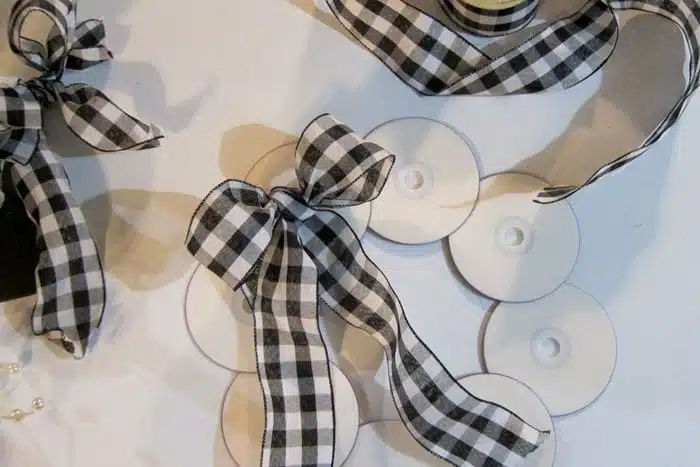 I put that bow aside and made a larger bow with long tails. Still not working for me.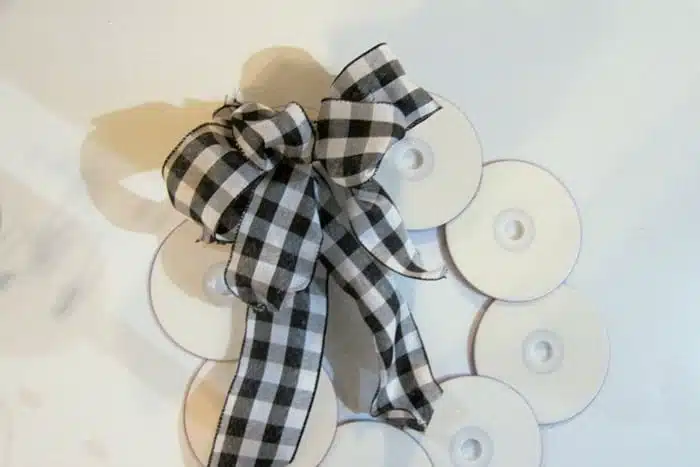 I tied the two bows together with a short length of ribbon and I trimmed the tails. That looked much better but still not what I was hoping for.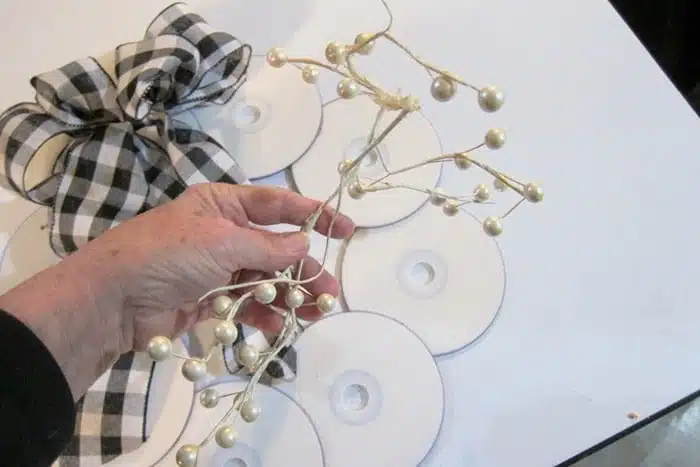 I went through my big totes of Christmas décor the JTS got out of the shed attic for me earlier this week and found this stem of white berries. That will work.
(The Christmas totes and trees are down from the attic but nothing is decorated yet. Not before Thanksgiving.)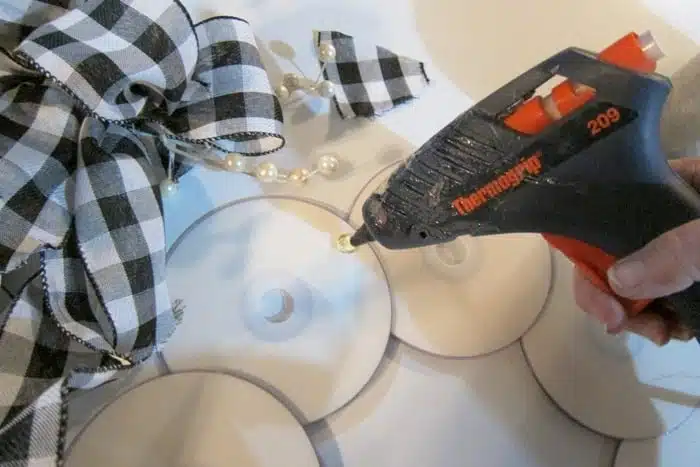 I tied the stem of white berries to the back of the bow using the same piece of ribbon I tied the two bows together with. Then I put a large glob of hot glue on a CD and pressed the bow to it. I shaped and fluffed and tweaked and twisted the bow till it looked just right.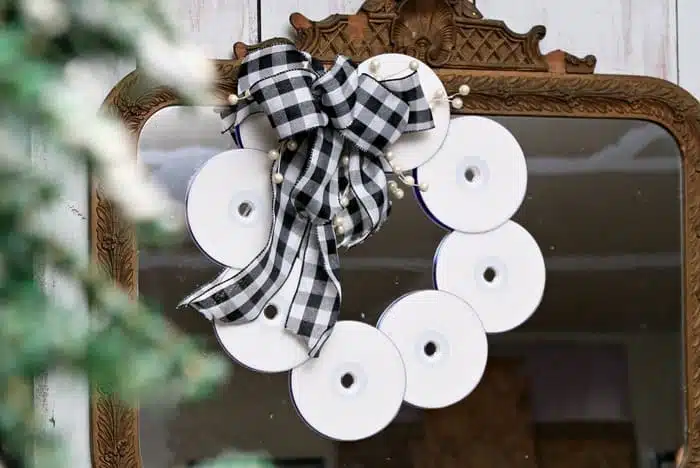 DIY CD Wreath
All done and so classy looking. Black and white is almost as pretty as red and white. I didn't have red and white buffalo check ribbon on hand or it might have been a totally different look.
As I mentioned earlier I don't have any of my Christmas décor up so I kind of winged it with this photo. The antique mirror normally hangs in the den but I took it down to the workshop and hung it on one of my salvaged doors to make this photograph.
Once I put my Christmas decorations up I'll add the wreath to the mirror like this because I love the way it looks.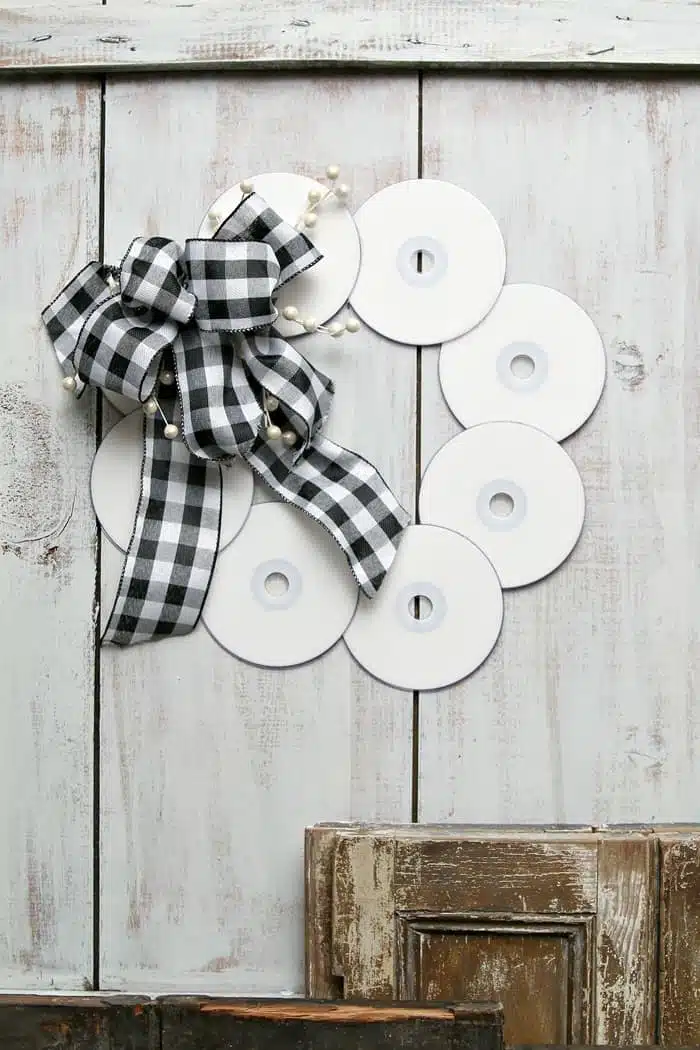 The wreath looks pretty good just hanging on the rustic white door too. I didn't put a hanger on the back of the wreath because the wreath has a built in hanger.
Either hang the center of one of the discs over a nail or hang the wreath on a nail where two of the CD's come together to make a V. That's the way I hung the wreath on the door.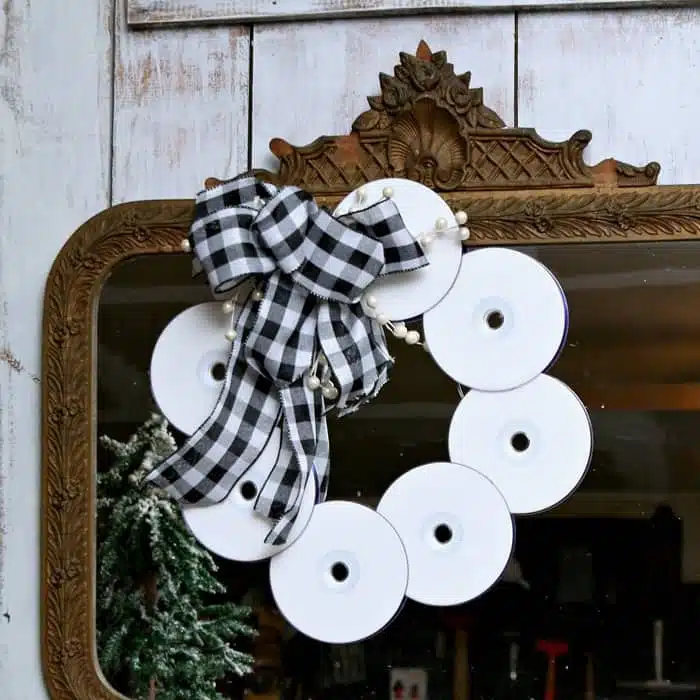 I used sticky back Velcro hangers to stick the wreath to the mirror. The Velcro hangers work great. The DIY CD wreath is really lightweight.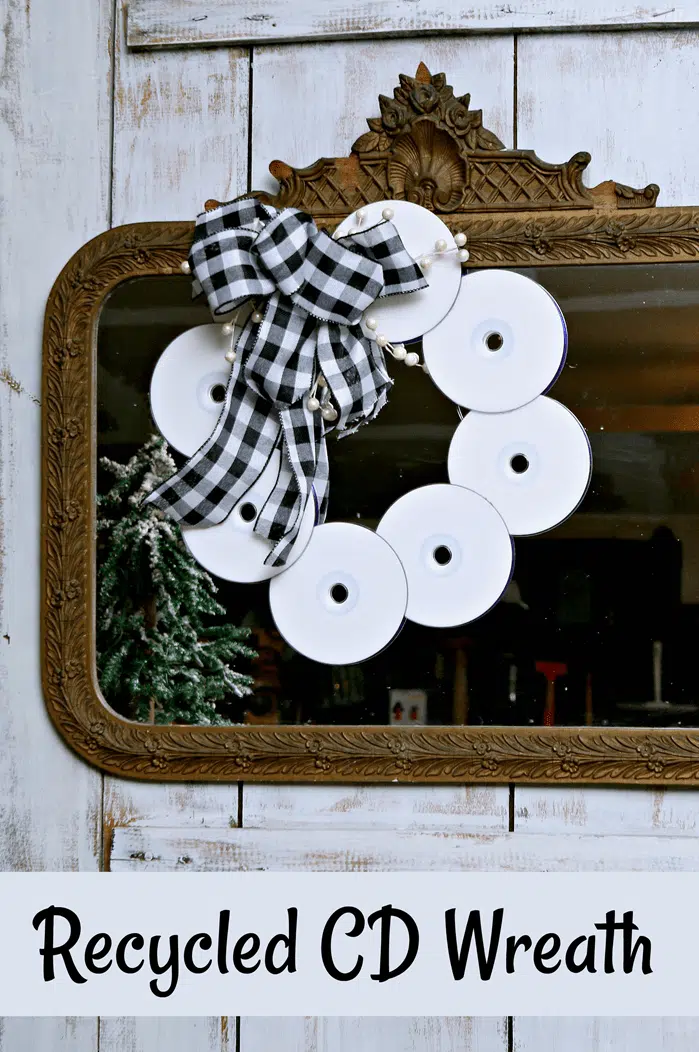 And that's all there was to that. I made the disc wreath in less than an hour. Got any old compact discs laying around?
I got lucky because mine were white. The back side is shiny silver and very industrial looking. Wonder what kind of wreath I could make using that side??
Need a gift for a DIY'er? Find what you need on my Amazon page.....all my favorite stuff here.
I hope you had a love filled family and friends Thanksgiving. We did. As always, thanks for being here and have a great day, Kathy
Author: Kathy Owen (Petticoat Junktion)
Kathy is the founder of PetticoatJunktion.com, a home décor blog focused on repurposing and upcycling furniture, old hardware, rusty stuff, and thrifty finds into unique home décor. Kathy's projects have been featured on the Home Depot Blog, Plaid Crafts, Behr Designer Series, and in numerous magazines. Read more about Kathy here.