I've put together many DIY Christmas tree decor pieces over the years. I didn't realize just how many until I started looking back at old Christmas projects. I made the trees from junky stuff.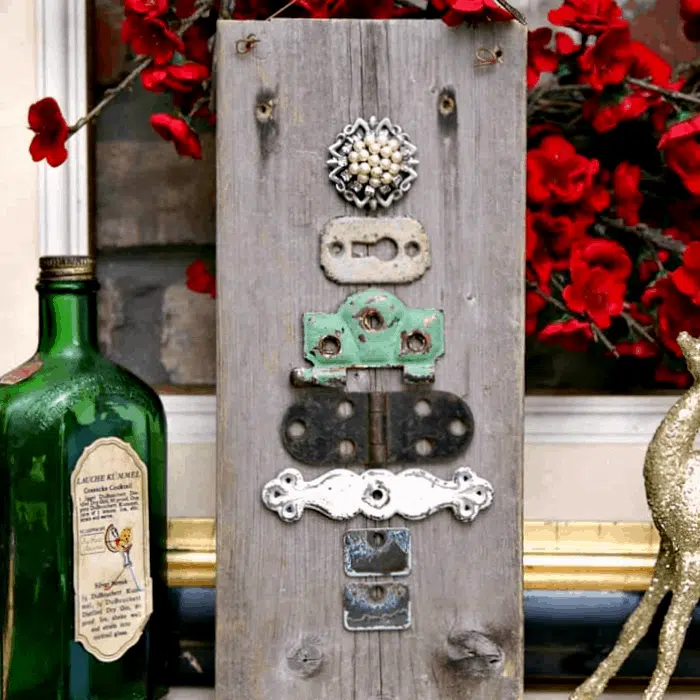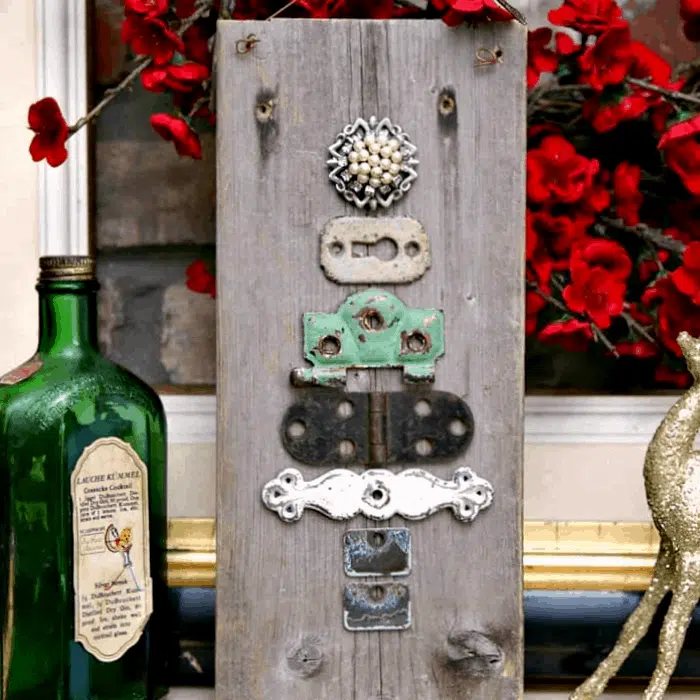 I love using reclaimed hardware, drawer pulls, etc. to make unique items. You can do the same. I bet you have some things in your junk drawer, garage, or workshop, you could use to make something fun.
Maybe these projects will give you some ideas. You don't have to make a Christmas tree. The first project on the list is from 2012.
DIY Christmas Tree Decor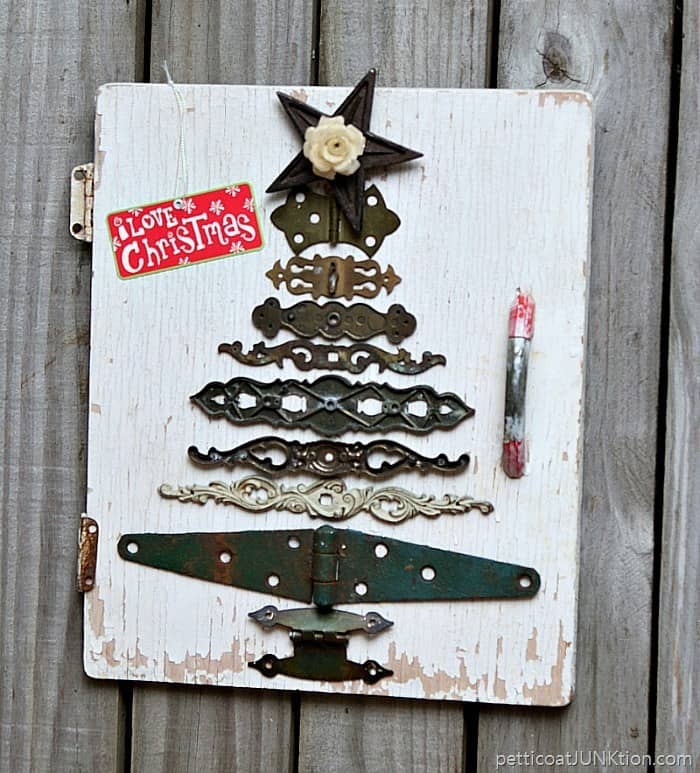 This was my first tree and it's also still my favorite. I had this old reclaimed door with handle and hinges still attached and I went from there.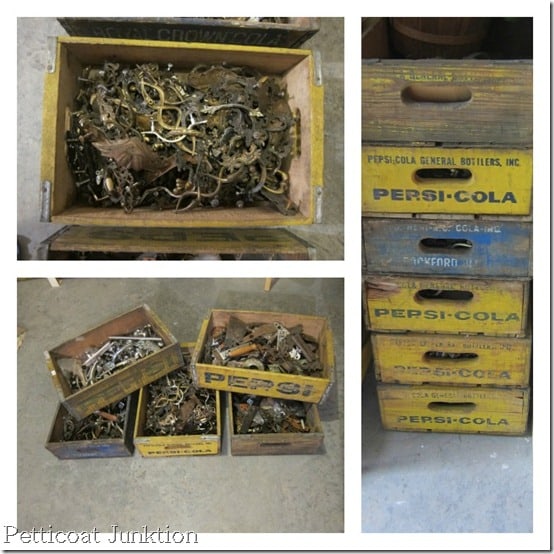 This photo of my junk hardware stash was taken in 2012 also. The stash has grown considerably since then. I have a good selection of vintage furniture pulls and knobs, door hardware, old tool pieces, and misc. metal junk items. You never know what might come in handy so I pick up any odd or fun looking piece.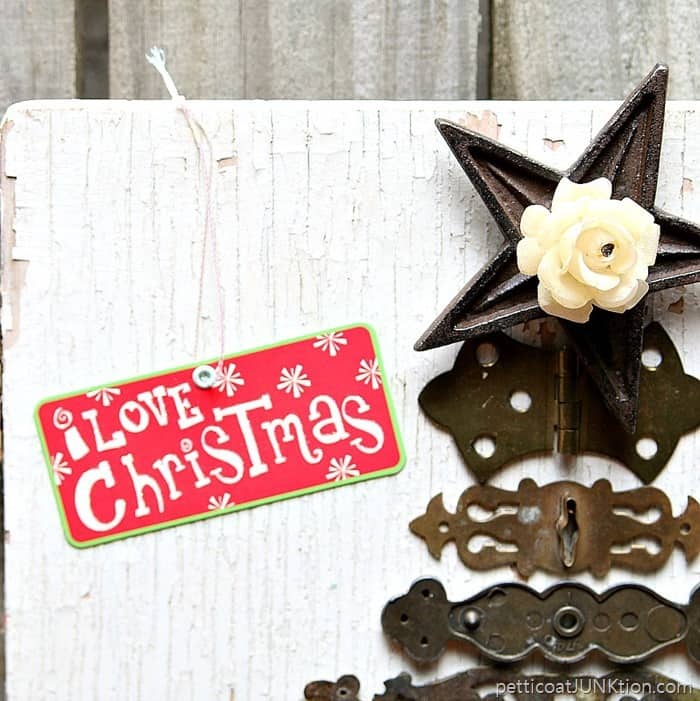 I gathered hardware parts and pieces and put the tree together using hot glue and a few screws. The flower topper is a piece of vintage jewelry.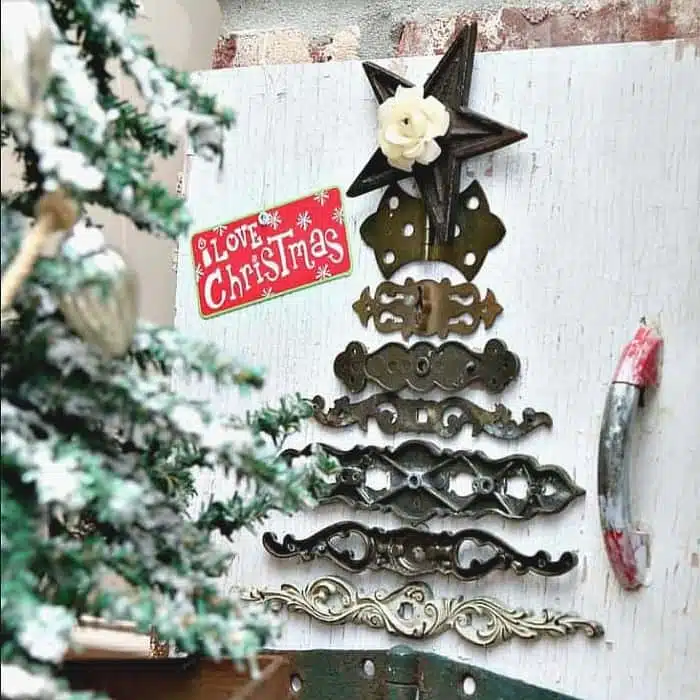 It's now 2020 and the hardware tree is still in one piece and a favorite of my Christmas decorations.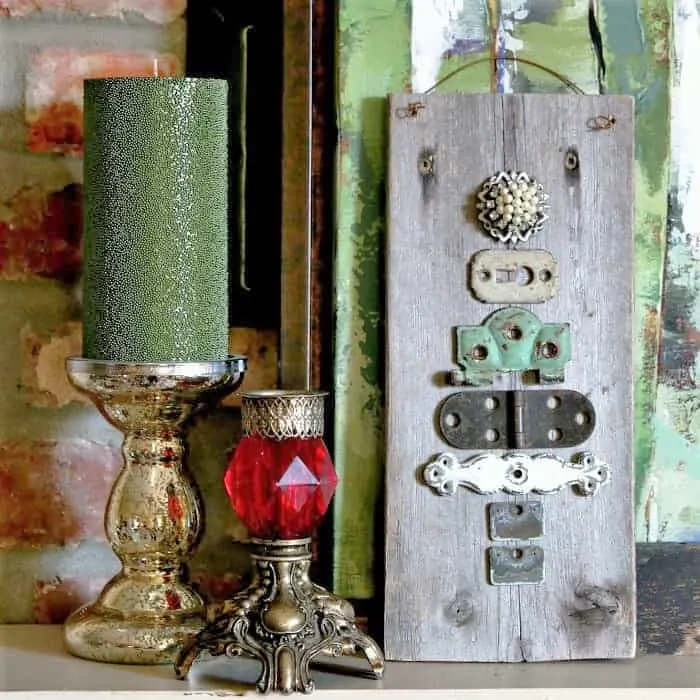 The little DIY reclaimed hardware Christmas tree is similar to the first tree but on a smaller scale. I really like that green piece. Trying out different junky pieces in different places is half the fun of putting these guys together.
To get a look at this project click here....DIY Reclaimed Hardware Tree.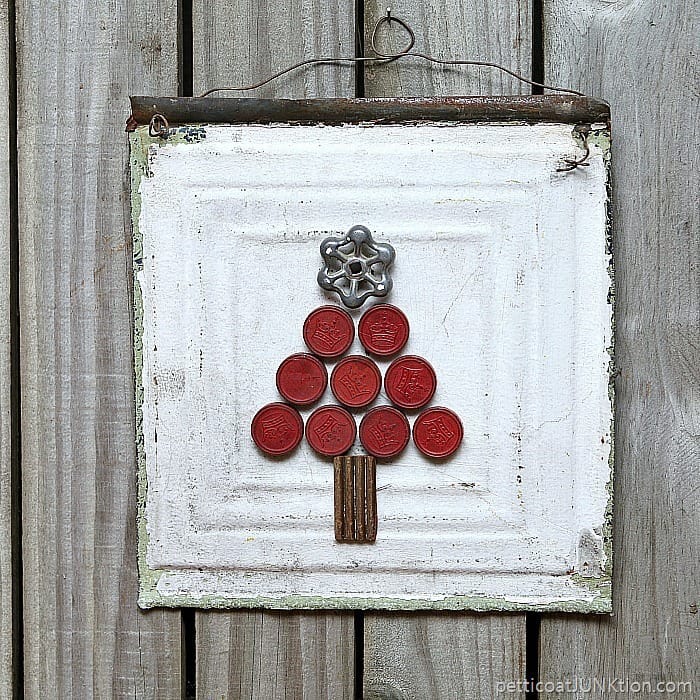 The checker tree has a garden spigot topper. I made several projects from garden spigots but haven't done any recently. I need to get on that. The tree is on a vintage tin. The hanger is rusty reclaimed wire.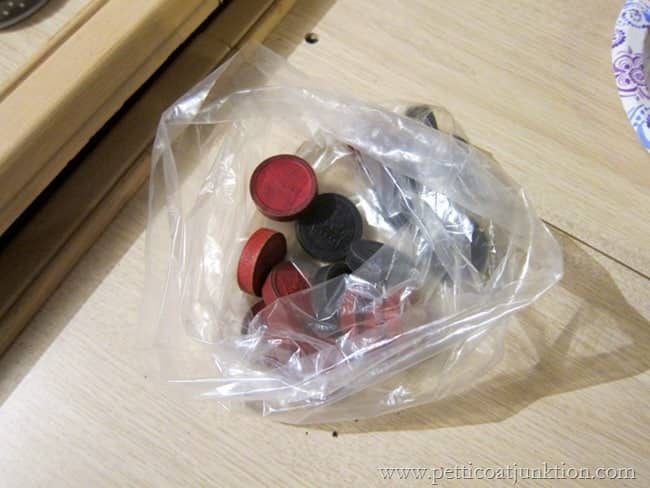 Always check the local thrift stores, Goodwill, Salvation Army, and flea markets for inexpensive objects to work with. This bag of checkers was cheap!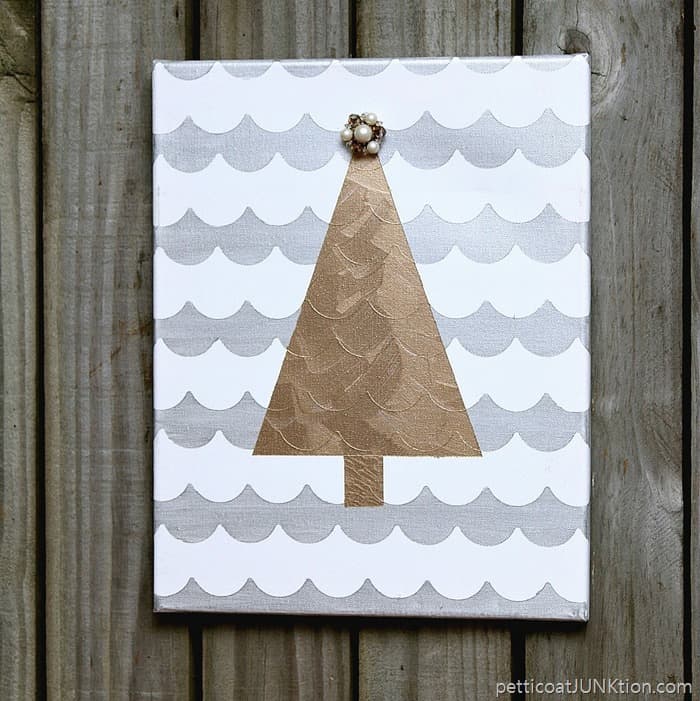 This piece is a little different from the first two. I painted the tree on a blank white canvas using frog tape as guides. The colors are silver and gold metallics. The tree topper is a vintage earring.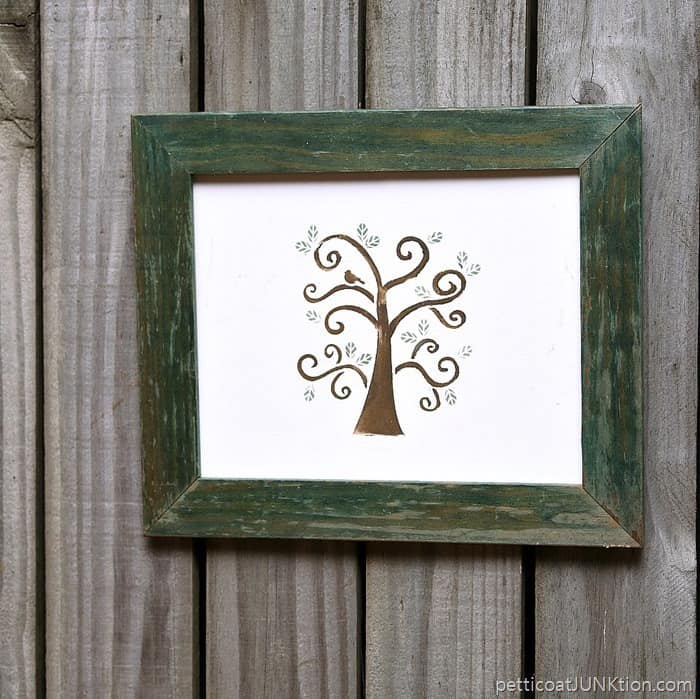 The partridge in the pear tree was a fun stencil project. The frame is a junky find and the color is original.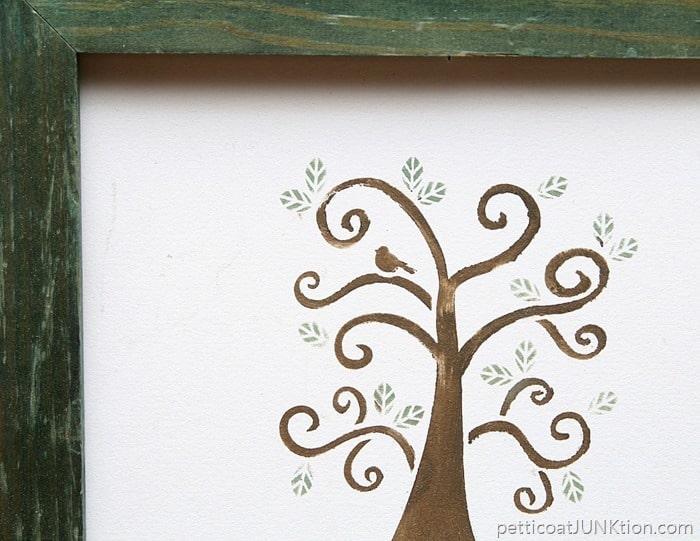 That little partridge is so cute and I love the curly cue branches of the tree.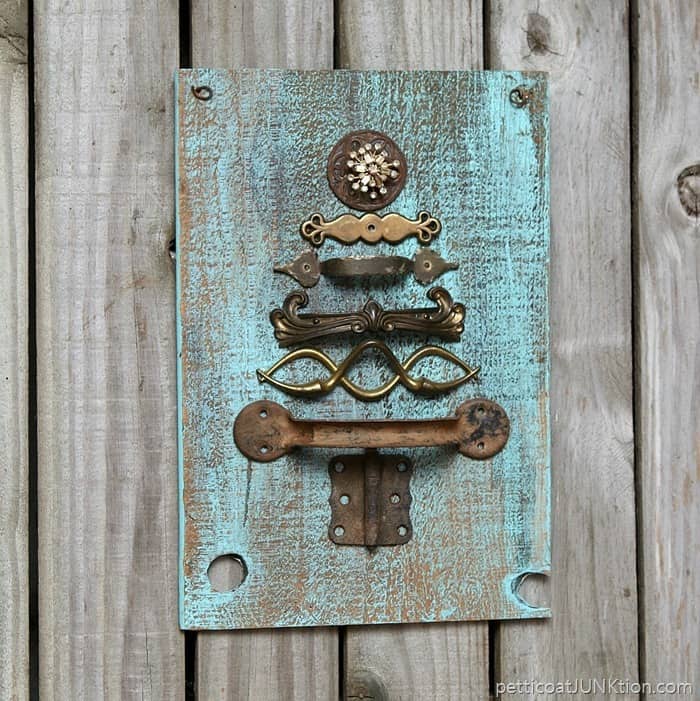 I made this tree last Christmas. It's a favorite of mine too. The board is a reclaimed drawer bottom. I tried to do something a little different with this tree. Most of the hardware is not flat like the first tree. Adds depth to the tree and I like it!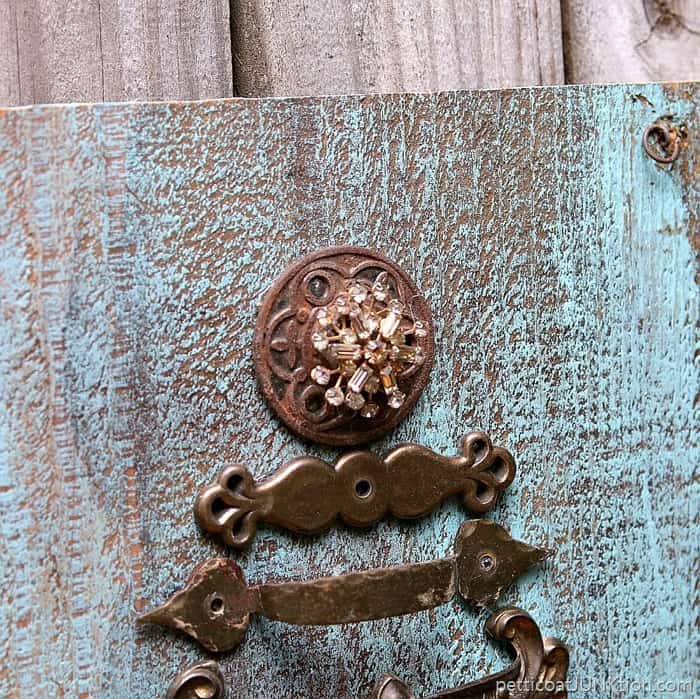 The rhinestone topper came from my jewelry stash.
Guess what. I forgot about my sisal rope tree. Don't know how I did that. Makes number six for diy trees.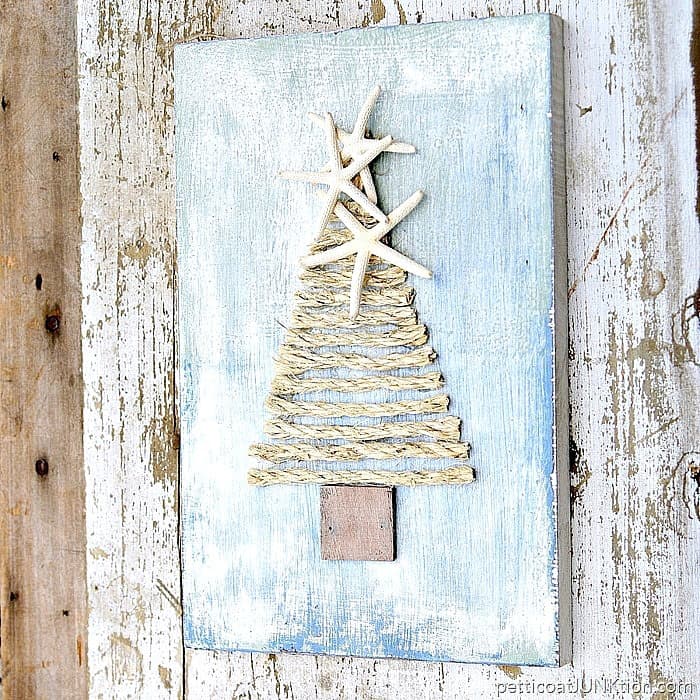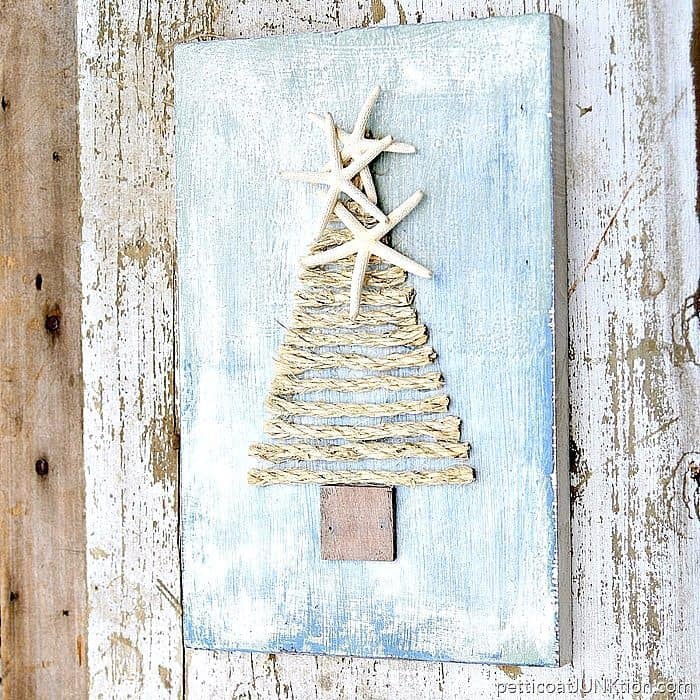 Sisal Rope Tree
The sisal rope tree is perfect for the home with nautical decor. It's really easy to make too. Get all the details here...sisal tree.
Christmas Tree Garland | Ornament
How about some trees that don't involve hardware? These trees are warm and soft.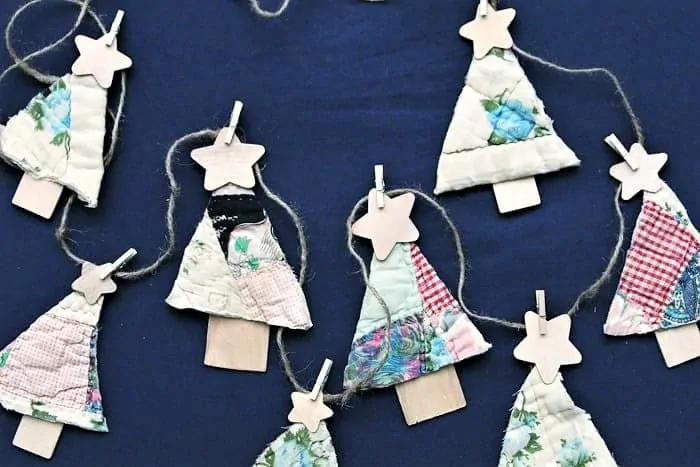 Old quilts that have seen better days (cutter quilts) are great for upcycled projects like the Christmas tree garland I made. Take the trees off the garland and they can be ornaments. Change it up each year. See the project here.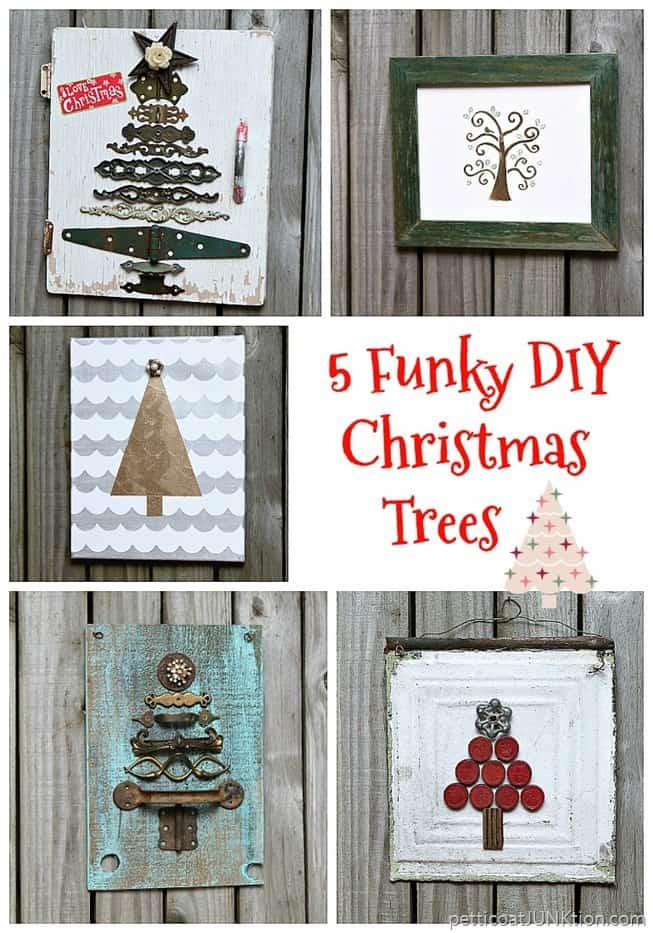 5 Funky DIY Trees
Hope you liked the tree review. Which is your favorite? I bet you have some junky pieces you could make a tree from. Get creative.
I'll see you guys later. Have a good day, Kathy
Author: Kathy Owen (Petticoat Junktion)
Kathy is the founder of PetticoatJunktion.com, a home décor blog focused on repurposing and upcycling furniture, old hardware, rusty stuff, and thrifty finds into unique home décor. Kathy's projects have been featured on the Home Depot Blog, Plaid Crafts, Behr Designer Series, and in numerous magazines. Read more about Kathy here.