Sisal Rope Planter Painted With Coastal Texture Paint
I made the sisal rope planter from a thrift store glass dish. I went with the coastal / nautical / beachy sisal rope planter design because it reminds me of Florida.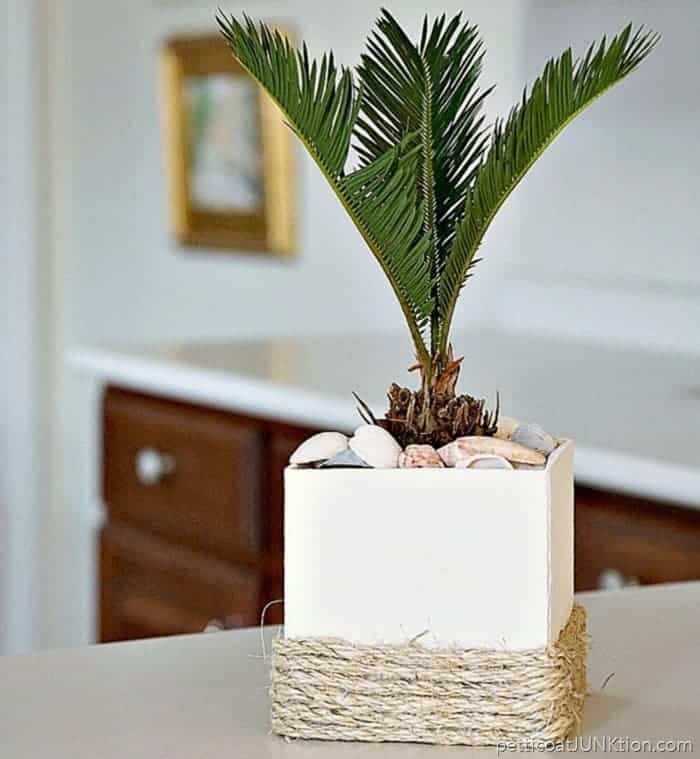 Sisal Rope Planter
I miss living in Florida. I miss the sunshine, the beach, the laid back atmosphere……and the thrift stores. They have the best thrift stores in Florida. Really. The yard sales and estate sales are the best too. Maybe I just feel that way because I'm longing for those Florida days, but I don't think so. Do any of you have experience thrift/junk shopping in Florida? Maybe you could give me your take in the comment section below.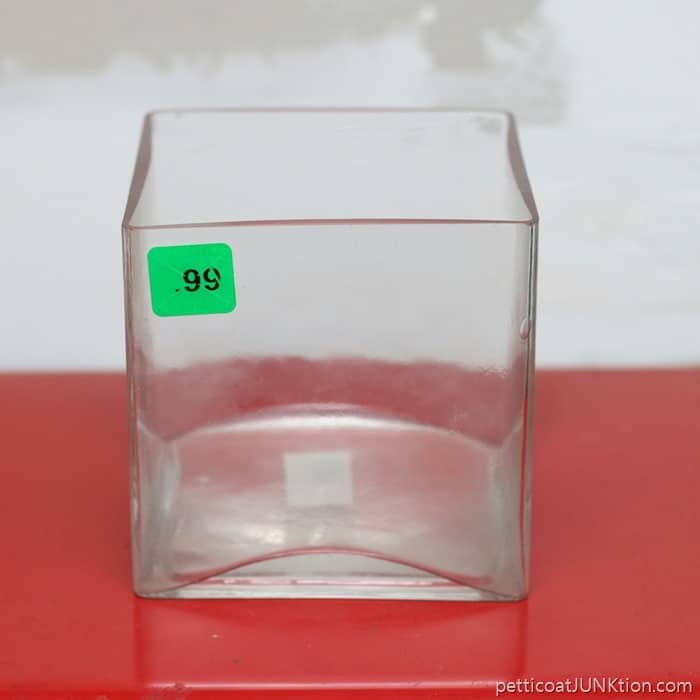 99 cent Thrift Store Find
I bought the glass dish at my local thrift store. It was plain and square and I knew it would come in handy for something.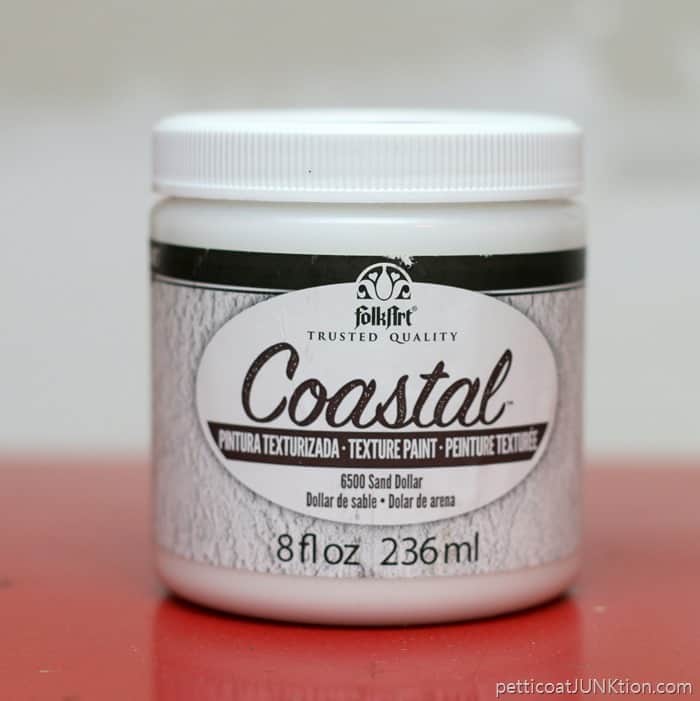 I was excited about trying the new paint from FolkArt…..Coastal Texture Paint. Texture is one of my things, along with rust and bling.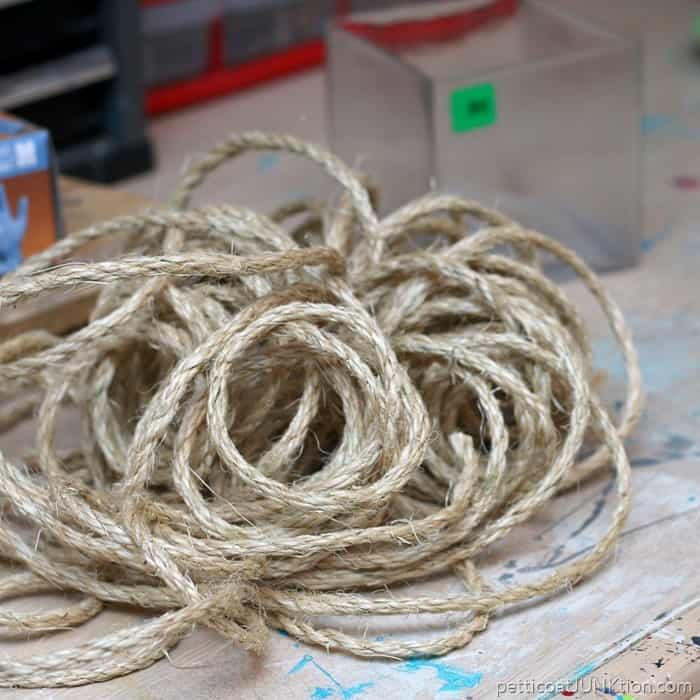 And you guys know how I'm addicted to sisal rope. A few months ago I promised no more sisal diy projects and I've stuck to the promise….until now.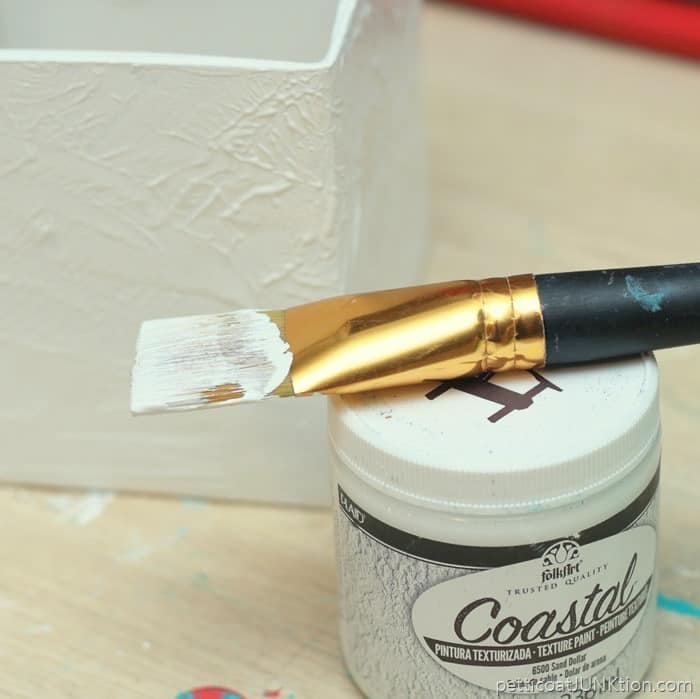 The Coastal Texture Paint holds up to it's promise. I just smushed on the thick paint to achieve the textured look. The paint is thick and it covers in one coat.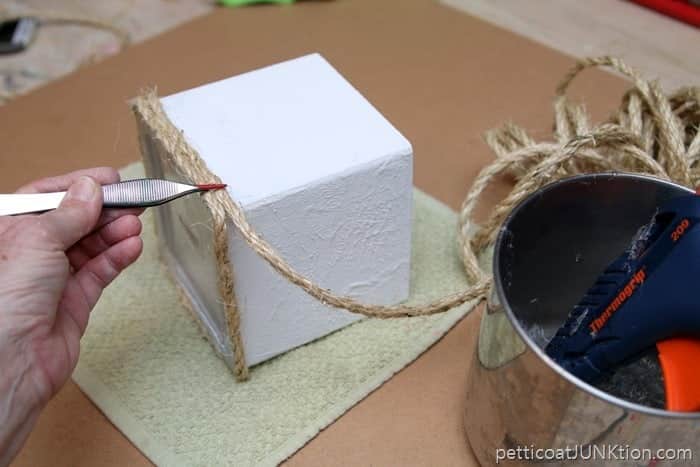 I used my torture tool glue gun to adhere the sisal rope to the planter. I use these handy dandy forceps to help me when using hot glue. Saves the skin on my fingertips. Popsicle sticks are good finger savers too. You learn these things as you go along and I don't mind sharing tips on things I've learned the hard way.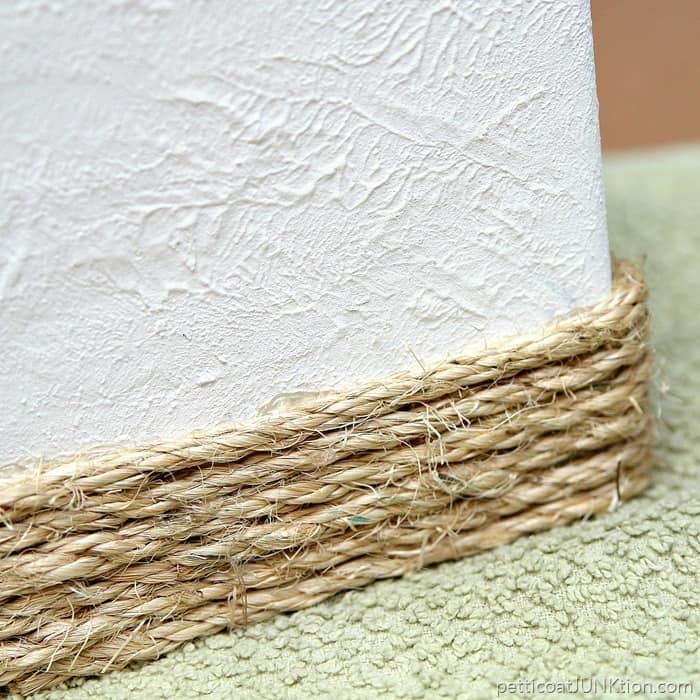 Pretty texture and I really did a good job getting the sisal rope on straight. Patting myself on the back.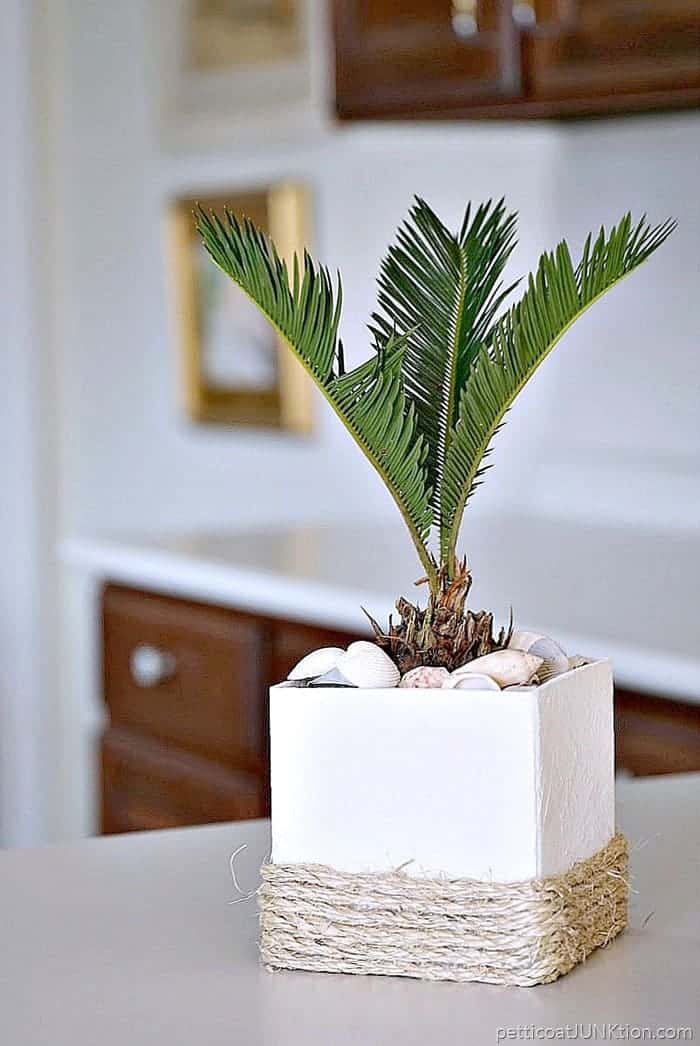 I bought the Sago Palm at Lowe's. We had several of these in our yard when we lived in Florida. The tag on the Sago Palm said "Plants of Steel" known for their Survival Skills. Perfect for me since I'm known for killing off anything green, indoors and out. Living in my space will be a good test of it's survival skills.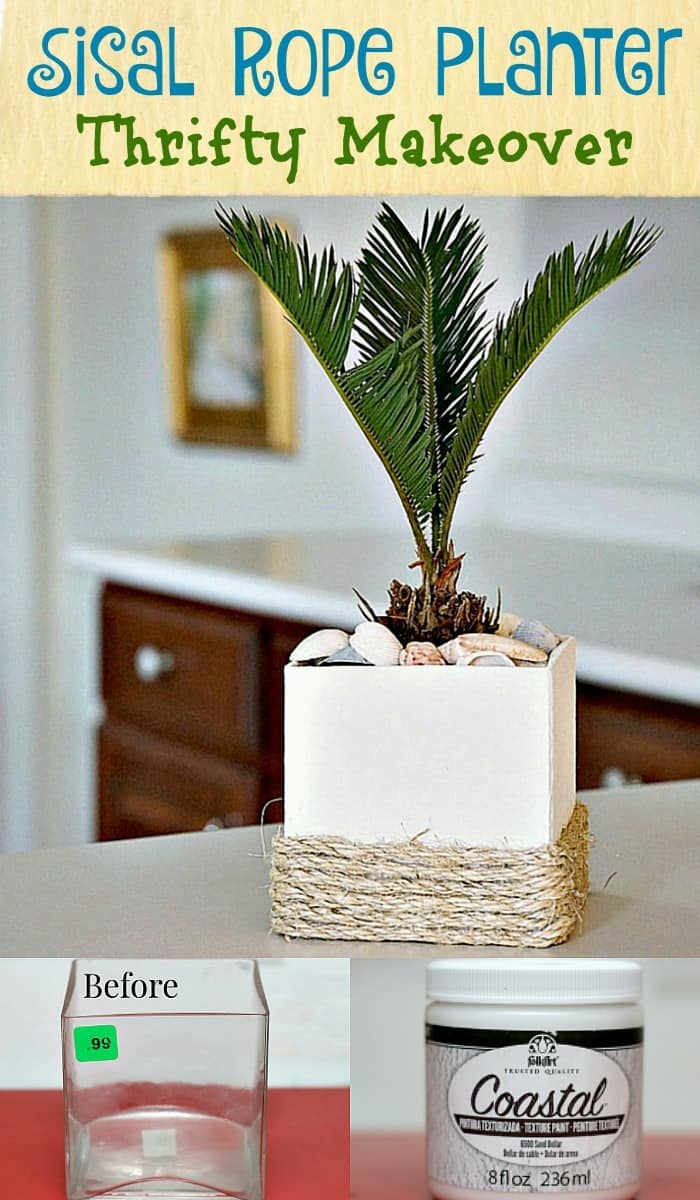 I have to say this is one of my favorite projects. The clean fresh look of the sisal rope planter has me thinking Spring….and how soon can I get to the beach. I like the look of unfinished wood with white and the sisal rope is so close to the color of unfinished wood. I love the combo.
See how I used sisal rope to make handles for a vintage drawer by clicking here.
Today is Thrift Store Decor Makeover Day and my friends have fun projects today too. Click the pink text links below the "before" makeovers photo.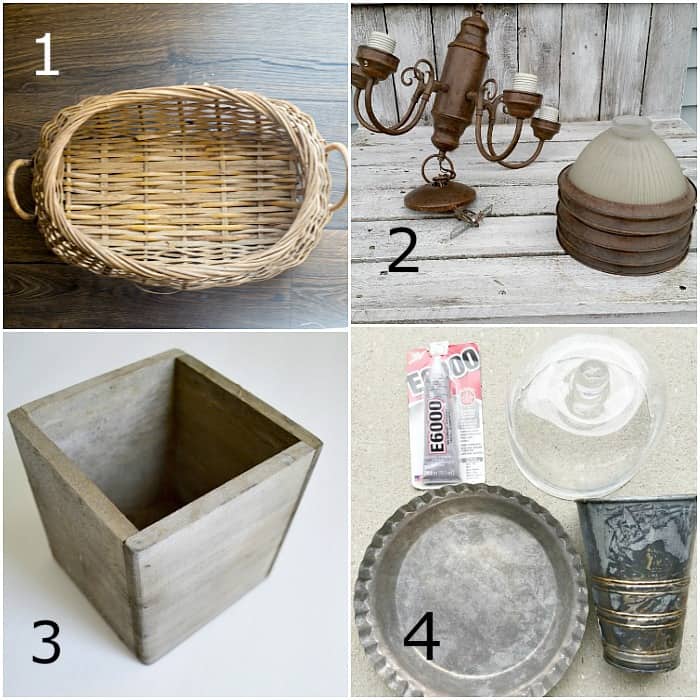 1. Spring Thrift Store Basket – Domestically Speaking
2. Floor Lamp Solar Chandelier – My Repurposed Life
3. Painted Succulent Planter – My Uncommon Slice of Suburbia
4. Galvanized Cake Stand – Refresh Restyle
Thanks for being here and have a great day!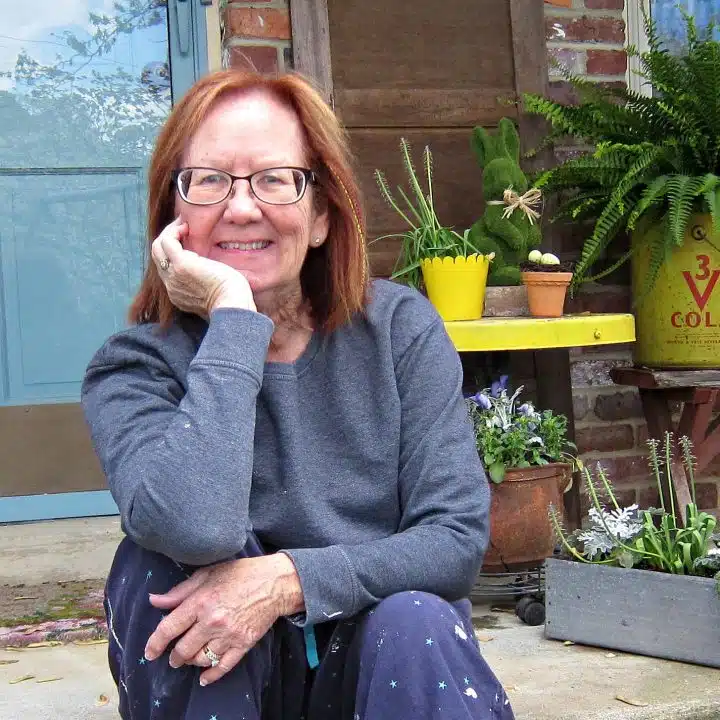 Author: Kathy Owen
Kathy Owen is the founder of the home decor blog Petticoat Junktion where she shares tutorials on painting furniture and upcycling thrifty finds into unique home décor. Her DIY projects have been featured on the Home Depot Blog, Plaid Crafts, Behr Designer Series, and in numerous magazines. Kathy's newest website is HappyHomeDIY.com