This DIY Christmas tree idea using reclaimed hardware came to me in the middle of the night. I have a ton of reclaimed hardware so why not make a funky Christmas tree.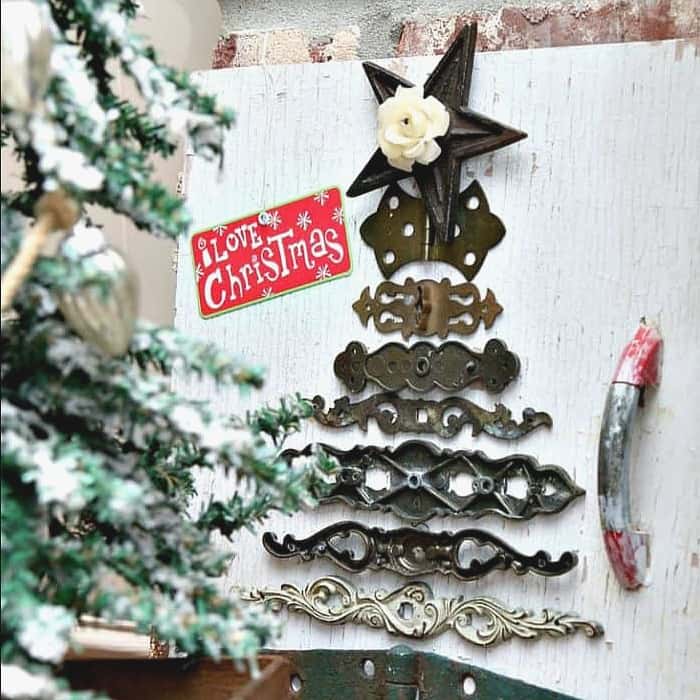 The tree was fun to put together. It did take a bit of time to find just the right sizes and types of hardware in my junk stash to make the tree. Putting it together was the easy part.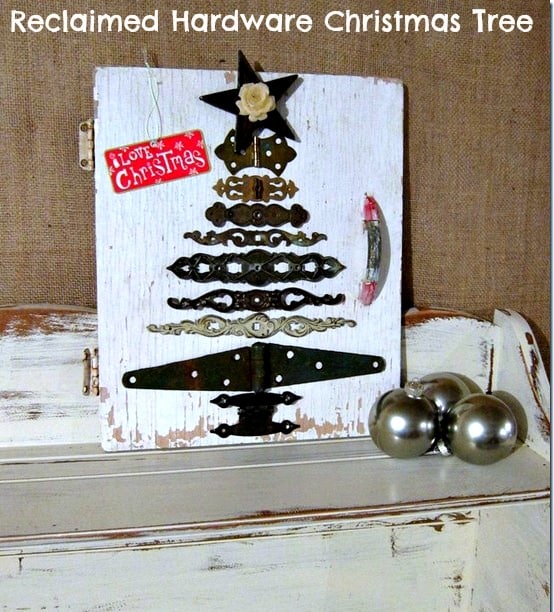 DIY Christmas Tree Idea
How cute is that tree! It is definitely unique and that's why I like it.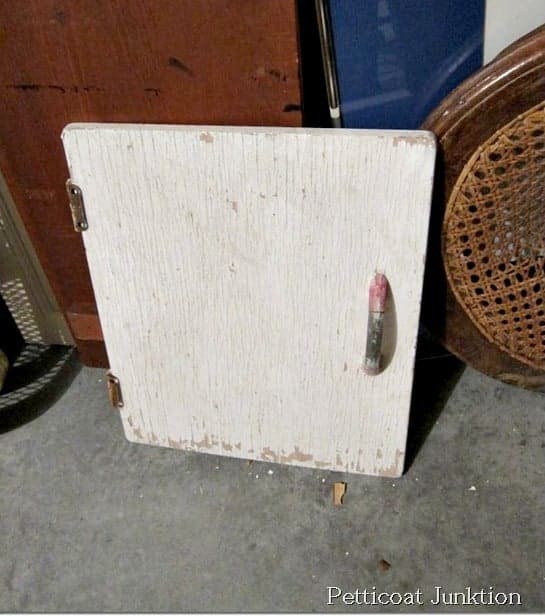 It all started with this cabinet door. I bought the door at my favorite junk shop. I couldn't resist the chippy paint.
door has been in the workshop for awhile and every time it caught my eye I thought of Christmas. The best part of the door was the cool pull. I think the red might be bakelite but I'm not sure.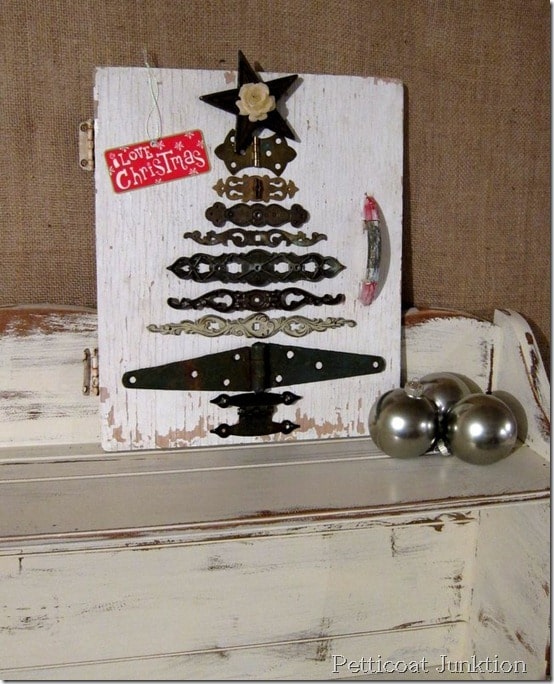 Anyway, the cabinet door was the perfect size for my tree project.
I've been spending a lot of time in the workshop organizing, putting things together, playing around. That's what I do. When I decided on the Christmas tree idea I went to my stack of crates where I keep all of my cool finds.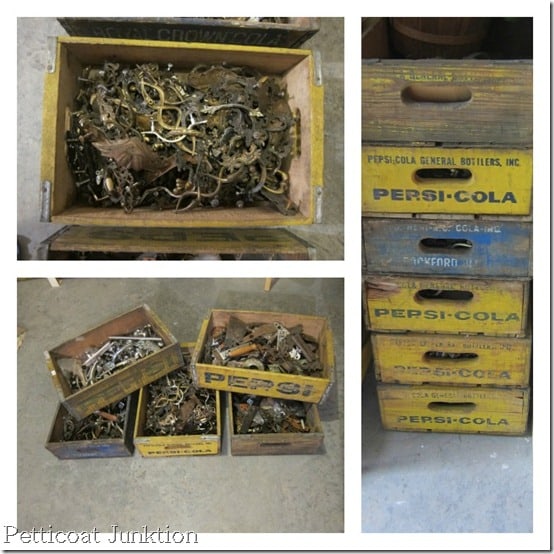 Can you believe all of this stuff. The crates contain hardware pulls, door hinges, saw blades, anything iron or metal. I've been collecting this stuff for years. The hardware can be really weighty so I store it in the cola crates.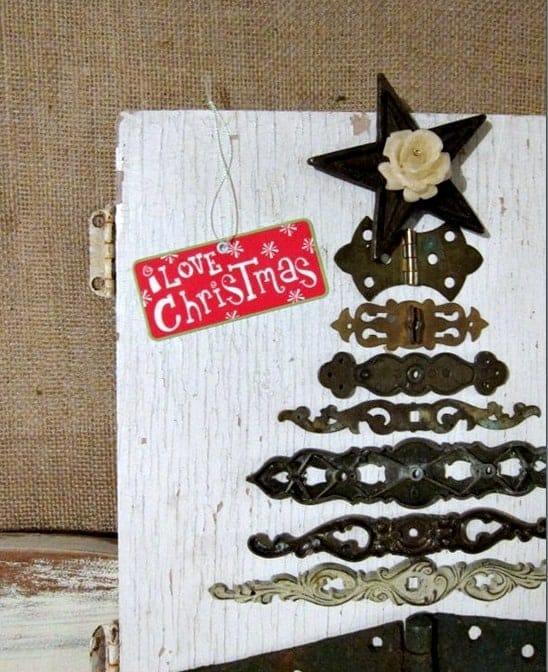 I used E6000 to bond the strap hinges and hardware back plates to the door.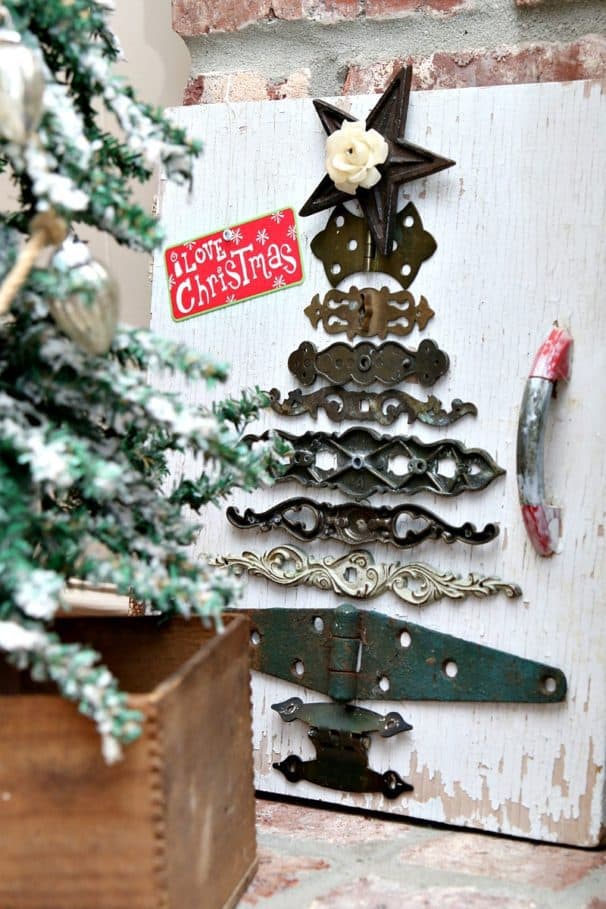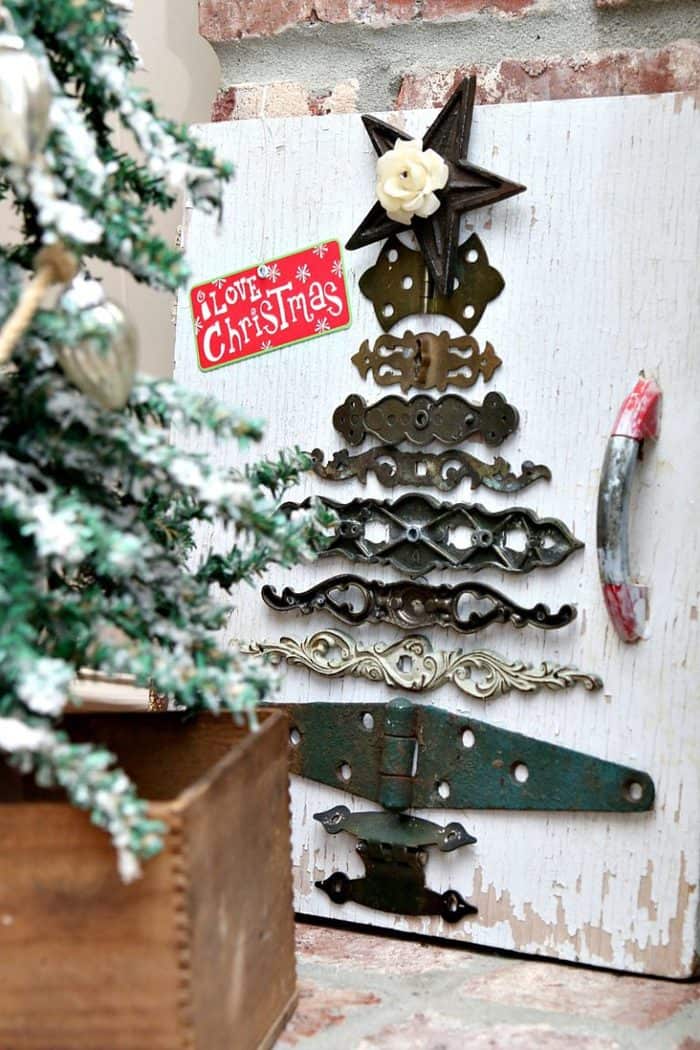 I planned to put some screws in the hardware after the glue dried but I don't think they are going to come off so I skipped that step. That E6000 is some powerful stuff. Love it. I had all that hardware but what about a topper of the tree?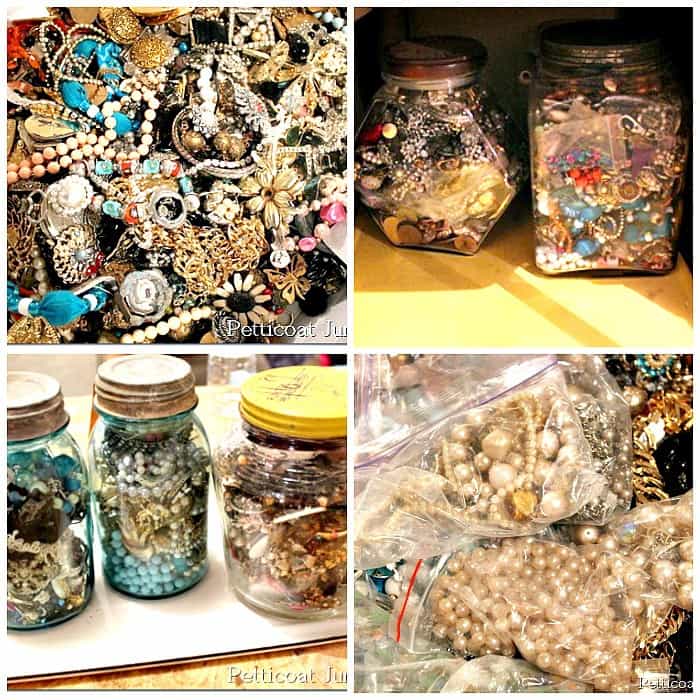 Not only do I have a hardware stash.....I have a junk jewelry stash. There are jars and more jars and boxes full of jewelry bits and pieces on my storage shelves.
I use a lot of the jewelry to make my Angels of Reclaim. But that's another story.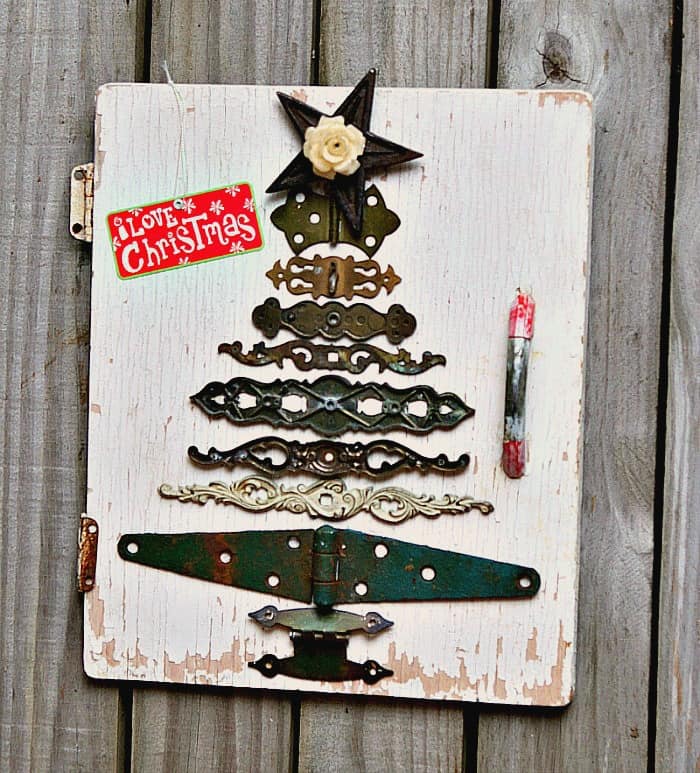 I found the perfect tree topper in the stash. The rose/flower looked like it was made for the top of my tree but it was just a tad small.
I went to my storage shelves once again and found the iron star nail to use as a back for the rose tree topper. The tree is almost done...just one more thing.
The red "I love Christmas" gift tag is to add a little color and well......just for fun. Sometimes one piece of the puzzle makes all the difference. If you like this tree you have to see my extra sparkly tree by clicking here...Sparkle and Rust Tree.
For those of you who have asked about my Angels of Reclaim here are a couple of posts.....Assemblage Art Angels and RosaAnne Angel.

Christmas Tree Idea Using Reclaimed Hardware
See my latest Metal Christmas Tree. It's the cutest little thing. Just click here....Christmas Tree Made With Hinges.
Thanks for stopping by and have a great day. Kathy