Today is Thrift Store Decor Day and my project is a small hanging Christmas display. I got the idea for the display from a magazine. Vintage wallpaper and a wood pool rack are the base of the project and the surprise ingredient is glitter!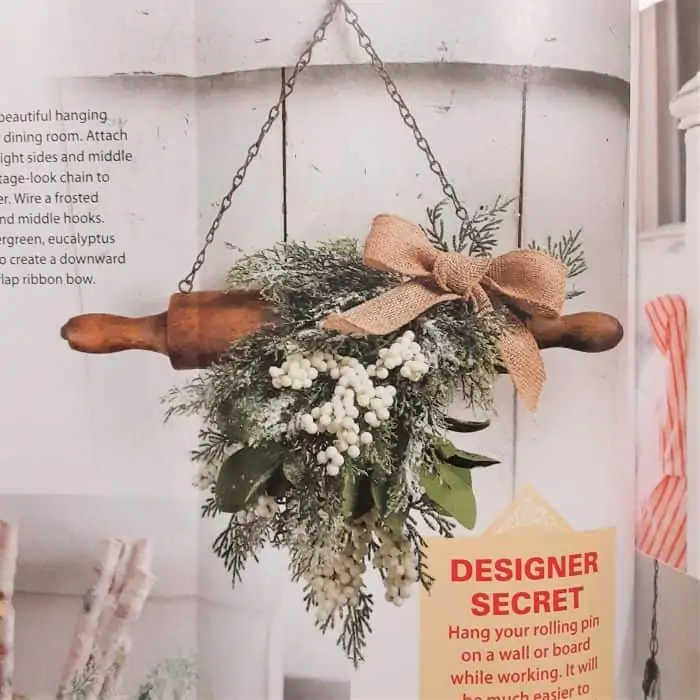 It was love at first sight when I spotted the rolling pin with the Christmas greenery. It made me think of the faux succulents I hot glued to a pool rack and hung with jute. I still had the pool rack so time to make a new display.
Keep in mind when you are inspired by a project you should put your own spin on it just like with the projects I share here with you. Use my projects as inspiration and create something from things you have at home or buy what you like and go from there.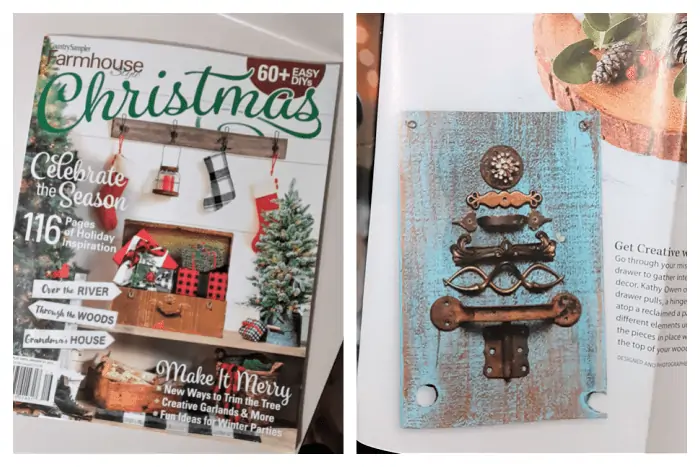 Country Sampler Farmhouse Christmas magazine is where I found the inspiration. The magazine also features my Blingy Hardware Christmas Tree. Thanks Country Sampler! Okay, back to the project tutorial.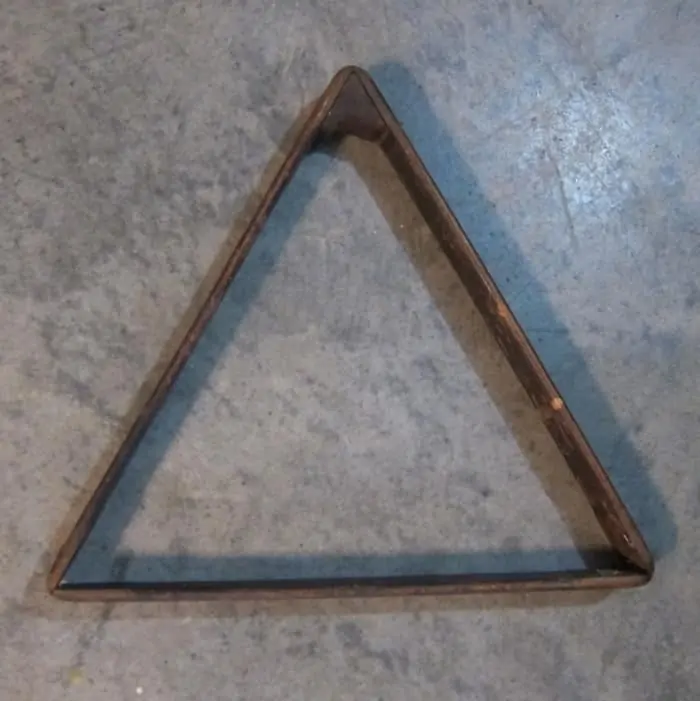 I don't remember where I picked up the pool rack because I've had it for years. I knew eventually I would find a way to use it for a project.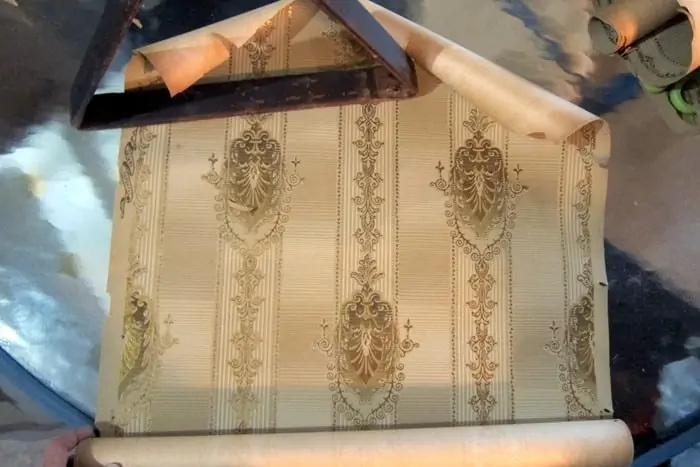 I ran across this vintage wallpaper when I was cleaning out the workshop a few weeks ago. In the upper right corner of the photo you can see rolls of the same paper. The paper is really old and fragile and it kept splitting lengthwise as I unrolled it. I was finally able to keep it from tearing. The paper has a lot of shine to it in some of the details but it's hard to pick up in my photos.
The glittery church was in my stash of stuff I bought to make Christmas projects last year. We missed Christmas all together last year because of the virus. I was in Arkansas the whole month of December and the first half of January. Not going into that story now. This Christmas is going to be a good one! I'll make sure of that.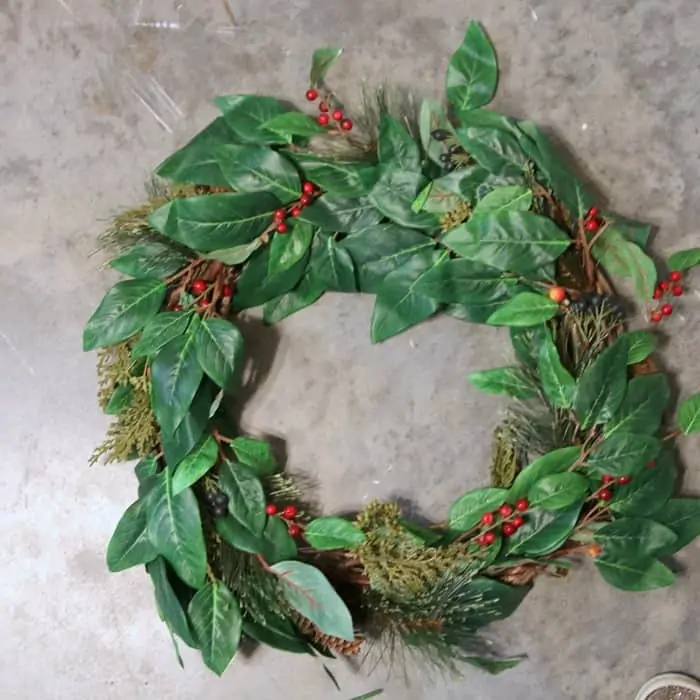 This ratty wreath is a junk shop find from last year. I was going to try to fluff it up but instead I'm stealing pieces from it for other projects.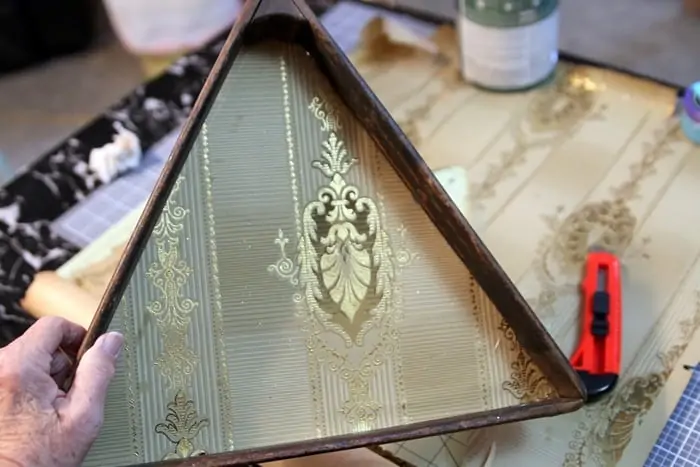 I forgot to mention I made a video showing how I put the display together. It shows all the details. I first ran hot glue along the edge of the pool rack then flipped it over onto the wallpaper and let it dry. Then I used a razor to cut around the pool rack. The wallpaper stuck to the rack just like I hoped it would. The photo above shows the shiny paper a lot better than the earlier photo.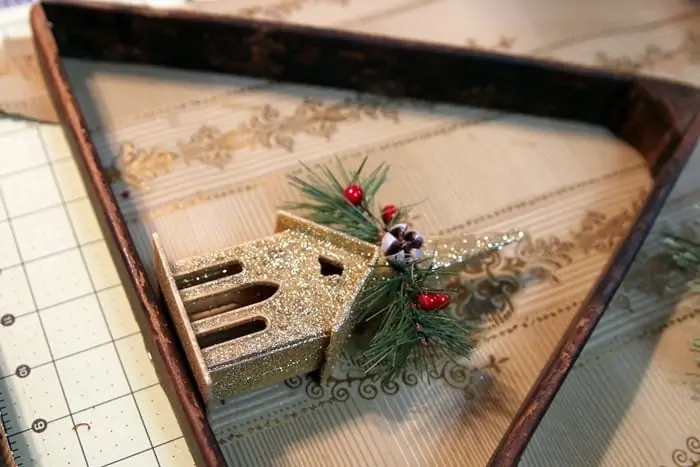 Next I hot glued the church to the base of the rack. I set it a bit to the side instead of centering it.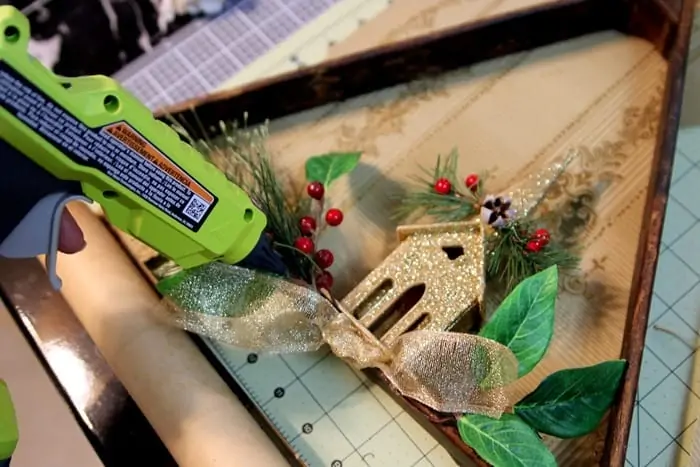 Then I added the greenery I pulled from the sad wreath. I had some glittery ribbon so why not add a touch of that too.
Watch the video below showing the whole project process.....
Making a Christmas Display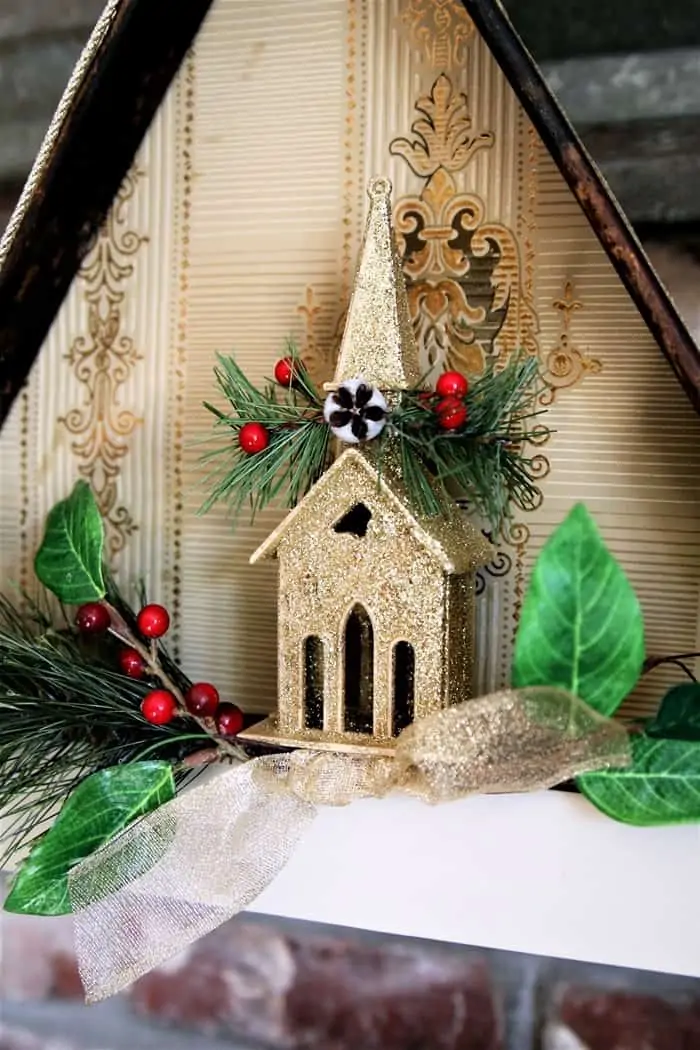 I smile when I look at the little hanging Christmas display. Since I haven't decorated for Christmas yet I just set the display on the mantel and took a few photos.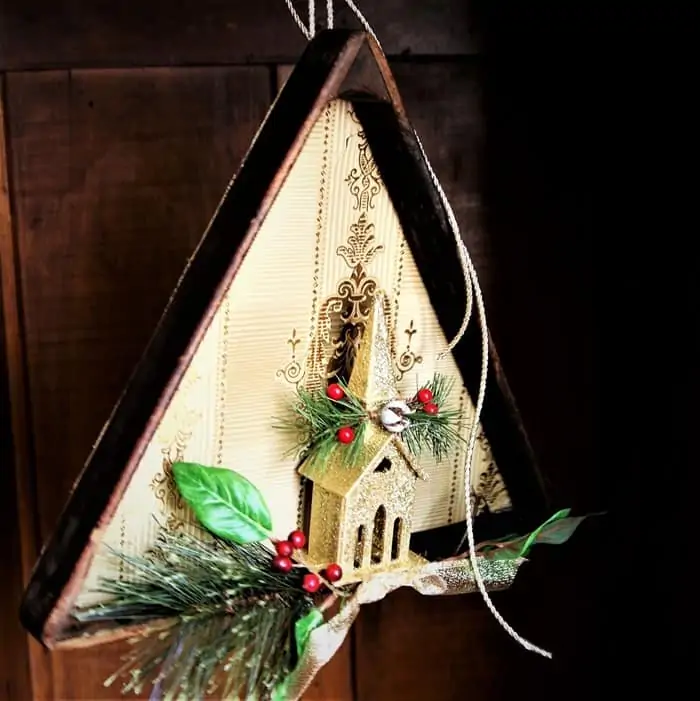 Then I hung it on the rack in the vintage wardrobe sitting in our family room. I don't know where it will eventually end up.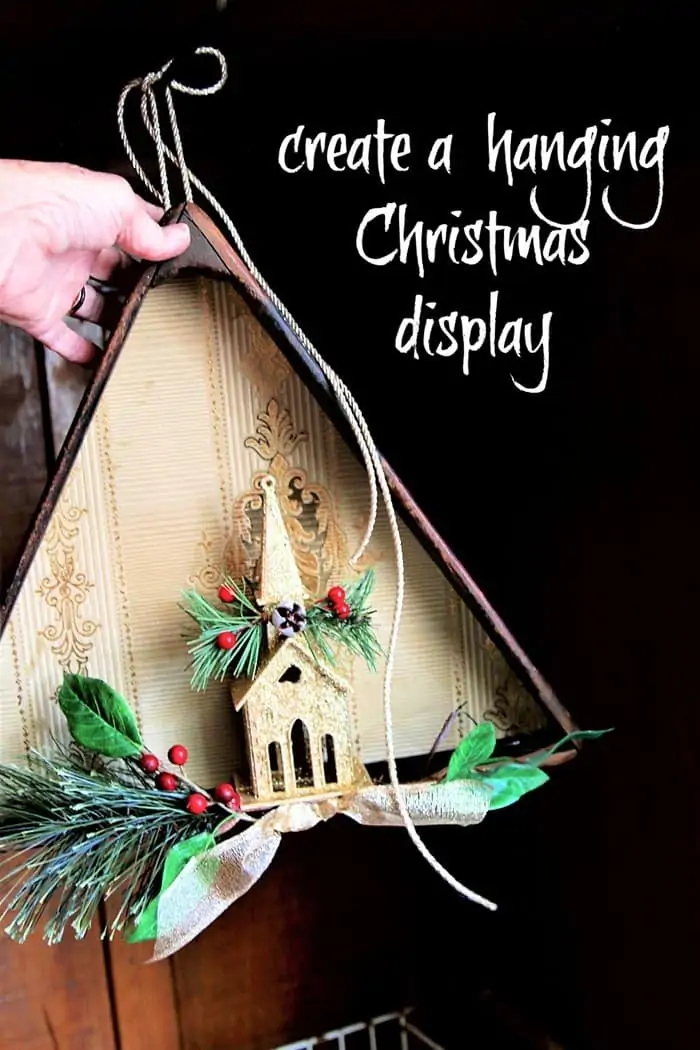 What do you think of the Christmas project? Do you like the way I put it together? Did you watch the video? I would love to hear your opinion of the video. I've been making a lot of project videos lately and uploading them to TikTok. Hard to believe but I'm doing it.
Time to see what my thrifty friends worked on this month. Just click the text links below the "before" makeovers collage.....
Christmas Farmhouse Toolbox - Domestically Speaking
Folding Tray Table Makeover - My Repurposed Life
Small Hanging Christmas Display - Petticoat Junktion (you are here)
DIY Outdoor Two Tone Furniture Finish - Our Southern Home
Tray Makeover Using Peel And Stick Tiles - My Uncommon Slice of Suburbia
Autumn Leaf Dishes For Fall Decor- Sadie Seasongoods
Pressed Glassware Makeover - House Of Hawthornes
Thrifted Spice Rack Repurposed As Christmas Decor - Organized Clutter
Easy Layered Chippy Paint Finish - Reinvented Delaware
Repurposed Wooden Calendar - Shop At Blu
As always thanks for being here, Kathy
Author: Kathy Owen (Petticoat Junktion)
Kathy is the founder of PetticoatJunktion.com, a home décor blog focused on repurposing and upcycling furniture, old hardware, rusty stuff, and thrifty finds into unique home décor. Kathy's projects have been featured on the Home Depot Blog, Plaid Crafts, Behr Designer Series, and in numerous magazines. Read more about Kathy here.