Do you have a themed ornament tree, or do you just go all eclectic? I'm an eclectic decorator myself. I like to make unique Christmas ornaments using things in my junk drawer, garage, workshop, closet....you get the idea. These are some of my more whimsical and fun ornaments.....
1. Jello Mold Ornaments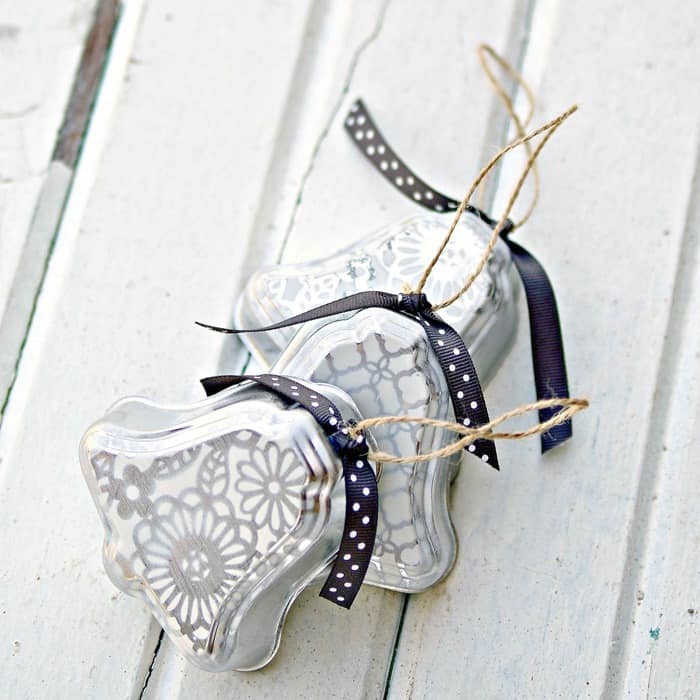 These silver bell Christmas ornaments are made with mini jello molds, a template/stencil, white spray paint, and super simple hangers.
2. Christmas Card Ornaments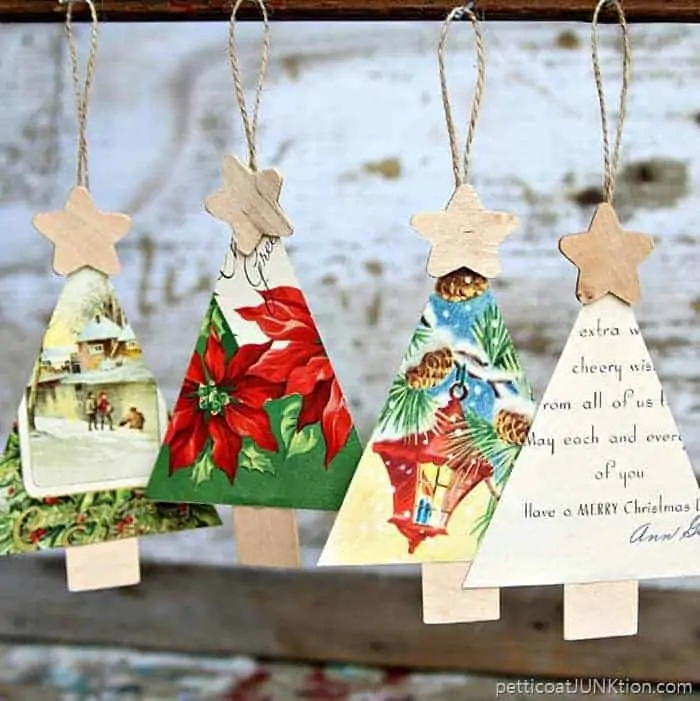 Make unique upcycled Christmas card tree ornaments this year using your favorite cards from friends and relatives or pretty vintage Christmas cards you have saved over the years. This would be a fun activity for Thanksgiving afternoon or Christmas day. Get family, friends, and neighbors involved.
3. Gift Tag Ornaments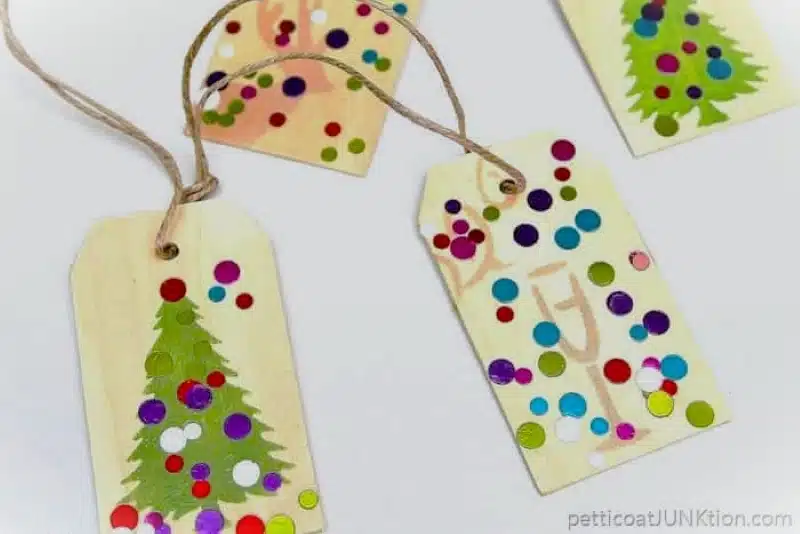 Create special DIY Christmas wrapping paper and it might just be the best part of the gift. You can make Christmas gift tags that do double duty as ornaments.
4. Recycled Checker Snowman Ornament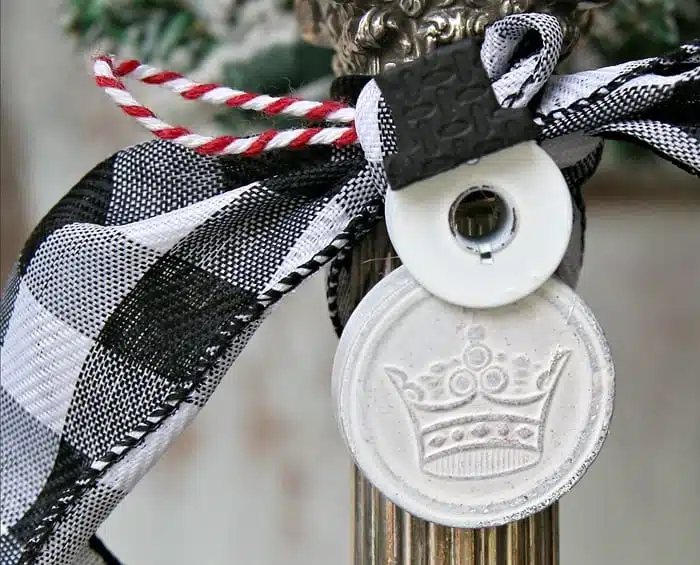 Look at this cute little snowman ornament I made using a single checker and a sewing machine bobbin. You will never believe what I used for his top hat.
5. Upcycled Junk Snowmen Ornaments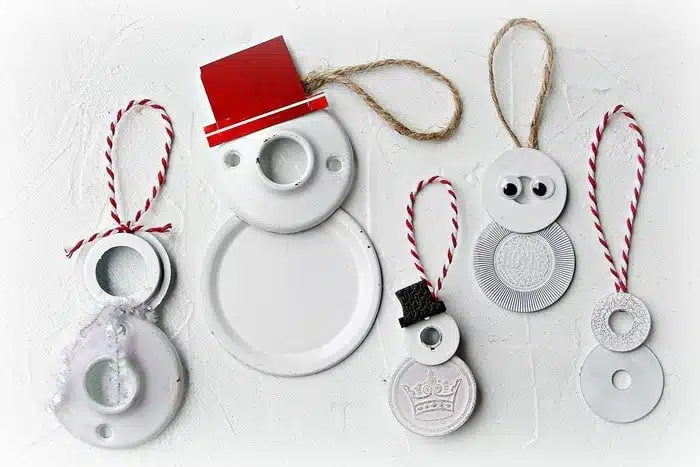 I made a whole host (gaggle....pride.....flock....I crack me up sometimes) of snowmen using everything from metal washers to door hardware to poker chips.
6. Quilt Christmas Tree Ornaments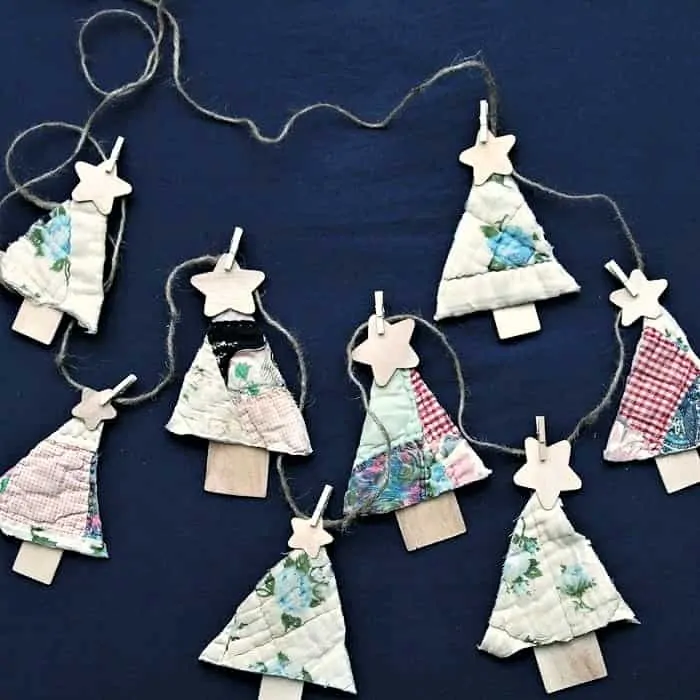 The first step in the project is to cut the tree shapes. You guys know me. I don't get all the exact measurements and stuff like that, which means no measuring required for this project. I just grabbed the scissors and started cutting. These cute little trees can be used as ornaments or hung on twine to make a garland or banner.
7. Recycled Jewelry Ornaments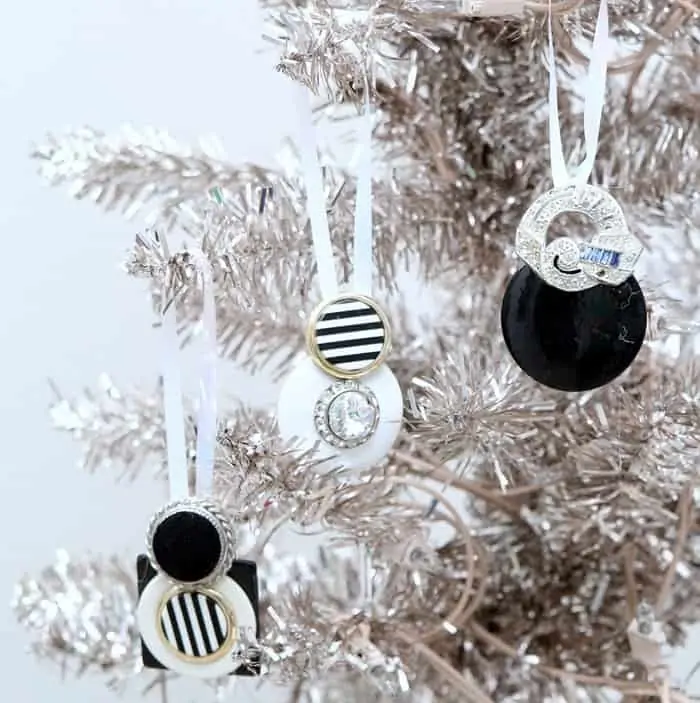 I took some of my old jewelry pieces and made ornaments. I selected these black and white pieces to work with. I cut or pulled the backs off of the earrings using a pair of wire cutters.
8. Card And Jewelry Ornaments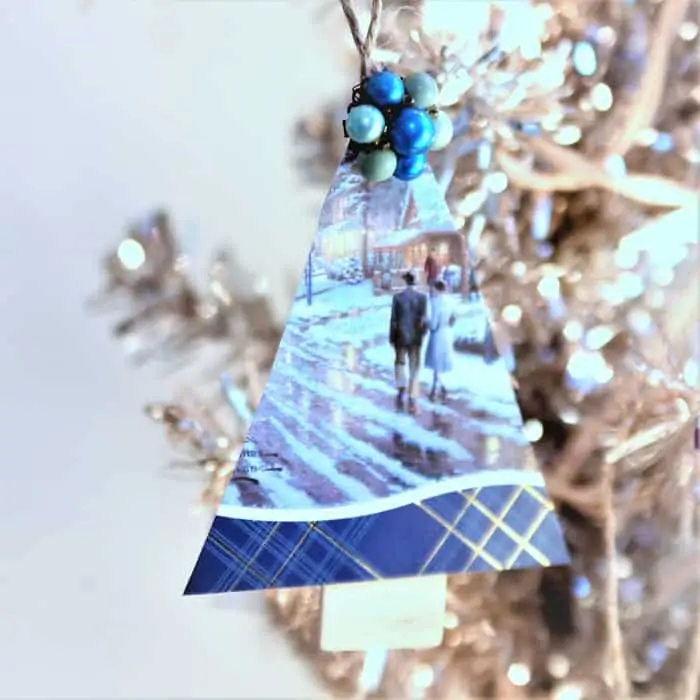 Another ornament created from Christmas cards but topped with jewelry this time. You can find this makeover and the jewelry ornament makeover here....8 Christmas Projects You Can Make In Just Minutes
9. Snowman Face Ornaments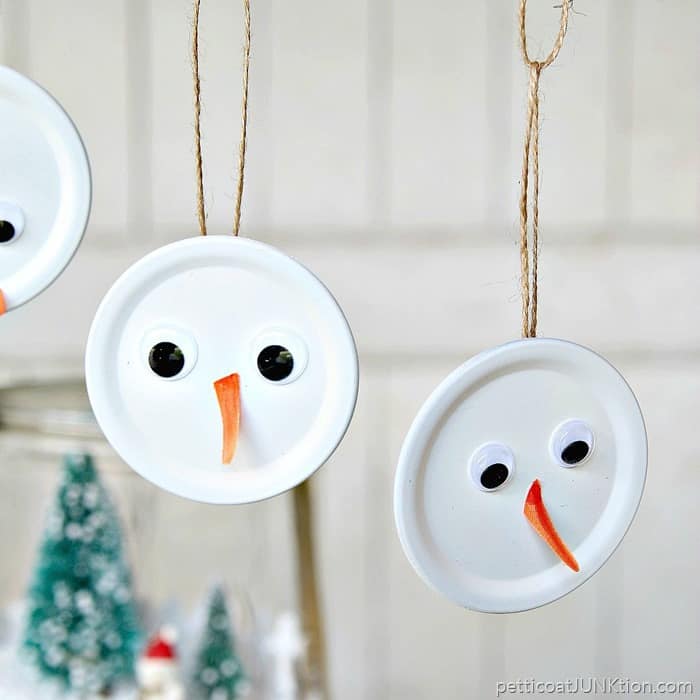 The Snowmen Ornaments took no time at all to make. Waiting for the spray paint to dry was time-consuming, but I can always find things to do while the paint dries. I'm not one to sit around and watch paint dry.
10. Button Snowmen Ornaments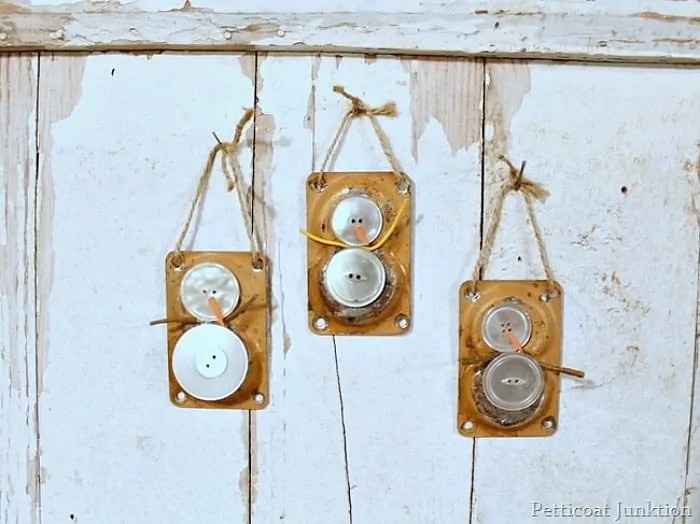 The backdrop for this snowman is a metal plate. The little metal rectangle came from the bottom of a cabinet (earlier project). I removed all four of the plates from the cabinet and stored them away in my junk stash.
11. Vintage Teacup Ornaments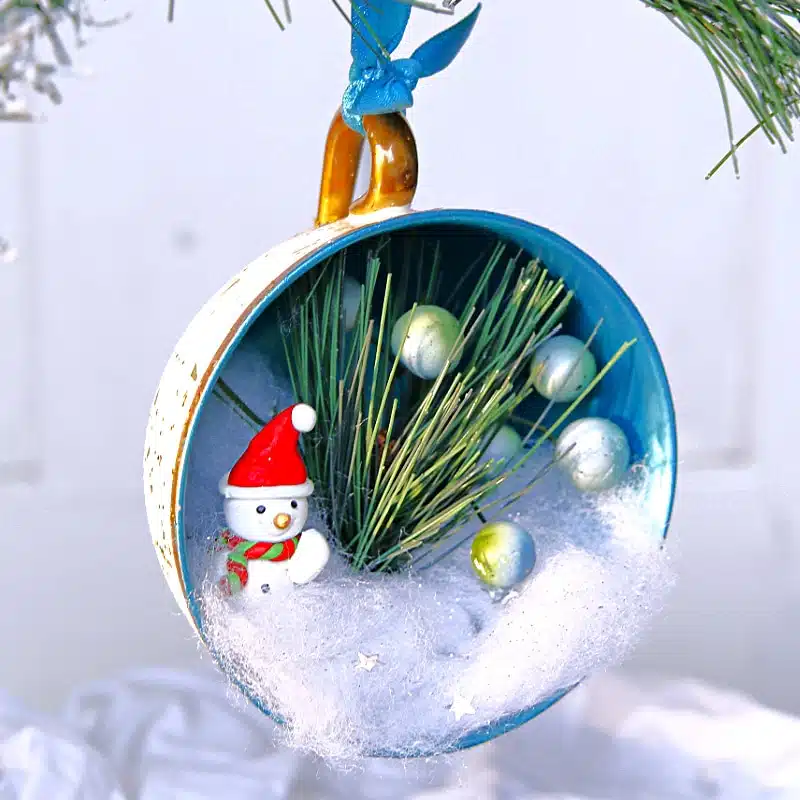 Make one-of-a-kindteacup Christmas ornaments to hang on your tree or for gift-giving. The ornaments can be personalized to fit your decor style or the gift recipient's occupation, hobbies, etc.
12. Sparkly Teacup Ornament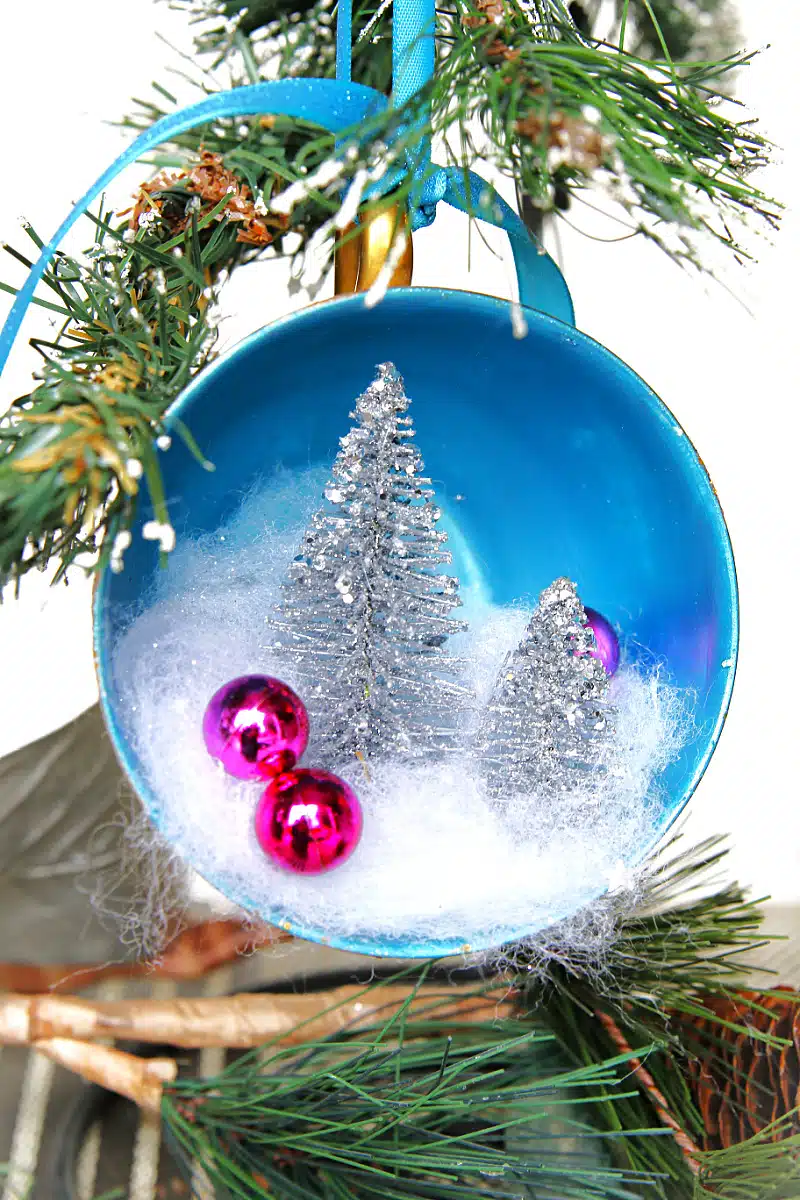 I made 3 of these teacup ornaments but I'm just sharing my two favorites here. I bought a bunch of little sparkly silver trees on clearance last Christmas, but they were too big for the cup. I just snipped off the tops and used those.
150 Christmas Decor Ideas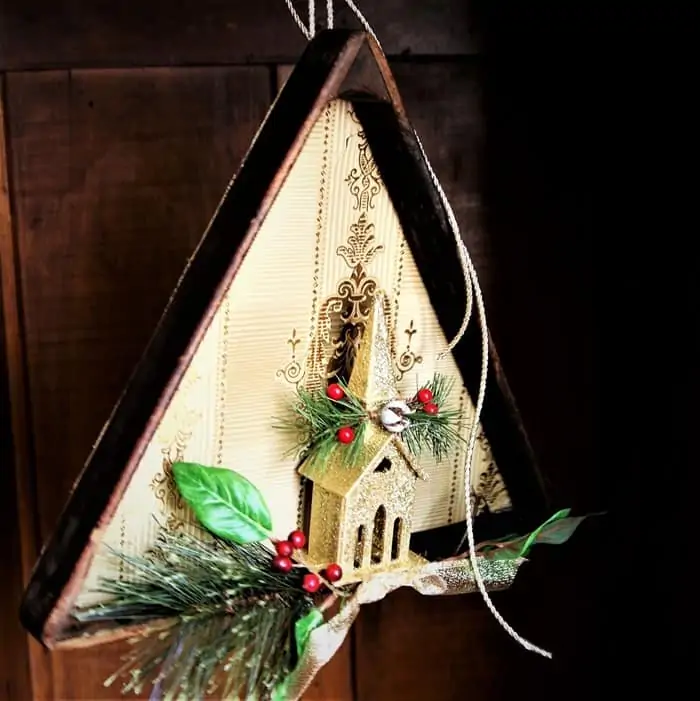 The Thrift Store Decor Team gathered 150 DIY Christmas decorating ideas, tips, and tricks just for you. The DIYs include ornaments, wall decor, wreaths, Nativity Scenes, you name it and we have it.
150 Christmas DIY Ideas For You That Are Anything But Ho Hum
Vintage Christmas Decorations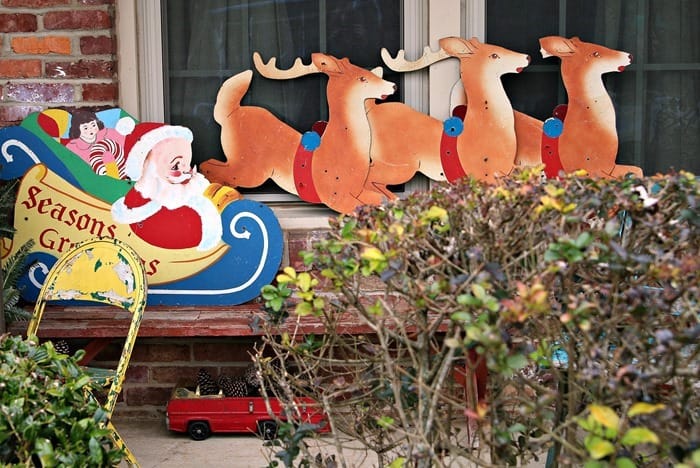 You should always make your guests feel welcome and loved. The first thing your visitors see when they come to your home is the entryway. It could be your backdoor or your front porch or maybe the garage entrance. It doesn't matter; make it inviting.
The Best Vintage Christmas Porch Decorations Of All Time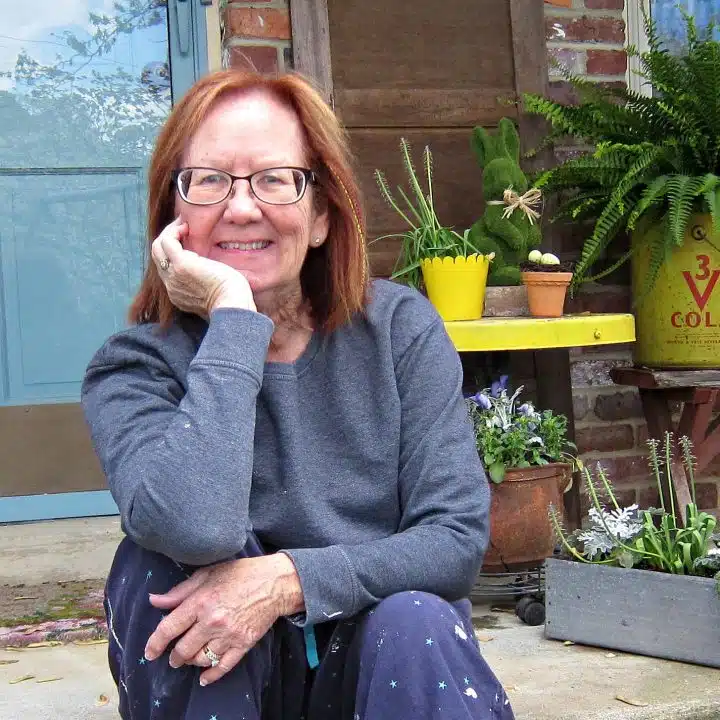 Author: Kathy Owen
Kathy Owen is the founder of the home decor blog Petticoat Junktion where she shares tutorials on painting furniture and upcycling thrifty finds into unique home décor. Her DIY projects have been featured on the Home Depot Blog, Plaid Crafts, Behr Designer Series, and in numerous magazines. Kathy's newest website is HappyHomeDIY.com