Make unique upcycled Christmas card tree ornaments this year using your favorite cards from friends and relatives or pretty vintage Christmas cards. If you don't have a stash of Christmas cards saved from years past you can find them at flea markets, antique shops, and on eBay.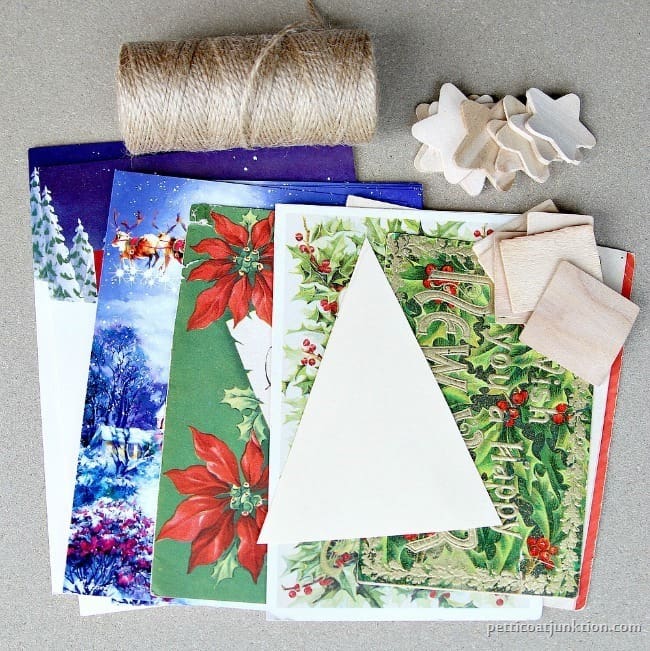 It may be too early for some of you guys to think about Christmas decorating but for all the DIYer's out there it's time. Local hobby and craft stores have had Christmas craft supplies in store since July…or maybe earlier.
How To Make Vintage Christmas Card Ornaments
You can also use new Christmas cards for the project. The ornaments are so easy to make you can get the kids involved and besides being pretty they are budget friendly. Also a good way to save memories! I put the ornaments together in no time flat. I chose cards with the traditional red and green colors for the ornaments. It would be fun to select cards to fit your specific color scheme.
Vintage Christmas Card Supply list:
wood star shapes and wood pieces for trunk
template for body of tree, I cut mine from a file folder and the base is 4"-5" across.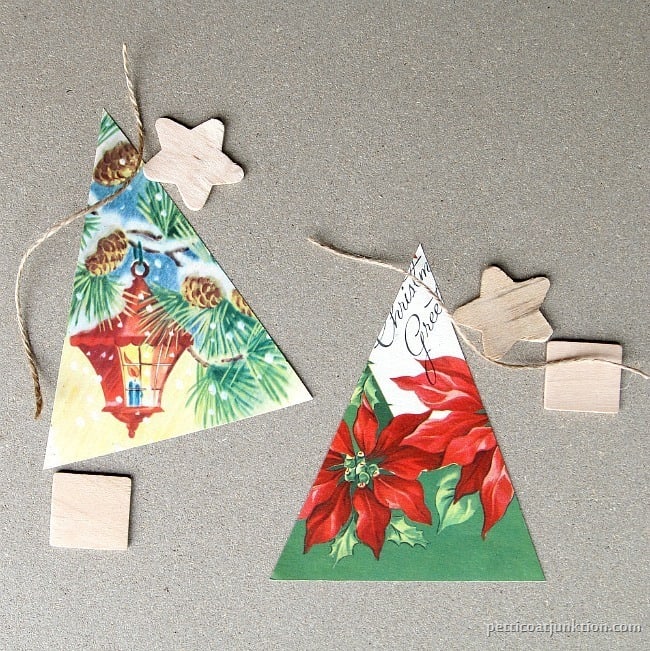 Putting The Christmas Ornaments Together
I cut a template for the body of the tree from the back of one of the Christmas cards. I didn't worry about it being perfectly symmetrical. Little tiny trees would be cute too.
To complete each tree you need one wood star tree topper, one square or oblong piece of wood for the trunk and a piece of twine or ribbon for the hanger.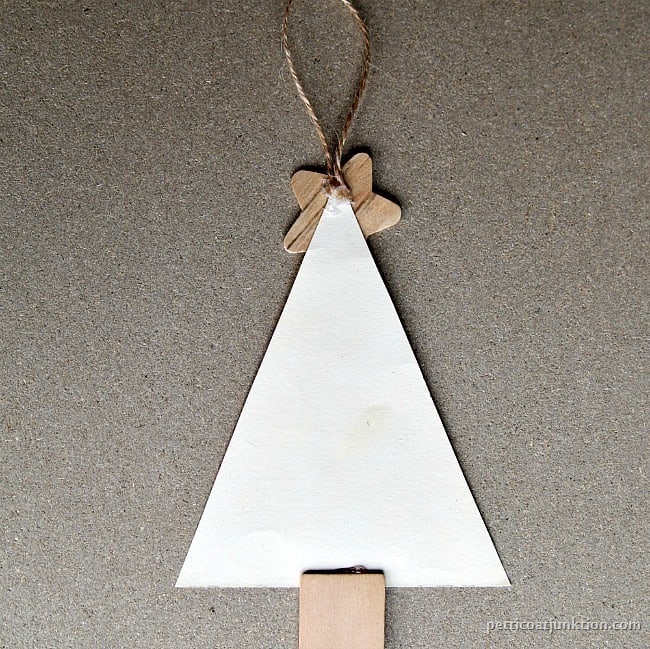 I used hot glue to put all the pieces together. In my book hot glue is the answer to everything. The tree ornament is not heavy and I think the hot glue will work just fine.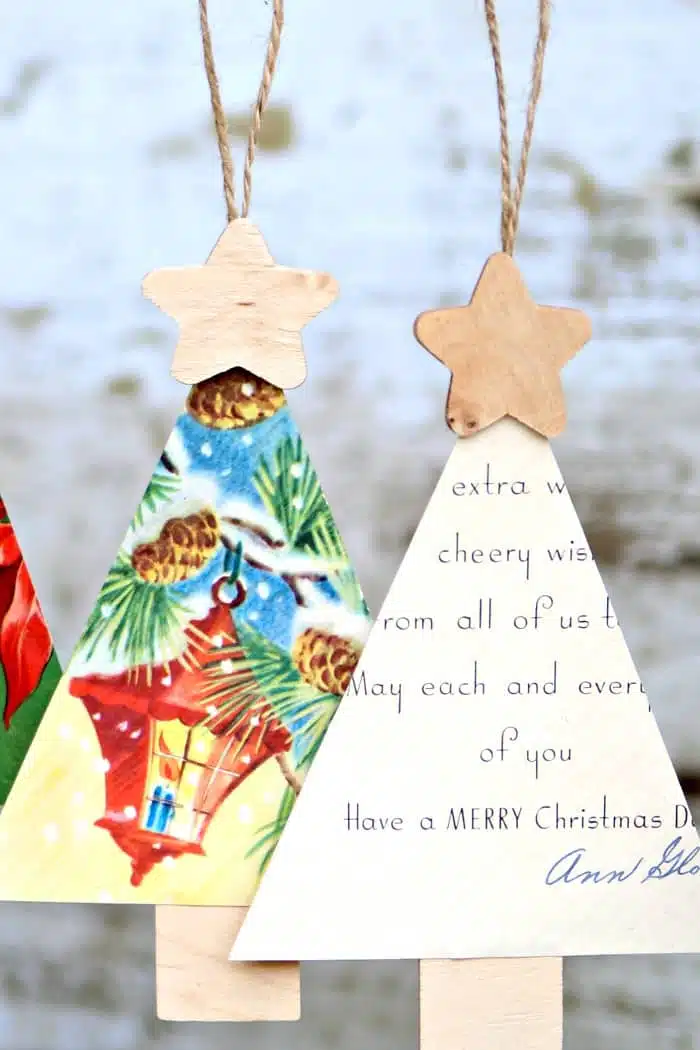 You could actually make the ornaments two-sided by just adding another tree body and a star to the back side.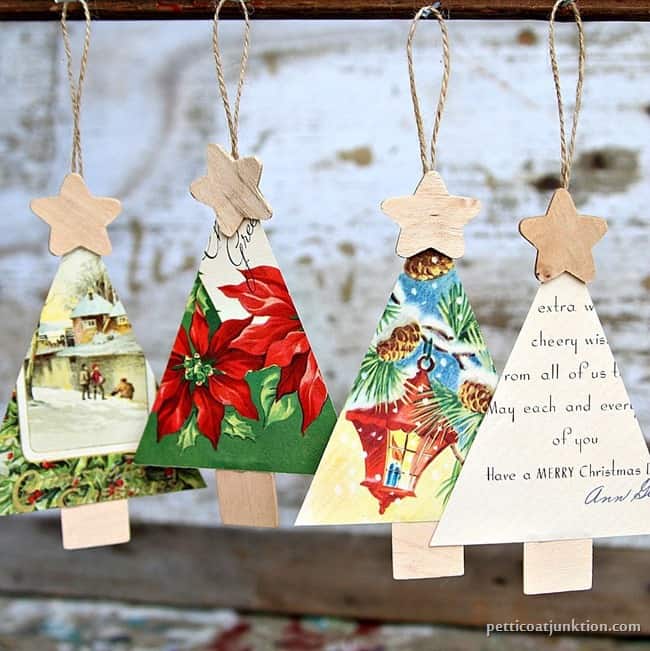 I'm in love!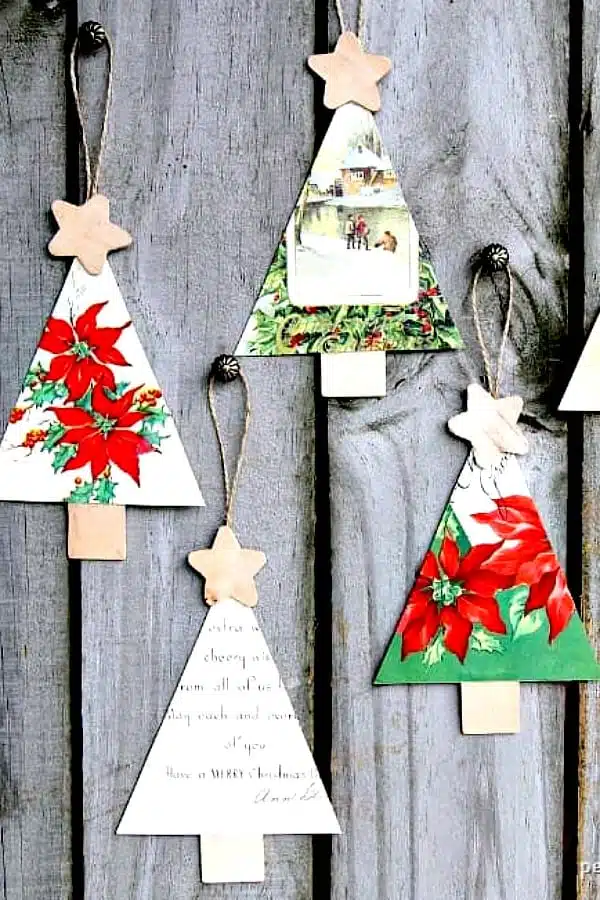 Time To Hang The Ornaments
I told you this project was easy. I was going to use some new Christmas cards too but the vintage ones were so pretty I stuck with those. You could also make the tree ornaments out of photos, drawings, magazine covers, just about anything!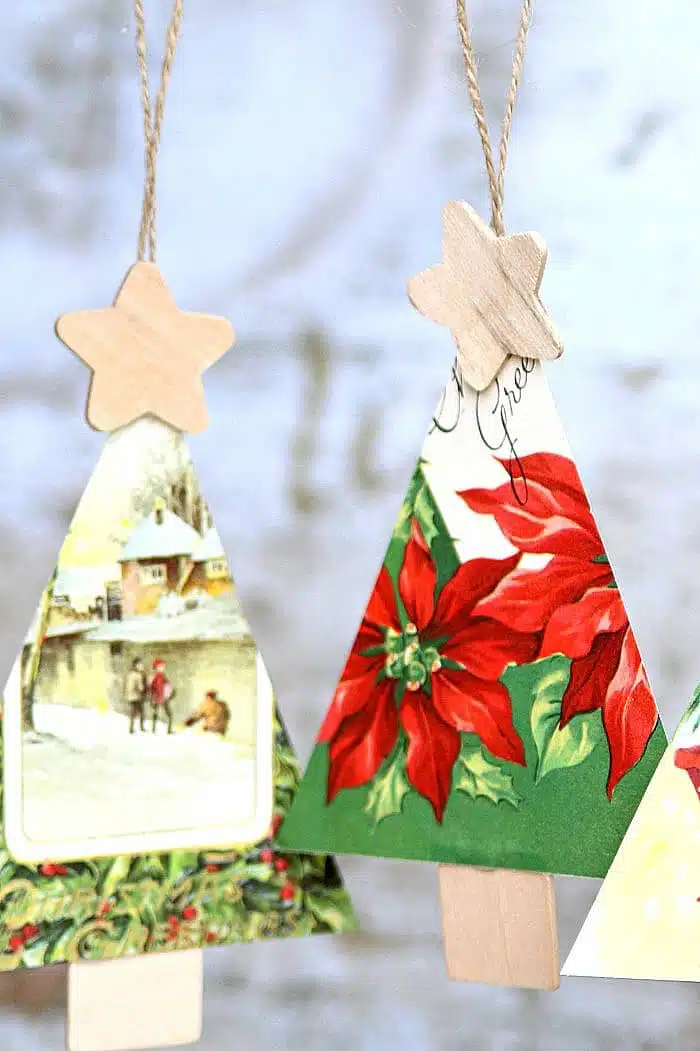 This is a great craft to do with the kids. You could also get everyone together after Thanksgiving dinner and put together a few tree ornaments. I bet star ornaments from vintage Christmas cards would be pretty too. I'm just full of ideas. What other ornament shapes would be fun?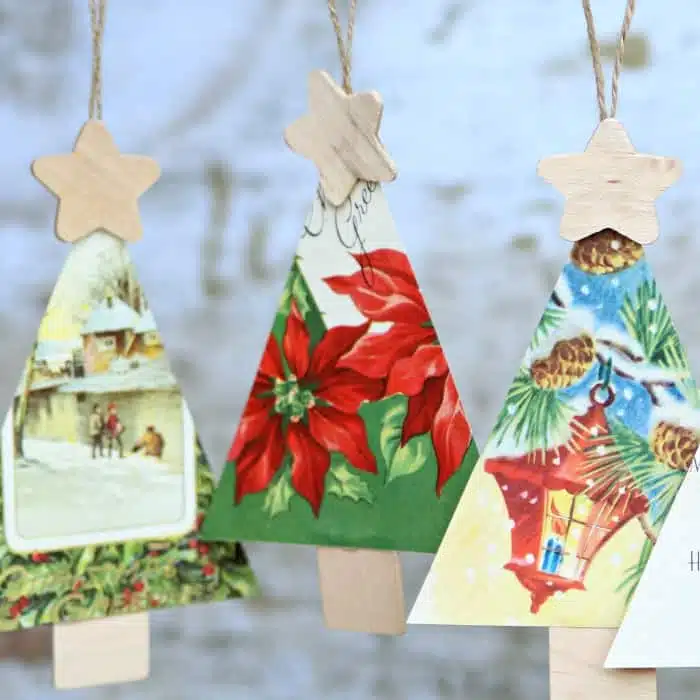 Besides being inexpensive to make the ornaments are easy to store from year to year and also easy to ship so they make perfect gifts.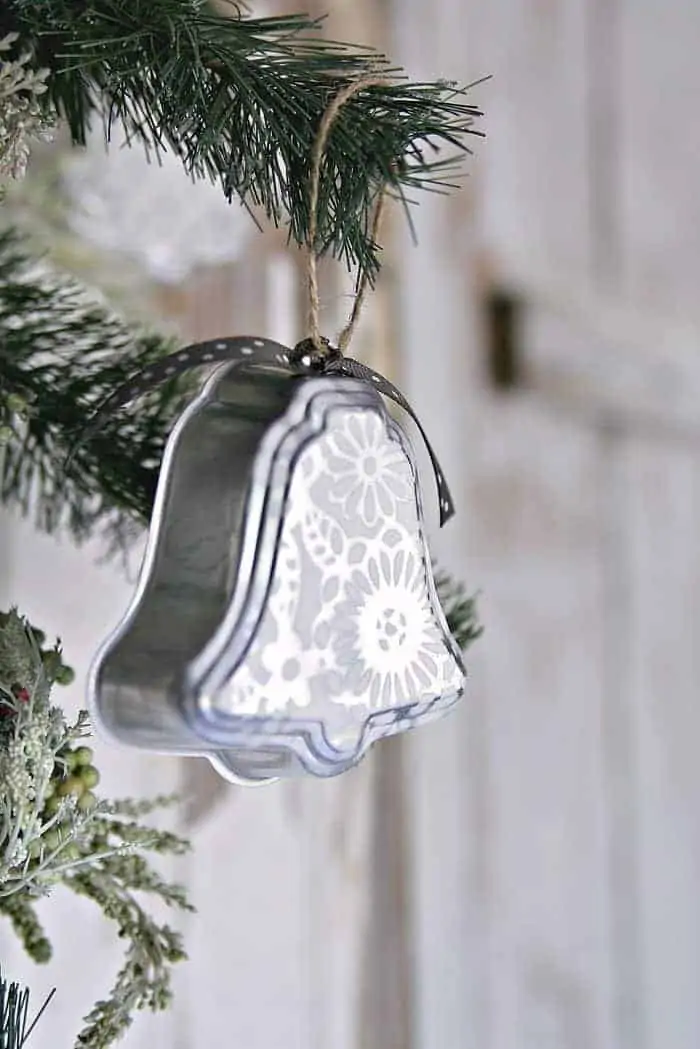 I made the silver bell ornaments above. Learn how to make them here.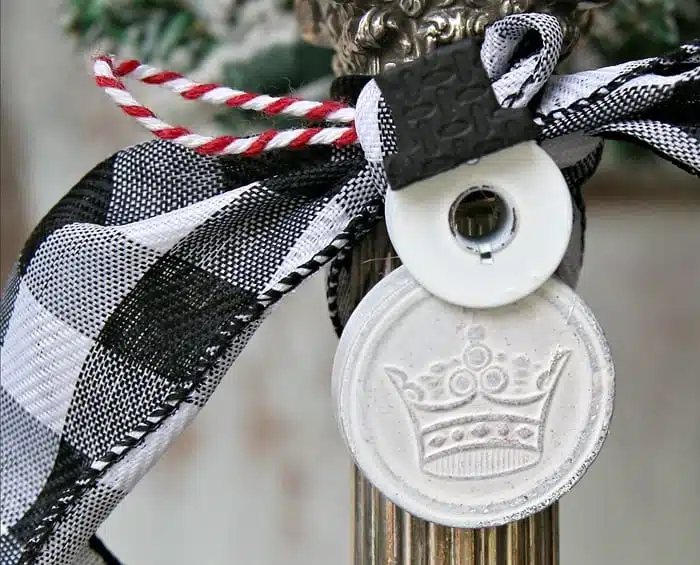 Or make snowman ornaments using old checkers, ball jar lids, washers, and other things from your junk drawer. Find the tutorial here.
I also made the teacup ornaments below and a video tutorial....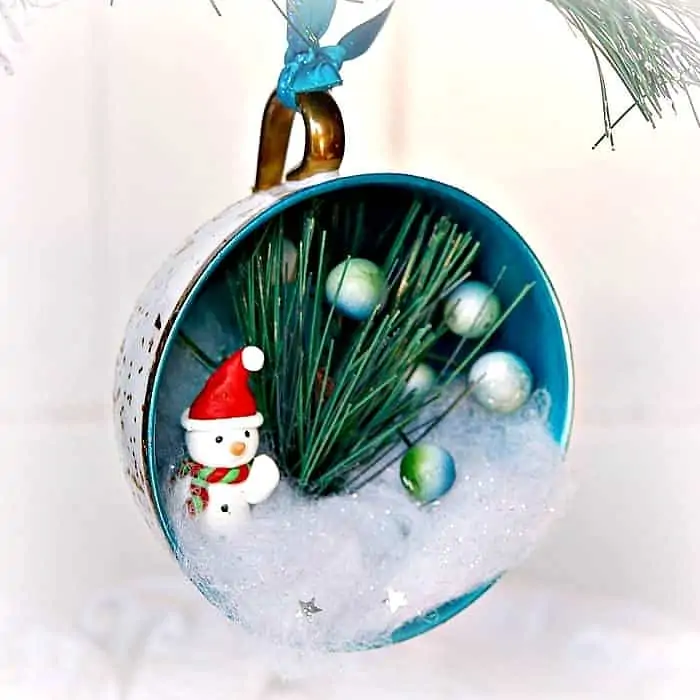 Watch the video below.....
How To Make Teacup Ornaments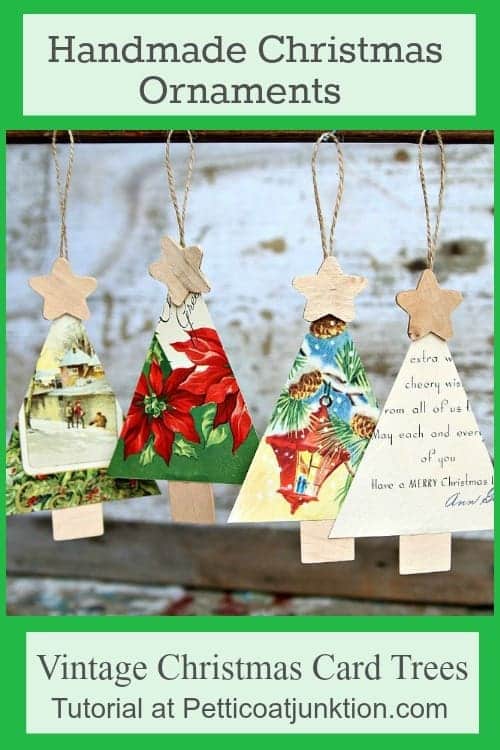 I go all out for Christmas. You can find 150 of the best Christmas decorating ideas all in one place here.
I'm really excited to be included in the Handmade Christmas Ornament hop with these talented bloggers. Click the photo links below to see the complete project.
As always, thanks for being here and have a great day, Kathy
Author: Kathy Owen (Petticoat Junktion)
Kathy is the founder of PetticoatJunktion.com, a home décor blog focused on repurposing and upcycling furniture, old hardware, rusty stuff, and thrifty finds into unique home décor. Kathy's projects have been featured on the Home Depot Blog, Plaid Crafts, Behr Designer Series, and in numerous magazines. Read more about Kathy here.