Just wait until you see these little Putz houses. You are going to be soooo envious. I found them at a estate sale earlier this year and fell in love.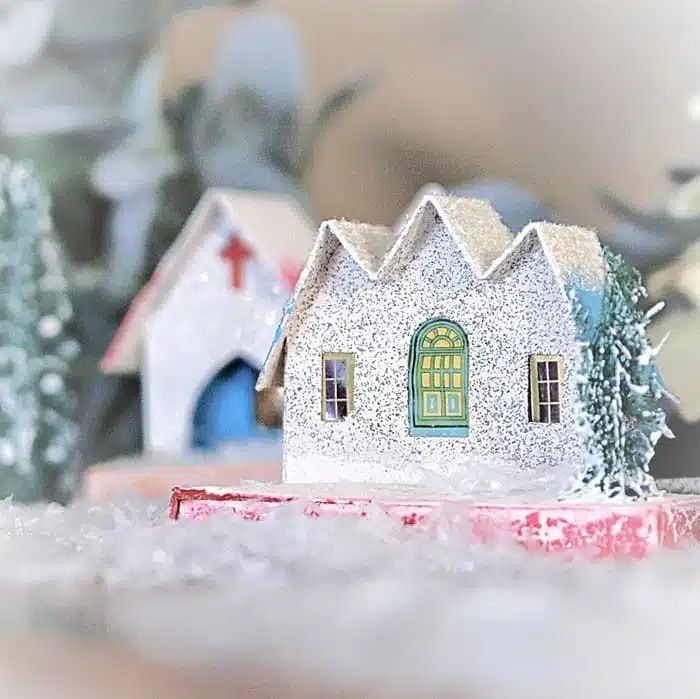 I think I first learned about Putz houses last Christmas season after seeing them online somewhere, maybe on Pinterest or maybe on another blog.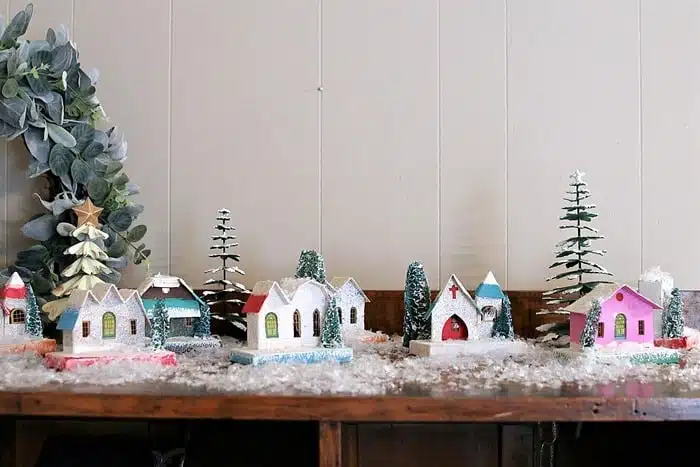 I thought the little paper houses were so sweet and wished I had a few of them. After checking prices on Etsy and eBay I decided I would just admire the online photos.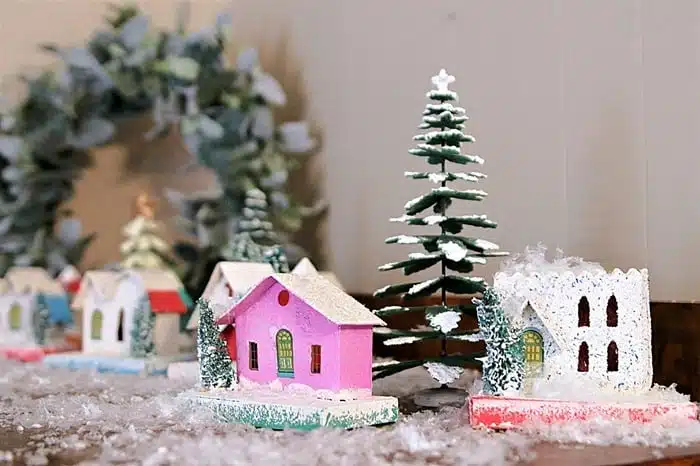 Well back in the Summer my neighbor's mother, Mrs. Register,  moved into assisted living and they had an estate sale to empty out her big house because no way could she take all of her things to the small room at assisted living.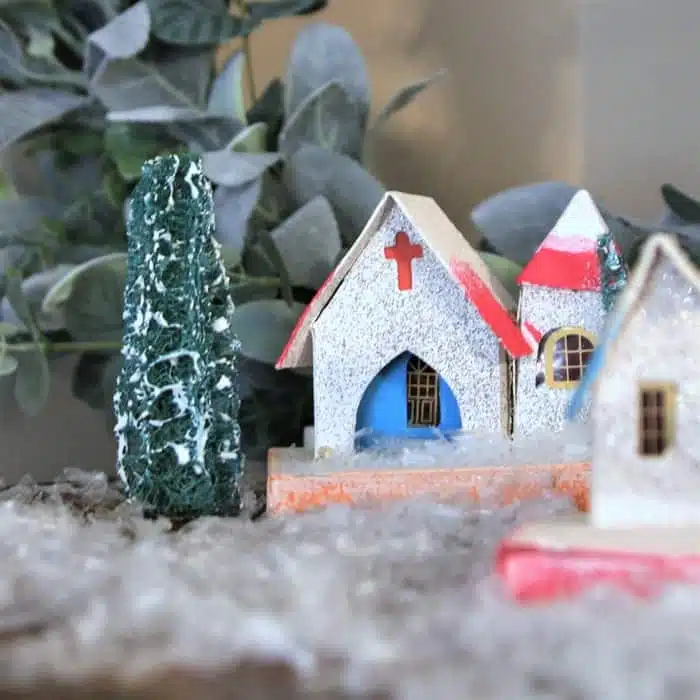 Mrs. Register and her husband traveled the world when he was in the service and they collected such beautiful things over the years. It  was fun going to the estate sale just to see all of the unique things.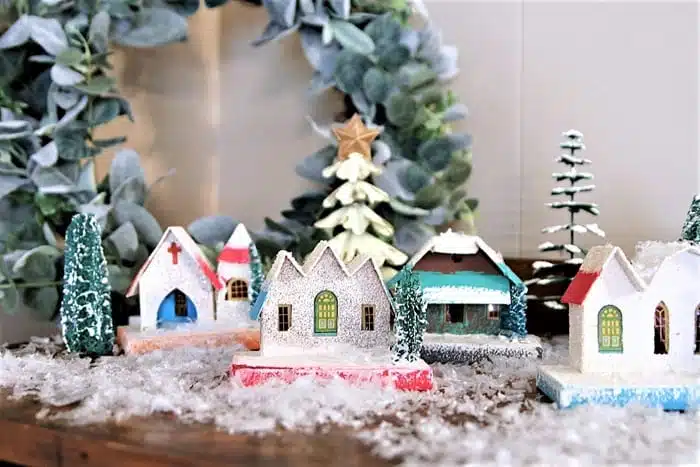 When I spotted the Putz houses I knew I was taking them home with me. The 8 houses with a couple of lone trees were $35, what a deal. I think I may have even got a discount on that price because it was the second day of the sale.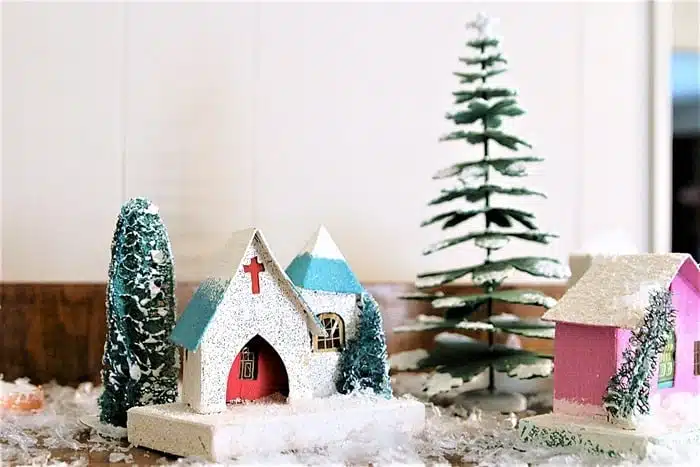 All I can say is I was happy with the price and my finds. And…it's even sweeter knowing who owned them in the past. I think a lot of my neighbor's mom. She is one smart and sassy lady even at the age of 96! Her mind is as sharp as a tack.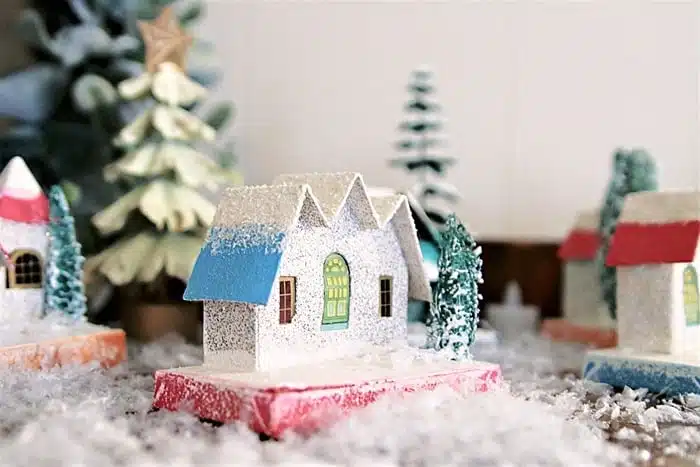 The Putz houses were made in Japan and I really need to talk to Mrs. Register and get a little more info about the houses like where she purchased them, when, how she displayed them, etc.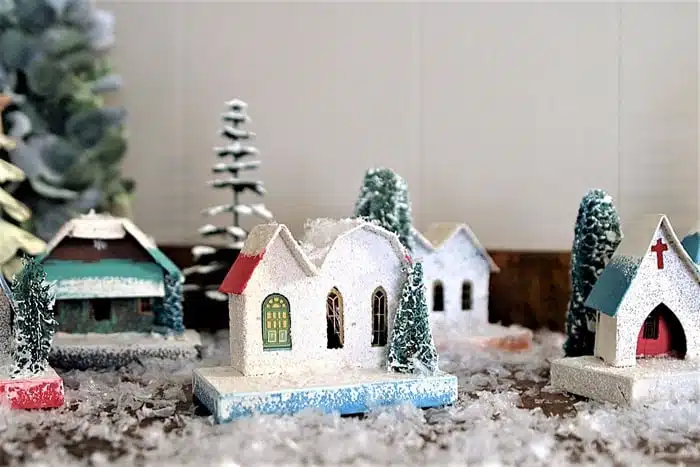 I Googled Putz houses and there are all kinds of articles but I found this one to be the most interesting. A little info from the article…..The putz tradition had its start in Central Europe, including Bohemia and Moravia which are now part of the Czech Republic, and Slovakia. My grandma always referred to these villages as a putz. When I asked her what that meant, she said, "It's German for putting or placing things together to create a scene." Later I learned it comes from the German word putzen which means to decorate or adorn.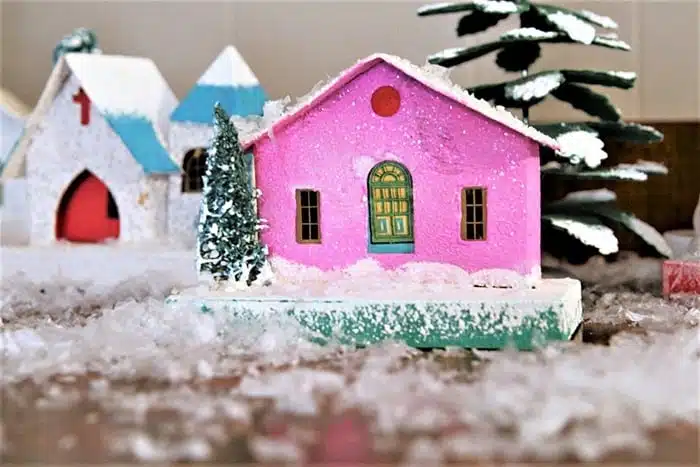 I have the houses displayed together on top of the vintage wardrobe in our family room. After I placed them just so-so or all willl-nilly I sprinkled artificial snow around the houses and on the houses.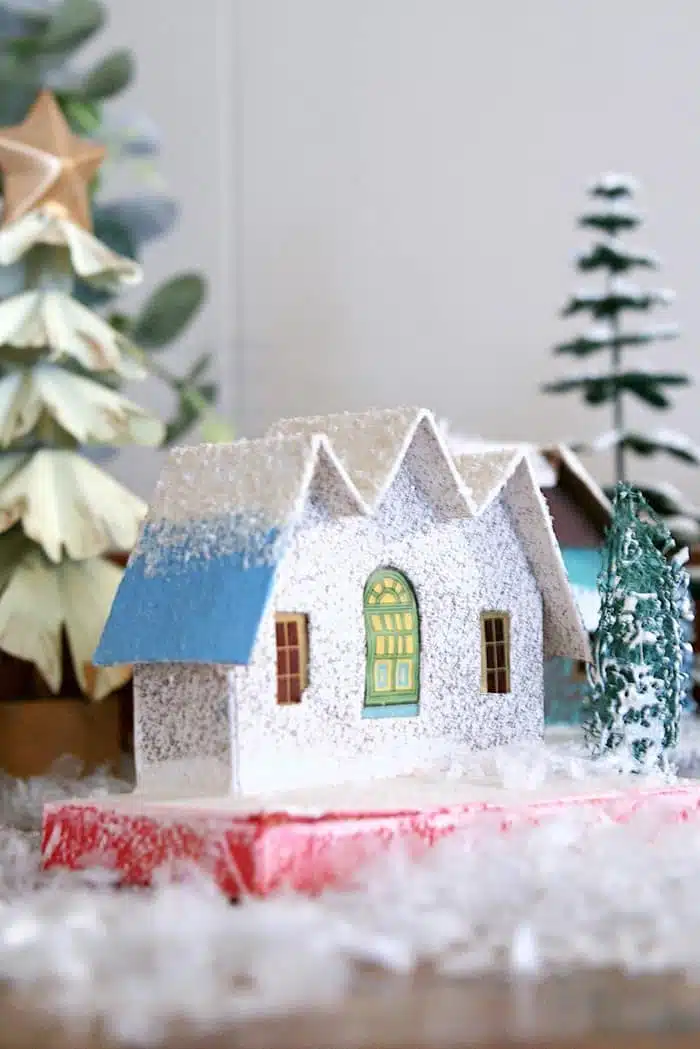 I don't have much lighting where the houses are so I bought a few of those small LED votives and placed them behind a few of the houses and the scene looks really cool at night.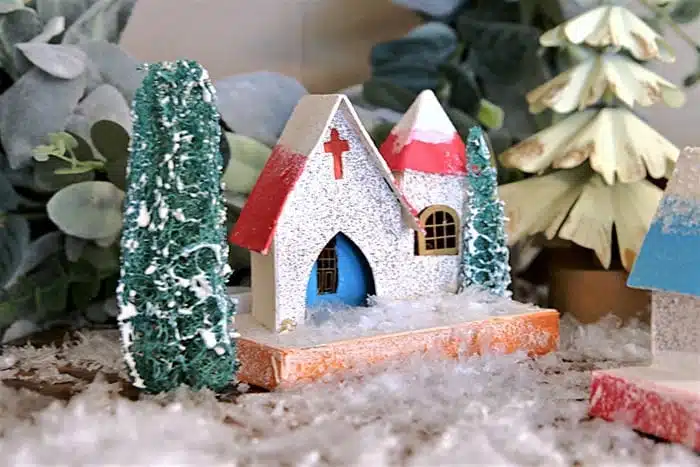 I tried to pick a favorite out of the bunch but I love them all. I would like to buy more houses but the price would have to be right. An online auction company located here in Clarksville listed a few houses in a couple of auctions last month but the bids on them went over by budget.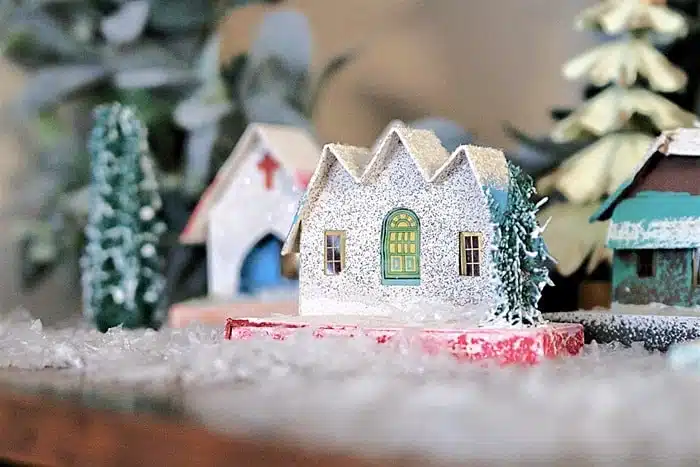 Okay, well maybe this house is a favorite. I like the three gabled roof or whatever the proper term is and I like the door color. The little doors and windows are made out of cellophane….I think.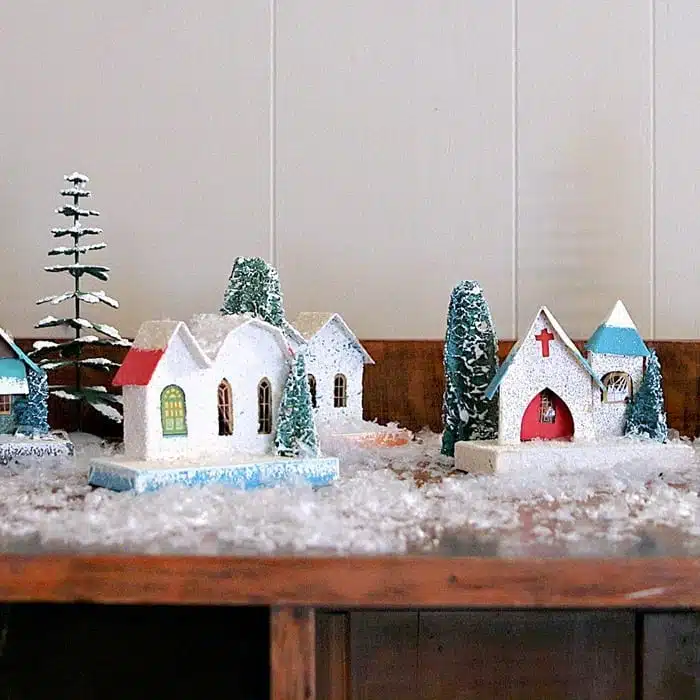 Yes, I took a lot of photos and the houses are so cute I just kept adding photos to the post.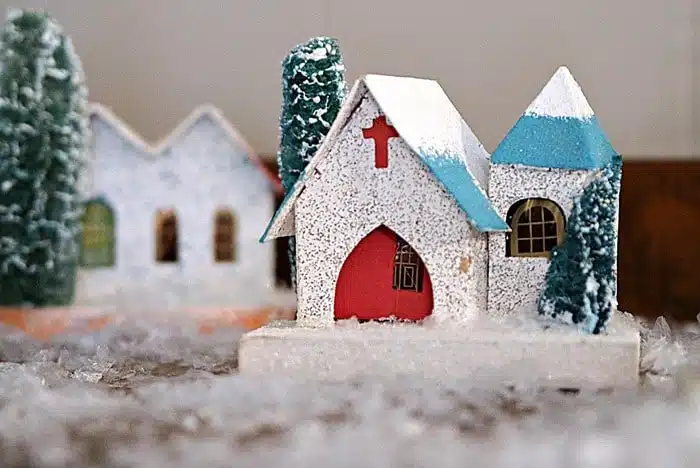 Two of the houses have the red cross over the door and I don't know if these are Church buildings or what. I've noticed in researching these little cuties that there are some really large and fancy Putz houses but I like my little ones the best.
I think tradition was to place the Putz houses underneath the Christmas tree so they were probably made small for that reason.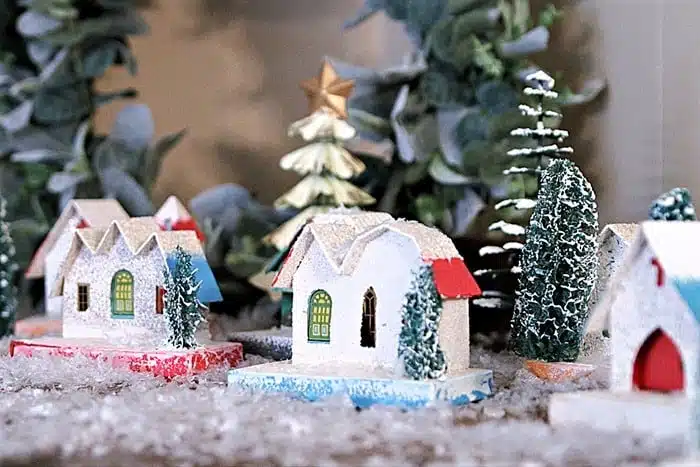 I added a few extra trees to the display……just ones from my Christmas collection of stuff. One of them is a fairly new piece I think and it's made of metal. The other two trees I had are vintage and the green tree tips are covered with white "snow".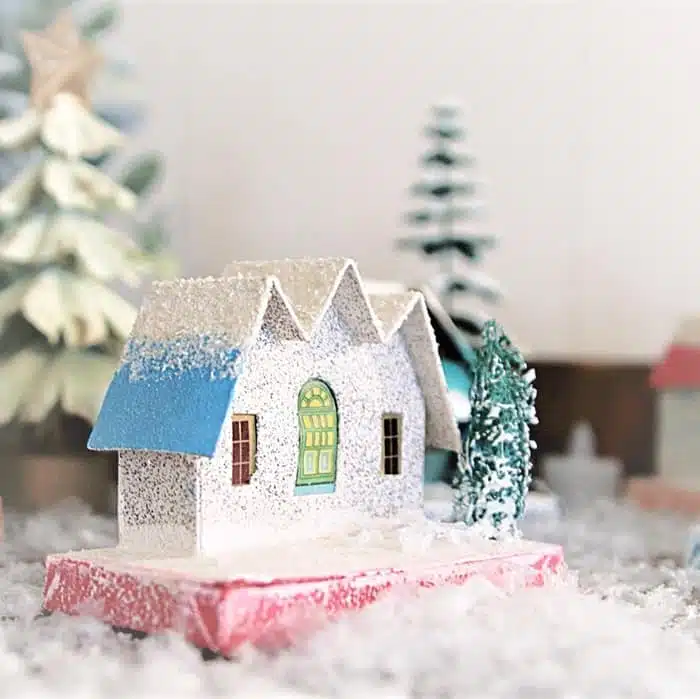 Another look at the house with the three tiered, whatever, roof.
Slide show of Putz Houses.....
Vintage Putz Houses Christmas Display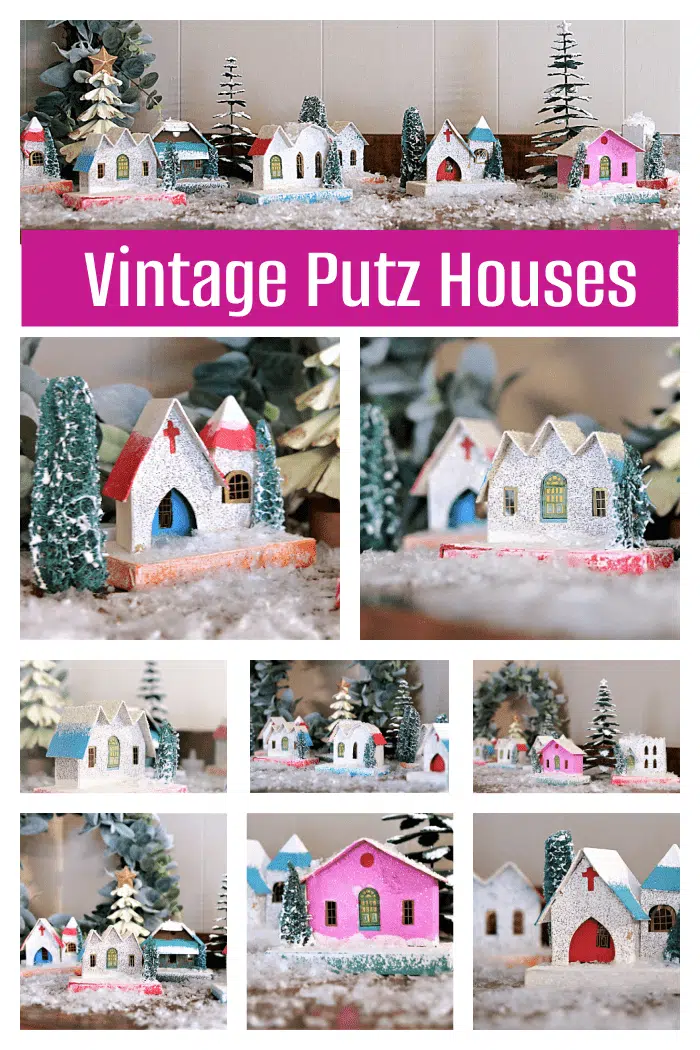 So what do you think of my Putz Village Christmas display? Do you have any of the houses or have you heard of them. Please share in the comments and thanks for being here, Kathy
Author: Kathy Owen (Petticoat Junktion)
Kathy is the founder of PetticoatJunktion.com, a home décor blog focused on repurposing and upcycling furniture, old hardware, rusty stuff, and thrifty finds into unique home décor. Kathy's projects have been featured on the Home Depot Blog, Plaid Crafts, Behr Designer Series, and in numerous magazines. Read more about Kathy here.