I recently did a search on my blog for Christmas project ideas because I wanted to pin the photos to Pinterest. I came up with all these Christmas project ideas using recycled items. I forgot about a lot of these.
They were a reminder of a time when I spent most of my days in the workshop. I really put out a lot of DIY projects. I still spend a lot of time in the workshop but I'm concentrating more on family these days and just generally taking things slower.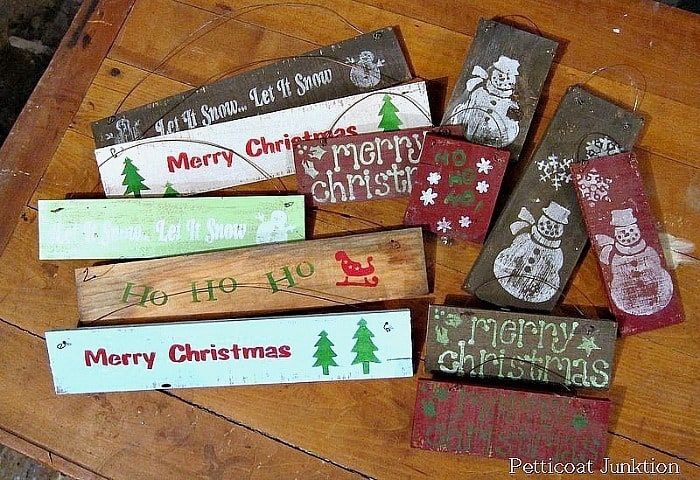 Christmas Project Ideas Using Recycled Items
Back to my kooky Christmas stuff. When it comes to recycling or upcycling I come up with some crazy ideas. I made all of the projects below in 2012 and 2013, and a couple in 2014. The first project is my favorite….but the others are good too! The further you go down the list the kookier the recycled items get.
remember if you want to see the complete project tutorial….click the highlighted text links….enjoy
The Christmas sign project is from 2012. I had a bundle of wood I bought when we lived in Florida and the wood pieces were just the right size for Christmas signs. I painted all of these at once……in mass.
I stamped some and stenciled some and then I waxed some. Simple wire hangers work great with rustic signs like these. Just drill a hole on each top side of the sign, thread the wire through, and twist the ends of the wire to lock in place.
When I  put together my junk projects I try different things to see what works best together. I tried various items for the scarf and the hat and finally decided on burlap for the scarf and a piece of sandpaper for the hat. I drilled holes in the reclaimed enamel ware lids and screwed them onto a recycled drawer. Project here….Red the Snowman.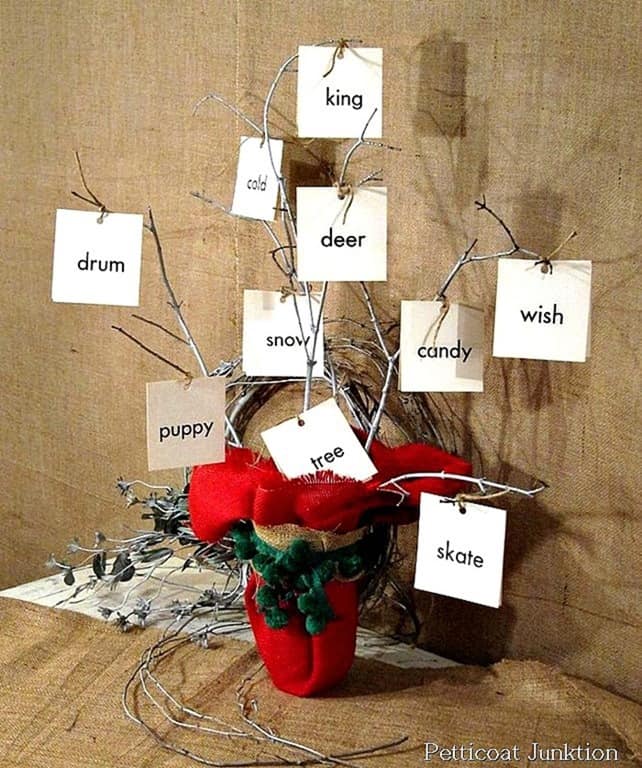 I never did really like the way this project from 2012 turned out. I think it was a good idea but the execution wasn't very good. I found a box of Vowel Cards for peg boards at the thrift shop and they were the inspiration for the tree.
I selected cards from the box that represented Christmas time to hang from the branches. I gathered tree branches from our yard to make the Christmas Card Tree.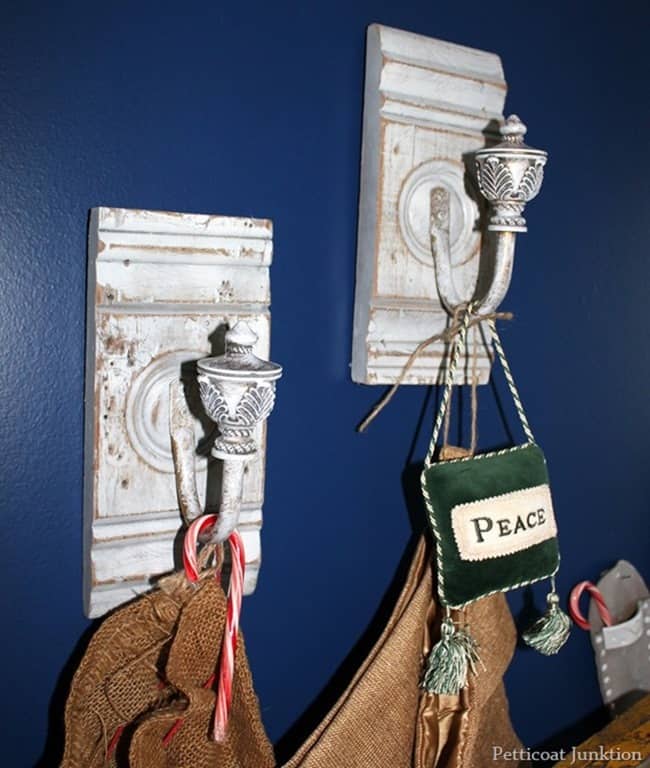 This project isn't necessarily for Christmas but I did make the rustic wood hangers to use as stocking hangers. The hooks are curtain tiebacks and the wood is salvaged molding.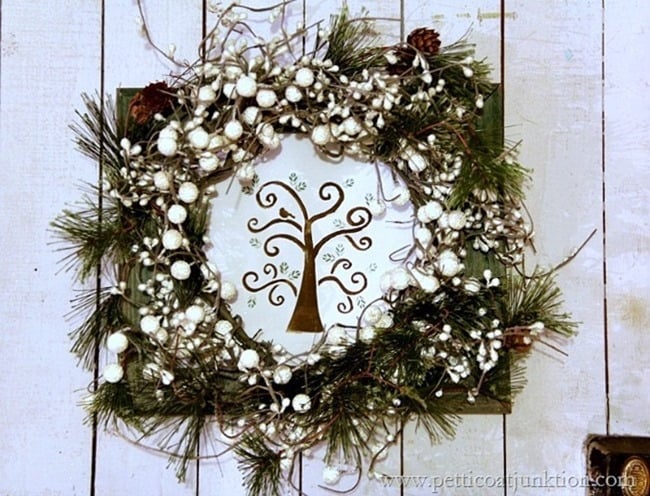 The Partridge in a Pear Tree wall decor is one of my favorite projects. I used a stencil for the design. You guys know how I can't even draw a stick figure but I love to stencil.
Thank goodness for stencils. I framed the pear tree in a green frame I found on a shelf. I thought I was done. The wreath was a thrift store find and the two were perfect for each other. Now it's done.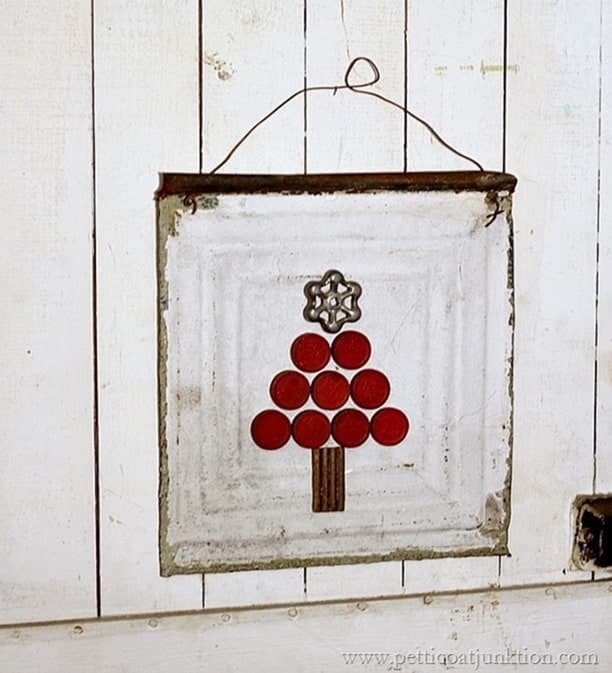 One of my favorite color combos is red and white. So crisp and fresh looking. I bought a bag of red and black checkers at the thrift store and made a Checker Christmas tree with the red ones. A piece of ceiling tin is the backdrop and the "star" is a spigot. Another easy wire hanger.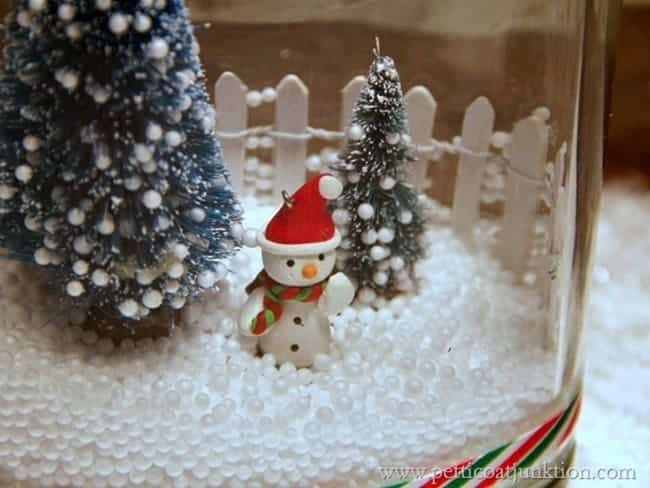 The snow scene in a jar is fun. That little snowman makes me smile every time. I bought a package of the snowmen at Hobby Lobby and have used them in several projects including the teacup ornaments I made this year.
The jar I used for the snow scene was .25 cents at a yard sale. Putting the scene together was a bit challenging. I was pulling my hair out with all that static cling Styrofoam snow.
I'm probably the only one that thinks this idea is genius but that's okay. I used black electrical tape to tag Christmas gifts for the guys. It's really easy and unique!
Of course if you have a relative with a name like Alexander or Bartholomew you might not think it's such a good idea. My son and husband are Jay and Ray, so I'm good with it. Camouflage Duck tape is another option if you have a sportsman or sportswoman in the family.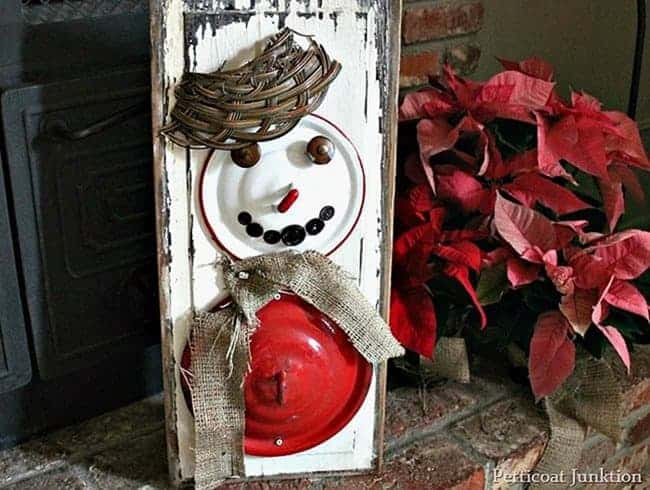 My second pot lid snowman. I was on a roll that year. This one is my favorite because of the red lid. His hat is part of a basket and eyes are furniture knobs.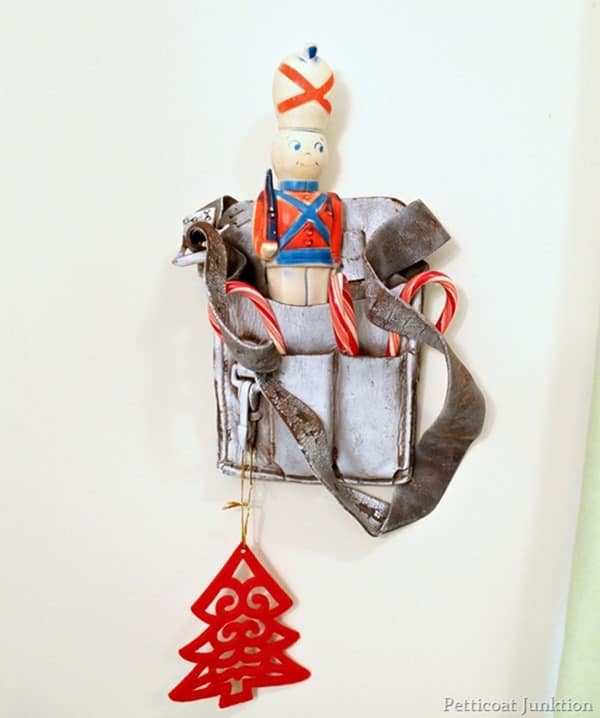 I told you some of my ideas are kooky. This is a workman's tool pouch. It had seen better days for sure. I spray painted it white, added the Christmas items then hung it on the wall. How is that for a Christmas project idea??
Watch my video below on how to make Teacup Christmas Ornaments.....they are so cute.....
How To Make Teacup Ornaments
Christmas Projects From Reclaimed Items
Were these projects too far out for you? Did you like one or more or none of them? What is the weirdest thing you've upcycled? Leave me a note. As always, thanks for being here friend and have a great day, Kathy
Author: Kathy Owen (Petticoat Junktion)
Kathy is the founder of PetticoatJunktion.com, a home décor blog focused on repurposing and upcycling furniture, old hardware, rusty stuff, and thrifty finds into unique home décor. Kathy's projects have been featured on the Home Depot Blog, Plaid Crafts, Behr Designer Series, and in numerous magazines. Read more about Kathy here.