Christmas is almost here and I'm as ready as I'm ever going to be. Finally got the tree up and the China cabinet filled with my Christmas dishes. I decorated the mantel and put out a few other Christmas pieces here and there.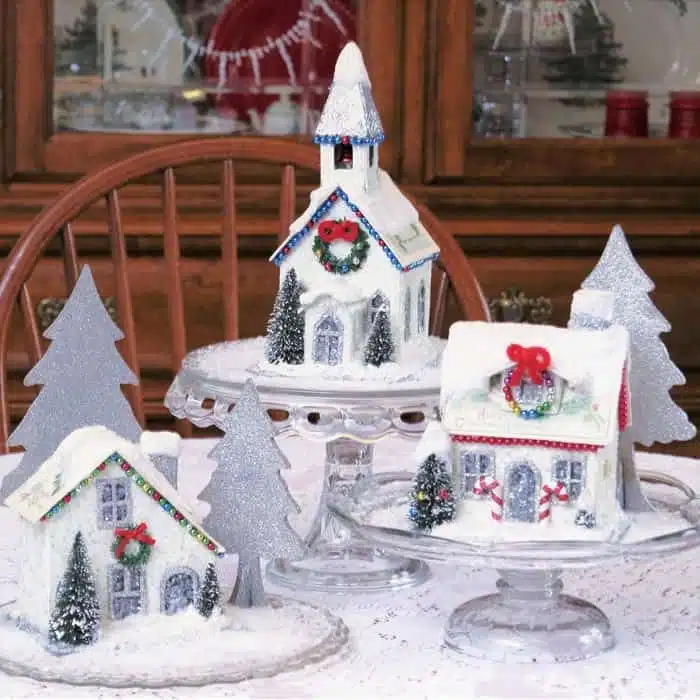 Never did get my front porch decorated and you guys know that's a biggie with me. I always decorate my porch when the seasons change but not this time.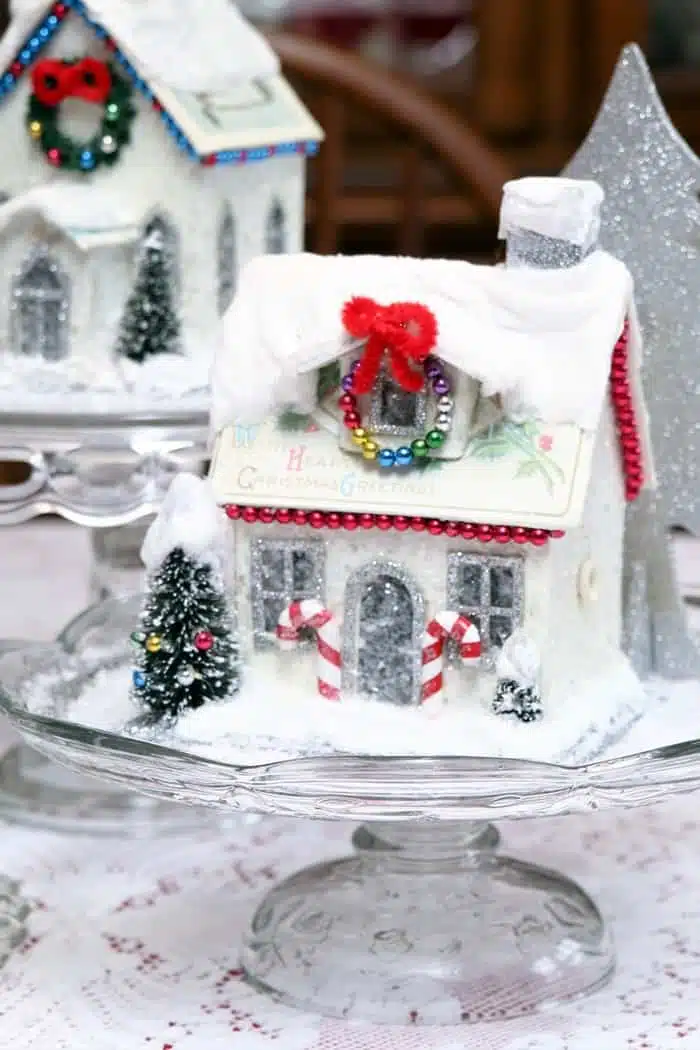 I'm sharing bits and pieces of my decorations in the family room and the dining area since that is about all I got decorated. The Christmas houses are some I bought at a locally owned home decor store several years ago. The store is now closed and I miss it.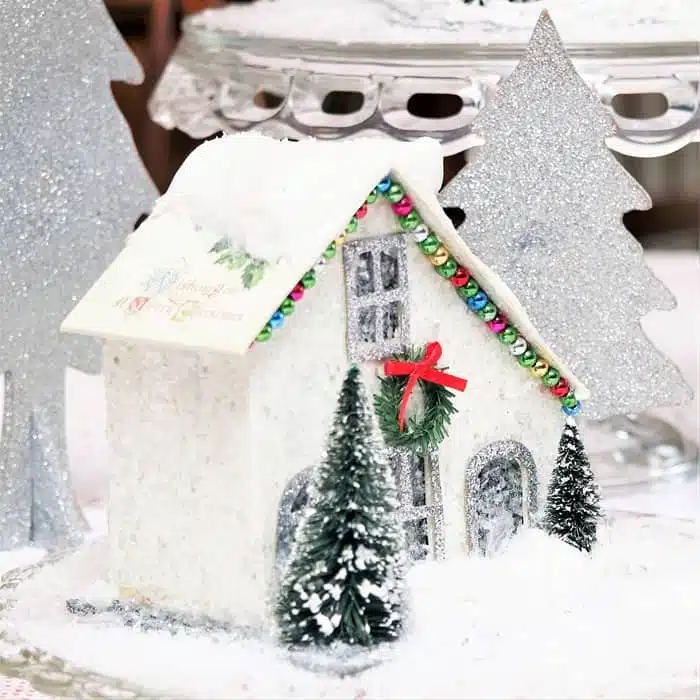 I love these "snow" covered houses and display them each year on a few of my cake stands and plates. I also add the silver glittery cardboard trees and I top it all with fake snow flakes.
I opened the doors of the China cabinet so you could see the pretty stuff inside. The glare from the glass doors is a problem when taking photos. I display my Christmas dishes and Christmas glasses every year. I collected them over a number of years only buying them after the season when they were drastically marked down (find Spode dishes here on Amazon).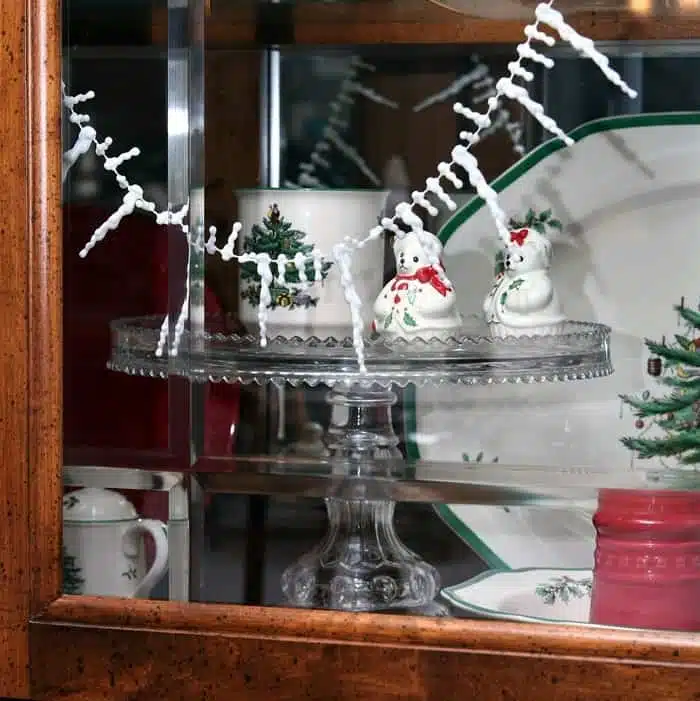 I usually only use a few of the bowls and casserole dishes and some of the decorative plates. I put a few other Christmassy pieces in the cabinet along with the dishes. My China cabinet has a mirror backing and is lighted. It looks great a night.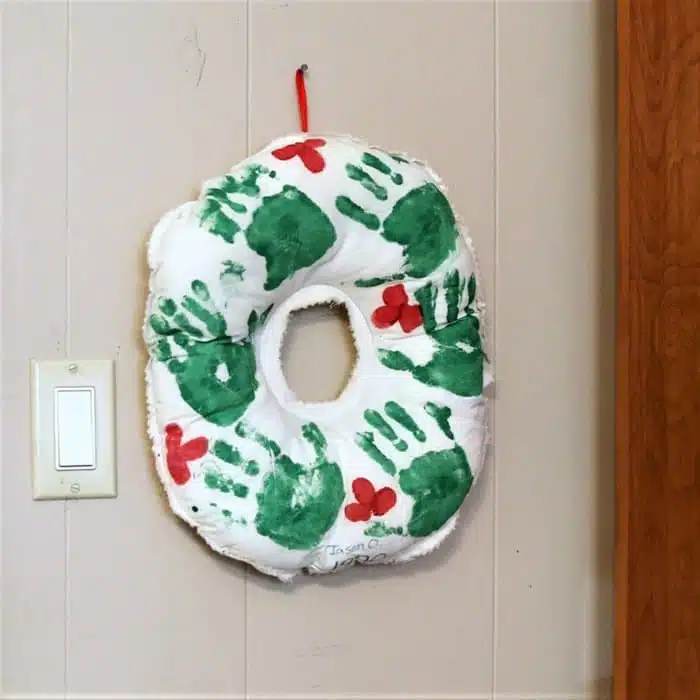 The handprint wreath is one my son made at daycare when he was really young and it is a treasured piece. Our son is now 39! Where does the time go?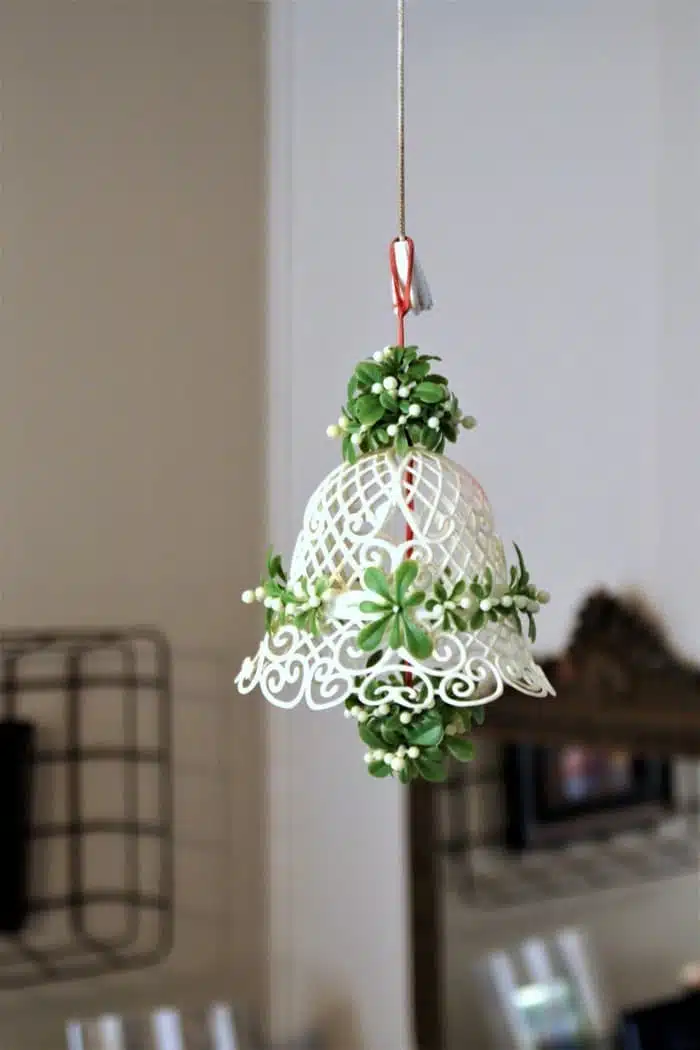 I'm not sure if the plastic mistletoe bell is vintage or just a cheap plastic piece but I like it. It hangs in the family room from our attic door pull down string, lol. It's a handy place.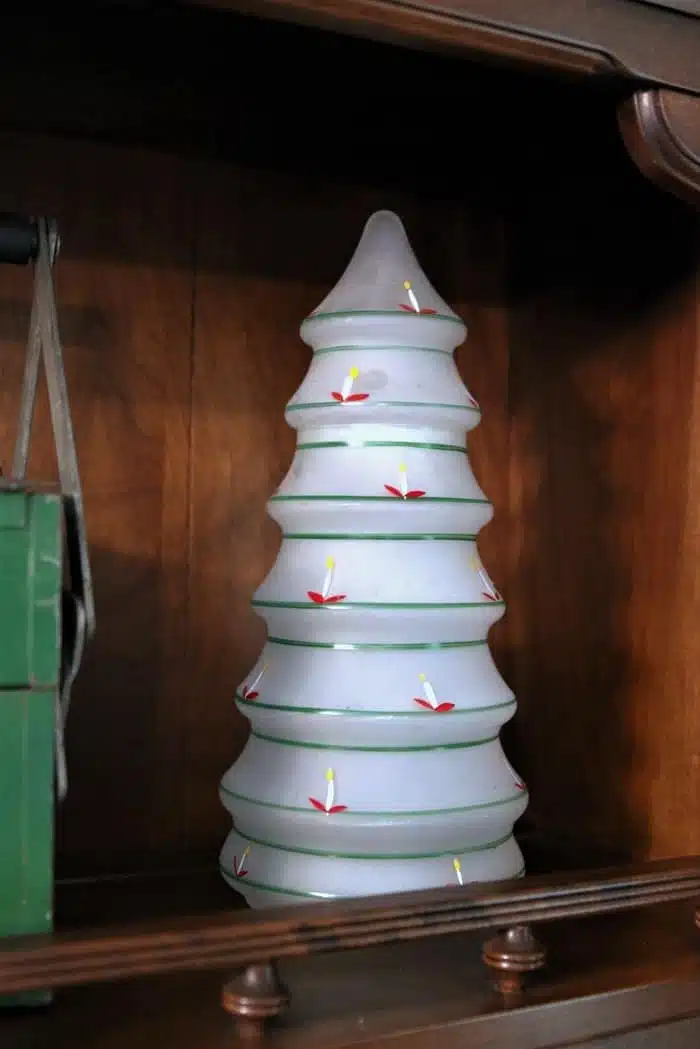 I bought the hand painted glass tree at my favorite junk shop  a few years ago.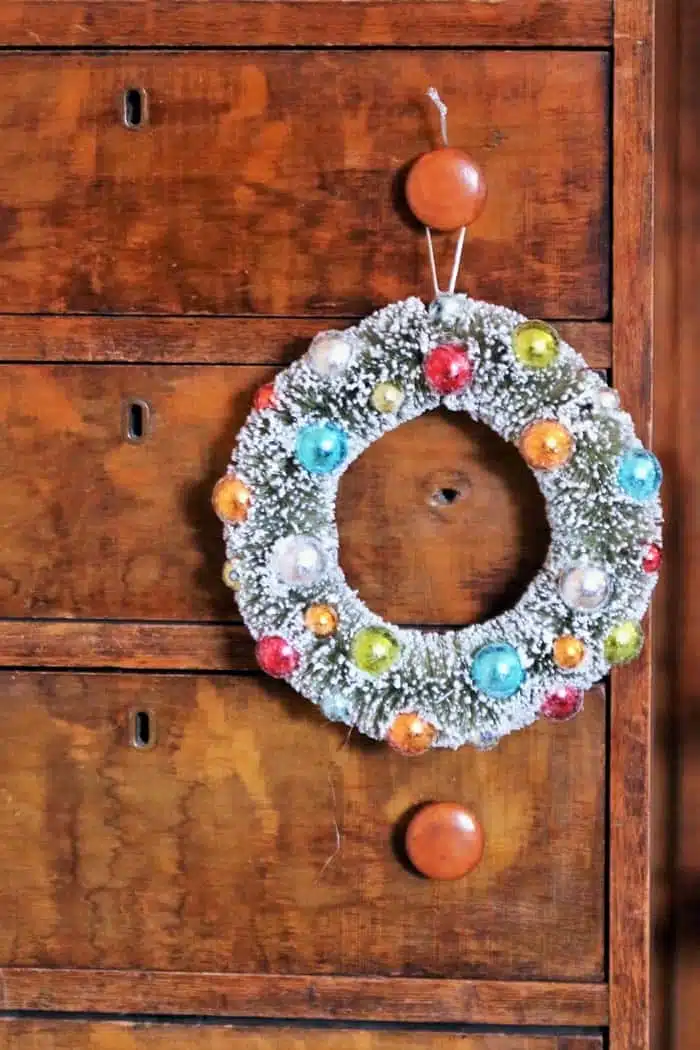 This small wreath from Hobby Lobby hangs from the wardrobe in our family room. That is where I have the Putz house village displayed. If you missed that post because I forgot to change the email title from Furniture Fixer Upper day you can see the sweet village display here….These Charming Putz Houses Are My Estate Sale Find Of The Year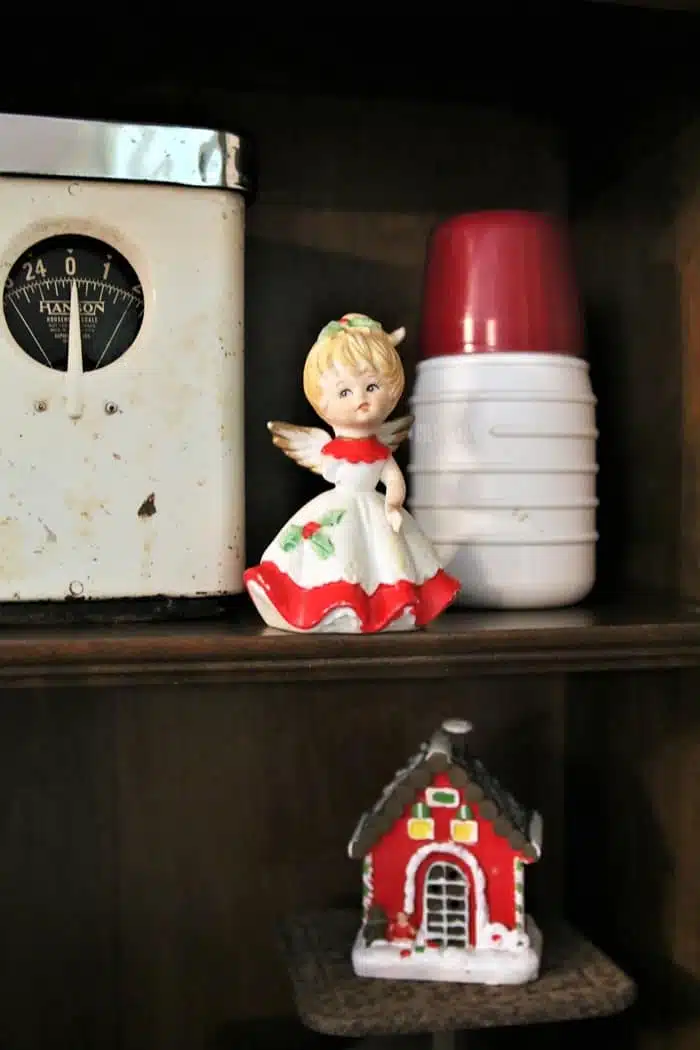 I didn't notice until looking at the photo above that the angel only has one arm…..the other broke off somewhere. Sometimes I don't pack up my stuff as well as I should. The thermos with the red lid is a junk buy and the red house is from Dollar Tree.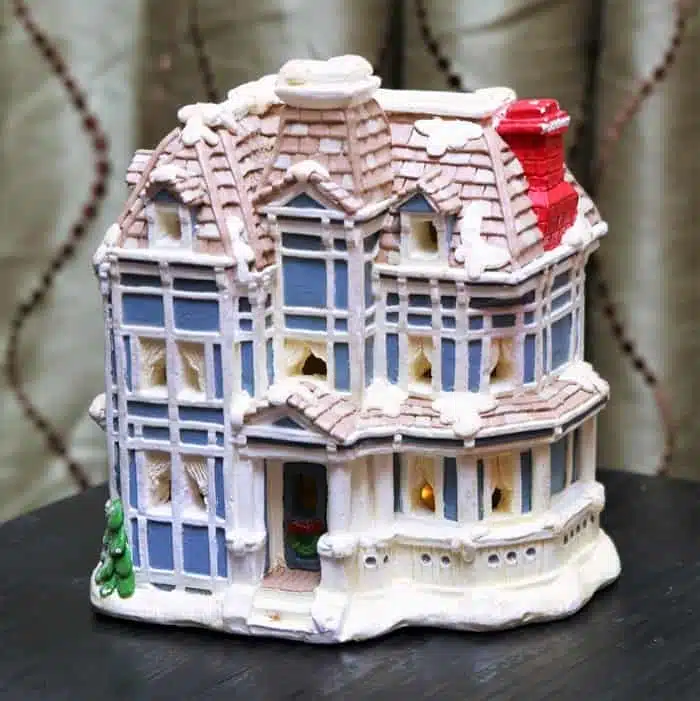 I bought the little blue house at the junk store too. I put an LED votive inside and you can see the light in the bottom right window!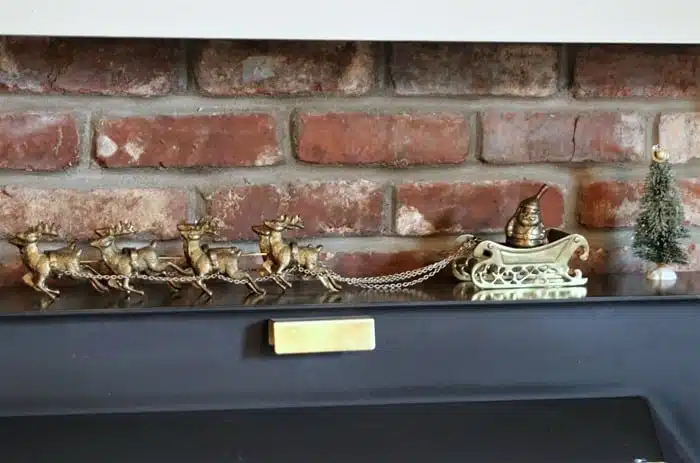 The JTS (aka hubby, aka junktion technical specialist, aka Ray) bought the brass sleigh with reindeer, and Santa back from his first tour in Korea, 1984.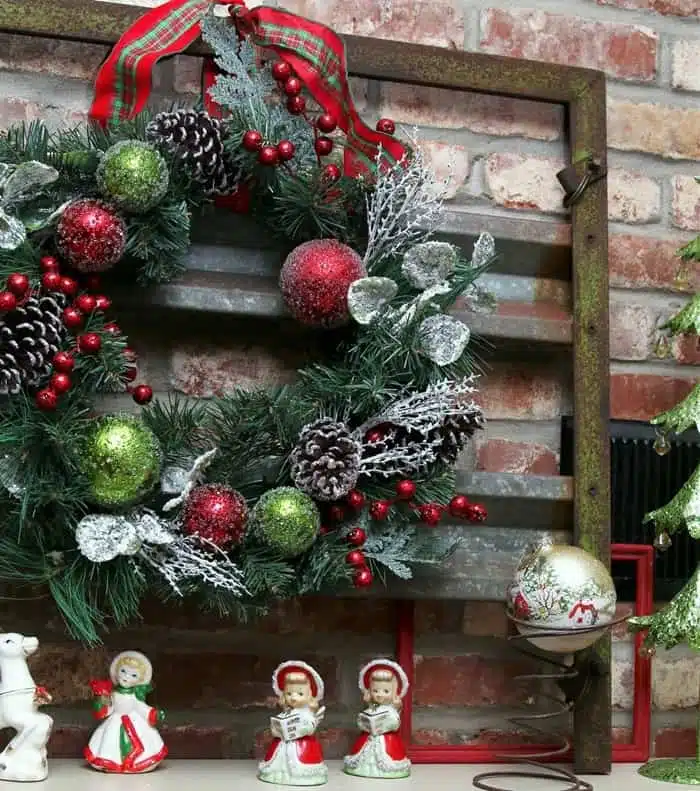 A little peak at my mantel decor. I didn't take the time to set up the proper lighting for all of these photos so there are not many of them and the ones I posted here are not the best quality. It's a time consuming job to set up and take photos properly, with high resolution and perfect specs. In this photo you see a few more of my angels….and they have all of their arms!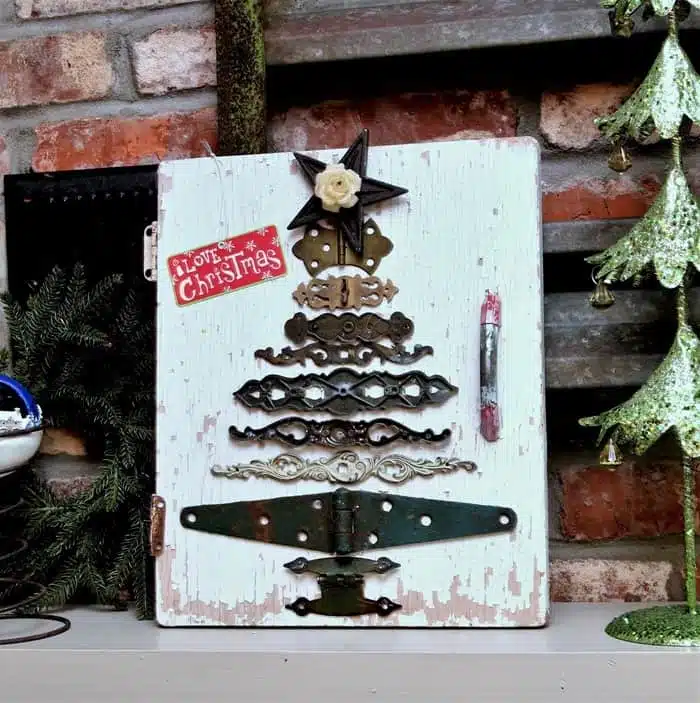 If you have been around here for a few years you probably remember my hardware Christmas tree. I made it back in 2012 so it's been around for a while. Each year when I unpack it I usually have one or two pieces to hot glue back on. We store the stuff in our shed attic and it gets hot up there.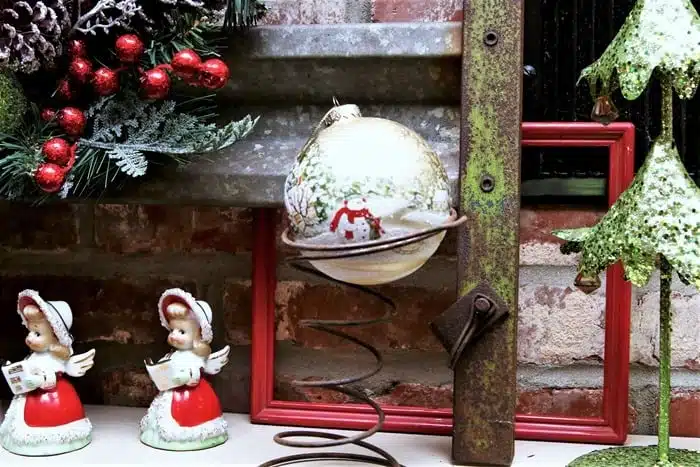 I like displaying my favorite ornaments on old bed spring coils.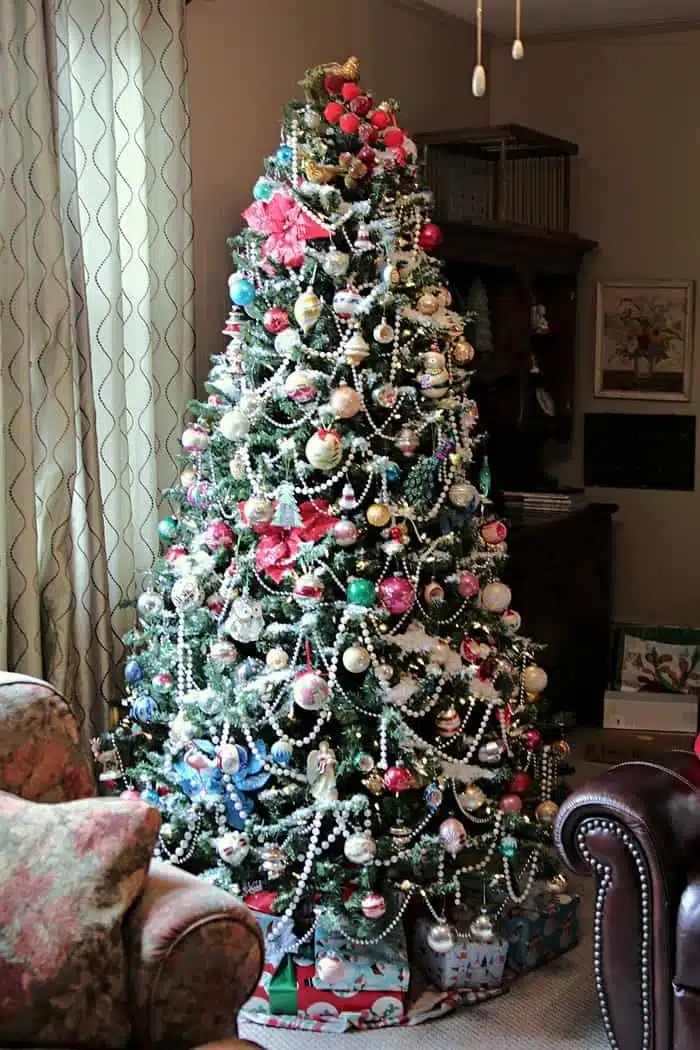 The picture of my tree is a little blurry but not too bad. I draped and draped white beads and silver garland till my arms hurt. Then I filled the tree with Shiny Brites and other vintage glass ornaments and a few sentimental photo ornaments. Next I showered it with fake snow flakes.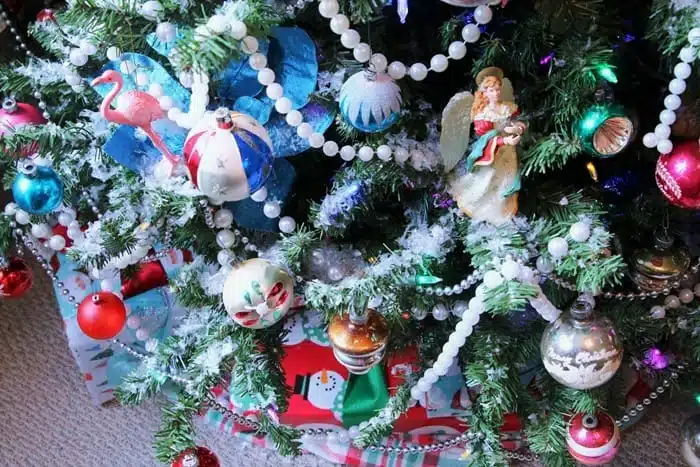 As you can see there is not color scheme or any theme.....just lots of color. Take a look at all of the beautiful vintage glass ornaments hubby bought at an auction here.....Vintage Glass Christmas Ornaments For The Christmas Tree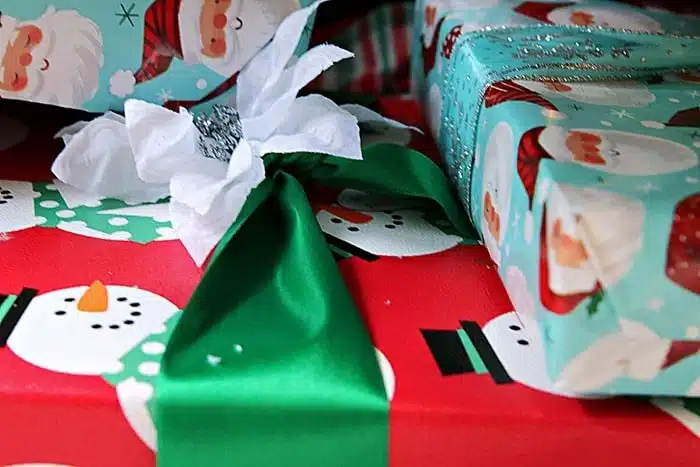 I love wrapping the presents and making them look special but it's time consuming. I start our all gung-ho then end up hurrying through the last ones I have to wrap so they don't look as good. This year I noticed the white poinsettia bushes I bought at Dollar Tree down in the workshop so I clipped a few blooms and put them on my packages. I normally wrap one piece of pretty ribbon around the package and knot it leave two short ends with no bows!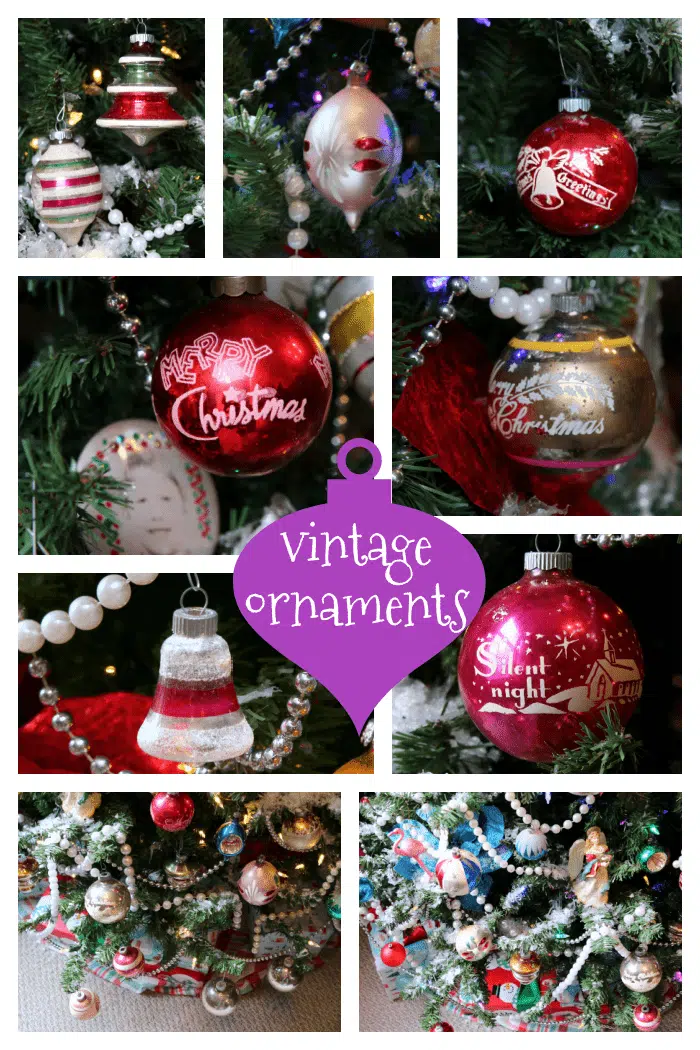 And as you could see from the tree I have a ton of vintage glass ornaments. Some are Shiny Brite and others are vintage made in Germany, Poland, etc. Then I have some fairly new ornaments here and there.
I have lighted Christmas Village house in all of the rooms of the house and that's about it. Oh, but my kitchen countertops are covered with decorative tins to hold my homemade chocolate candy which I have not made yet…..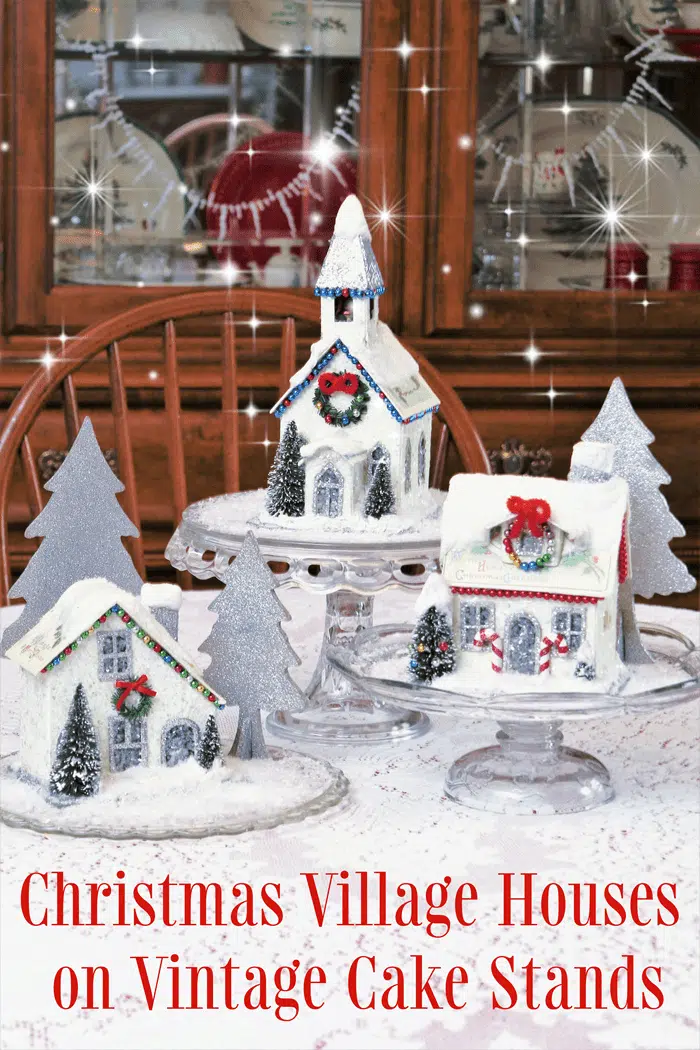 My Christmas specialties are chocolate balls made with powdered sugar, coconut, and a ton of pecans then there are the Millionaires or Chocolate Turtles made with, you guessed it, chocolate, plus pecans and caramel.
And to mix things up last year I added sea salt to the top of the Millionaires/Chocolate Turtles. It was a winning combination. See the recipe here....Salted Chocolate Caramel Pecan Turtles Recipe | Millionaires Candy
Pretty Putz Village slide show...
Small Putz Houses make a Big Display
Well, that's about it. How did you like the decor? Any favorite thing? Leave a note if you have time and thanks for being here, Kathy
Author: Kathy Owen (Petticoat Junktion)
Kathy is the founder of PetticoatJunktion.com, a home décor blog focused on repurposing and upcycling furniture, old hardware, rusty stuff, and thrifty finds into unique home décor. Kathy's projects have been featured on the Home Depot Blog, Plaid Crafts, Behr Designer Series, and in numerous magazines. Read more about Kathy here.