Today, my normal cleaning day, I cleaned one closet and said "enough of that". So, I made Salted Chocolate Caramel Pecan Turtles (also known as Millionaires Candy) with my special twist…..sea salt and I have the recipe for you. I also made Chocolate Haystacks and Butterscotch Haystacks. On a roll!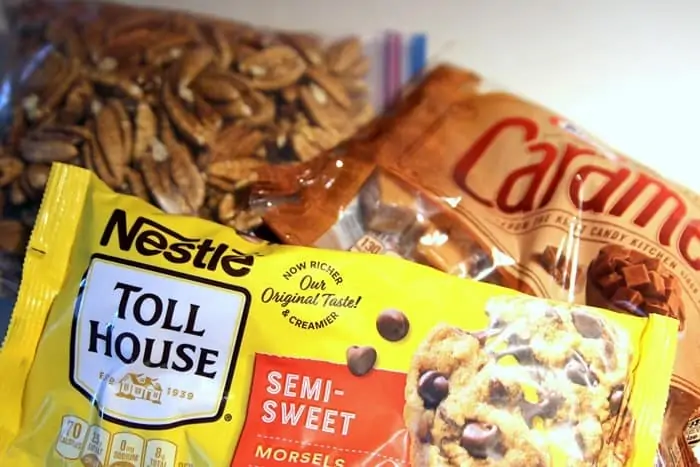 After I made the candy I delivered some to several neighbors. This is a family favorite and I have to make it every year during the Christmas holidays. The recipe I have actually calls it Millionaires Candy.
I'm not sure but I think at one time a company made boxed candy called Millionaires and then later another company made something similar named Turtles. Whatever you call them, they are good and this is the third batch I made this holiday season.
Salted Chocolate Turtles or Millionaires Candy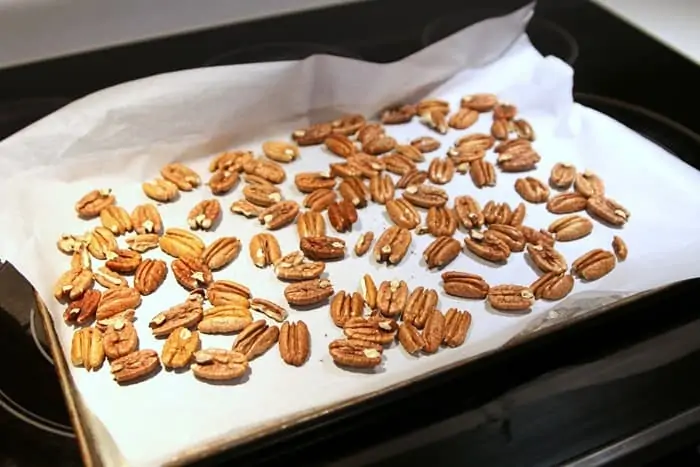 The first thing I do is toast 2 cups of pecans. I use whole pecans for this candy. I've made this recipe for years and this is the first year I have toasted the pecans. I think the Turtles taste much better. I toast the pecans at 350 degrees for 10-12 minutes. (The full recipe is below.)
I melt the caramel with milk in the microwave then add the pecans and stir well until they are covered with caramel.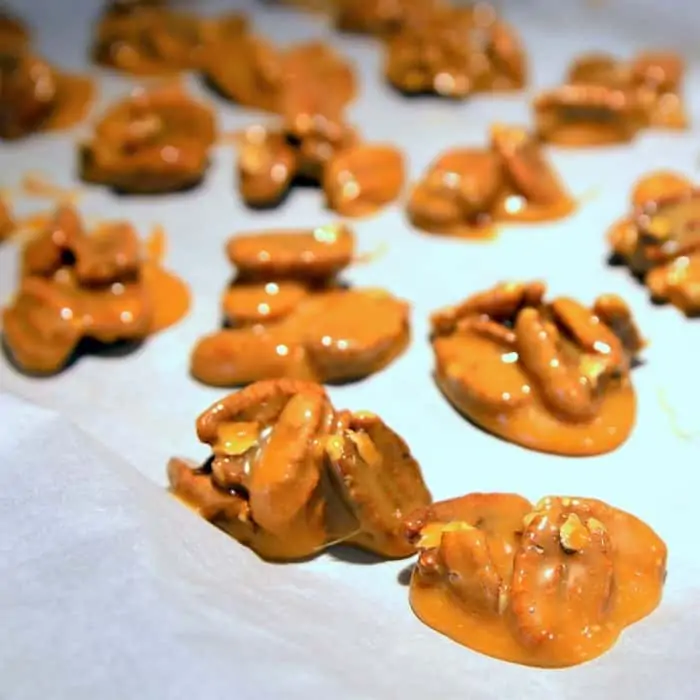 I drop the mixture onto a parchment-lined cookie sheet and put it in the freezer to help the candy set.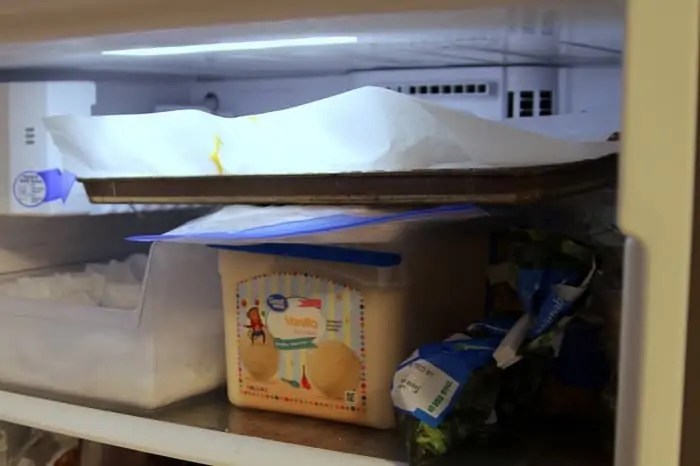 You could also just set the pan in the refrigerator but the candy will take a while to harden enough to dip in the chocolate.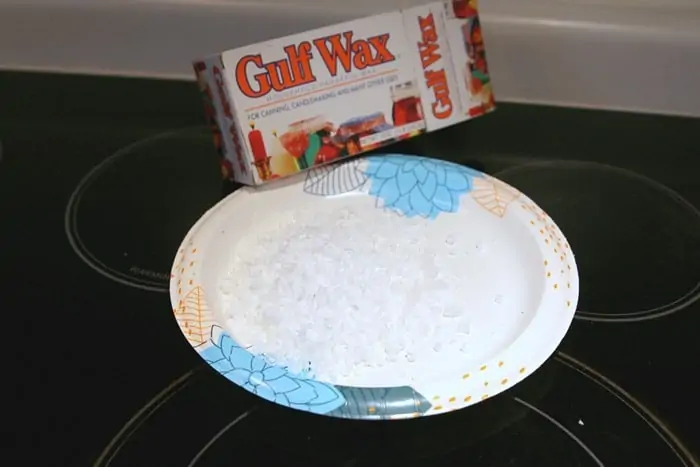 Next, I grate a block or half block of paraffin. I know it says not to use the paraffin for cooking but I've been doing it for years and I'm still here. I tried the dipping chocolate recipe that uses two tablespoons of shortening instead of Paraffin and the chocolate was really thick. I also tried the chocolate bark but it seems grainy.
I don't measure exactly when it comes to chocolate chips or paraffin. I just put some in a bowl and melt in the microwave. It is approximately 2 cups of semi-sweet chips and ½ block of paraffin. I use semi-sweet chips because milk chocolate chips make the candy way too sweet.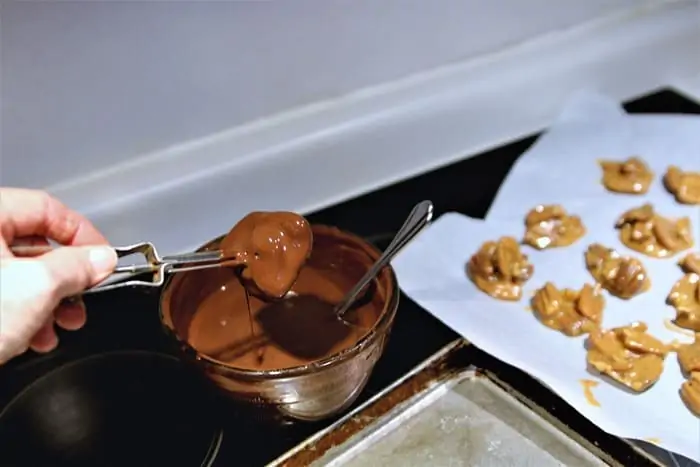 Once the caramel and pecans are firm I dip them in the chocolate. Next, I sprinkle sea salt on the chocolate. You have to do this before the chocolate hardens. So dip a few pieces in chocolate then sprinkle with sea salt.....repeat. Place on parchment paper and freeze them until set. Store in the refrigerator in a cookie tin. That's it.
This is also the first year I used sea salt on the candy. I love sea salt with caramel and now I love it with chocolate too.
Salted Chocolate Caramel Pecan Turtles Recipe ( or Millionaires Candy)
1 11oz bag Brach's CaramelsSalted Chocolate Turtles Candy
2 cups Pecans
3 Tbsp. Milk
2 cups Semi-Sweet Chocolate Chips
1 Block of Paraffin
Sea Salt
Spread the pecans on a baking sheet covered with parchment paper. Toast the pecans for 10 to 12 minutes at 350 degrees.
Stir once during cooking.
Unwrap the caramels and put them in a large bowl with the milk. Melt in the microwave in 20 or 30-second increments.
Be sure and stir the caramels between microwaving to help them melt. Don't burn the caramel.
Stir pecans into the melted caramels and drop them by spoonfuls onto parchment paper. Put in refrigerator or freezer to set.
Use a grater to grate the block or ½ block of paraffin. Put the paraffin and the chocolate chips in a glass bowl and microwave in 20 to 30-second increments. Stir between each microwave interval. If the chocolate gets too hot it will seize on you and nobody wants that.
Dip the caramel and pecan pieces into the chocolate. I use a potato peeler ( I know, weird) or a fork. Most times I use both together.
I stab the caramel with the fork and then dip it into the chocolate. Next, I hold the opposite side of the caramel piece with the potato peeler while the excess chocolate drips off. Place the chocolate-covered candy on parchment paper. Now is the time to salt the chocolate before it gets firm. Put the candy in the freezer or refrigerator to help it set faster.
That's it. Enjoy!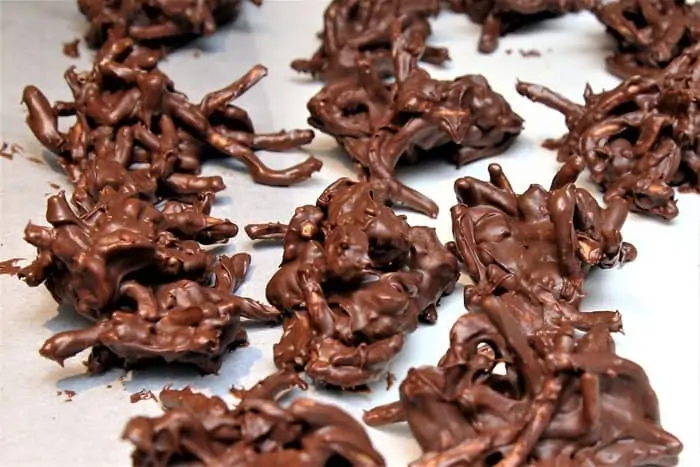 I also made Chocolate Haystacks with Butterfinger Bites, dry roasted peanuts, peanut butter, and chow mien noodles.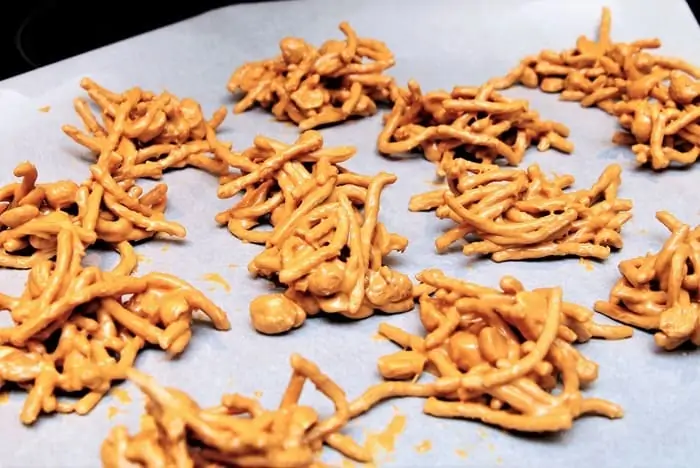 Then I made Butterscotch Haystacks with peanut butter, butterscotch chips, chow mien noodles, and dry roasted peanuts. They were yummy! Thanks for being here, Kathy
Author: Kathy Owen (Petticoat Junktion)
Kathy is the founder of PetticoatJunktion.com, a home décor blog focused on repurposing and upcycling furniture, old hardware, rusty stuff, and thrifty finds into unique home décor. Kathy's projects have been featured on the Home Depot Blog, Plaid Crafts, Behr Designer Series, and in numerous magazines. Read more about Kathy here.