Homes For The Holidays
For the second year in a row I've had the honor of volunteering with Warrick Dunn Charities Homes for the Holidays. The charity comes in and totally furnishes and decorates two Habitat for Humanity Nashville homes for two single moms and their families.
This year the Habitat homes were part of the Carter Work Project. The two families chosen to be part of the Homes for the Holidays program had no idea their home was being furnished and decorated from top to bottom, outside and inside.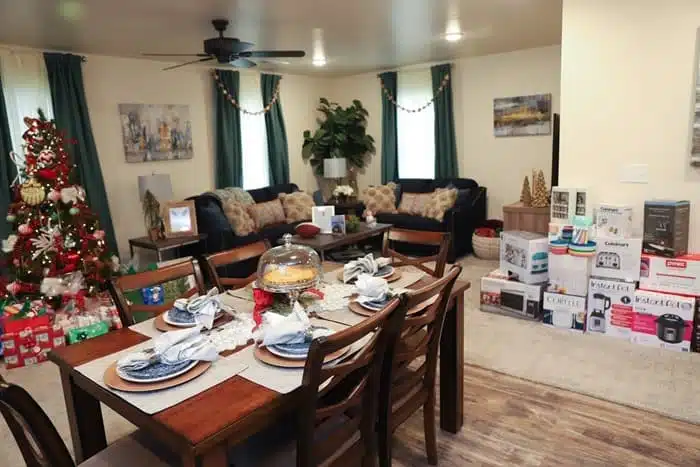 I shared the two Homes for the Holidays Nashville houses with you guys last year and everyone enjoyed seeing the photos. So I'm going to give you guys a look at this year's homes. First a little information about Habitat for Humanity and Warrick Dunn Charities….
Warrick Dunn started Homes for the Holidays in 1997 during his rookie year with the Tampa Bay Buccaneers.
The program is a tribute to his mother, Betty Smothers, a Baton Rouge police officer, who as a single-mother of six, worked tirelessly to achieve the American dream of owning her own home. While working a second job as a security guard, she was ambushed and killed. Ms. Betty was never able to realize her dream. source
Homes for the Holidays turned 20 in 2017, and celebrated bridging the gap between purchasing a house and the cost of creating a home for 155 single parents and 419 dependent family members. source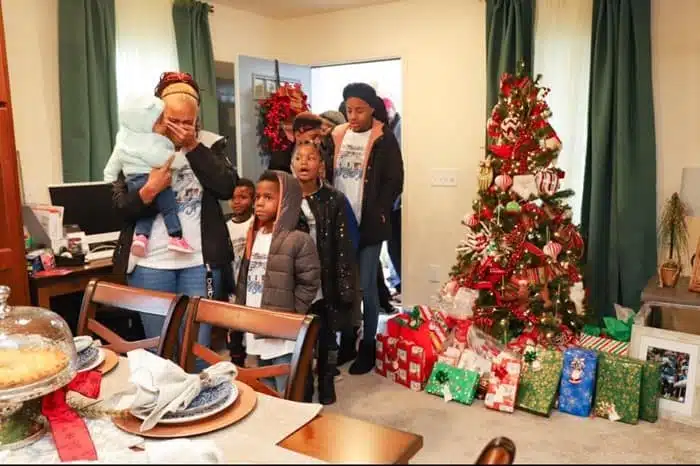 Waiting for the family on every Homes for the Holidays dining table is an apple pie, his Mom's favorite dessert.
Warrick Dunn was named The 2019 Sports Illustrated Sportsperson Of The Year. There is a great article in Sports Illustrated about Warrick Dunn and his Charity. Read the article here…..Warrick Dunn's Greatest Legacy Goes Far Beyond Football
About Habitat for Humanity……
Families in need of affordable housing can apply for homeownership with their local Habitat for Humanity. The local Habitat family selection committee selects homeowners based on, level of need, willingness to partner with Habitat, and their ability to repay a mortgage through an affordable payment plan.
A Habitat homebuyer spends hundreds of hours helping build their home (called sweat equity). They're also required to take classes in homeownership, finances, and more. The whole process from the time the applicant is approved for the home program to moving into the home can take 18 to 24 months. The homes are not free. The homeowners have an interest free mortgage on their homes.
Read more about Habitat for Humanity and the Carter Work Project here.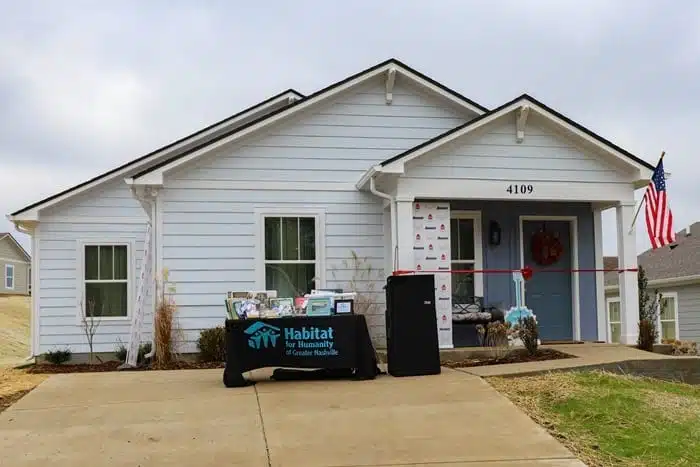 The photos I'm sharing today are of Brandiesha's home.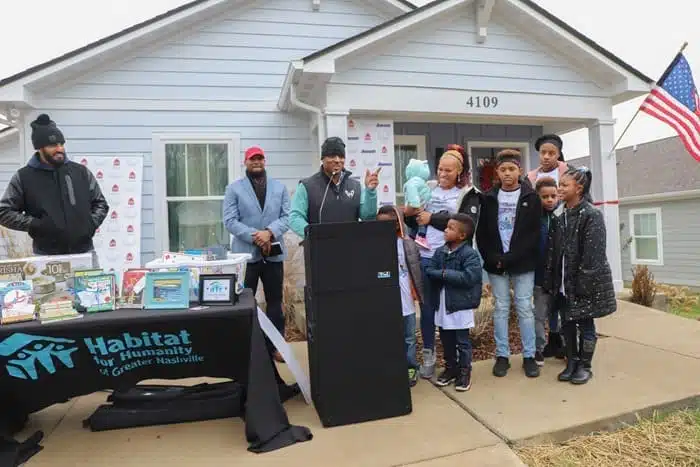 She arrived at her new home to find a crowd of people and Warrick Dunn who met her at the car and introduced himself. Remember all of this is a total surprise to the homeowners. Marcus Mariota of the Tennessee Titans is the sponsor of the Nashville Homes for the Holidays and he was on hand with gifts and other surprises. Brandiesha has seven children and they were the most well behaved kids I've seen in a while!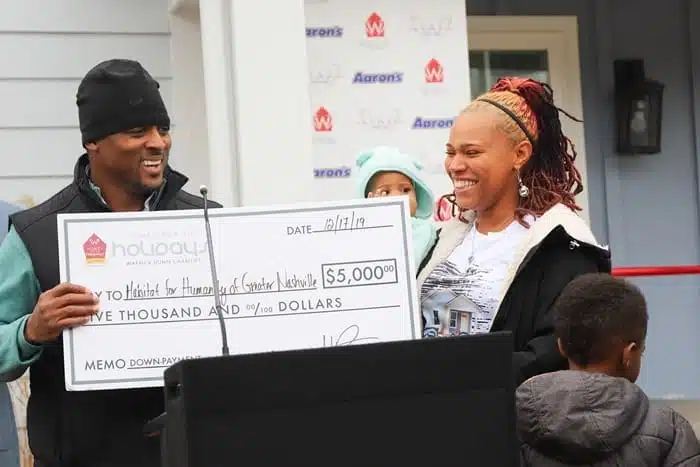 Mr. Dunn also presented Brandiesha with a check for $5000 to help with the home mortgage.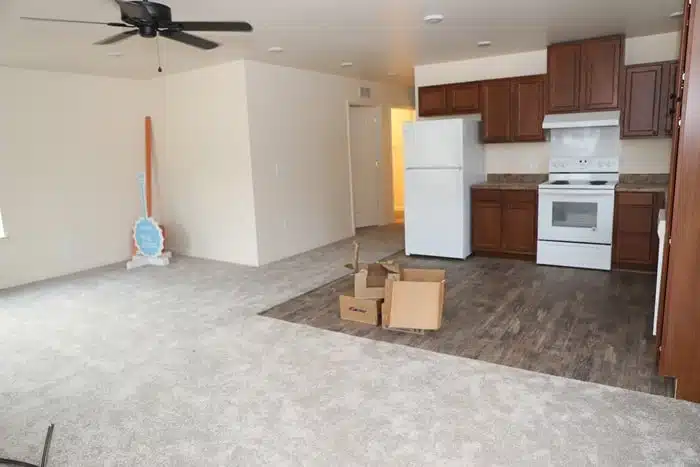 This is what the inside of the house looked like before the furnishings were brought in.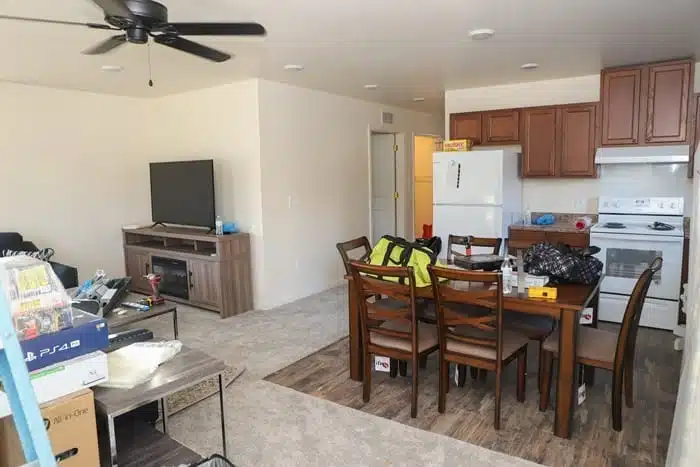 The majority of the furniture is provided by Aarons who is a partner of Warrick Dunn Charities. The Charity receives donations year-round from partners, businesses, and individual donors who want to support the mission of providing hope for single parent families in need.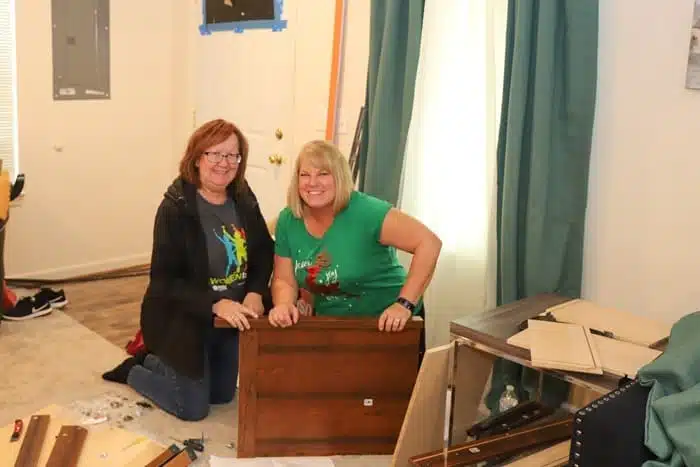 We had a larger number of volunteers this year and we worked for a total of 6 days to get the homes ready. The photo above shows me and Lisa putting a desk together. Lisa and I met while working on the houses last year and have stayed in touch. Lisa is a photographer for Habitat Nashville.
I volunteer on the Nashville Habitat Women's build each Spring. It's not only a feel good experience but a learning experience too and a chance to make new friends.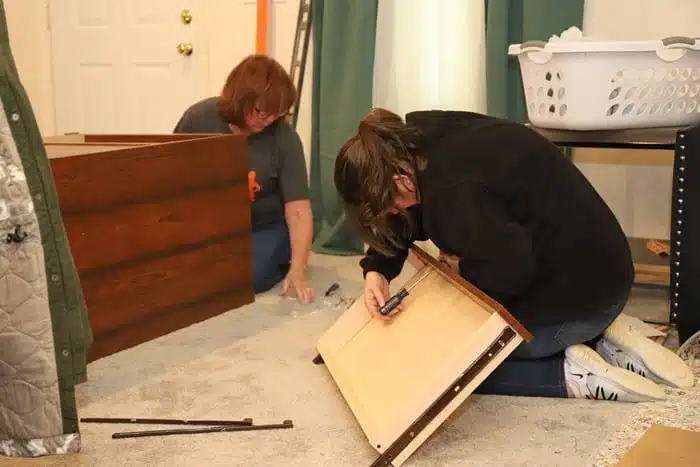 That desk was a bear to put together and we had additional help along the way.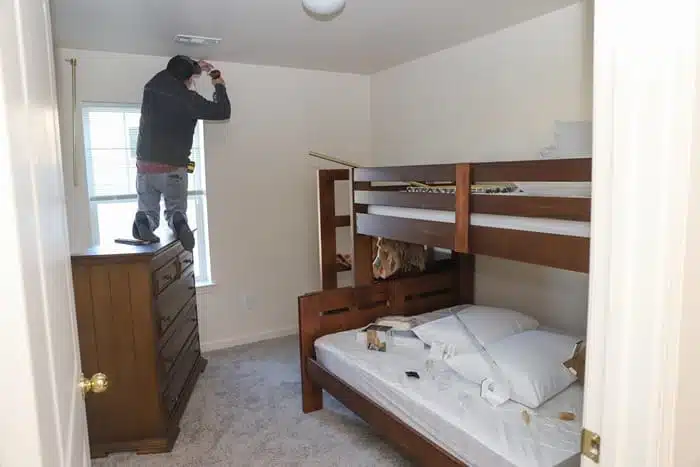 This year the majority of the curtain rods were put up by two hard working guy volunteers. Lisa and I sure appreciated that.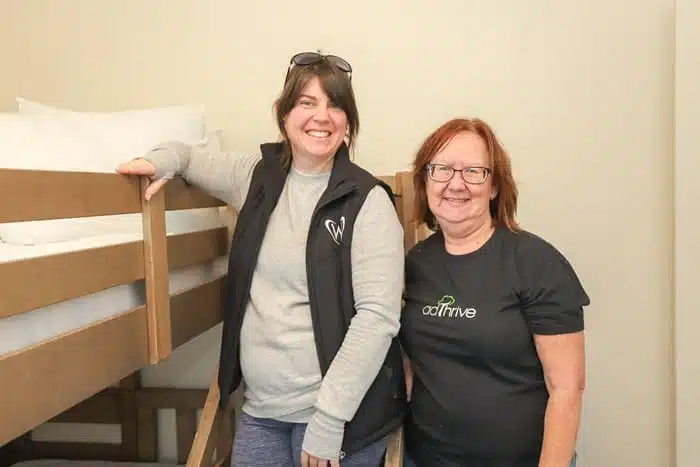 Nancy is the Program Manager for Warrick Dunn Charities and was on site in Nashville overseeing the project.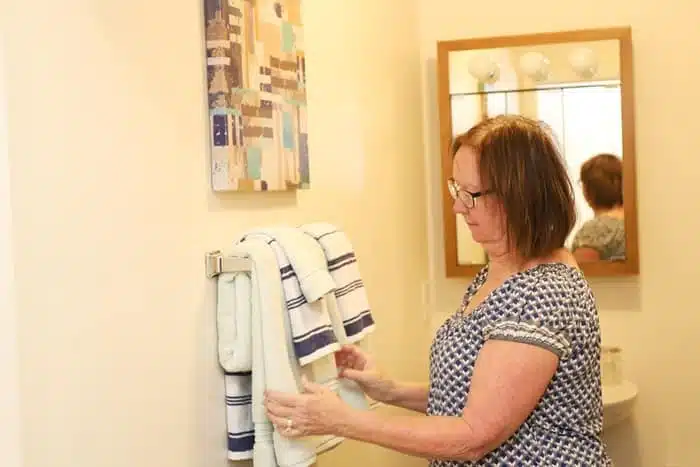 Everything a home owner needs was provided. Even things like toothpaste, toiletries. cleaning supplies, light bulbs, you name it.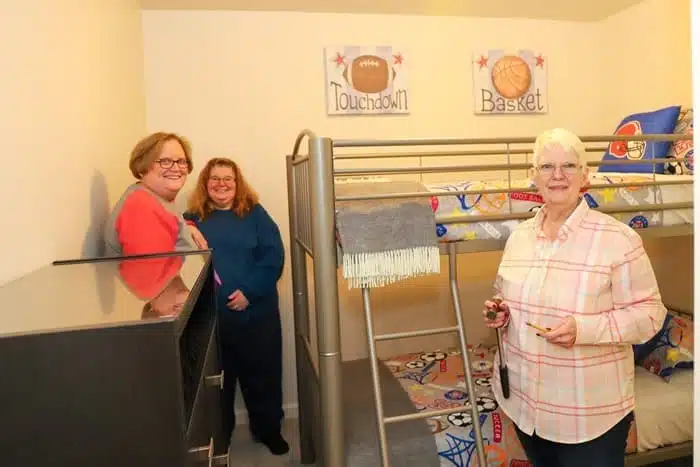 Several members of a Hallmark ornament club in Nashville worked for days on the house making up bunk beds, ironing, and whatever else needed to be done.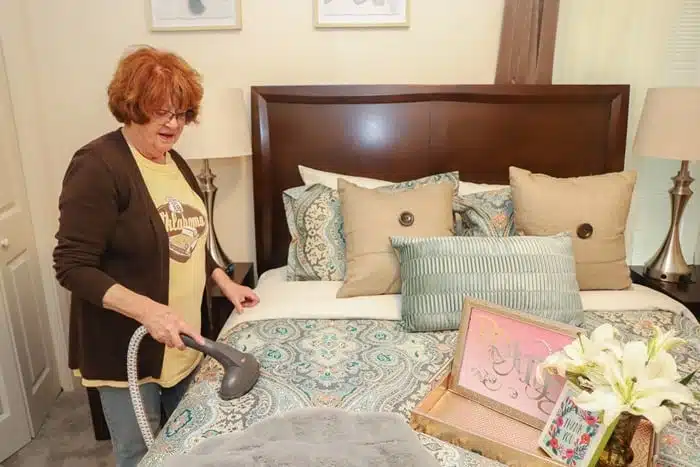 We steamed bedding and draperies, even shower curtains.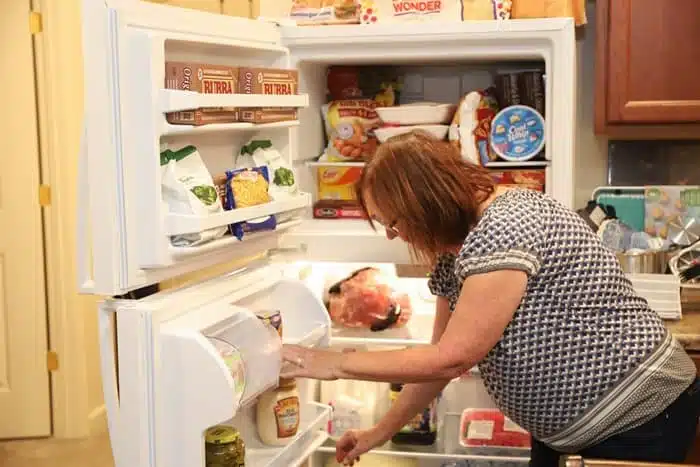 The charity also stocks the refrigerators and cupboards. The homes are move in ready with no need to rush out to the grocery store.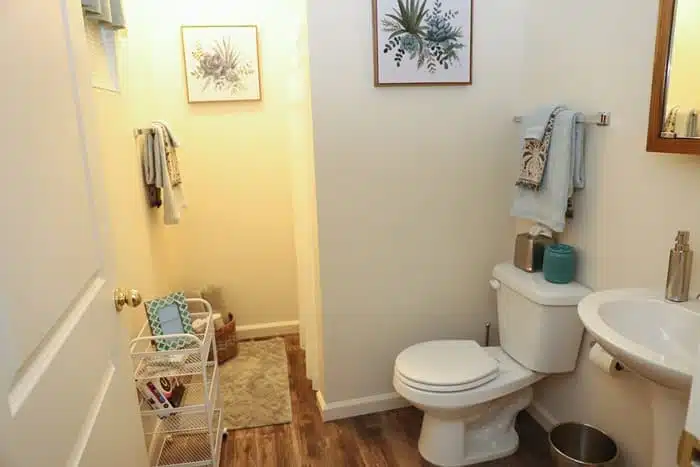 The photo above is of the master bathroom.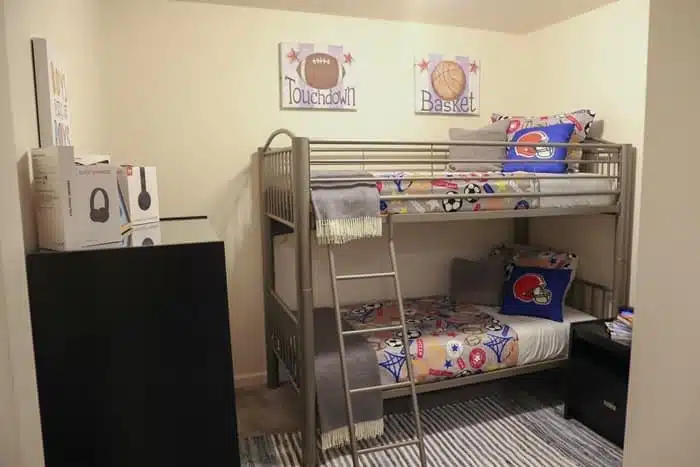 This four bedroom home for Mom and seven kids has three bunk beds, one baby bed, and one queen size bed. I'm so glad I didn't have to make up all of those bunk beds. I did wrestle on a few mattress covers.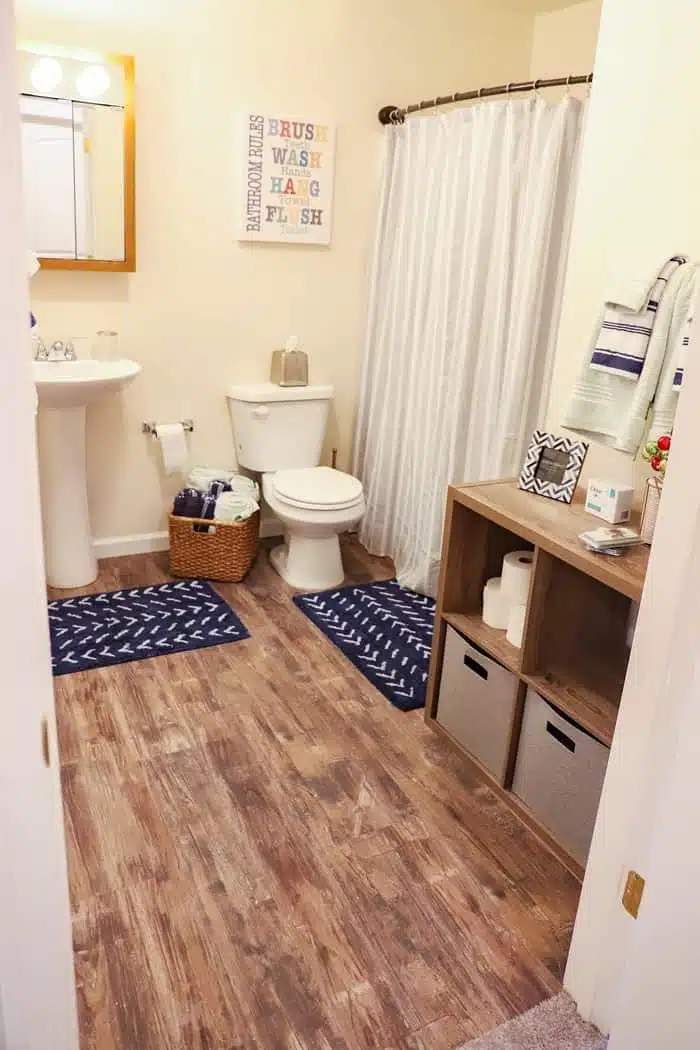 This is the main bathroom.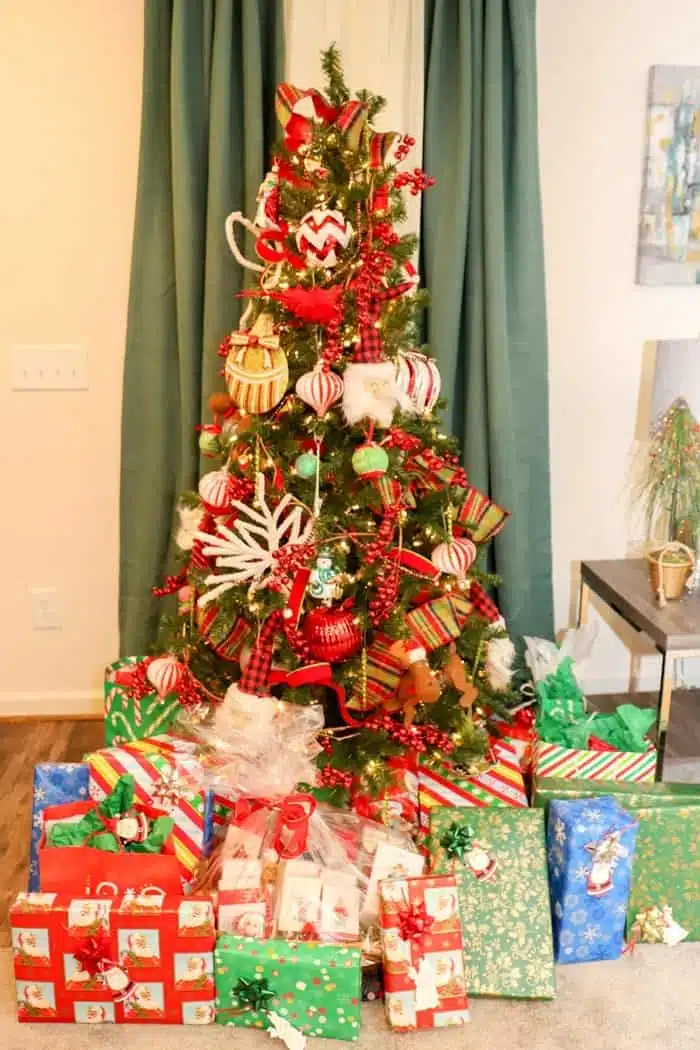 A florist came in and put up a Christmas tree and decorations in each home. She also brought in beautiful flower arrangements and holiday décor for each room. The presents for the kids were provided by the Hallmark ornament club and other groups.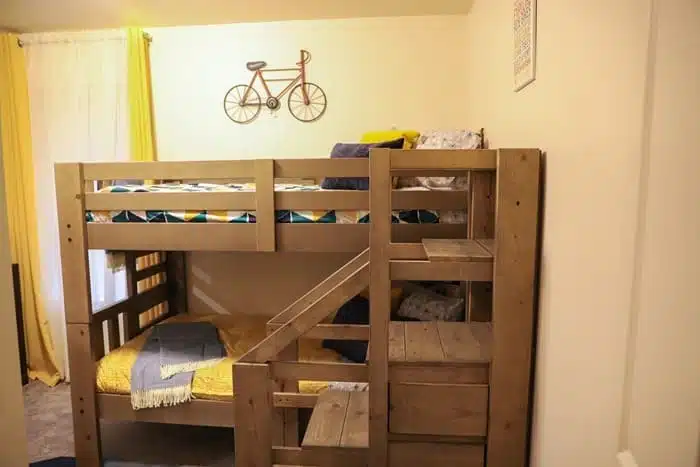 A room for two of the boys.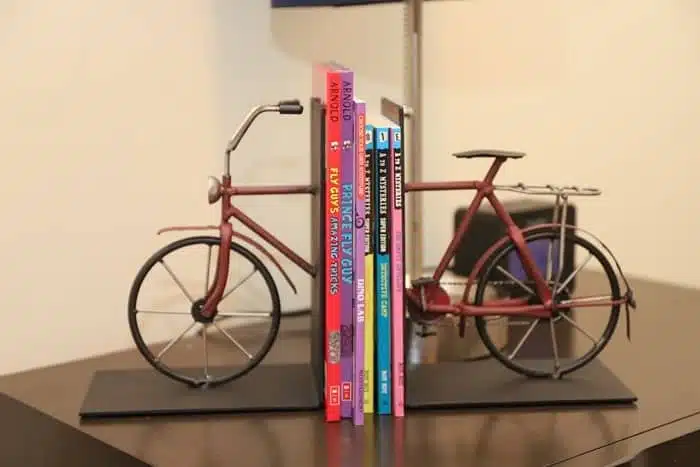 The crew at Warrick Dunn Charities thinks of everything and they have exacting standards to adhere to for every home. Every aspect from furniture to small special touches are planned with the specific homeowner and kids in mind.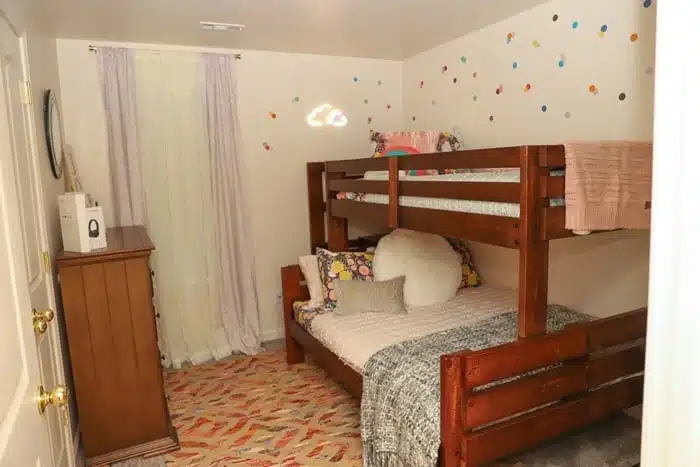 The room above belongs to the two girls.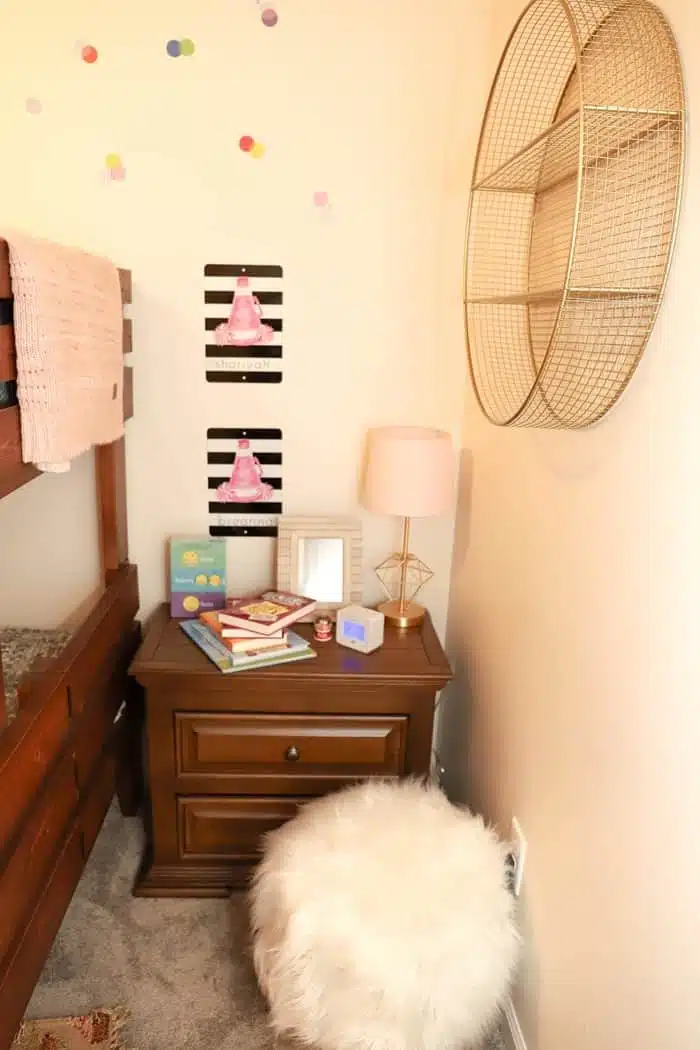 Those confetti dots on the walls are so cute.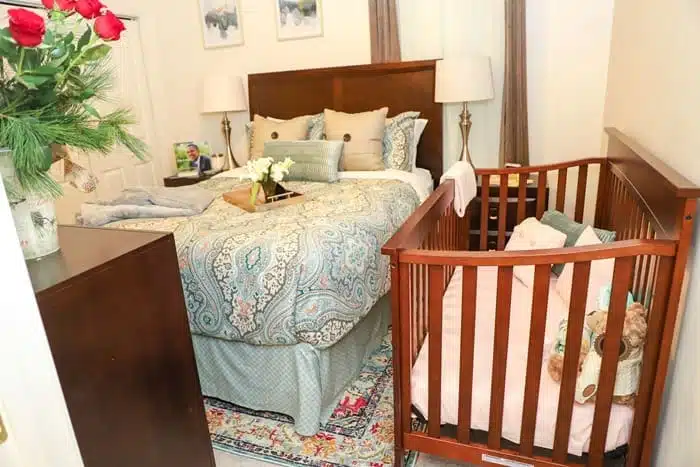 This is Mom's master bedroom and the baby's room.
Must have been overwhelming to see the fully furnished rooms. They thought they were coming home to an empty house and would be moving their furnishings in over the next few days and trying to get everything together.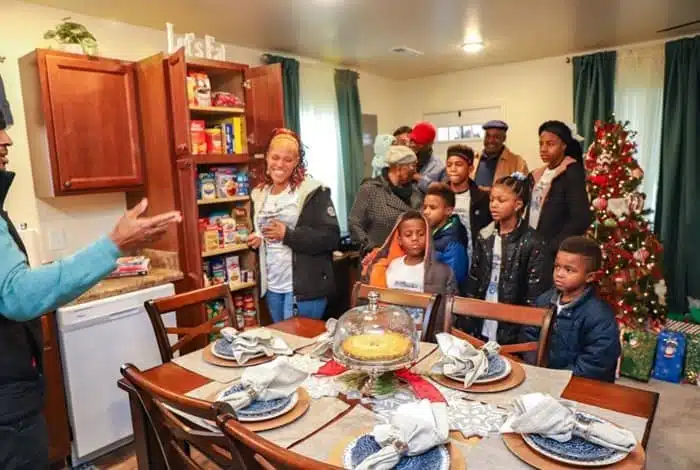 Homes for the Holidays Nashville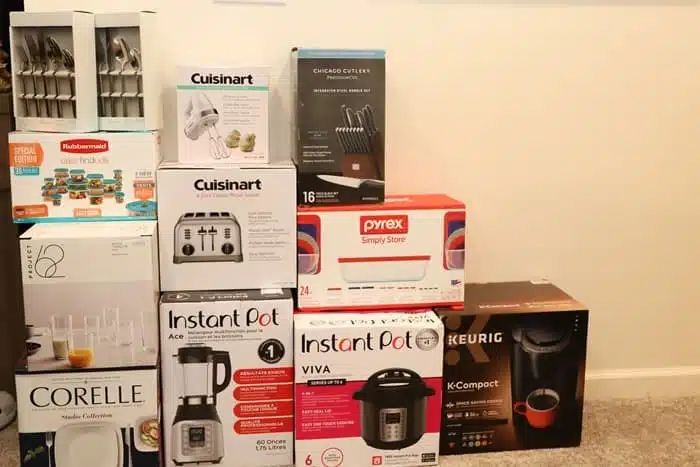 The kitchen is completely furnished with appliances, cookware, dishes, etc.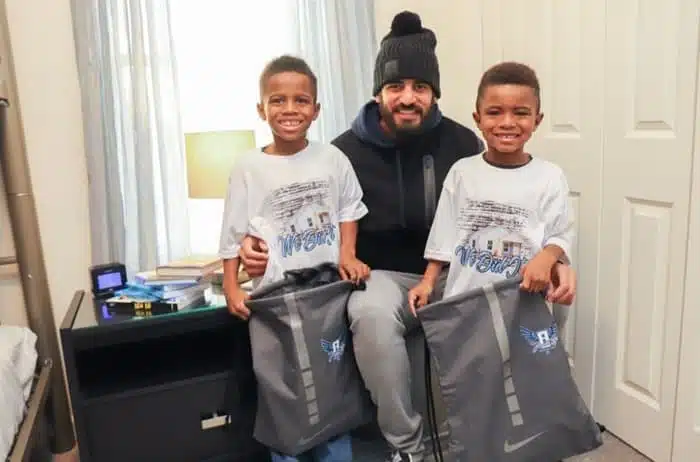 Marcus Mariota and his Motiv8 Foundation brought in gifts for all the kids including autographed footballs.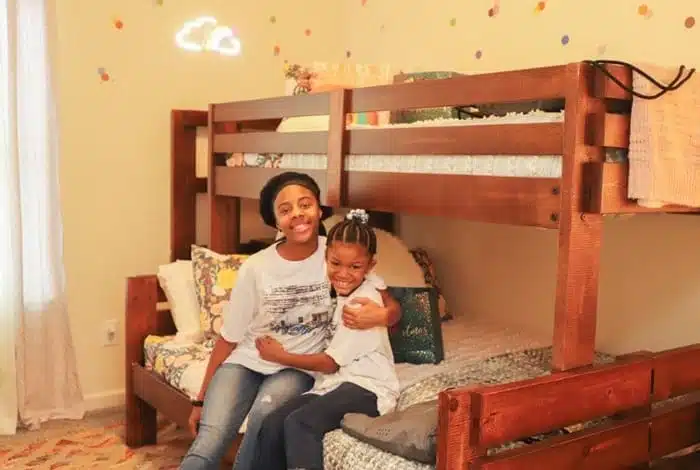 Sweet hugs. The girls love their room.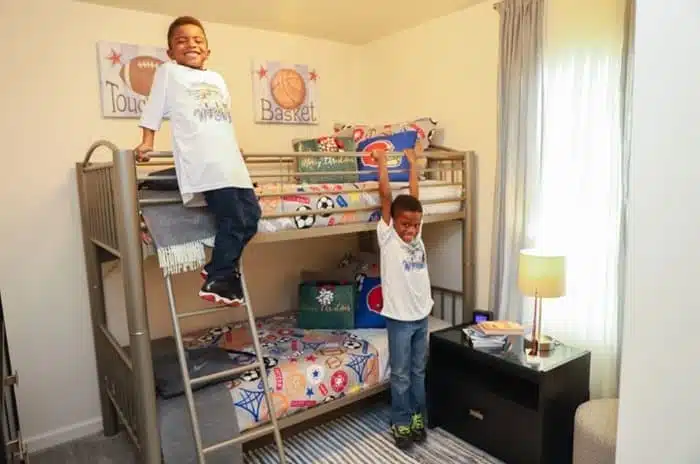 I think the boys decided first thing to switch bedrooms with each other.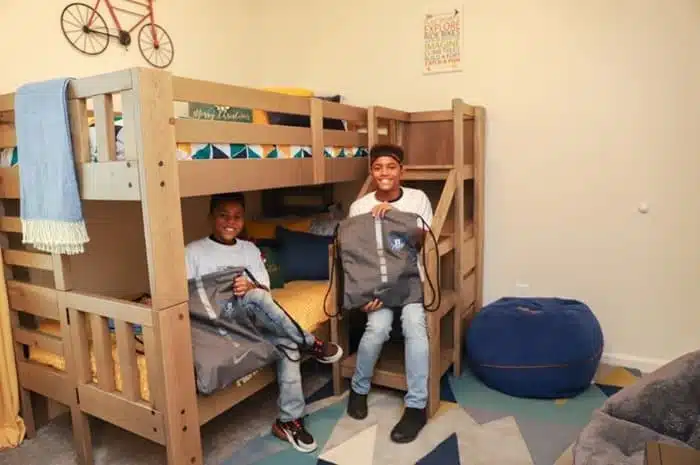 Boys with some of their gifts from the Motiv8 Foundation. Love the bunk bed staircase with drawer storage.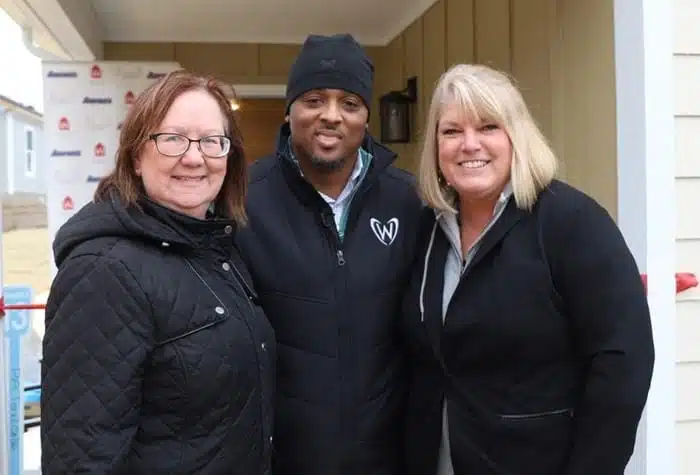 Me and Lisa with Warrick Dunn.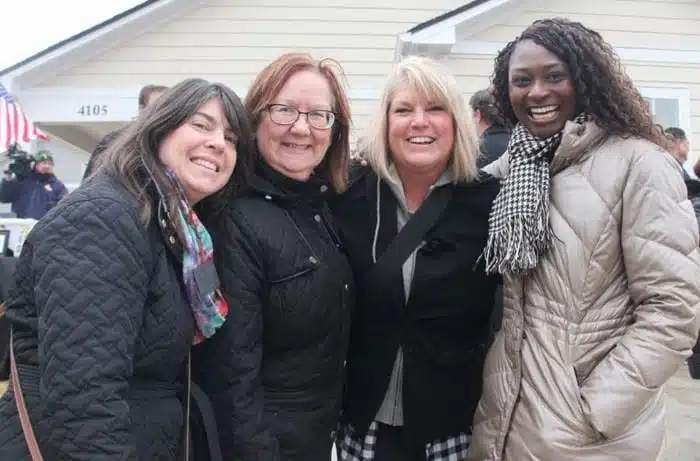 Nancy (Program Manager, Warrick Dunn Charities), me, Lisa (Habitat Photographer and Volunteer), and Whitney (Executive Director, Warrick Dunn Charities).
I filmed a video of the home presentation by Warrick Dunn and Marcus Mariota. You can view it below…..
Homes for the Holidays Nashville 2019
Did you guys enjoy the home tour? Are you familiar with Habitat for Humanity or Warrick Dunn Charities? Let me know if you would like to see photos of the other Holidays for the Homes house. As always, thanks for being here, Kathy
Author: Kathy Owen (Petticoat Junktion)
Kathy is the founder of PetticoatJunktion.com, a home décor blog focused on repurposing and upcycling furniture, old hardware, rusty stuff, and thrifty finds into unique home décor. Kathy's projects have been featured on the Home Depot Blog, Plaid Crafts, Behr Designer Series, and in numerous magazines. Read more about Kathy here.