Homes For The Holidays
Volunteering with Warrick Dunn Charities Homes for the Holidays in Nashville was the highlight of my year.
Hey Guys, I'm really excited to share this with you. Remember last month when I wrote about what I want to be when I grow up? In case you missed it, this is what I said "My dream job, or dream volunteer job, would be to go into homes and redecorate a room or the whole house with what they have on hand."
Well, I did get to help decorate a home from top to bottom…..with all new stuff….furniture…..décor…..the works. And it was a total surprise for the homeowners….they had NO clue.
I got a call from Habitat for Humanity of Greater Nashville asking if I could help with decorating two new Habitat homes. Warrick Dunn Charities/Home for the Holidays was looking for volunteers.The homes were to be furnished and decorated from top to bottom. I could free up some time….I was in.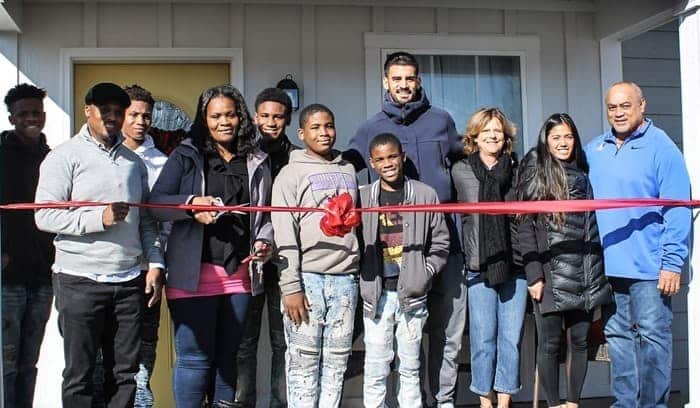 First, a little background on Warrick Dunn Charities……Warrick Dunn started Homes for the Holidays in 1997 during his rookie year with the Tampa Bay Buccaneers.
The program is a tribute to his mother, Betty Smothers, a Baton Rouge police officer, who as a single-mother of six, worked tirelessly to achieve the American dream of owning her own home. While working a second job as a security guard, she was ambushed and killed. Ms. Betty was never able to realize her dream. source
From Warrick Dunn - Through Warrick Dunn Charities, as we are now known, I've been able to honor my mother's life and the lessons she left with me while making an impact in the lives of hardworking families who deserve a hand up -- not a hand out -- in life.
When my family was grieving and suffering from the loss, the Baton Rouge community stepped up to provide food, financial assistance and other support, and I'm honored to pay it forward by providing support to the families in our program too. source NFL.com
All photos are courtesy of Habitat for Humanity Greater Nashville.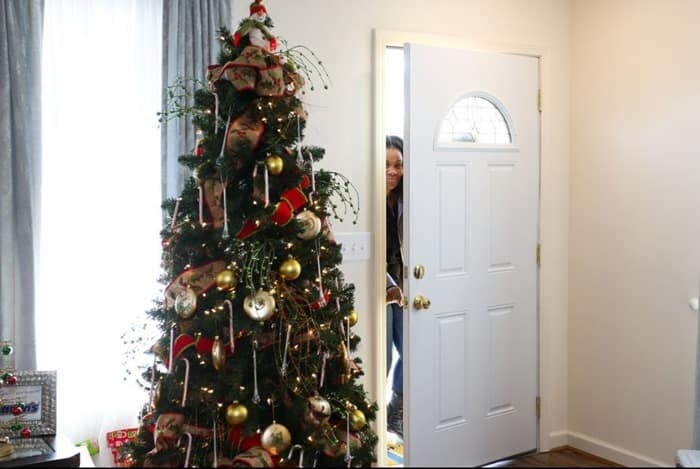 The two Habitat homes to be decorated were completed but the families hadn't closed on the homes yet. I don't know what the families were told to keep them away from the homes while they were being staged and decorated but they must have been told something. I know we didn't have to worry about them showing up and surprising us.
As a rule Habitat homes do not come furnished and decorated. Warrick Dunn Charities Homes for the Holidays made all of this happen,
Until I started volunteering with Habitat I didn't know how the program worked. I thought the homes were free. That's not how it works. A Habitat homebuyer spends hundreds of hours helping build their home (called sweat equity).
They're also required to take classes in homeownership, finances, and more. The whole process from the time the applicant is approved for the home program to moving into the home can take 18 to 24 months.
Time to look at photos of Carrie's home. I just selected a few because there are a ton. I'm only sharing one of the homes today. I might share the other one later if you guys are interested. The photo above shows Carrie the homeowner opening the door to her home after she was presented with the keys.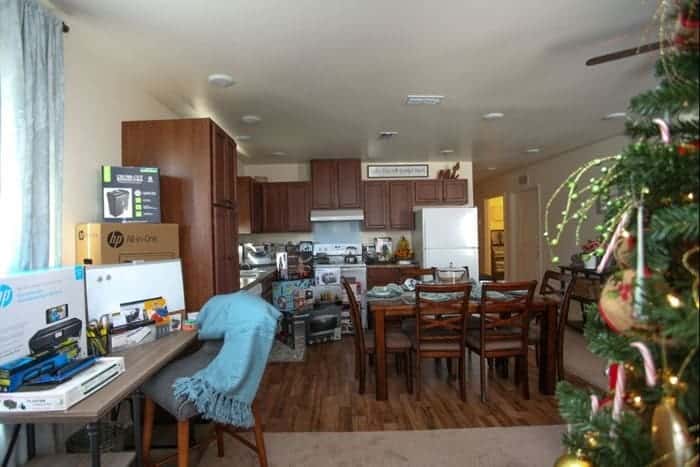 The majority of the furniture was provided by Aaron's who partners with Warrick Dunn Charities on the Homes for the Holidays program. Aaron's came in and set up all of the furniture, putting beds together, etc. Really nice stuff. I especially like the sectional. So plush.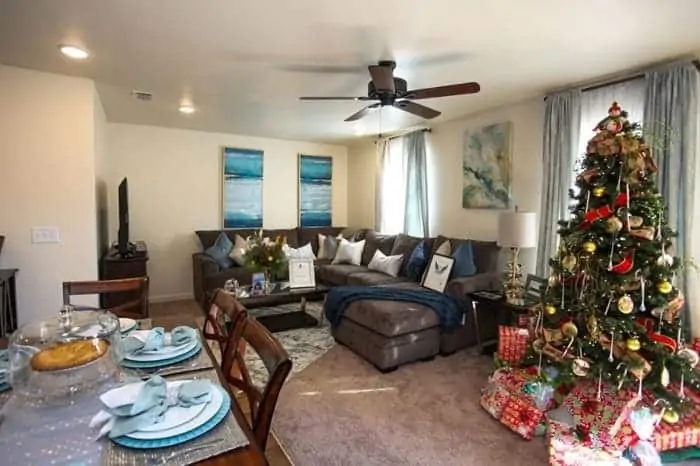 I installed a lot of curtain rods (double curtain rods) and hung a bunch of sheers and curtains. My arm was sore for a couple of days from holding the drill above my head and drilling screw holes. I enjoyed every minute. I made a new friend, Lisa, and we were curtain rod hanging partners.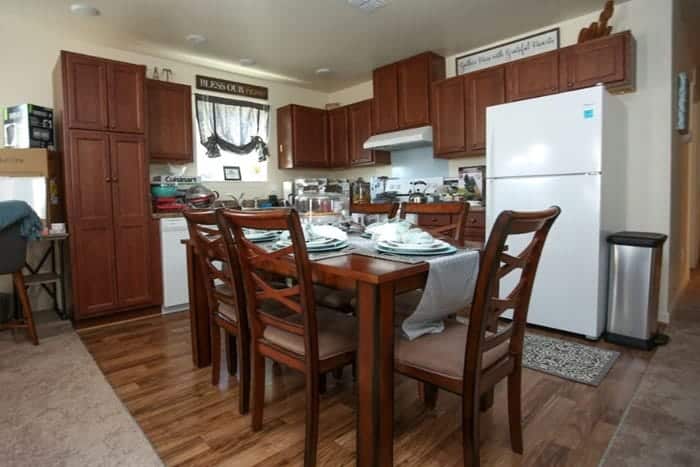 The Homes for Holidays program provides: kitchen appliances & dishes, washers, dryers & refrigerators,  lawn & garden equipment, linens, fully stocked kitchen, cleaning supplies, and home decor items.
I was amazed at the amount of thought and caring that went into selecting the furnishings and décor for the homes. The homeowners style and color preferences were taken into account when selecting the furnishings.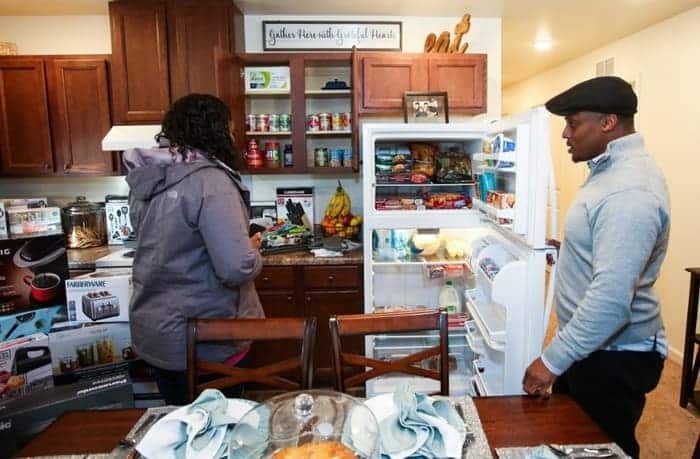 The program also includes a fully stocked refrigerator and food in the cabinets. Carrie was overwhelmed to say the least. She was in tears along with just about everyone else. I think I forgot to mention she has 5 boys, two sets of twins! Their ages range from 11 to 15.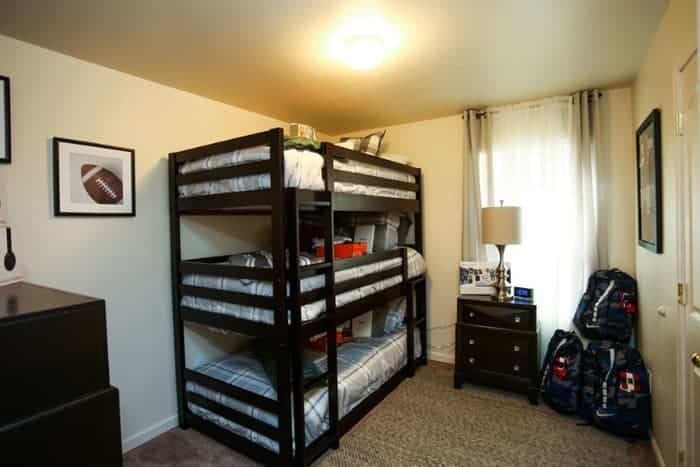 The first boys bedroom had triple bunk beds which I've never seen before. We first tried setting up two twin beds, one with a trundle, but the room was too small for all of that. Nancy from Warrick Dunn Charities had to get on the phone and find a triple bunk bed in Nashville that could be delivered and set up same day.
Carrie was overheard saying she told her boys they would probably have to sleep on the floor that night. Not happening.
The logistics of the whole process was overwhelming to me. WDC (Warrick Dunn Charities) is based in Atlanta and these are the first two homes they've done in Nashville.
Nancy and Whitney (from WDC) spent hours and hours shopping for décor and all the extras needed for the home. It was a week long project from the time the furniture was delivered until presentation of the keys to the homeowner.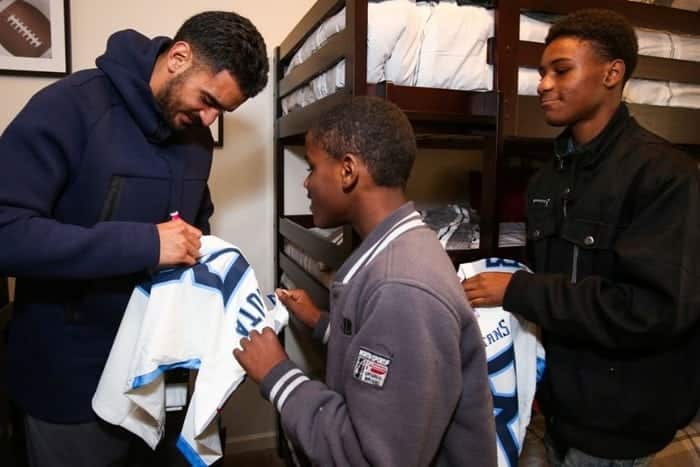 Titans quarterback Marcus Mariota and his Motiv8 Foundation partnered with WDC for the two homes in Nashville. Marcus and his crew (including Mom and Dad) brought in jerseys, football cleats, footballs, backpacks, photos, and much more. He tossed the football around with the boys and offered up autographs. Smiles all around.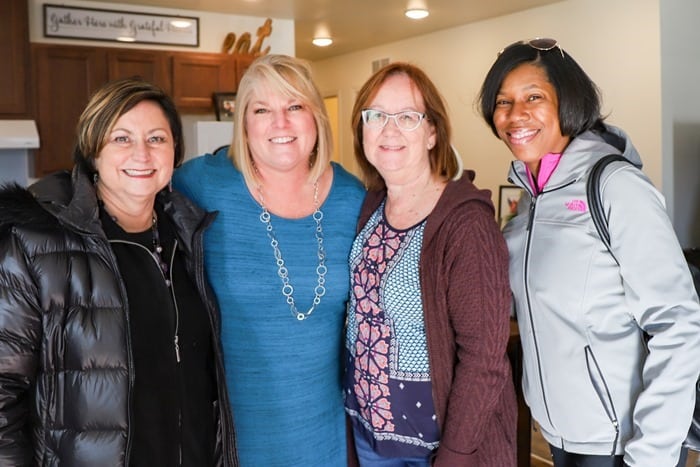 Photo of me and some of my fellow volunteers….Karol, Lisa, me, Shadonte. One perk of volunteering is making new friends.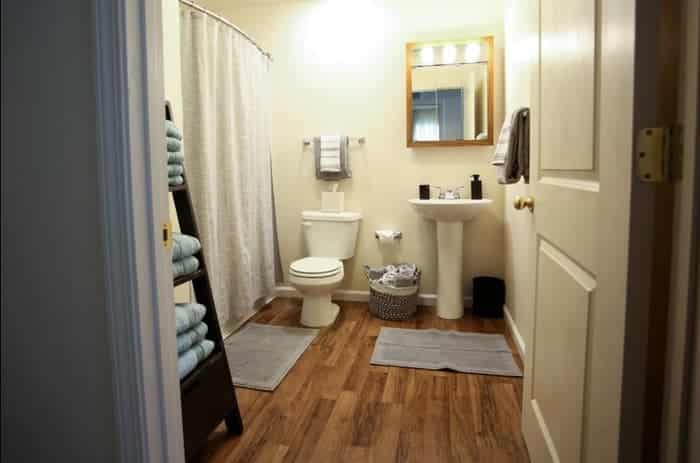 This is the main bathroom. I love those floors. Lisa and I also hung the shower rods which was a challenge. These guys didn't know what they were getting into when I volunteered.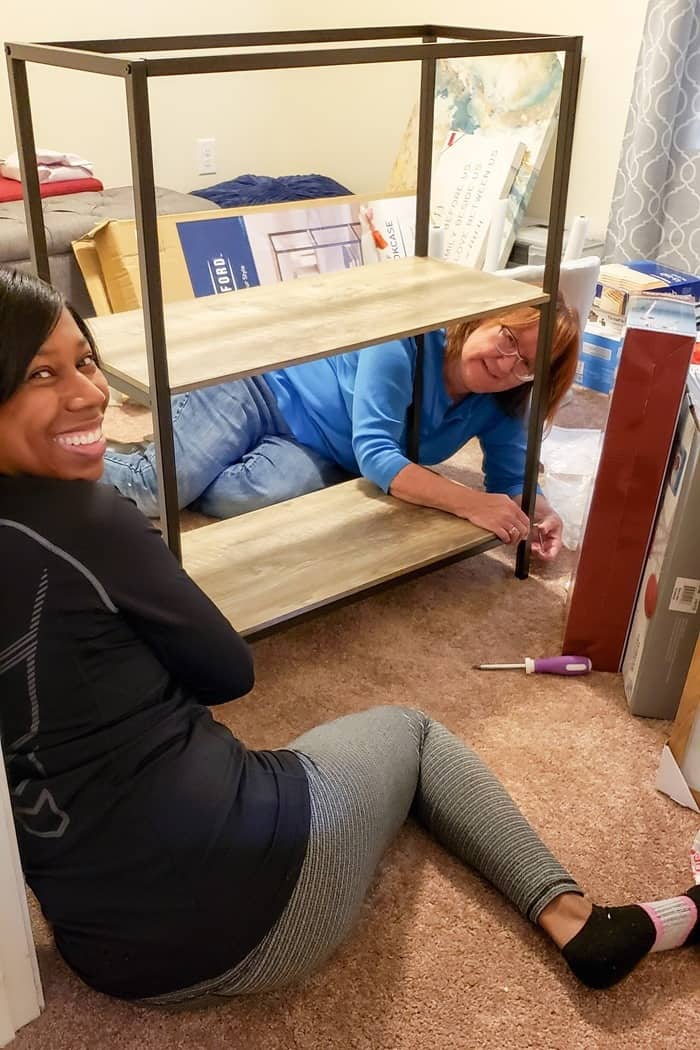 Photo of me and Shadonte putting a shelf together. We did all kinds of things like…….. putting linens on bunk beds (never again), hauling tons of boxes and packaging to the dumpster, unloading the Suburban many many times, unboxing tons of coat hangers (yes, even coat hangers were provided), putting light bulbs in lamps, moving furniture, lifting furniture, steaming curtains…..you name it.
Things provided by other companies and volunteers included; Christmas trees (fully decorated), Christmas presents for the family, a basketball goal….and probably other things I don't know about or forgot to mention.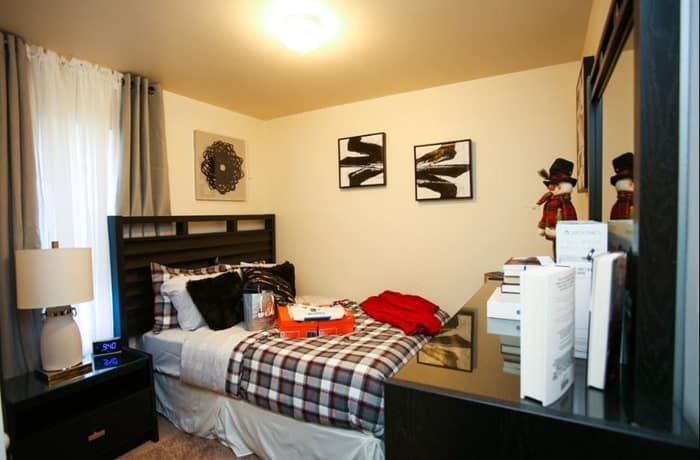 Second bedroom for one of the boys.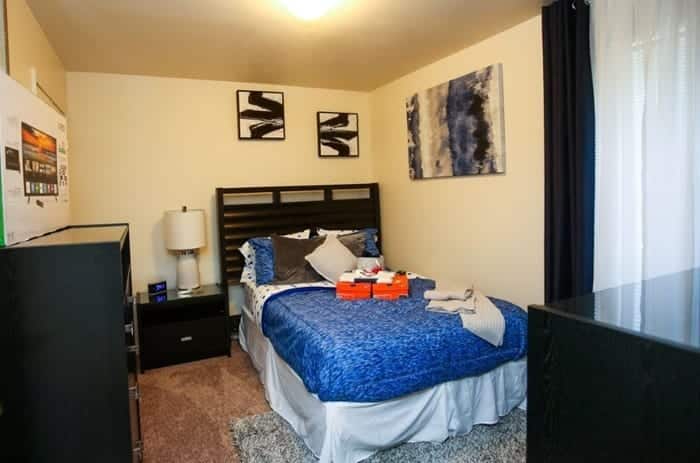 Bedroom number 3.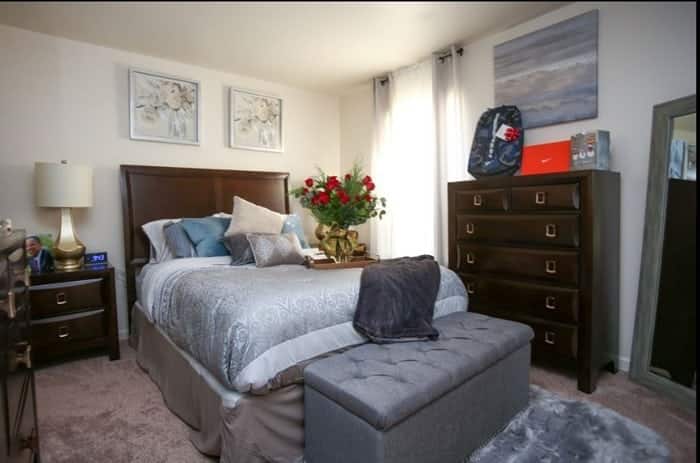 The master bedroom. As you can see, everything you would need in a bedroom was provided.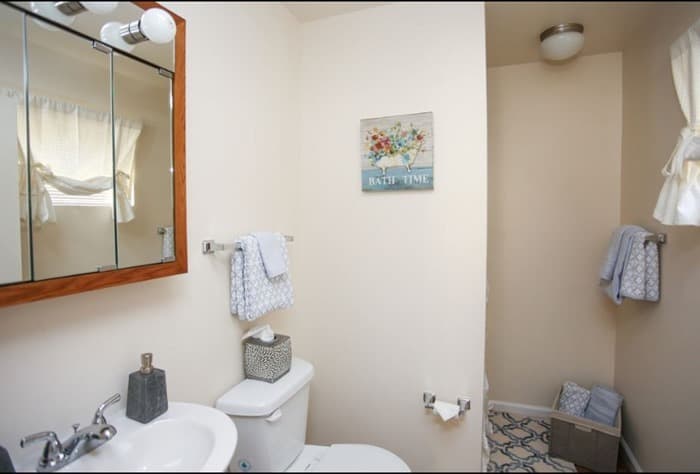 The master bath.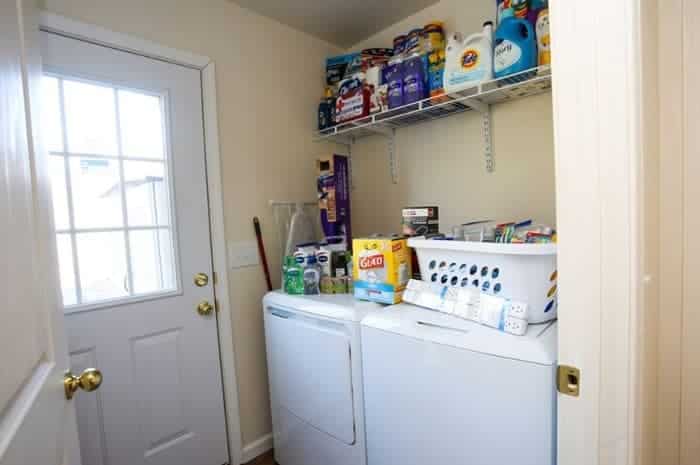 The laundry room. I can't think of a single thing the family would have to go out and buy in order to start housekeeping. They even provide toothbrushes and laundry detergent.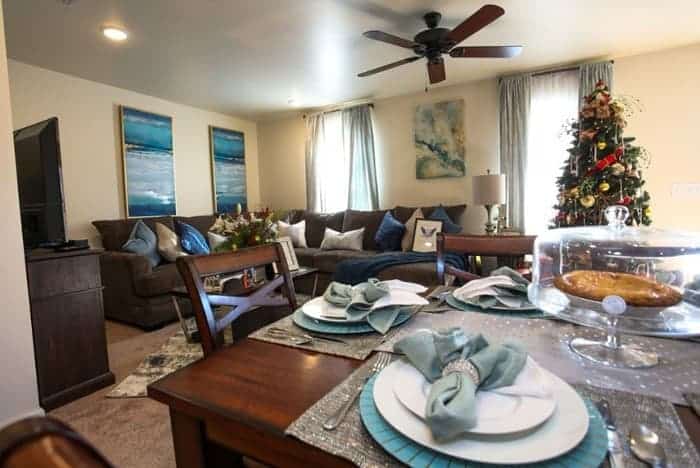 The apple pie on the dining room table is a signature WDC Homes for the Holidays touch. Making every family feel special by adding details like fresh flowers is a must. I feel very privileged to be a small part of this project.
I volunteered with the charity less than one month after I wrote the post about wanting to do something different like decorate homes. I've always heard you need to put your wishes and dreams on paper (or the internet). Maybe it's true.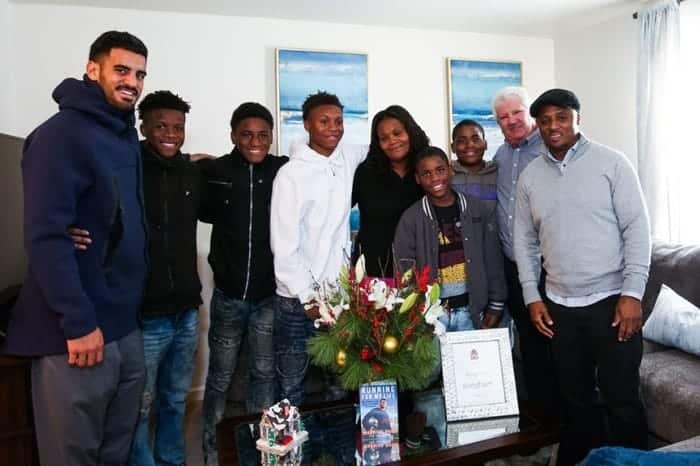 I know this has been a long post. I hope you enjoyed the photos and feel inspired by the story. There are a lot of good people working to make things better for someone else.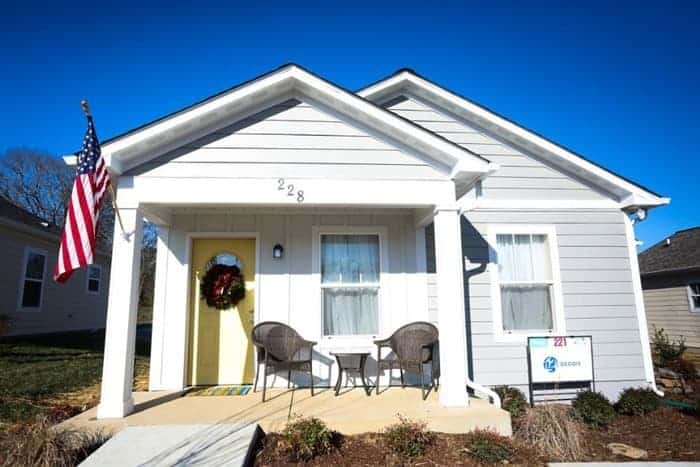 Habitat Home
As always, thanks for being here and have a great day, Kathy
Author: Kathy Owen (Petticoat Junktion)
Kathy is the founder of PetticoatJunktion.com, a home décor blog focused on repurposing and upcycling furniture, old hardware, rusty stuff, and thrifty finds into unique home décor. Kathy's projects have been featured on the Home Depot Blog, Plaid Crafts, Behr Designer Series, and in numerous magazines. Read more about Kathy here.