Dollar Tree nursing home staff gifts or gifts for the residents are inexpensive and are fun to put together plus the recipient will love the gifts!
My family and I spent a lot of time trying to think of a gift we could give the nursing home staff to show our appreciation.....one that wouldn't break the bank but would be halfway decent. I put together 24, easy to make, inexpensive, Dollar Tree nursing home staff gifts in less than an hour.
I finally hit upon the coffee mug filled with goodies idea. This isn't a project I set out to make and post about but I decided to share the idea in hopes it would help someone else.
To bring you new guys up to speed, my Mom has Alzheimer's. We finally had to move her to the nursing home in May of this year. The staff at the nursing home is wonderful. We tell them all the time how much we appreciate them. Giving each of the staff members who work on Mom's hall a small gift during the holidays is another way of showing our appreciation.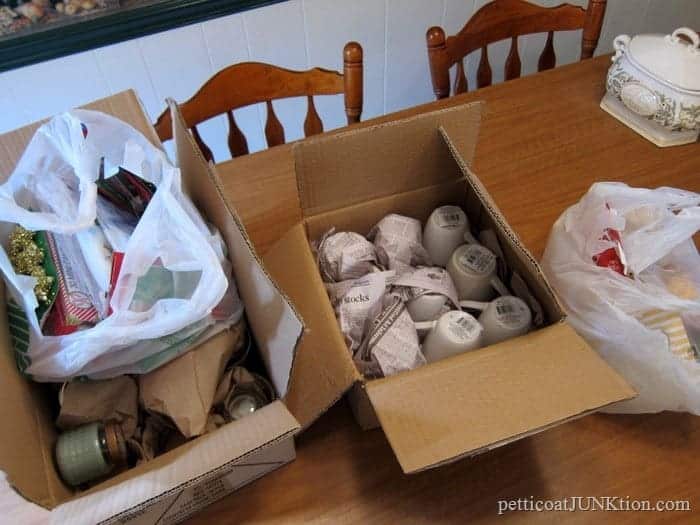 Now to the gift making. I went to the Dollar Tree and spent $71.00. I bought enough supplies to make 25 gifts or so I thought. I was short one cellophane gift bag so I ended up with 24 gifts at a little less than $3 each.
The Dollar Tree is one of my favorite places. I can go in that store with the purpose of picking up a couple of things and I come out with 20. Where else can you buy 20 items for $20 plus tax…..and sometimes I've been in the store when everything is 10%off. Even Better.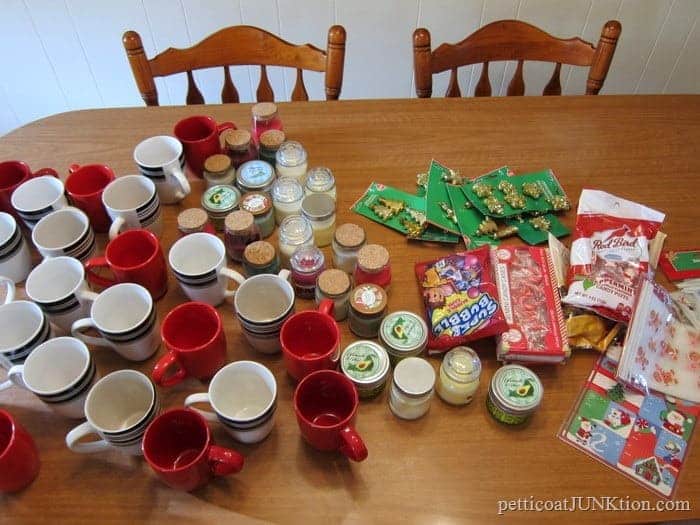 I set everything out on my Dad's dining room table and got ready to go to work. I told my Dad he needed to help but he just took a seat at the table and watched for a while. That's okay, I had a little one person assembly line going.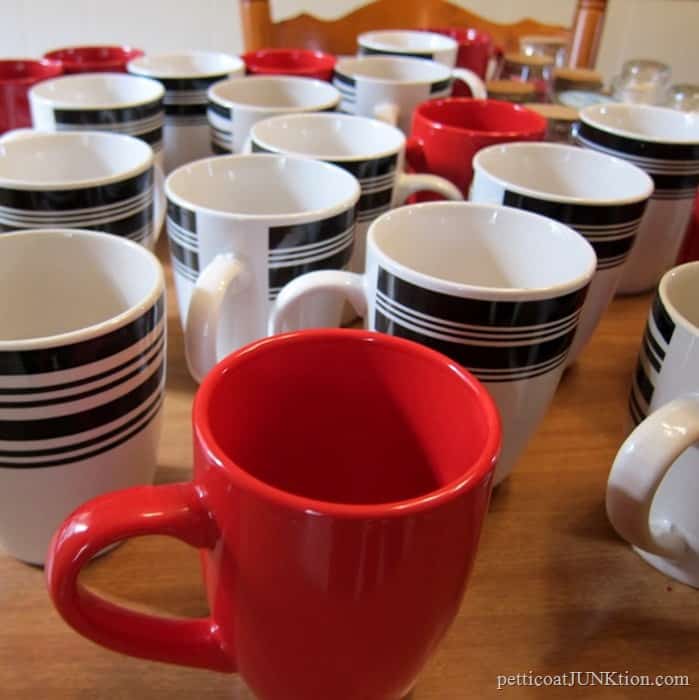 I was able to get two styles of mugs. The store carried plain old white mugs which are fine but a little spice is always nice.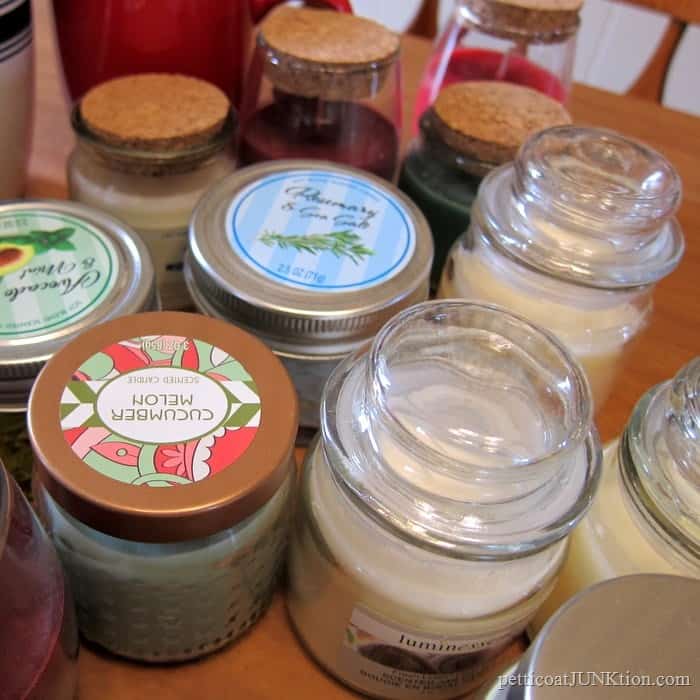 My original plan was to place a packet of hot chocolate in each mug then add a bunch of candy to fill the cup. But…..I saw the candles……and they fit perfectly into the cups. I bought 25 candles, all different kinds and scents.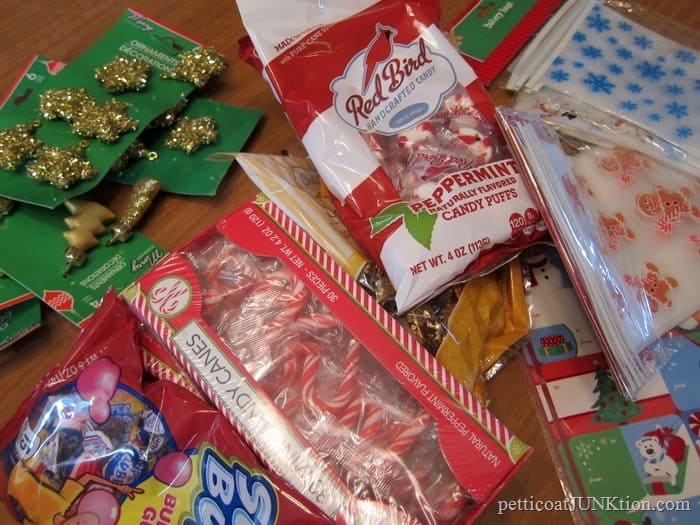 I also bought cellophane bags (3 different designs), tiny ornaments, candy canes, bubble gum, peppermints, gift tag stickers, and toffee.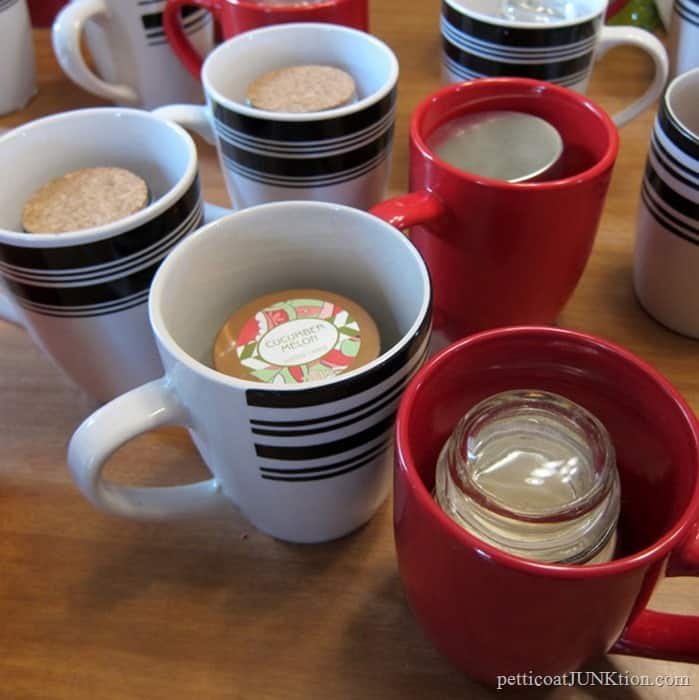 I placed a candle in each cup……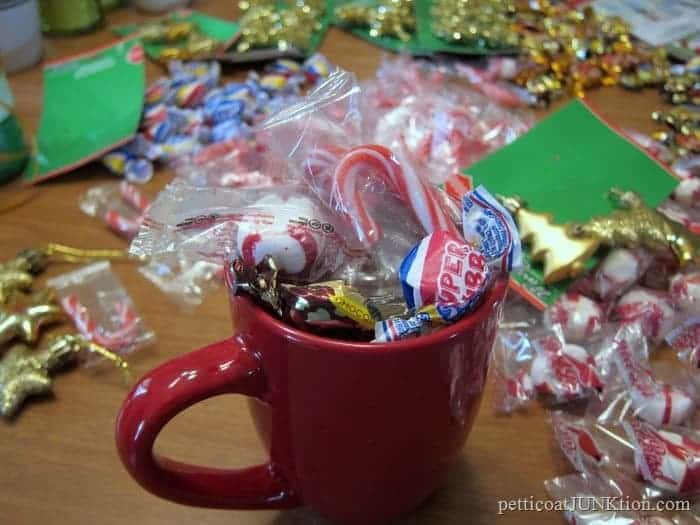 ……filled the cup with candy….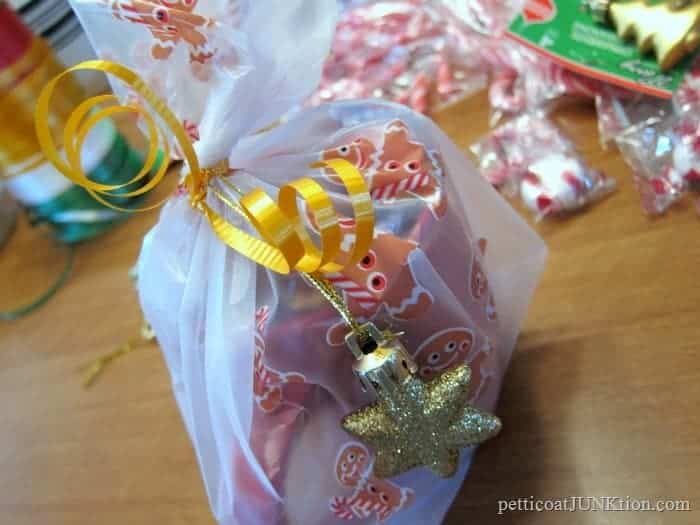 …….set the cup inside the cellophane bag and tied it closed with curly ribbon and a small Christmas tree ornament. I tore the plastic tie that came on top of the bag off.
The cinched bag and curly ribbon tie are a much better look. In my box from Dollar Tree I had a pad of sticky gift tags. I wrote the staff member's name on the tag and slapped the tag on the bag.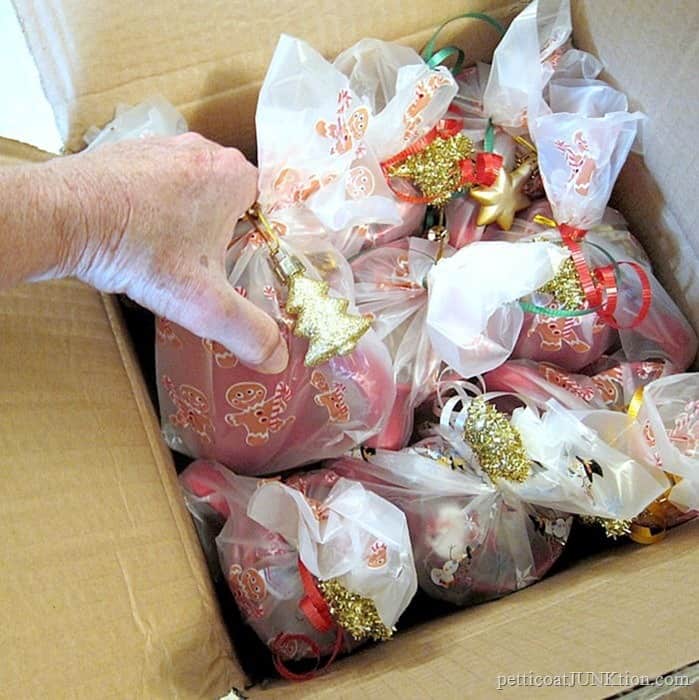 The employees at the Dollar Tree were nice enough to find boxes for me to carry all the mugs and candles to my car. I packed the finished nursing home gifts in the boxes to transport to the nursing home. Worked out great.
Nursing Home Staff Gifts / Fun Filled Coffee Mugs
The mugs, candles, and candy are not holiday specific. The only thing that says Christmas is the bag and ornament. This is the type of gift that can be given for any occasion and as I mentioned earlier the variations for this project are endless.
I bet they have cute mugs or cups for kids that could be filled with small toys, drink cups with straws could be filled with hair bows or clips, fill a mug with small gadgets for the guy in your life. See, all kinds of ideas. I bet you can come up with some good ones.
Another idea is to find cute little plates or ring holders like the ones above and put together sweet little gifts for the nursing home staff or any care giver. See how I made them here....Dollar Tree Gift Trays and or Gift Basket Ideas
I'm home now after being in Arkansas for 8 days with my parents. My sister and sister-in-law will be taking all kinds of baked goodies to the nursing home this week and next week.
When I visit I often take baked goods to the staff too. They love peanut butter cookies, my dad's favorite, and I promised to make a banana cake for a birthday in January.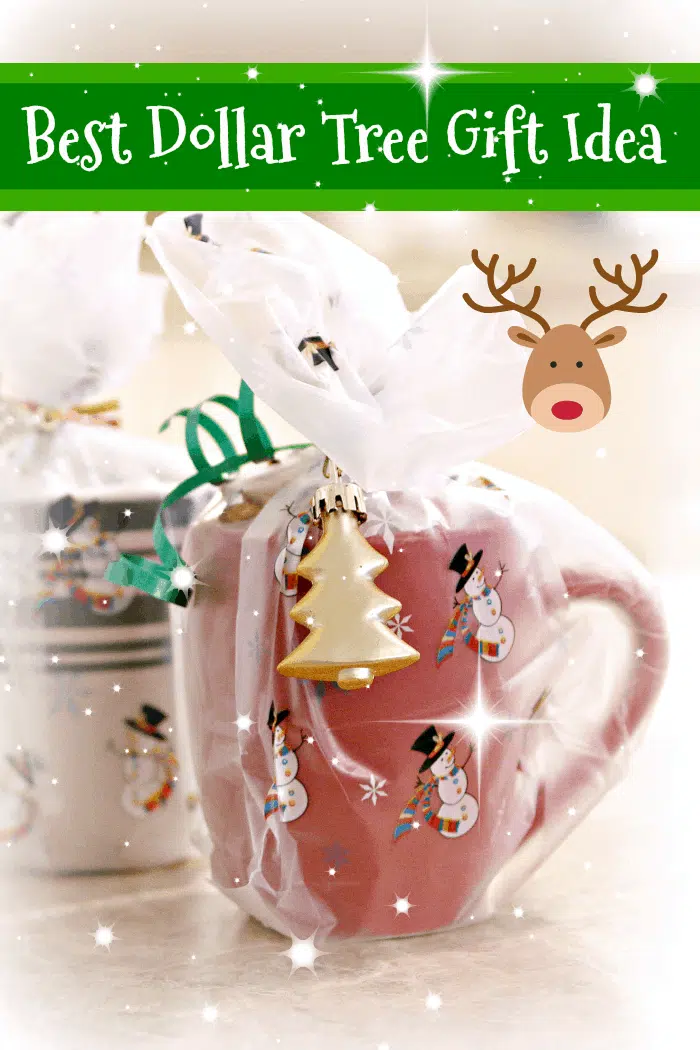 Food is always appreciated and it's an excellent way of saying thanks. I just thought I would toss out this gift idea for you. (Dollar Tree did not sponsor this post)
My Mom is doing well. We were torn, worried, emotional, when we made the decision to move her to the nursing home. We think she is doing better in the nursing home than she was at home. So that makes us feel better.
My Dad usually visits Mom twice a day and my sister, brother, nephews, other relatives, visit often. If you would like to read my Arkansas Family / Alzheimer's stories you can start by clicking here….Stepping out of my comfort zone and getting personal.
That's it for me. You guys have a great day, Kathy
Looking for last minute Christmas gifts? Find my favorite diy supplies and gifts here  Petticoat Junktion on Amazon. 
Author: Kathy Owen (Petticoat Junktion)
Kathy is the founder of PetticoatJunktion.com, a home décor blog focused on repurposing and upcycling furniture, old hardware, rusty stuff, and thrifty finds into unique home décor. Kathy's projects have been featured on the Home Depot Blog, Plaid Crafts, Behr Designer Series, and in numerous magazines. Read more about Kathy here.