Dollar Tree gift baskets are creative and inexpensive, and they look fabulous! Put one together for friends, family, teachers, neighbors, men, women, graduates - anyone, any occasion.
I like my gifts to be thoughtful and personalized to the recipient; these baskets do the trick. Believe it or not, some people don't like junky, rusty, metal, vintage, thrifty stuff like you and I do. So today, I wanted to share how I put together inexpensive gift baskets and fun candy dishes with stuff from Dollar Tree.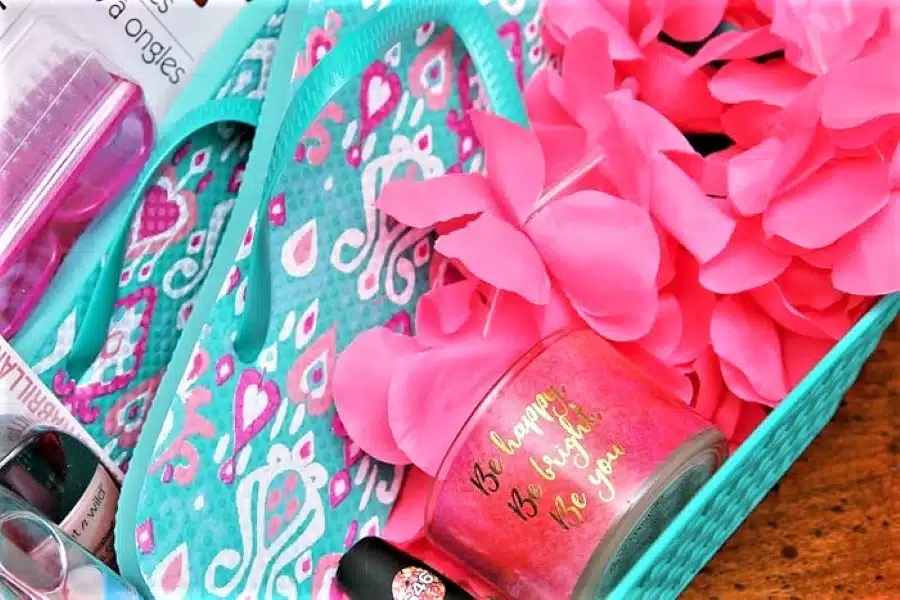 I put together three gift baskets with different themes. One of the gift baskets is for a Nursing Home resident, one is for the creative crafter, and one is a treat for anyone who loves a Pedicure.
Inexpensive Dollar Tree Gift Baskets | Ideas For Everyone On Your List!
I don't know about you guys, but there is just something about a gift basket. I love it when I receive a gift basket. It's fun discovering the goodies inside. When you look at these ideas, think about your next gift-giving opportunity and how to customize a basket for the recipient.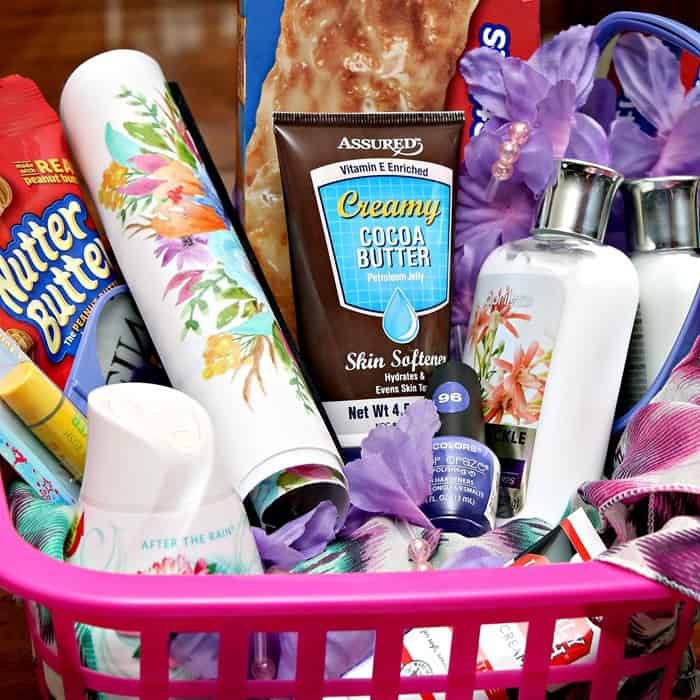 Dollar Tree Gift Basket For Mother's Day
Keep in mind that these baskets are just to give you ideas. You can customize a gift basket for your child's teacher, neighbor, postman (or woman), grandkids, etc. Dollar Tree is full of pretty things and practical items that can easily make a gift basket unique.
1. Select The Gift Container or Gift Bag
The first thing you need to put the basket together is…..a basket….of any type. Or you can put your items in a bag. You can find a lot of cool bags, even big gift bags. Consider what you might put into the basket and select the appropriate size. Or another idea might be to gather all the items you want to put into the basket and then pick the basket.
You can use all kinds of things as a "basket." Some ideas; plant pots, metal pails, dish drainers, a basket (!), large plastic bowls, tote bags, kid's sand pails, gift bags, Chinese take-out containers, etc. Get creative.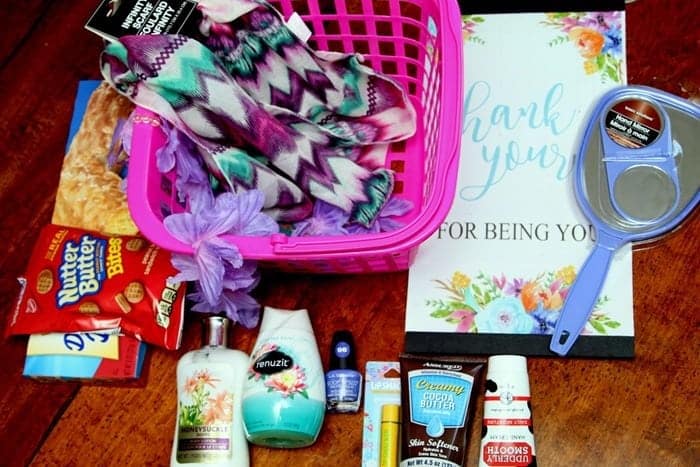 This is a basket for a nursing home resident. I chose a large pink plastic basket with a handle. You can store a lot of things in small containers, such as bath stuff, snacks, and photos and the basket will come in handy.
2. Select Items For The Basket
I gathered a couple of snacks, lotions, hand creams, nail polish, room deodorizer, chapstick, an infinity scarf, a wall hanging (Thank You For Being You), a handheld mirror with a pocket mirror, and a Lei for fun! The total cost of this gift basket was $13 plus tax.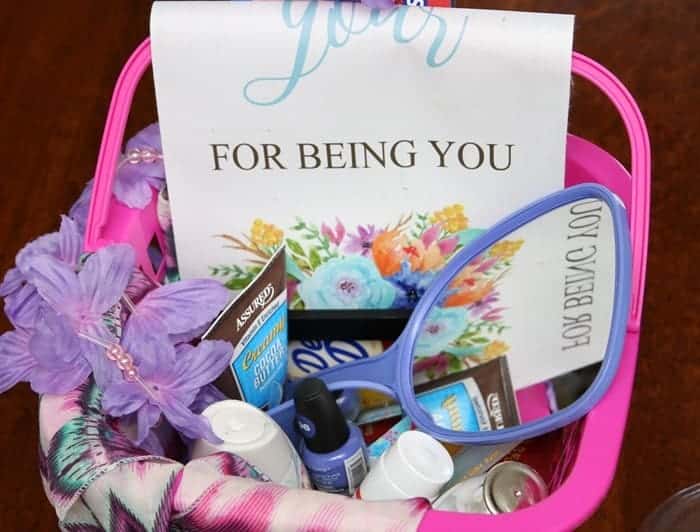 3. Prepare Basket Before Adding Gifts
I put everything in the basket and arranged and rearranged it. I wasn't happy. Since the basket was deep, everything was set on the bottom of the basket. I found some packing paper in the shop and put it in the bottom of the basket. You could also use shredded paper.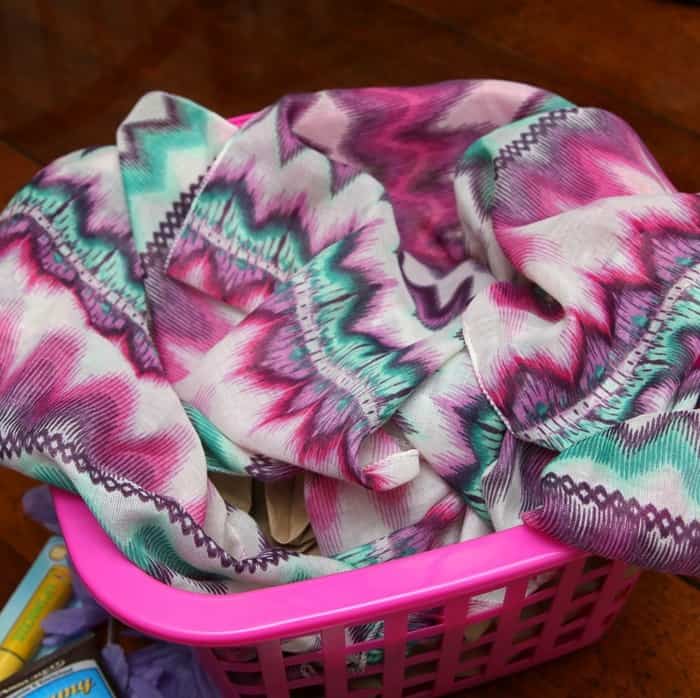 4. Add A Basket Liner
Not sure what to call it, but you need something to pull the gift basket together, like a liner. Use cloth napkins, scarves, cloth shop towels, washcloths, etc., to cover the bottom and sides of the basket. This adds softness and something to kind of snuggle the gift items in.
I put the Infinity scarf on top of the paper. Isn't that a pretty design?? I'm always amazed at the things I find at Dollar Tree. (This is not a sponsored post)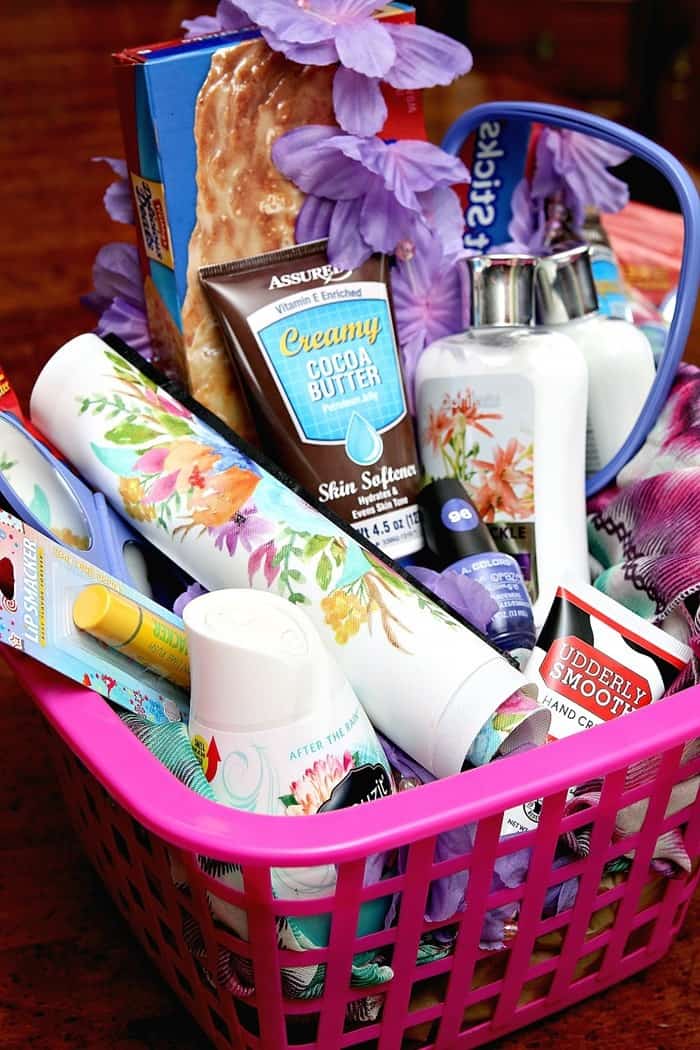 5. Add The Gift Basket Items
Start with the largest items and lean them against one side of the basket or stack them from the bottom. Add smaller items in between until you are happy with the look. The photo above shows how the basket looked after I got it together. Very Uptown for less than $15 and such nice items, fun and useful.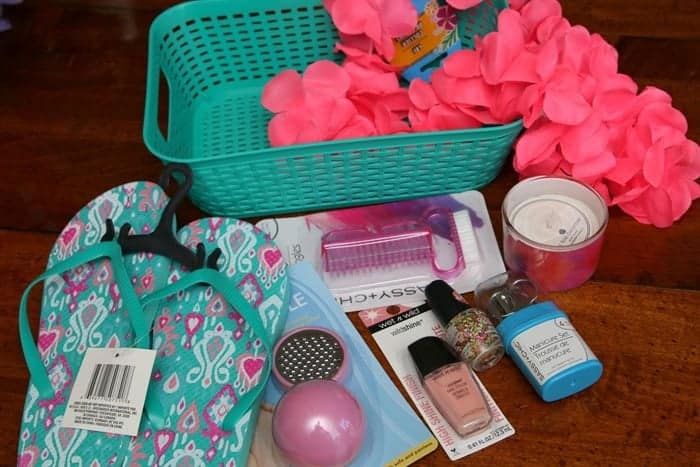 The Next Dollar Tree gift basket is for the Pedicure fan. I treat myself to a pedicure occasionally. How about you guys? In this case, I used a Lei to soften the look of the gift basket. You should always include things with texture in the basket.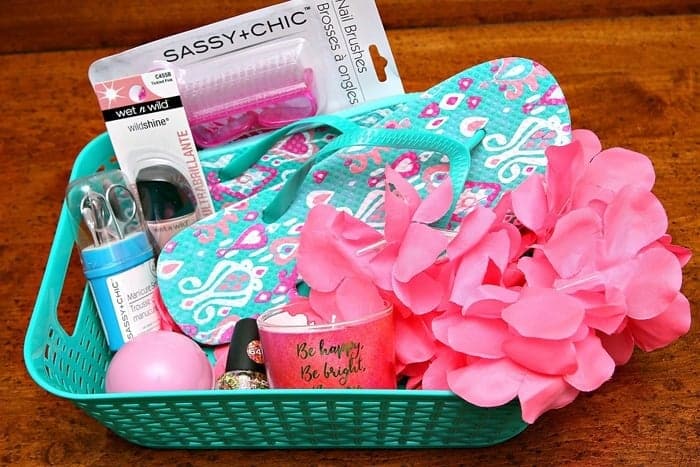 I selected a turquoisy green catchall container for this gift basket. I gathered flip-flops, two bottles of nail polish, nail brushes, a mini ped egg, a manicure set, a fun-scented candle, and a bright Lei. Who wouldn't love this basket?
It helps to go with a specific color scheme when selecting your items. Nine items, including the basket, was $9 plus tax. See how inexpensive these baskets are. This one is perfect for a friend, teenager, etc. Perfect birthday gift basket.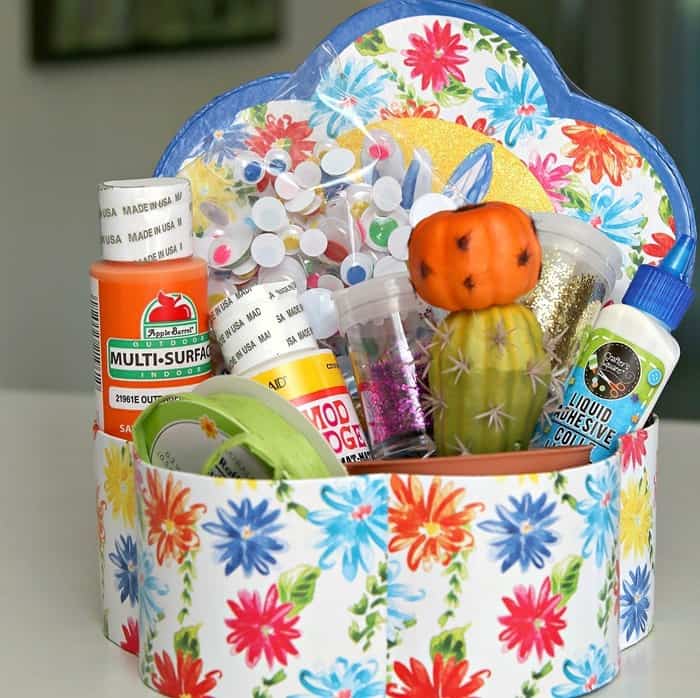 The third gift basket is for the crafter. I found a cute box container with a top to use as the basket. The flower design with all the colors was calling my name. The Craft Gift Box contains Mod Podge, Apple Barrel Acrylic Paint, a faux cactus, liquid adhesive, three containers of loose glitter ( oh boy!), green ribbon, and googly eyes. Eight items for $8 plus tax. A nice gift doesn't have to be expensive. Would you give a big hug to the giver of these gifts?
More Great Gift Ideas From Dollar Tree
I made cute little candy trays, and they were a hit with the nursing home residents, staff, and a bunch of my friends too! Great gift idea for any time of the year. You can make these simple Candy Tray Gifts for less than $2 each. The gifts were made at Christmas time, but keep in mind this idea can be tweaked for any time of year. You can select various dishes or small decorative containers and candies for your special project.
I have a couple of funny stories about how many trips to the Dollar Tree it takes to find Llamas and how many pieces of candy are in the peanut butter cup bag. Read on….
Shop Dollar Tree For Cute Trays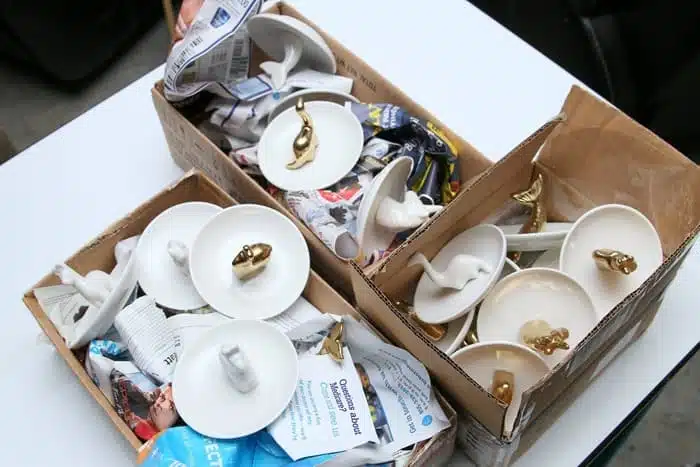 We've come to know a lot of the residents at the nursing home, and I really wanted to get them a little something for the holidays. We made goodie filled coffee cups (see here) for all of the staff a couple of years ago, and they were a big hit. At least it let them know we appreciate them.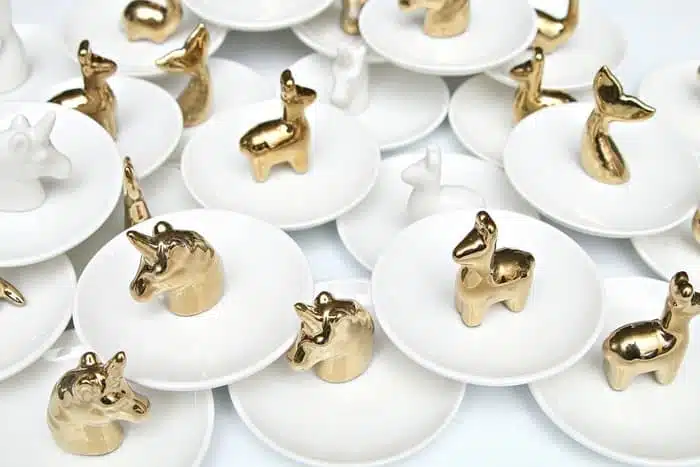 I went to the Dollar Tree last week just to see what they had. I didn't have a gift plan at all so when I spotted these ring holders, that was it. The white plates with the gold-tone Llamas, Unicorns, Whale Tails, and Dinosaurs were just too pretty. I could just see them filled with candy. Everyone loves chocolate, right? You could also use hard candies, sugar-free candies, or personalize the candy selection to the sweet tooth of your recipient!
Buy Candy And Treat Bags At Dollar Tree
I bought gift bags to hold the candy-filled dishes. There were 15 bags in each set for $1. I had an issue with the bags I chose but more on that later.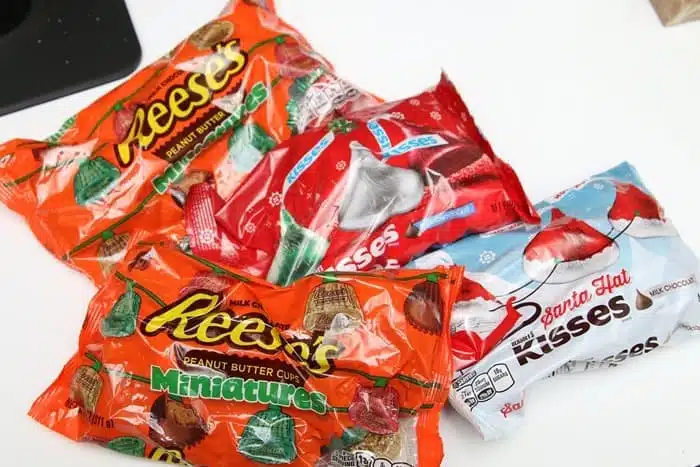 I'm a big fan of Reese's Peanut Butter Cups and Hershey's Kisses, and I got those at Walmart.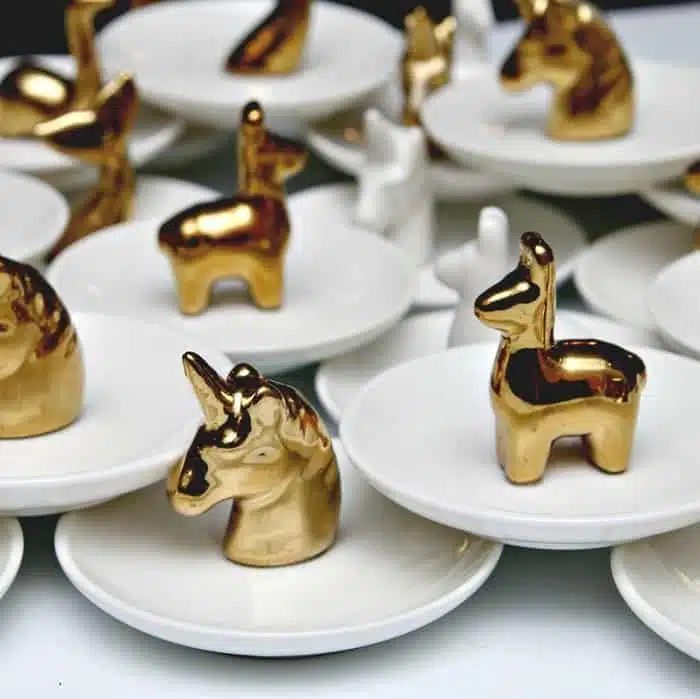 When I have a plan, I will go to any lengths to make sure it happens. The Dollar Tree where I spotted the ring holders only had ten gold-tone ring holders. They had 12 all-white ring holders. The all-white wasn't nearly as pretty as the combination of white and gold-tone ring holders.
Well, Clarksville has 5 Dollar Trees, and I hit all of them in 3 days trying to find more of the pretty gold tone ring holders. I ended up with a total of 30 ring holders, including five white ones. I know that sounds like a lot of trouble to go to for such small gifts, but I didn't mind.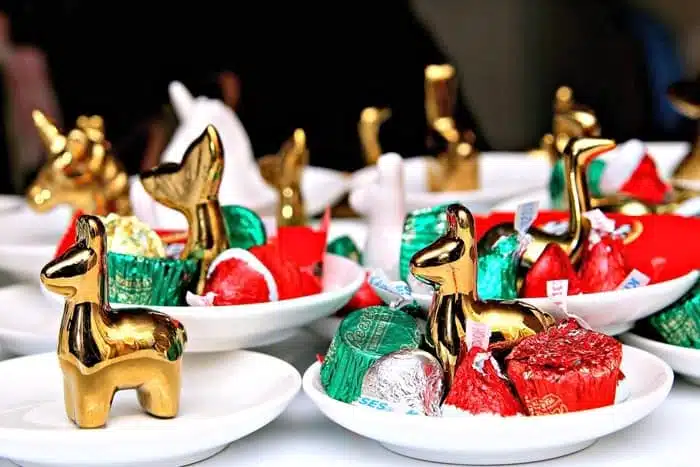 Add Chocolate Treats To Dollar Tree Trays
Now that I had everything, the next thing to do was fill the ring holders with candy. If you guys want to know how many peanut butter cups are in the bag and how many kisses are in the bag…..I can tell you……..there are 35 peanut butter cups, give or take 1 or 2, and 66 kisses, give or take 1 or 2. You're welcome. I decided I needed more candy, so I raided our leftover Halloween candy pulling out all the red-wrapped Kit Kats. I poured all the candy into a cardboard box and put 6-8 pieces in each dish.
Put The Gift Trays In Decorative Bags
When it came time to put the candy-filled dishes in the bag, I ran into a small problem. When looking at the bags in the store, I decided they would be big enough for the dishes. And they were……if I cut one of the seams halfway down. I forgot about the skinny neck towards the top of the bag; the dishes wouldn't fit past the neck. Always something.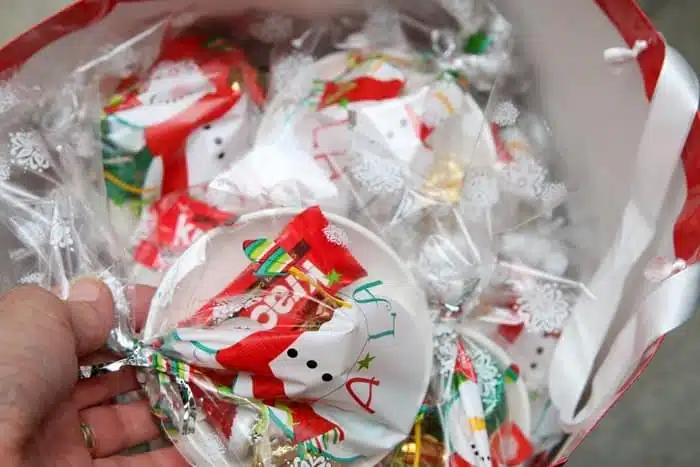 Dollar Tree Candy Tray Gifts
I was able to stuff the dishes in the bags, swirl them closed, and twist the little thingies around the bag, and nothing fell out! It's best to get an assembly line going when putting the bags together. I made 30 candy-filled ring holders putting a certain number of each kind of candy in each dish, then stuffed the ring holders in the bag and tied it up.
Dollar Tree Gift Idea For The Car Geek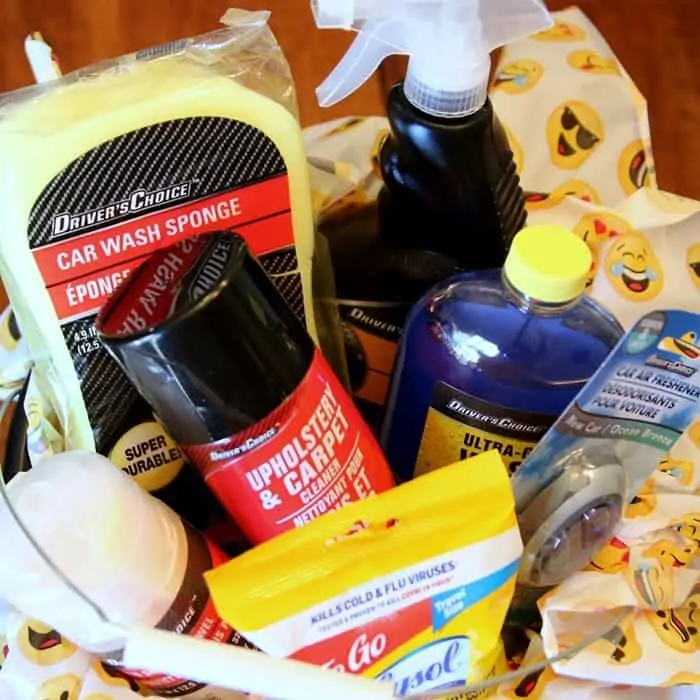 Dollar Tree Gift Baskets Men And All Car Geeks Will Love
Do you have a Dollar Tree in your town, and do you shop there? Sofi and I love Dollar Tree, and I give her a limit of $3-$4 when we shop at Dollar Tree together. She would break me if I didn't give her a limit.
Another Great Gift Idea Are These Copper Mugs Filled With Candy: This Last Minute DIY Gift Idea Is For You Procrastinators
As always, thanks for being here. You guys make my job worth doing. Have a great day, Kathy
Author: Kathy Owen (Petticoat Junktion)
Kathy is the founder of PetticoatJunktion.com, a home décor blog focused on repurposing and upcycling furniture, old hardware, rusty stuff, and thrifty finds into unique home décor. Kathy's projects have been featured on the Home Depot Blog, Plaid Crafts, Behr Designer Series, and in numerous magazines. Read more about Kathy here.