Dollar Tree Gift Baskets Don't Break The Bank
Hey guys I made 3 Dollar Tree gift baskets on the cheap. The three baskets have different themes. One of the gift baskets is for my Mom who is in the Nursing Home, one gift basket is for the creative crafter, and one gift basket is a treat for anyone who loves a Pedicure.
I don't know about you guys but there is just something about a gift basket. I love picking through them to see what goodies I got. Mom's day is coming up and I wanted to share how I plan my gift baskets. You have plenty of time to head to the store and get some stuff.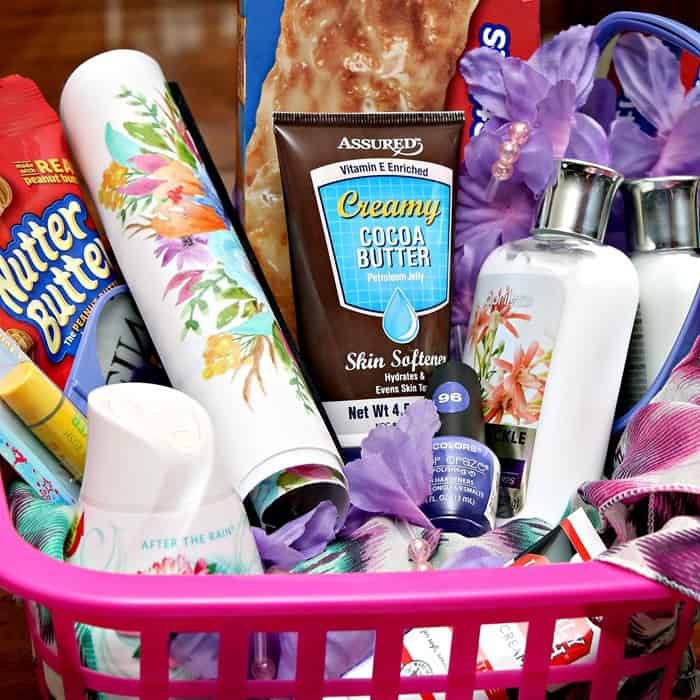 Dollar Tree Gift Baskets
The first basket for my Mom has the most goodies in it. I went a little crazy. The first thing you need to put the basket together is a…..basket….of any type.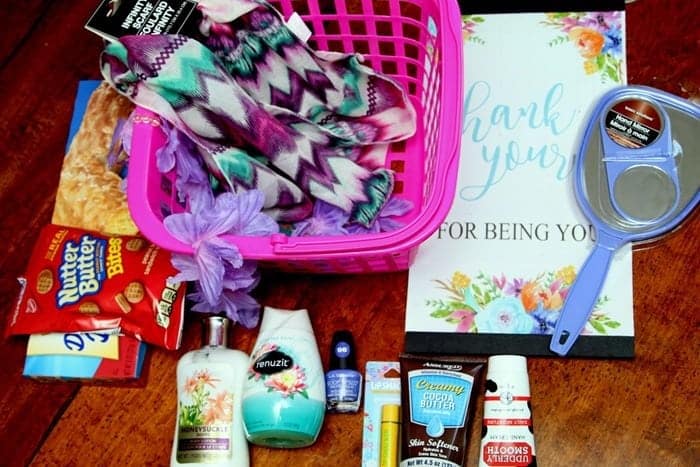 When you select the basket keep in mind what kind of basket you are putting together. There are all kinds of things you can use as a "basket".  Some ideas; plant pots, metal pails, dish drainers, a basket (haha), large plastic bowls, tote bags, kid's sand pails, gift bags, Chinese take out containers, etc. Get creative.
For Mom's basket I chose a large pink plastic one with a handle. We store a lot of things in small containers in her room, such as bath stuff, snacks, and photos. So the pink tote will be useful.
I gathered a couple of her favorite snacks, lotions, hand creams, nail polish, room deodorizer, chap stick, an infinity scarf, a wall hanging (Thank You For Being You), a handheld mirror with pocket mirror, and a Lei for fun! The total cost of this gift basket was $13 plus tax.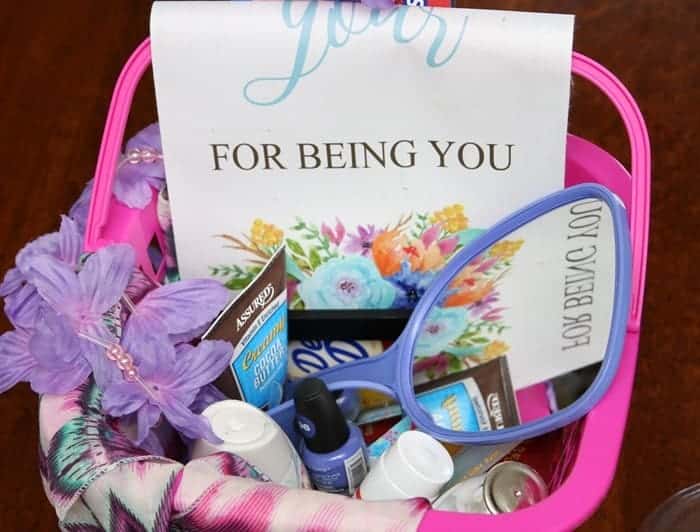 I put everything in the basket and arranged and rearranged and took photos and more photos. I wasn't happy. Since the basket was deep everything set on the bottom of the basket.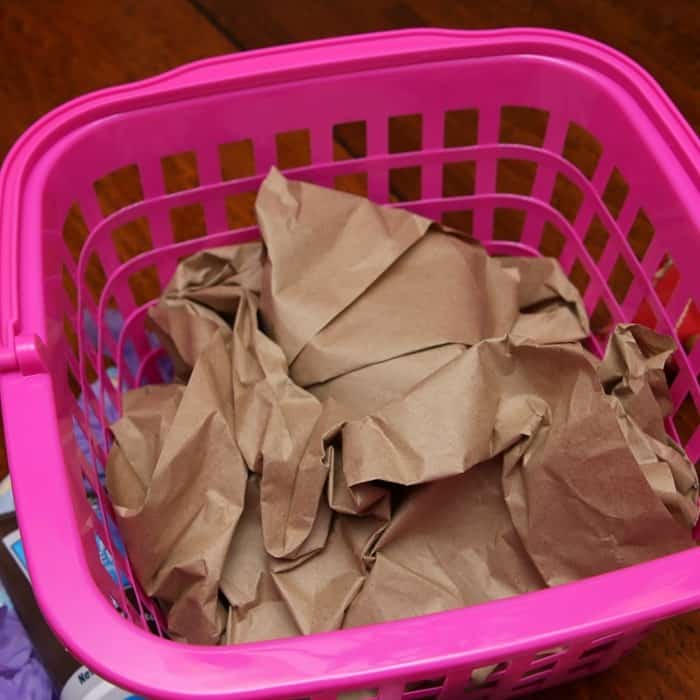 I found some packing paper in the shop and put it in the bottom of the basket.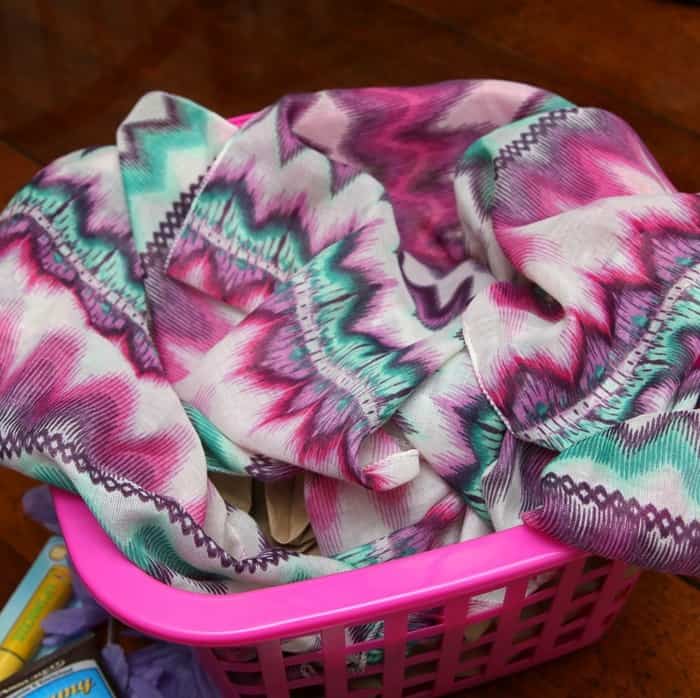 Next I put the Infinity scarf on top of the paper. Isn't that a pretty design?? I'm always amazed at the things I find at the Dollar Tree. (This is not a sponsored post)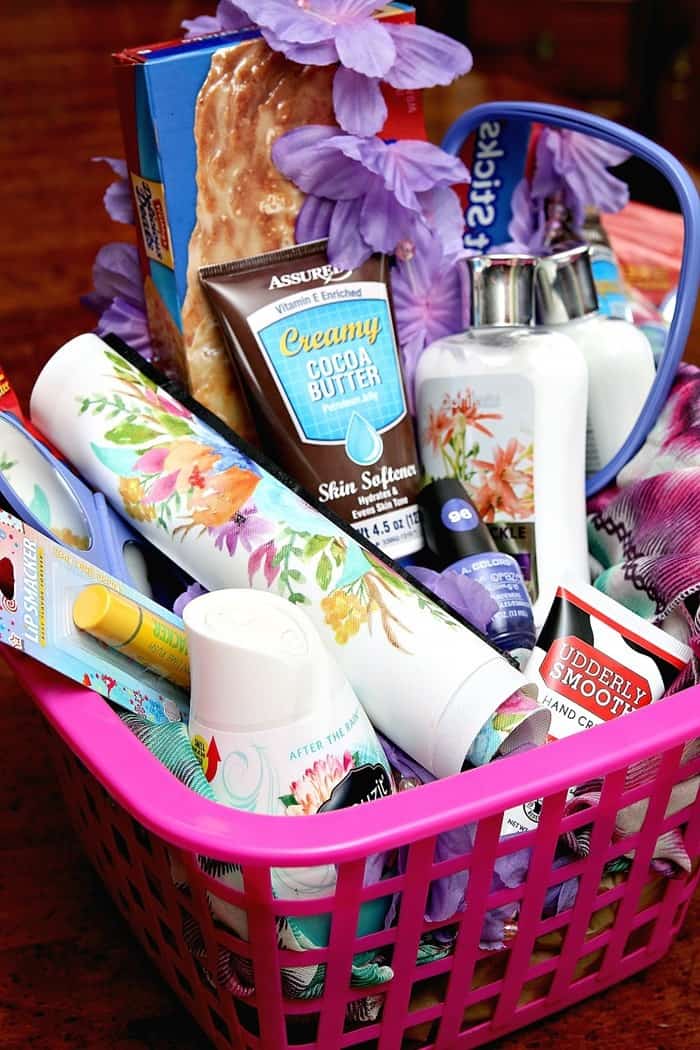 Dollar Tree Gift Baskets – Nursing Home Resident
This is how the basket looked after I got it together. Very Uptown for less than $15 and such nice items, fun and useful.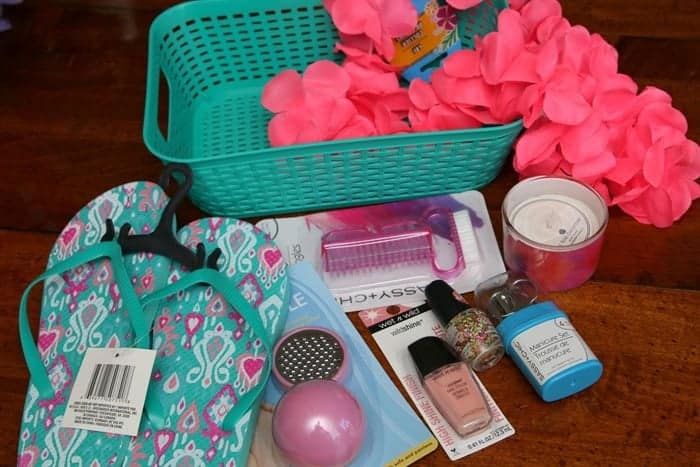 Next Dollar Tree gift basket is for the Pedicure fan. I treat myself to a pedicure occasionally. How about you guys?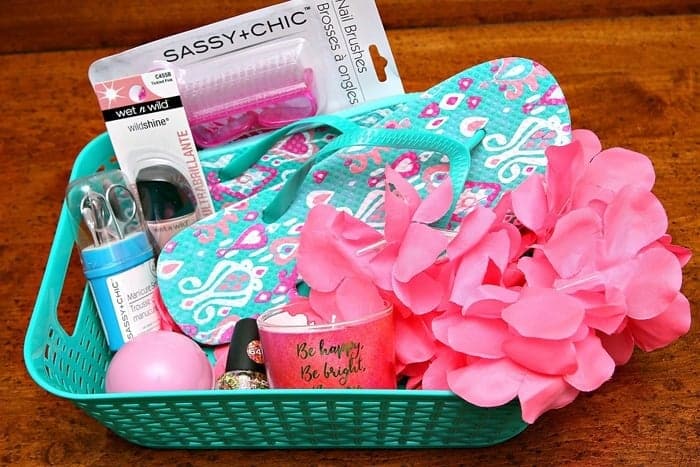 I selected a turquoisy green catchall container for this gift basket. I gathered flip flops, 2  bottles of nail polish, nail brushes, mini ped egg, manicure set, a fun scented candle, and a bright Lei.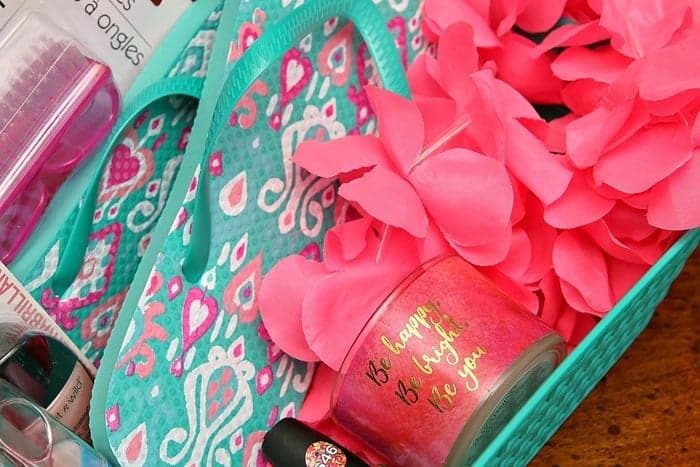 Who wouldn't love this basket.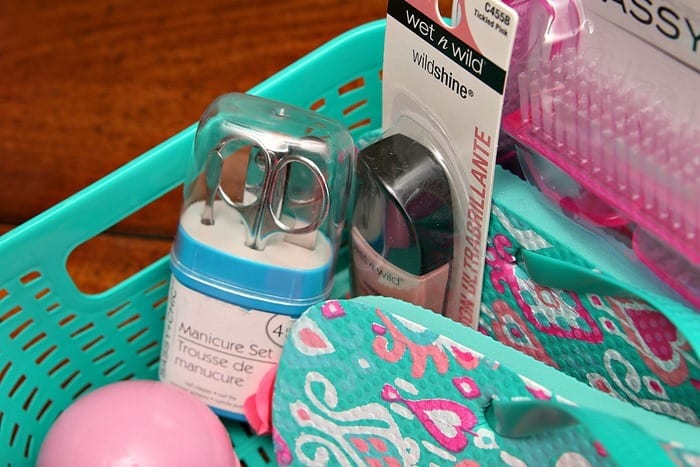 Dollar Tree Gift Baskets – Pedicure Fun
Nine items including the basket means $9 plus tax.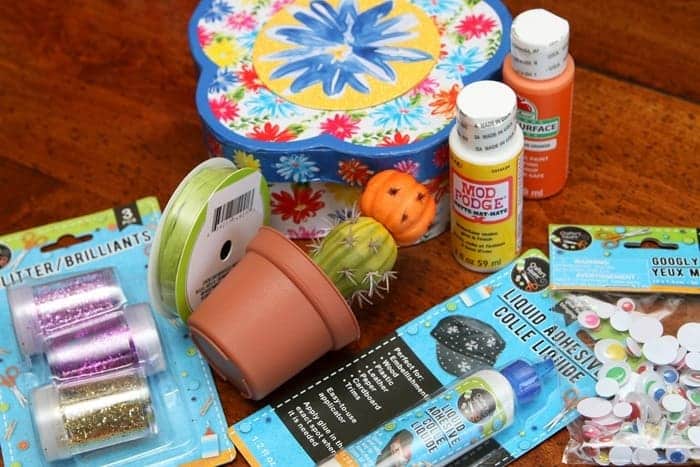 The third gift basket is for the crafter.  I found a cute box container with top to use as the basket. The flower design with all the colors was calling my name.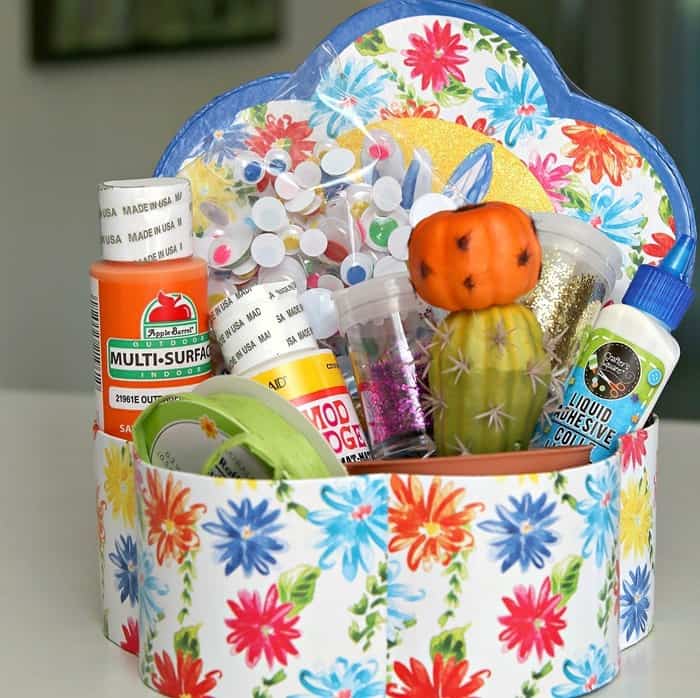 Dollar Tree Gift Basket – For The Creative Crafter
The Craft Gift Box contains Mod Podge, Apple Barrel Acrylic Paint, a faux cactus, liquid adhesive, three containers of loose glitter ( oh boy!), green ribbon, and googly eyes.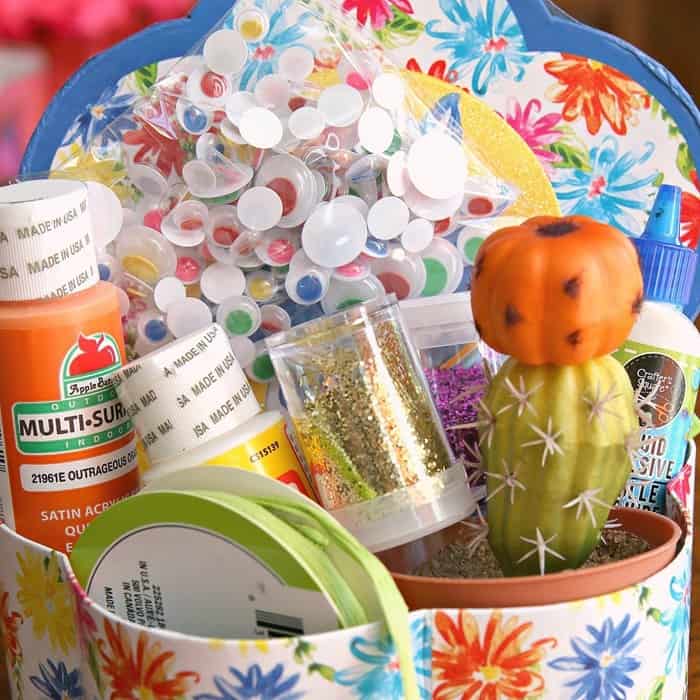 Eight items for $8 plus tax. A nice gift doesn't have to be expensive. Would you give a big hug to the giver of these gifts?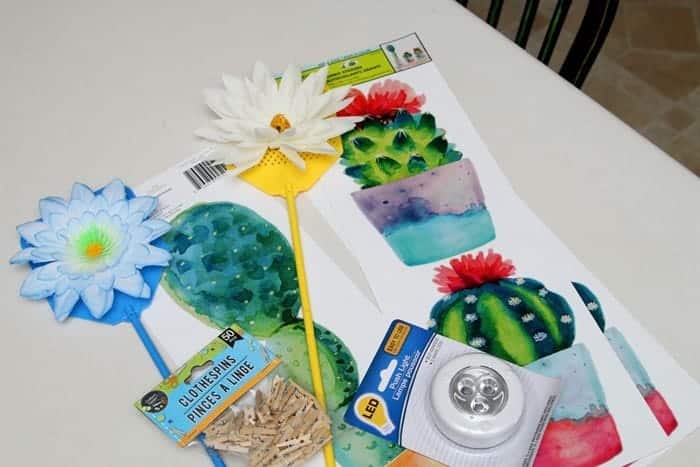 Of course I couldn't leave the store with just gift basket stuff. I bought two "flower" swatters for the JTS, cactus wall decals for Mom's room, a sticky LED light, and a pack of mini clothespins.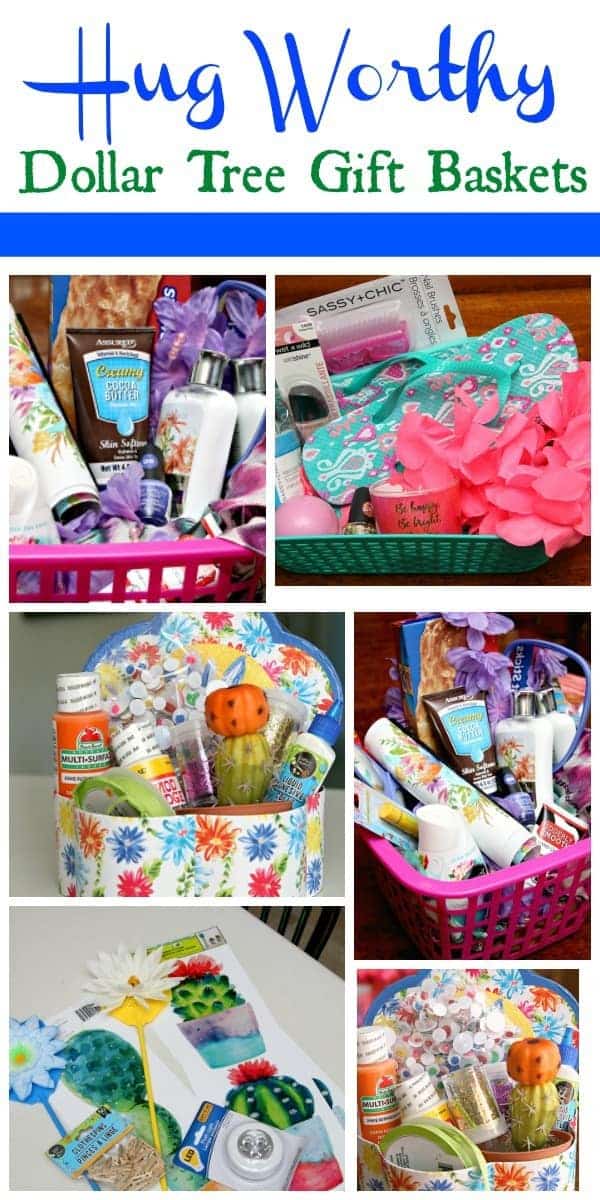 Did I inspire you to make a gift basket or two? The gift basket ideas are endless. They have tons of guy stuff, food stuff, kids stuff. You guys might remember I made gift mugs for the Nursing Home staff for Christmas(click here). Mugs can hold a variety of things and you can never have too many mugs. Make a Mom Mug!
You can also get balloon bouquets at Dollar Tree. They have the fancy mylar balloons and regular balloons too.
As always, thanks for being here. You guys make my job worth doing. Have a great day, Kathy