Mantel Color Scheme
We've talked about choosing a color scheme when decorating the mantel….or anything else for that matter. Once I decide on a color scheme the decorating goes pretty fast.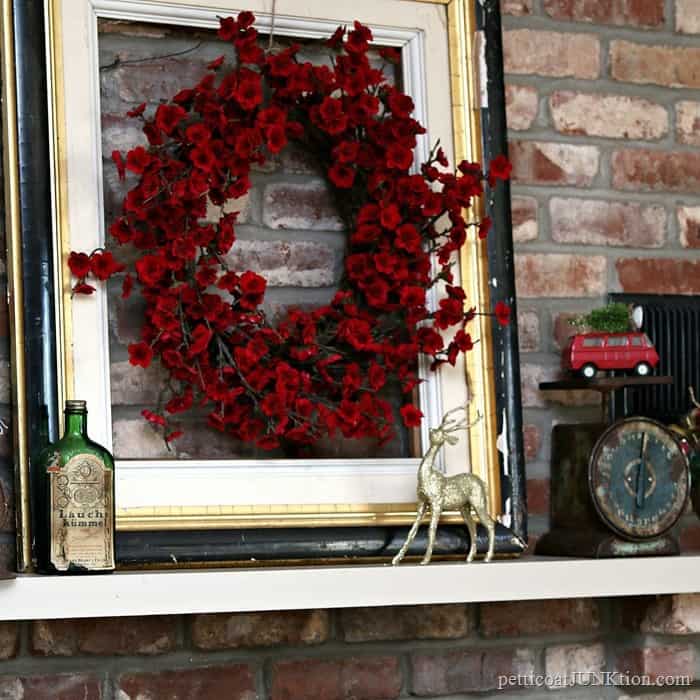 The color scheme for this year's Christmas mantel is rust and red with a little glitter thrown in. I can hear most of you going…."rust is a color"? For my purposes here I'm calling it a color.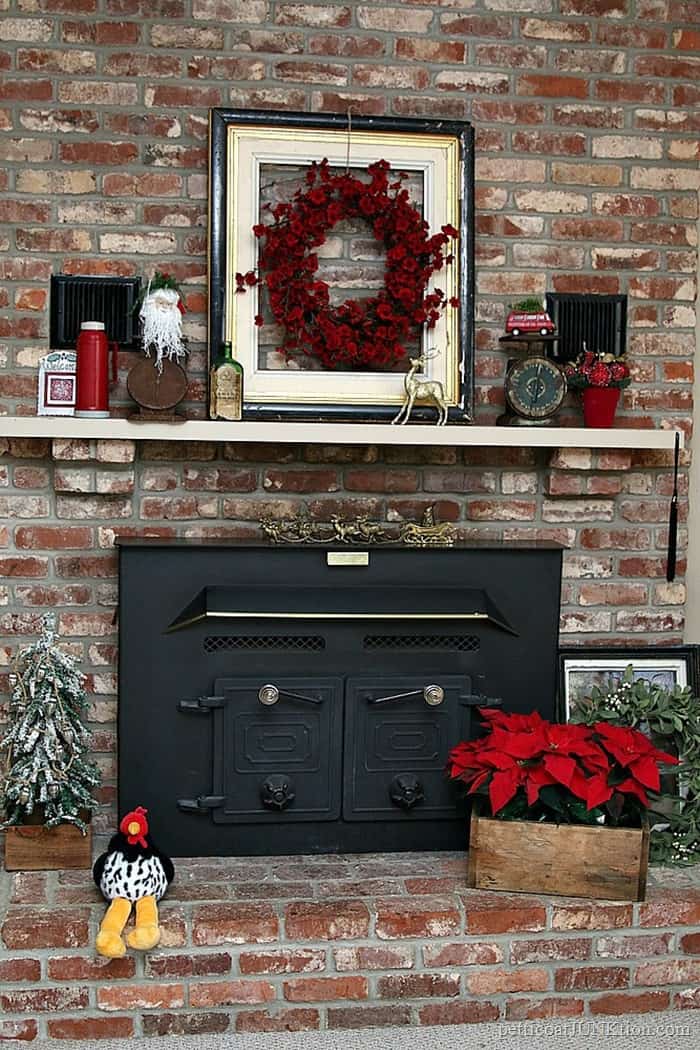 Once I pick the color scheme I shop my house, workshop, shed, everywhere, for stuff in those colors…..or close anyway.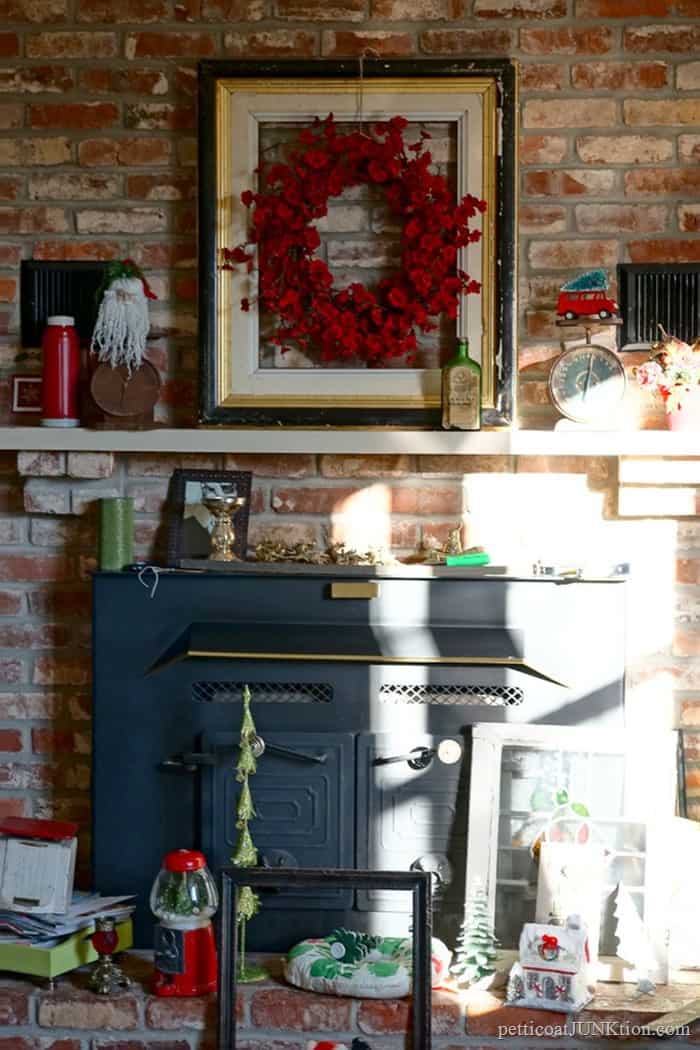 See all the stuff in this photo! I gathered all of that and through trial and error, placing and removing, I came up with the perfect look.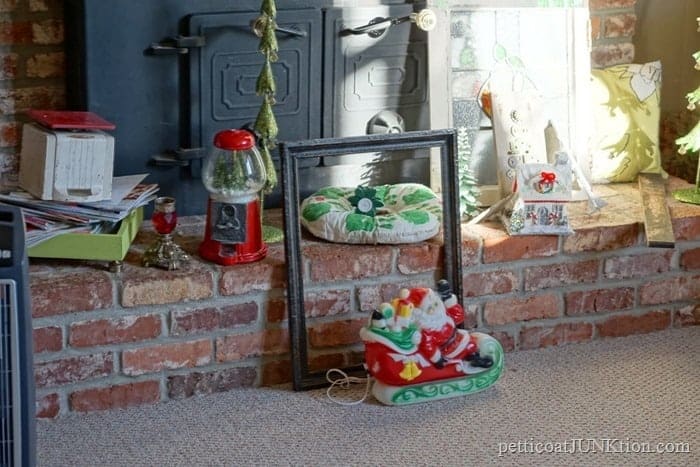 A lot of times I just know something will work in a certain place….and it doesn't. When I was decorating the mantel the sun was shining bright. That's why the photos look like they do.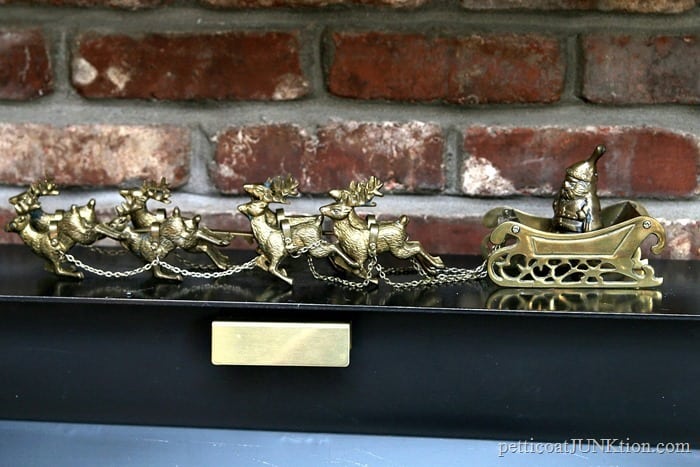 The brass Santa with sleigh and reindeer is a must. The hubby (JTS) brought it home from Korea on one of his Army tours. It's been around for over 30 years. The chains are coming loose from the reindeer but I think that can be fixed.Sand is actually a bell but he came with the set or at least from Korea with hubby.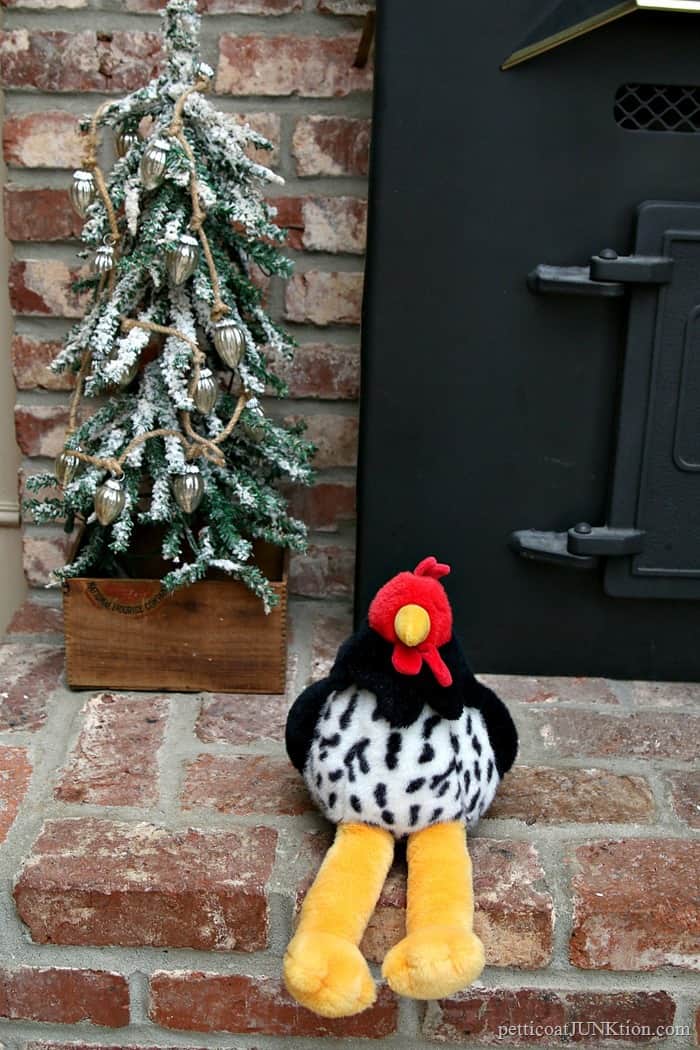 Another must-have for any of my decorating is something whimsical. I saw the stuffed rooster (?) at the local thrift store and had to have him. Look at those colors…..and that face. Who could pass that up.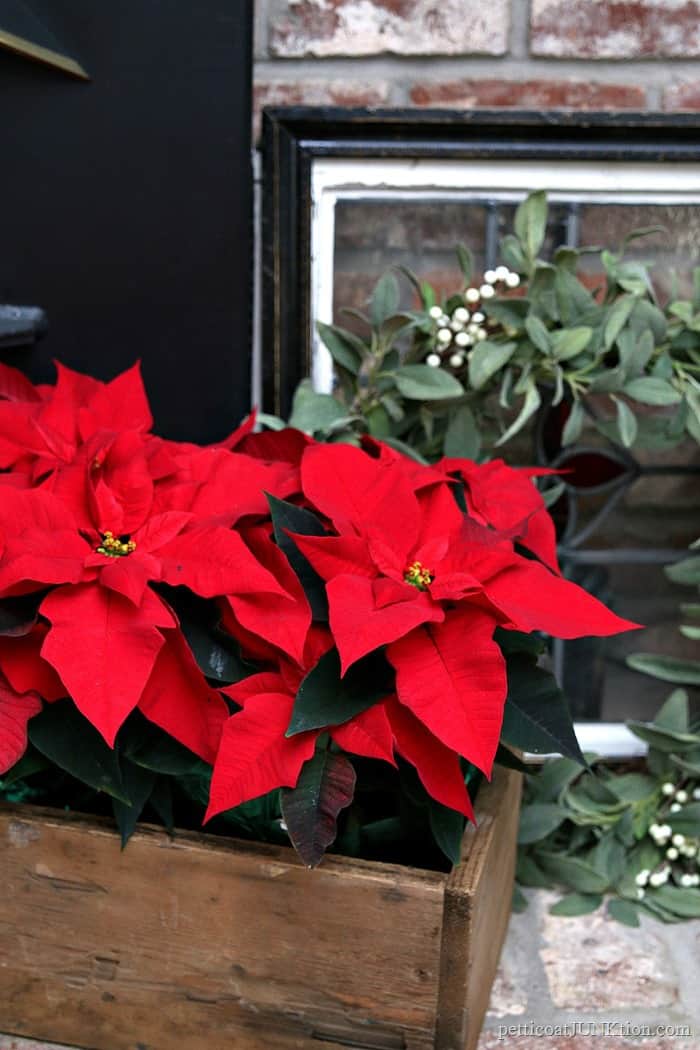 I put two poinsettia plants in a reclaimed wood box and set them on the hearth. The green wreath was a last minute addition. I found it at Bargain Hunt. I laid it against a stained glass window my daughter bought me a few years ago in Pensacola Florida.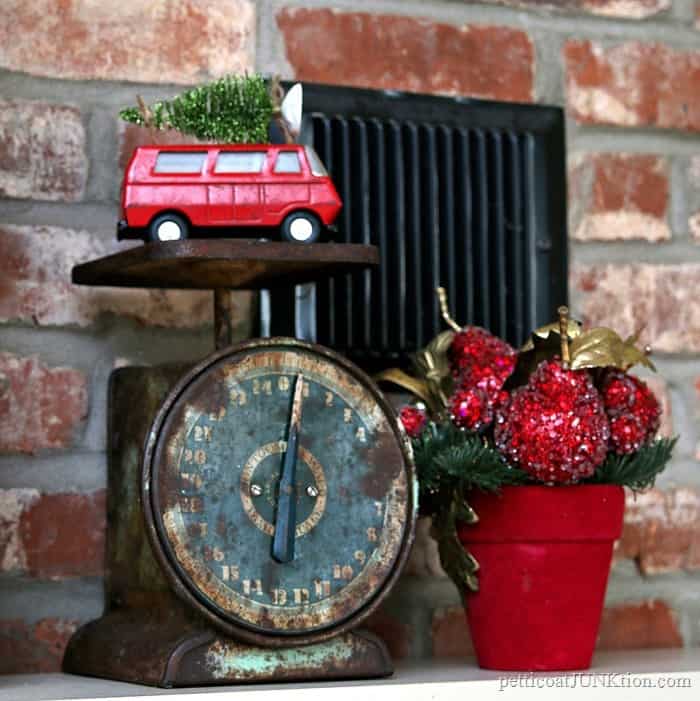 The rusty green scale was sent to me by a reader. You guys are the greatest. You show me a lot of love. The red beetle with the tree topper is making another showing this year.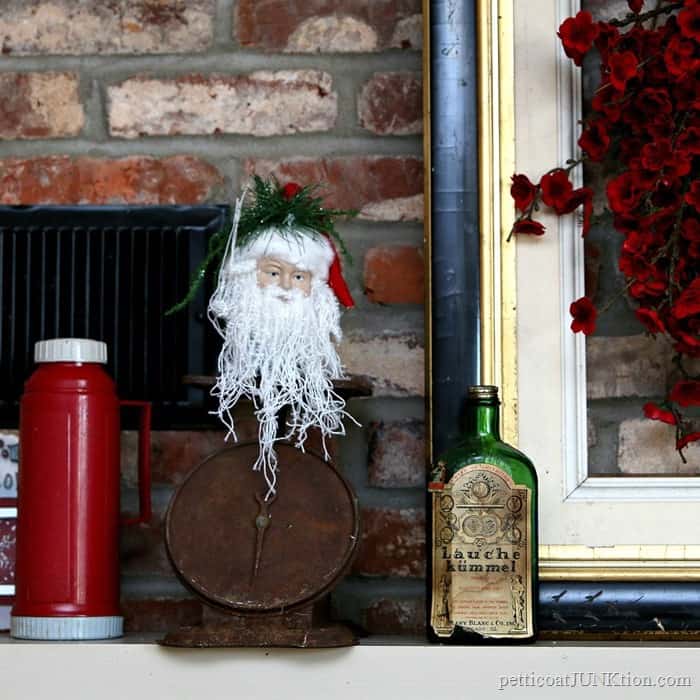 I don't know why I love that green bottle so much….I just do. It came from my favorite junk shop and was about half full of liquor or what I guess was liquor. I opened the bottle and poured it out. The smell was awful and the liquid was dark brown. I washed the bottle on the inside and tried not to mess up the label any more than it already was. The antique frame is one of a pair I bought at an antique shop in Arkansas. The pretty bold red wreath is from T.J. Maxx. I couldn't resist it either. Red is my favorite color.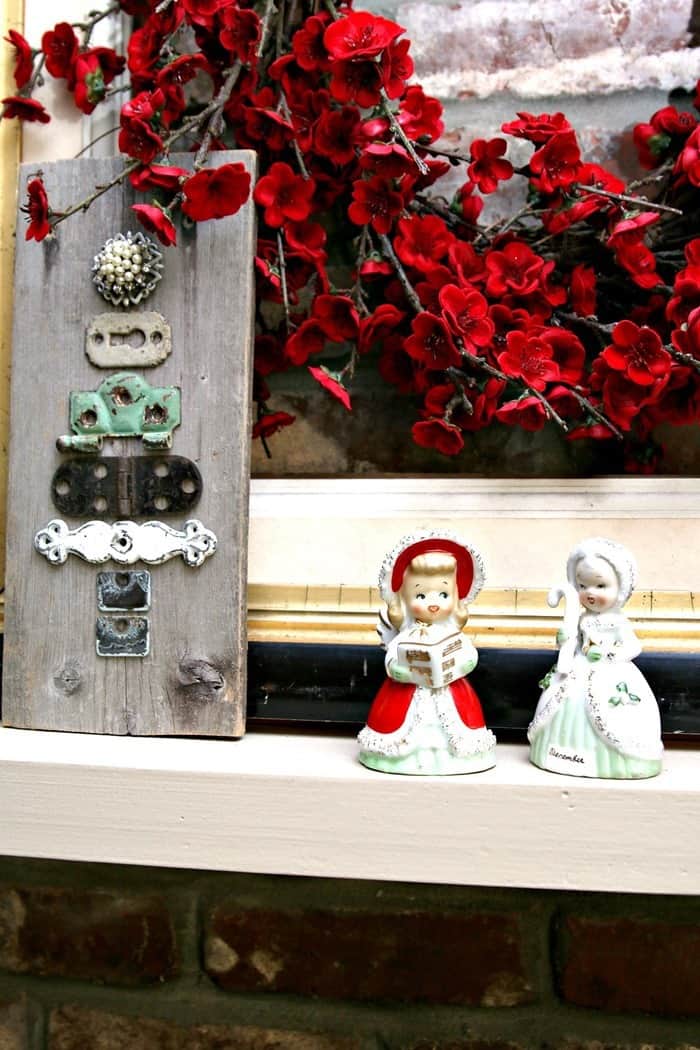 The angels were a last minute addition and the hardware Christmas tree I made this season is sold. I enjoy making the hardware trees and would love to get another one made this Christmas season but I don't think it's going to happen.
That's it for me. What do you guys think of the mantel décor. What is your favorite part of the display?
My Christmas tree is full of vintage glass ornaments, see it here.....Kathy's Christmas Tree.
Get a look at the antique iron Christmas tree stand the hubby bought me at auction and the vintage ornaments too....Antique Tree Stand.
I did a Facebook live and shared more vintage ornaments the hubby bought me last week. I think I have enough vintage ornaments now. I may write a post tomorrow or I might give you guys a break until after Christmas. Thanks for being here, Kathy
Author: Kathy Owen (Petticoat Junktion)
Kathy is the founder of PetticoatJunktion.com, a home décor blog focused on repurposing and upcycling furniture, old hardware, rusty stuff, and thrifty finds into unique home décor. Kathy's projects have been featured on the Home Depot Blog, Plaid Crafts, Behr Designer Series, and in numerous magazines. Read more about Kathy here.