I'm crazy about vintage Barkcloth. Maybe it's the design…..or the texture…..or the weave…or the bold colors. They just don't make fabric like that anymore.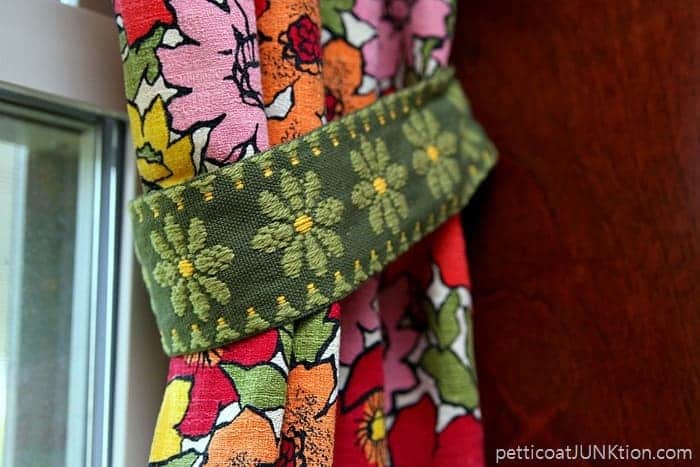 Vintage Barkcloth Curtains
Vintage Barkcloth fabric from the 1920's –1960's isn't made from tree bark. That's how Barkcloth got it's name. At one time it was made from the inner bark of a tree and the bark was beaten flat by some long drawn out process. Can you imagine that??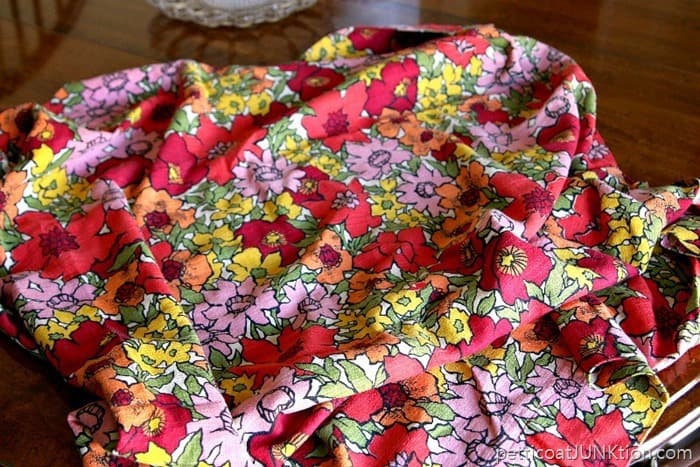 I found the curtain panel at the thrift store a long time ago. There was only one short panel. The design and the colors are me through and through. I ran across it while re-organizing my fabric stash. I decided then to pull it out and use it for something. Too pretty to sit in a box.
I made a new kitchen curtain out of the one panel. The other thrift décor girls have projects today too. Don't forget to check them out after seeing my crazy curtain project.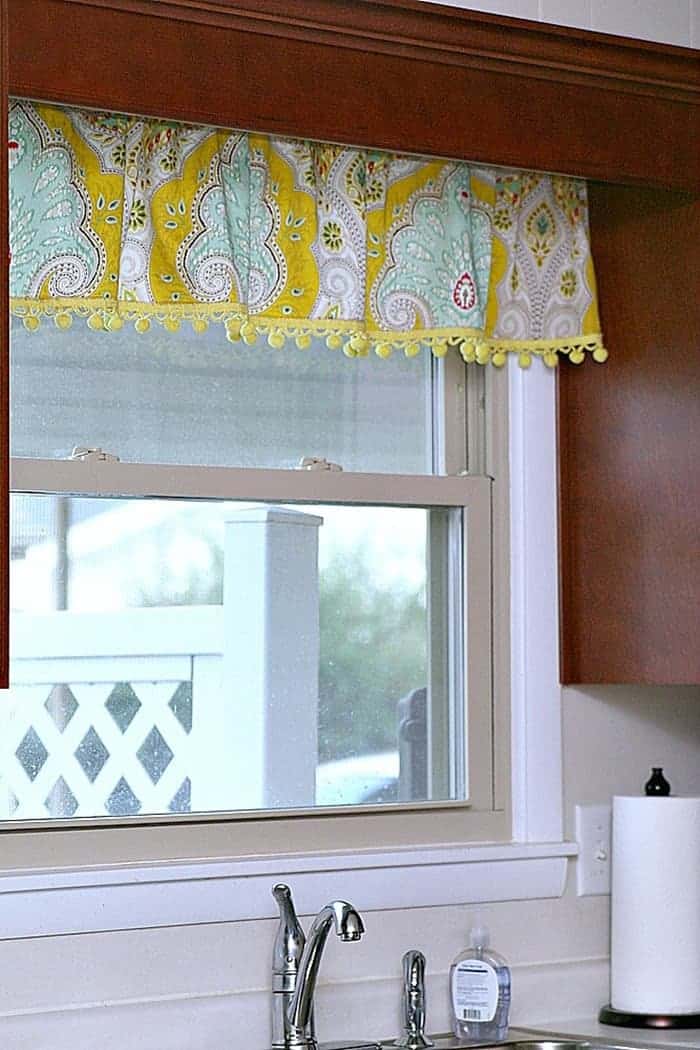 This is the cheery valance I made from a shower curtain back a few months ago. The whole project was a disaster. If you missed it you can read about it here…pom pom curtains. I really like the valance but that little bit of fabric doesn't give much privacy.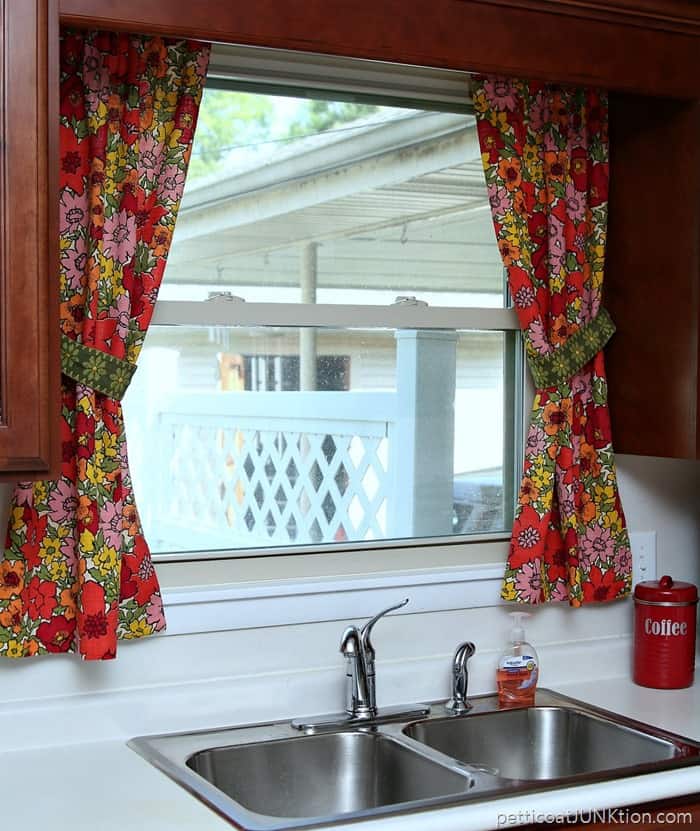 So I made these. A bit skimpy because of the fabric shortage but very colorful. The original Barkcloth curtain panel was 42" by 42". Not much to work with.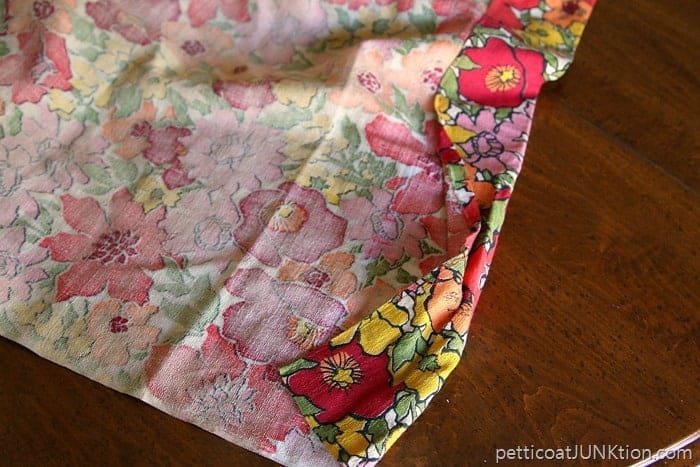 The hem was unraveling.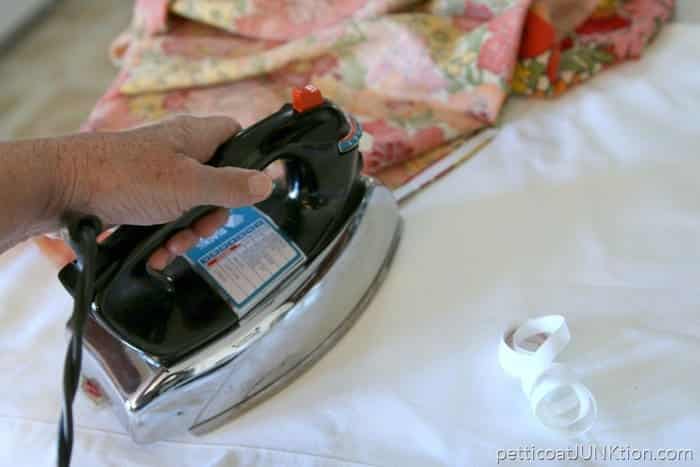 I fixed that right up with iron-on hem tape.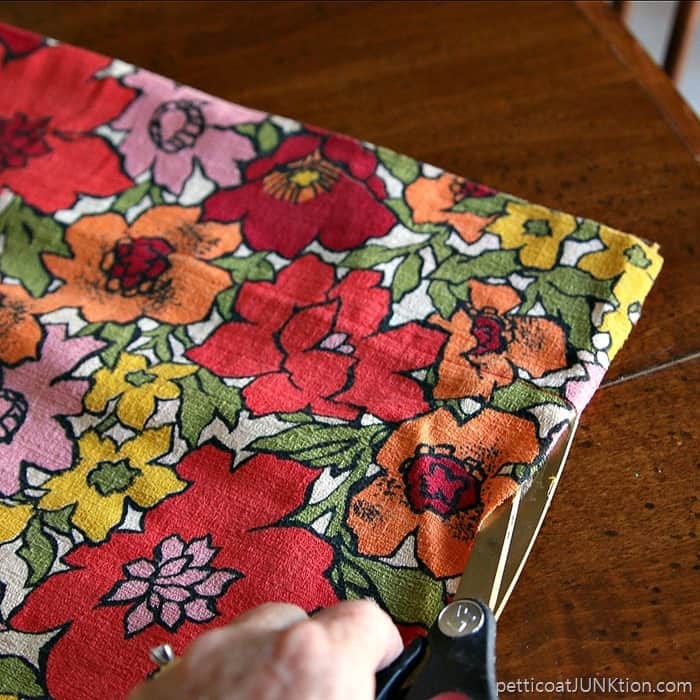 Then I folded the panel in half and cut it. Not real precise but that's me.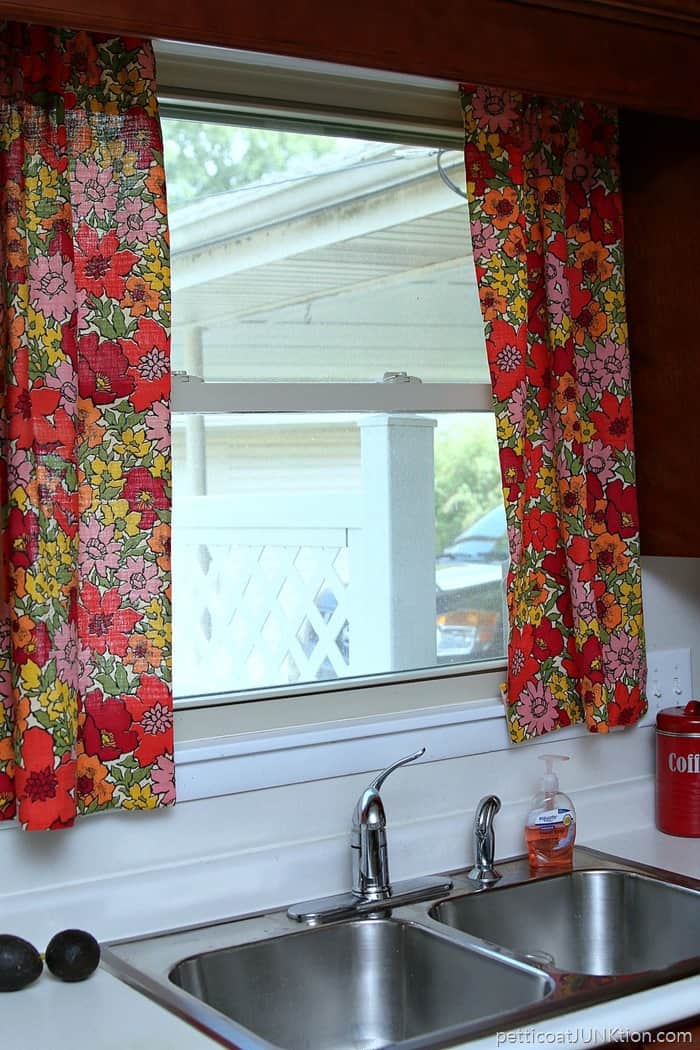 I took the valance down and hung the new curtains on the same tension rod.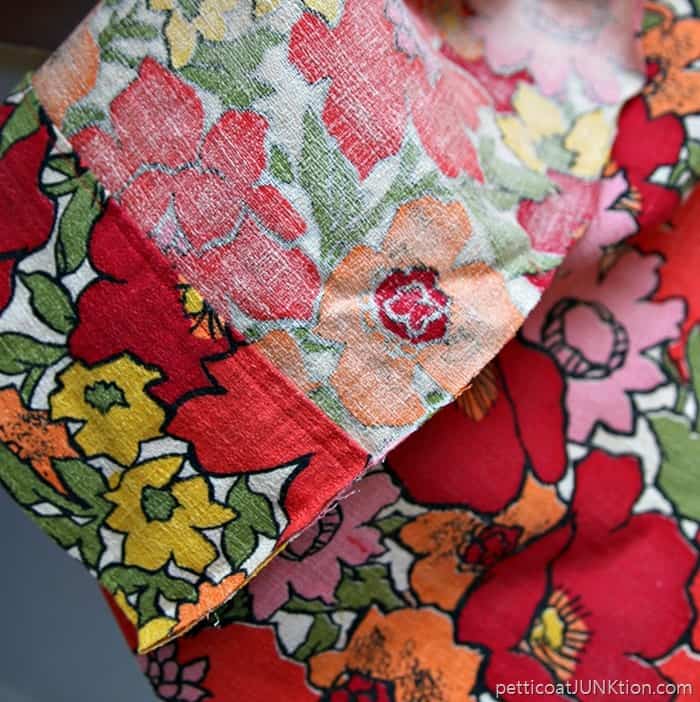 This is the part of the story where you guys go "REALLY KATHY". I didn't hem the cut fabric. I hung the cut sides next to the cabinets. The curtain folds in so no one can see the edges….right?? Come on….admit it….you do things like this too. I'm okay with the curtains like this. It's how I roll.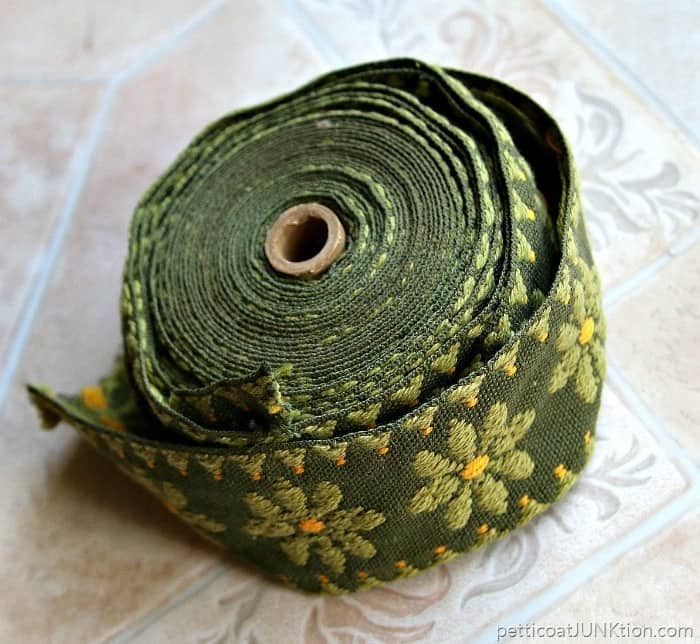 The curtains definitely looked skimpy and unfinished hanging as is. While searching for more pom pom fringe to use as a tieback I spotted the green and yellow fabric trim, a Goodwill purchase. I never pass up a good buy.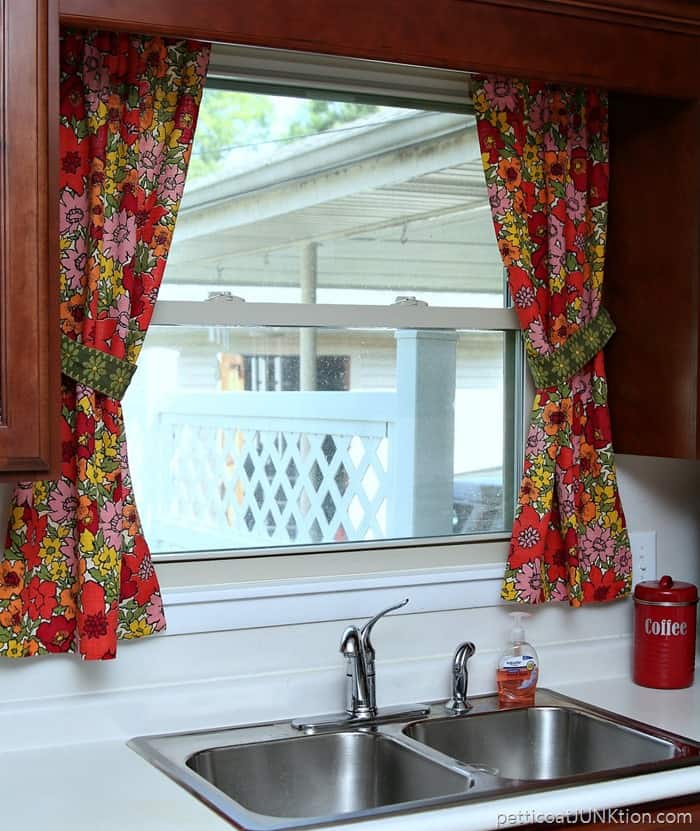 Well, how perfect is the flowered trim against the Barkcloth.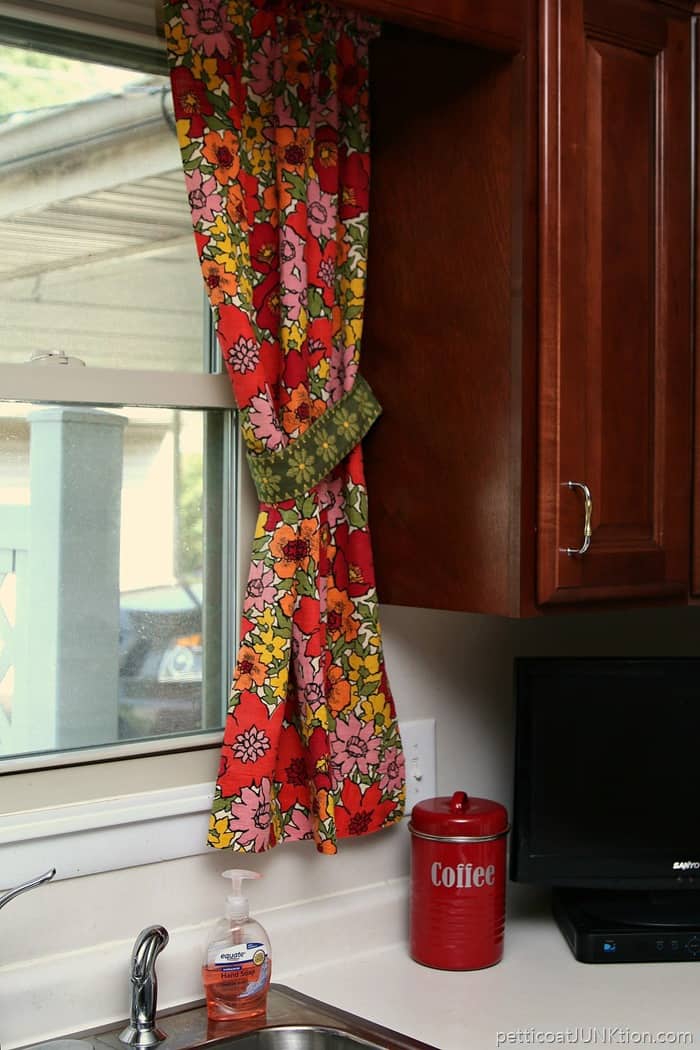 I'm loving the new curtains. They may be skimpy…..and a little imperfect….but they're mine.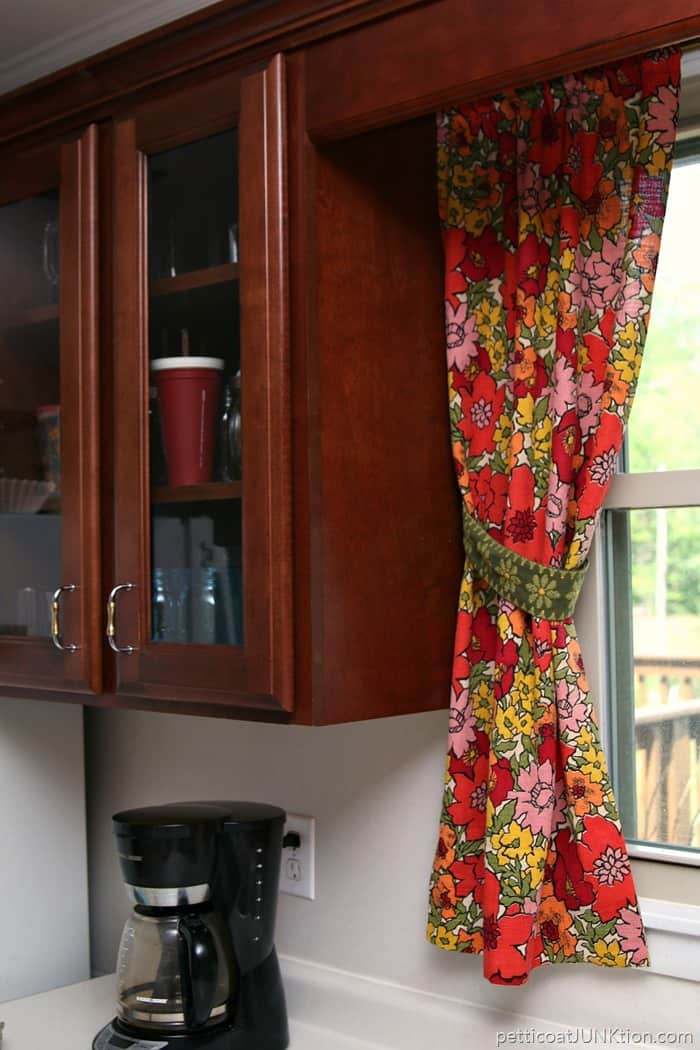 You guys know they probably won't be hanging in the kitchen window long but I'm going to enjoy them while they are. They make a bold statement.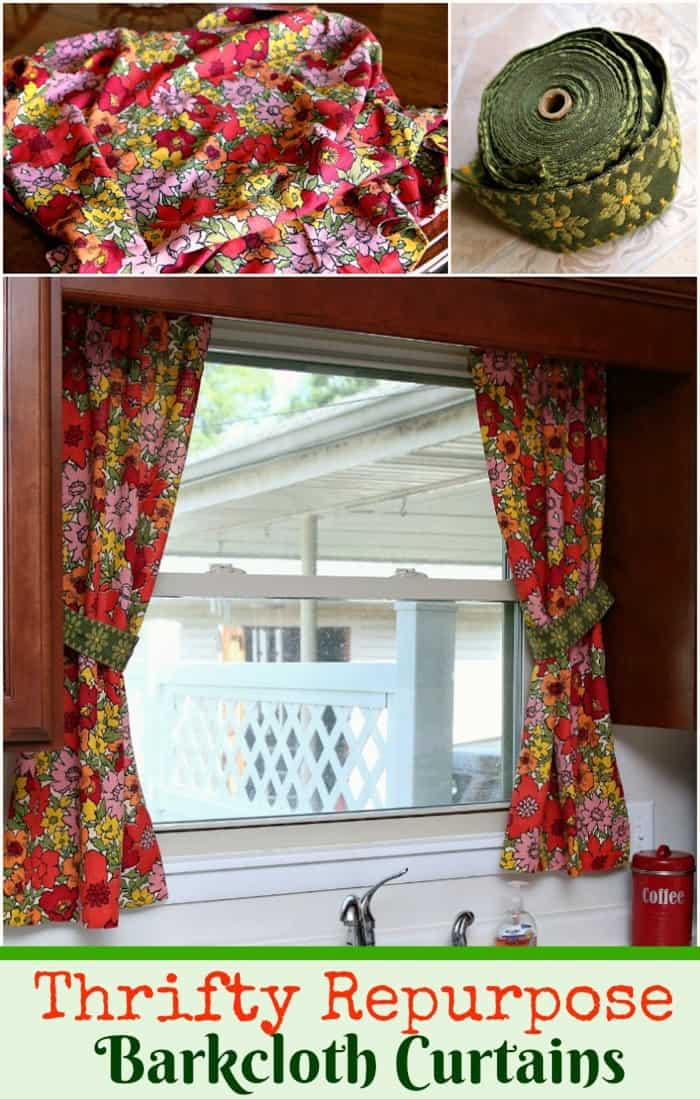 Vintage Barkcloth Curtains
Do you do crazy things like I do when decorating? Leave me a note and visit the other thrifty projects by clicking the pink text links below the photo.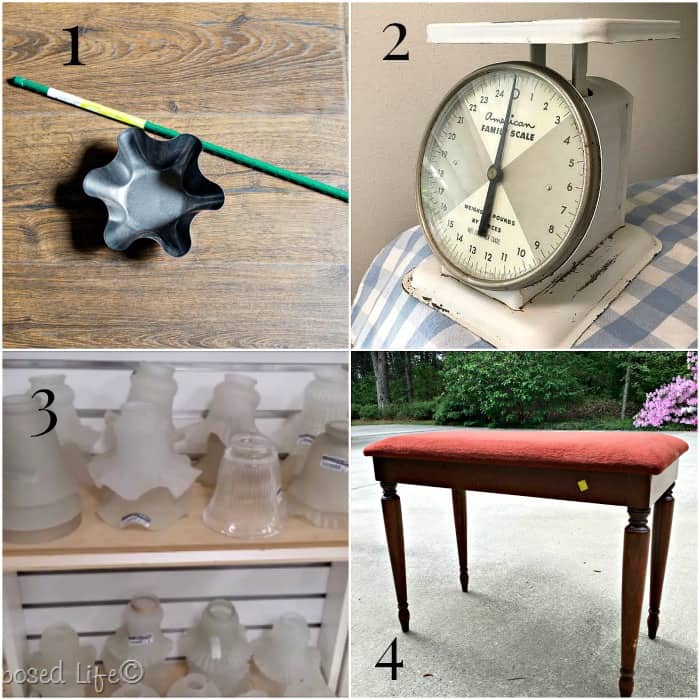 1. Metal Garden Flower- Domestically Speaking
2. Kitchen Scales Makeover - Refresh Restyle
3. Glass Globe Solar Lights - My Repurposed Life
4. Piano Bench Makeover - Our Southern Home
Have a great day and I'll see you tomorrow.
Author: Kathy Owen (Petticoat Junktion)
Kathy is the founder of PetticoatJunktion.com, a home décor blog focused on repurposing and upcycling furniture, old hardware, rusty stuff, and thrifty finds into unique home décor. Kathy's projects have been featured on the Home Depot Blog, Plaid Crafts, Behr Designer Series, and in numerous magazines. Read more about Kathy here.