You have a large variety of colors and designs when you make kitchen towel curtain tiers. This is so easy you guys are going to want to do the same thing. I hung yellow kitchen towels as curtain tiers on our kitchen window. Most of us have a window over the sink and it's really hard to find cute curtains for that kitchen window or ones that fit the window. I know, because I've tried. Now I've decided just to find dish towels or tea towels I like and hang them from clips on a decorative rod.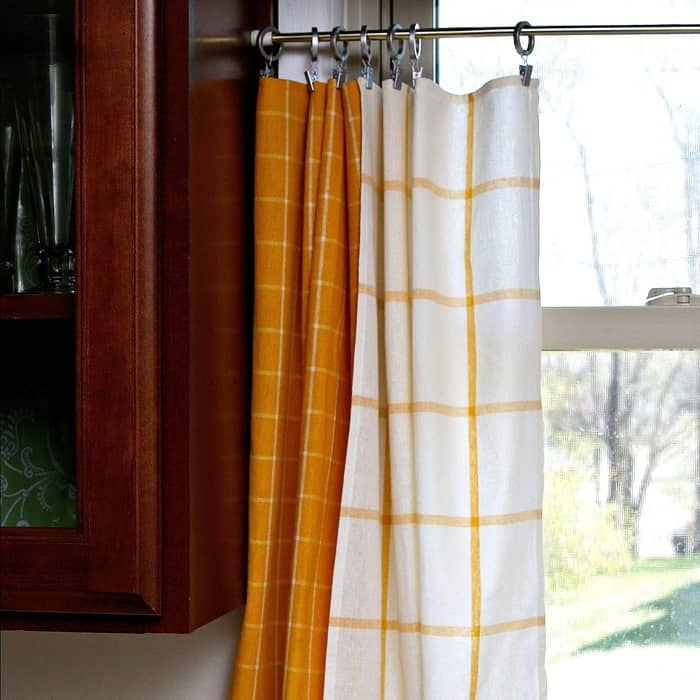 I chose yellow for a fresh clean look. Well, actually I spotted the towels at IKEA and loved the color. I knew then I would try to use them as curtain tiers.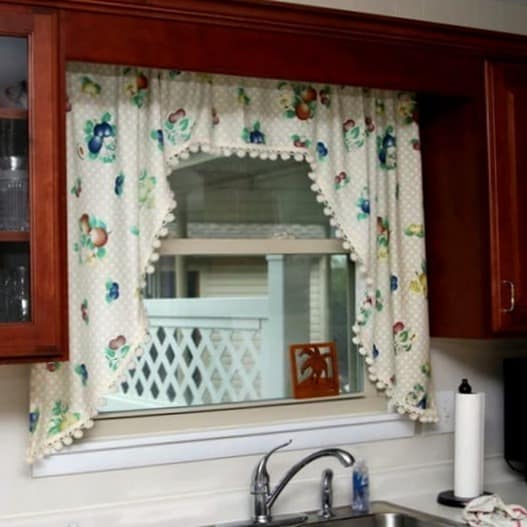 You guys may have followed my curtain saga over the last couple of years. The ones above with the fruit and pom pom fringe hung on the window for years. I made that swag type curtain out of a tablecloth. Definitely got my money's worth out of that tablecloth.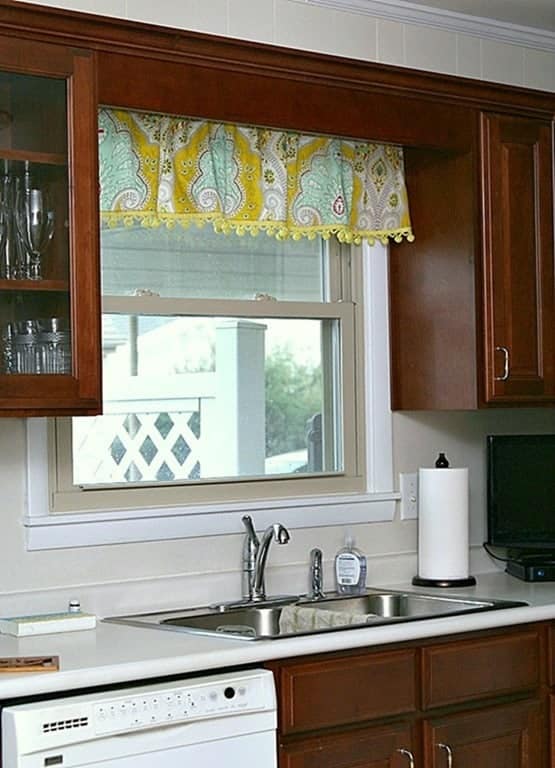 I made this short curtain tier about 3 years ago. It was a challenge and not what I started out with at all. I did love the print and colors of the fabric (actually a shower curtain).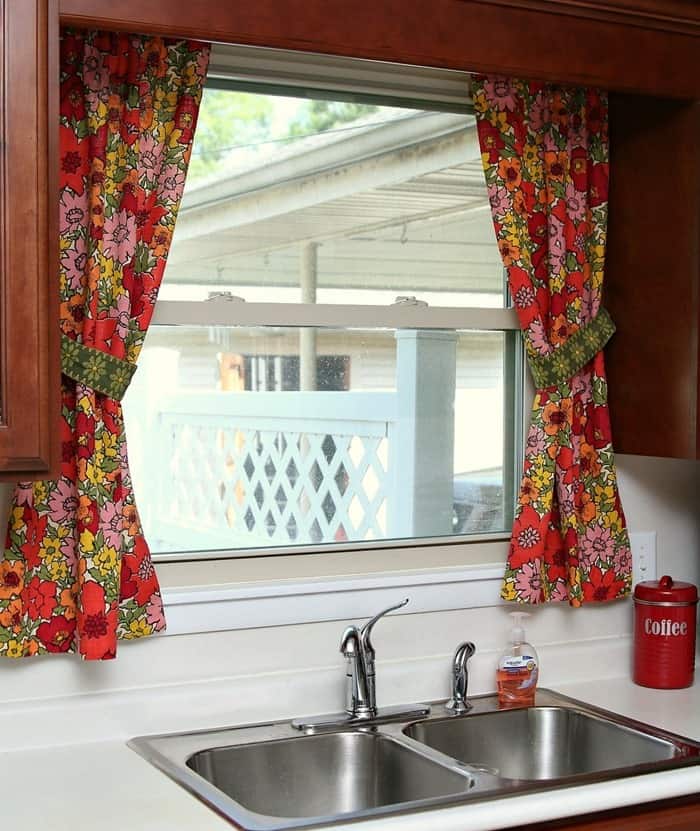 I made this kitchen curtain a couple of years ago. You know, time really goes fast. Seems like just a few months ago when I made these out of….curtains. I had to cut them to fit because they weren't very big. That's why the curtains aren't very full. I pulled them back with some vintage fabric trim.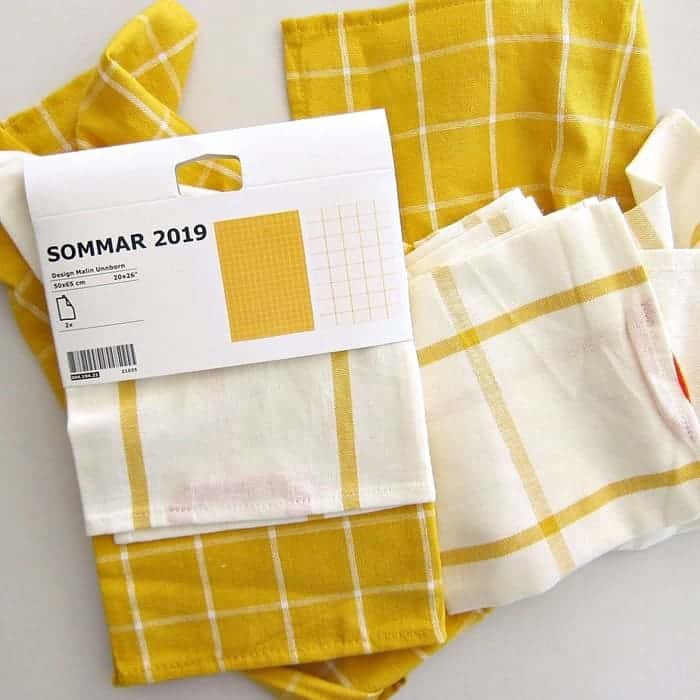 These are the dish towels from IKEA. I sometimes stop at IKEA when returning home from visiting Mom and Dad in Arkansas. The Memphis IKEA is the halfway point in my drive so it's a nice break. Sometimes I'm just in a hurry to get home and don't stop. I save money that way.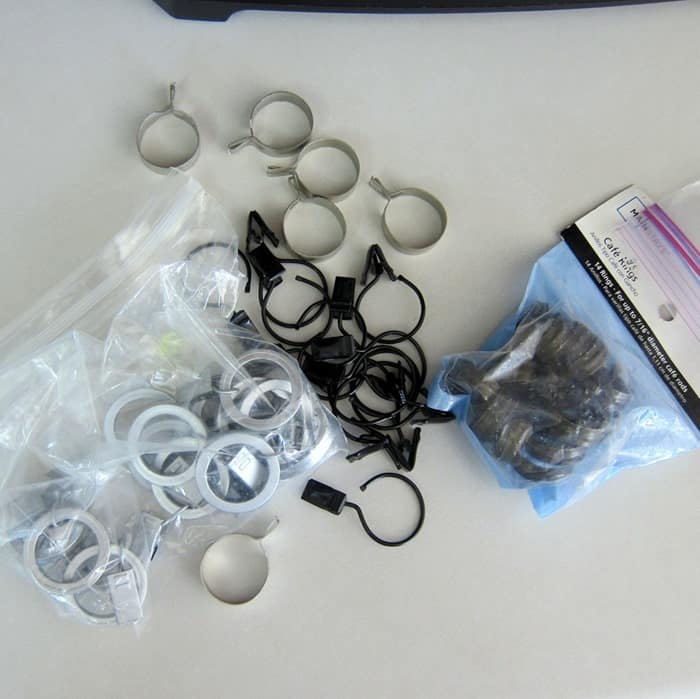 I have a bunch of curtain clips I've collected at thrift stores over the years.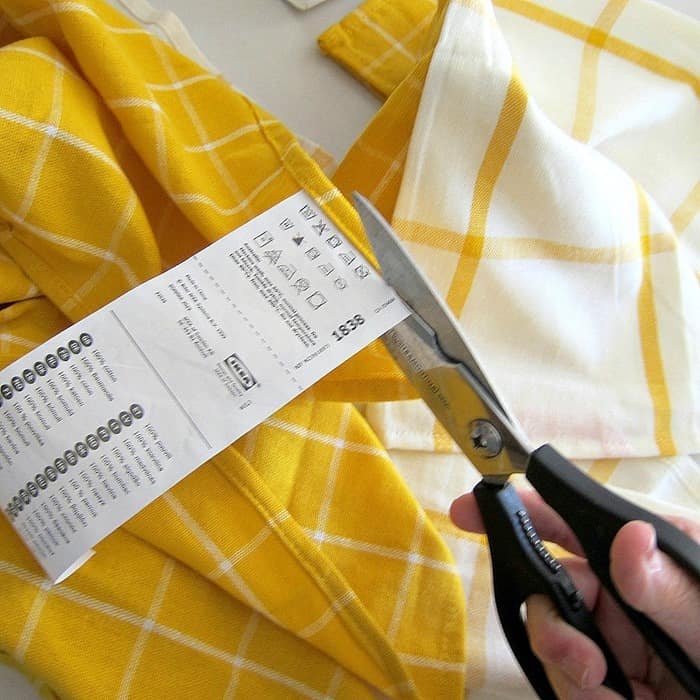 I cut the giant tags from the dish towels. Don't know why those tags have to be that big. Waste of trees.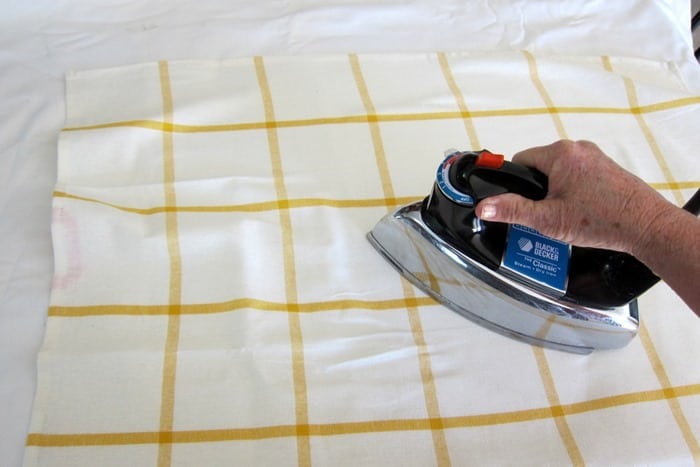 I steam ironed all of the wrinkles out…..or the majority.
I had to go out to the workshop and find a small tension rod because the one the Barkcloth curtains were hanging on was too big around for any of the curtain clips I had in my stash. Always something.
I was short one curtain ring and figured I would use a mismatched one on the end of the rod.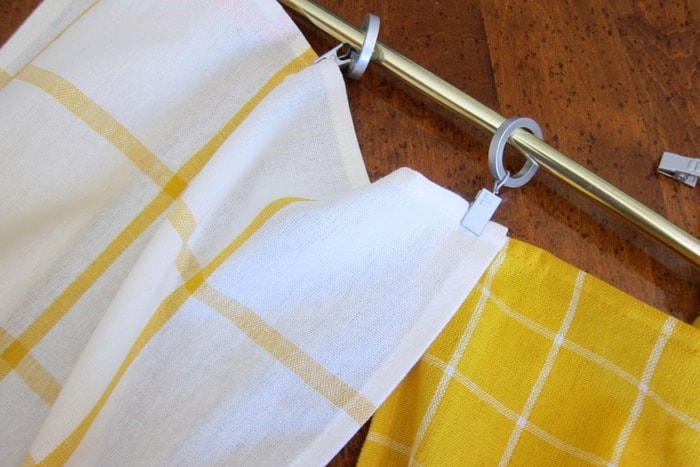 Since I only had 4 dish towels and 2 different designs I hung 2 panels together with the yellow on the outside because it's darker and the white one on the inside. I realized I really needed to clip the two tiers together so they would hang better. That took care of my curtain clip shortage.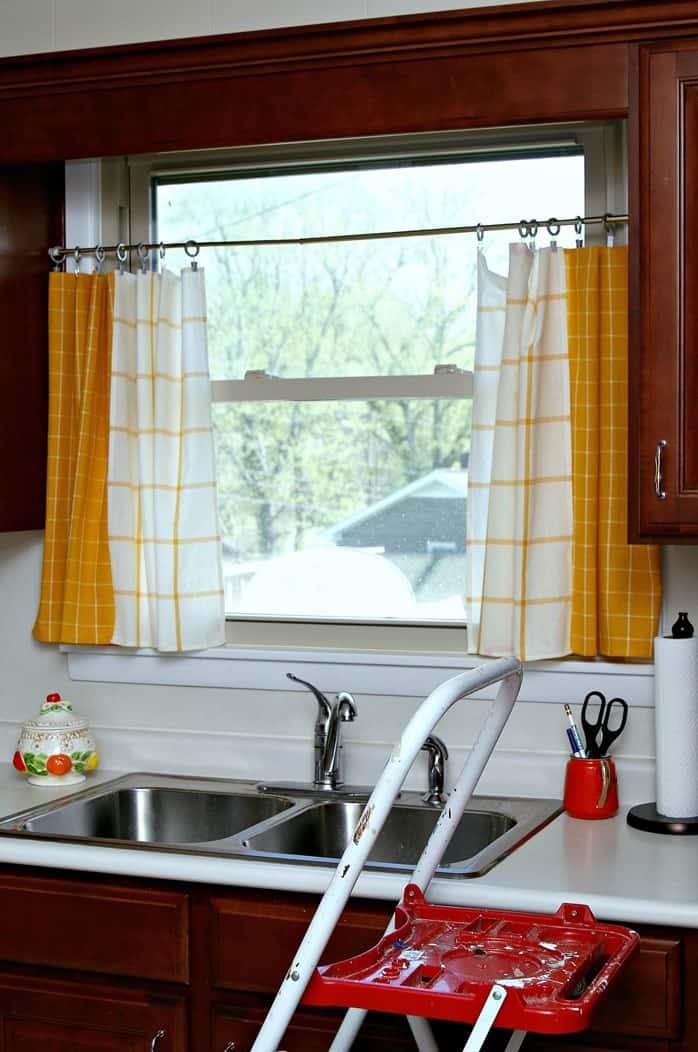 No photos of me on the ladder. Hard to do while I'm hanging curtains and the JTS wasn't around. He was out mowing the yard or something. He did notice the new curtains when he came in the house which is not at all normal. I figured it would be at least a couple of weeks before he noticed. Anyone else have a hubby like mine?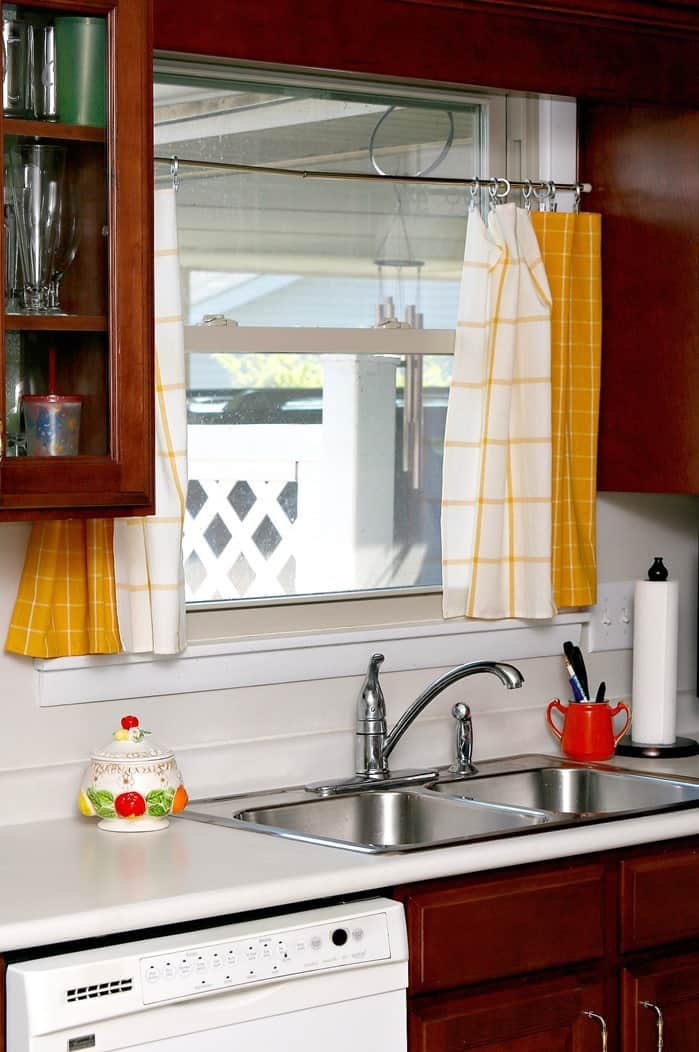 I thought I really lucked out and had kitchen towels that were all the same size. No. The yellow towel on the right side was about ¼" shorter than the other dish towels…..or maybe the white one was ¼" longer than the yellow one. What do I do now?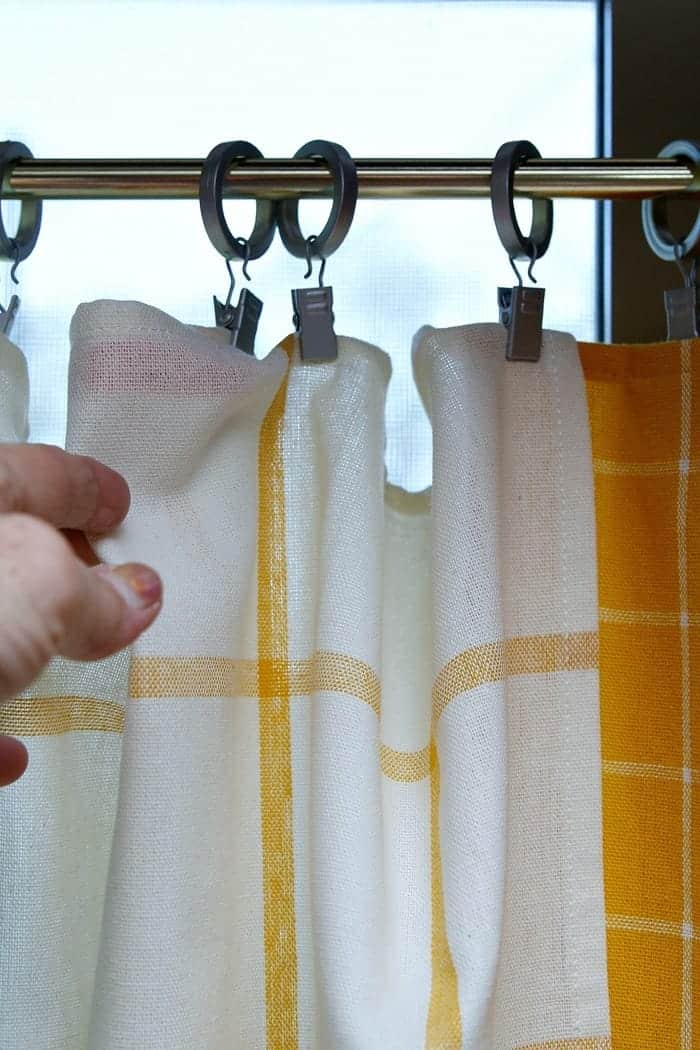 I folded the top hemmed edge of the white tier under and clipped it that way. Made it shorter and matched the length of the yellow dish towel.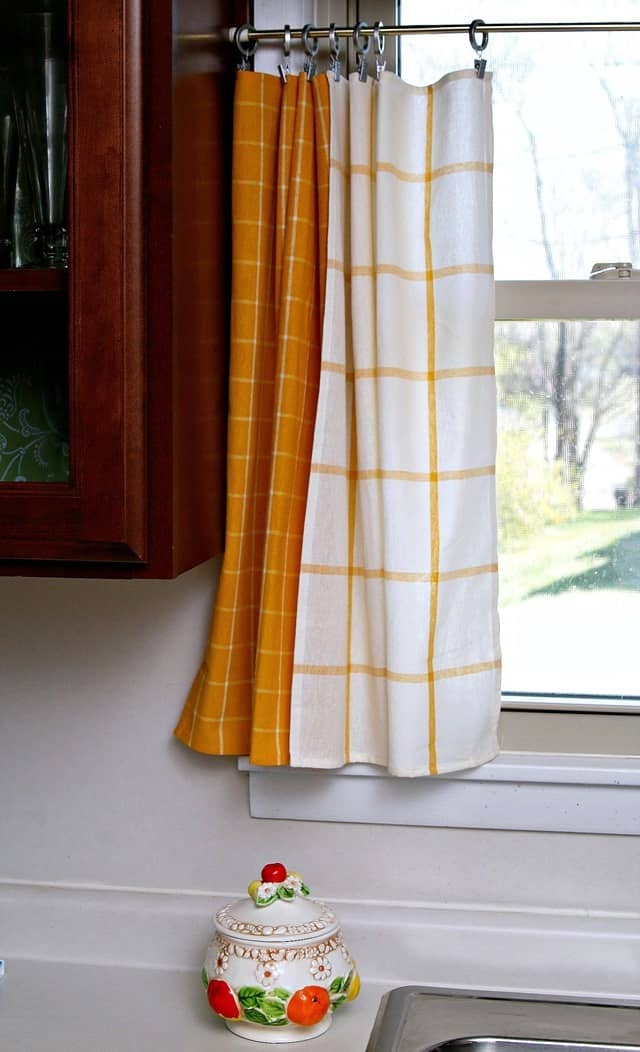 I like the new curtains. You would be surprised how much more light comes in the window just because the tiers hang on the lower two-thirds of the window vs the curtains I had before.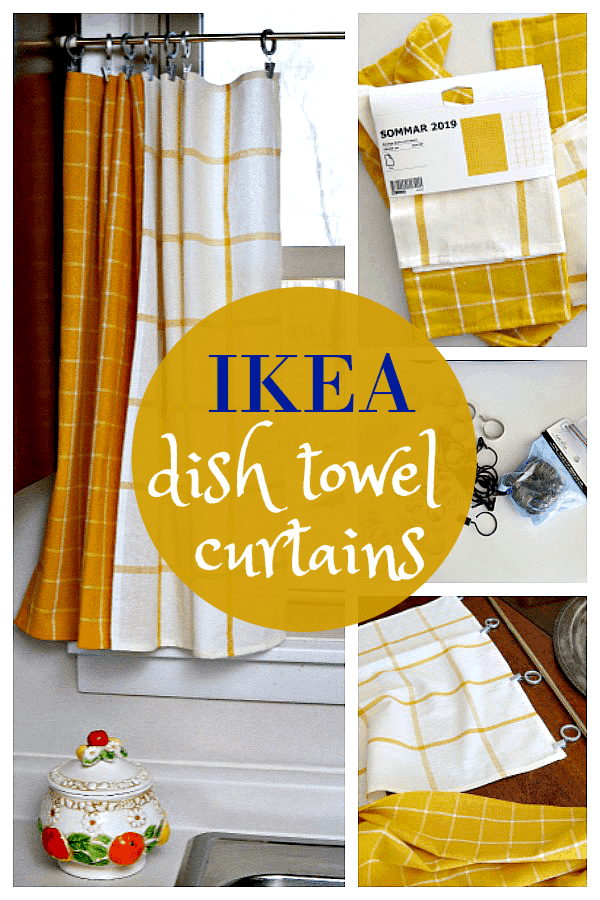 You don't have to go to IKEA to find pretty dish towels. I like to shop for linens at TJ Maxx because they have designer items at budget prices. Dollar Tree and Walmart have some pretty dish towels too. What do you think? Need new kitchen curtains?
As always thanks for being here, Kathy (p.s. Happy Easter, don't eat too much)
Author: Kathy Owen (Petticoat Junktion)
Kathy is the founder of PetticoatJunktion.com, a home décor blog focused on repurposing and upcycling furniture, old hardware, rusty stuff, and thrifty finds into unique home décor. Kathy's projects have been featured on the Home Depot Blog, Plaid Crafts, Behr Designer Series, and in numerous magazines. Read more about Kathy here.