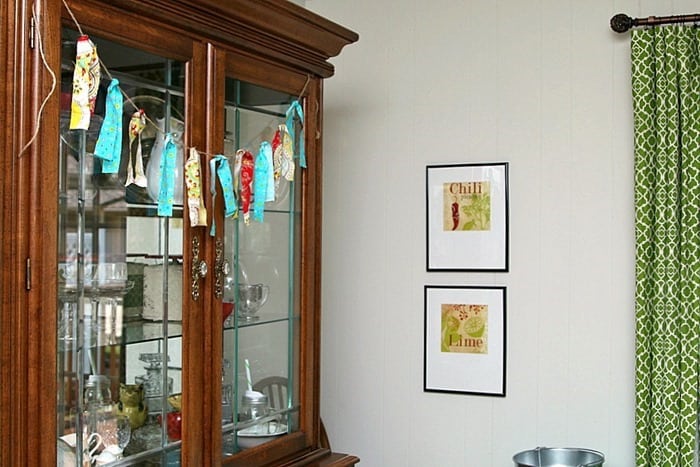 DIY Fabric Garland
I love the pattern and colors of that $2 shower curtain panel. I made the valance and had all this fabric left over…and all the ideas from you guys…
$2 Shower Curtain
This is the original fabric shower curtain from the thrift store.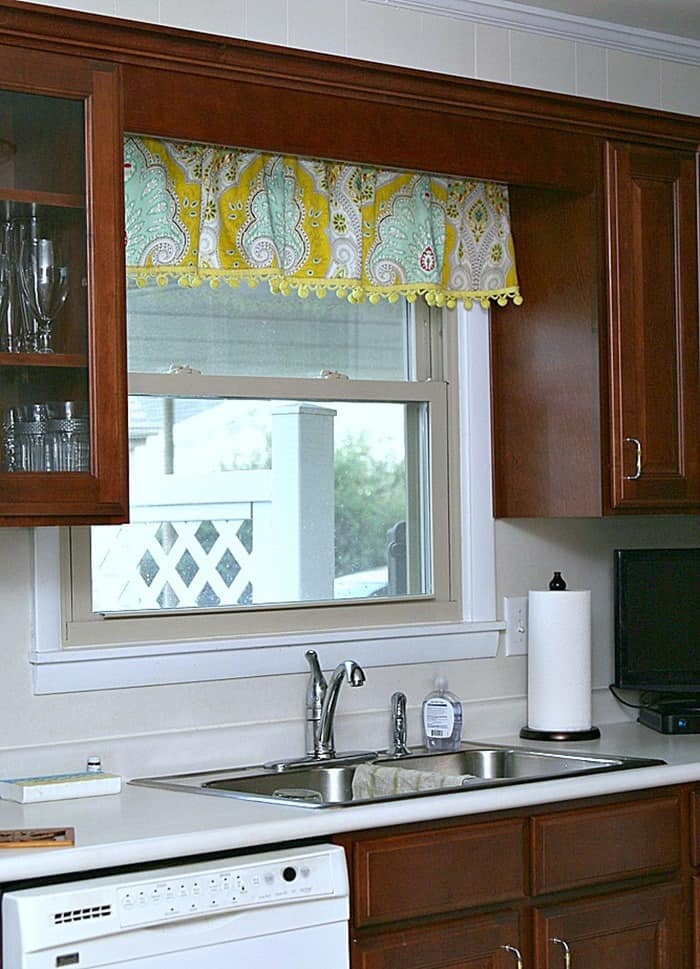 And this is the valance I made for the kitchen window. The only thing about the valance is…the strip of fabric has very little of the beautiful red color. I really like red and it looks so pretty in the design.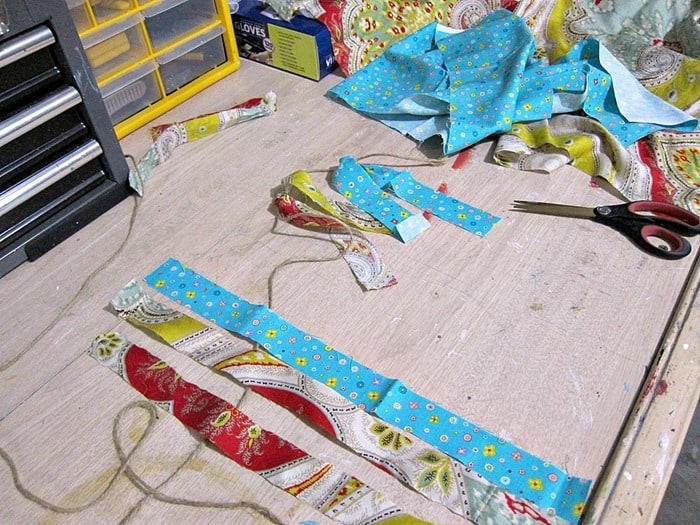 I decided to make a garland out of the left over fabric. There is really no wrong or right way to make a garland. It's sooooo easy. I sorted through my fabric stash and found a beautiful turquoise print to compliment the curtain fabric. I cut ten 13 inch strips about one inch to one and half inches wide. Ya'll, I didn't measure the width, I just cut.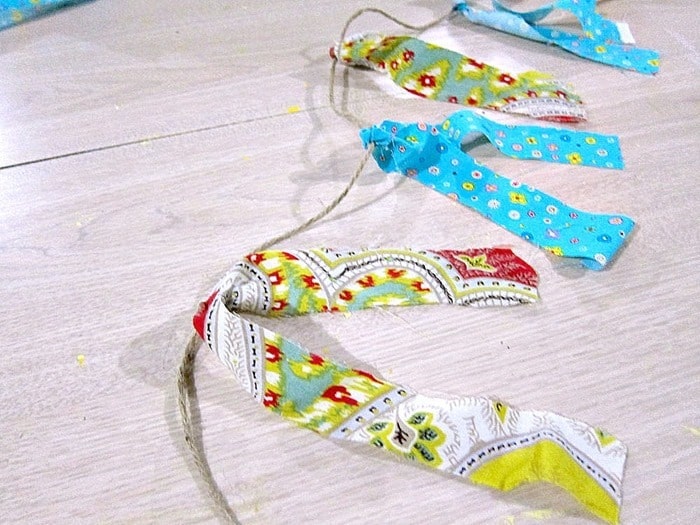 I tied the strips, alternating the fabrics, to a piece of jute twine about 4 ft. long. I didn't make a knot. Just tie once and slide the strips until they are evenly spaced. Mine are about 4 inches apart. That's all it is to it.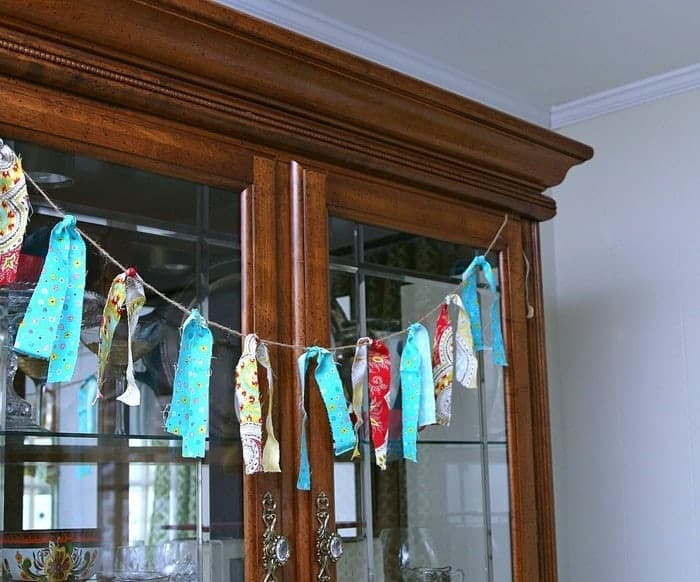 I hung the garland on my china cabinet. The cabinet is in the dining area that is part of the kitchen. It is one long room. So the kitchen window is at the opposite end of the room from the china cabinet.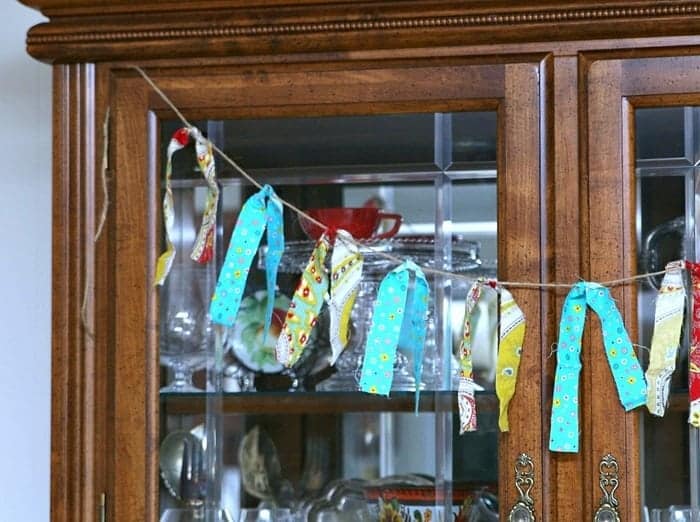 I like the turquoise fabric I chose for the project. Can you see the vintage red melamine cups in the china cabinet? I told you I love red.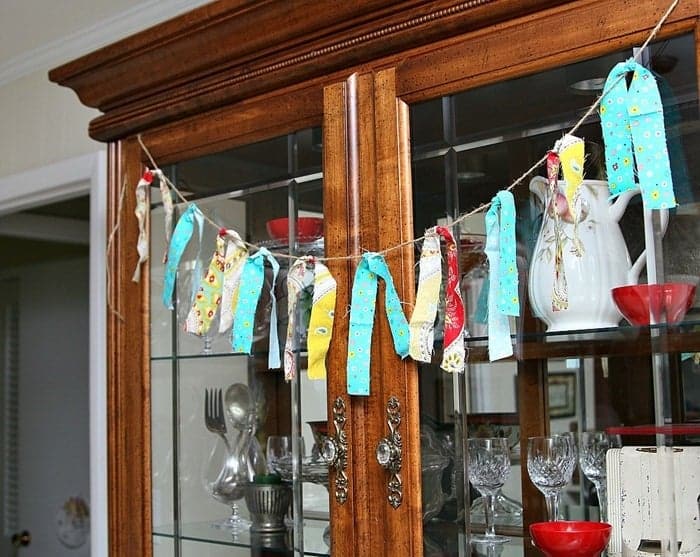 The size of the fabric strips, fabric type, length of garland, etc., can all be adjusted to fit your décor.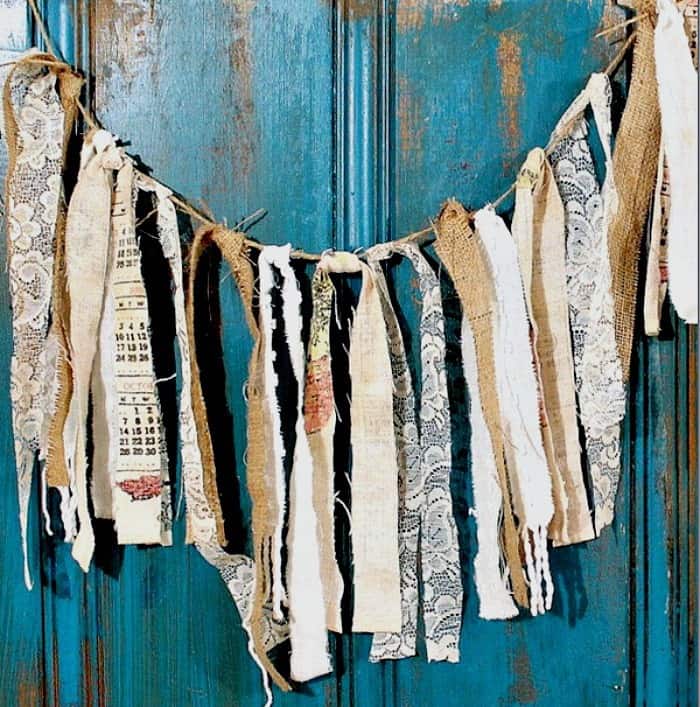 My First DIY Fabric Garland
This is the first garland I made. I used a vintage fabric calendar, a chenille bedspread, lace, and other things to make this garland unique. You can see it here….Burlap, Lace, Linen, and Chenille Rag Garland.
Are you ready to make a garland? Go for it.
Click here to find the Jute Twine on Amazon (Amazon Affiliate Link)
See you tomorrow!
Author: Kathy Owen (Petticoat Junktion)
Kathy is the founder of PetticoatJunktion.com, a home décor blog focused on repurposing and upcycling furniture, old hardware, rusty stuff, and thrifty finds into unique home décor. Kathy's projects have been featured on the Home Depot Blog, Plaid Crafts, Behr Designer Series, and in numerous magazines. Read more about Kathy here.