It's easy to make a vintage linens garland and you can use almost any type of linens.
I got the idea for the garland after organizing my fabrics stash. I didn't realize how many linens I accumulated in my junkin' adventures. I found most of my linens at my favorite junk shop.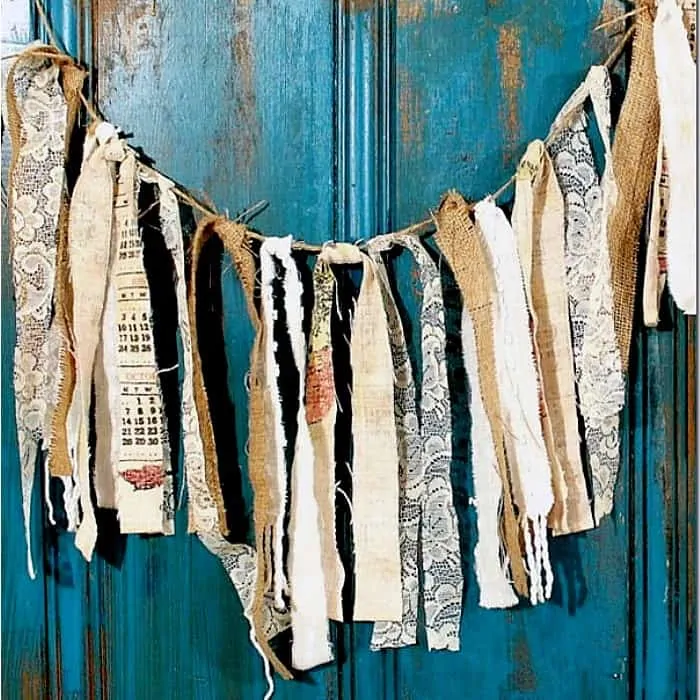 How To Make A Vintage Linens Garland
These garlands or banners as some people call them are really easy to make. Probably one of the easiest craft projects I've attempted.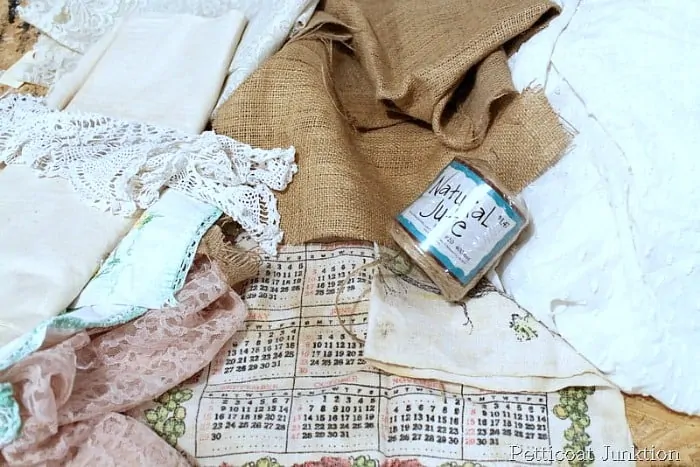 The linens I gathered for the project included a vintage cloth calendar, a lace doily, a lacy slip, chenille spread, and then I decided to add burlap too. I used natural jute from Hobby Lobby for the stringer.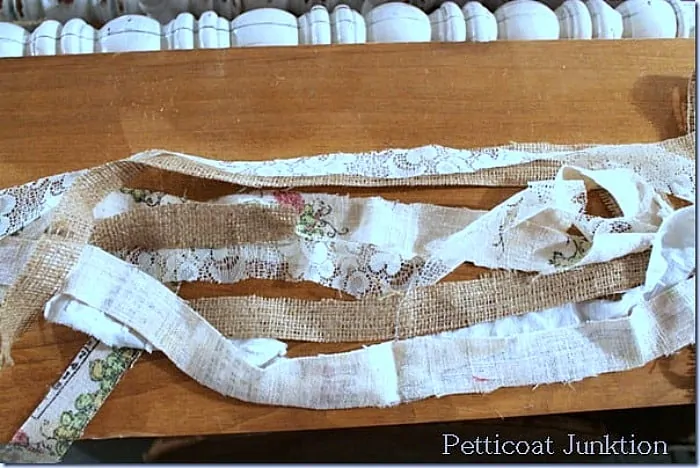 I cut long fabric strips from the linens and didn't measure anything. The strips are about 28" long, give or take a couple of inches, and 1'"-2"wide. The beauty of this project is that perfection is not required.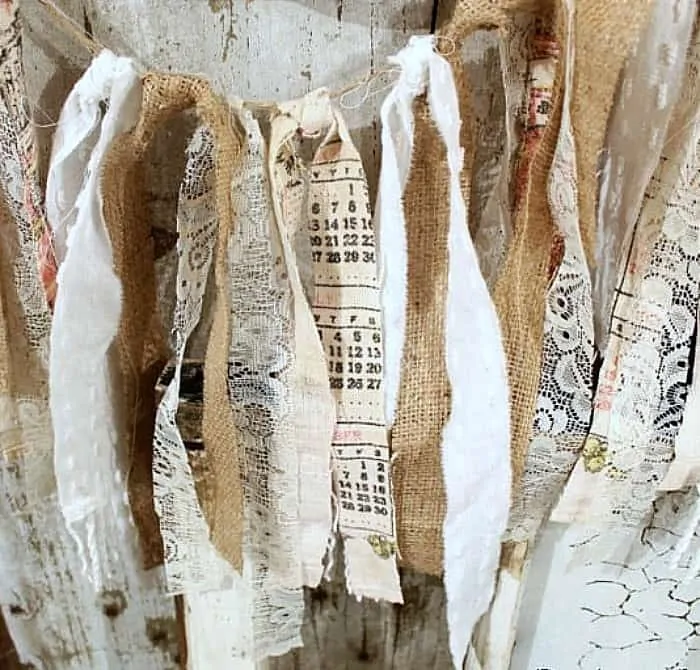 I tied the strips of fabric onto the jute and spaced them about a half inch apart. I didn't knot the fabric. You can pack the fabric strips tightly together or space them further apart for a simpler look.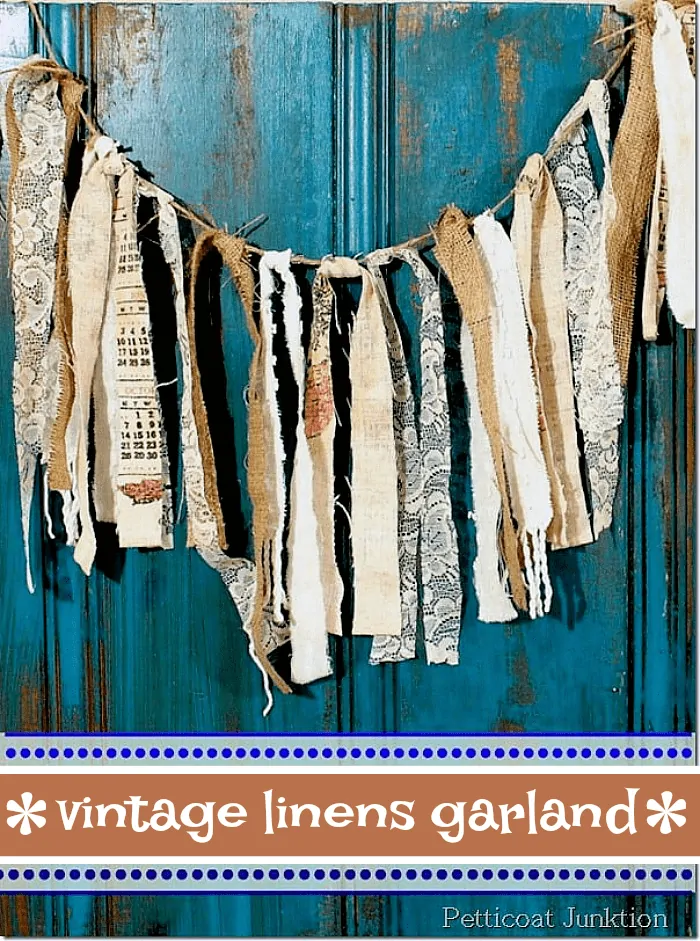 Very easy project….no thinking required! A no-brainer, perfect for me. The most time consuming part of the project is cutting the fabric.
You get a two for one on this post because I also have a simple all burlap garland for you.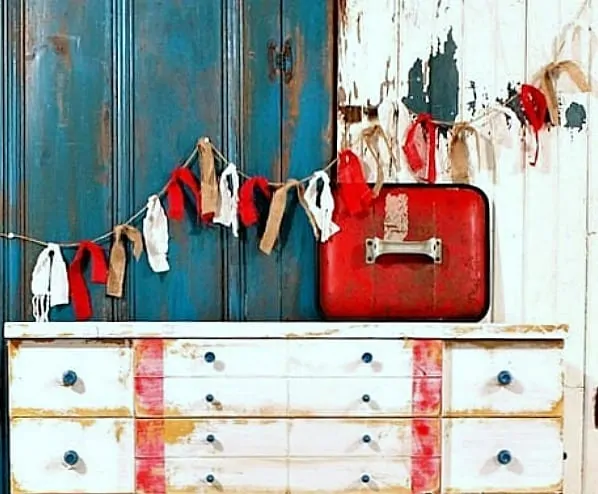 For this garland I used jute string, red burlap, brown burlap and white chenille torn from an old bedspread. Get the kids or grandkids to help with this project. They like to use scissors!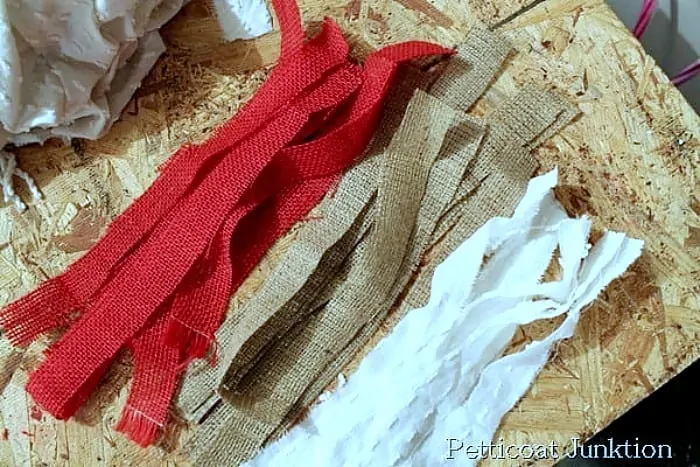 I cut these fabric strips much shorter than the strips for the linen garland.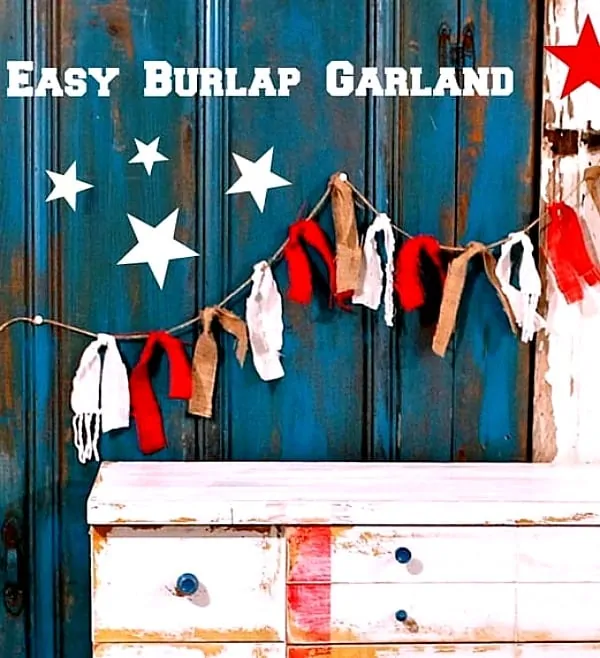 And the garland looks great with my Nautical Chest of Drawers.
The beauty of the garlands or banners is you can use almost anything to make them. I used colorful floral fabric for the garland you can find here.
You would be surprised what you could repurpose. See my list of things to save here....17 Things Not To Toss In The Donation Bag.
I promise to share the nightstand makeovers for our master bedroom project on Thursday for Furniture Fixer Upper Day. I just can't seem to get it together lately and have been slow on writing posts. Sorry.
Have you made a fabric garland? What's the easiest craft you've created? Leave a short note if you have the time. Thanks for being here, Kathy
Author: Kathy Owen (Petticoat Junktion)
Kathy is the founder of PetticoatJunktion.com, a home décor blog focused on repurposing and upcycling furniture, old hardware, rusty stuff, and thrifty finds into unique home décor. Kathy's projects have been featured on the Home Depot Blog, Plaid Crafts, Behr Designer Series, and in numerous magazines. Read more about Kathy here.