Looking for creative recycling ideas for stuff you usually give away....or worse yet......throw away? I'm here for you. I get upset with myself sometimes when I look back at all the things I've tossed out over the years before my recycling gene kicked in.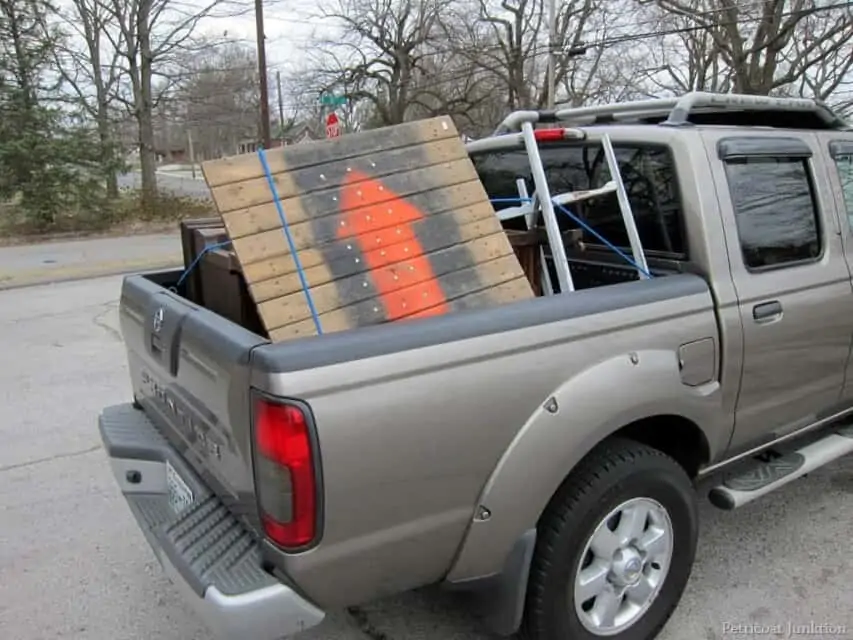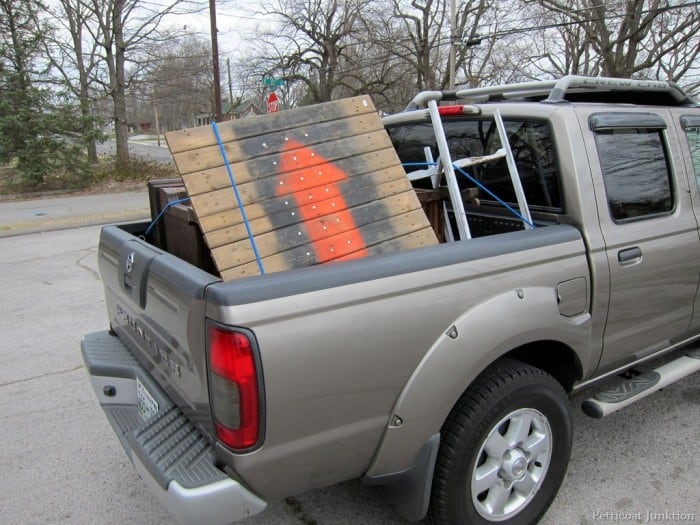 Since starting my new career in junkin' (okay, maybe it's more like a hobby) I've bought things similar to ones I've given away in the past. And then I've made new fun things out of my purchases. I could have saved money by saving my old stuff. There are all kinds of things to save and upcycle. I've made a list of my favorite recycle upcycle items.
Take a look at just a few of my creative recycling ideas. When reading through the list just click the pink text link if you are interested in seeing the full tutorial.
17 Creative Recycling Ideas For Old Stuff
1. Pillowcases and Sheets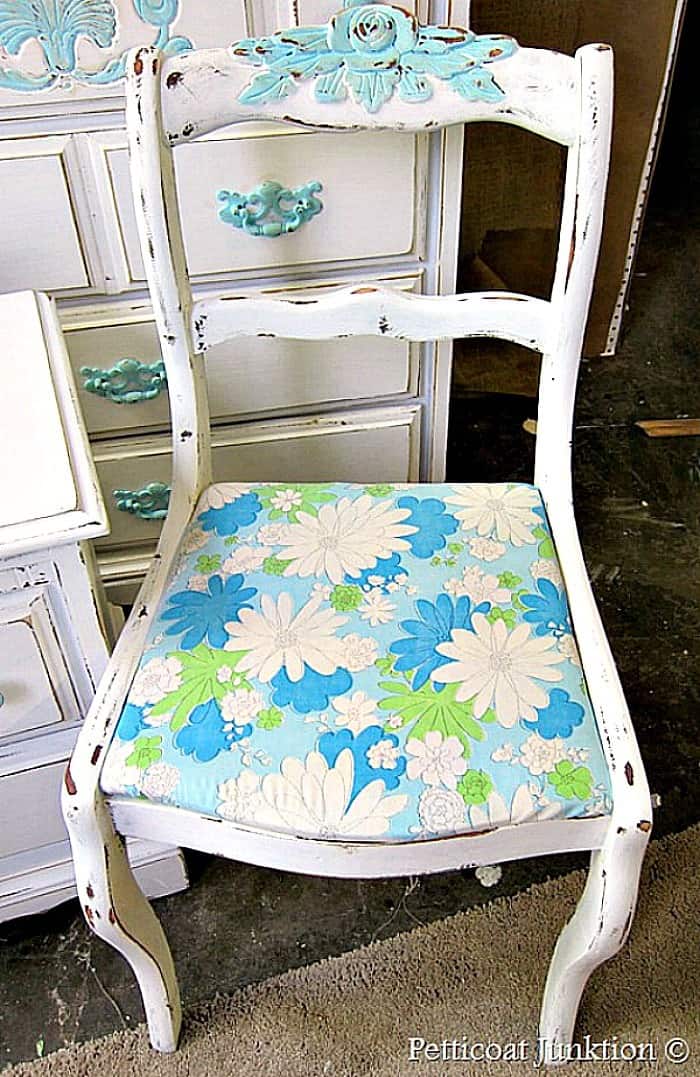 The chair seat above is covered with a vintage pillowcase. The pillowcase is just one of many things I've fell in love with over the years at the thrift store and just had to have. The vintage design and the colors make me swoon. Removing a chair seat and recovering it is the easiest furniture makeover with the biggest impact. I always say that, because it's true.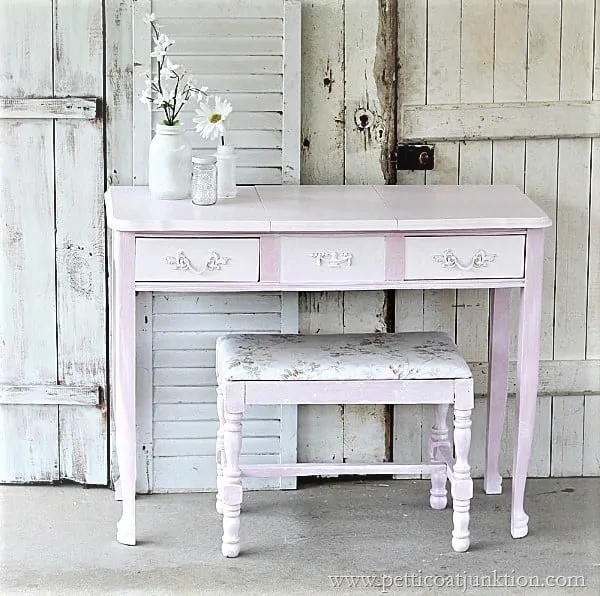 I re-covered this vanity stool with a sheet. It was an old sheet that was worn and I finally had to replace the sheet set.
2. Recycle Thermoses and Lunch Boxes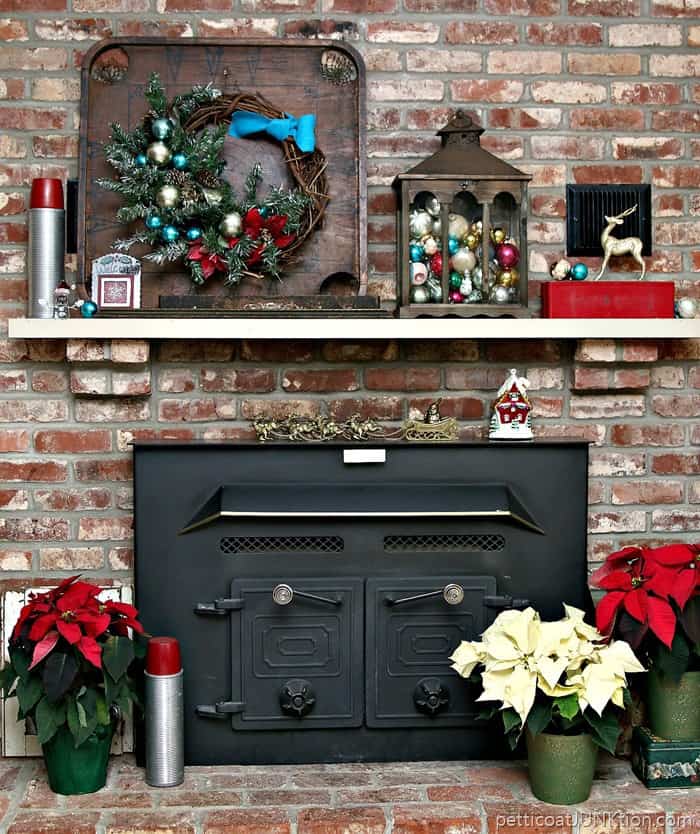 Before long it will be time for Christmas decorating and this is our fireplace hearth and mantel décor from 2016. I have to admit when I pulled up the project and looked at the pictures I was patting myself on the back. I did a good job! See those thermoses with the red lids/cups? They add the perfect touch.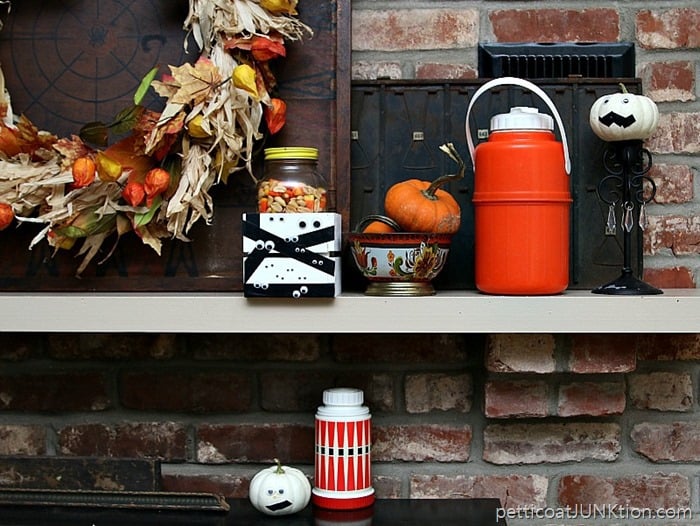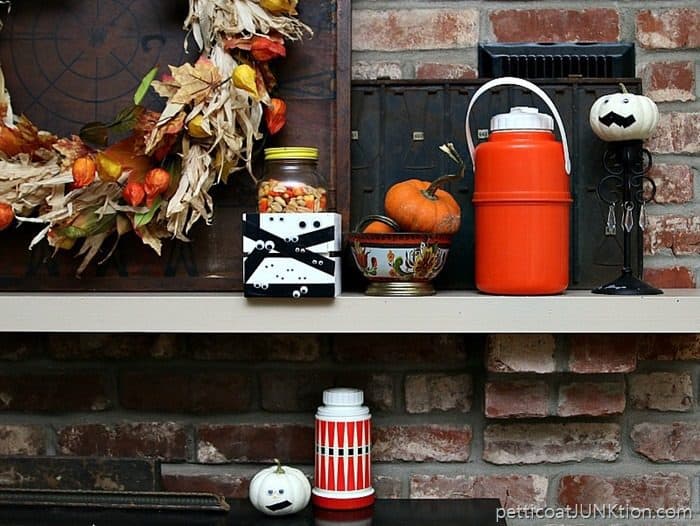 Holiday décor doesn't have to be "holiday". Mix in items you have on hand and save on your decorating budget. Start with a color scheme when decorating and shop your house for the good stuff.
3. Cloth Calendars, Chenille Bedspreads, and Fabric Scraps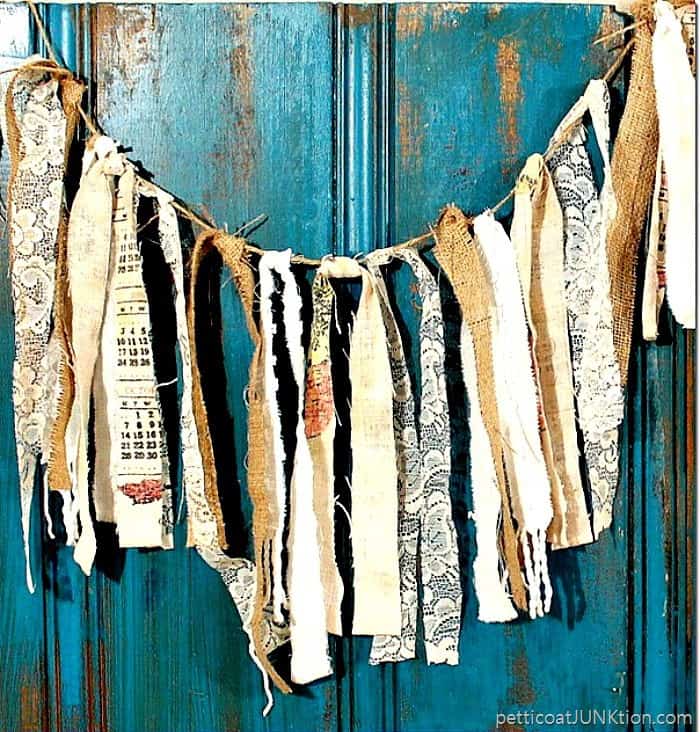 The fabric garland is made from pieces of a vintage cloth calendar, chenille bedspread, burlap, and shabby lace curtains. The pieces are tied to jute. This is the kind of project that requires no special skill and is a stress reliever for me.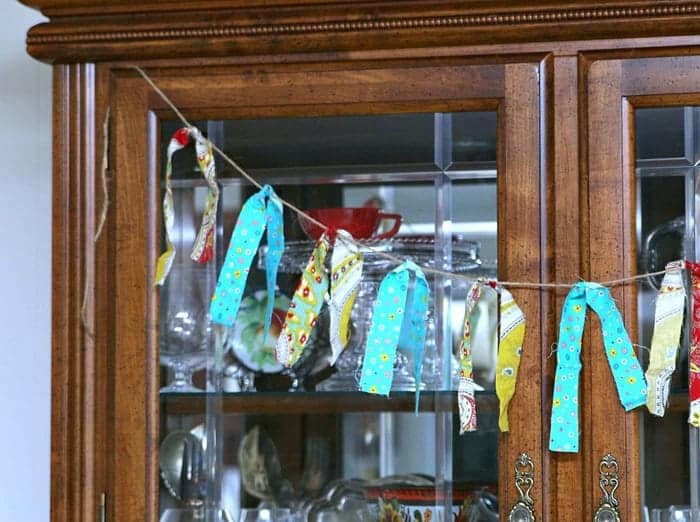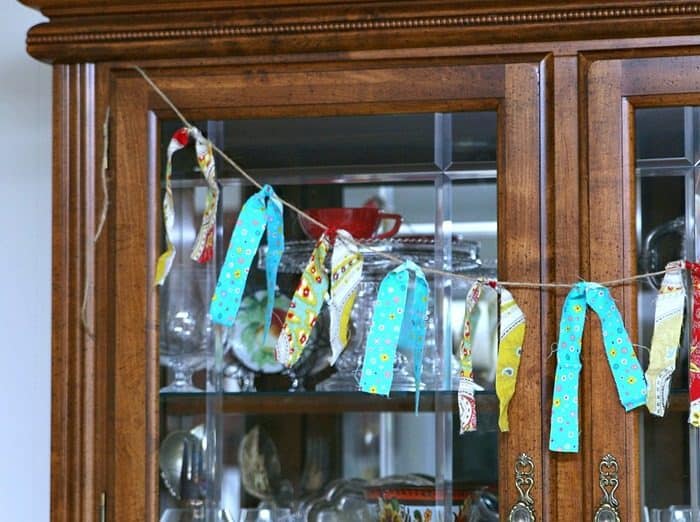 Garlands can be made out of almost anything. Have you got some old clothes, old sheets, junky towels.....cut them up. There are many places you can hang the garlands too. Try hanging on a china hutch, foot board, mantel, or just the wall. Choose a color theme and get to work.
4. Jars, Bottles, Glassware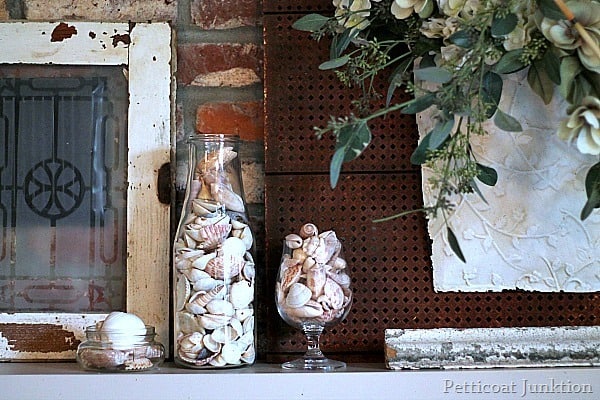 I'm still guilty of tossing out empty jars and bottles. They're great for displaying seashells, marbles, old keys, etc. Even odd shaped drinking glasses make great display items. Pretty jars and glasses make great holders or storage for craft supplies like buttons, ribbon, small junk treasures, etc.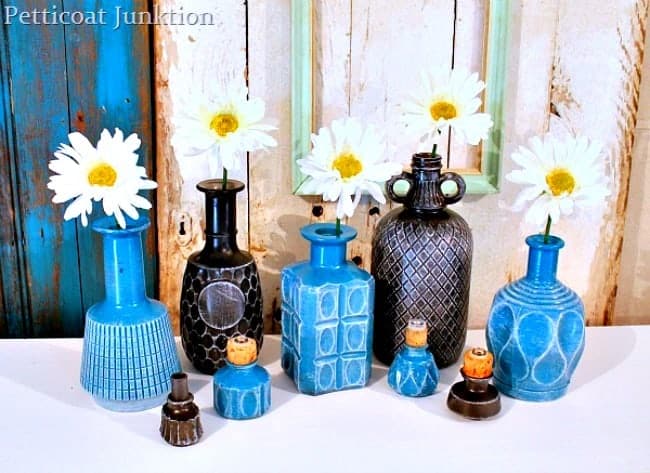 Spray paint glass decanters or any kind of jars and add them to decor in any room.
5. Curtains And Shower Curtains | Creative Recycling Ideas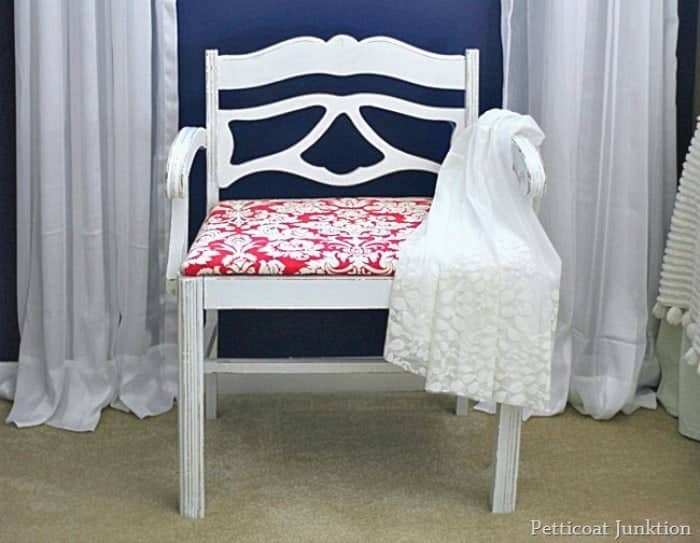 What can you say about used curtains. Think of all that material going to waste. I've covered many chair seats with old curtains. This vanity stool was a mess but paint and fabric gave it new life. The easiest makeovers with the most impact are chairs or stools with fabric seats.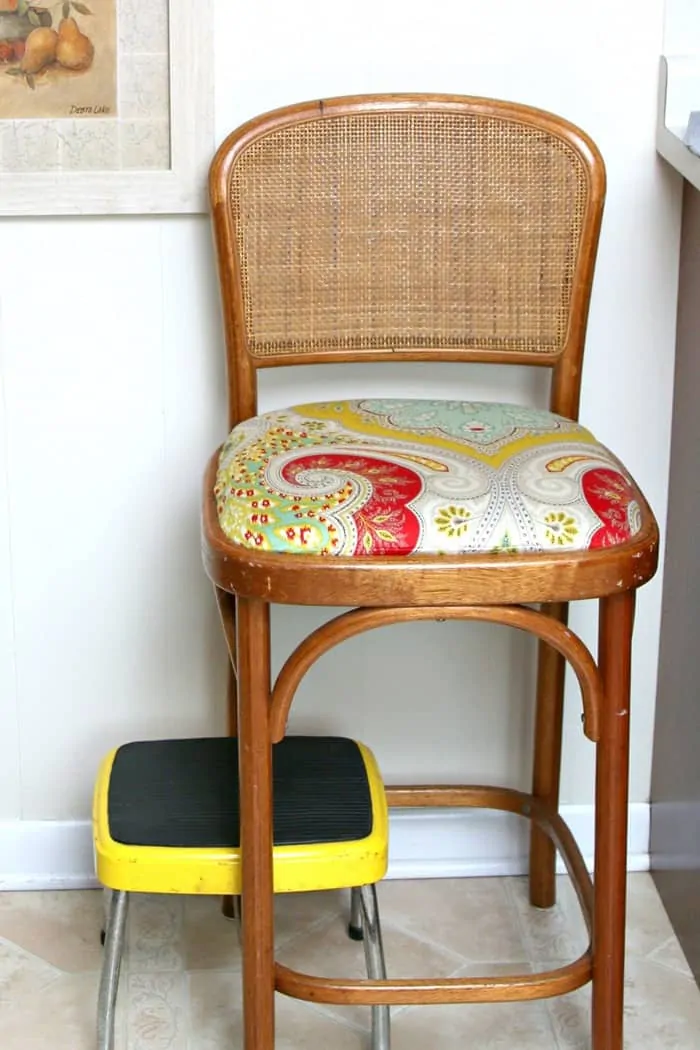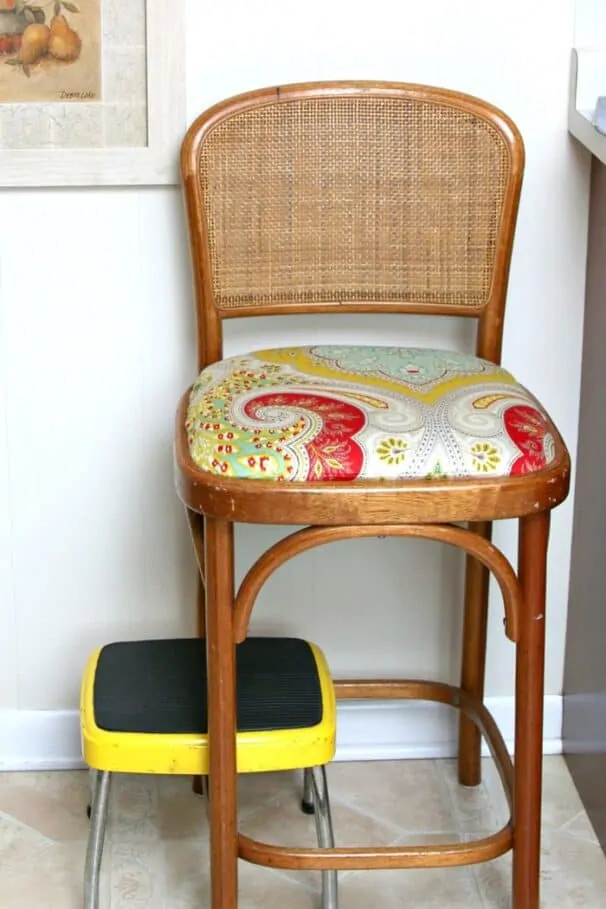 I re-covered the barstool seat with a shower curtain. I also made a curtain tier out of the shower curtain. I love the colors and design.
6. Rubber Boots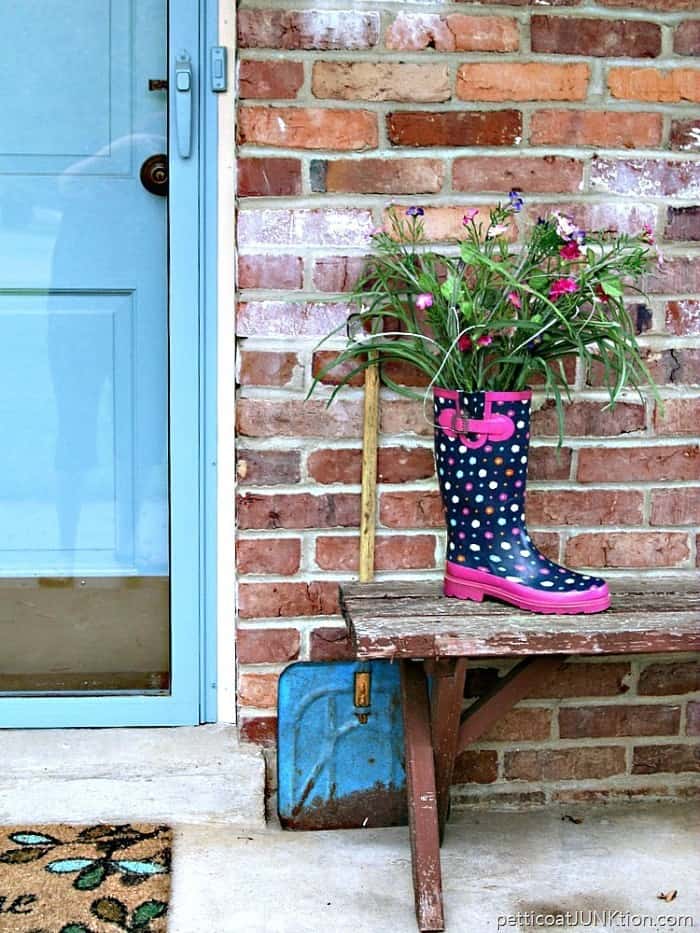 The designs on rubber boots or waders (I was raised in the country) are so fun now. I use boots as flower vases  when I'm not wearing them. Just don't add water, faux flowers only. One way to display real flowers is to find a vase that will fit into the boots and add your water and fresh flowers. Where there's a will, there's a way.
7. Skirts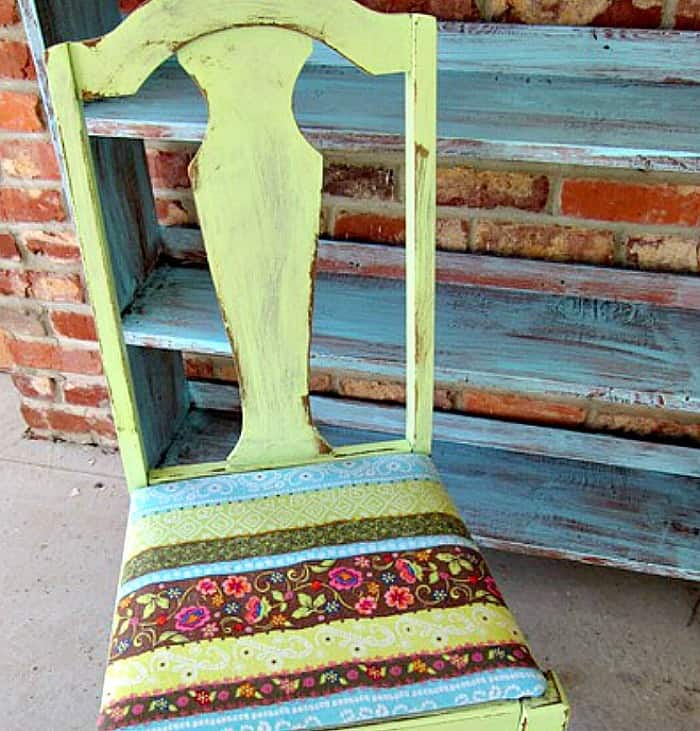 Yes, this seat cover was a skirt. I bought the skirt at the thrift store because I liked the fabric. It looks like a throwback to the hippie days. Speaking my language. You can see I do a lot of chair makeovers and re-covering of seats.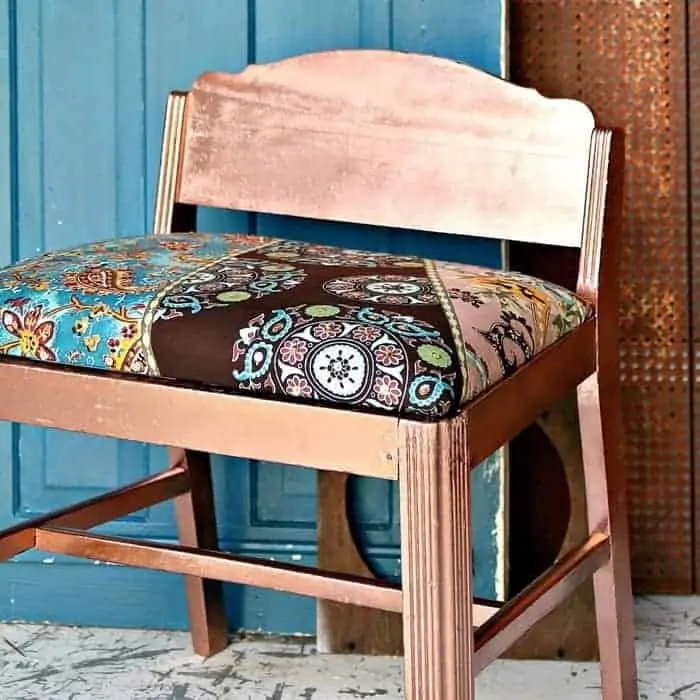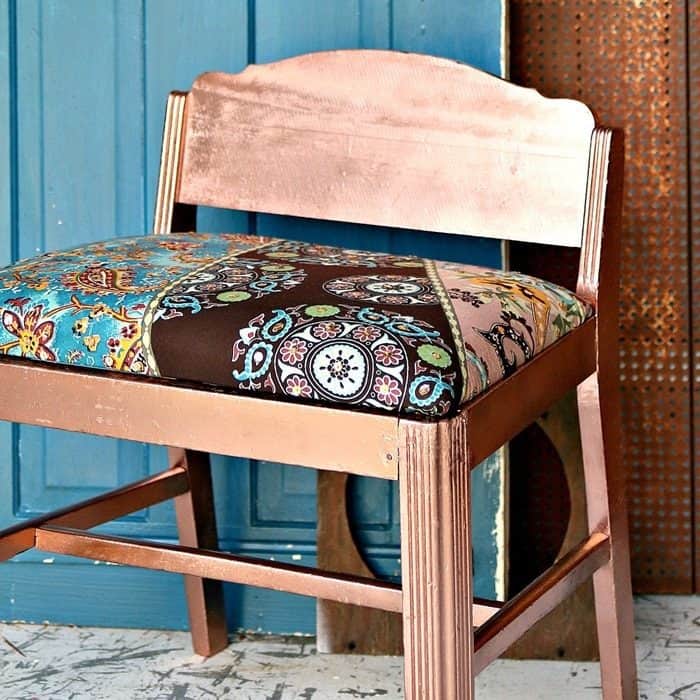 Trust me when I say "You need to try this". All you need is paint and fabric. Use spray paint for the chairs. So much easier and faster than brush painting. The look above is my boho makeover.
8. Scarves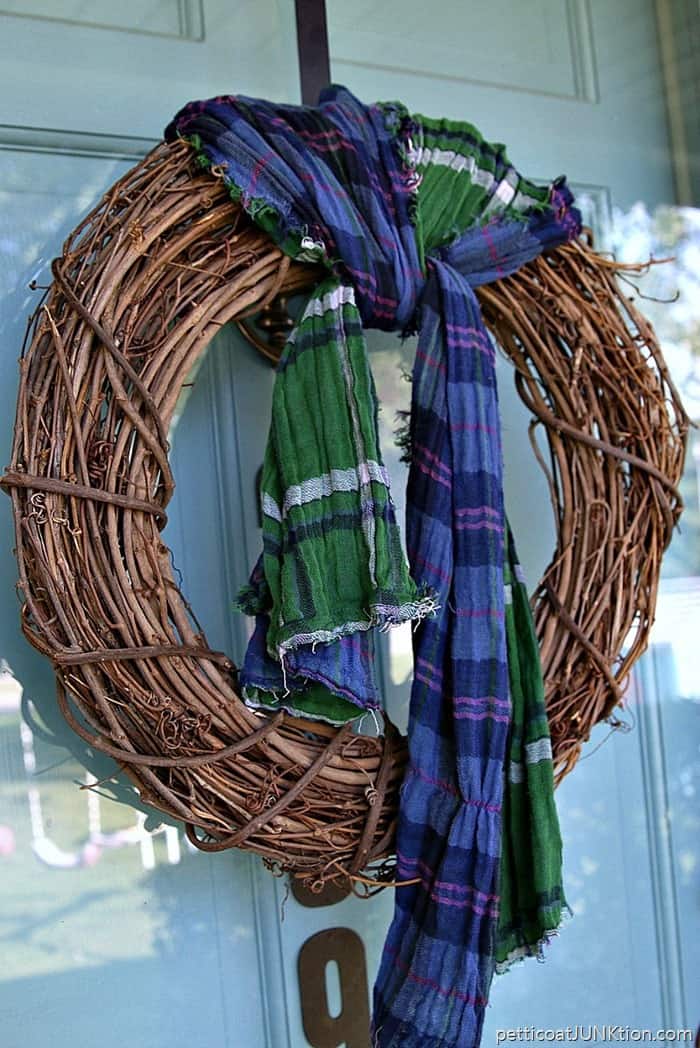 I should be ashamed of myself for calling this a project. Tie any scarf around a grapevine wreath and you have a statement piece….plus, you can change it with the seasons. Try tying a Christmas themed table runner to a grapevine wreath or maybe a large colorful dish towel.
9. Belts | Creative Recycling Ideas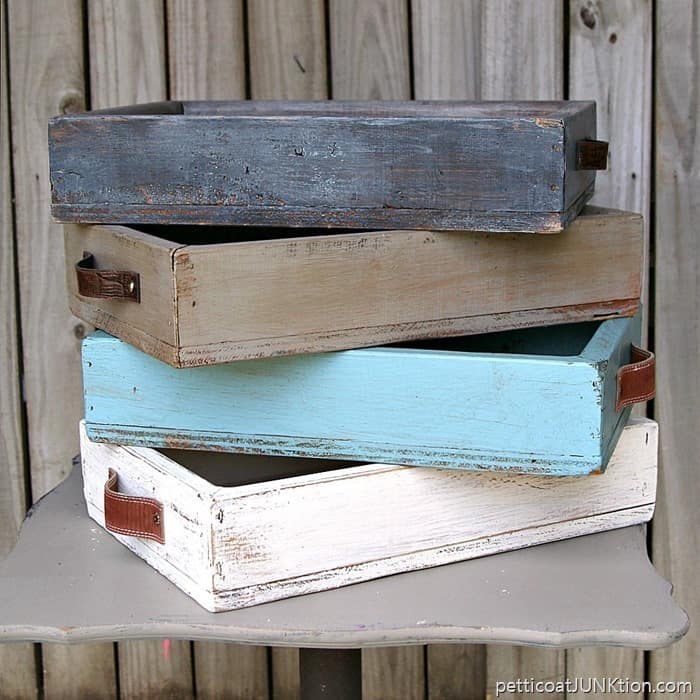 I really enjoyed making the boxes. Well, the boxes were made but I painted them all using special techniques for different looks then added the belt handles. Belts are also good for wreath hangers and woven chair seats.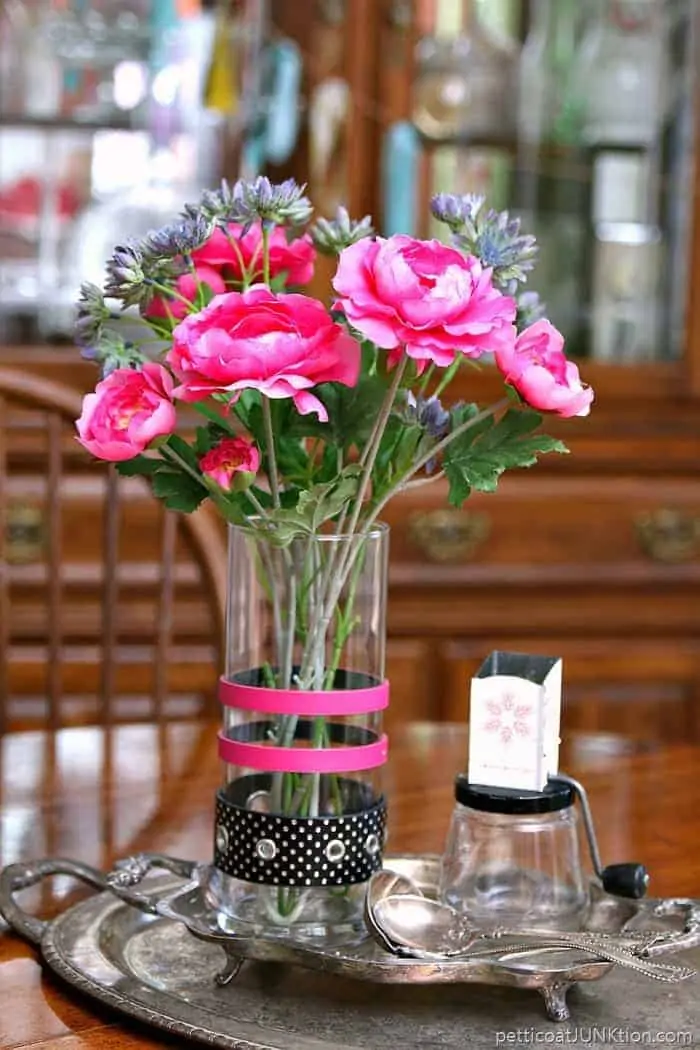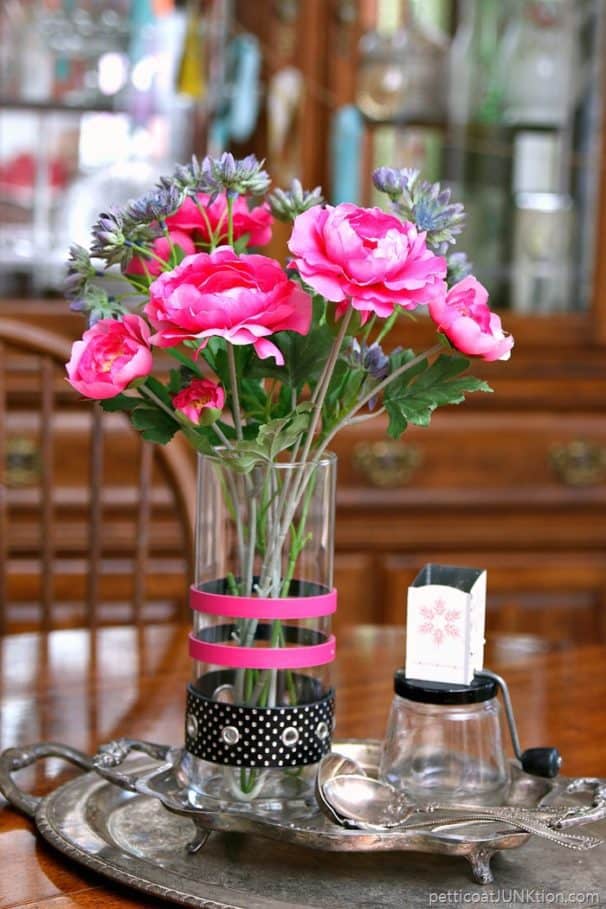 Try wrapping a couple of belts around a glass vase and securing with hot glue.
10. Picture Frames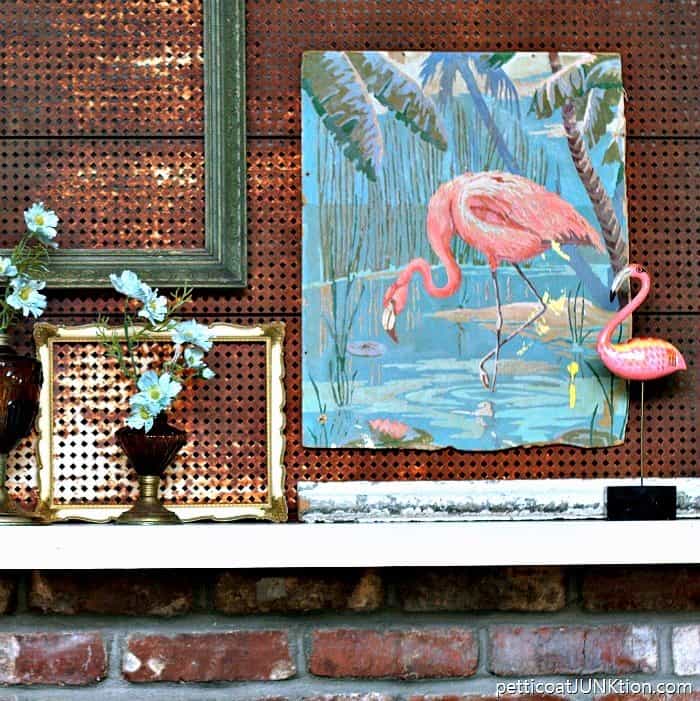 We've all seen empty picture frames hanging on walls. You can also hang or sit them on the mantel. I like using vintage frames as backdrops for funky items.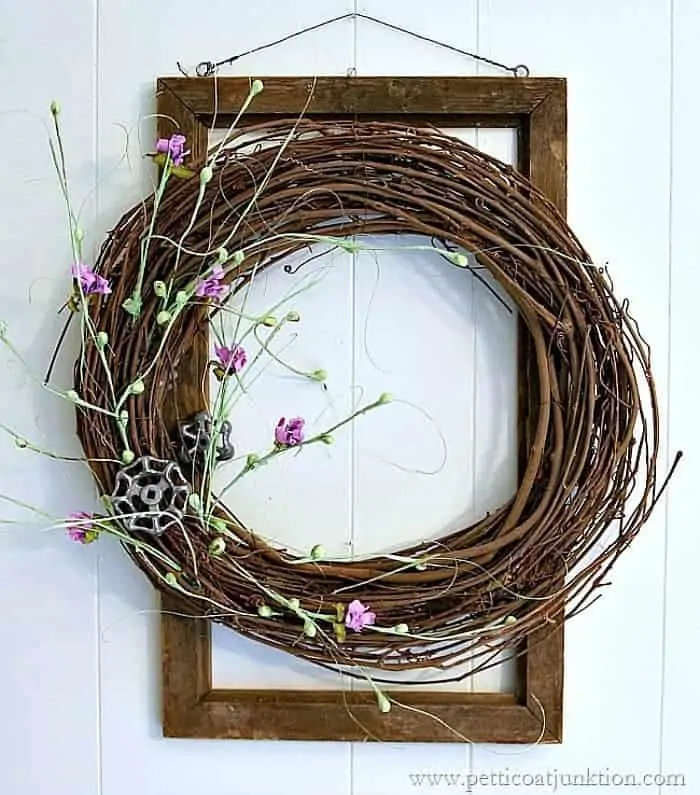 Tie a wreath to a picture frame for a different take on wreaths.
11. Jewelry | Creative Recycling Ideas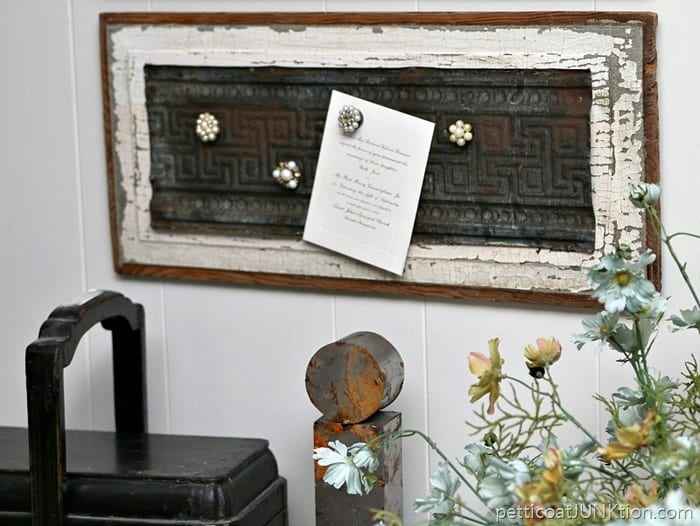 Jewelry can be used for all kinds of things. I especially love recycling vintage jewelry. Magnets are simple to make. Just get a good adhesive like E6000 or DAP and glue an earring or bead to a magnet.
Wrap mason jars or recycled bottles with burlap or pieces of fabric and add bits of jewelry for sparkle. Hot glue jewelry to tote bags or purses. The ideas are endless.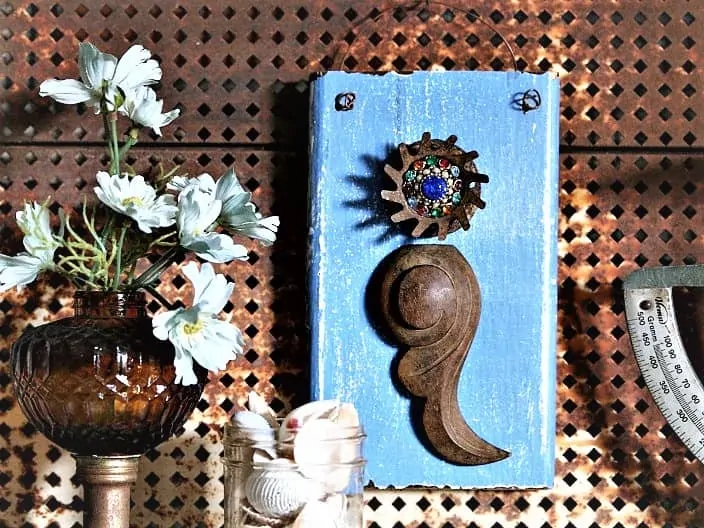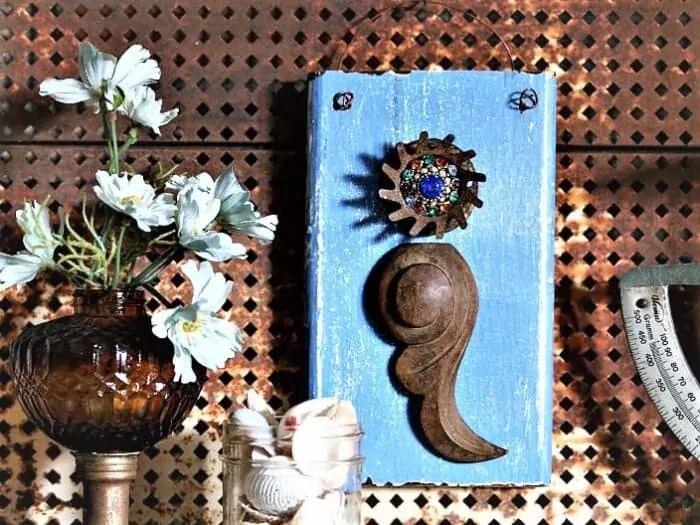 Make a cute mermaid using a brooch or pin and other reclaimed items.
12. Purses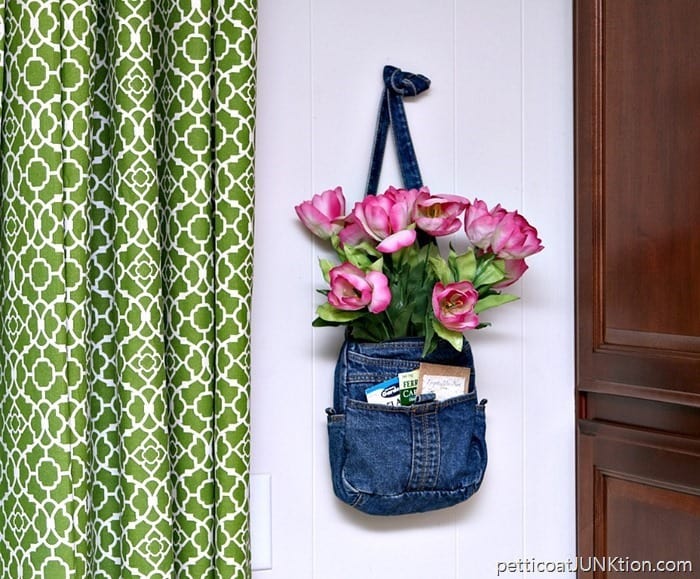 Again, another super easy project. All I did here was add a faux flower bush to the denim bag and seed packets in the purse pockets. As you can see I don't always modify the item and it can be used again in a different way or changed with the seasons.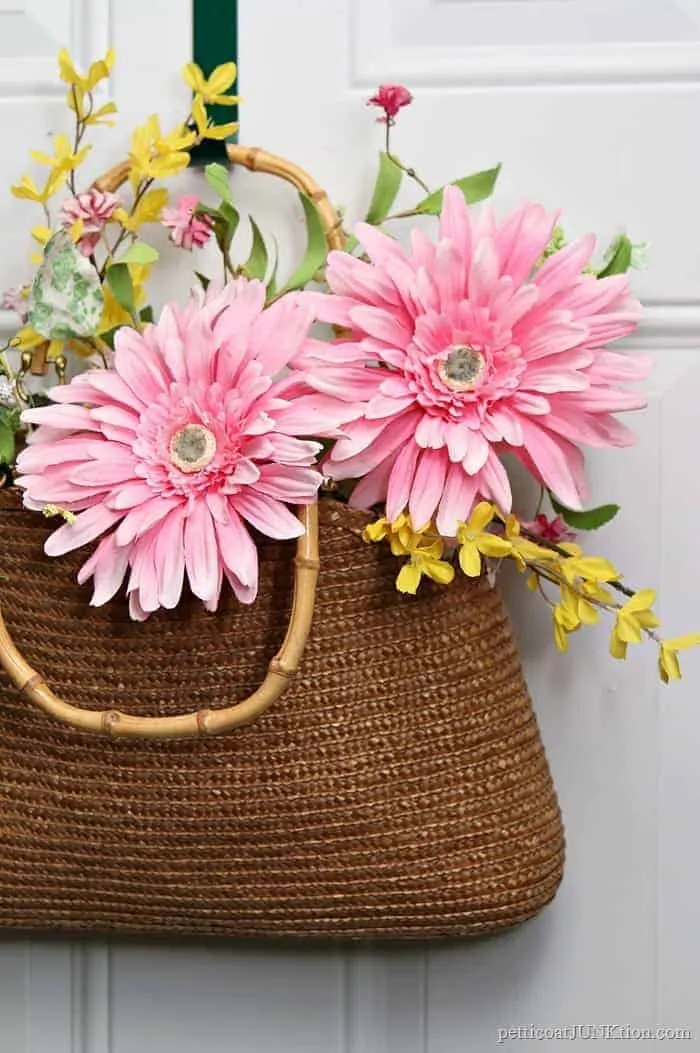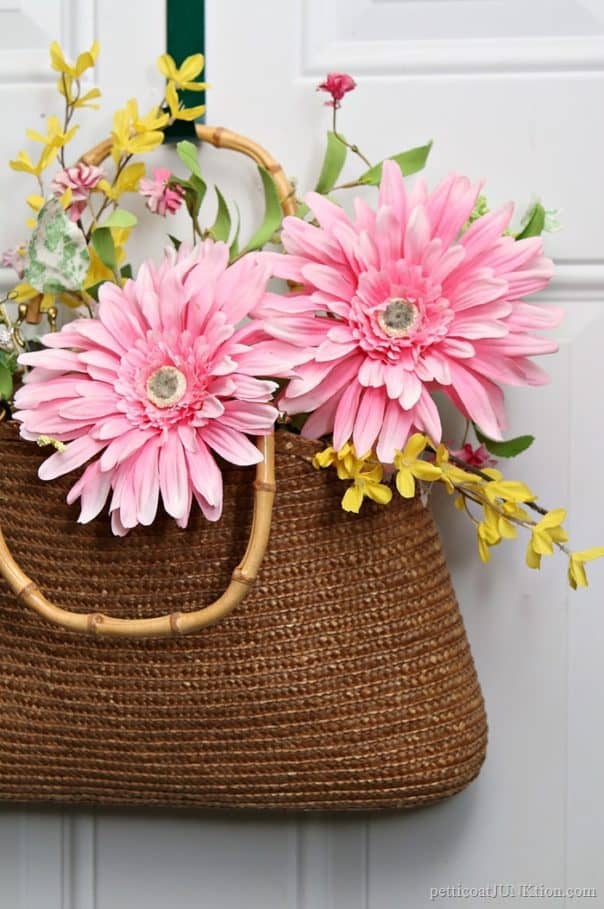 I think straw purses make great flower displays in the Spring and Summer.
13. and 14. Metal Pans and Wood Candleholders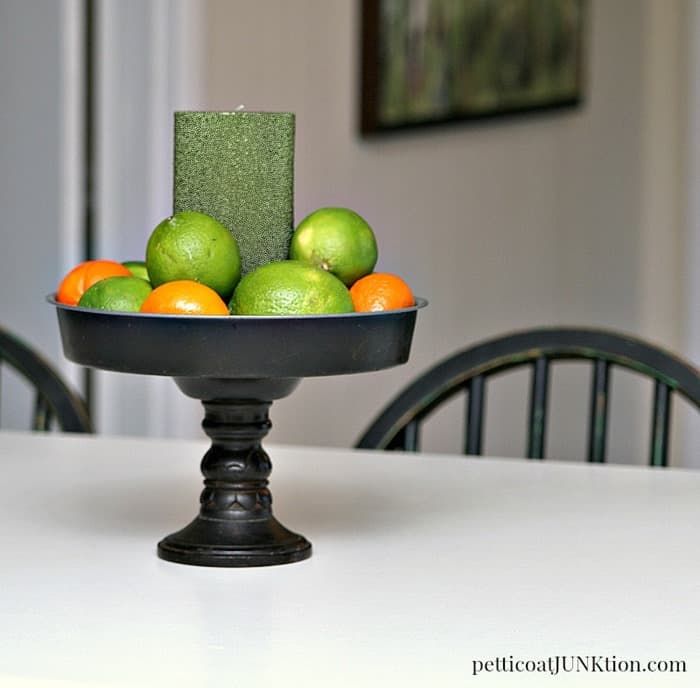 Another statement piece. Glue a wood candlestick to a metal cake pan. Done. Top a candle holder with a mason jar or a small china plate. Use a pie pan as wall decor. Paint it and add a few air plants.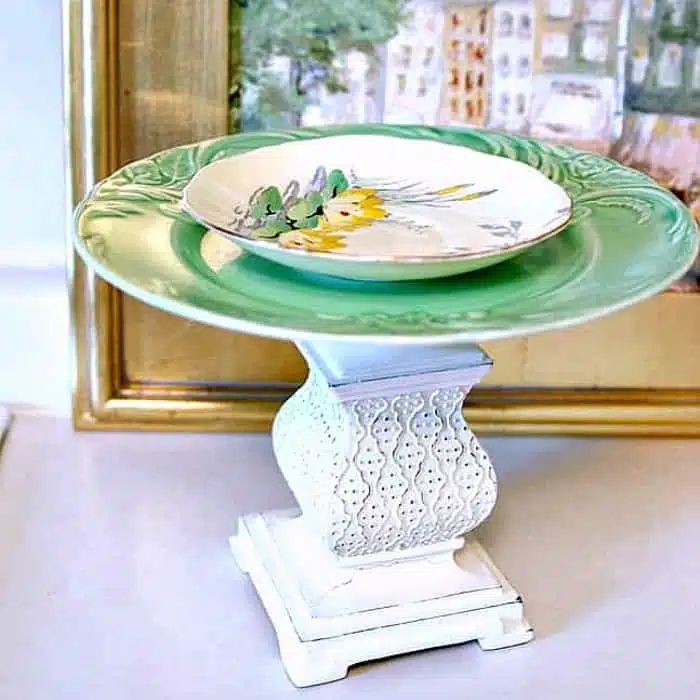 How about the pretty plate with the spray painted wood base?
15. and 16. Shirts and Furniture |Creative Recycling Ideas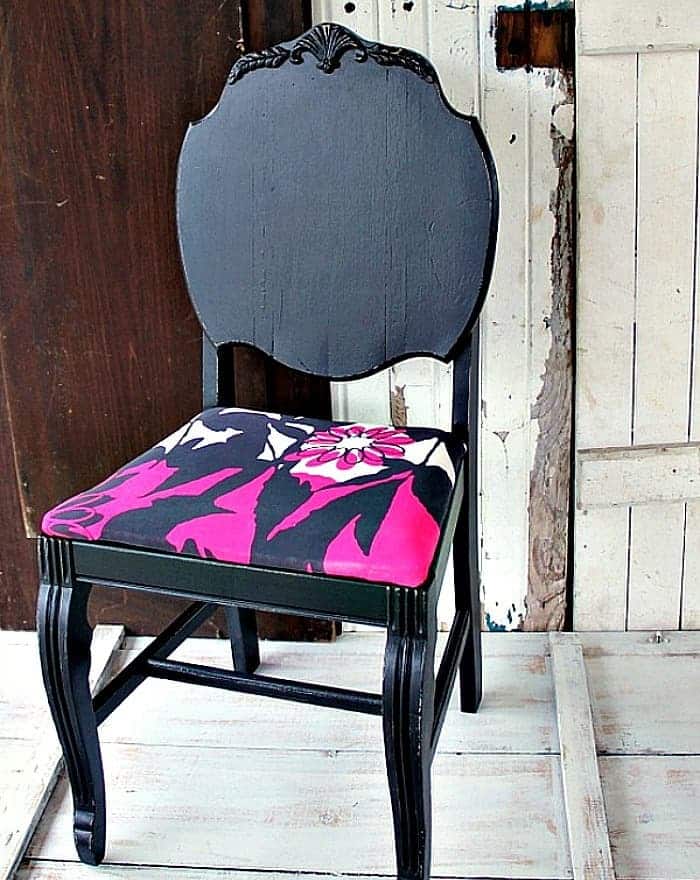 I haven't mentioned it until now, but you guys know……furniture. Don't give furniture away. Paint it, stain it, decoupage it, upcycle it, keep it. The seat cover here is a shirt I outgrew. Loved the design and colors so I put it in my fabric stash. Came in handy.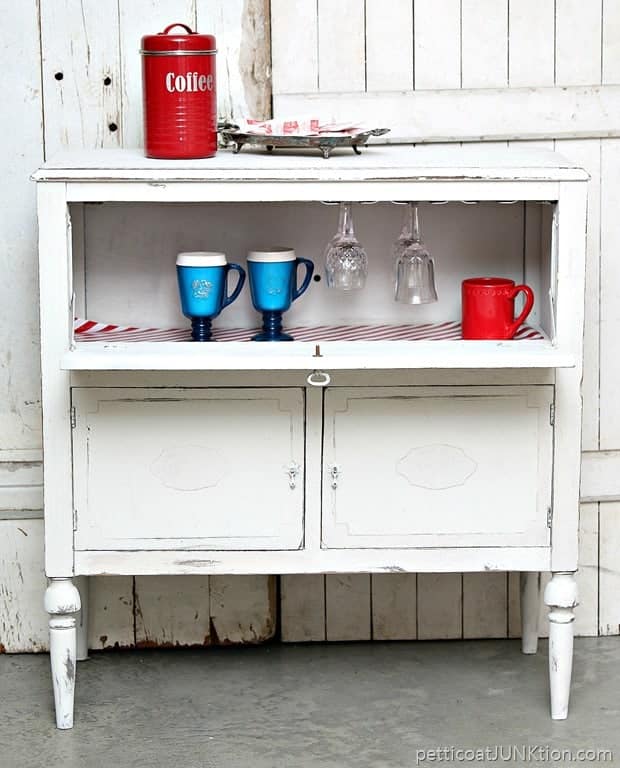 You can upcycle vintage furniture many ways. I like the beverage cabinet we made from this old radio cabinet.
17. Curtain Tiebacks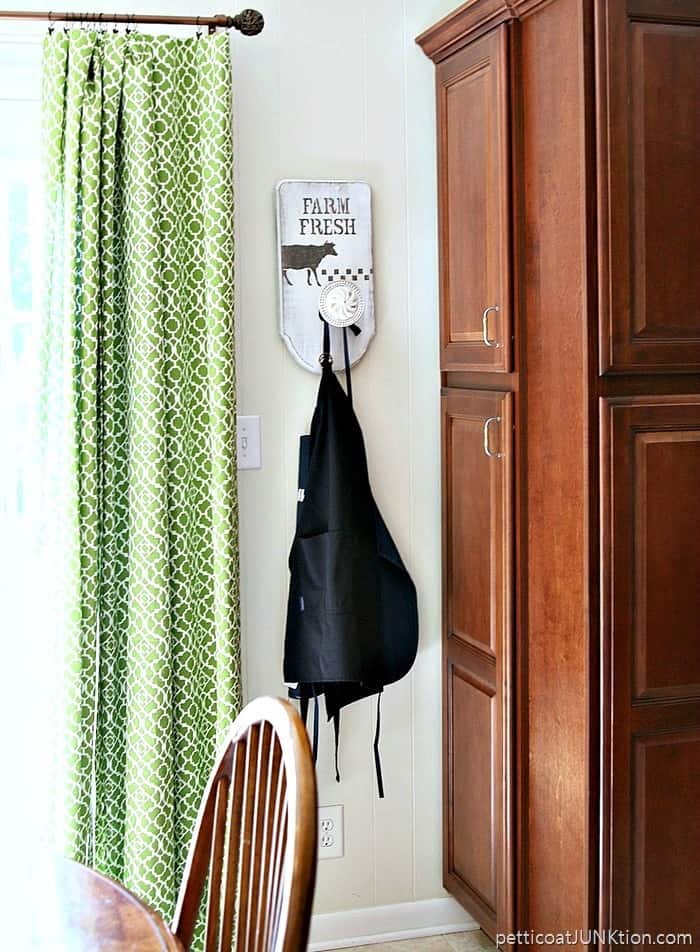 The apron is hanging on a curtain tieback. The painted and stenciled sign needed something else and the tieback was perfect.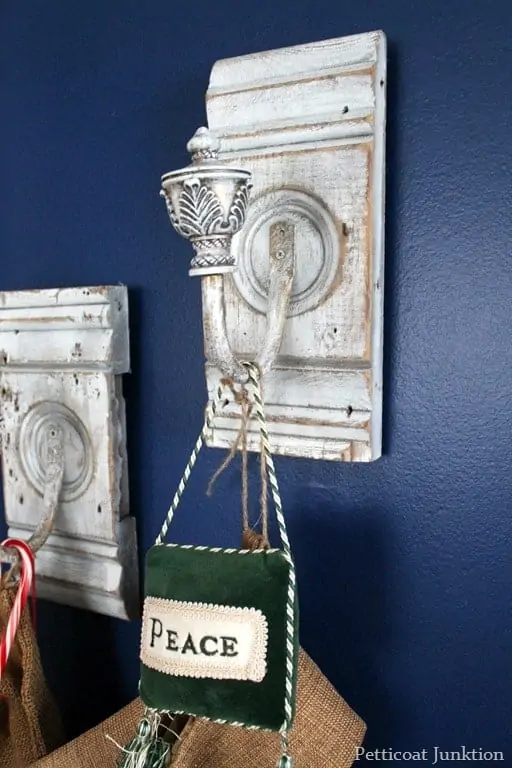 You can also paint a tieback and screw it to vintage molding. What have you recycled and reinvented? I know there are a bunch of things I've left out. Did I give you any recycle upcycle ideas? Share some of your ideas with me!
List Of DIY Tools
These easy recycle/restyle projects don't require any power tools or any fancy shcmancy stuff either. This is the list of tools you would need to do everyone of the projects; scissors, screwdriver, paint, paint brush, hammer, good all-purpose adhesive/glue, heavy duty stapler.
Now, that wasn't what you expected was it? I bet you have access to all or most of those things.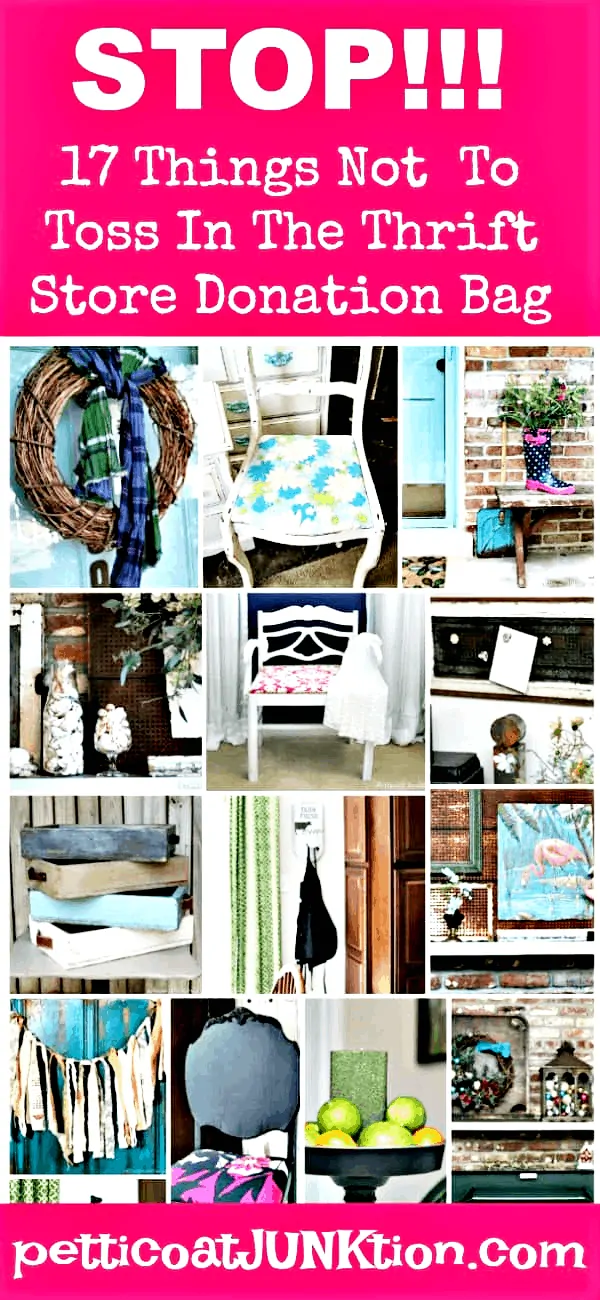 Creative Recycling Ideas
You can donate your items to Goodwill, the Salvation Army, or local thrift stores. There is nothing wrong with that. But think about how you can repurpose an item before donating it. Money saver!
My latest favorite upcycle is the vintage movie reels I turned into succulent displays. The video is below.....
What have you recycled that I haven't thought about or what would you like to see me recycle? Leave a quick note if you have time. Have a great day and I'll see you tomorrow…..or the next day! Kathy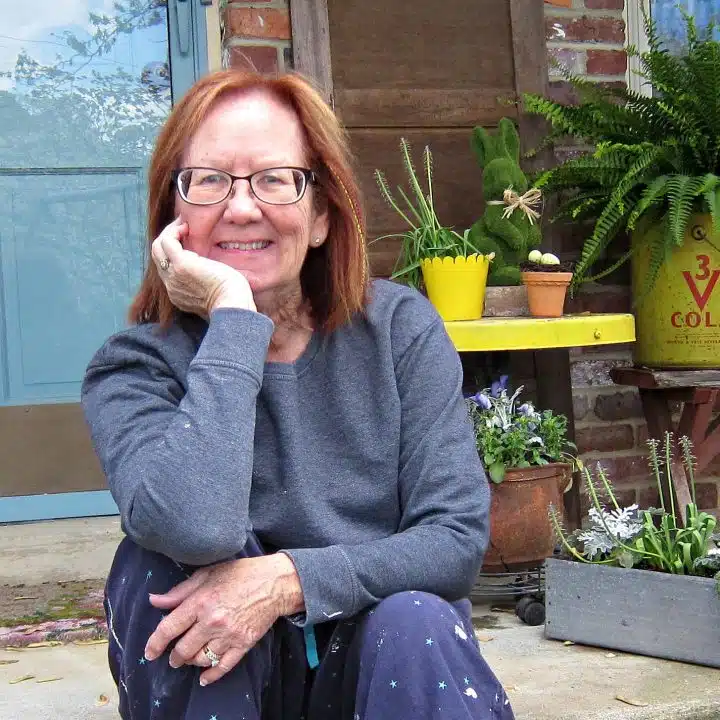 Author: Kathy Owen
Kathy Owen is the founder of the home decor blog Petticoat Junktion where she shares tutorials on painting furniture and upcycling thrifty finds into unique home décor. Her DIY projects have been featured on the Home Depot Blog, Plaid Crafts, Behr Designer Series, and in numerous magazines. Kathy's newest website is HappyHomeDIY.com