Spray Paint Glass Bottles
Spray paint is one of my best friends. Did you know you can spray paint glass bottles, decanters, vases, milk bottles, etc.? You can! Be careful what you toss out. Look at things with a critical eye before tossing into the recycle bin or the trash. You might have new home decor on the cheap.
Spray paint is one of the easiest ways to upcycle, update, make new, any item. Canned spray paint has definitely improved over the years. Now you can spray paint just about anything and not only will it be beautiful but the spray paint will stick….for good.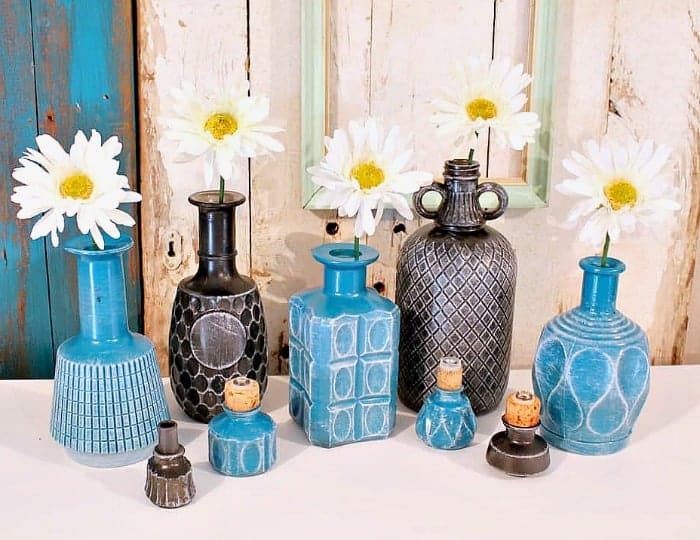 Spray Paint Glass Bottles
I used Rust-Oleum spray paint to beautify these decanters. Ok, maybe they aren't exactly decanters but since this is a family blog I prefer to use this term. How about those glass stoppers too. Don't overlook things like this. They make unique decorator items.
I purchased several of the glass decanters at the Nashville Flea Market last month. On the last day of the market you can get some really good deals.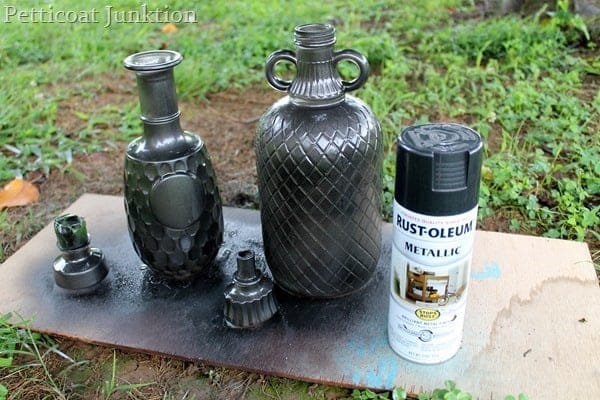 Petticoat Junktion is a participant in the Amazon Services LLC Associates Program. As an Amazon Associate I earn from qualifying purchases.
I used Rust-Oleum Black Night Metallic on a few of the pieces. This is such a pretty color, deep and rich. Not black, not brown, not gray!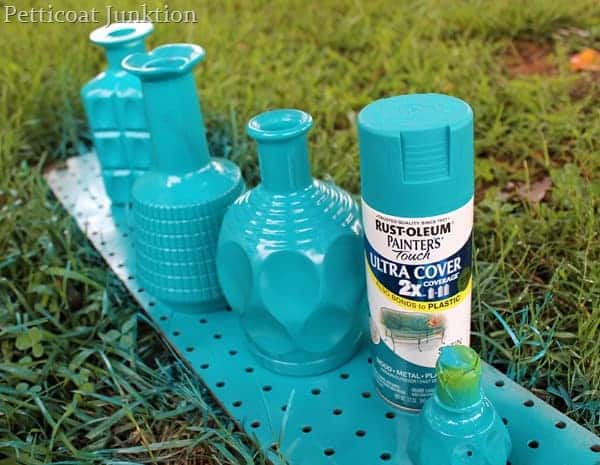 Satin Lagoon
And on the others I used Rust-Oleum Satin Lagoon. This is another of my favorite spray paint colors. Got to have a fun bright color.
The knobs on my Nautical Makeover are satin lagoon, my detailed picture frames are satin lagoon, and my faux mirror with frame is sprayed with satin lagoon. Told you I loved this color.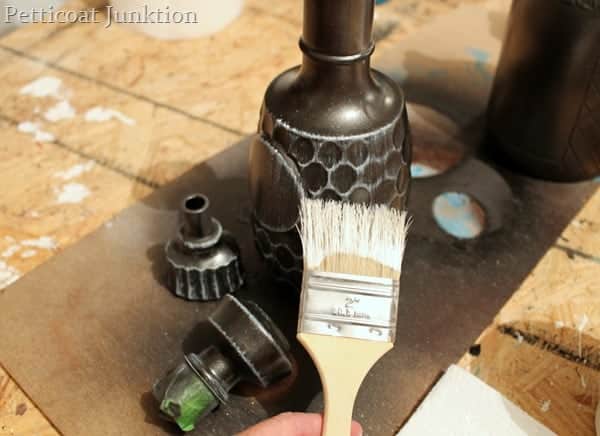 All the Best Beds in a Box. Lowest Prices Guaranteed. Get Your Favorite Brands Like Nectar, Lull, Purple and Tuft & Needle Shipped to Your Door for Free. Shop Now at MattressFirm.com!
If I had to describe the Black Night Metallic spray paint I would say it is closer to a dark, dark, gray than black.
After the spray paint was dry, I dry brushed white paint on the raised details. To do this you need to get paint on your brush then dab basically all the paint off on a paper towel. Your brush must be very dry. Then just swipe your brush over the details until you get the look you want. Trust me…..you'll be surprised how easy it is!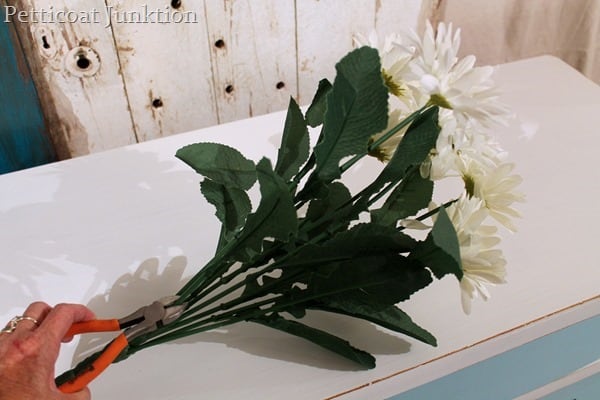 The flower bush came from Hobby Lobby. I cut the blooms apart with wire cutters.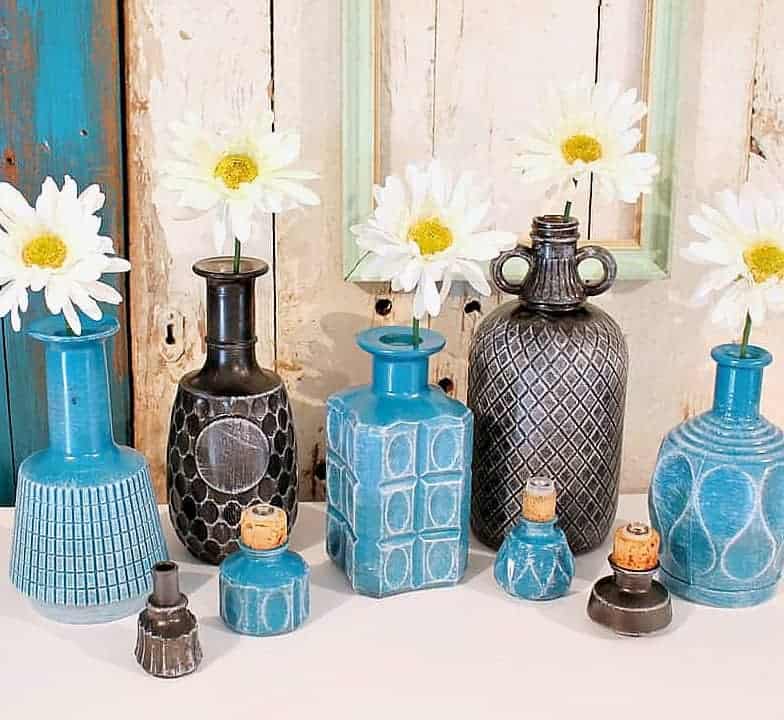 Spray Paint Glass Bottles
I love the contrast of the white with the dark bottles. It's cute to put a small flower in the decanter stoppers also, but it was a little much for this display. Don't you think painting the stoppers are fun! They do look great with small flower stems in them. Give it a try.
Find my favorite spray paint colors on the Petticoat Junktion Amazon Page here.
The pretty bottles make me smile and also do the happy dance. They looked great with my Aqua and White furniture makeover  Do you like the colorful decanters? Or do you prefer the clear glass?
If you've never dry brushed anything guess what. I have a video for you where I am dry brushing furniture. Same deal for any project. See the video…..
Dry Brush Paint Technique Video
Did you know you could spray paint glass? I even use spray paint on furniture. At one time I considered this a no-no. I still haven't spray painted a whole piece of furniture.
Painting drawer fronts on a couple of projects is as far as I've gone with spray paint for furniture. One of my favorite turquoise projects has silver drawer fronts. You can see it here….Turquoise and Silver Nightstand.
Silver Metallic spray paint makes a nice contrast to white paint. I have a small side table with this paint finish. See it here…..White Table With Silver Highlights. This makeover also features Gold Metallic spray paint for the furniture pull.
I'm always glad to see you guys. Thanks for stopping by and have a great week, Kathy