Don't just spray paint glass bottles......dry-brush them with a bit of white paint for a one-of-a-kind look. Spray paint is one of my best friends. Did you know you can spray paint glass bottles, decanters, vases, milk bottles, etc.? You can!
Spray paint is one of the easiest ways to upcycle, update, make new, any item. Spray paint has definitely improved over the years. Now you can spray paint just about anything and not only will it be beautiful but the spray paint will stick....for good. Think before you toss stuff out. Look at everything and think how you can repurpose the items. You might have new home decor on the cheap.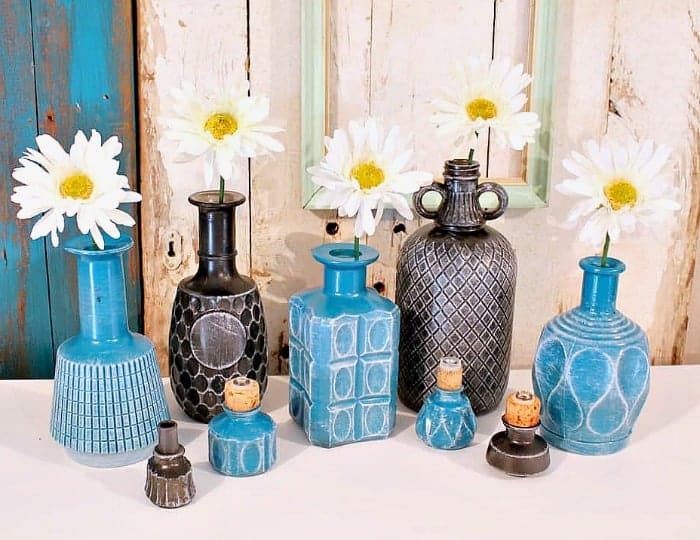 Spray Paint Glass Bottles
I used Rust-Oleum spray paint to beautify these decanters or liquor bottles. How about those glass stoppers too? They make unique decorator items. I've used a bottle stoppers as miniature vases for small single flower stems.
I purchased several of the glass decanters at the Nashville Flea Market . On the last day of the market you can get some really good deals.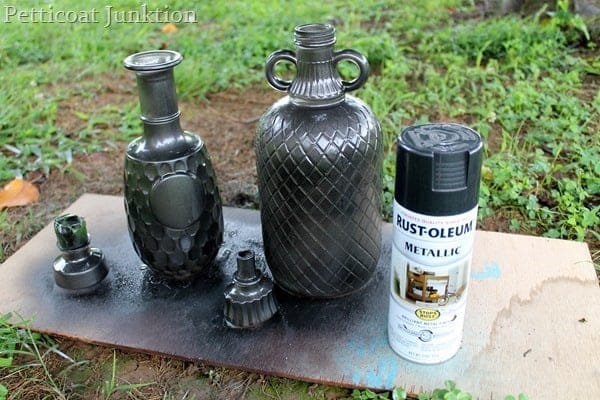 I used Rust-Oleum Black Night Metallic on a few of the pieces. This is such a pretty color, deep and rich. Not black, not brown, not gray! Be sure and clean the bottles well inside and out. Oil or price tag residue will keep the paint from sticking.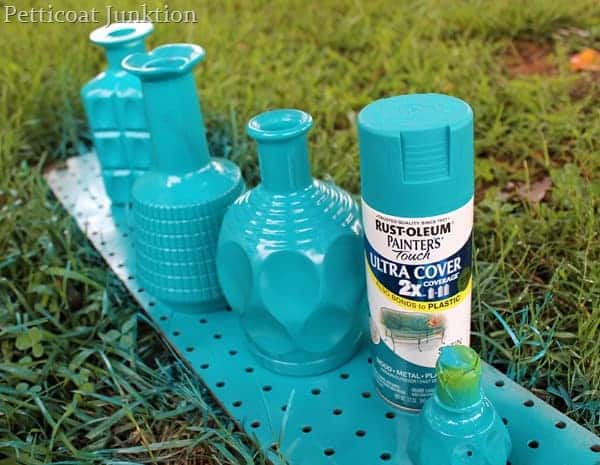 And on the others I used Rust-Oleum Satin Lagoon. This is another of my favorite spray paint colors. Got to have a fun bright color. The knobs on my Nautical Makeover are satin lagoon, my detailed picture frames are satin lagoon, and my faux mirror with frame is sprayed with satin lagoon. Told you I loved this color.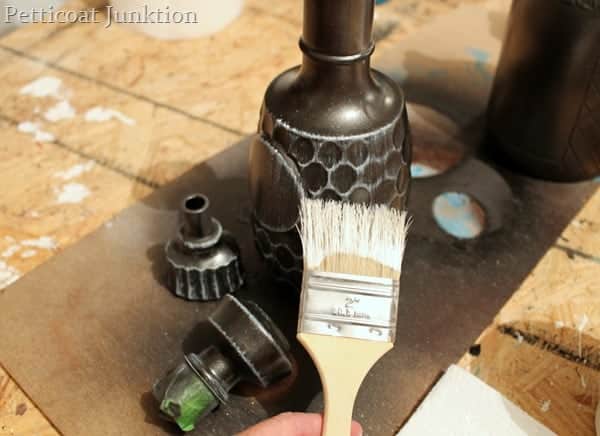 If I had to describe the Black Night Metallic spray paint I would say it is closer to a dark, dark, gray than black.
After the spray paint was dry, I dry brushed white paint on the raised details. To do this you need to get paint on your brush then dab basically all the paint off on a paper towel.
Your brush must be very dry. Then just swipe your brush over the details until you get the look you want. Trust me…..you'll be surprised how easy it is! The flower bush came from Hobby Lobby. I cut the blooms apart with wire cutters.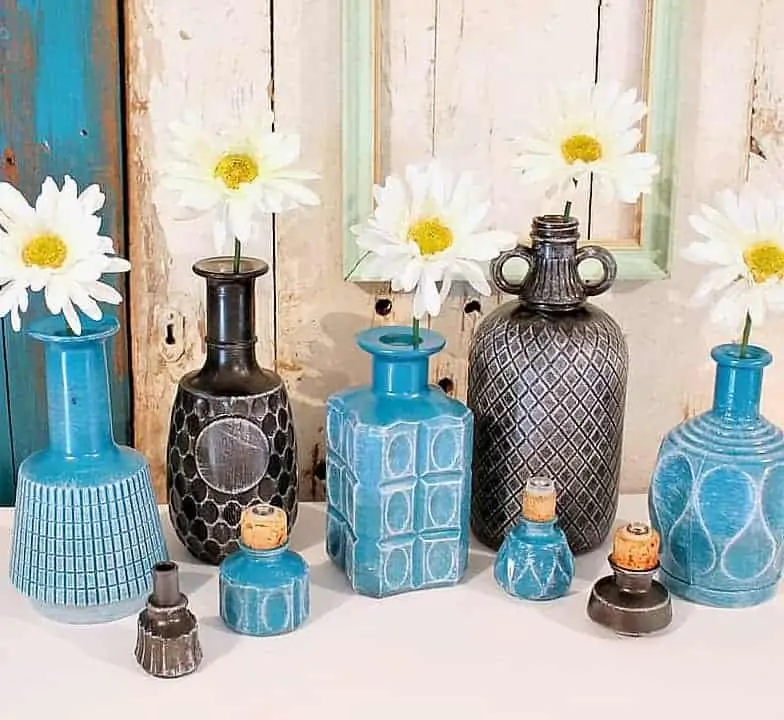 I love the contrast of the white with the dark bottles. It's cute to put a small flower in the decanter stoppers also, but it was a little much for this display. Don't you think painting the stoppers are fun! They do look great with small flower stems in them. Give it a try.
The pretty bottles make me smile and also do the happy dance. They looked great with my Aqua and White furniture makeover  Do you like the colorful decanters? Or do you prefer the clear glass? Now how about another project where I spray painted vases and mason jars white.
Spray paint projects are quick and fun. When the weather is nice I grab a few items, set them up outside and start painting. I was trying to stage photos for the Radiant Orchid Chest of Drawers a couple of weeks ago and couldn't find a darn thing that worked! The Radiant Orchid is a beautiful rich color and I spray painted the hardware white for a bold contrast.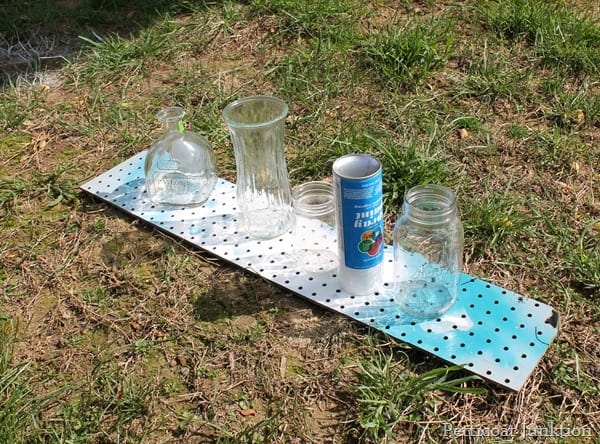 So I decided to spray paint a few glass jars in the same white, in hopes that I could use them in the display. I gathered a few mason jars, ball jars, and assorted glass pieces I had in my stash. The white spray paint is the Wal-Mart brand. If I haven't used a can of spray paint in a few days I set the can upside down for a few minutes then shake it really well before using it.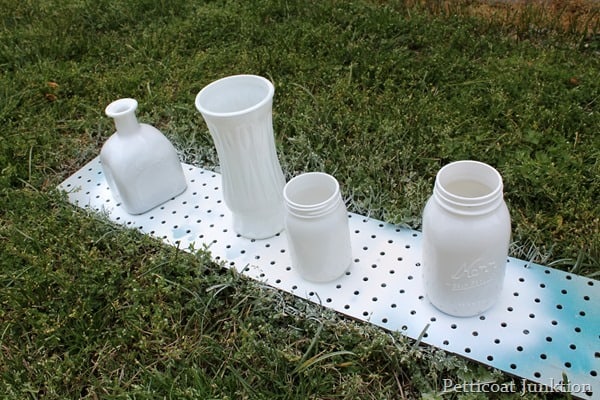 It only took 10 minutes to spray the jars.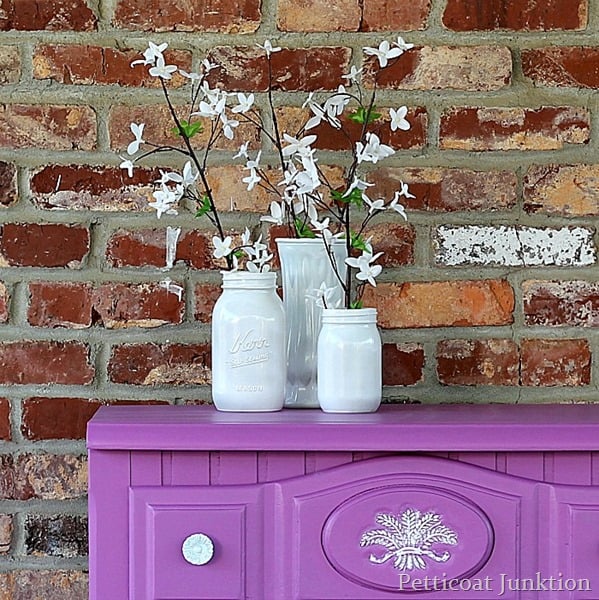 I added a few branches of small white flowers and …..ta-dah! Approximate cost of  the project is $2. I had all the supplies on hand. Such a simple project, yet the white jars and flowers make such an impact. What do you think?
If you've never dry brushed anything guess what. I have a video for you where I am  dry brushing furniture. Same deal for any project. See the video.....
Dry Brush Paint Technique Video
Did you know you could spray paint glass? I even use spray paint on furniture. At one time I considered this a no-no. I still haven't spray painted a whole piece of furniture.
Painting drawer fronts on a couple of projects is as far as I've gone with spray paint for furniture. One of my favorite turquoise projects has silver drawer fronts. You can see it here....Turquoise and Silver Nightstand.
Silver Metallic spray paint makes a nice contrast to white paint. I have a small side table with this paint finish. See it here.....White Table With Silver Highlights. This makeover also features Gold Metallic spray paint for the furniture pull.
I'm always glad to see you guys. Thanks for stopping by and have a great week, Kathy
Author: Kathy Owen (Petticoat Junktion)
Kathy is the founder of PetticoatJunktion.com, a home décor blog focused on repurposing and upcycling furniture, old hardware, rusty stuff, and thrifty finds into unique home décor. Kathy's projects have been featured on the Home Depot Blog, Plaid Crafts, Behr Designer Series, and in numerous magazines. Read more about Kathy here.