I love metallic spray paints. My favorites right now are silver and gold. I normally don't like to use spray paint on furniture but I do have a few exceptions. Painting parts of the furniture like drawer fronts or legs seems to work pretty well with spray paint. Spray painting the whole piece doesn't work very well. This table project I have today has a couple of metallic spray paint colors in the makeover and I have to say the table is a winner.
This post is short and sweet with not too many photos and "talking"! You'll have to let me know what you think about the finished look and if you have ever used spray paint on furniture.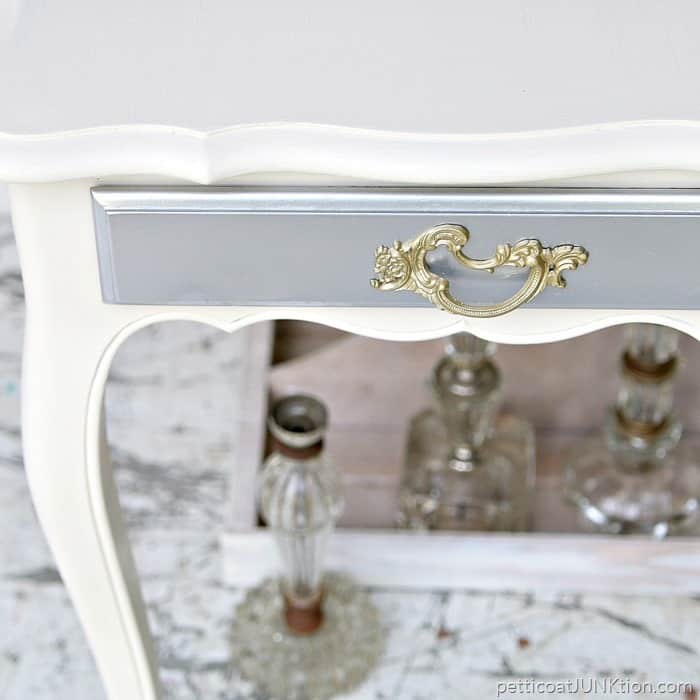 The table looks really impressive with the silver metallic drawer and the gold knob. All sassy and classy at the same time.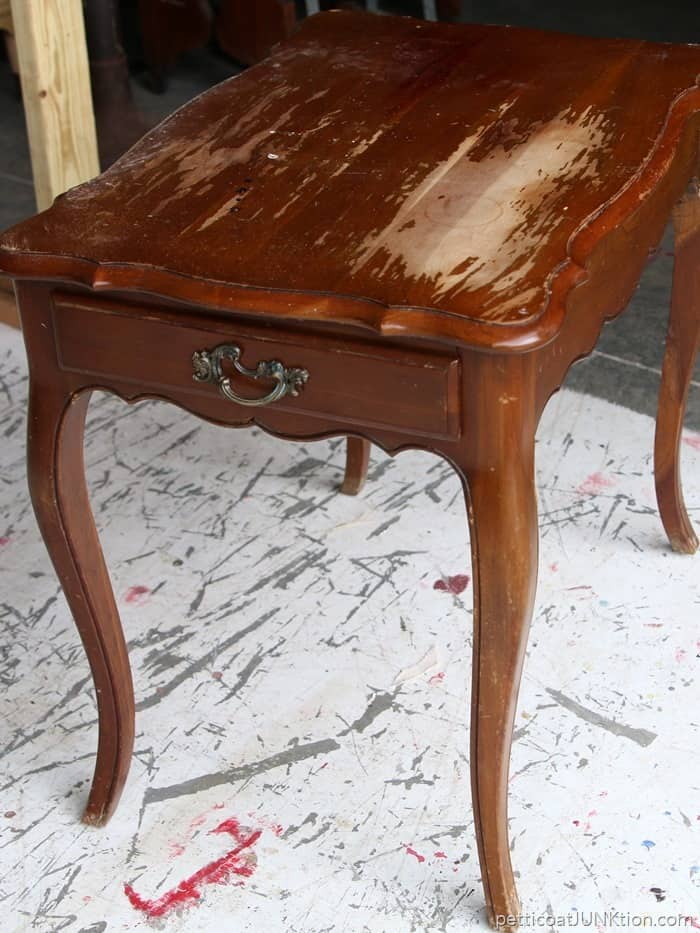 The project piece is a sad little table that needed a lot of love. The JTS bought it at an auction. I think he said he paid $2 for it. Can't beat that.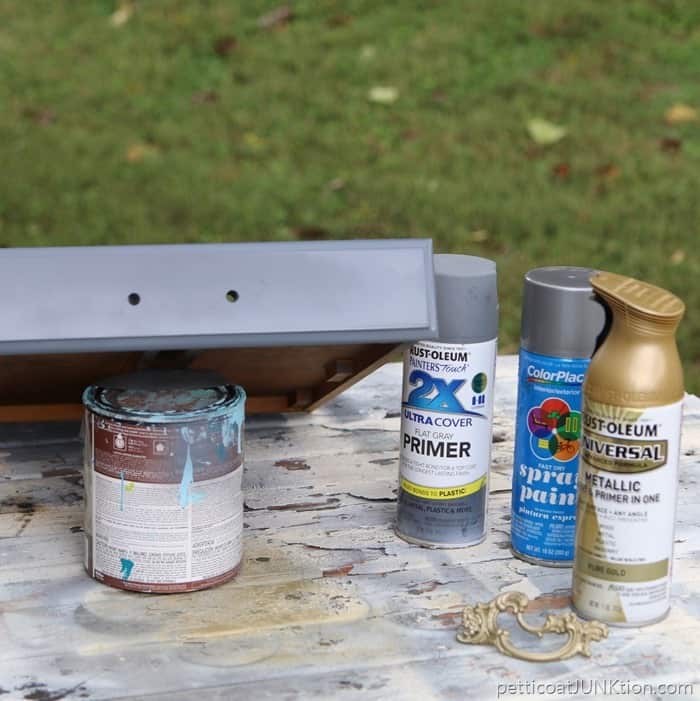 I primed the drawer front with Rustoleum Gray Primer then used spray paint from Walmart, Aluminum color. I used the gray primer because it is a great base for silver paint. You don't have to use as much spray paint! I've bought several brands and colors of silver spray paint but this silver is my favorite right now.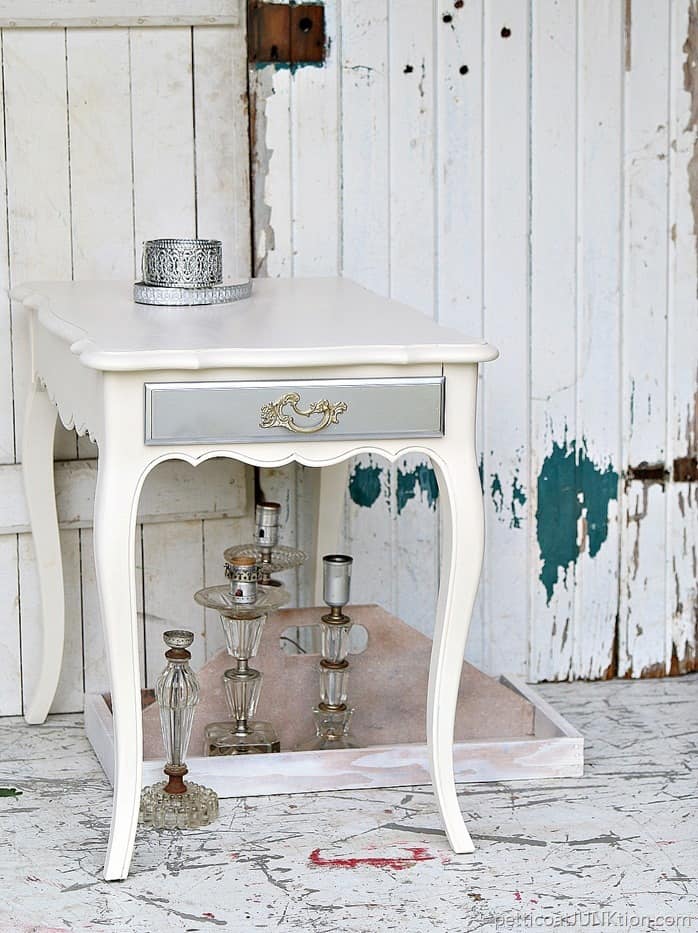 I painted the original hardware with RustOleum Metallic Pure Gold spray paint (find it here on Amazon). The body of the table is painted with Reclaim paint in off-white. No distressing on this piece. I know that's hard to believe!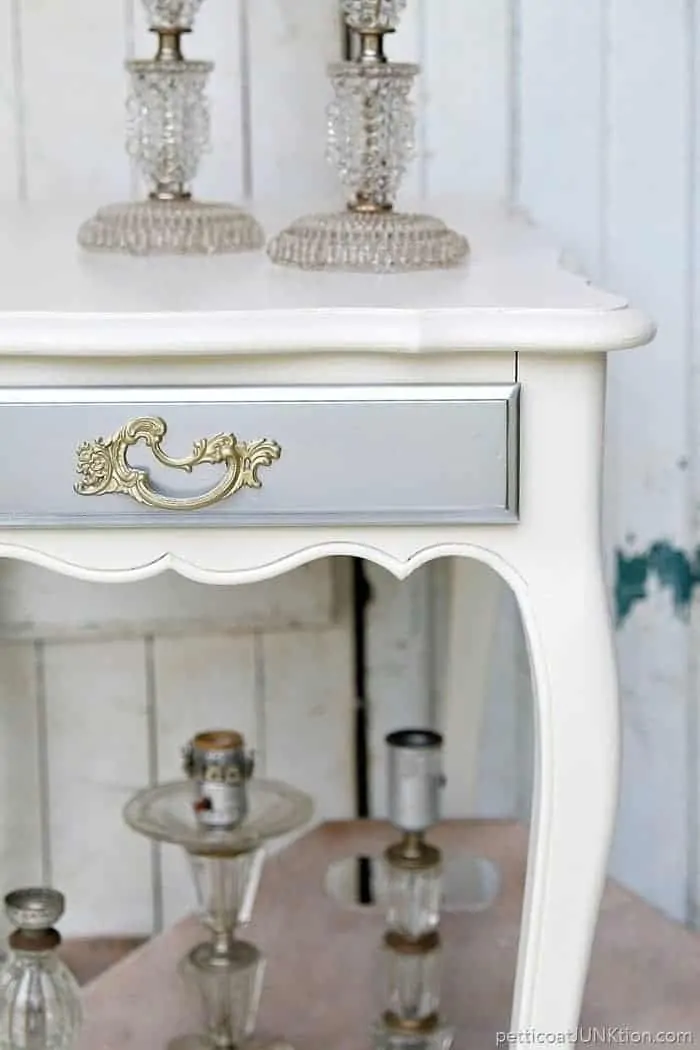 This little table looks so much better and it says "Glitz and Glamour" to me without being over the top. I'm not a fan of using spray paint for a complete furniture makeover but a bit on drawer fronts or other details is fine in my book. I find when trying to paint a big piece with spray paint that there are dark and light spots. Not sure how to describe it but like the paint was sprayed heavier in one area making it darker?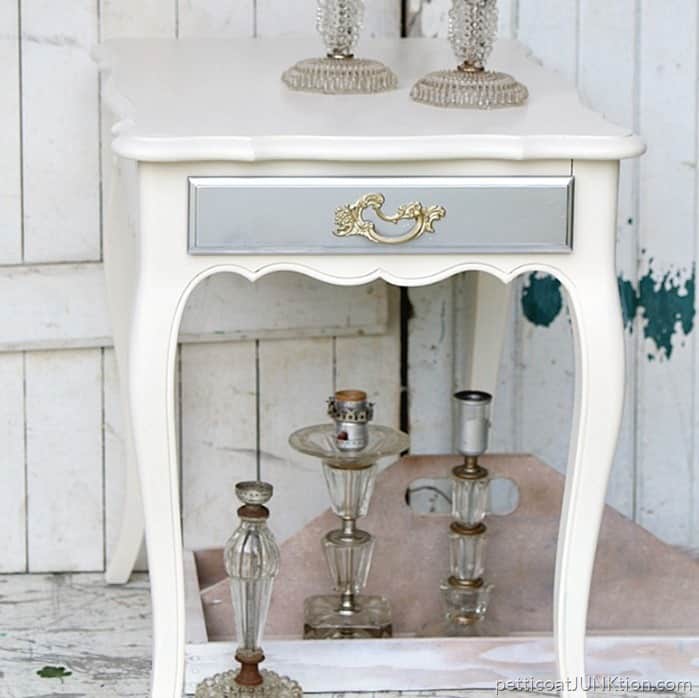 I staged the photos using several pieces from my vintage lamp collection (stash). I have a weakness for glass lamps.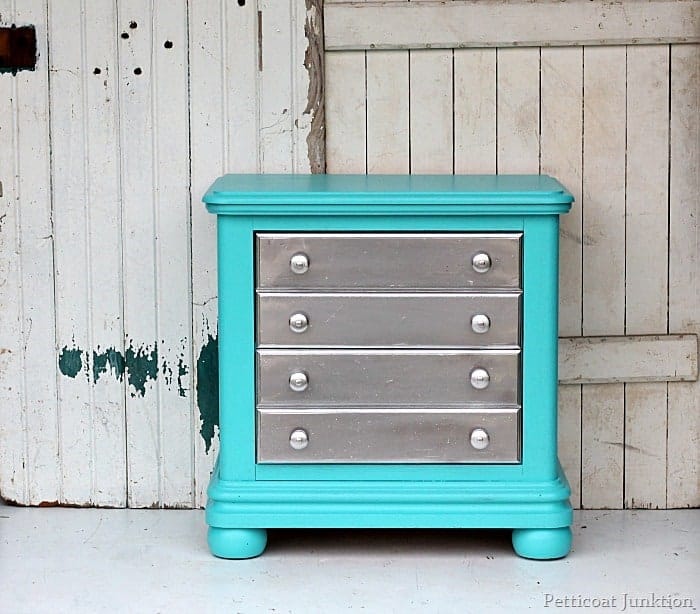 The turquoise nightstand above has silver drawers too. You can find that project here...Spray Paint Furniture Metallic Silver And Add Turquoise To The Mix
If you like shabby chic white furniture you will love my latest video…..
Products used in this project:
RustOleum Gray Primer
RustOleum Metallic Pure Gold
ColorPlace Aluminum Spray Paint - Walmart
Reclaim Paint- Off White
Leave a note if you have time and have a great day, Kathy
Author: Kathy Owen (Petticoat Junktion)
Kathy is the founder of PetticoatJunktion.com, a home décor blog focused on repurposing and upcycling furniture, old hardware, rusty stuff, and thrifty finds into unique home décor. Kathy's projects have been featured on the Home Depot Blog, Plaid Crafts, Behr Designer Series, and in numerous magazines. Read more about Kathy here.