It's easy to make multi-colored mercury glass using the paint colors of your choice. The spray paint technique takes less than 10 minutes.
I've made mercury glass in the past just using silver spray paint, but this time I added layers of gold and bronze to the silver. The results are amazing. I have the full tutorial for you plus, today is Thrift Store Decor Day, and you know what that means! Links to thrifty DIY are at the bottom of the post.
How to make Multi-Colored Mercury Glass
I love making mercury glass because the faux finish is different every time. Doesn't matter that you use the same technique, the glass will always look a bit different. And that's good!
Select Clear Glass Vases or Bottles for your Mercury Glass Project.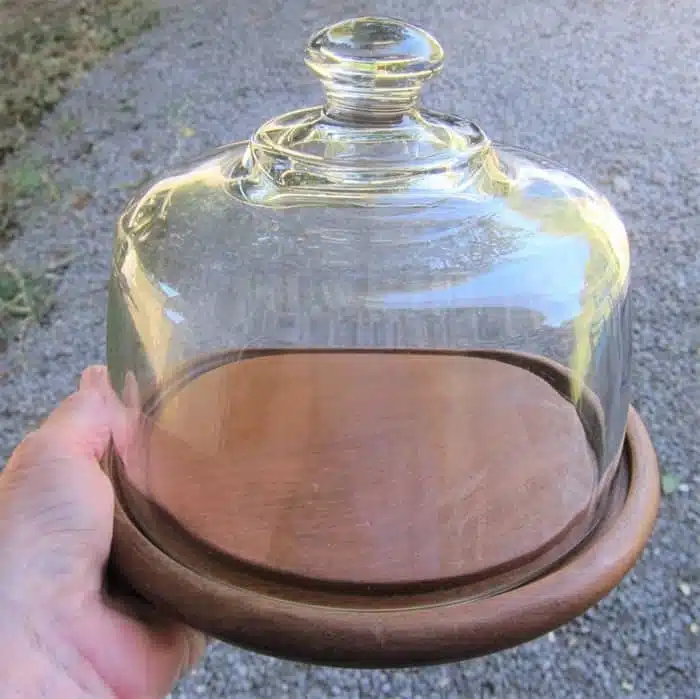 I found the cheese ball dome with base on my junk shelf. Don't remember where I purchased it. The photo above shows how it looked after a good cleaning because it was filthy when I bought it.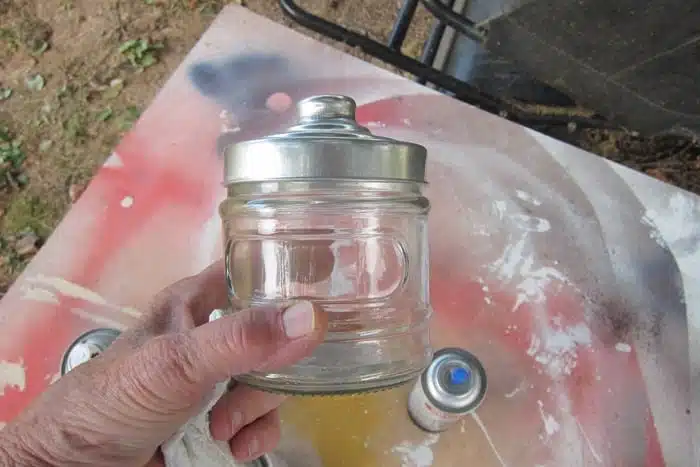 I also had this little jar from Dollar Tree and another found treasure to work with. You don't need a junk stash just run to the thrift store or Dollar Store for project pieces.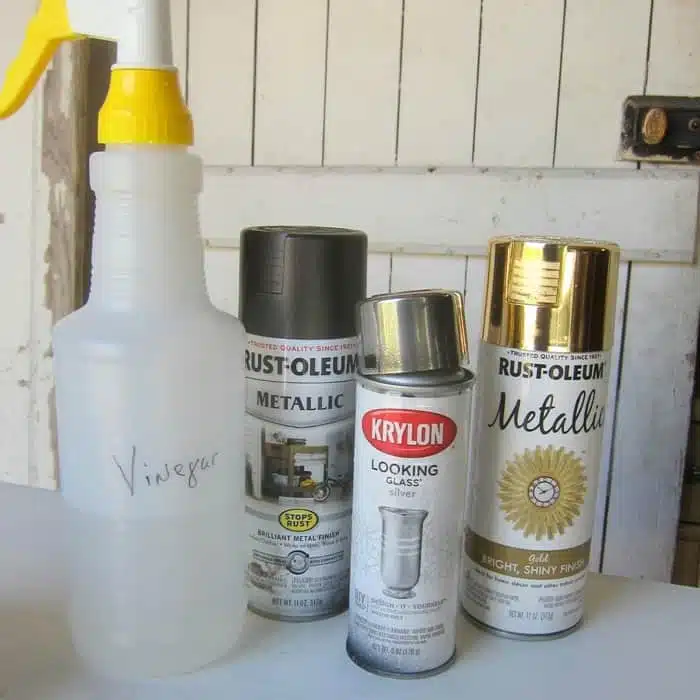 For this project, I found these colors to be the best;, Krylon Looking Glass Silver spray paint, Rust-Oleum Metallic Gold Bright Shiny Finish spray paint, and Rust-Oleum Metallic Oil Rubbed Bronze.
I have tried other silver paint colors to make mercury glass but the Looking Glass spray paint is the only one that achieves the unique mercury glass finish. The spray bottle is filled with vinegar.
Mist The Glass With Droplets of Vinegar
First, make sure your glass piece is sparkling clean. I use Simple Green to clean just about everything.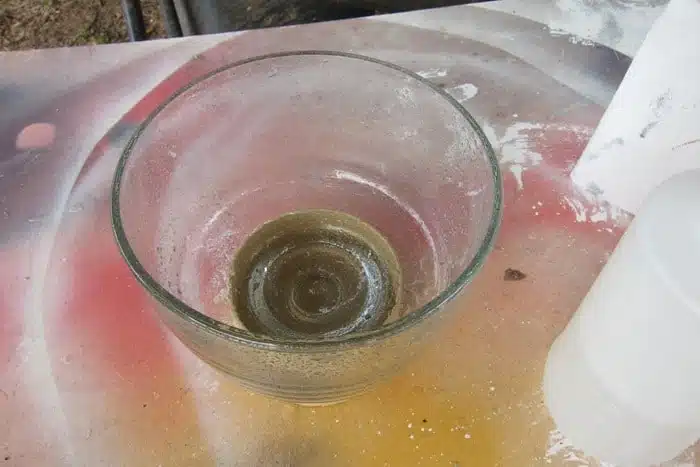 There are various tutorials out there using different misting agents. Some use water only, some a mix of vinegar and water, and some just use straight vinegar. I used straight vinegar just to make the project easier because I'm lazy. Set the sprayer on the bottle to fine mist and lightly mist the inside of your project piece with small vinegar droplets. Do not mist or spray paint the outside of the glass.
Spray The Glass With Metallic Paints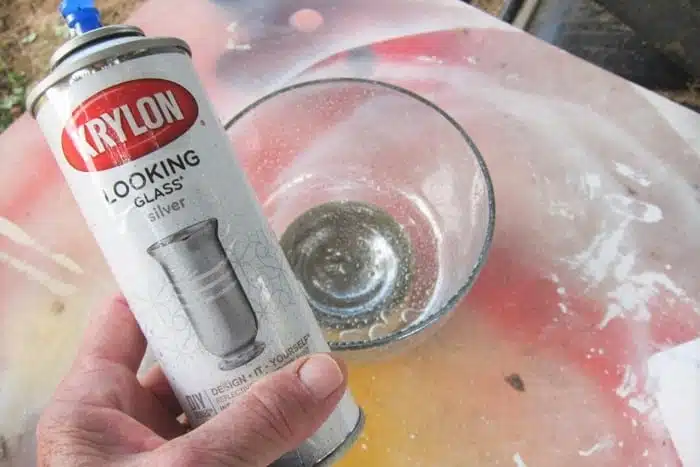 Immediately after misting the glass with vinegar, spray the inside of the glass with Krylon Looking Glass spray paint just lightly. Let it sit for a minute, then flip right side up for a minute.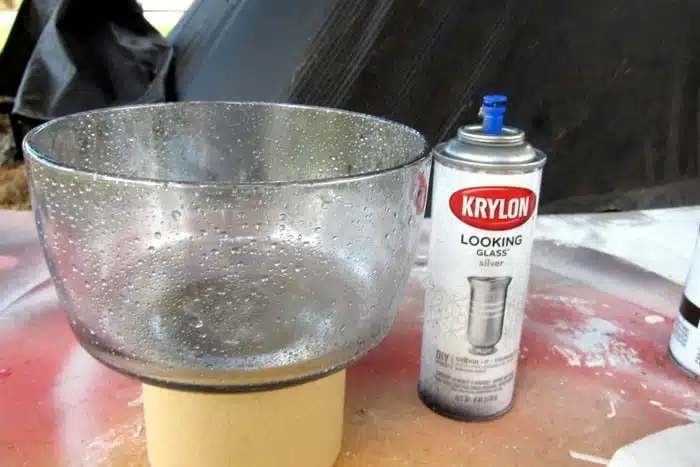 Since the dome had a glass knob and wouldn't sit flat when turned upside down, I found a round box to sit the dome on, and it worked perfectly.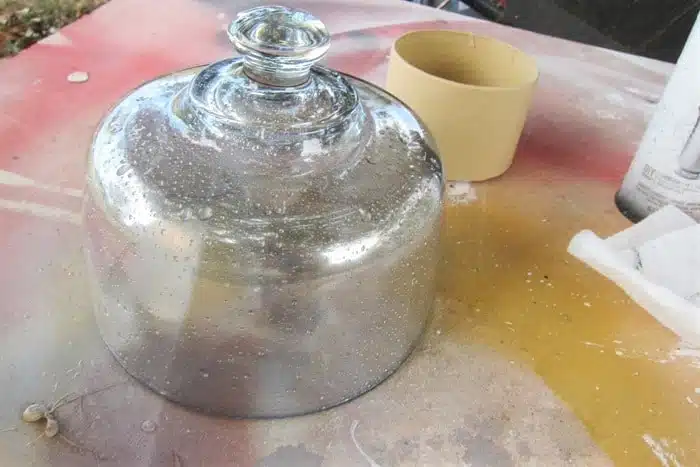 I repeated the spray paint step with the Looking Glass paint three times in total. I only misted the glass with vinegar once, not in between layers of paints. It's unnecessary to wait for each layer of paint to dry before adding the next layer.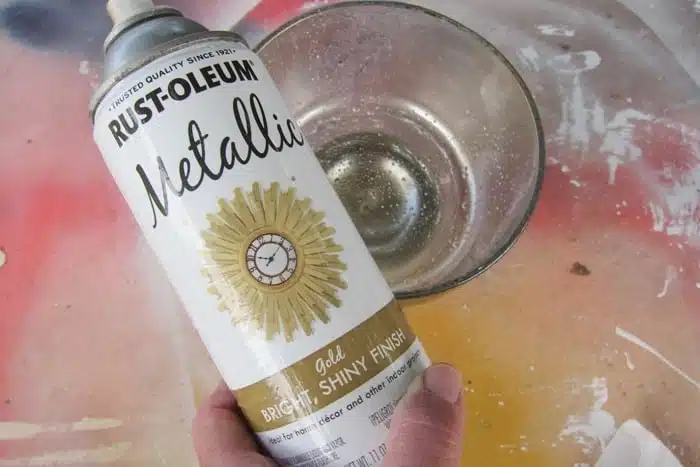 Apply Second And Third Layers of Metallic Spray Paint Colors
Moving on the gold spray paint. I lightly misted the glass with gold spray paint and let dry for one minute, and then I turned the dome right side up for a minute. Then I finished the look with a light mist of Rust-Oleum Oil Rubbed Bronze which was the dark background.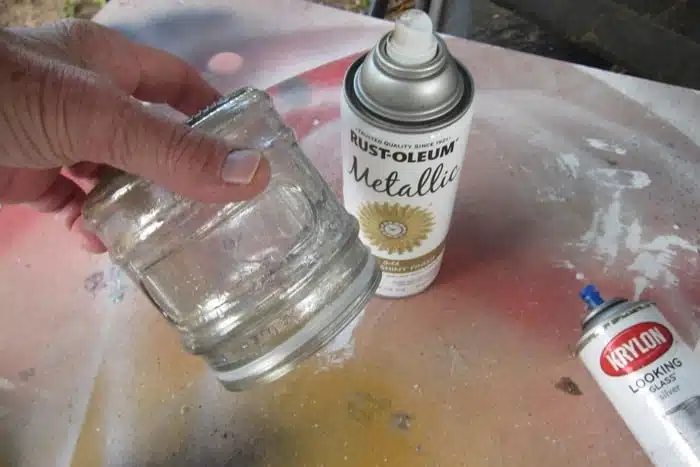 Remember I mentioned selecting three glass pieces to work on? Well, I painted them all at the same time. This is one of those times where it's just as easy to kick out three project pieces as one piece!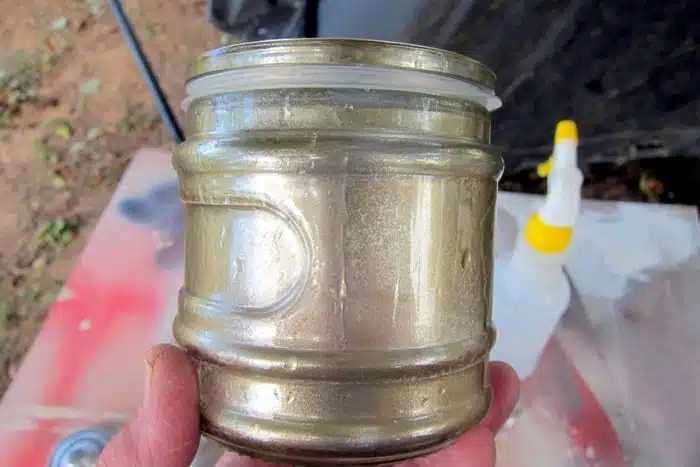 I did vary the colors a bit on the pieces. The Dollar Tree piece above only has one coat of silver paint and two coats of gold paint with one coat of the oil-rubbed bronze. I love the gold look.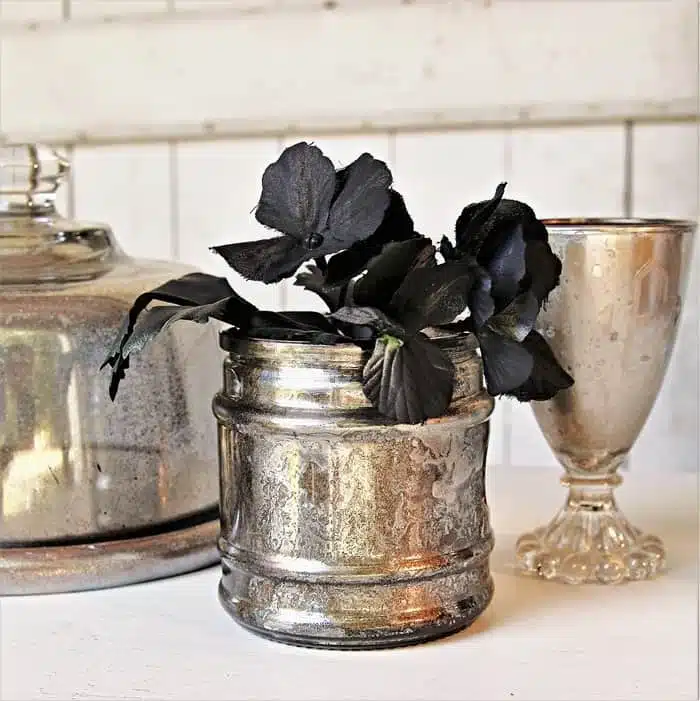 Now you just wait for the glass pieces to dry, usually just an hour or so. Next, display your multi-colored mercury glass on a coffee table, mantel, shelf, etc. I spray painted an artificial flower stem with flat black paint since it's Fall and Halloween time—kind of dark and spooky looking. The wood base of the cheese dome is sprayed with regular metallic silver paint.
Notes About Multi-Colored Mercury Glass Projects
Let's go over some of the tips and tricks for making faux mercury glass. Remember to use a fine mist of vinegar on the inside of the glass piece and just mist the glass once, not after each layer of spray paint. After misting the glass, turn it upside down for a minute or two. The mist leaves fine droplets, and that is what makes the small circles and squiggles in the paint.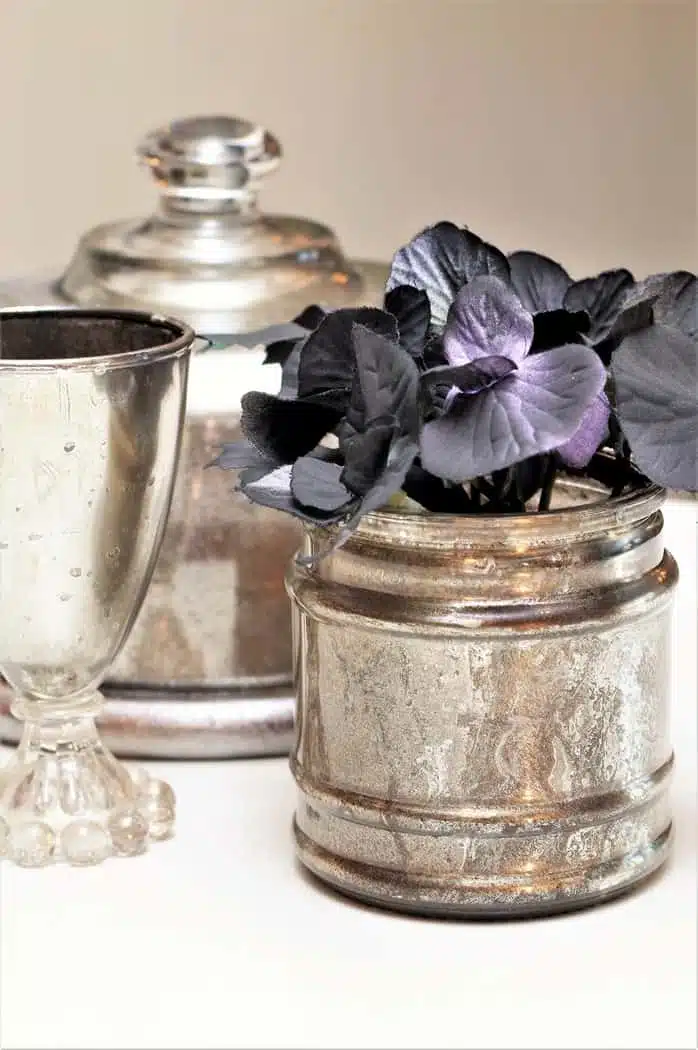 If you want to have run lines in the mercury glass, then mist the vinegar on the glass a little more heavily so it will run when the glass is turned upside down. Next, spray light layers of whatever color of spray paint you are using until you get the desired effect waiting for a minute or two between coats of paint and turning the glass upside down each time. Always start with the lightest color and layer the darkest color last.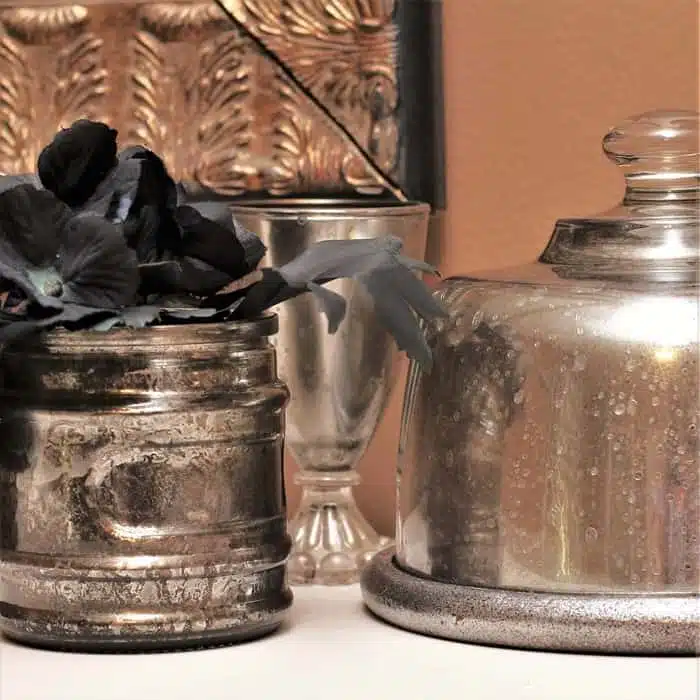 You can tell in the photo above how I used the various colors in different ways. The domed cheese holder is mostly silver while the Dollar Tree piece has a lot of gold and bronze. I think it's my favorite. The small trophy looking glass has a light coating of gold and I wish it had been photographed a little better.
Displaying the pieces under different lighting gives them a different look. In the last few photos I have the mercury glass pieces sitting on the dresser in our master bedroom. The lighting is this room is not very bright and I had the curtains closed.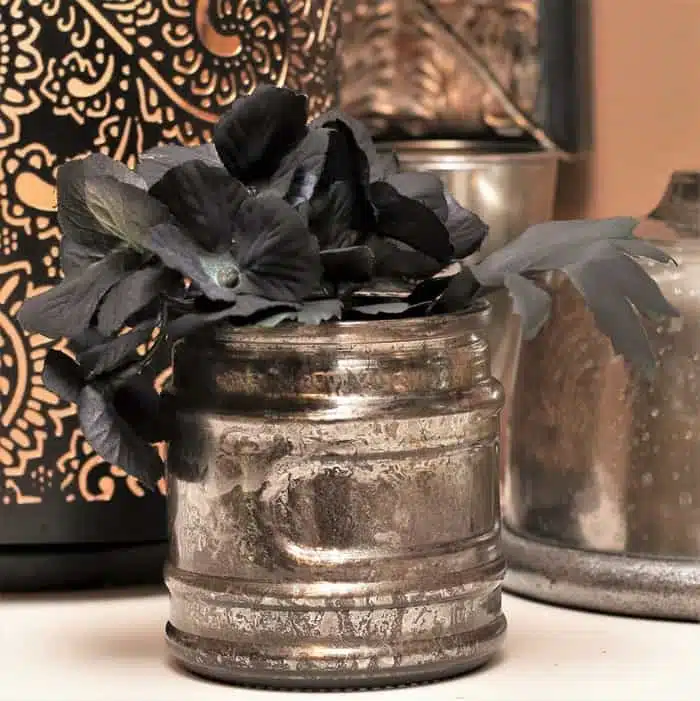 The first two photos with the white background were taken in the workshop in front of the open garage doors and I used a small flashlight at a distance so the metallic colors really glowed. This project is a quick one because I had it all finished and photographed in under two hours.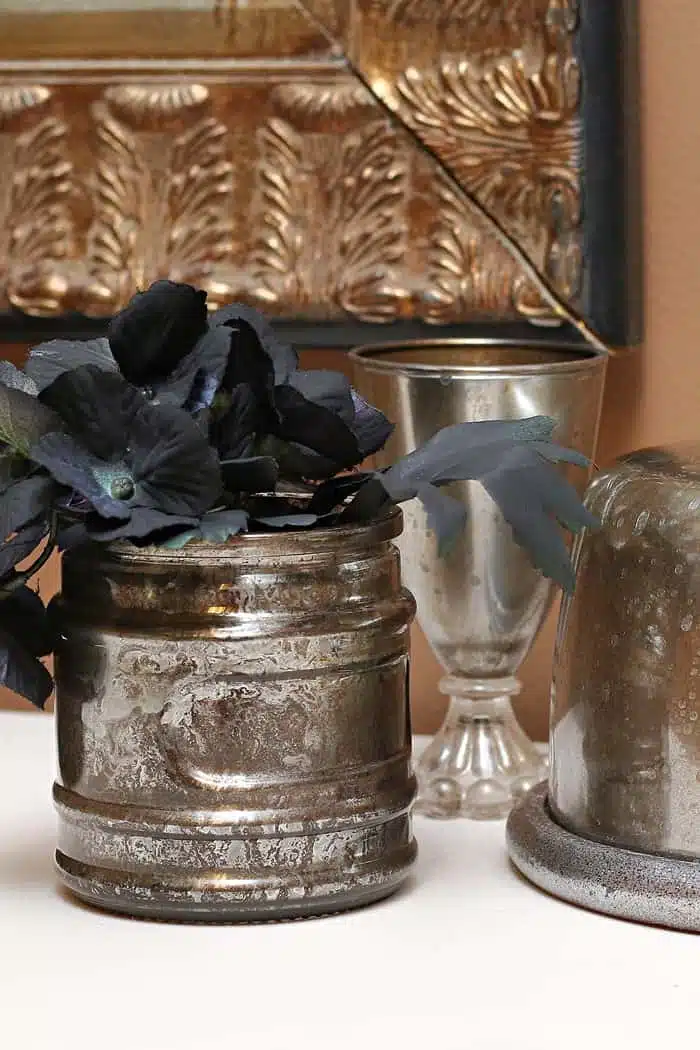 I love how you can work with the spray paint to make each piece unique. I wonder if I could use turquoise as a backdrop to the silver or gold instead of bronze or black? I'm going to try that next. What do you think about multi-colored mercury glass? Is mercury glass home decor outdated? What about these pieces? Do you like them? Please leave a note if you have time or email me kathy@petticoatjunktion.com.
It is also fun to just spray paint bottles and vases and dry brush the details like I did for this project….Spray Paint Glass Bottles Then Dry-Brush With White Paint
Time to take the Thrift Store Decor Tour. Click the text links below the "before" makeovers photo collage…..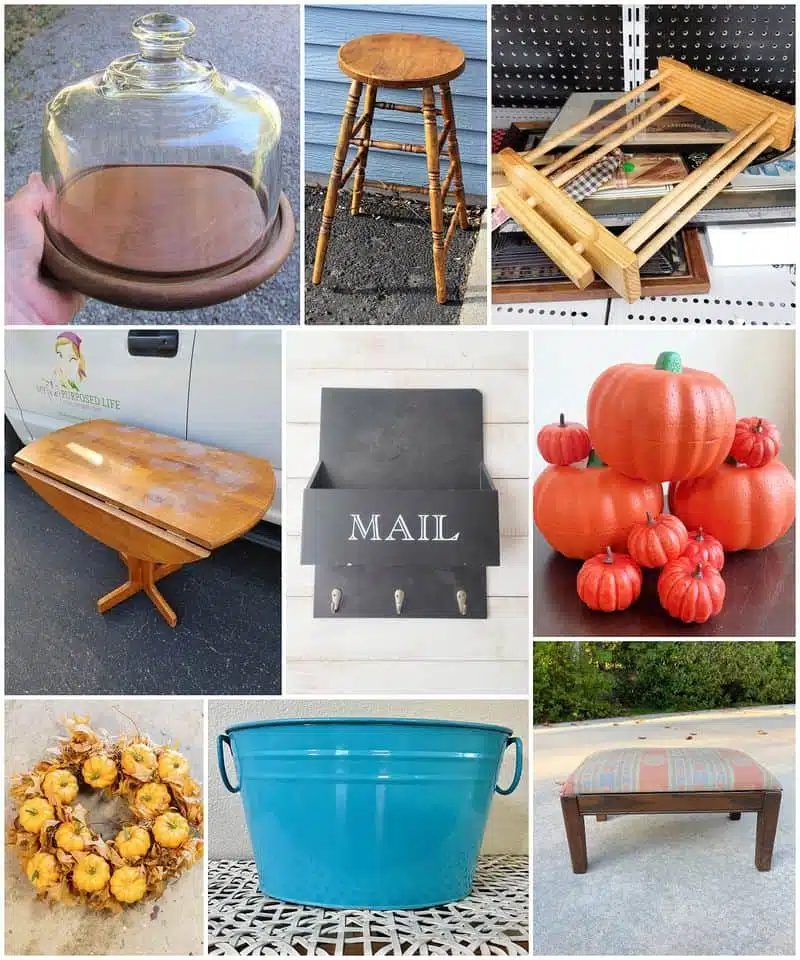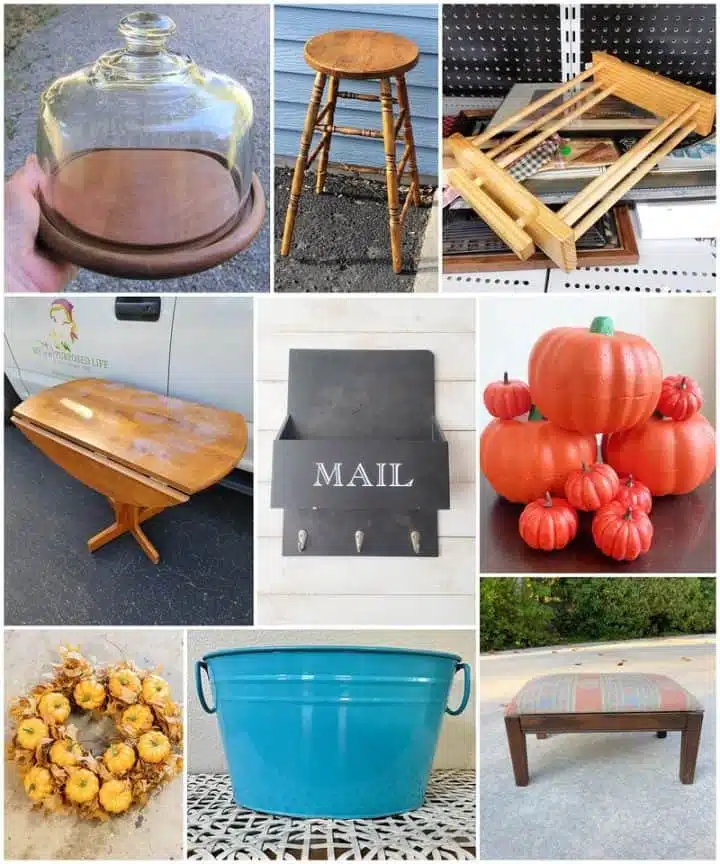 As always thanks for being here, Kathy
Easy Glass DIY Using Spray Paint
Hydrodip Technique Using Spray Paint
Author: Kathy Owen (Petticoat Junktion)
Kathy is the founder of PetticoatJunktion.com, a home décor blog focused on repurposing and upcycling furniture, old hardware, rusty stuff, and thrifty finds into unique home décor. Kathy's projects have been featured on the Home Depot Blog, Plaid Crafts, Behr Designer Series, and in numerous magazines. Read more about Kathy here.