This tiered wood centerpiece looks great after an update with metallic gold spray paint. When I spotted it I knew all it needed was a little love.
I want you to know that almost anything you find at the junk store can be made beautiful. Sometimes all it takes is a can of spray paint.....metallic spray paint....to make anything better.
The centerpiece is great for showcasing just about anything. Since we're going into Fall it's showing off gourds and mini pumpkins.
I'm behind the power curve again. Halloween and Fall decorating projects began showing up on the home décor blogs about a month ago.
You know we have to get ahead of the season with our diy and inspirational projects. No one wants to see how to decorate with pumpkins on October 31st.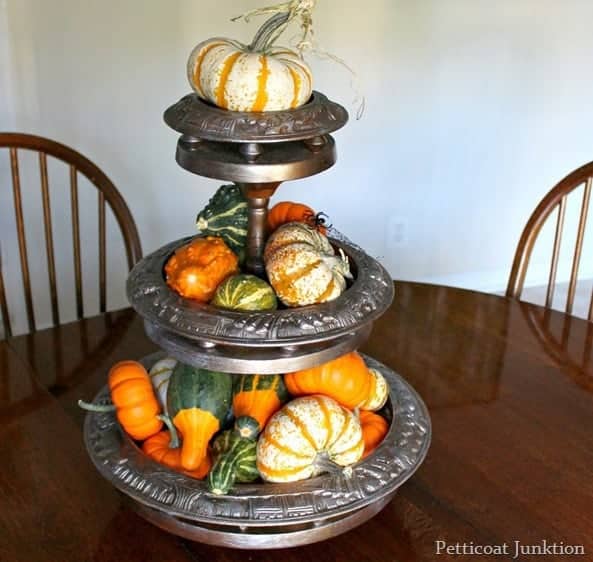 Tiered Wood Centerpiece Painted Metallic Bronze
How pretty the tiered tray looks now. But wait until you see how it looked before.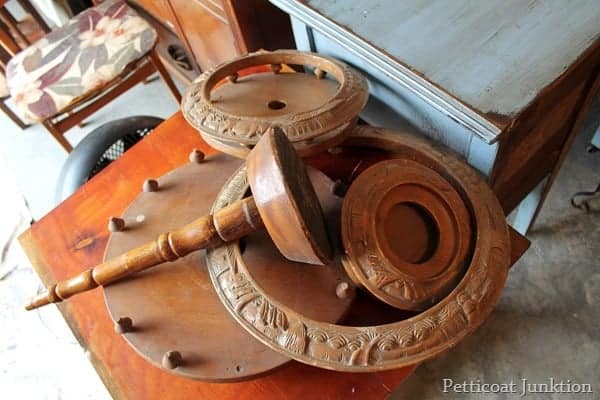 I don't know what these things are called. I know my wonderful readers probably do. It was all in one piece when I spotted it at My Favorite Junk Shop.
But when I picked it up to load it in the truck….it fell apart. Ms. Francis told me not to worry that putting it together is a piece of cake. Easy for her to say.
Okay, I went and googled to see what the official name is for this interesting piece. Here you go....Carved Monkey Pod Wood Philippines Three Tier Lazy Susan...or some version of that.
I don't know what monkey pod wood is either so I looked that up.....Monkey Pod, also known as Parota, is an exotic hardwood with explosive popularity. One of the largest and oldest of these trees is a national treasure in Venezuela. A Monkey Pod tree can grow to a large size, reaching heights of 50 to 80 feet, with a broad canopy resembling an umbrella. You can read more here if you are interested.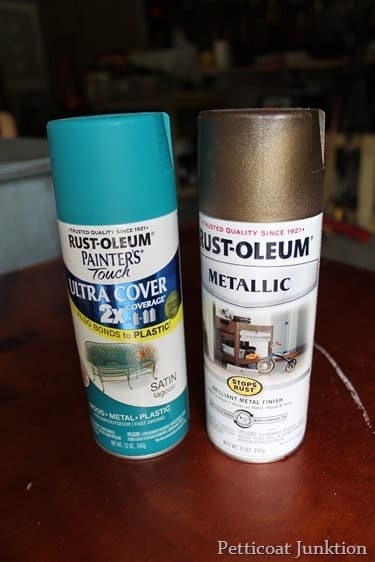 For this project I pulled out my favorite Rust-Oleum Spray Paint colors. I debated about a two tone finish but then just went with the Metallic Antique Bronze. The antique bronze doesn't really look antique to me...it's nice and bright.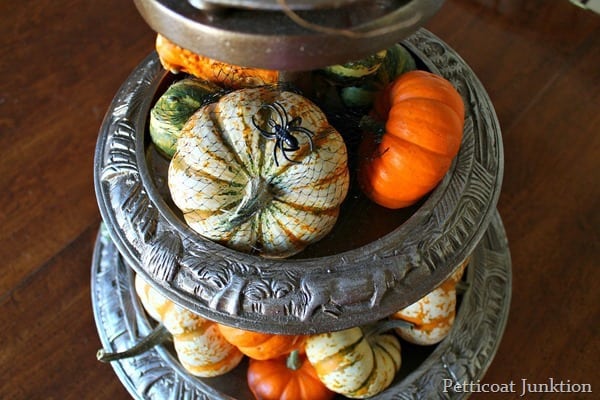 I spray painted the pieces then put them back together. It was easy. The whole process only took about an hour since the spray paint dries really fast. What do you think about the spider and the spider web?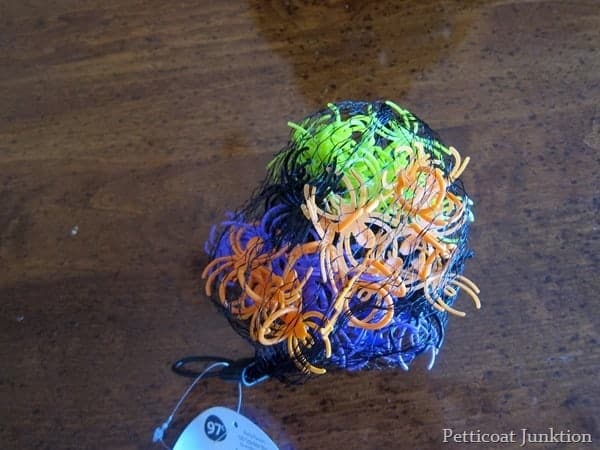 This bag of spider rings came from Walmart and when I cut the bag open I had the brainstorm to use the bag as a spider web. I mean, it was perfect!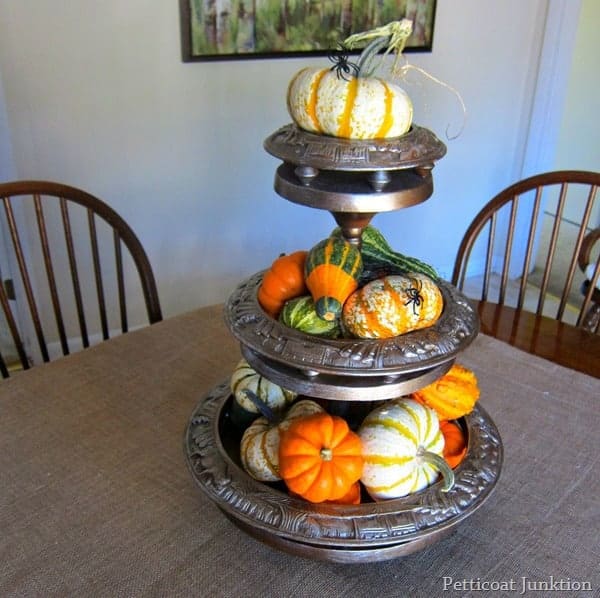 Tiered Tray With Metallic Gold Spray Paint
When I purchased the falling apart fruit holder I envisioned it just like this. 🙂 . Sometimes I'll buy junk treasures and have to wait for inspiration to strike. Not this time.
I think the metallic centerpiece would be really pretty with all white pumpkins and at Christmas time it will be pretty filled with Christmas ornaments.
Do you like how I transformed the monkey pod fruit holder into a pumpkin centerpiece? Do you have any ideas on how I could use it? Are you ready for the seasons to change? I am sooooo ready for Fall.
You have to see my favorite Fall mantel display that featured pink flamingos and white pumpkins. It is definitely different and I guess that's why I like it. See it here.....Pink Flamingo Mantel Decor For Fall.
As always thanks for being here and have a great weekend, Kathy
Author: Kathy Owen (Petticoat Junktion)
Kathy is the founder of PetticoatJunktion.com, a home décor blog focused on repurposing and upcycling furniture, old hardware, rusty stuff, and thrifty finds into unique home décor. Kathy's projects have been featured on the Home Depot Blog, Plaid Crafts, Behr Designer Series, and in numerous magazines. Read more about Kathy here.