Guys I have 4 projects today that include metallic gold leaves, metallic silver paint, a cute little stool, and a framed mirror. I would also like to hear your opinions about wreaths.
I think I mentioned earlier that I've been cleaning out the workshop. I really have this time. Wait until you see it. Anyway, while organizing, taking odds and ends to the booth, and sorting stuff I put together the quick projects from some of my stash. I didn't even do a step by step because they are so simple. I will tell you what products I used.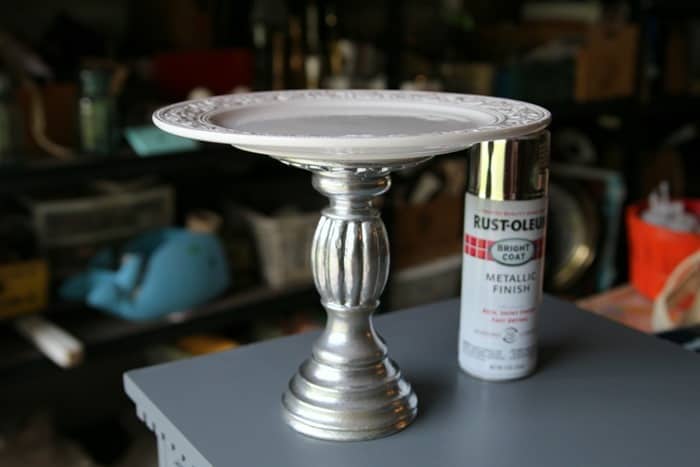 The candlestick was a yucky brown and I sprayed it with Rustoleum Bright Coat Metallic Finish. This is the best silver metallic paint ever. I used it on this furniture makeover …Turquoise Chest. I don't have a photo of the candlestick before because I didn't plan on posting about it. I glued the white plate to the candlestick using Gorilla Glue and let it sit upside down over night. The next day it was ready to go.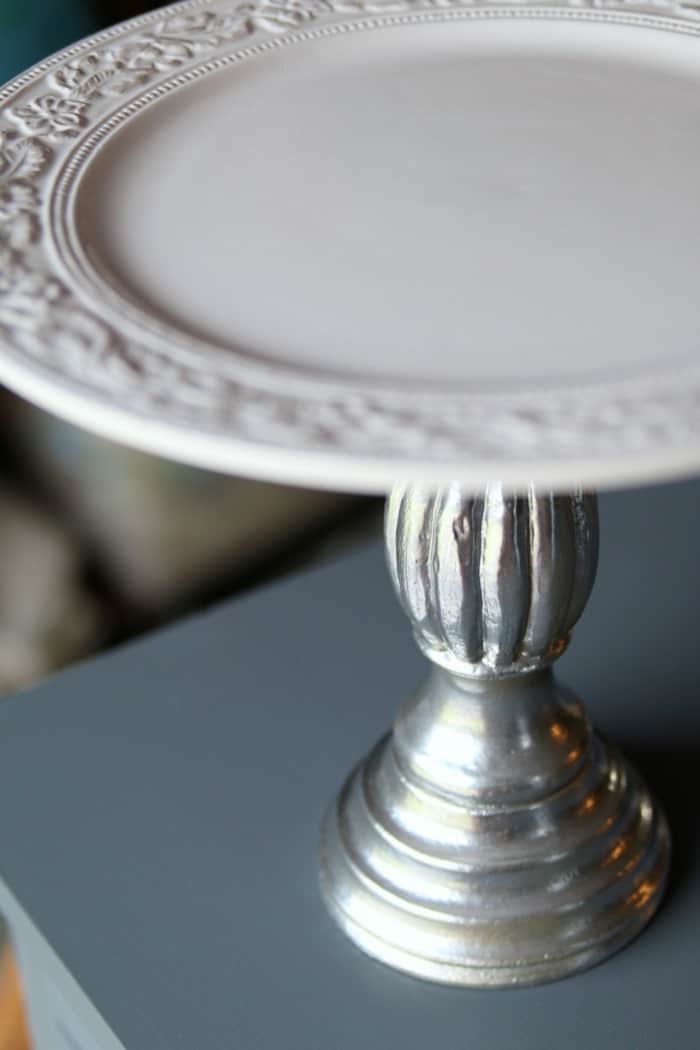 The plate is another thrift store find. You can't go wrong with white and the raised design is pretty. The piece will make a nice serving platter or display piece. I see chocolate chip cookies.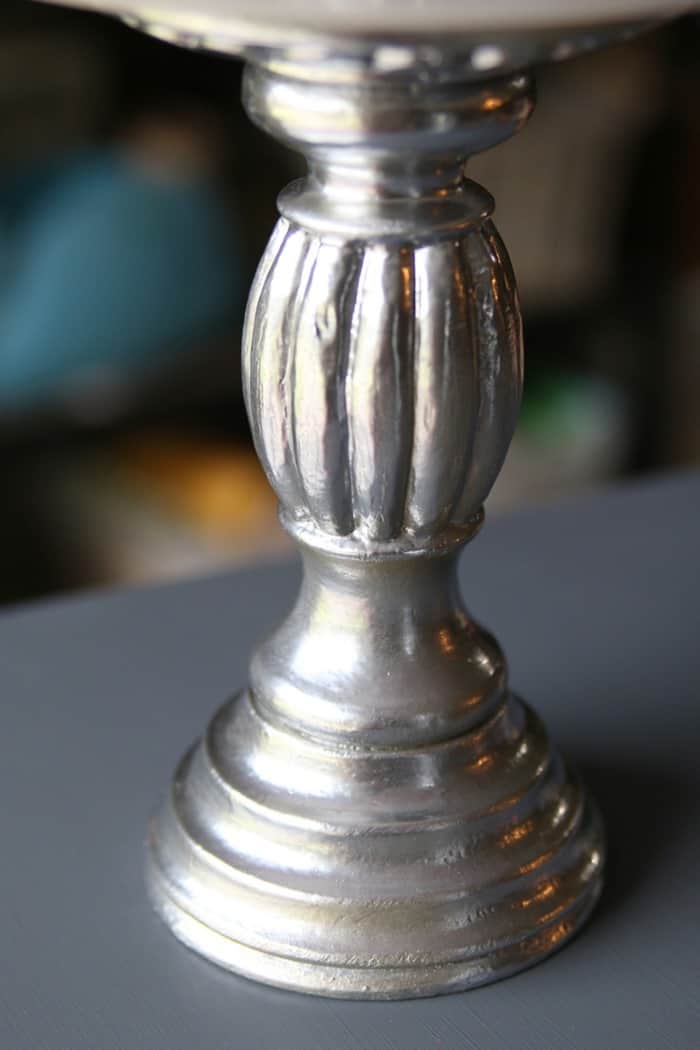 The metallic finish is super shiny. I plan to use this spray paint on a lot of Christmas projects….and maybe pumpkin projects. Still thinking.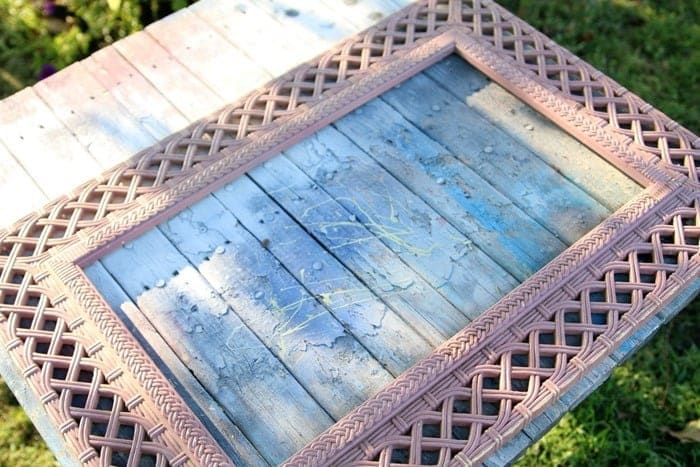 The frame for my $8 mirror was a really horrible pinkish color. It had to go.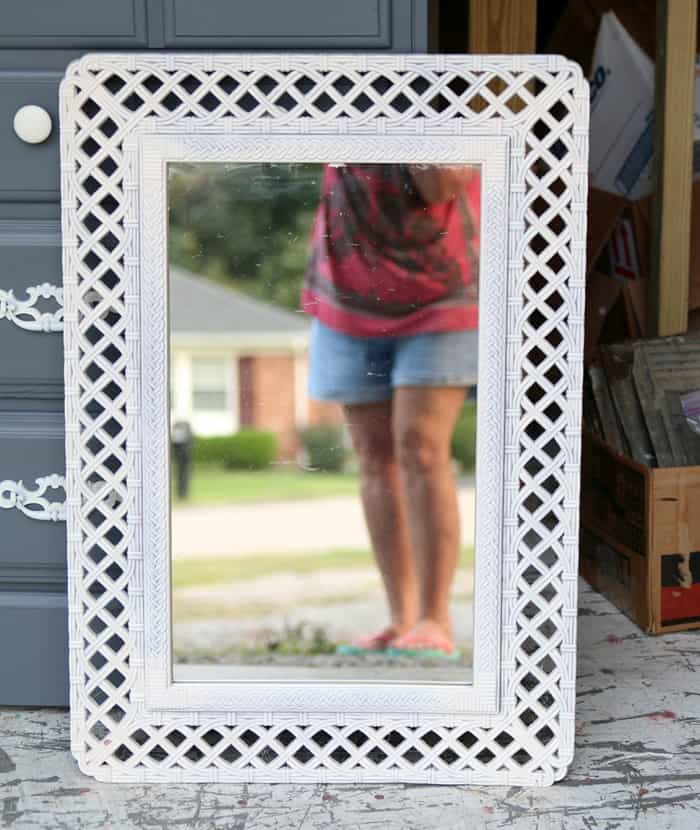 I used Krylon spray paint for the mirror frame. You can see me leaning down to take the photo. Hi.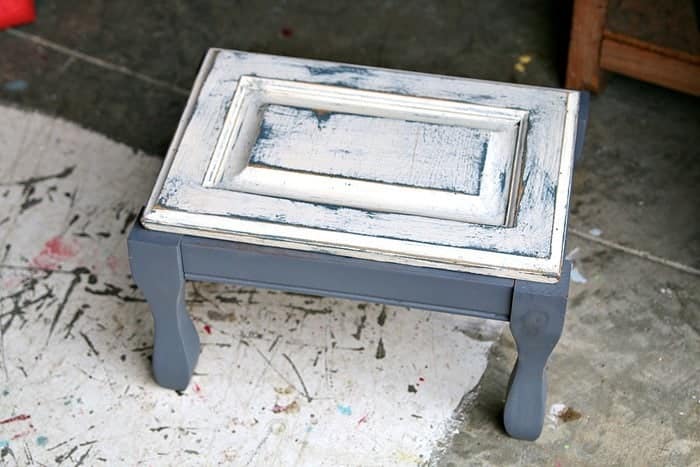 The stool base was an auction buy. The top of the stool was sadly warped and the JTS and I worked on it repeatedly with no luck. I finally tossed the top and was thinking of tossing the base when I ran across the small cabinet door. I did a distressing technique on the door when I was teaching furniture painting classes. It was a sample showing how to layer paint. The colors matched the stool base perfectly. I got out my Airstrike Nailer and nailed the cabinet door to the base in no time. It might look different for a footstool but I would call it unique. Especially when writing up the price tag (insert Kathy smiley face).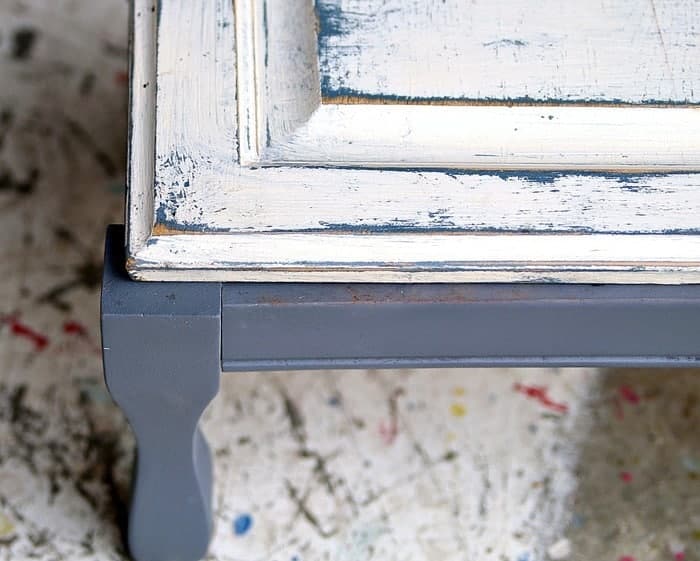 That layered paint is making me think I need to do that technique on a piece of furniture.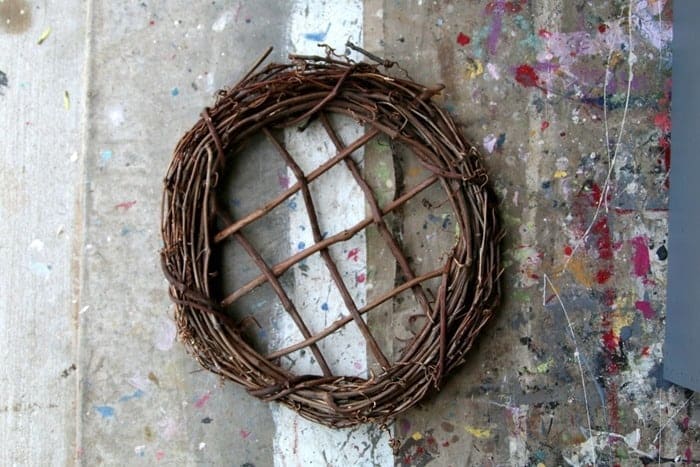 Next project is the Fall wreath. I bought the cute grapevine wreath at the junk shop in Metropolis, Illinois. It was $1.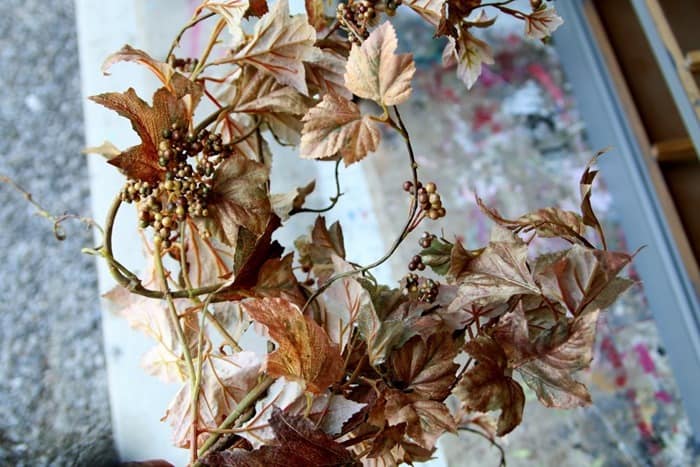 I have several of the bushes with metallic gold leaves in my stash. I bought them when a locally owned home décor store went out of business. The bushes are very good quality and I got a deal.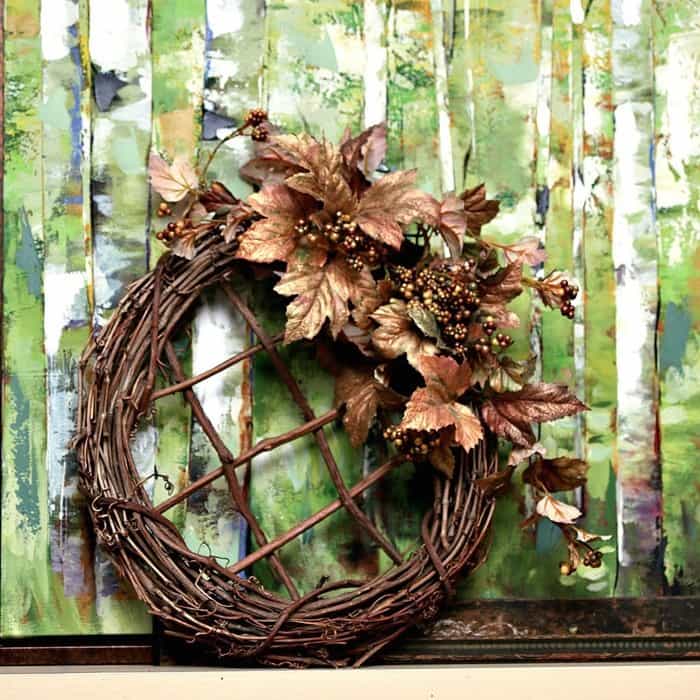 metallic gold leaves and a grapevine wreath
I cut a few branches and just stuck them in the grapevine. No hot glue. You guys know I can't do anything the normal way. I like everything off centered usually or asymmetrical or whatever you call it.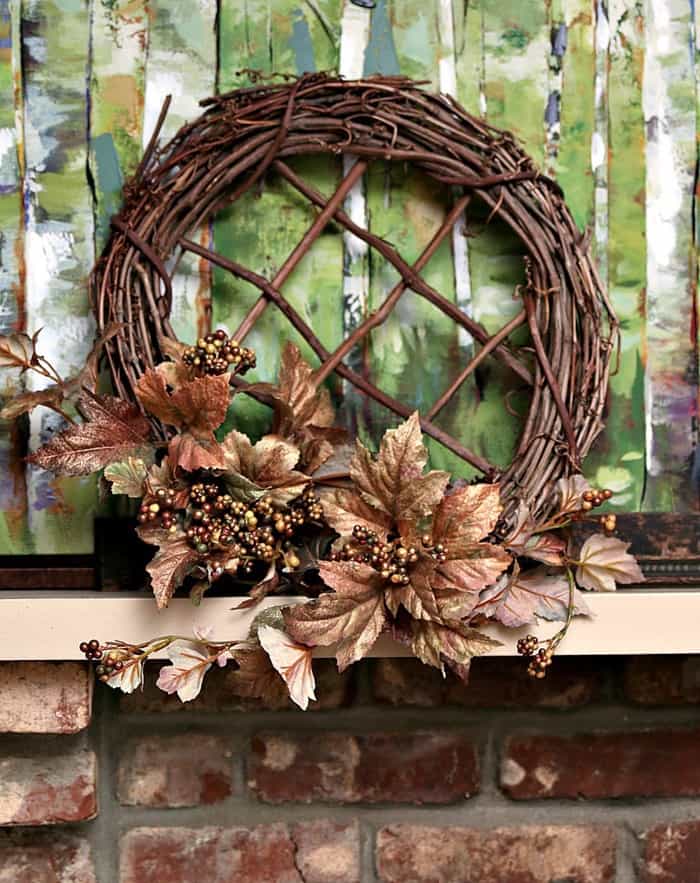 That's why I made the wreath like I did. I can turn it anyway I want depending on my mood. I placed the wreath in front of the painting on my mantel to take the photos. The wreath will be going on Mom's door at the Nursing Home. I like to change out the décor every few weeks. I don't know if Mom notices. I think she does. It makes me feel better anyway.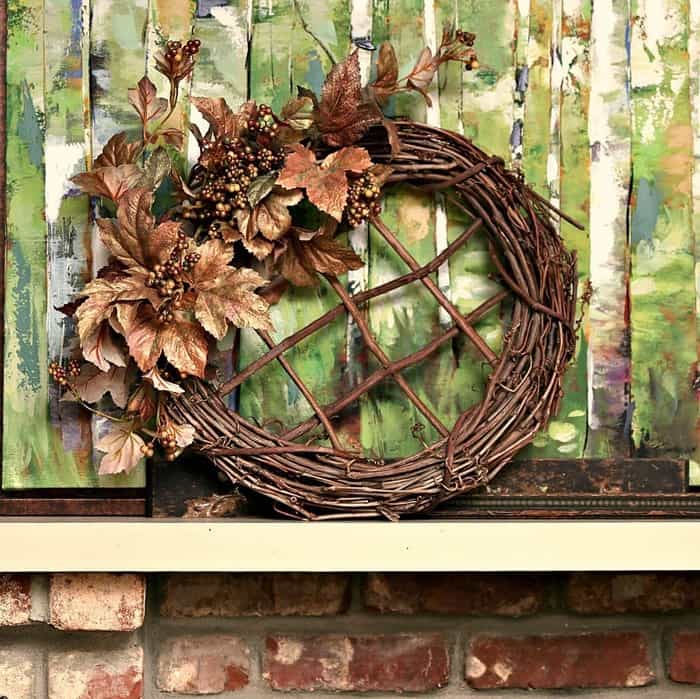 What do you think of the wreath and all my other thrown together projects? I would really like to hear your opinions on wreaths in general. Do you decorate with them? Do you like flowers all around the wreath? Big wreath, small wreat, any fun ideas using unique items? Leave a note and I'll see you again before the week is over. Have a great day.
Author: Kathy Owen (Petticoat Junktion)
Kathy is the founder of PetticoatJunktion.com, a home décor blog focused on repurposing and upcycling furniture, old hardware, rusty stuff, and thrifty finds into unique home décor. Kathy's projects have been featured on the Home Depot Blog, Plaid Crafts, Behr Designer Series, and in numerous magazines. Read more about Kathy here.