Can you paint a newspaper box or is that a no-no? I'm thinking it's okay. What happens if I paint the box and the newspaper guys don't like that…..do they throw my paper in the driveway…..or maybe they quit delivering the newspaper. I don't think so.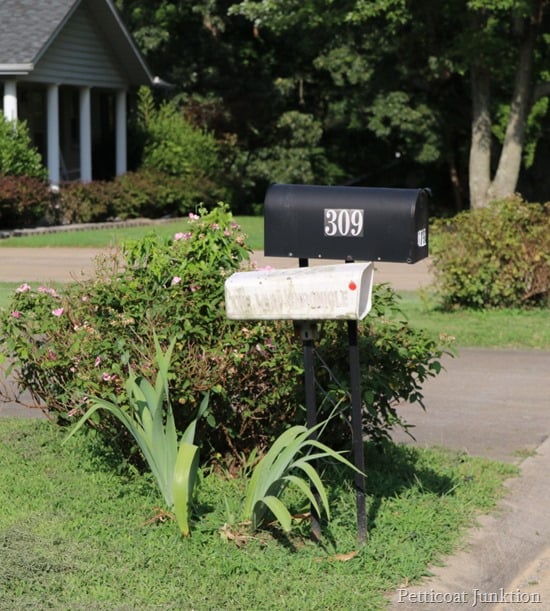 I want to refresh the mailbox and I know that's okay with the USPS. So I'm going to paint everything. Mailbox, paper box, metal support, are all getting a makeover. I could use some help selecting paint colors.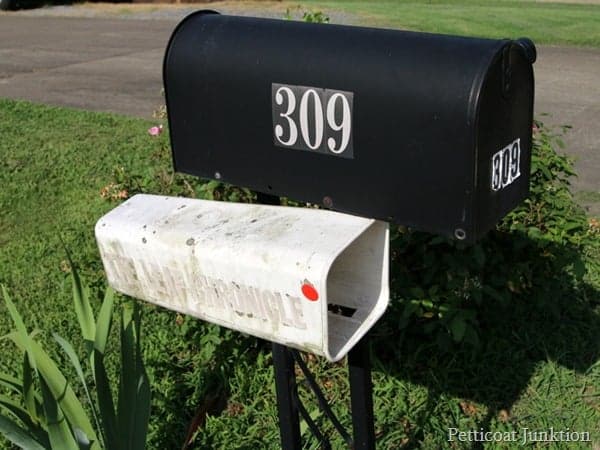 The JTS and I have slowly been working on the outside of the house adding a little curb appeal.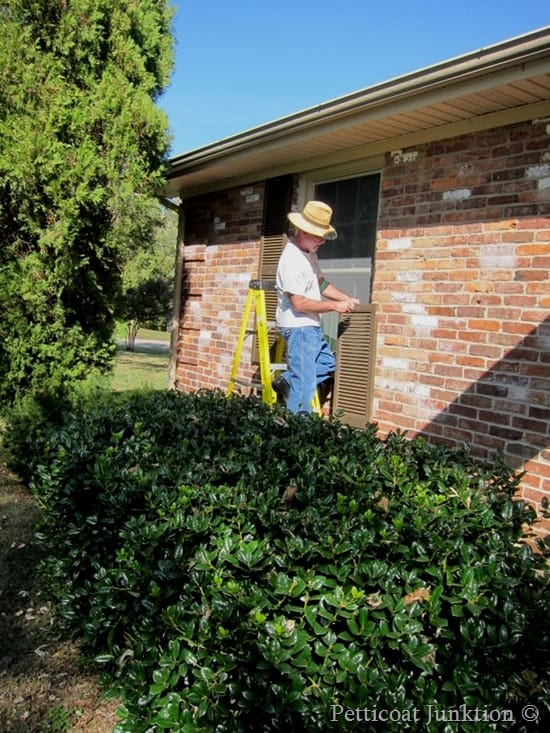 It's hard to believe, but it's been 3 years since the JTS painted the house shutters. They still look good as new. You can see how he painted the shutters by clicking here.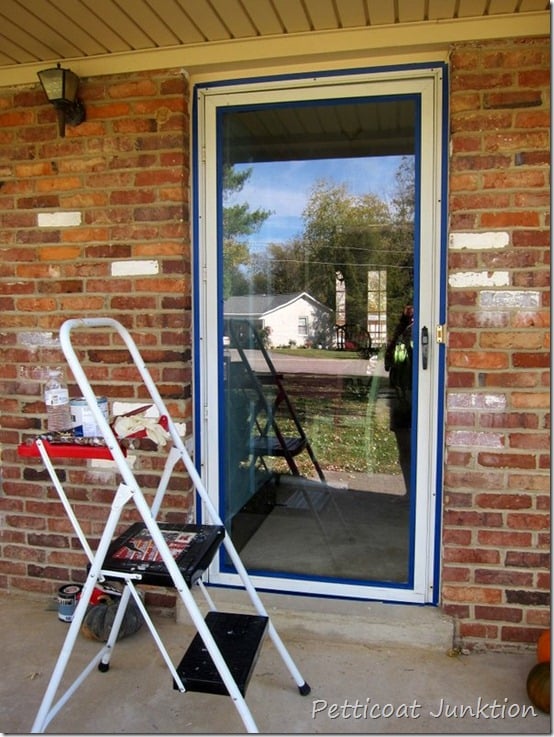 I painted the front door and also the metal frame around the storm door. I wasn't sure if the metal would hold the paint but the door looks good as new too. I love that the metal isn't glaring white and blends in with the blue door. I have a tutorial on the paint job here. I didn't write a post about the JTS replacing the pair of lights on either side of the door. You can see the old ones in this photo and the new ones in the photo below.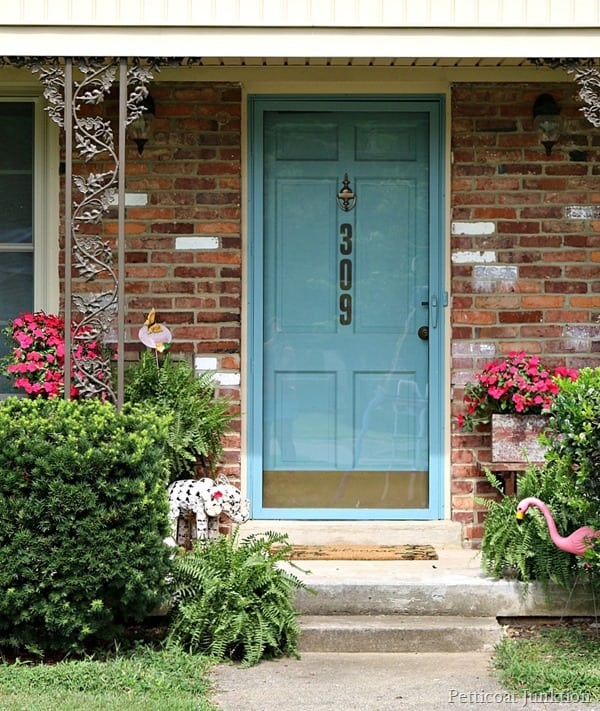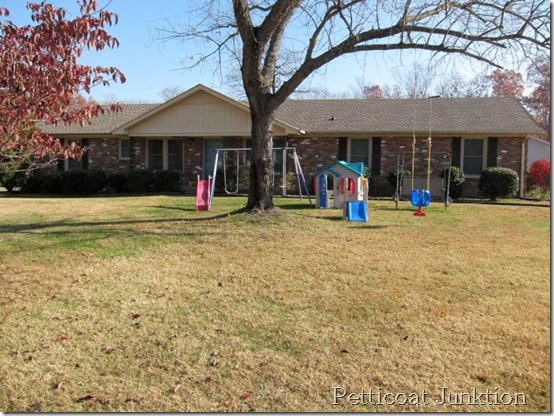 The house is lookin' good and I think I need to paint the mailbox.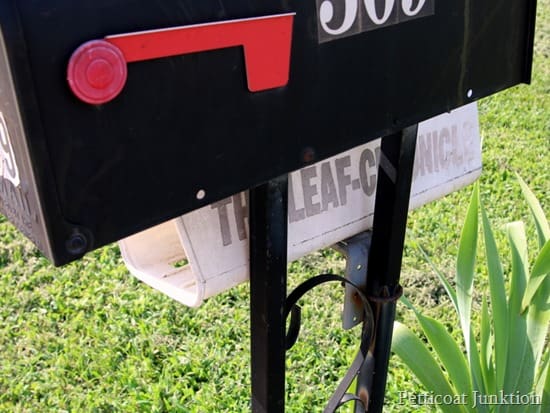 It's pretty sad.
I searched the internet for paint color ideas. If you've never goggled painted mailboxes you don't know what you're missing. There's everything from car shaped mailboxes to animal shaped mailboxes, and painted ones in every color of the rainbow. There are also a lot of mailboxes with scenes painted on them.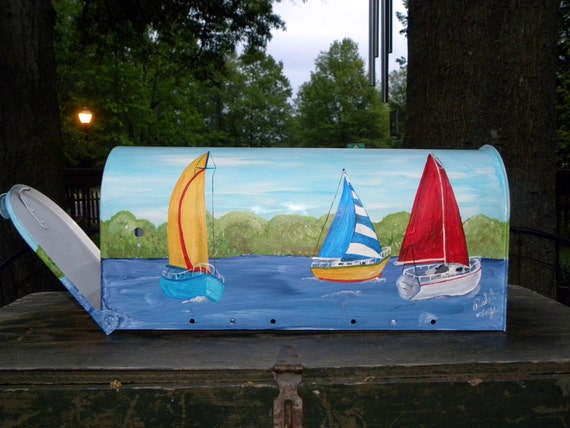 from RachelFayeArt on Etsy
This one is really pretty and it would look great on a waterfront property.
found on Mohawk HomeScapes
I fell in love when I saw this red one. I love red. I thought it was the color for me then I ran across this one…
from Kim at Sand & Sisal
Metallic copper…..I think this is the color for me. There were several monogramed boxes like this one….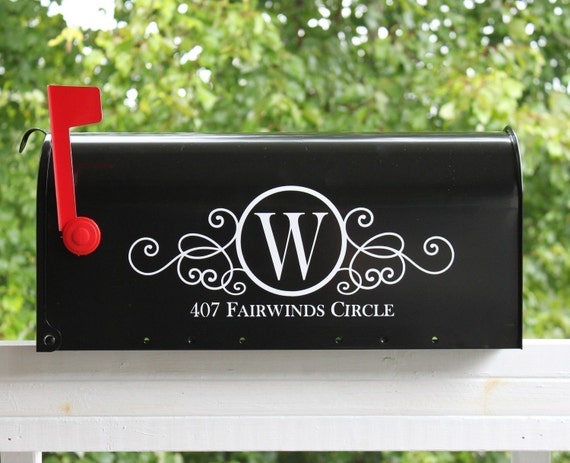 found on Etsy from Back40Life
I'm not sure about this particular design but I think a monogram of some kind would be cool. What do you guys think about the mailbox colors? Do you like the monogram idea? Let me know!
Have a great day, Kathy
Subscribe to Petticoat Junktion updates and newsletter so you don't miss a thing!
Author: Kathy Owen (Petticoat Junktion)
Kathy is the founder of PetticoatJunktion.com, a home décor blog focused on repurposing and upcycling furniture, old hardware, rusty stuff, and thrifty finds into unique home décor. Kathy's projects have been featured on the Home Depot Blog, Plaid Crafts, Behr Designer Series, and in numerous magazines. Read more about Kathy here.