Fancy faux succulent plant idea using an old pool ball rack and faux succulents to make a hanging plant display. I really had fun with this project. Didn't take a lot of thinking on my part or much planning. The succulent / flower display I made using a wood pool ball rack is perfection....just my opinion.....and it took less than 30 minutes to put together.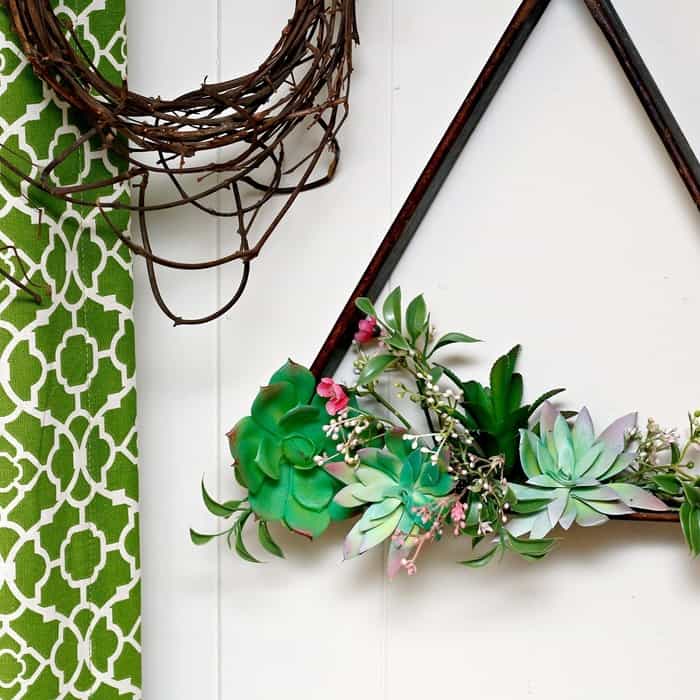 At one time I didn't care for succulents at all. Can you believe that? I think the succulent revival that started a couple of years ago got to me. I like artificial plants the best because I can even kill succulents. True.
The wood pool ball rack worked great as an indoor succulent plant hanging display. Always thinking outside of the box. Today is Thrift Store Décor Day so there's a lot going on. Let's get to it.....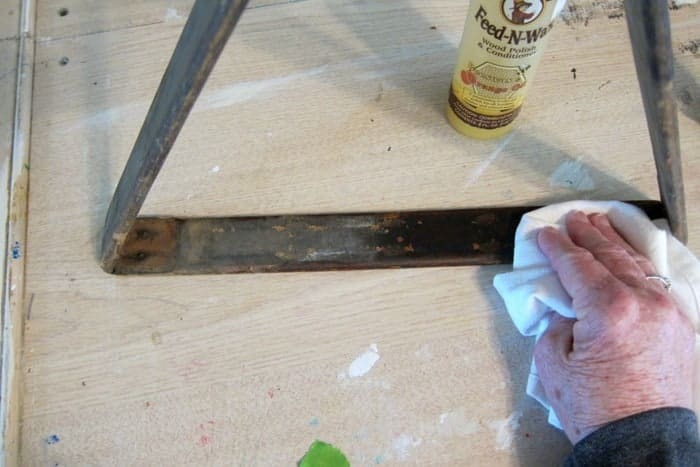 The wood pool ball rack has been hanging on the wall in the workshop for almost as long as the workshop has been up. Don't remember where or when I got it. I just knew it would be the perfect project piece one day. Today's the day. The first thing I did was wipe it down with Howard's Feed n Wax. I love that stuff.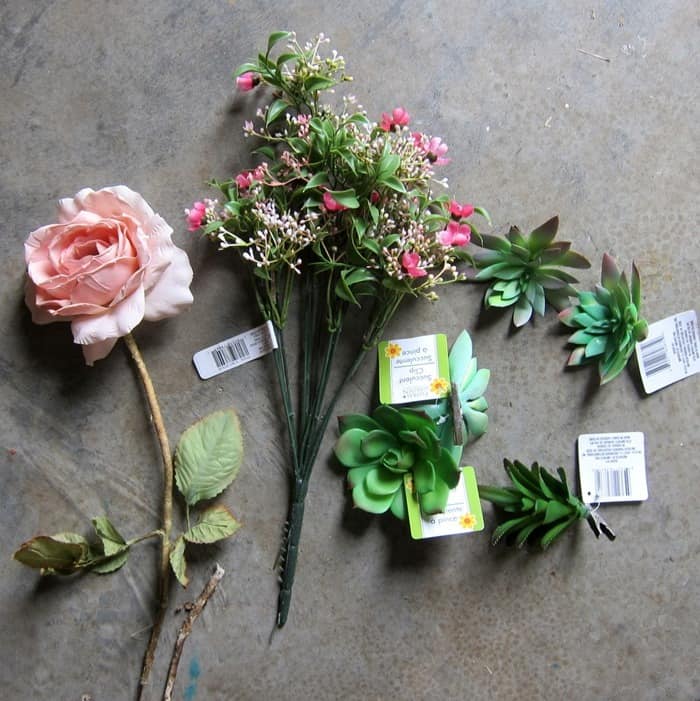 The idea for the succulent plant hanger came from a "wreath" I spotted in Michaels. There was a small bouquet of flowers wired to a metal ring......that was it. Simple. In fact, I bought one of the silver metal rings to make a similar wreath.
I also bought the flower stem with the pink flowers at Michaels. The succulent clips came from Dollar Tree. Gotta love $1 items. The rose on the left is from my flower stash. I wasn't sure which pieces I would use in my project.
I started by removing the clips from the succulents. I thought they were just hot glued to the top of the clips but I discovered the stems were sunk into a hole in the clip and then glued down.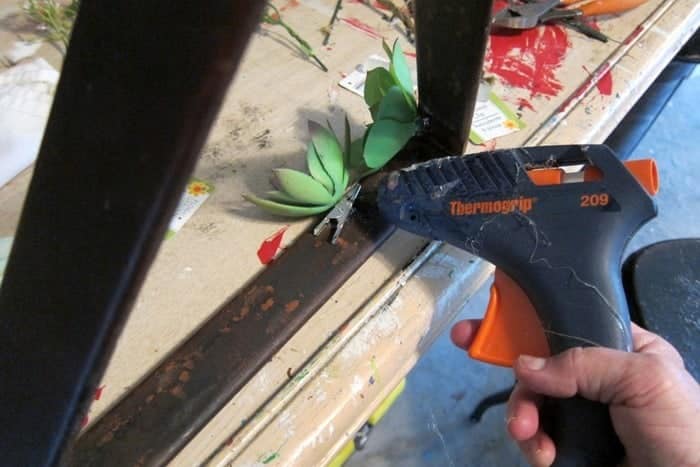 I left the clips on a few of the succulents and adhered them to the ball rack using hot glue. I did save the clips. You never know when they might come in handy.
I placed three succulents to start with and filled in from there. I just wing it when placing greenery and flowers in a display. Never had any formal training. Sometimes I look back on past projects and wonder what I was thinking. Does anyone else do that?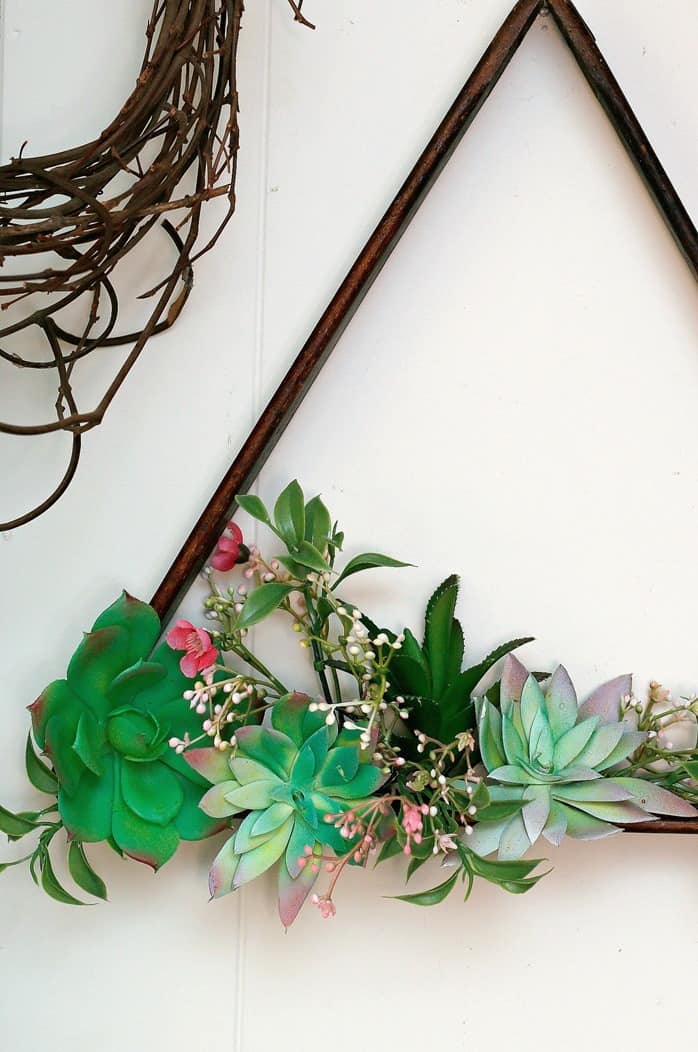 I used hot glue to adhere all of the greenery to the wood pool rack. As usual, my display is asymmetrical.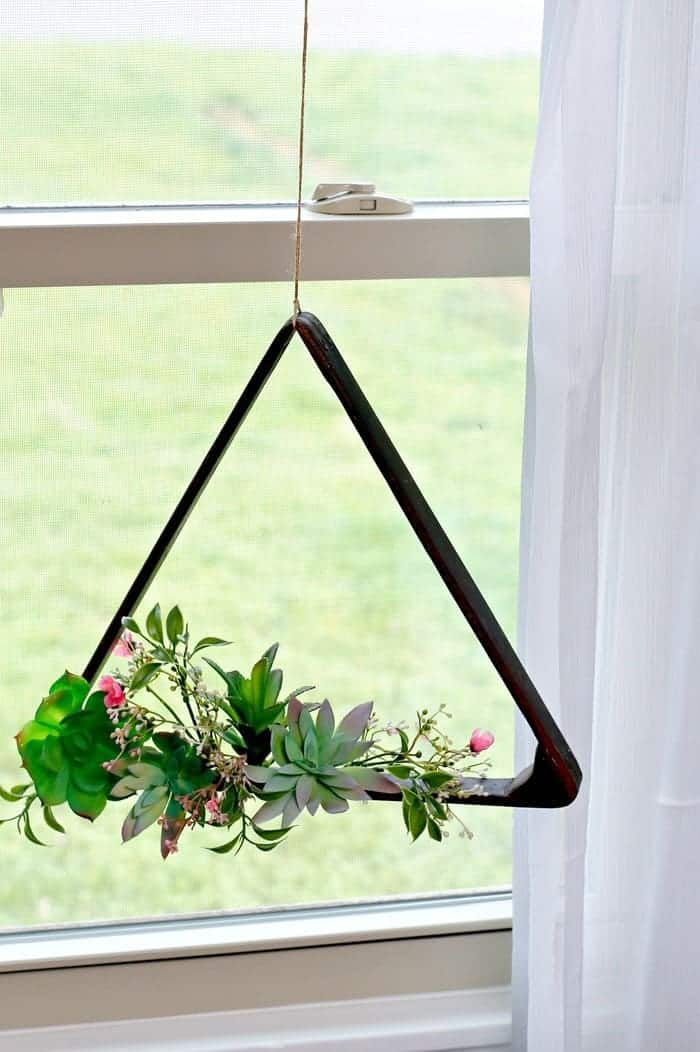 I hung the succulent display in the bedroom window. I used twine to hang it from the curtain rod. What do you think of the wood rack to display plants? How about that color combination. Pink and green complement each other perfectly.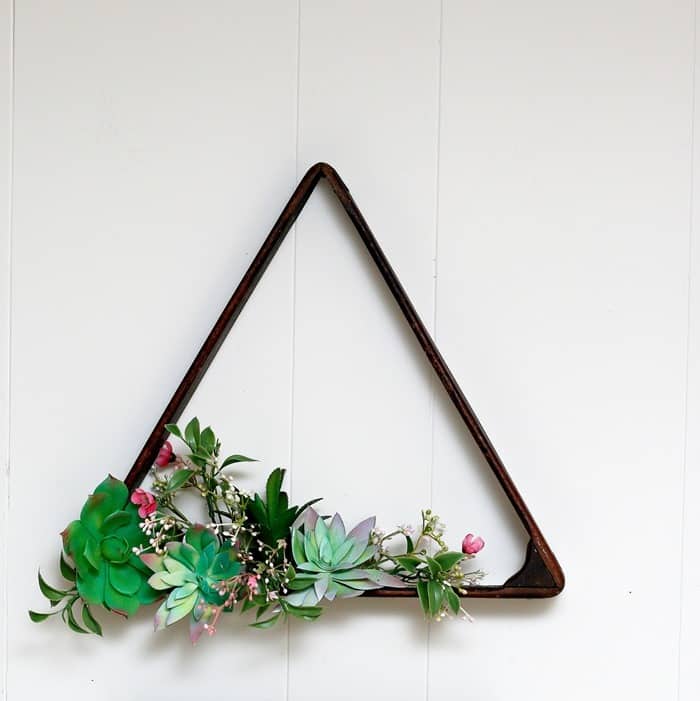 My plan was to have the angle with the rounded wood or what is called the apex of the rack be the top part of the wreath. When I started putting it all together I decided it would be a nice counter to my asymmetrical display.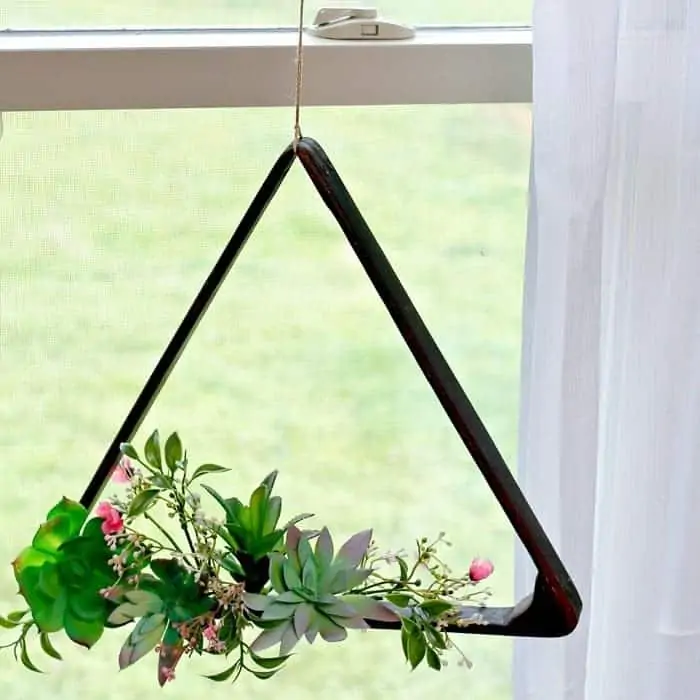 I tied yarn to the top of the rack to make the indoor succulent hanging display. Cute as pie. You could also hang this in your kitchen window. I like that idea because then you have something nice to look at while working at the sink.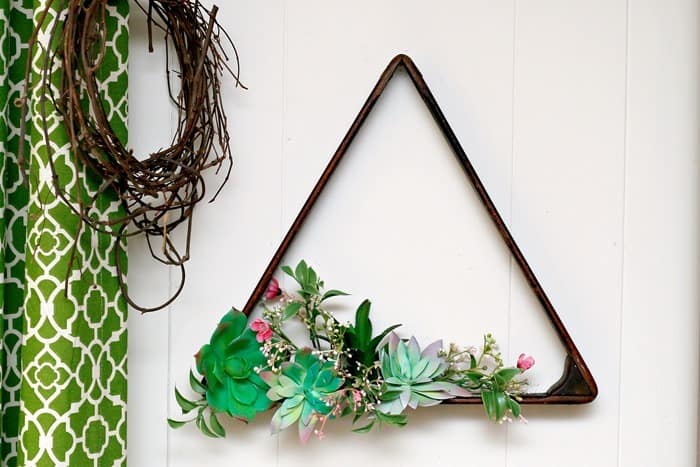 If you prefer just remove the twine and hang the display on the wall......like I did here.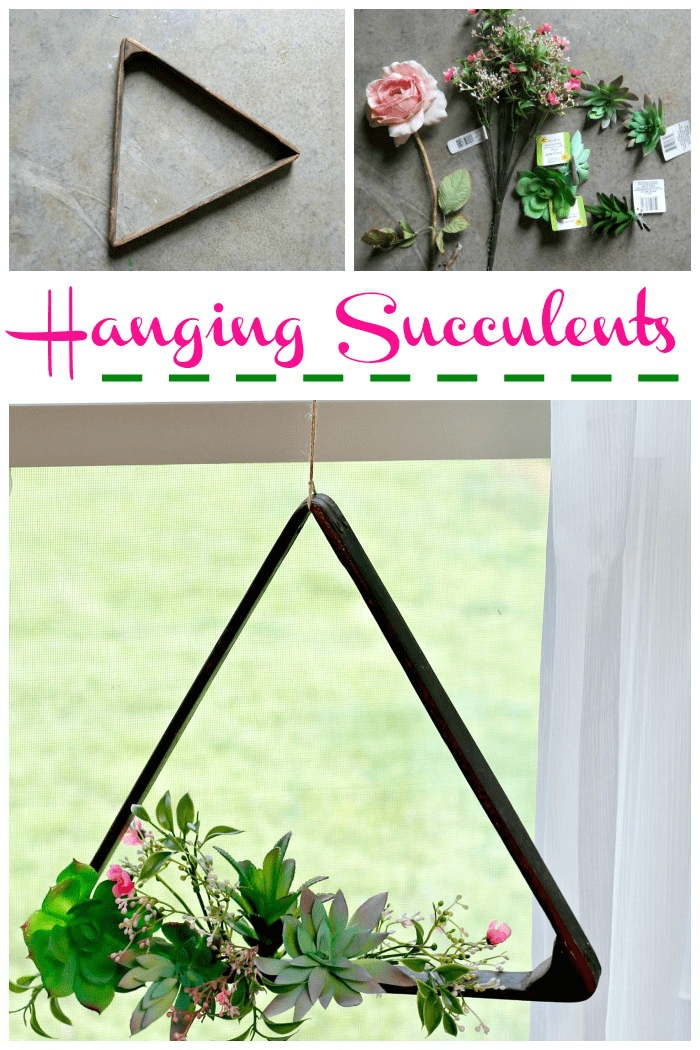 Indoor Succulent Plant Hanging Display Idea
What do you think? Going to give this a try? I can think of all kinds of things you can use if you don't have a pool ball rack. Try an embroidery hoop, deep photo frame, large ring jar lid for a mini hanging display or a bunch of mini displays clipped on twine to make a plant garland?? Got any other ideas? Leave a short note for me. I read every one.
Another fun faux succulent display using old movie reels....DIY Idea For Old Movie Reels | Succulent Plant Display
It's time to be inspired by my fabulous thrifty friends. Just click the text links below the "before makeovers" photo collage.
Ice Bucket To Farmhouse Vase - Sadie Seasongoods
Galvanized Metal Vase Makeover- Our Southern Home
Life Is Sweet Wood Pineapple - Domestically Speaking
DIY Gazing Ball - My Repurposed Life
Rooster Kitchen Chalkboard - Refresh Restyle
Hanging Succulent Display- Petticoat Junktion (you are here)
As always, thanks for being here and have a great day, Kathy
It's hard to believe this project is 3 years old! Re-sharing an old favorite in case you missed it the first time or maybe you're new here If so, welcome!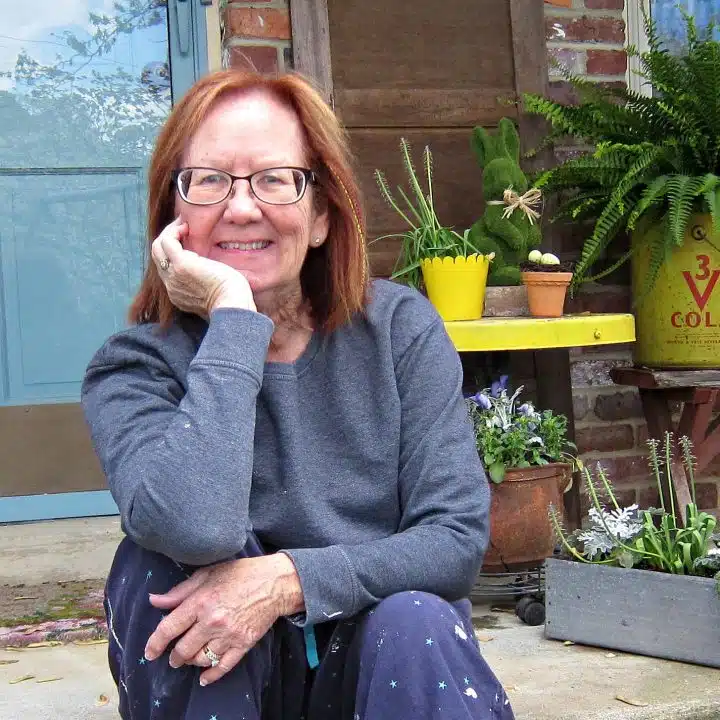 Author: Kathy Owen
Kathy Owen is the founder of the home decor blog Petticoat Junktion where she shares tutorials on painting furniture and upcycling thrifty finds into unique home décor. Her DIY projects have been featured on the Home Depot Blog, Plaid Crafts, Behr Designer Series, and in numerous magazines. Kathy's newest website is HappyHomeDIY.com