Bling, Recycle, Upcycle, Vintage....words associated with today's DIYs. You can't look at these projects without saying, "Why didn't I think of that?" I bet you have at least a few items in your junk drawer, garage, workshop, or wherever, used in these creations. Take a look....
1. RECYCLED HARDWARE NECKLACE HANGER
This little upcycle project was such fun and it reminded me of how much I enjoy putting old junk stuff together to make something unique. As usual, the project took a few twists and turns such as a change of hangers (more than once), but I'm happy as a pig in mud with the way the necklace holder turned out.
2. DIY BIRD FEEDER REPURPOSE IDEA
The candle holder was my inspiration piece. It is made out of iron and has pretty teardrop crystals. The candle holder came from my favorite junk shop, and the cost was $2, so it was a deal. You can also make ornaments using old tea cups.
Tea Cup and Candle Holder Birdhouse Idea
3. HOW TO DECORATE GLASS BOTTLES WITH OLD JEWELRY
It's fun and easy to decorate glass bottles with old jewelry. I take some of my junk jewelry stash out of hiding and add them to colorful bottles I pick up at thrift stores or flea markets! I can't tell you how much I love these bling bottles.
Decorate Glass Bottles With Old Jewelry
4. DIY MAGNETS MADE WITH VINTAGE KEYS AND OLD HARDWARE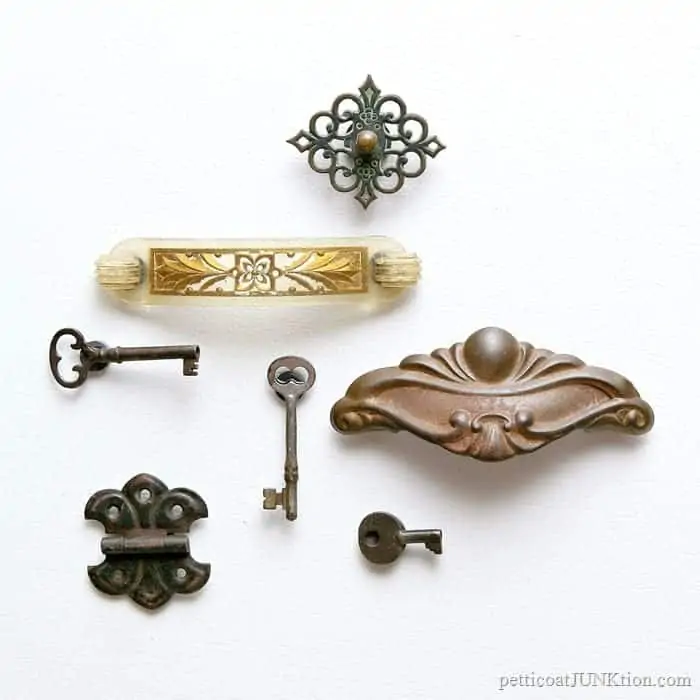 You can make vintage key magnets in 10 minutes or less. I went through my stash of antique keys and put together the refrigerator magnets. The project took no more than 10 minutes and I had all this free time so I went on the hunt for more stuff.
DIY Magnets Made With Vintage Keys and Old Hardware
5. SALVAGED JUNK ART ANGEL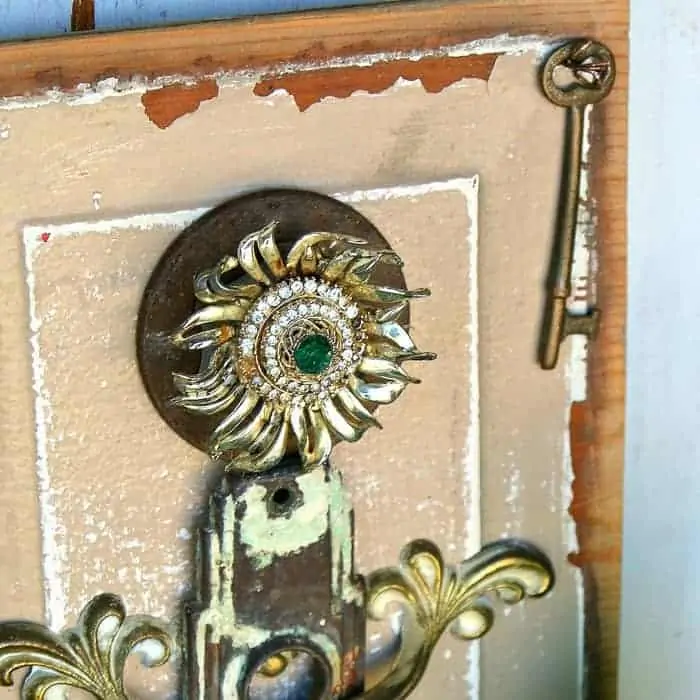 The salvaged junk art angel is made out of reclaimed hardware, junk jewelry, and a door knob backplate from my grandparents' house.
6. Upcycled Candle Holder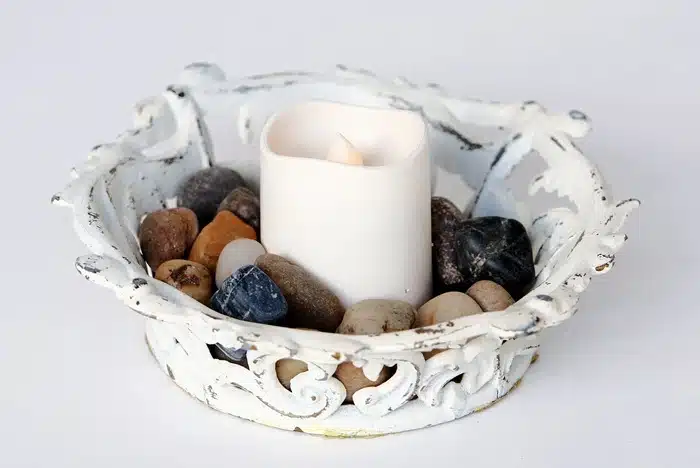 The upcycled lamp parts candle holder is actually a muti-purpose piece. It would make a great Valentine's Day candy dish. Or it could be used to display faux succulents. I have 3 different styles of lamp parts in my stash of treasures and I show you how to use all three in various ways.
How to Make An Upcycled Candle Holder
7. How To Repurpose A Metal Toolbox
This repurposed metal toolbox can be used for any number of things. I'm using it for a jewelry box! Take a look at the project and tell me how you would use the yellow-painted and stenciled toolbox.
8. MAKE A SISAL ROPE TREE TOPPED WITH STARFISH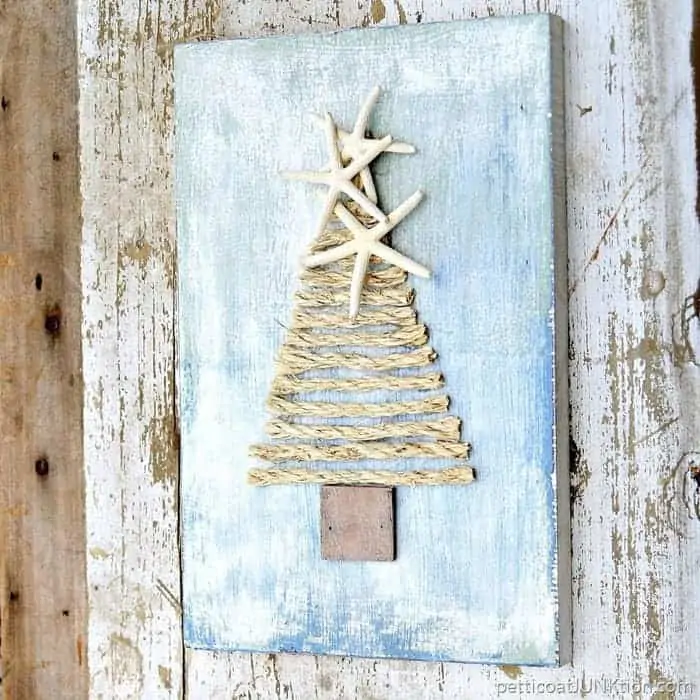 I used a reclaimed piece of wood, starfish decor, and sisal rope to make this little tree. The project came together in no time.
How To Make Sisal Rope Coastal Style Tree Wall Decor
9. OLD BIRDHOUSE MAKEOVER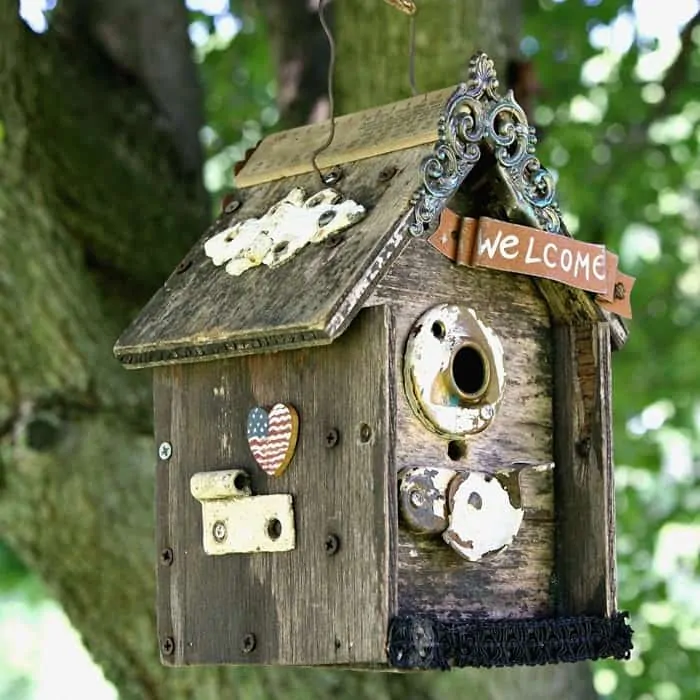 The birdhouse was a sad-looking thing when I found it at a local flea market. The weathered wood was perfect though and I could see the potential.
Decorate A Birdhouse With Jewelry and Hardware
10. REPURPOSED SILVERPLATE TRAY MAGNET BOARD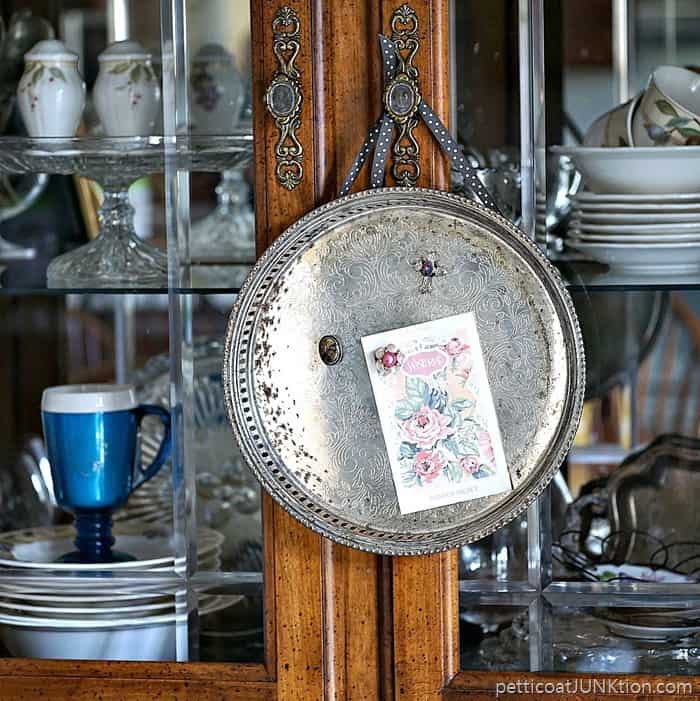 The repurposed silverplate tray magnet board and earring magnets were fun to put together. The magnet tray is a cool upcycle and definitely charming.
How To Make Magnets For A Silver Plate Tray
Weird Things You Can Use To Make Fun Wreaths
Create distinctive eye-catching wreaths using unconventional items. Unique items can be used for the base or the bones of the wreath, the decorative elements of the wreath....or both.
13 Strange Things You Can Use To Make Wreaths
10 Things To Buy At Thrift Stores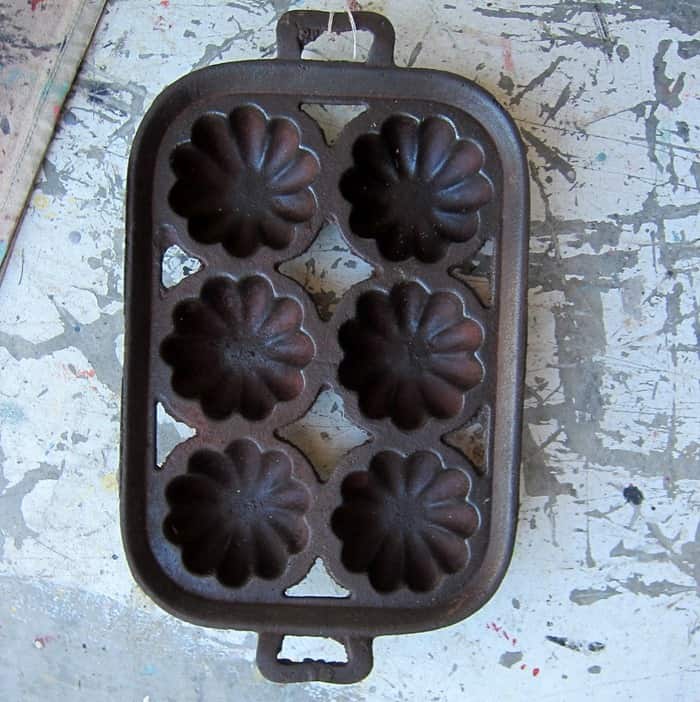 Recently, thrifty shoppers met in an online discussion to reveal items you should never pass up on when shopping at secondhand stores.
10 Things Not To Pass Up At Thrift Stores
More Petticoat Junktion Projects Here... All DIY. Thanks for being here, Kathy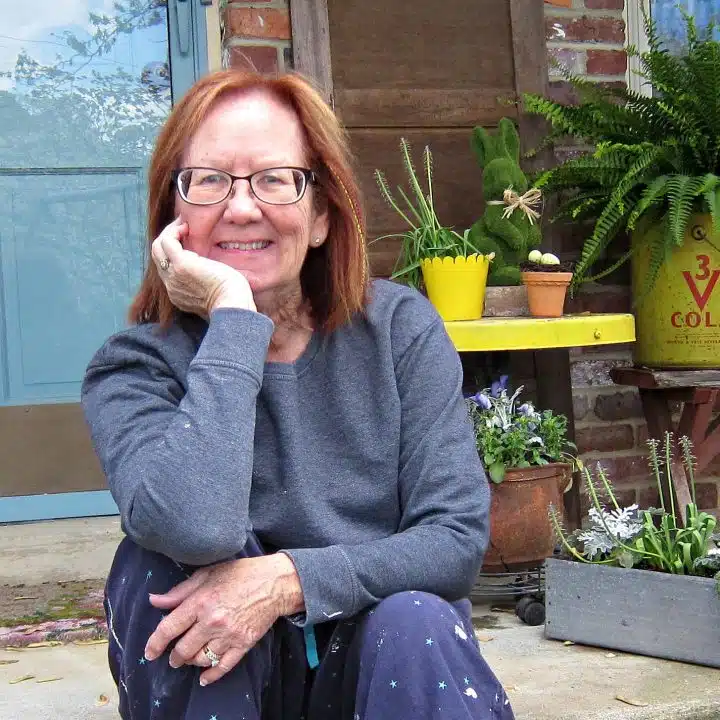 Author: Kathy Owen
Kathy Owen is the founder of the home decor blog Petticoat Junktion where she shares tutorials on painting furniture and upcycling thrifty finds into unique home décor. Her DIY projects have been featured on the Home Depot Blog, Plaid Crafts, Behr Designer Series, and in numerous magazines. Kathy's newest website is HappyHomeDIY.com