It's fun and easy to decorate glass bottles with old jewelry. I take some of my junk jewelry stash out of hiding and add them to colorful bottles I pick up at thrift stores or flea markets! I can't tell you how much I love these bling bottles. They make me smile.
I bet you have just what you need at home to make some of your own. Your bling bottles don't have to be exact duplicates of mine or even close. That wouldn't be any fun. All you need is a bottle or jar and something pretty for decoration.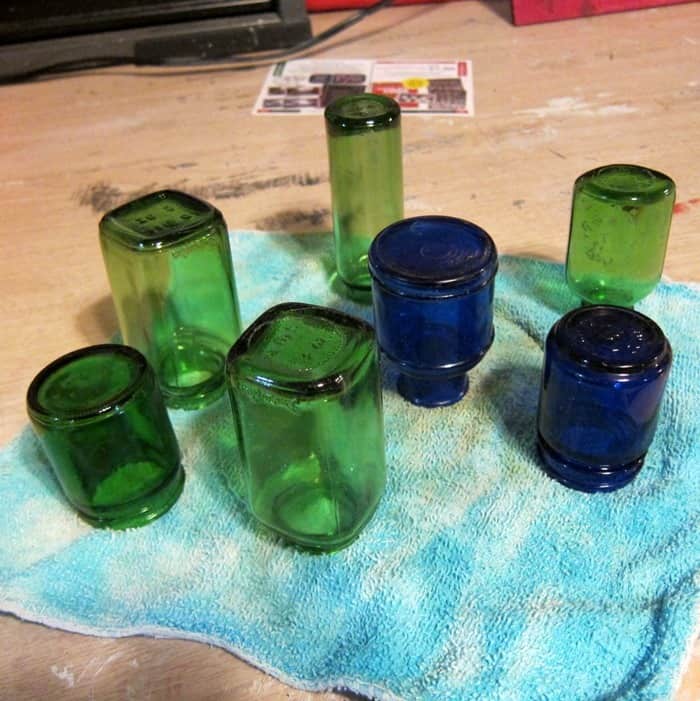 A bling bottle would make a great Valentine's gift. Think about it. This is Thrift Store Decor Day and the team has some really great projects to start out the new year. They outdid themselves. Links are at the bottom of the post but let me tell you about these pretty little bottles before you take off.
I pick up the small colored bottles when I see them. I love the bold colors and the size. Most of these bottles came from a flea market shop in Hampton, Arkansas, a town I pass through when traveling home to see my family. All of the bottles needed a good washing before the blinging started. I use regular old soap and water and sometimes a bottle brush to clean them. Then I drain the water out by turning the bottles upside down on a towel. I let them dry overnight.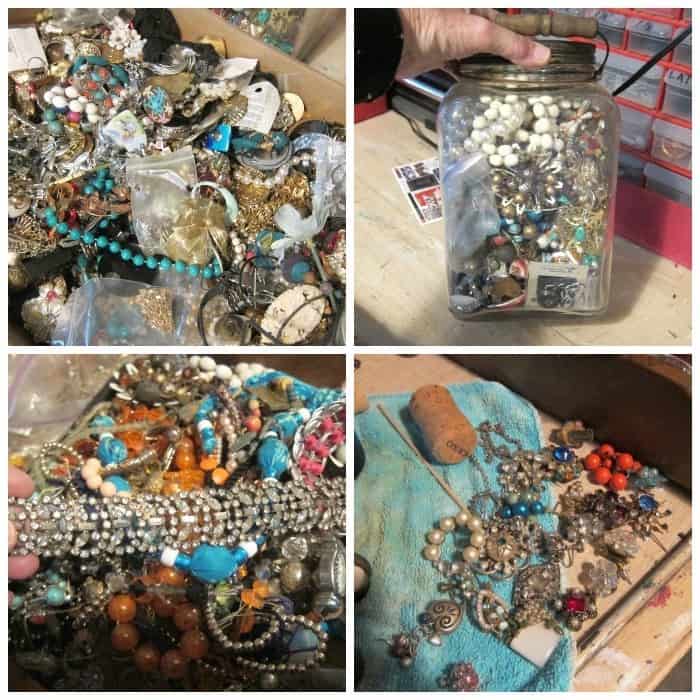 Junk Jewelry Stash
I have large jars and boxes full of jewelry I've picked up here and there. Some of the pieces are in perfect condition but most are broken or missing beads, rhinestones, etc. When using them to decorate things like bottles, books, or bags it doesn't bother me if there is a stone missing. If you don't have a junk jewelry stash you can often find bags of broken jewelry at flea markets or antique stores.
I love rhinestones but I'm attracted to anything that sparkles. I have a large collection of costume jewelry I seldom wear. Bling doesn't look that good on my painting clothes. Besides it would take away from the paint splotches.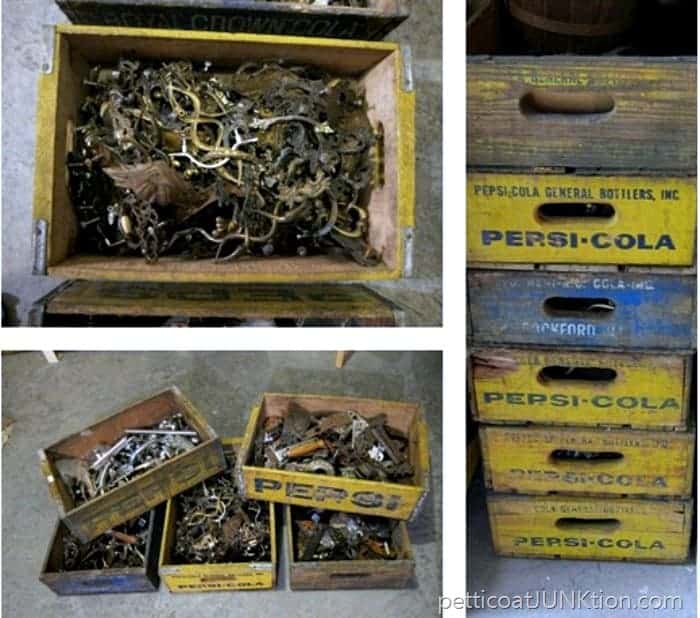 I have a large stash of junk hardware and furniture hardware too!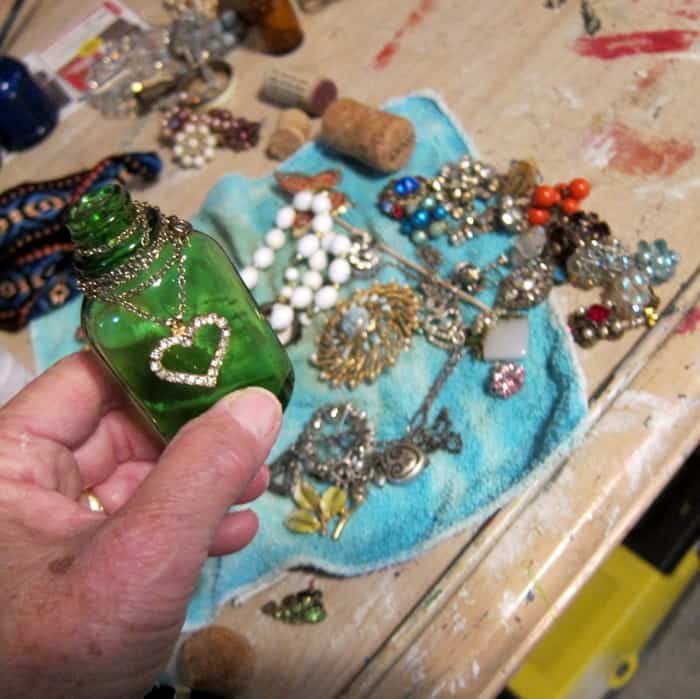 I went through all of the jewelry pulling out pieces I thought would work on the bottles. The heart necklace above was in great shape, not broken and no missing stones. I wrapped the necklace around the small green bottle and thought it looked good…..then second thoughts set in.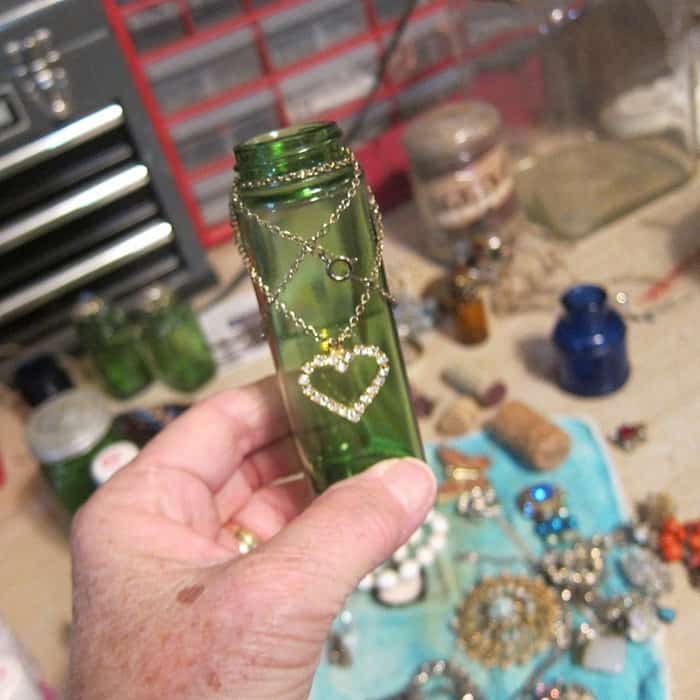 I like it better wrapped around the tall bottle. You need to take size and scale into consideration when making home decor or anything. I placed one small dab of hot glue on the necklace in the back to hold it in place. I plan to keep these around the house for decor so no worries about the pieces falling apart since I'm not selling them.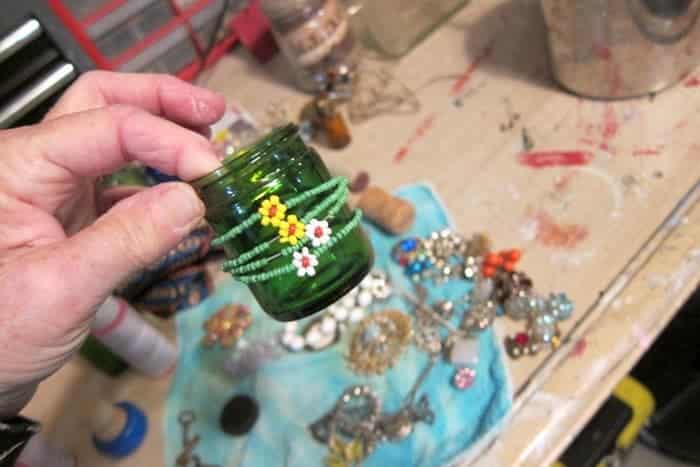 This small stretchy bead necklace got wrapped around a jar too, with a bead of glue on the backside. One thing I like about this type of project is the fact that I can take the jewelry off the bottles and reuse both things in a different project. I change up my junk decor all the time. There are a few fun pieces I bought years ago and am not ready to get rid of so I decorate around those.
The remaining bottles got bits and pieces of jewelry and maybe ribbon or jute. Tip: use a popsicle stick or tweezers to save your fingertips when working with hot glue. I have no fingerprints left on my index fingers thanks to the glue gun.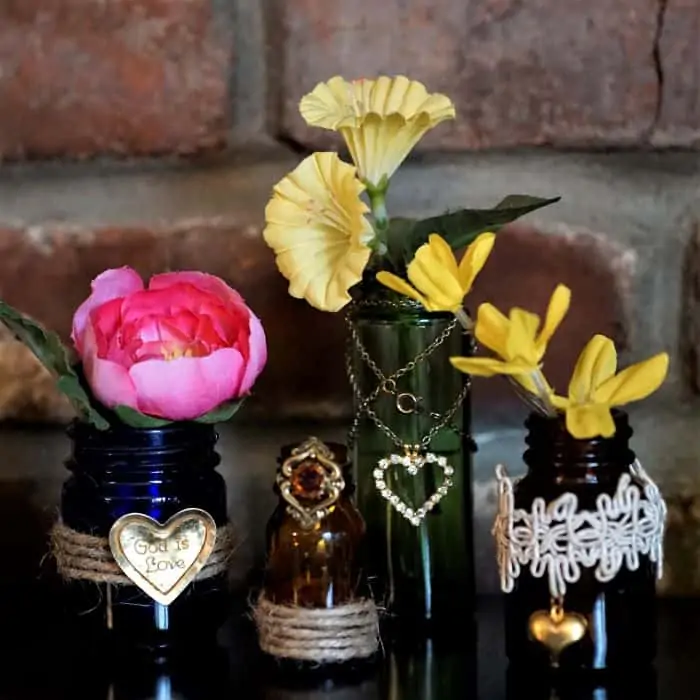 Cute huh! I put a few faux flowers in the bottles and they make darn cute vases. They would look really pretty with real flowers but I didn't have any on hand.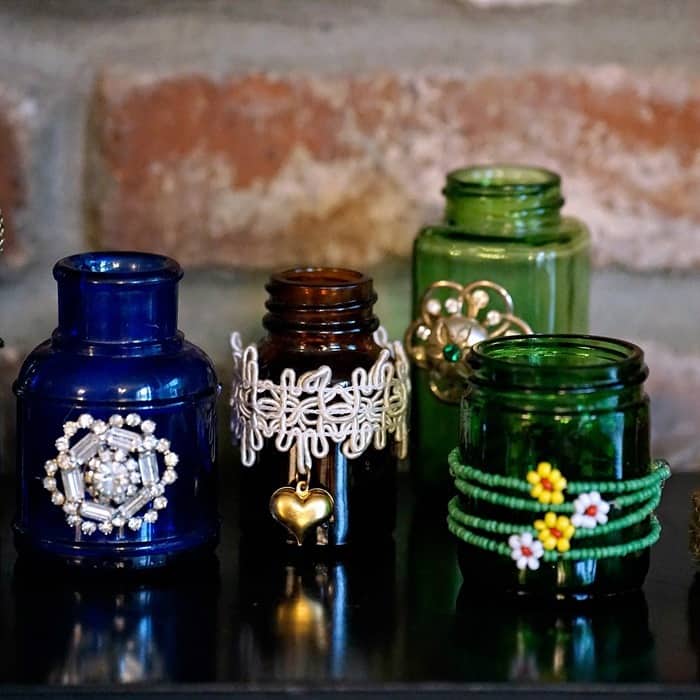 Bling Bottles
The decorative braid with the gold tone heart was a choker. I didn't know those things were making a comeback. I just cut the choker to fit the bottle and hot glued it in back. The heart was hanging just like this from the original choker. How easy is that.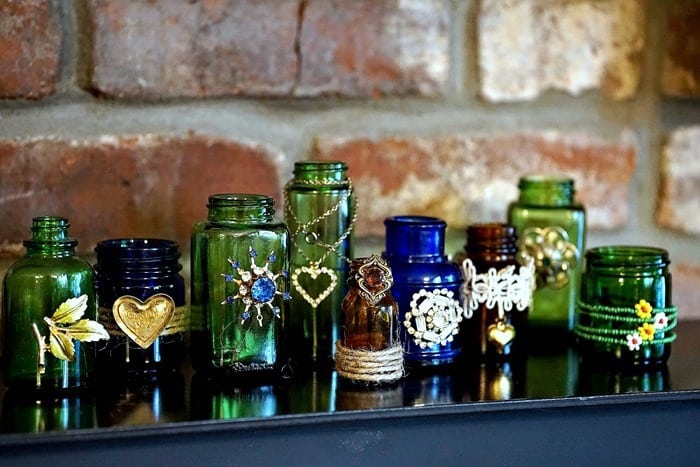 The bottles look great displayed as a group or by themselves. They make pretty flower vases too.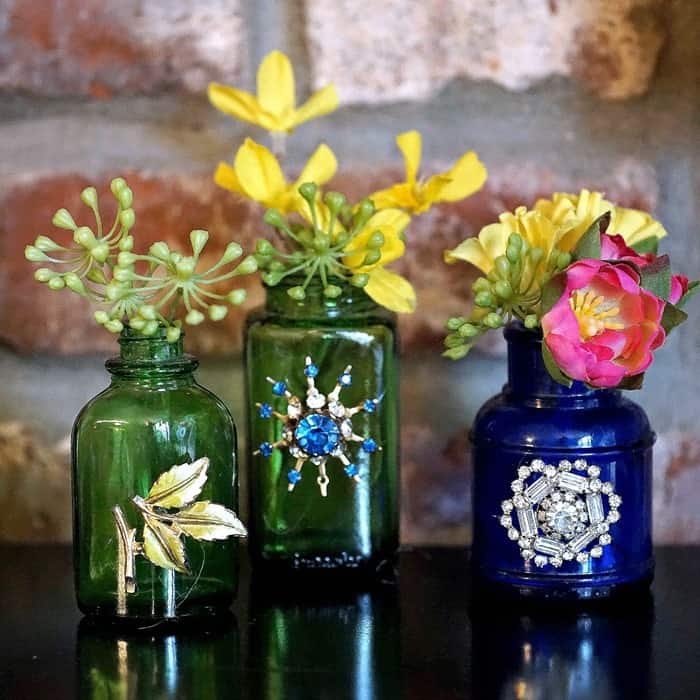 The leaf piece on the left bottle was once part of a brooch. The blue pin on the middle bottle is missing a blue stone. The big rhinestone piece on the blue bottle was a shoe clip. In order to glue brooches, earrings, shoe clips, etc. to the bottles I had to clip the backs off with wire cutters. Please don't cringe. I do this for most of the projects where I use old jewelry like the magnet earrings!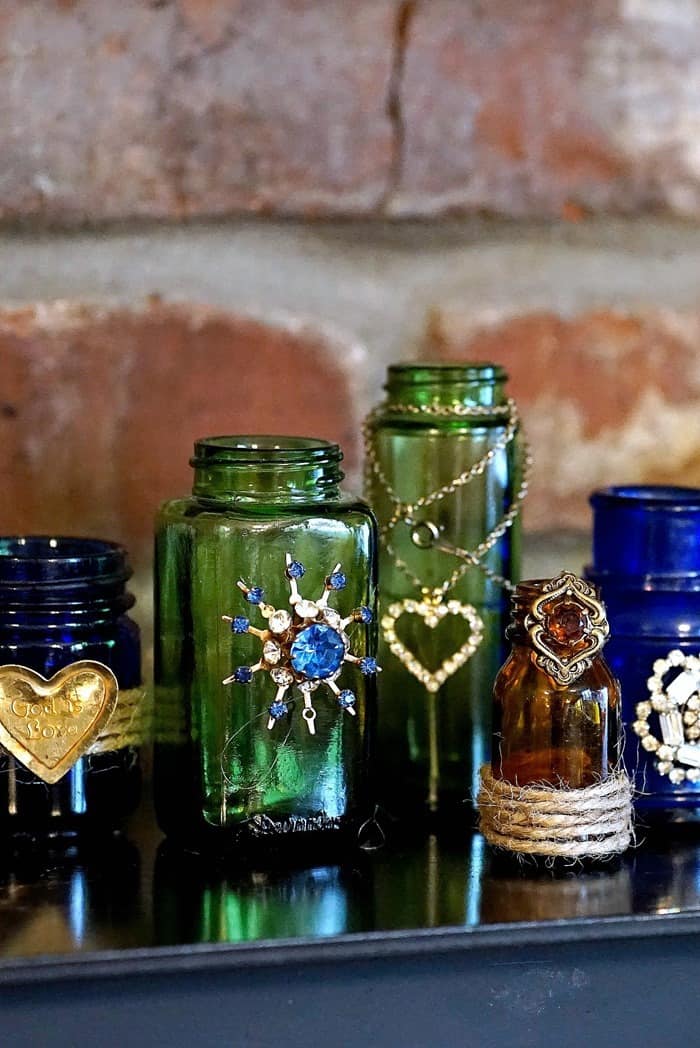 Granddaughter Sofi was in the workshop playing with a friend while I was putting the bottles together. After the friend went home Sofi wanted in on the bling action. She loves sparkle and shine as much as her Mamaw does. I have to say she has an eye for what works together.
I wrapped twine around the short blue bottle and Sofi pulled the heart out of the jewelry stash….it says "God is Love". She also selected the blue pin to go on the green bottle. I was going with the blue pin on the blue bottle. She's good, really good for a 7 year old.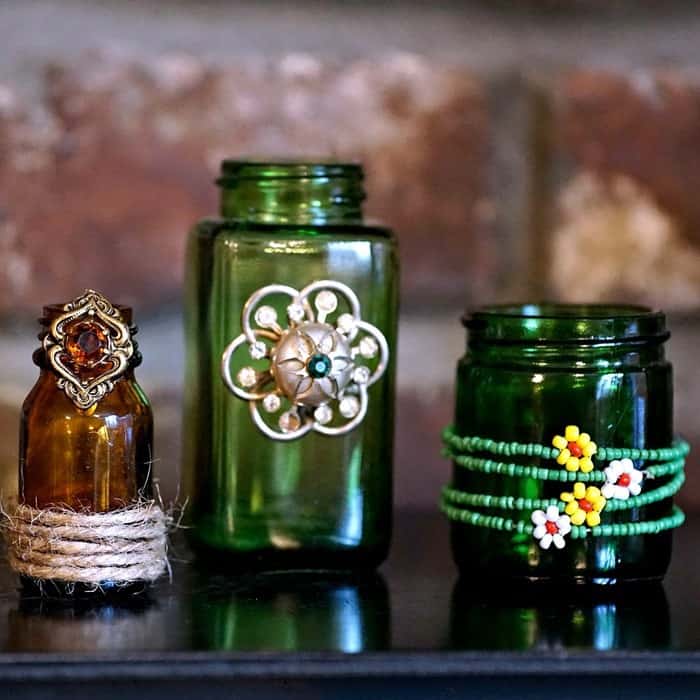 The jewel piece on the top of the brown bottle is a clip earring. It clipped perfectly to the top rim of the bottle. Everything can be taken apart and reused when you get tired of the look. Of course the brooches will be missing the pin parts on the backs!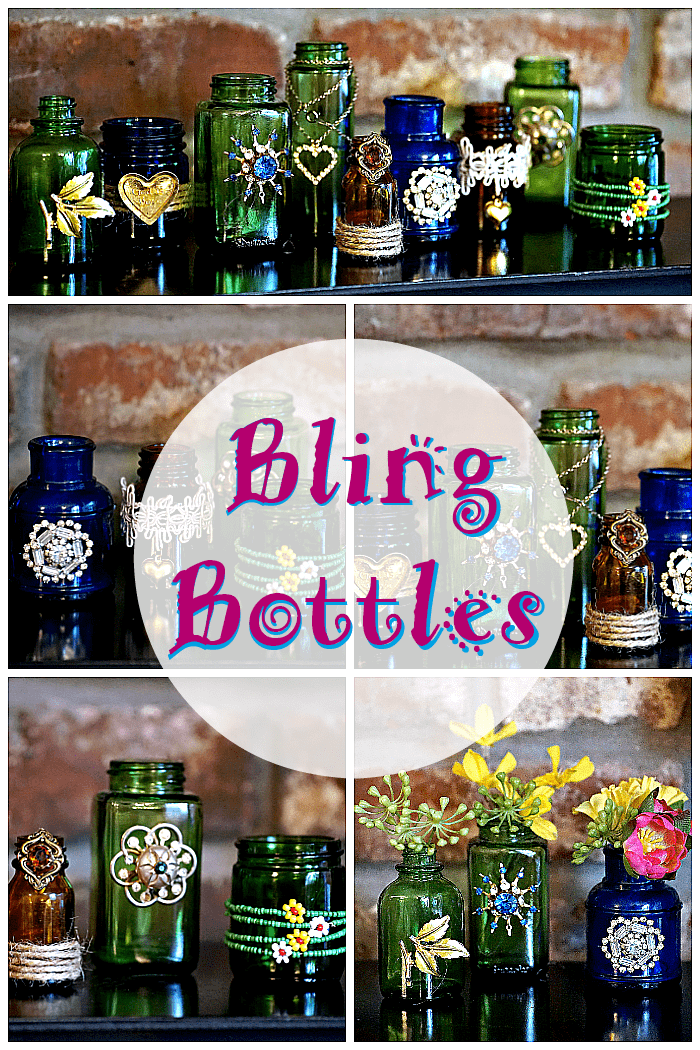 Decorative Glass Bottles
Sooooo, what do you think. Ready to give this project a try? Wash out that pickle jar and wrap it in ribbons or burlap and add some bling. This project is a rewind from January 2019. A lot of you are new here and the oldies may have forgot all about the bling. Hope you enjoyed the project. Want another bling project? How about this one......Mermaid Junk Art.
Time to take the tour. Just click those pink text links below the "before makeovers" photo….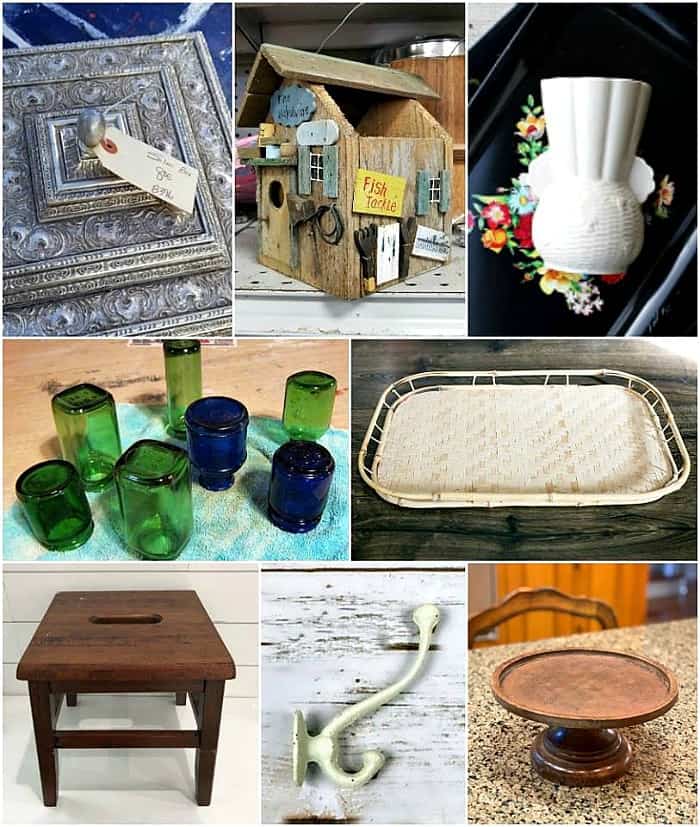 Large Trinket Box Makeover - My Repurposed Life
Pedestal Makeover - Our Southern Home
Farmhouse Apron Hook - My Uncommon Slice of Suburbia
Stripe Painted Tray - Domestically Speaking
Fixing Up A Broken Birdhouse With Barnwood - Sadie Seasongoods
Vintage Wall Pocket Organizer- House of Hawthornes
Wooden Step Stool Makeover - Refresh Restyle
Bling Bottles - Petticoat Junktion (that's me!)
Have a great day and thank you for being here, Kathy
Author: Kathy Owen (Petticoat Junktion)
Kathy is the founder of PetticoatJunktion.com, a home décor blog focused on repurposing and upcycling furniture, old hardware, rusty stuff, and thrifty finds into unique home décor. Kathy's projects have been featured on the Home Depot Blog, Plaid Crafts, Behr Designer Series, and in numerous magazines. Read more about Kathy here.