These seashell decor ideas are a great way to display your beach finds and a sweet reminder of good times.
It's easy to decorate a basket with seashells, plus it's a fun way to display the seashells you picked up on your beach vacation or maybe the shells you bought at the craft/hobby store. The seashell-decorated basket I created can be used for all sorts of things. It looks great as a catchall for an assortment of favorite junk treasures or as a plant container or how about using it to store your entire seashell haul?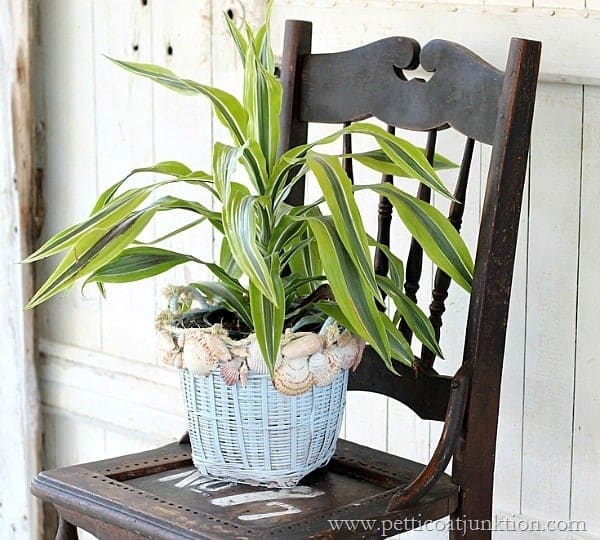 You guys might remember I have a large collection of seashells. Some were picked up on the beaches in Florida, and some from Kodiak Island. My Summer mantel decorations this year feature seashells. There are also glass containers filled with seashells gracing the white tables in our den. Looking at all those seashells all the time inspired me to get out my glue gun and get crafty.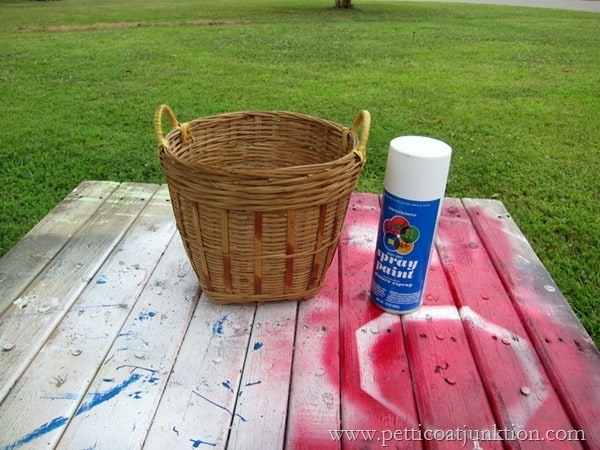 I picked up this basket for $1.50 at the thrift store. Don't you love a good deal? I buy the baskets when I can get a good deal because there are so many things you can do with baskets. The dry brush technique is one of my favorite things to do with a basket. It's so easy, and the effect is dramatic, like this basket here....I Turned The Fixer Upper Finds Into Farmhouse Decor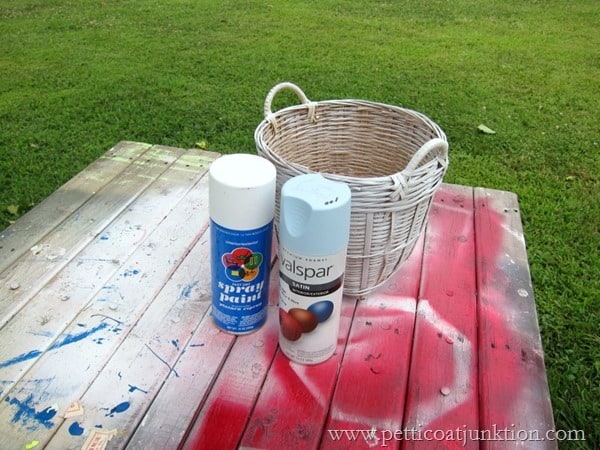 For the seashell basket, I first spray painted it white, then decided the white was too blah. I found a can of light blue spray paint in my stash; the color was perfect.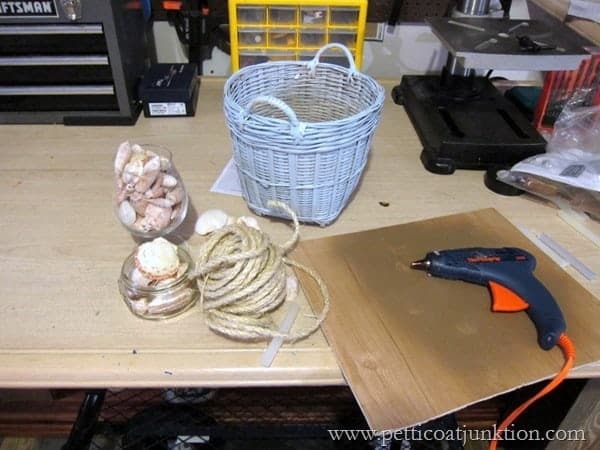 It only takes a minute to spray paint small items, maybe less than a minute. While the basket was drying, I pulled out all my supplies…seashells, sisal rope, and a glue gun (aka torture tool).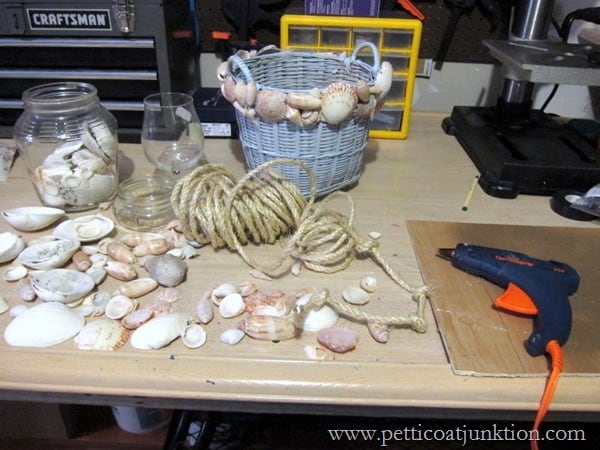 I hate that glue gun. Not just that glue gun…..all glue guns. I burn my fingers and arms…. and other places….every time I use it. I bought a fancy schmancy one with all kinds of tips and three heat controls…. but I like my cheapo one better.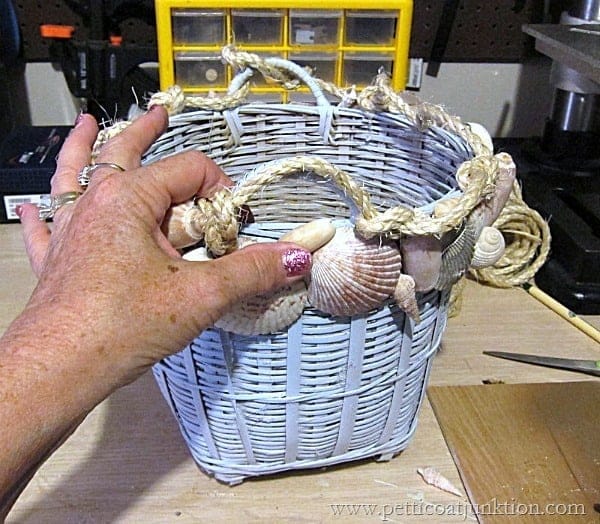 I had to share the photo of my glitter nails. Sparkle is my thing.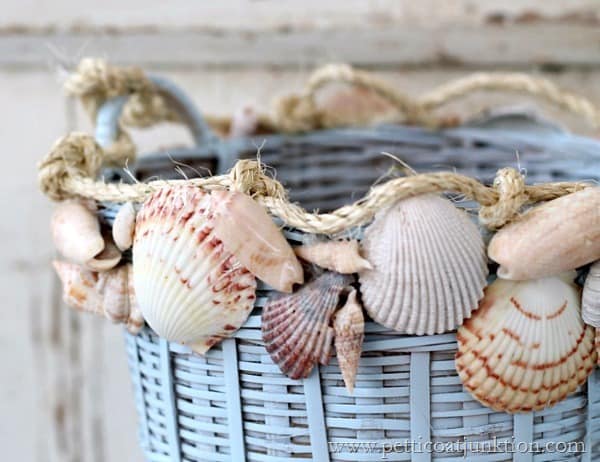 I put the hot glue on the shells and held them until the glue dried. I glued them on in a random pattern. The secret is to start with the big shells and work with the smaller shells. Don't try to line them up perfectly because that will look bad.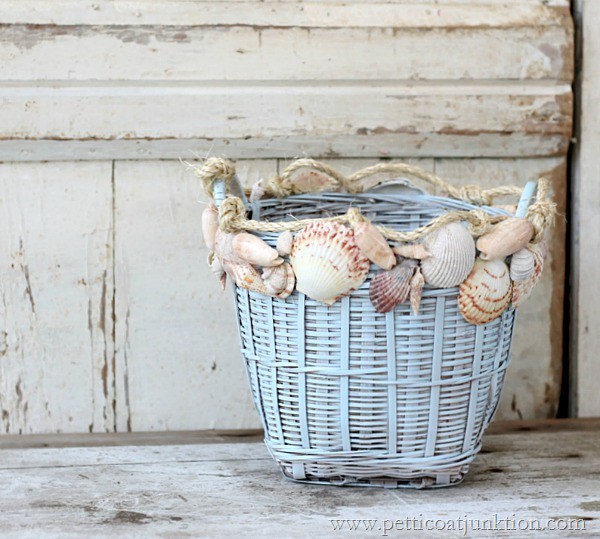 The sisal rope was an afterthought. And I'm glad I thought of it. It's that one element that elevates the project to the next level. I bought the sisal rope on Amazon for a furniture makeover, but I can see a bright future for sisal in upcoming projects. I particularly like the sisal rope handles I made for an old drawer.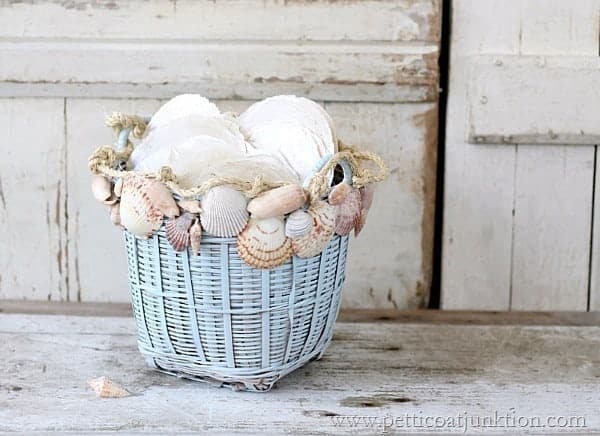 I got a little carried away while filling the basket with various things and dislodged a seashell. It may stay that way…not pulling the glue gun out again until my fingers heal.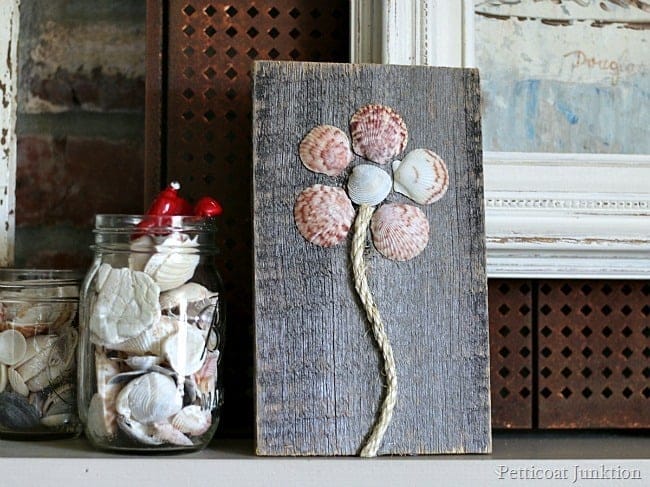 I wanted to share another quick seashell craft with you, a seashell flower on reclaimed wood. Here's what I did....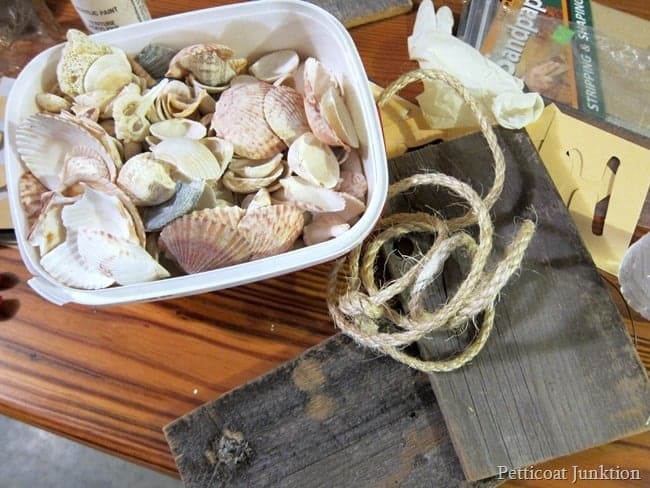 I gathered reclaimed wood, seashells, and sisal rope to work with.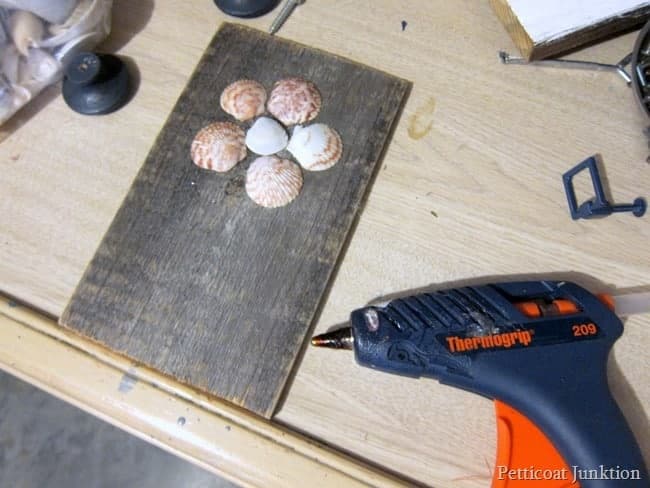 I placed a few shells on the reclaimed wood board and grabbed the hot glue gun. Next, I added the sisal rope for the flower stem.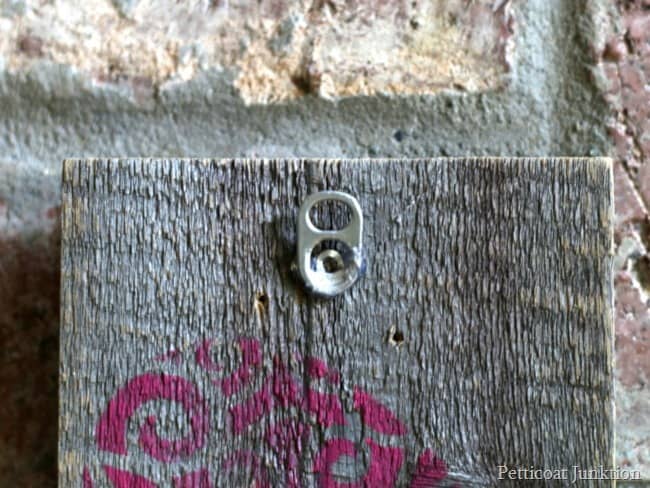 And finished it off with a pop top hanger...........shells, wood board, sisal, pop top tab, hot glue, 5 minutes….that's it.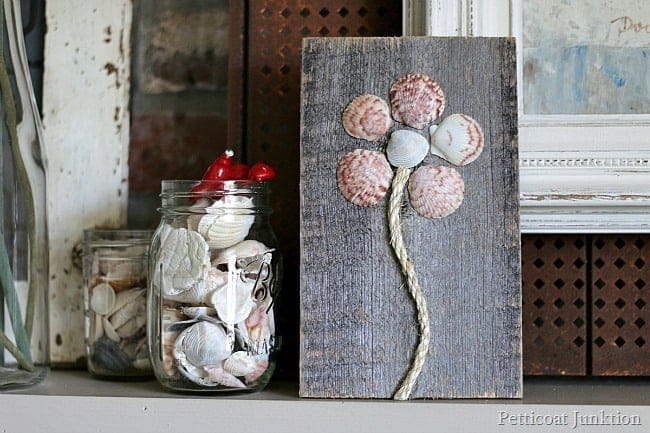 A very simple project. Using the hot glue gun with supervision would be great for a kids' craft.
I have all kinds of seashell projects like this seashell container I made from a thrift store find. Would you believe the container had some gold lettering on the outside, and I scraped it off using a dull knife? You can also remove the gold design on those glass door china cabinets from the 60s and 70s. Find the container project here...Thrifty Seashell Container Idea | Thrift Store Decor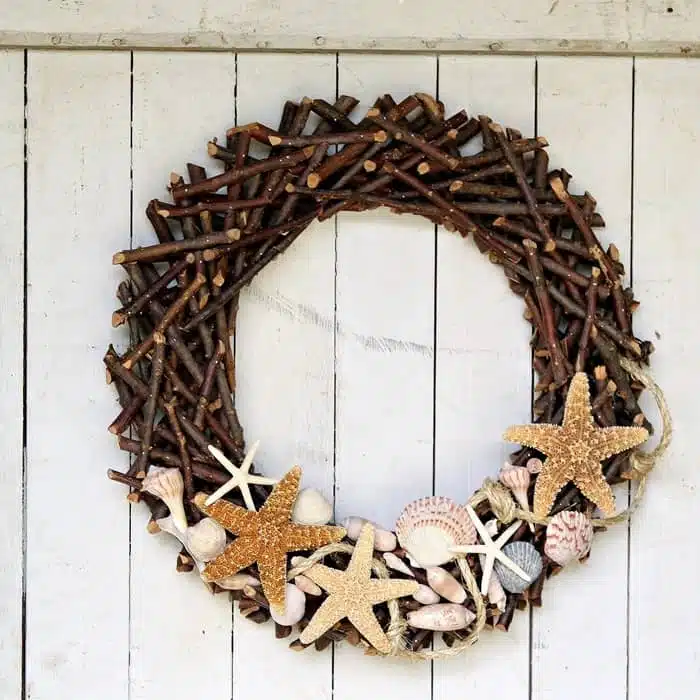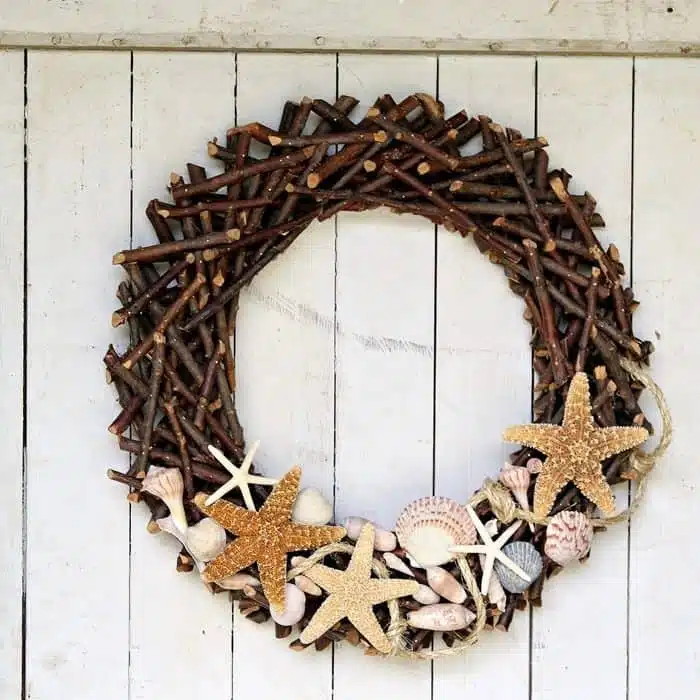 Decorate a grapevine or apple wood wreath with seashells....DIY Sisal Rope And Seashell Wreath Idea | Vacation Memories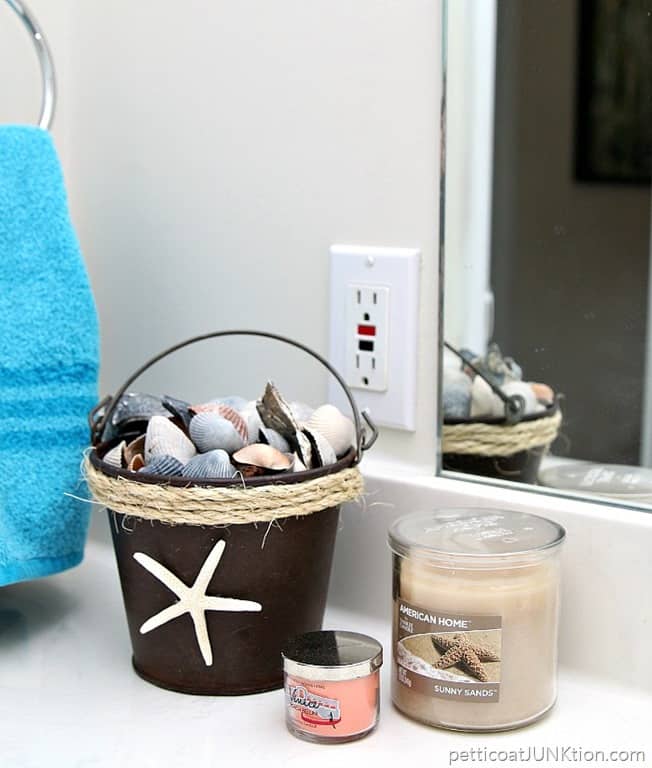 Use a single starfish and a few rows of sisal rope to decorate a rusty metal container. Sisal Rope Wrapped Rusty Starfish Seashell Bucket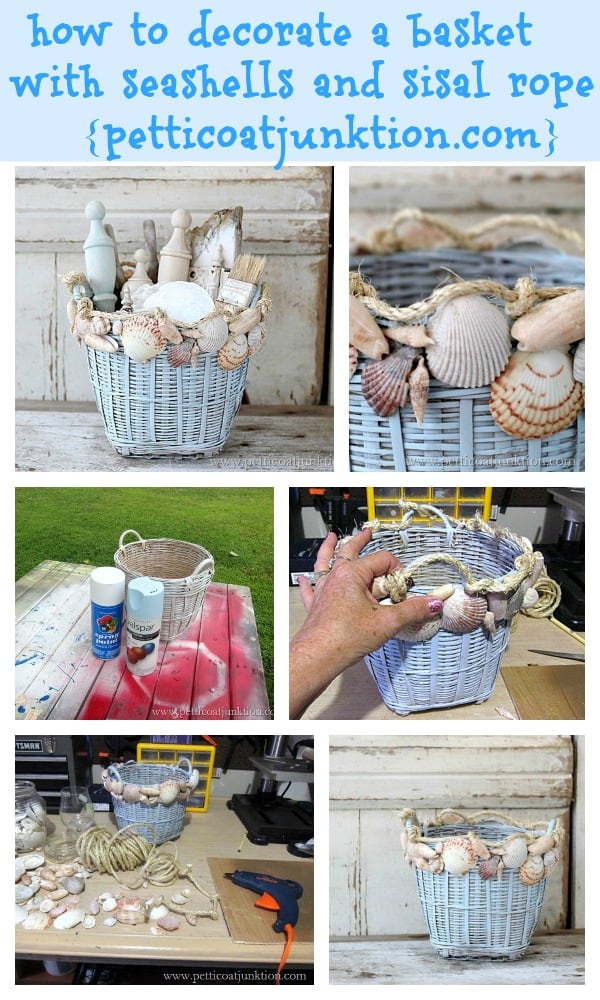 Have any of you had experience with a glue gun? My daughter-in-law told me that if anything suspicious ever happened to the JTS…I might be a suspect...... but with my fingerprints burnt off……well….
Do you take beach vacations? Have any seashell display ideas for me? Leave a note. Thanks for being here, Kathy
Author: Kathy Owen (Petticoat Junktion)
Kathy is the founder of PetticoatJunktion.com, a home décor blog focused on repurposing and upcycling furniture, old hardware, rusty stuff, and thrifty finds into unique home décor. Kathy's projects have been featured on the Home Depot Blog, Plaid Crafts, Behr Designer Series, and in numerous magazines. Read more about Kathy here.