Repurposed Spice Rack Makes A Pretty Flower Display
The days of spice racks hanging on the wall are over. They usually weren't hanging near the cook stove. Not handy at all. My repurposed spice rack makes a great flower display. Prettier than spices.
The project took a lot of twists and turns. I did the makeover on the spice rack to share for the June thrift store decor day and hated how the project turned out so I put it aside and made another project. You guys do know that all projects do not go as planned, especially mine.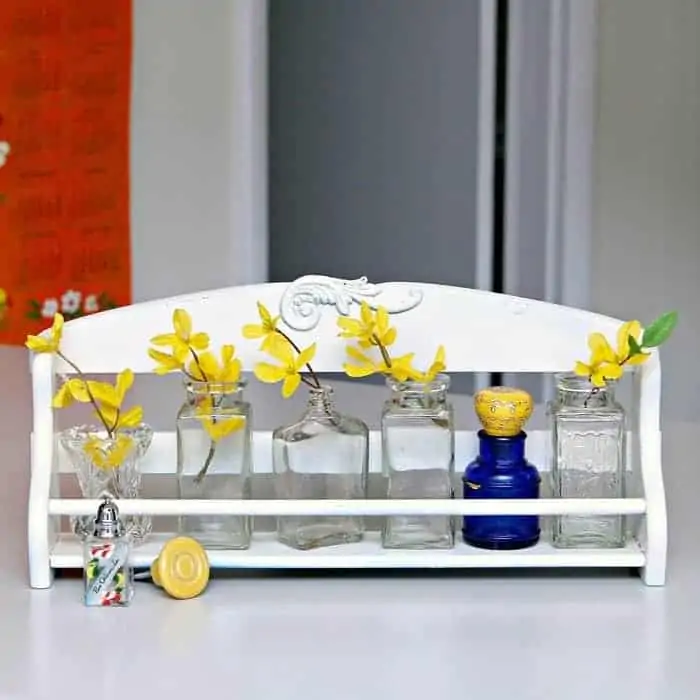 Flower Display – Repurposed Spice Rack
Today is Thrift Store Decor Day and my oh so thrifty pals have projects linked at the bottom of this post.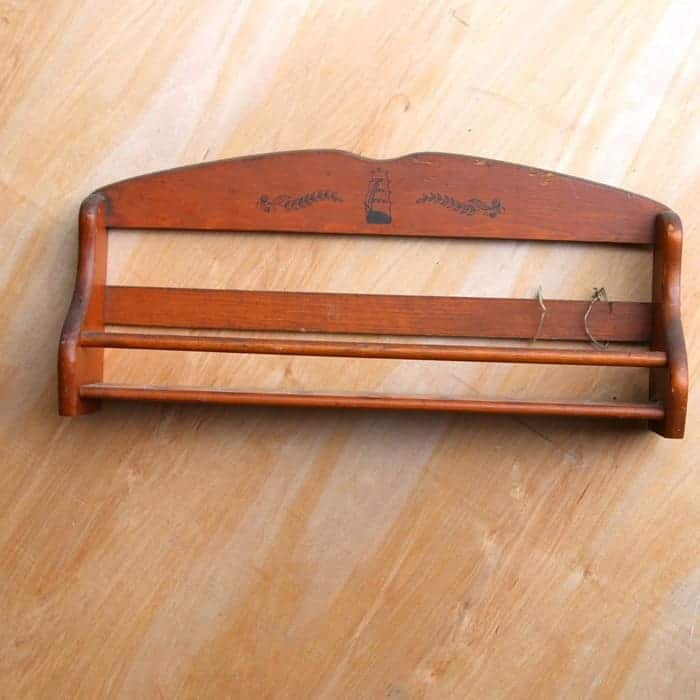 The wood spice rack was a find from one of my Arkansas trips to visit my parents. I don't even remember how much I paid for it.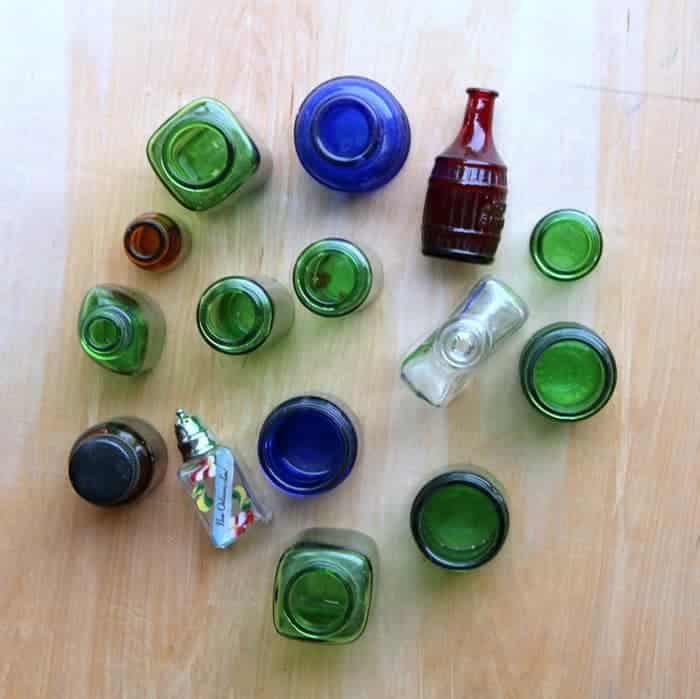 I bought the blue and green bottles at the same thrift store. The New Orleans shaker and the brown bottles were in a box of stuff we bought at an auction. I don't remember how much I paid for any of this.
The bottles were inspiration for painting the spice rack. My plan was to paint the spice rack and use the bottles as vases for a cute display. I thought the display would look nice sitting on the bathroom vanity. Our bathroom décor is navy and shades of turquoise and green.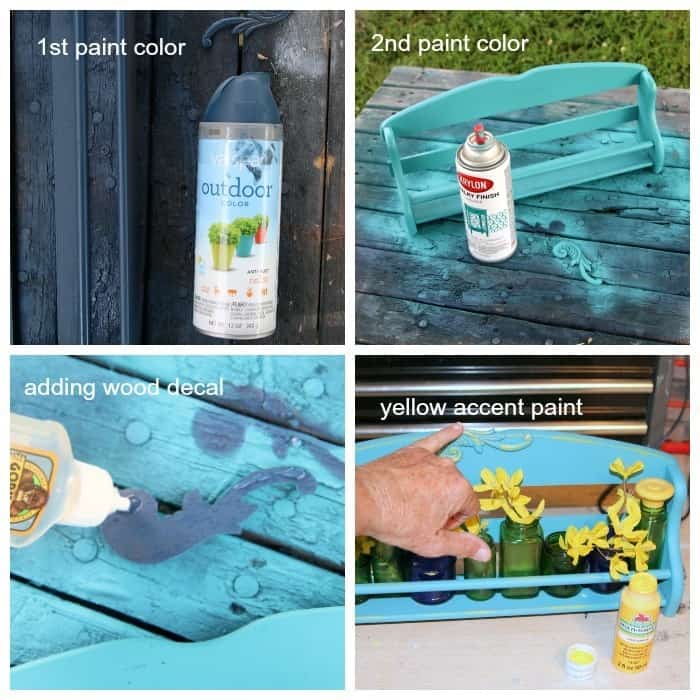 I started out with navy spray paint and decided that wasn't the color for me. I then spray painted the spice rack matte turquoise. The small curved detail (dip) at the top of the spice rack was too old school for me. I found the little wood applique in my stash. I painted and glued the applique to that spot.
Once the paint was dry I added the bottles and flowers to the spice rack. Not loving the look. I used my finger tip to accent the wood curlicue with yellow paint. Still not feeling it. Too much color I think. At this point I decided to move on to another project for thrift store day.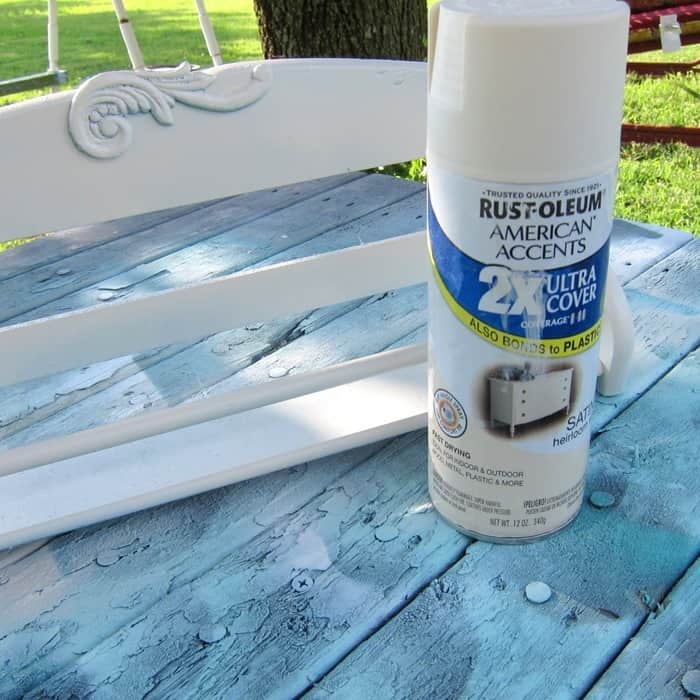 Fast forward to this month and I'm ready to try the spice rack repurposed in a different paint color. My favorite white spray paint color is Rustoleum Satin Heirloom White. It is the perfect off-white. You think it's white until you put it up against something really white. Really white is too white for me.
I very lightly distressed the paint once it was dry, concentrating on the edges and the wood applique.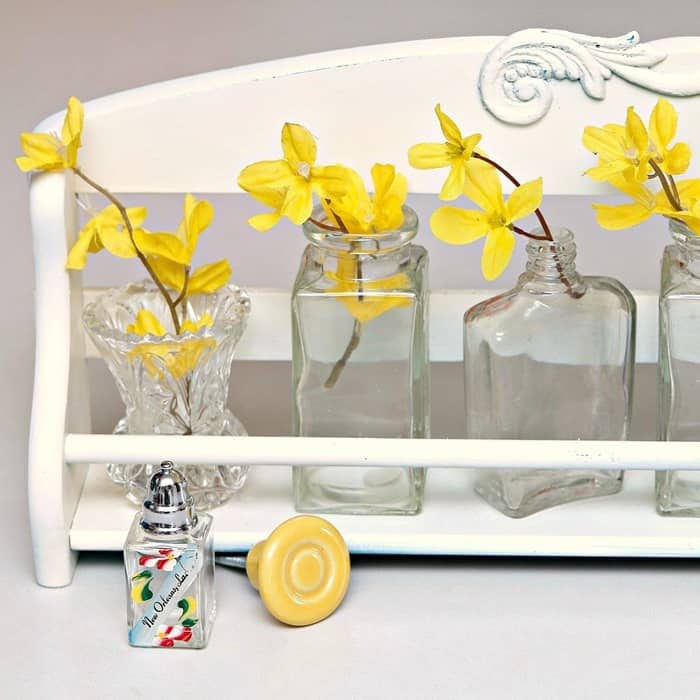 No more colorful bottles either. I went through my junk stash and found clear bottles to hold the faux forsythia flowers. I added the cut glass toothpick holder/whatnot, and the vintage New Orleans salt shaker tourist piece, along with a yellow furniture knob to the display. I love the colors and design on the little shaker. Sometimes it's the simplest things that draw our eye. Small piece, big statement.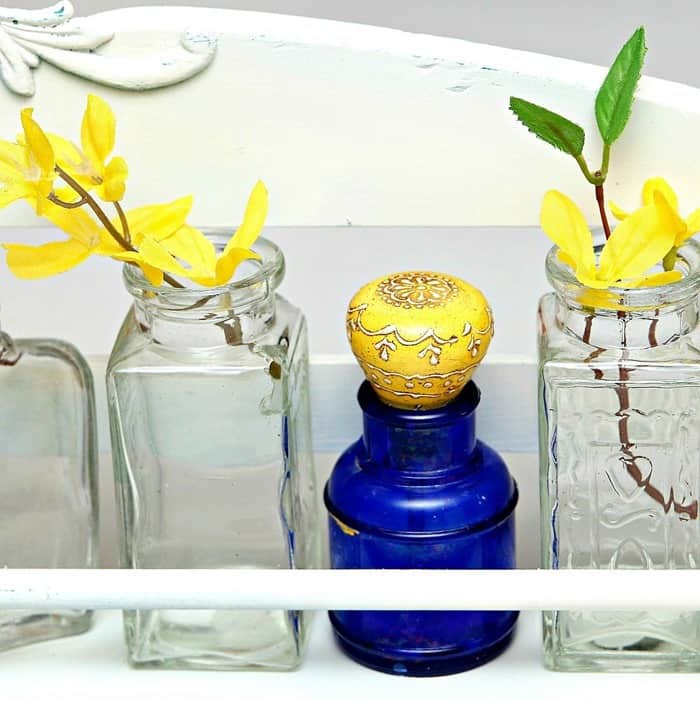 Another statement piece is the cobalt blue bottle. I put a decorative knob from Hobby Lobby on top of the bottle. The knob has been in my stash for a while and it tops off the blue bottle perfectly. Everything doesn't have to be matchy matchy. Go for the unexpected sometimes.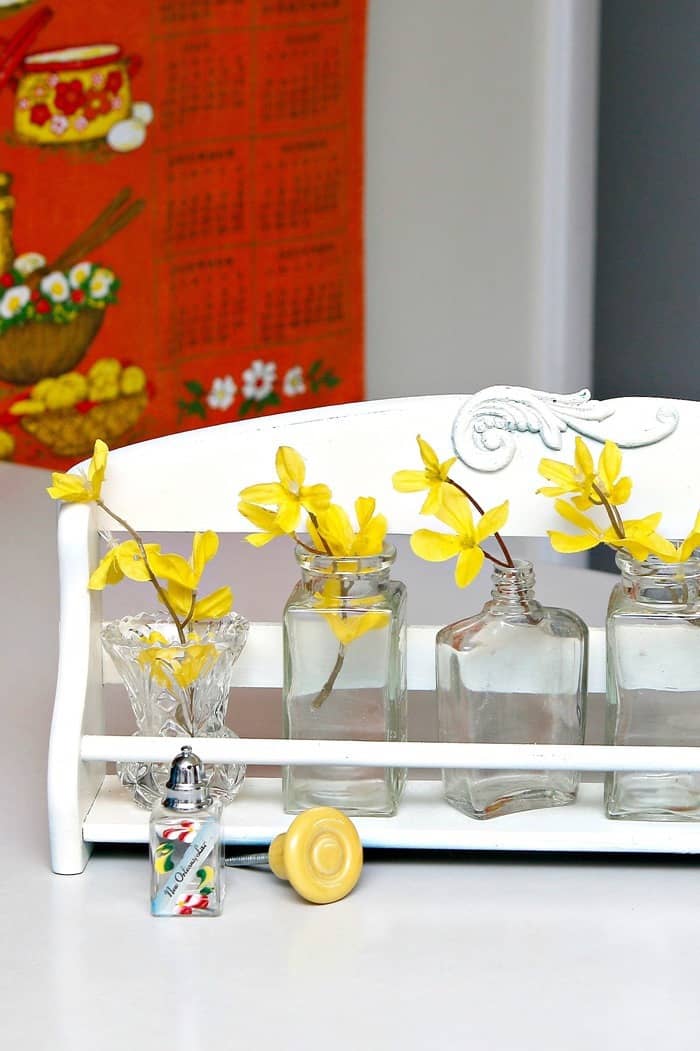 I like this version of the spice rack much better. Clean, fresh, and summery. The pretty flower display is sitting on the bar/counter in the kitchen. It makes me smile. What about you? Do you like the repurposed spice rack?
I wanted to share the details of this project because we all have makeovers go wrong.....all of the time. You would not believe the number of times I've changed plans midstream. I've also completed big furniture makeovers just to say...."Boy I really hate that". Then I start over. So, don't feel like you are alone or be afraid to start a project. Go for it.
I change the display on the bar often, very often. One of my favorite countertop displays was the weathered wood box and mason jar centerpiece. Check out the video I made showing how to weather or "age" the wood. It's a doozy…..
How To Weather or Age Wood
That's it for me. Time to see what my friends have been up to. Please leave a note and let me know what you think of the spice rack repurposed into a flower display. Tour links below the photo……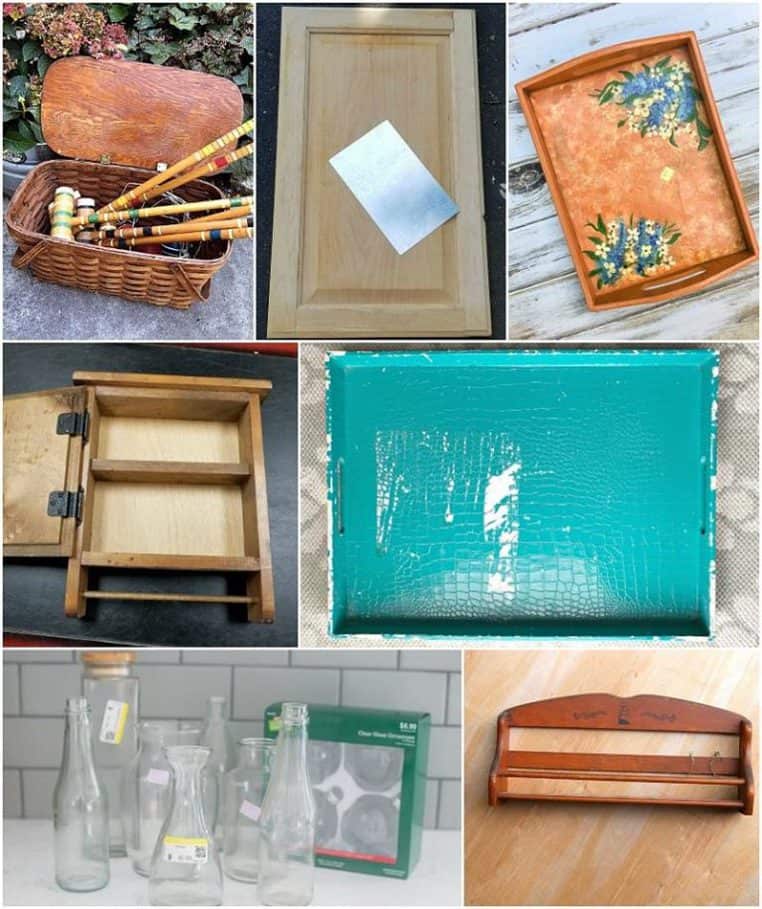 Cabinet Door Magnetic Memo Chalkboard - My Repurposed Life
Masculine Tray Makeover - Our Southern Home
DIY Tray Makeover - My Uncommon Slice of Suburbia
Beachy DIY Sea Glass Decor - Domestically Speaking
Vintage-Inspired Military First Aid Kit - Sadie Seasongoods
Repurposed Croquet Set - House of Hawthornes
Repurposed Spice Rack - Petticoat Junktion (that's me!)
Thanks for being here, for being loyal readers, for sending me emails and leaving comments, I appreciate you……Have a great day, Kathy
Author: Kathy Owen (Petticoat Junktion)
Kathy is the founder of PetticoatJunktion.com, a home décor blog focused on repurposing and upcycling furniture, old hardware, rusty stuff, and thrifty finds into unique home décor. Kathy's projects have been featured on the Home Depot Blog, Plaid Crafts, Behr Designer Series, and in numerous magazines. Read more about Kathy here.