Did you know you can spray paint furniture? It can be done, and the results are amazing. I painted a table with lattice panel shelves using a can of spray paint because it would have been nearly impossible to paint the table using a brush.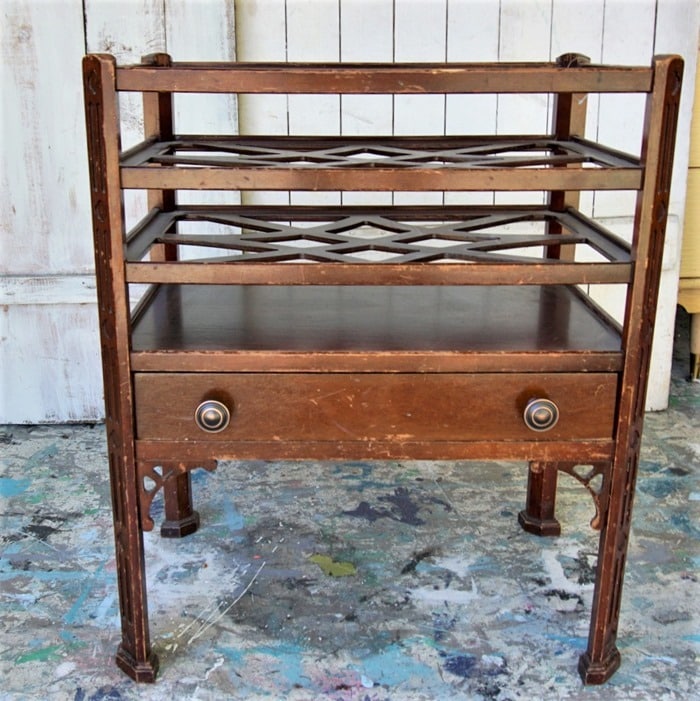 This is the table I bought at the local vintage market where I have a booth. There is a funny story that goes along with the table. I was out of town last week visiting my Dad in Arkansas and had not painted a piece of furniture for today's tour. Yes, today is the Furniture Fixer Upper Tour and the tour links are at the bottom of the post.
My plan was to shop for a small piece of furniture like a nightstand or side table with straight lines that would be easy to paint and not be too time-consuming. The only furniture projects I had in my workshop were large pieces.
We came home Sunday night to find our hot water heater had sprung a leak. You guys know how it goes. Always something. We were lucky enough to find a locally owned shop to replace the heater on Monday but we still had to deal with the disorganization and craziness.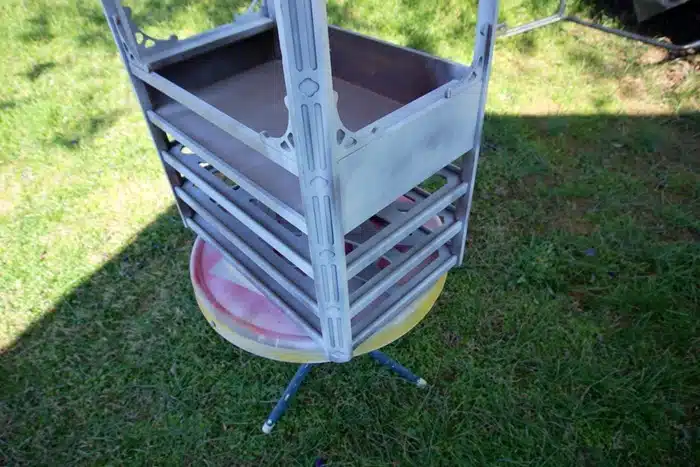 I went to the shop Monday morning and spotted the table. It was love at first sight, but the table wasn't the easy-to-paint piece I was looking for. After debating with myself for several minutes, I bought the table anyway. The price was $25.
With the latticework top and shelves, I decided to use spray paint. I mean, that was really the only answer. It would be almost impossible to brush paint the table because there was maybe two or three inches of room between the shelves. I wasn't even sure spray paint would work.
I needed to have the table painted by yesterday so I could take photos, write this post, and get it published today. I was also preparing to head to Florida today on a girl's trip. Yes, I'm on the road!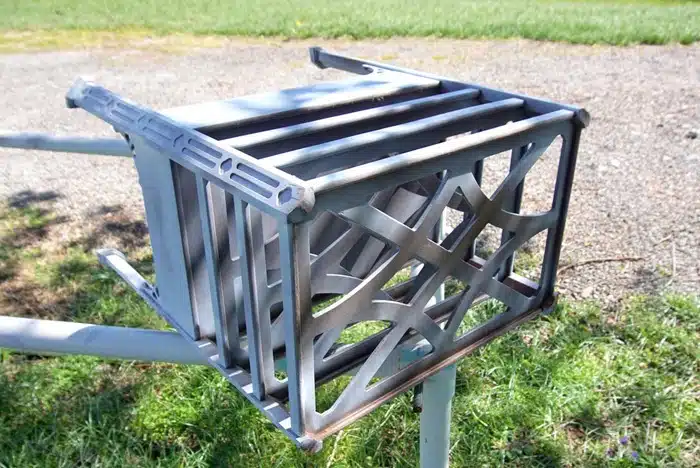 So I started spray painting the table. I decided to first apply a basecoat of flat white spray paint in case there was bleed thru or any problem areas. I like to start the process of painting chairs with them turned upside down so I don't miss any spots. I felt I needed to do the same with this table because of how it's made. I also turned the table on its side to spray paint the top and shelves easily.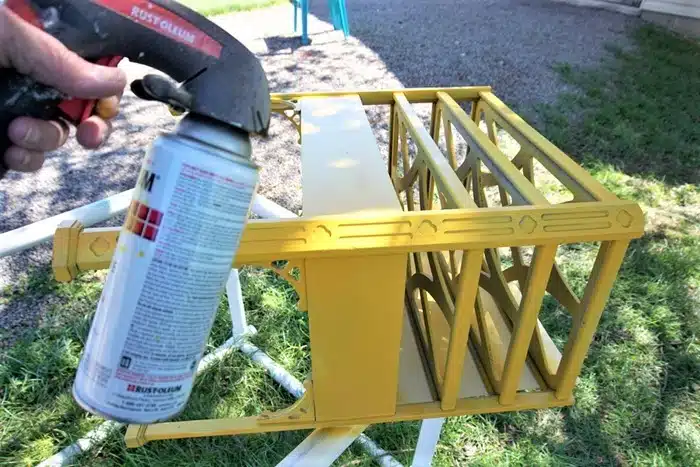 It would be difficult to spray paint the top of the table with it sitting upright because the paint doesn't spray very well with the can held horizontally.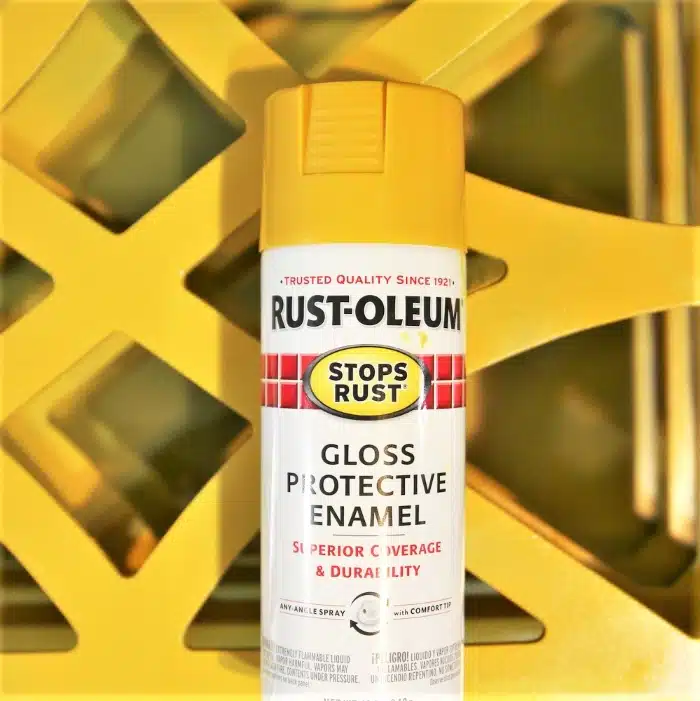 The paint color is Gloss Tuscan Sun by Rustoleum. I've been wanting to paint something yellow and this table was it. I had several cans of yellow spray paint on my shelf and this color was the boldest.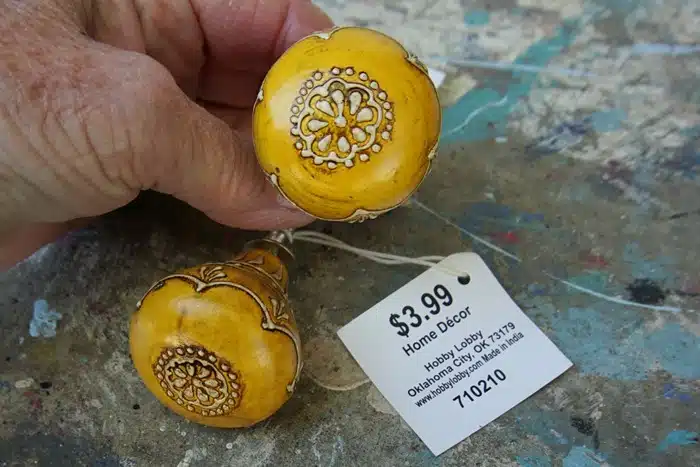 These Hobby Lobby knobs have been in my stash forever. I'm sure I bought them for %50 off because I always wait for the sale.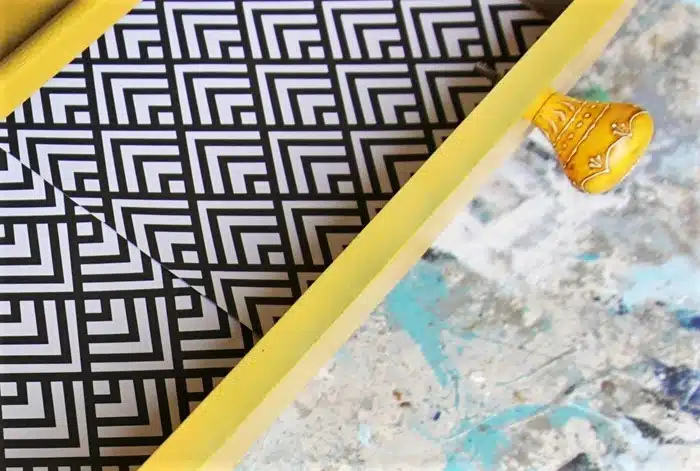 The scrapbook paper came from Hobby Lobby too. A lined drawer is always a pleasant surprise.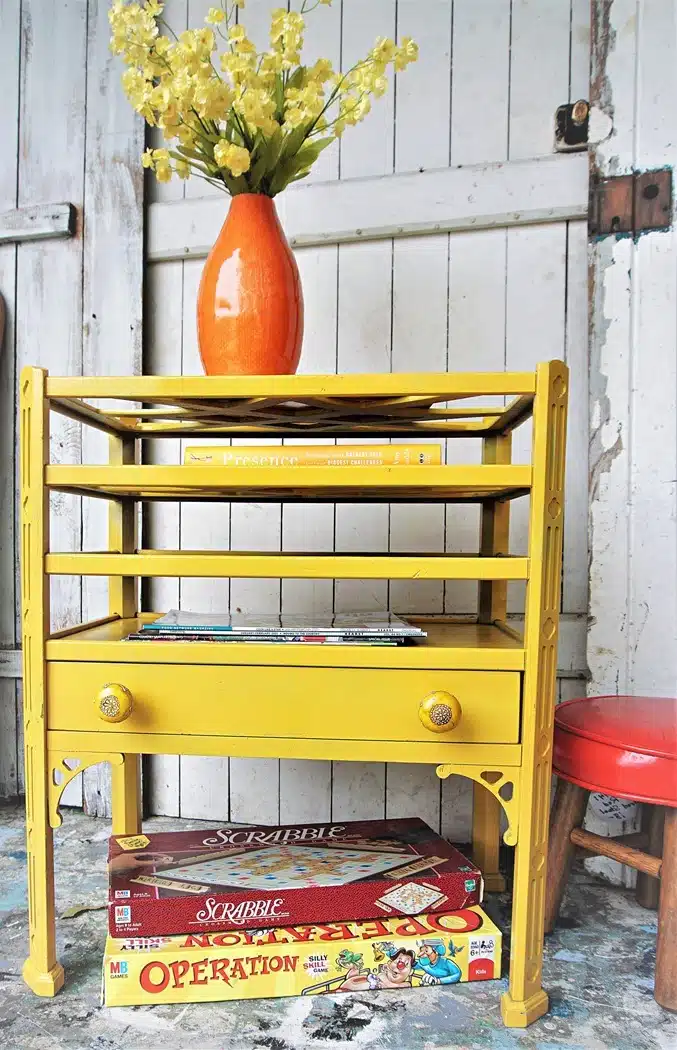 And about that spray paint. You can see the results and they are amazing. I was surprised at how well the yellow paint covered the table.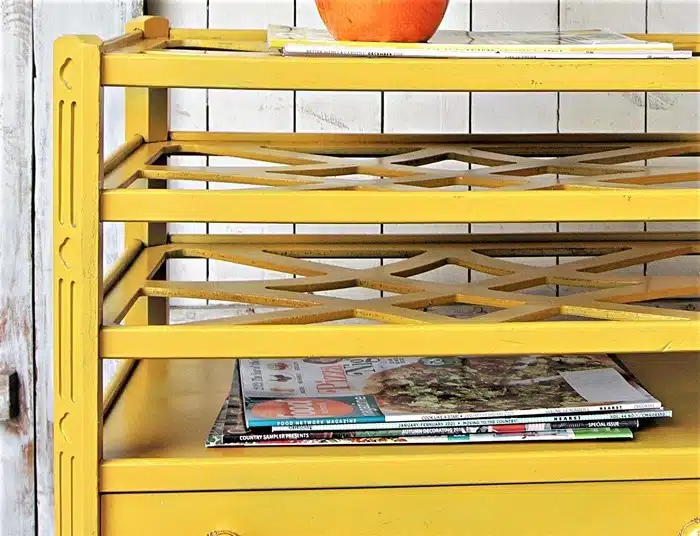 It was also easier to spray the shelves than I expected. I was able to spray the paint between the shelves from all four sides and achieve coverage in the center of the shelves.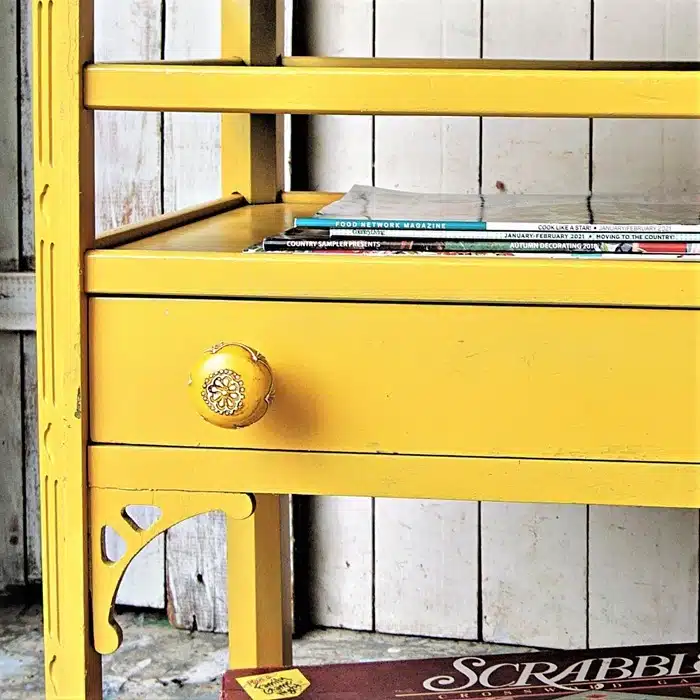 No distressing for the table but it certainly has the details for it. That is one of the things that caught my eye. I love the corner trim and the detailed legs.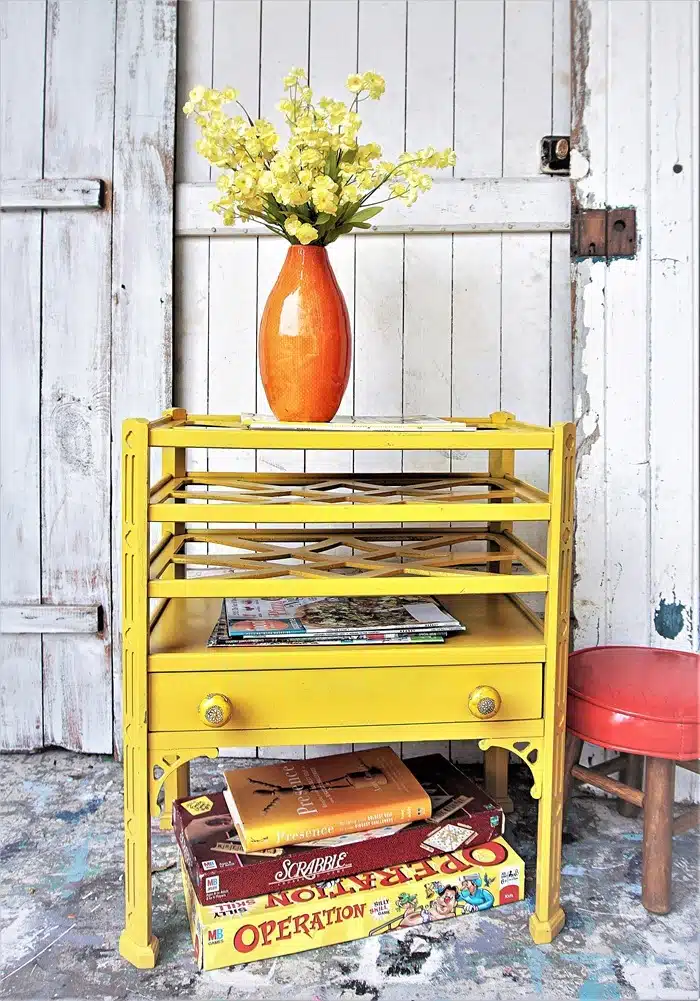 I hope I didn't come across as whiny when telling the story of the table. We were lucky the hot water heater mess wasn't worse and things are about back to normal at the Owen house.....or as normal as things ever are. Still trying to dry out the carpet.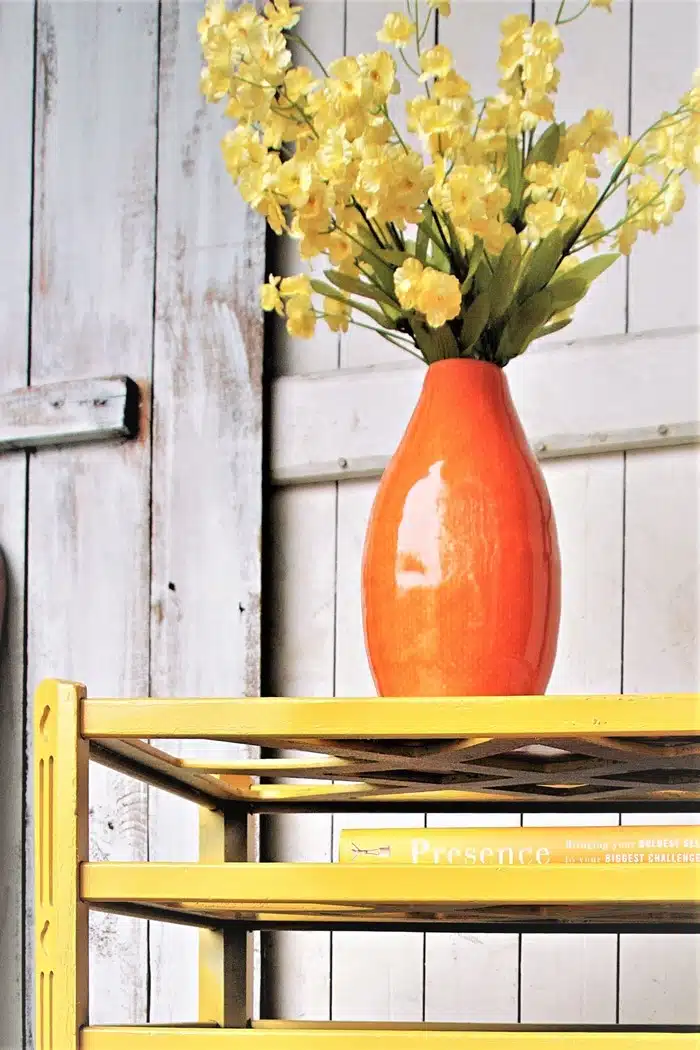 I may keep the table because my decor includes a lot of yellow and orange and green. I need to bring it into the house and see if there is a place for it in our family room. Anytime I bring a piece into the house, I have to take a piece out.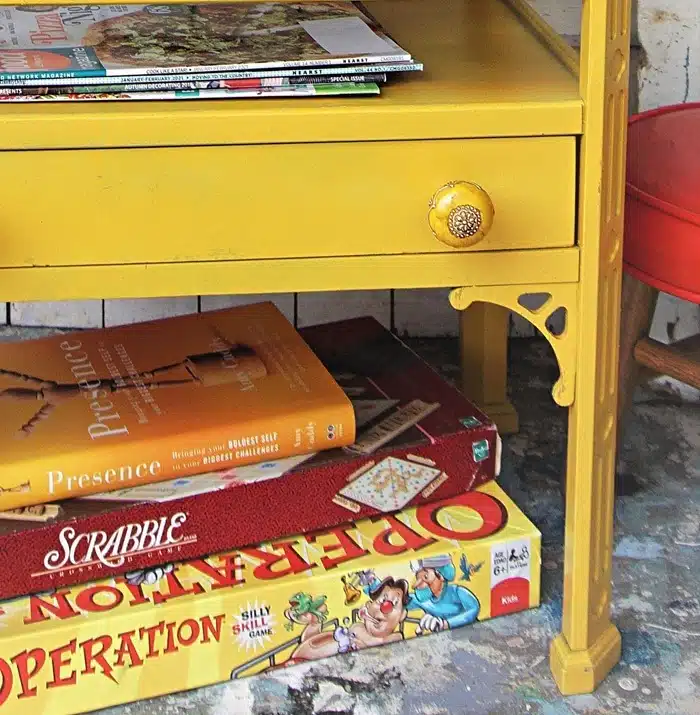 Well, it's time to take the furniture tour. If you have a minute or two, please leave a quick note for me and tell me your thoughts on spray painting furniture. Take the tour by clicking the text links below the "before" makeovers photo collage.....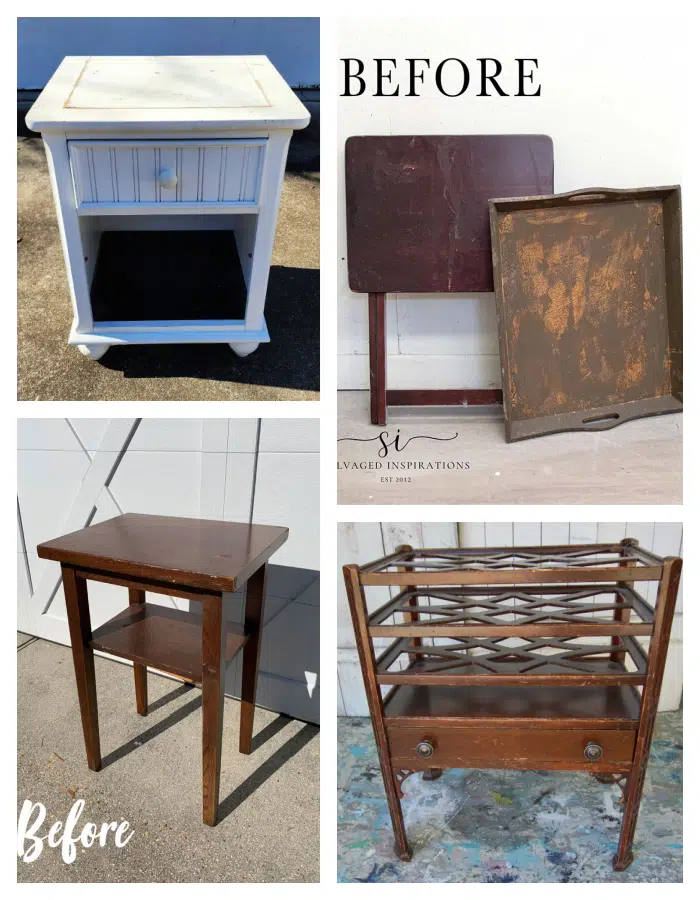 Furniture Fixer Upper Tour:
Update A Side Table With Paint - Confessions of a Serial DIY'er
Tropical Paradise TV Tray Makeover - Salvaged Inspirations
Checkerboard Game Table Upcycled Night Stand - My Repurposed Life
Spray Paint Furniture - Petticoat Junktion (you are here)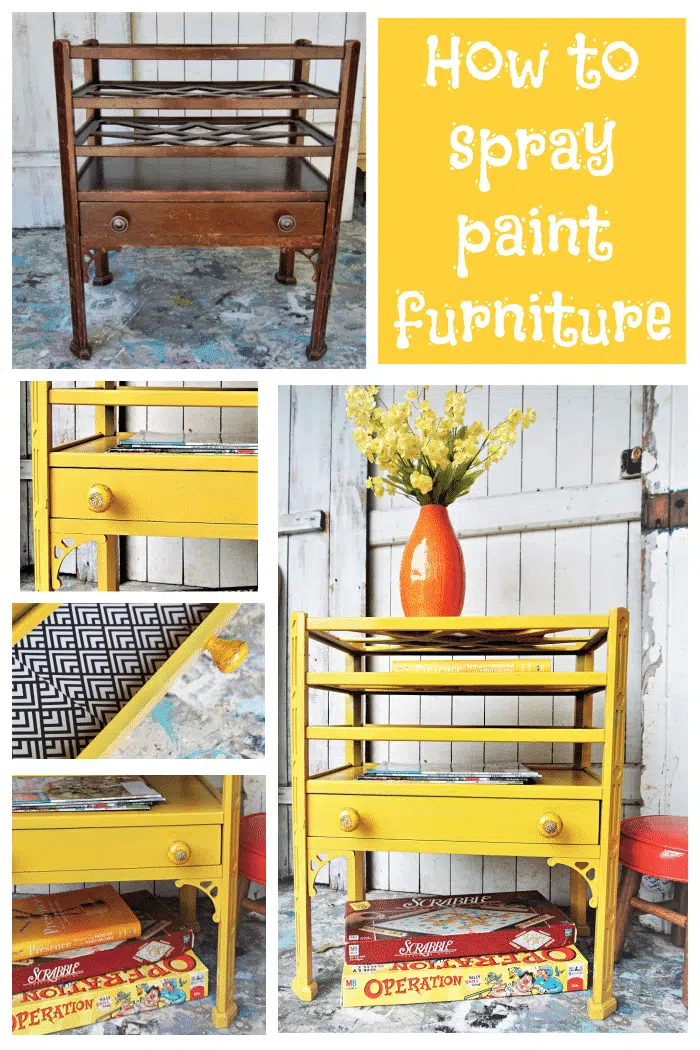 As always, thanks for being here, Kathy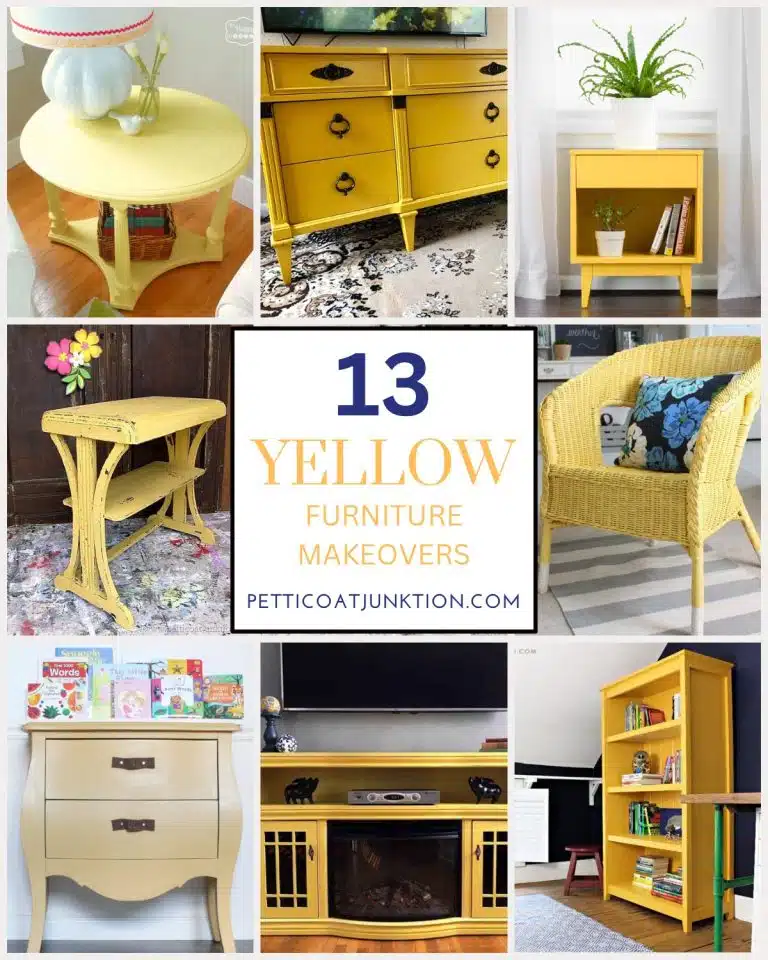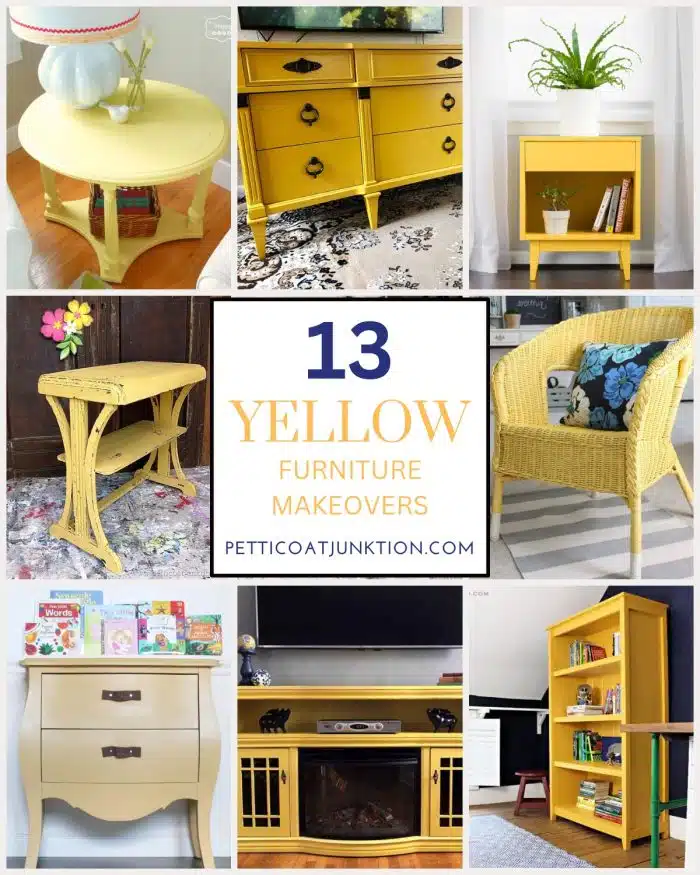 If you love yellow furniture as much as I do this post is for you....13 Yellow Furniture Makeovers
Author: Kathy Owen (Petticoat Junktion)
Kathy is the founder of PetticoatJunktion.com, a home décor blog focused on repurposing and upcycling furniture, old hardware, rusty stuff, and thrifty finds into unique home décor. Kathy's projects have been featured on the Home Depot Blog, Plaid Crafts, Behr Designer Series, and in numerous magazines. Read more about Kathy here.