Turquoise paint and green paint go together like peanut butter and banana, or chocolate and caramel, or me and the JTS. Yep, I'm on a roll today. Get ready for a lot of photos and a complete tutorial (Kathy style).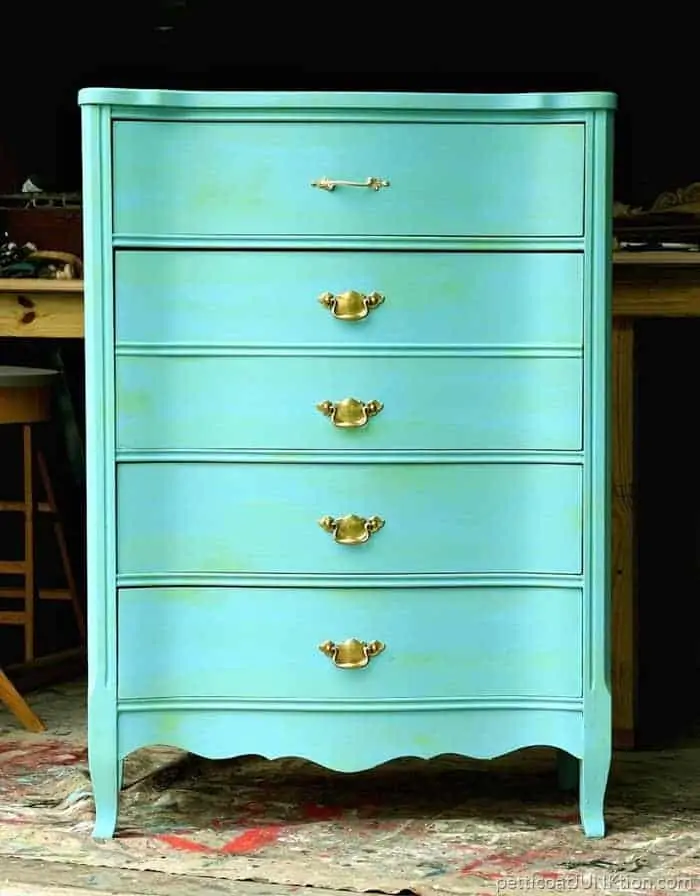 Green Wash Over Turquoise Paint Featuring Shiny Brass Hardware
I had a plan for this piece and of course it went sideways. I planned on a simple turquoise paint finish and  it ended up being so much more than that.
The photos really don't do justice to the paint job. I didn't capture the variations in the paint colors as I had hoped. There are a few close up shots that give a better look at the colors.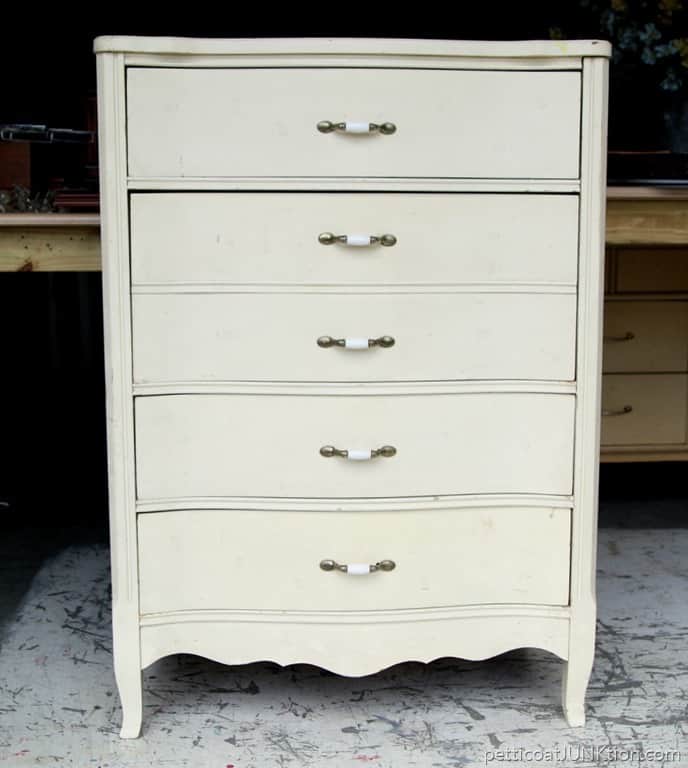 White Chest before Furniture Makeover
The plain white chest of drawers came from the Nashville Flea Market. The price was $40. The chest needed some work but nothing the JTS couldn't handle.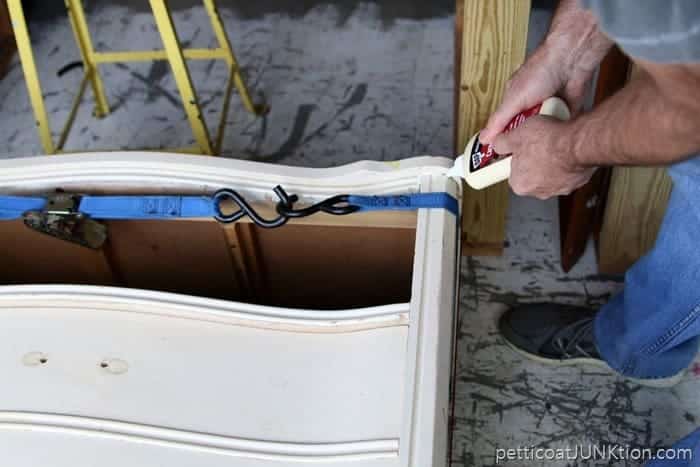 Prepping the Furniture
The top had come unglued on one side and the sides were pulling away from each other just a hair. A little wood glue, straps, and drying time was all it took.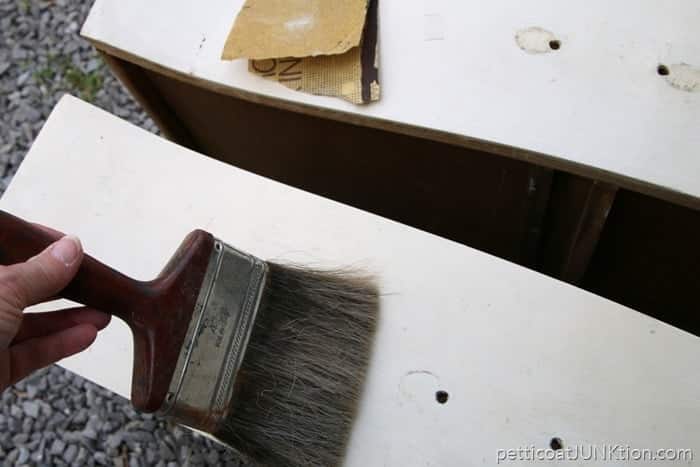 I sanded the rough spots in the paint by hand using 120 grit sandpaper. A large paint brush works great for dusting all the stuff off after sanding. Then I wipe the chest with cheesecloth to remove any remaining paint dust.
The JTS (aka, Junktion Technical Specialist, aka hubby) caught me in all my loveliness applying Glidden Gripper primer. How many paint colors do you think is on that drop cloth? I've had it with me since long before our time in Florida, meaning before 2006.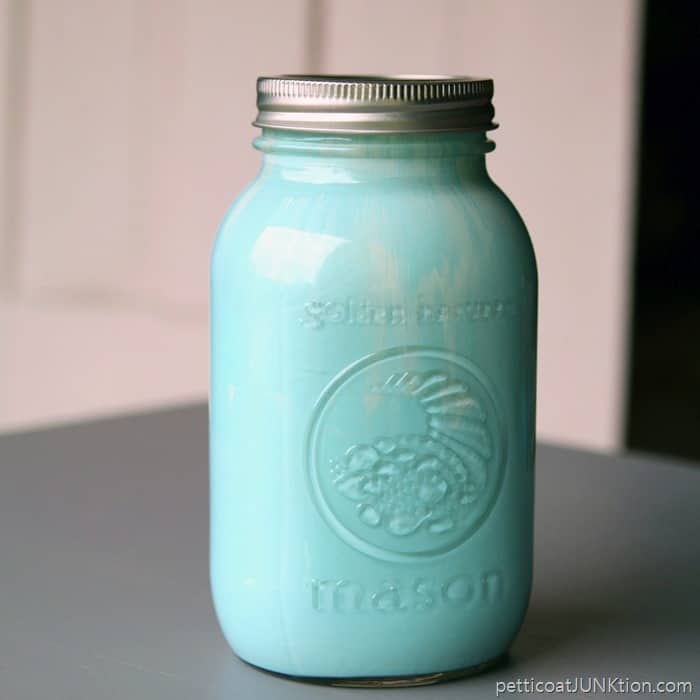 The Paint Process
You guys will remember I'm trying to use the paint I have instead of buying more. I mixed blue paint and a dab of green paint to make the turquoise paint. Then I added white paint to lighten the color. I usually mix paints in plastic containers but I like this ideas so much better. I can see the pretty paint.
I've read that it's not good to mix paint sheens that aren't close to each other...like you can mix flat and eggshell, but not flat and semi-gloss. I ignore that and mix together what I have.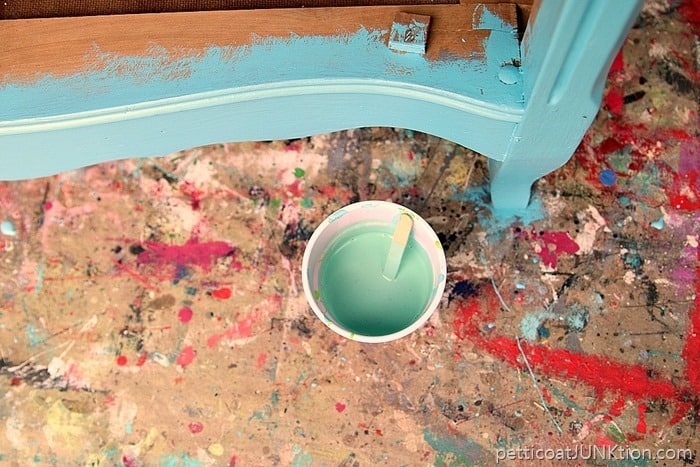 After I painted the chest with the special mix turquoise I looked at it and knew I needed to do something else. It wasn't making enough of a statement for me. I mixed more green paint with a bit of the blue paint then added water to make a wash.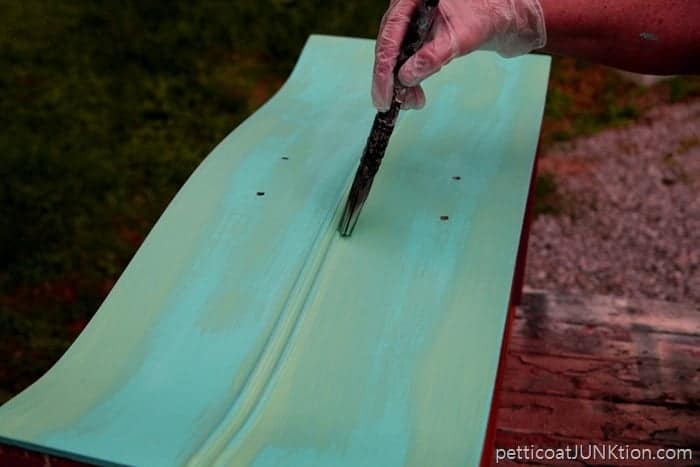 Then I just brushed the wash on in areas, not all over.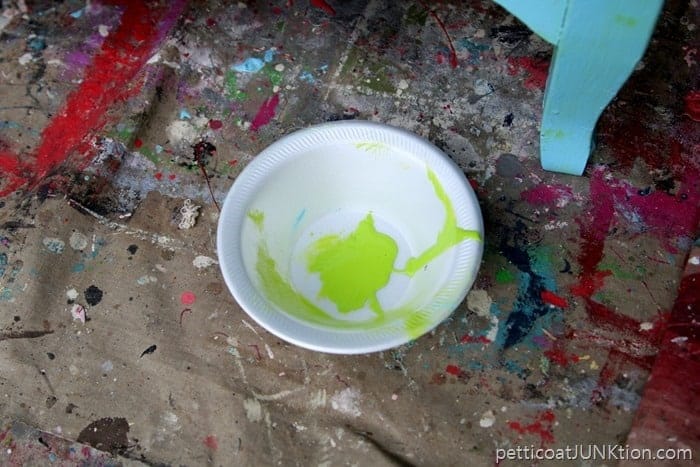 That still didn't do the trick for me. I went with the straight up green paint.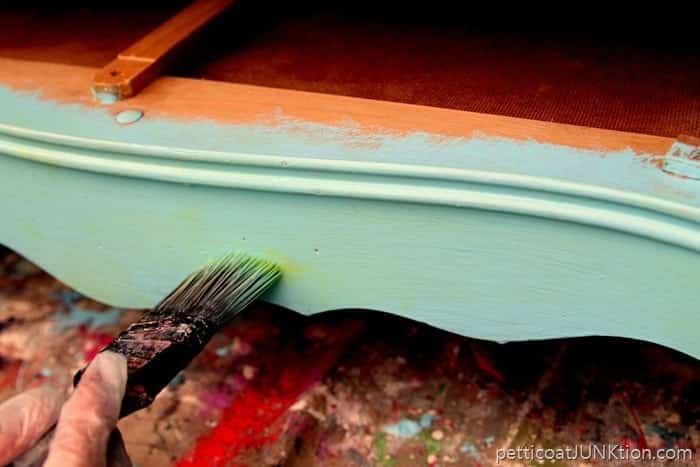 I dabbed a bit of the green paint here and there on the chest.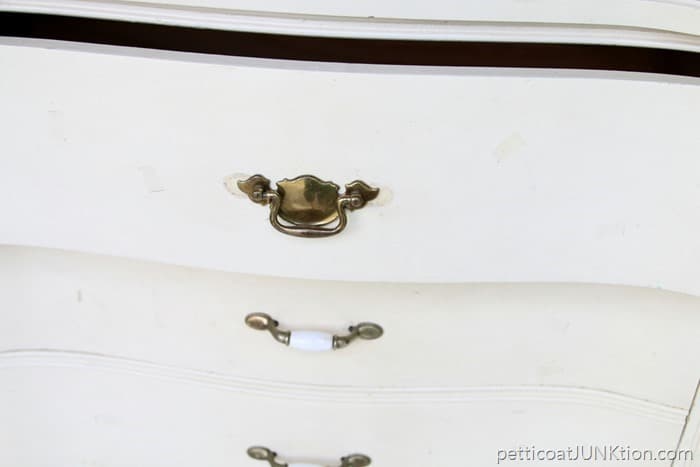 Selecting The Hardware
Finally happy with the paint job and moving on to the furniture pulls. I didn't like the pulls on the chest at all and they  weren't original to the piece. I searched through my crates of furniture hardware and came up with four large brass pulls. I then found one small French Provincial type pull that would do for the top drawer. I wanted pulls that would fit the original screw holes so I didn't have to drill new ones and fill the old ones. A giant pain.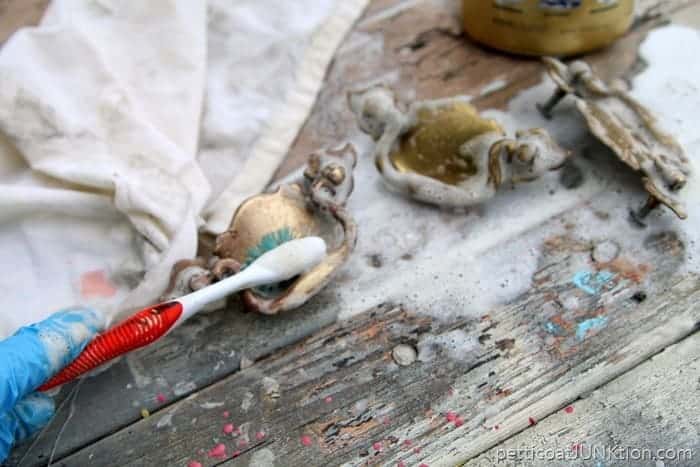 Now that I've found Bar Keepers Friend I can't get enough of it. It does take a little elbow grease to get the tarnish off the pulls but it's worth it.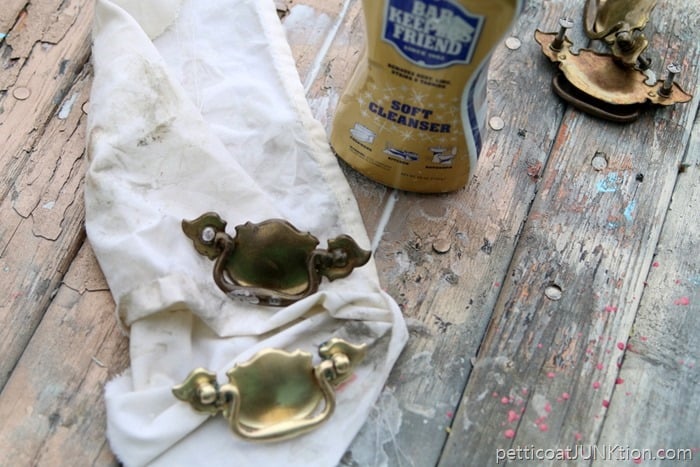 Just look at the difference in the two pulls. Amazing.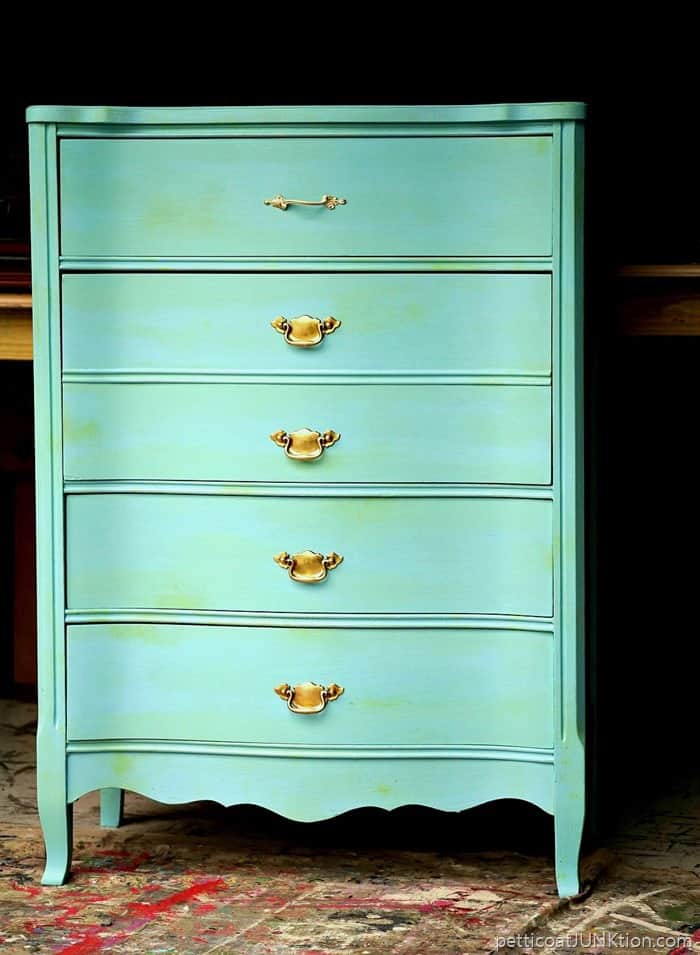 Furniture Makeover Complete!
And that 's it. I'm patting myself on the back and having a piece of chocolate.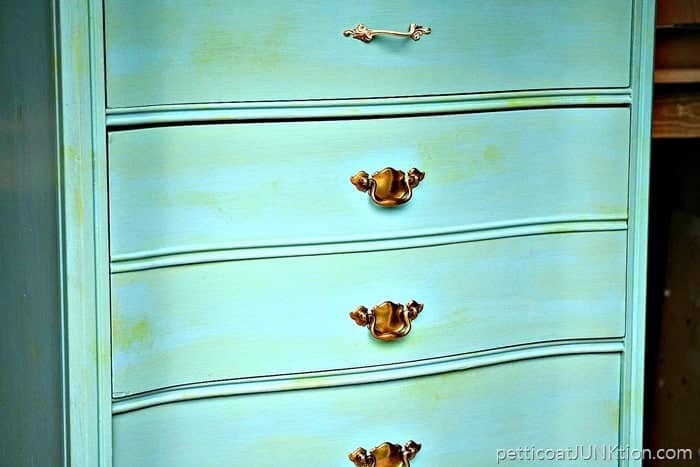 In this photo you can see more of the green wash and where I dabbed on the green paint.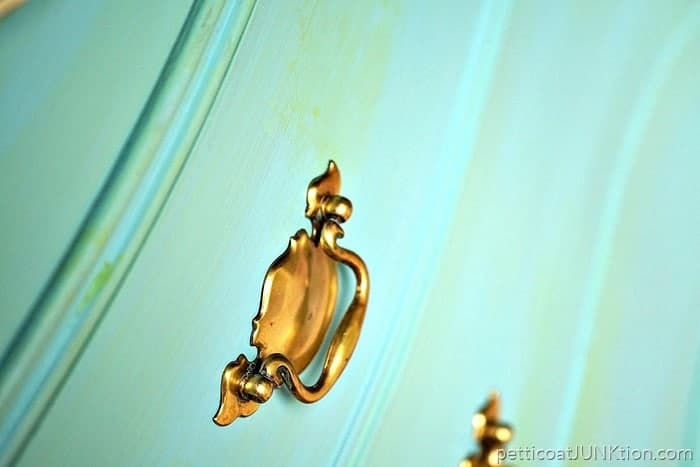 And the shiny brass hardware looks so pretty against the turquoise paint color. I will be sticking with the original hardware on furniture now that I know how to clean it.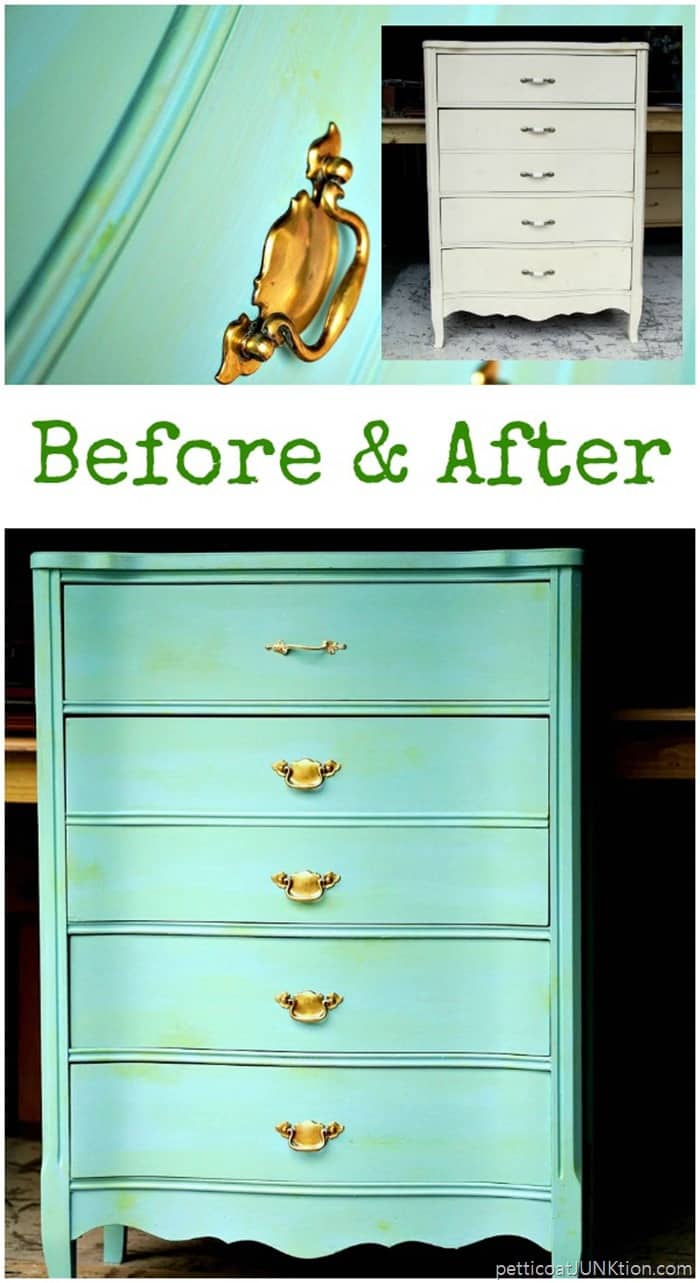 Do you guys like the turquoise and green? I wanted to do something a little different for this furniture makeover. I think some of my projects have been a little ho hum lately so time to step up my game. Leave a comment for me below and have a fantastic day!
Products unavailable in your area may be found on Amazon. (Affiliate links for your convenience)
Bar Keepers Friend
Purdy Paint Brushes
Sandpaper
Elmer's Wood Glue

Author: Kathy Owen (Petticoat Junktion)
Kathy is the founder of PetticoatJunktion.com, a home décor blog focused on repurposing and upcycling furniture, old hardware, rusty stuff, and thrifty finds into unique home décor. Kathy's projects have been featured on the Home Depot Blog, Plaid Crafts, Behr Designer Series, and in numerous magazines. Read more about Kathy here.