Modern Furniture Paint Finish
This Better Homes and Gardens inspired furniture makeover features a modern furniture paint finish. I went back and forth about trying this paint technique on the cabinet because it is a very unique look and definitely on the modern side.
I thought if I messed it up I would just repaint. I finally bit the bullet and did it. I'm glad I did. I haven't done anything outside of the box in a while. I like it. It will not be everyone's cup of tea but that's okay.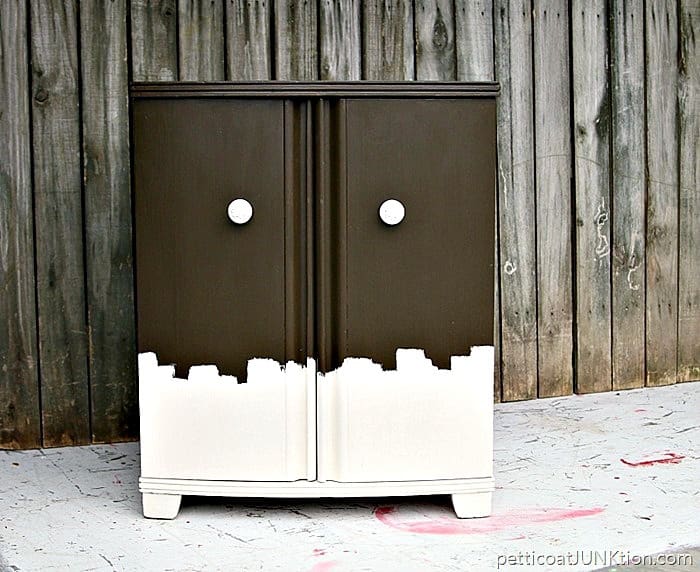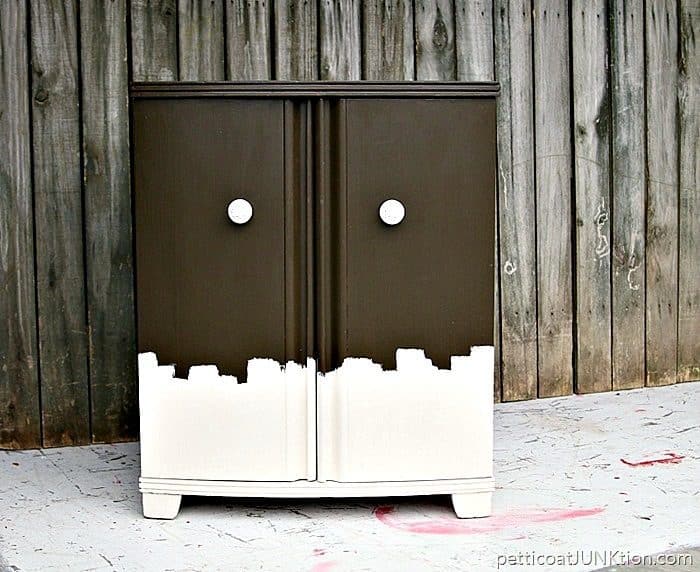 Better Homes And Gardens Inspired
Today is Themed Furniture Makeover Day.This month's theme is "Inspired by Chocolate". Now that might sound like a narrow theme but remember…there is dark chocolate, white and milk chocolate, and tons of stencils or fabrics that feature chocolate.
My project plan was to paint my selected furniture piece milk chocolate and stencil a design on the front. It sounded like so many other projects I've done in the past but that's what I was going with. Thank goodness inspiration struck mid project.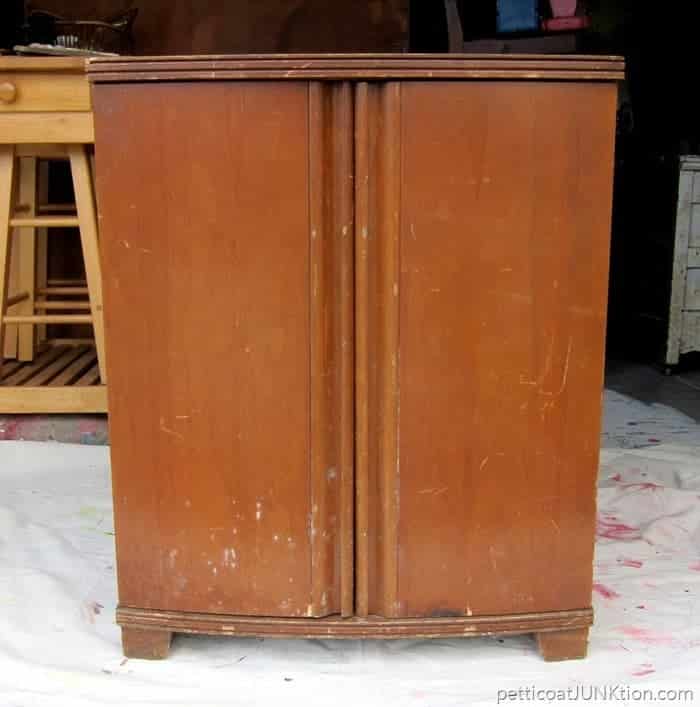 I don't remember when or where I got this piece. Between me and the JTS neither of us could remember. Our memories aren't what they used to be. I know it has to be from the flea market or my favorite junk shop but I couldn't find a picture of it anywhere. That means I have no clue what I paid for it either. I do know it's a vintage record cabinet.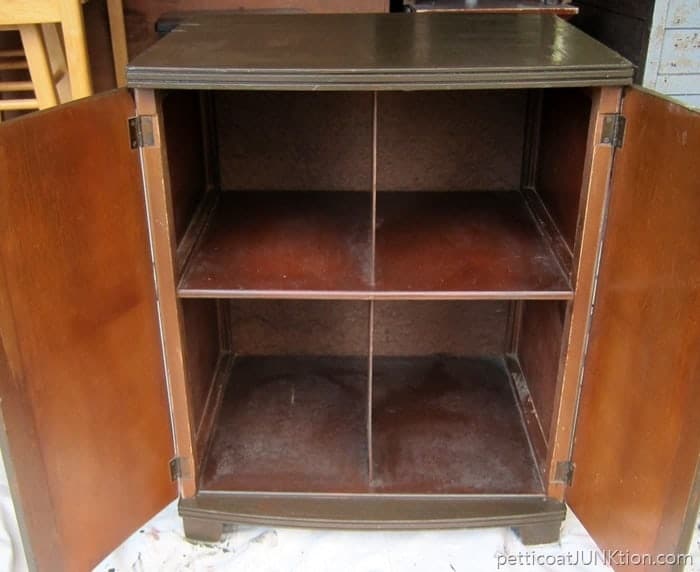 The inside is a mess. I cleaned it up and may paint it white or just use some Howard's Feed 'n Wax on it. To be decided later. The outside is all done.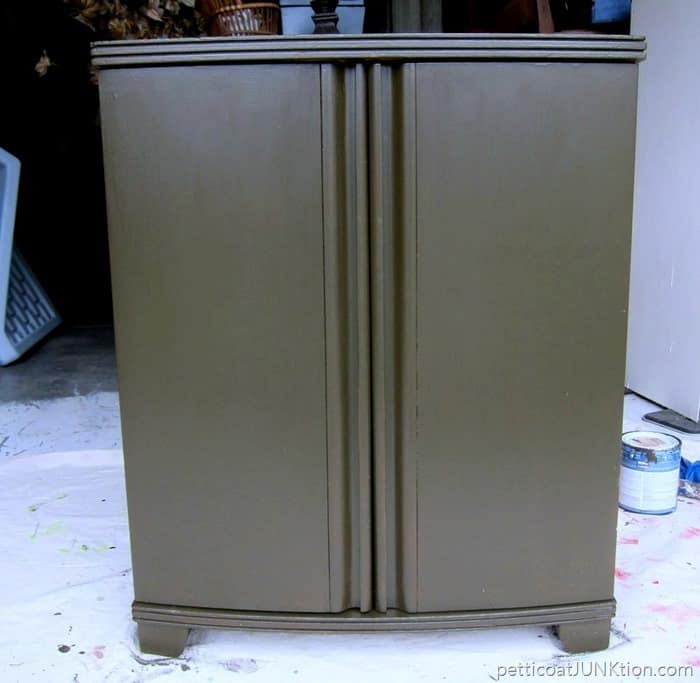 I painted it with latex paint from a prior home project and the color name is Expresso Beans. I decided not to do the stencil on the front but it needed something.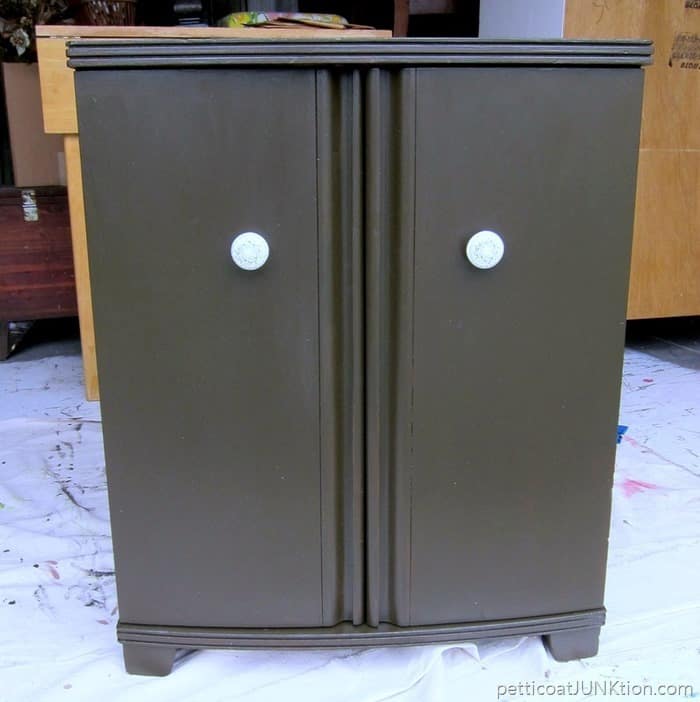 I found two furniture knobs in my stash that worked perfectly with the color. I drilled holes for the knobs. The cabinet looked better all ready. By this time I had found inspiration from the March edition of Better Homes and Gardens. The issue arrived in the mail while this project was in progress.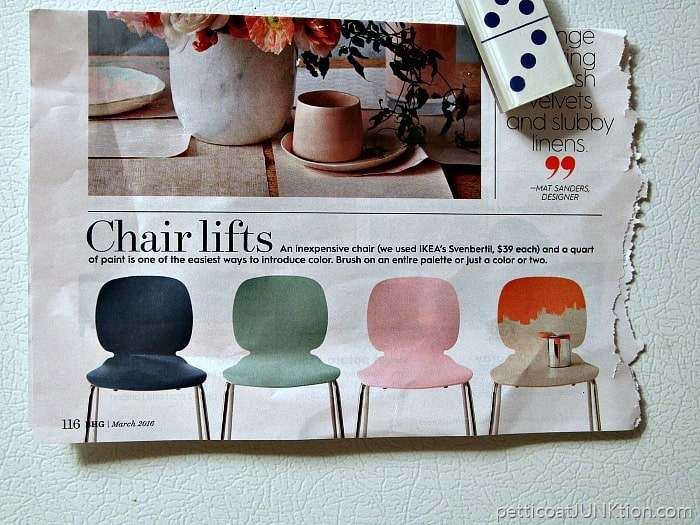 I was flipping through the magazine when the painted chairs caught my eye. Well, not all the chairs. The only one that caught my eye was the last one on the right. I fell in love with the look and tore the page out of the magazine for future reference. I know some of you are cringing right now. This is the first magazine I've done that to in a while. I see all this inspiration in the magazines then forget about the idea or can't find where I saw it in the first place. I bet you guys have been there too.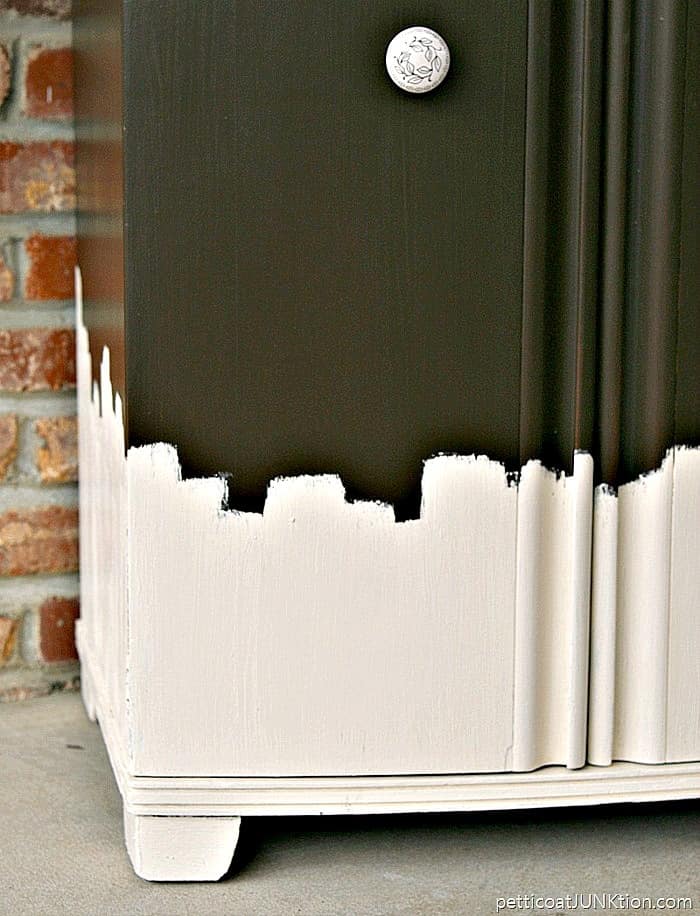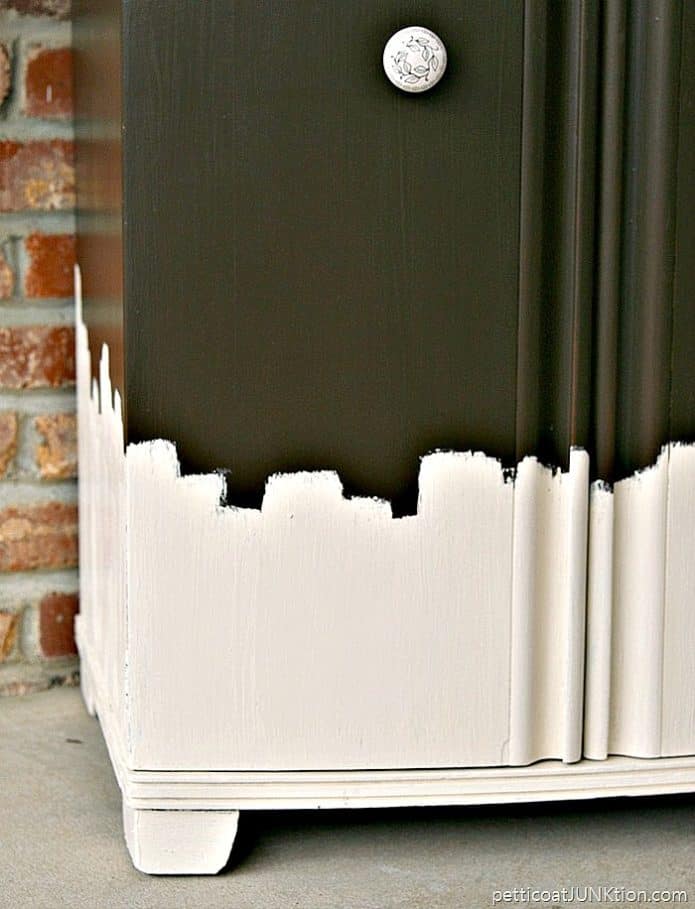 Painted Furniture Inspired By Chocolate
The knobs are from Hobby Lobby and I used Reclaim paint in off-white for the accent color. Now remember this month's theme is "Inspired by Chocolate" and I have milk chocolate and white chocolate represented in the makeover. Win-Win.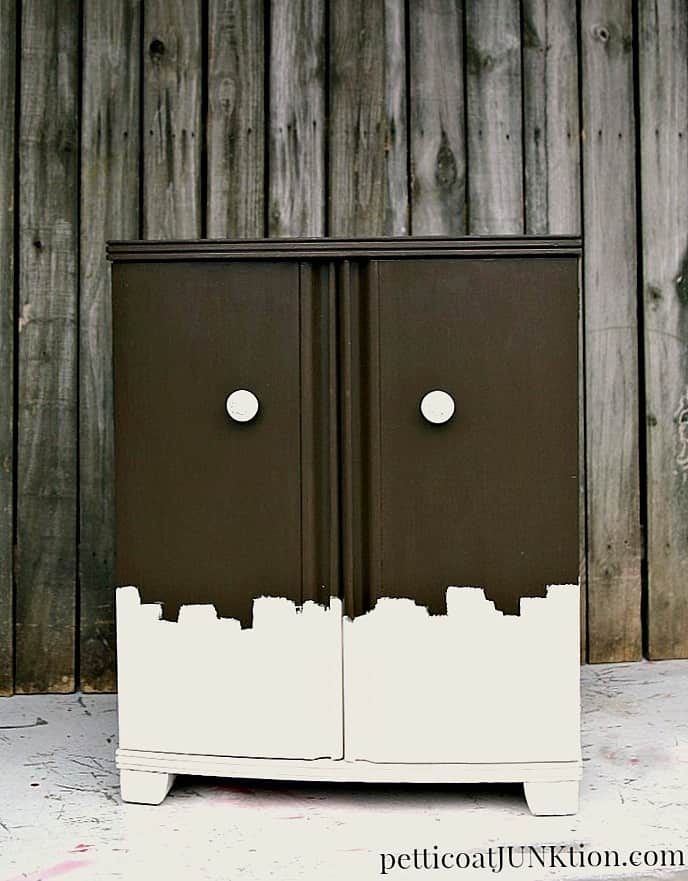 Modern Furniture Paint Finish For Vintage Furniture
What do you guys think? I value your opinion.
Video Tutorial of another Petticoat Junktion paint technique you might like...
Layered Paint Technique For Furniture
View my furniture project gallery by clicking here... Painted Furniture Gallery.
Time to see what my buddies have for us. Click those photos below to see the complete projects.
Have a great weekend!

Author: Kathy Owen (Petticoat Junktion)
Kathy is the founder of PetticoatJunktion.com, a home décor blog focused on repurposing and upcycling furniture, old hardware, rusty stuff, and thrifty finds into unique home décor. Kathy's projects have been featured on the Home Depot Blog, Plaid Crafts, Behr Designer Series, and in numerous magazines. Read more about Kathy here.