I almost missed the Furniture Fixer Upper Tour! I thought it was next week. Good thing I was painting thrift store furniture from my shopping trip a couple of weeks ago. And it's also a good thing Jen, Girl in the Garage, asked early yesterday morning if I had my photo for the tour ready. Nope, not quite finished with my project but I'll get on it...... and I did.
The tiered table is one of a kind. I haven't run across a piece even close to this one.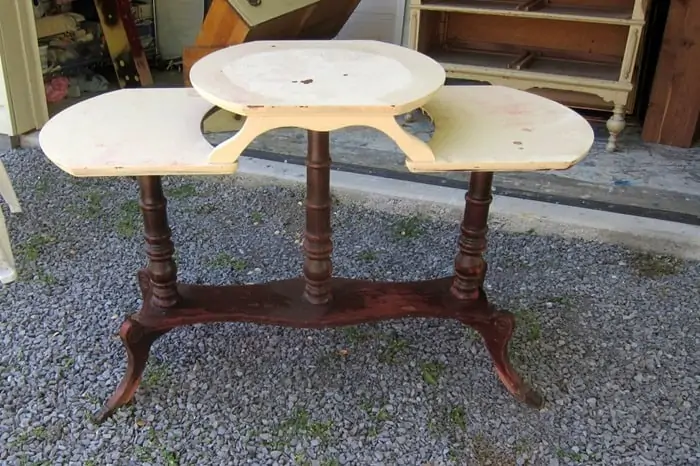 The table looked really rough when I spotted it at the Salvation Army Thrift Store. But, I did love the look of it and even though the price was $30 I snatched it up. After working on it a while I was questioning my decision.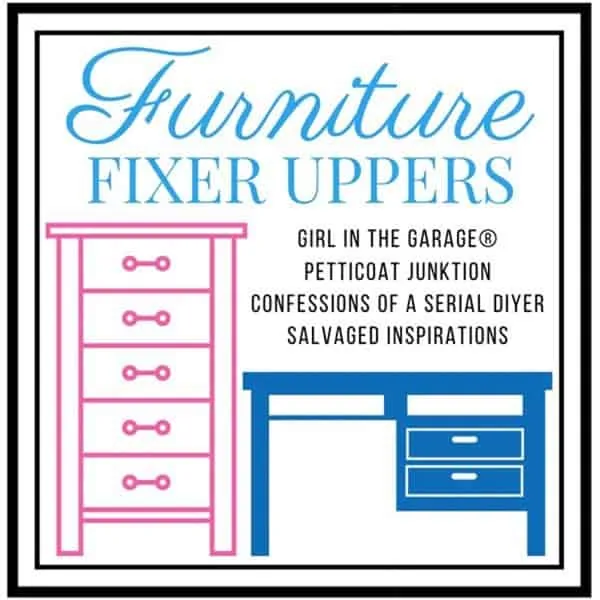 As I mentioned earlier it's Furniture Fixer Upper Tour day so be sure and visit my furniture painting buddies after reading the tutorial on my table.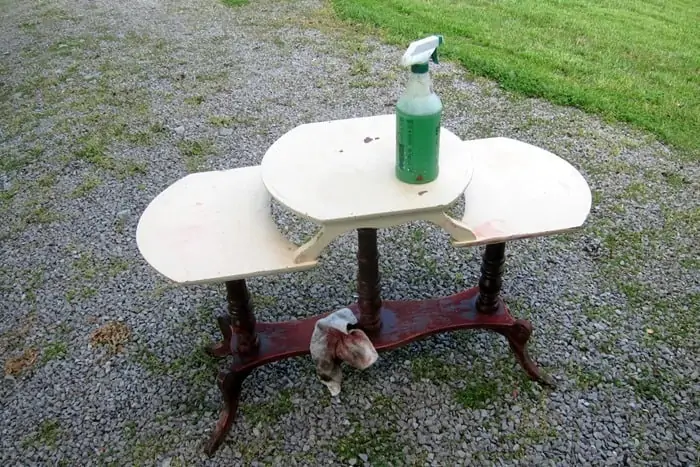 The first thing to do was clean up the table. It's hard to see without a close-up photo but the paint job is a mess. The paint is thick and discolored and you can see very obvious brush marks. Also there is a lot of unevenness where I think there was missing veneer. All in all not something fun to work with.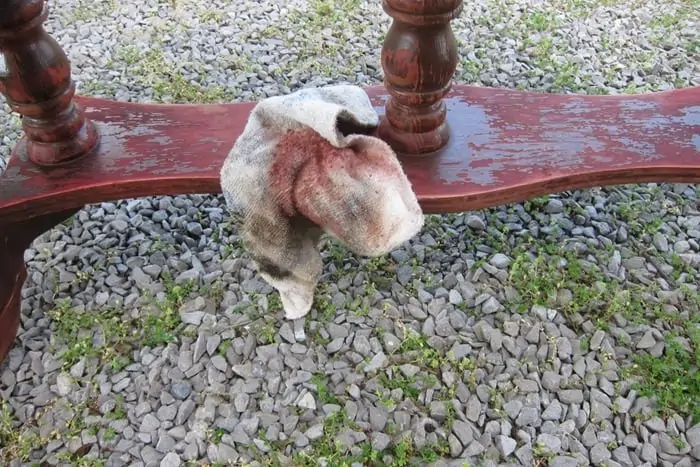 I cleaned the table with Simple Green and it was obvious from the cleaning and the red stain on the rag that I was going to have problems with stain bleeding through the paint.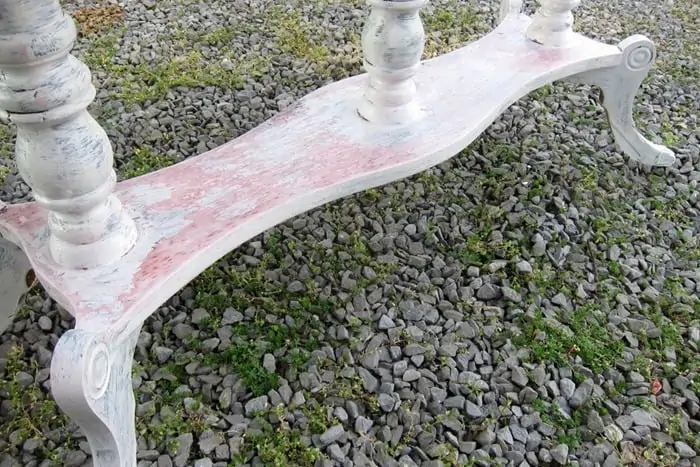 And I did. The photo above show the bleed thru after two coats of primer. At this point I was ready to trash the project and take the table back to the Salvation Army Store.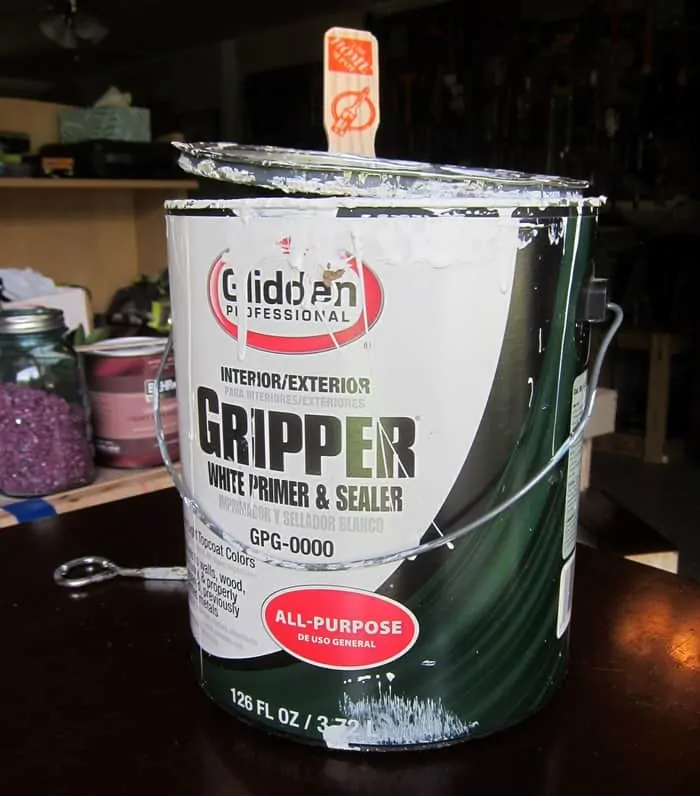 But I just kept right on working. I always use Glidden Gripper Primer which I think is now PPG Gripper Primer. A lot of times I have the primer tinted gray because to me gray is so much better and easier to cover under just about any paint color....except white of course.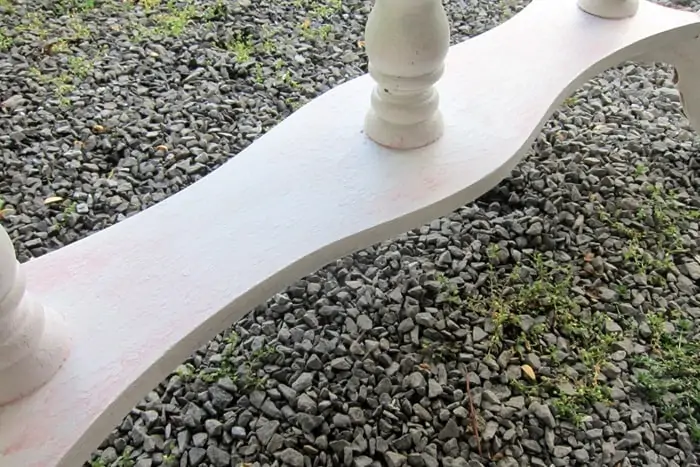 I applied one more coat of Glidden Gripper then decided to start painting.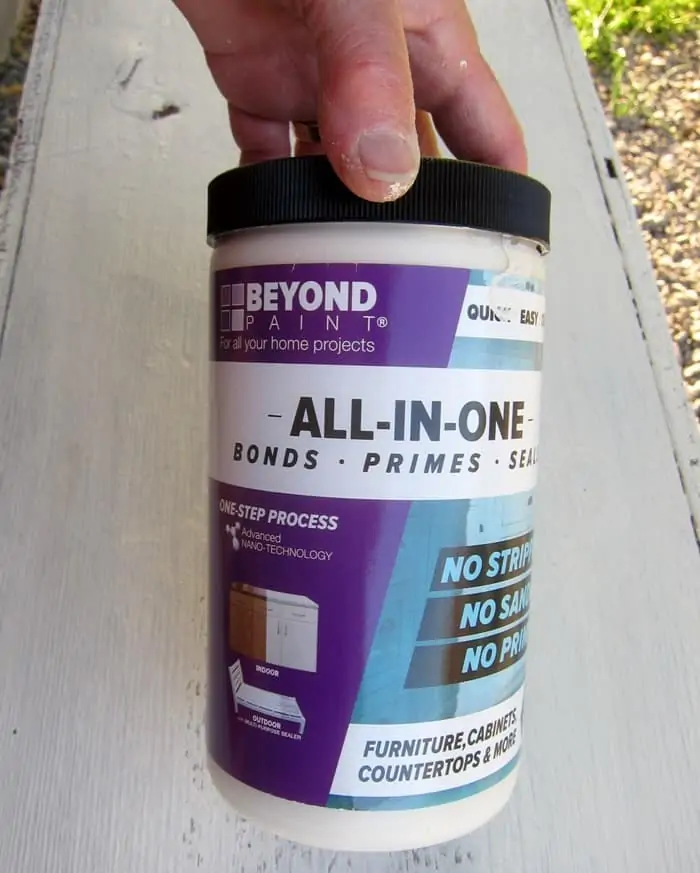 I chose Beyond Paint in Off-White because it has primer built in and I was hoping the paint would cover the red/pink bleed thru.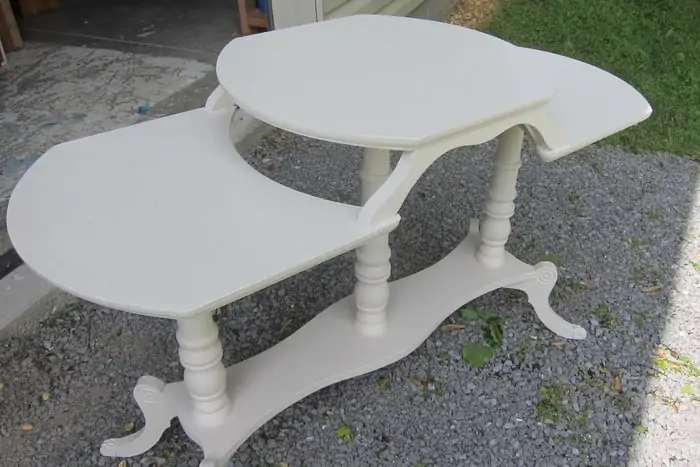 And after two coats of Beyond Paint the red bleed thru was gone. The table had 5 coats of paint and primer not counting the top of the table which had a thick coat of paint to start with. I decided to distress the table.
Let's face it. The table top and bottom shelf were not nice and smooth after all the stain loss and the earlier paint job. So distressing the thing could only make it better.
I used my Ryobi battery powered sander so no cords which makes it nice. I made a video of me sanding the table. It's short and sweet and speeded up x2. I don't ever move that fast except in videos. Using a power sander is the best when you want to take off a lot of paint. In this case the paint was so thick that I didn't get much off except on the feet and the three leg pieces in the middle. The video is less than one minute. If you can't view the video you may have an ad blocker enabled on your browser. Turn it off just temporarily. Video below.....
How To Use A Sander To Distress Painted Furniture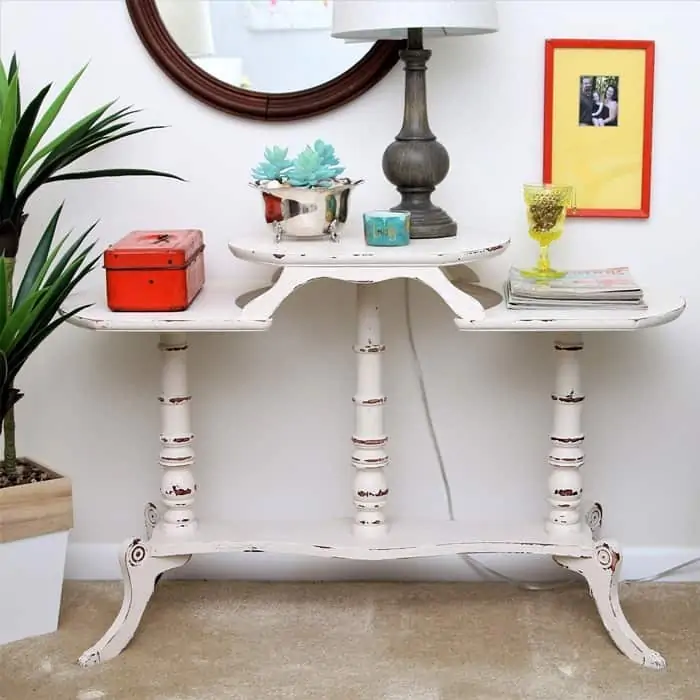 And this is what the table looks like now. I love white distressed paint. My last furniture project, the long bench, is also painted with Beyond Paint, Off-White, and distressed. I love it too. You can find Beyond Paint on Amazon here.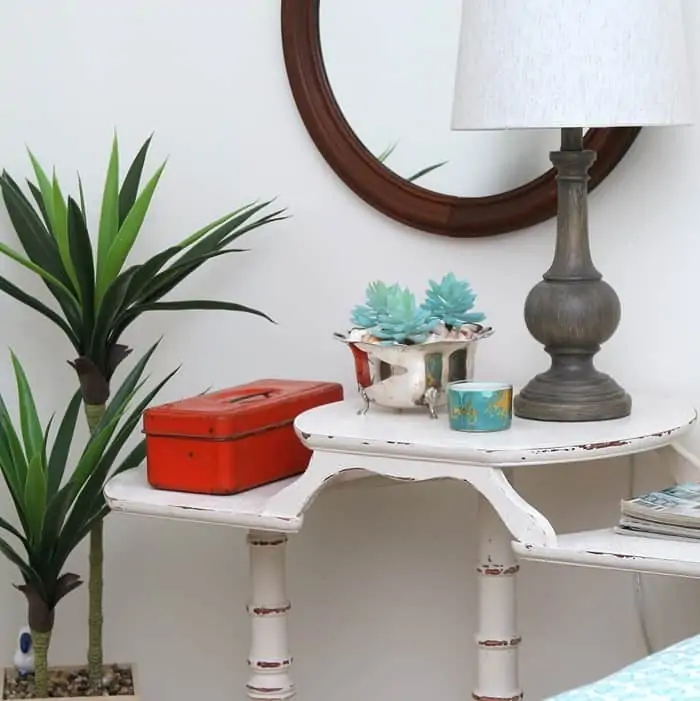 I'm taking the table to the booth to sell so I set it up in Miss Sofi's bedroom for the photo shoot.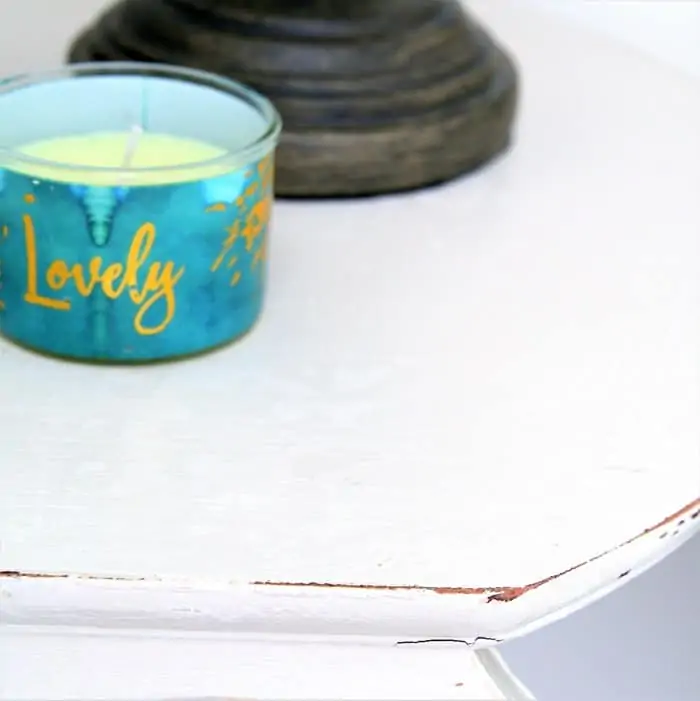 You do know us bloggers are crazy. We do all kinds of things to get a photo. My house is a mess a lot of times because I take decor from other rooms, move furniture, set up lights.....just to get a few photos.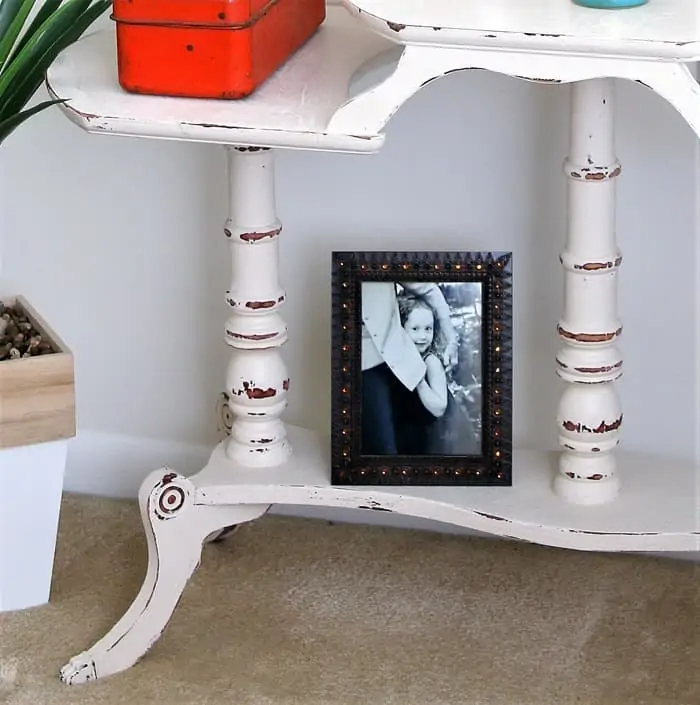 That picture on the bottom shelf is of granddaughter Tenley who is 17 now. She was hugging on to my Mother at my brothers wedding. That photo gets my heart every time I see it.
Don't forget to subscribe to my emails so you don't miss any new projects. Sign up form at the bottom of the page. Thanks!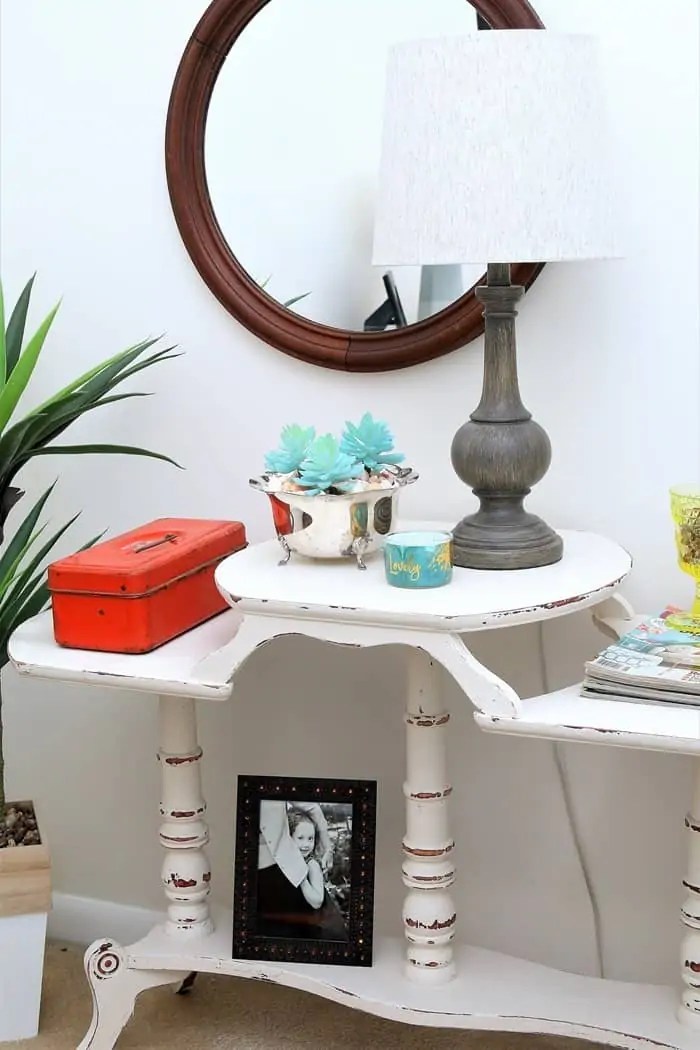 The succulent planter is a project I made this week too. If you missed it you can find it here....Silver Plate Succulent Planter Idea With Seashells.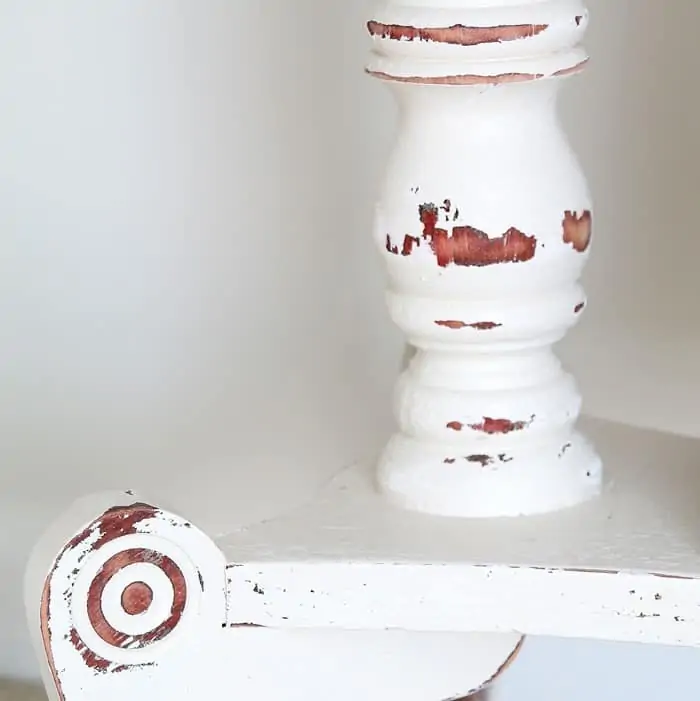 The circle trim on the legs is the first thing that caught my eye when I spotted the table in the store. It distresses so nicely.
Before you head out on the Furniture Fixer Upper Tour please leave a note and let me know what you think about the table. Click the pink text links below the "before makeovers" photo collage.....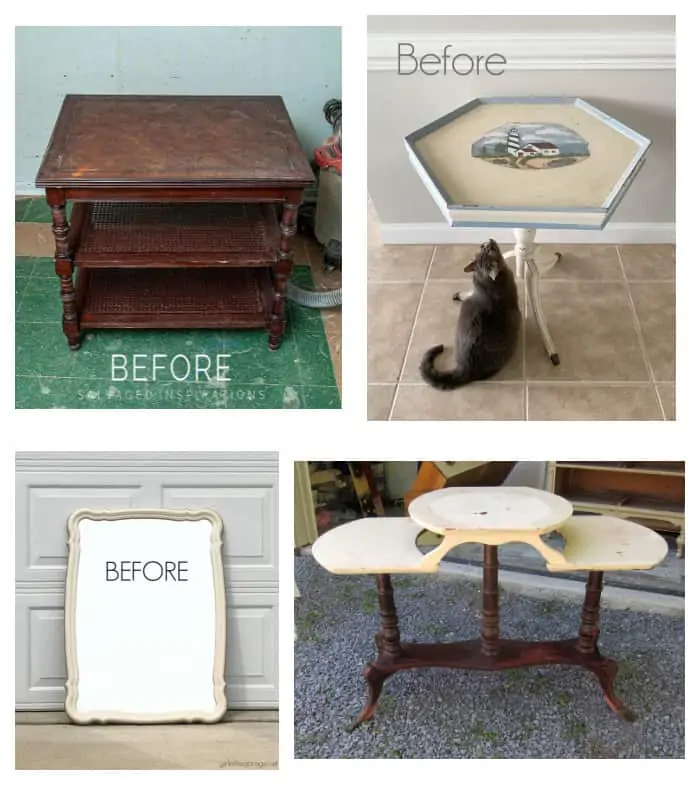 How To Paint Cane Webbing Furniture - Salvaged Inspirations
Upcycle Mirror French Style - Girl In The Garage
Antique Hexagon Pedestal Table Makeover - Confessions of a Serial DIY'er
Painting Thrift Store Furniture - Petticoat Junktion (you are here)
Thanks for being here, Kathy
Author: Kathy Owen (Petticoat Junktion)
Kathy is the founder of PetticoatJunktion.com, a home décor blog focused on repurposing and upcycling furniture, old hardware, rusty stuff, and thrifty finds into unique home décor. Kathy's projects have been featured on the Home Depot Blog, Plaid Crafts, Behr Designer Series, and in numerous magazines. Read more about Kathy here.