Try this super easy silver plate succulent planter idea. The planter makes a fun centerpiece. Today is easy project day. I know you guys are up for that. I filled a silver plate dish with seashells and faux succulents and what a beautiful display if I do say so myself!
I bought the faux succulents at the Dollar Tree which is one of my favorite stores. These caught my eye because of the color. The turquoise color is very soft but still eye-catching.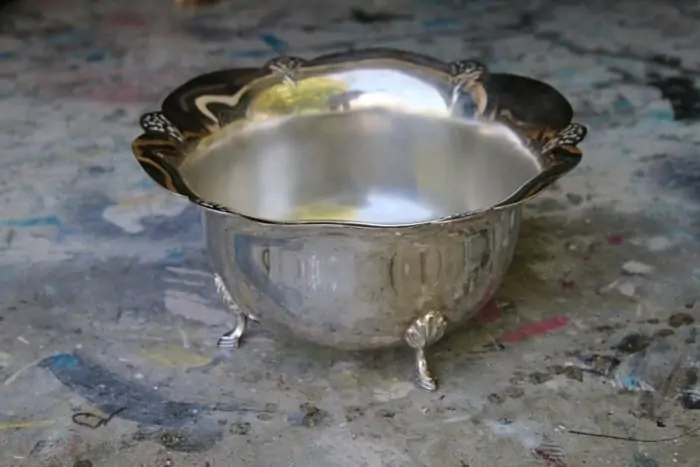 The silver plate dish was in a box lot of auction buys. There were several pieces in the box and this was one of my favorites. I saved it for just the right project and this is it. You can see the other silver plate pieces and more of my auction buys here..... Buying Vintage Suitcases At Auctions Plus More Stuff!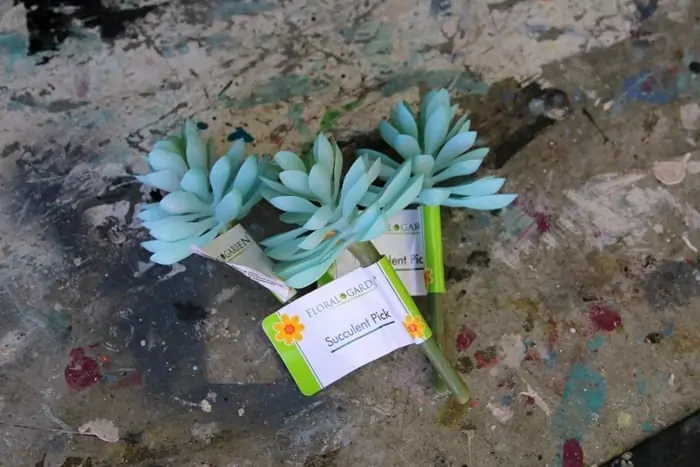 The faux succulents at Dollar Tree were a dollar each. Makes sense huh. I bought three because you should always go by the decorating rule of displaying groups or things in uneven numbers like 1, 3, 5, etc. I do admit to not always adhering to that rule. Rules are made to be broken.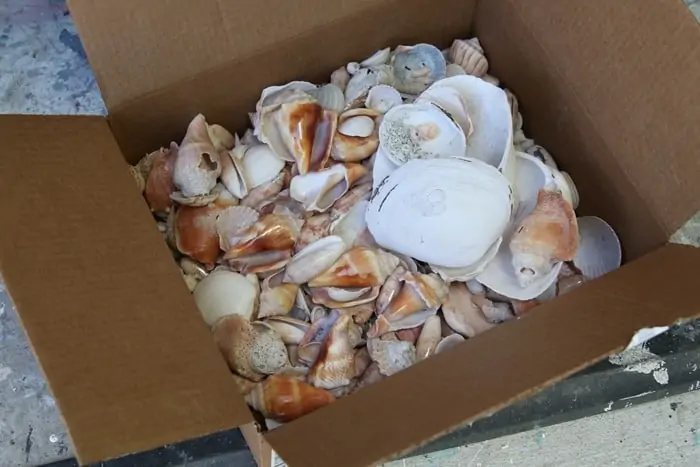 I  have a tone of seashells. Maybe not a ton, but a whole lot. When you go to the beach you have to pick up seashells. These came from the beaches in the panhandle of Florida and also some from the Alabama coast and the really large ones are from Kodiak Island. Our daughter and her family lived on Kodiak Island while her husband was in the Coast Guard. Kodiak is a beautiful place. Don't think I would want to live there but nice to visit.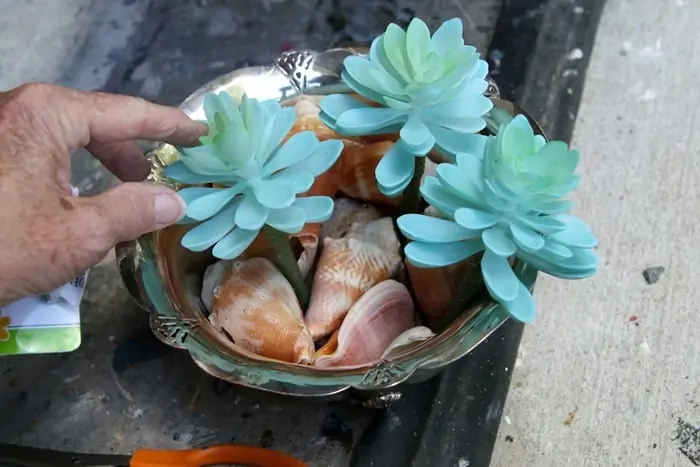 I filled the silver plate container with medium size shells then stuck the succulents into the dish. Next I placed smaller seashells around the succulents until the silver plate dish was full and the succulents stood firmly in place.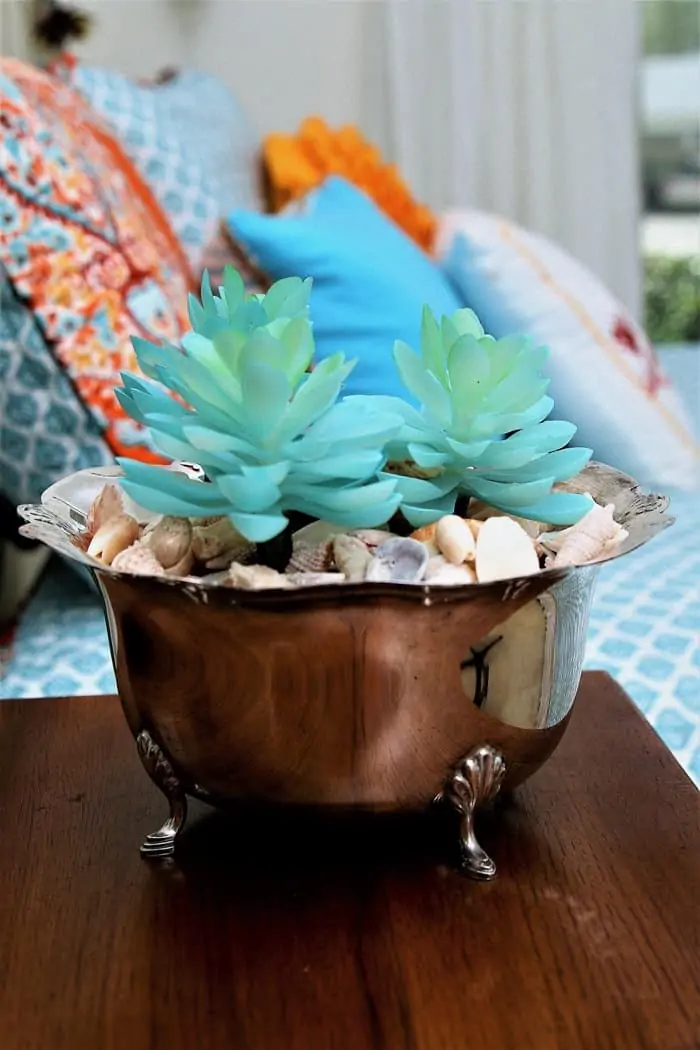 I told you this project was easy. If you don't have a silver plate dish no problem. I bet you have something in your cabinets or garage that would make the perfect succulent planter. No seashells, no problem. Try using small rocks and you can also buy these at the Dollar Tree.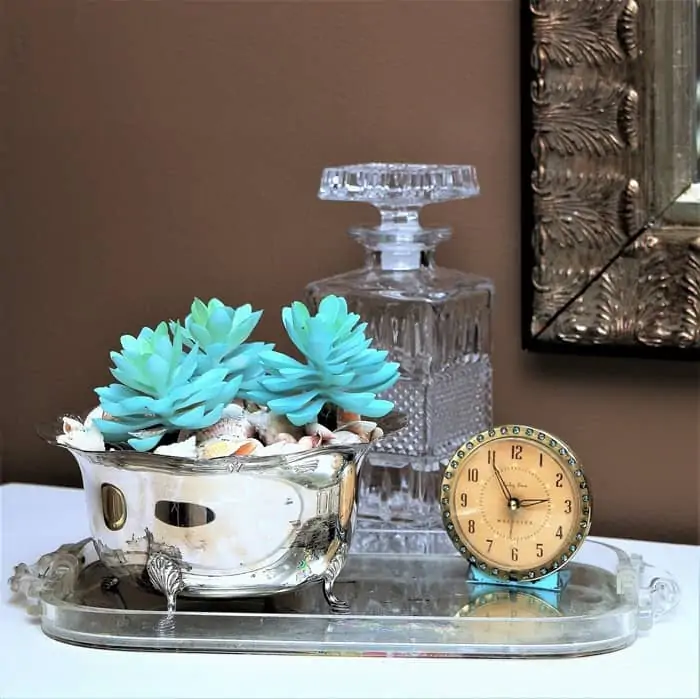 Turquoise is a color I can use in almost any room of our home. Here it is sitting on a glass tray on the master bedroom dresser.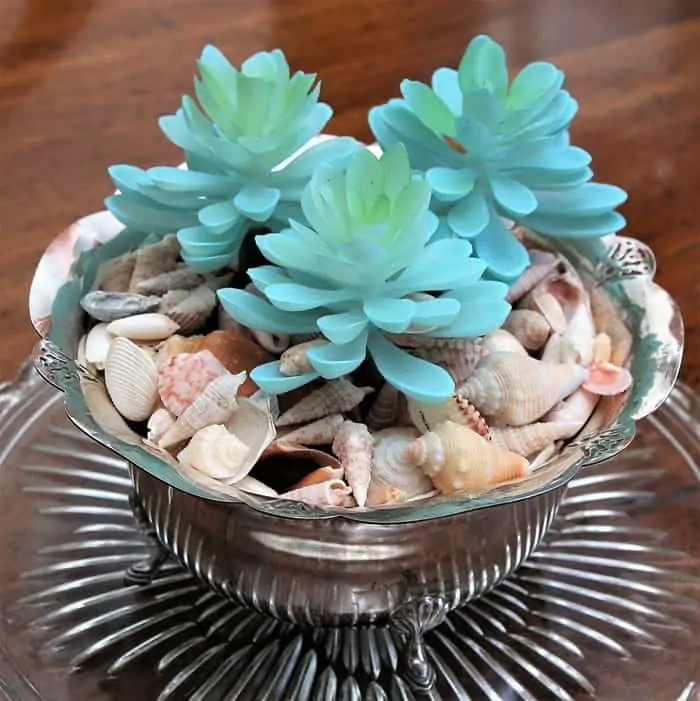 Here the planter is sitting on a vintage glass tray on the kitchen table.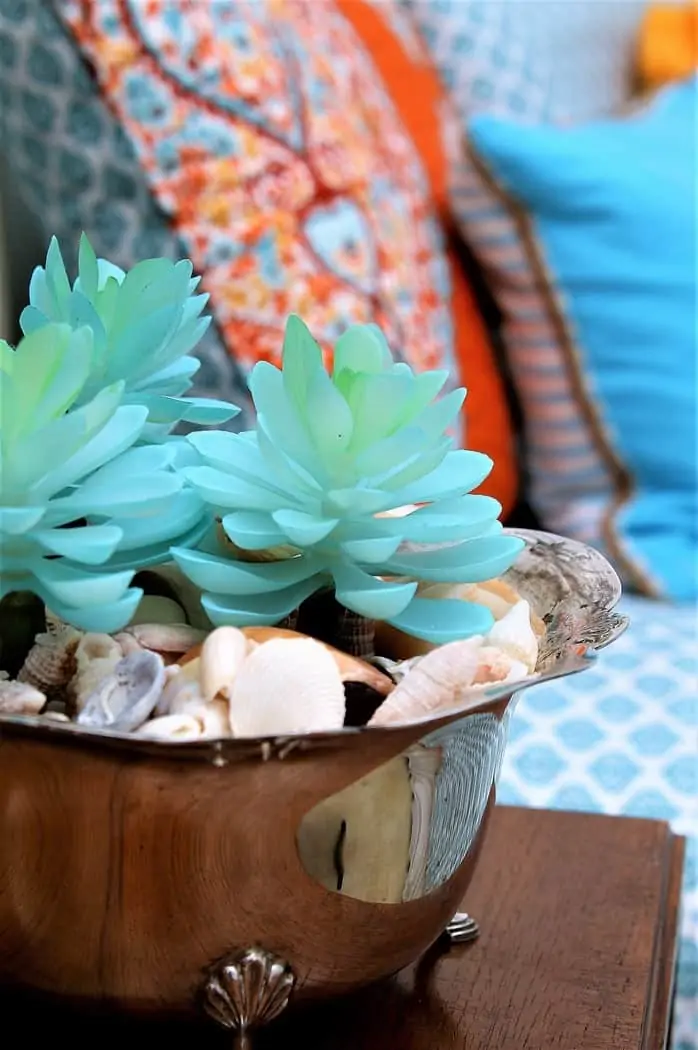 And of course the turquoise succulents look pretty in Sofi's turquoise and orange bedroom.
Ready to make a succulent planter? You can email me photos of your planter ideas here....kathy@petticoatjunktion.com. I love when you share photos with me and when you leave comments. If you want more ideas on how to display faux succulents I have a bunch. Just click any of these links to see the project.....Succulent Container Idea Using Recycled Food Cans & Cartons.....Upcycled Craft: Succulent Plant Rake Wreath.....Indoor Succulent Plant Hanging Display Idea....Thrift Store Decor: DIY Succulents Display Idea
Video showing how to recycle old movie reels using faux succulents and sisal rope.....
Succulent Plant And Recycled Movie Reels Project
Have a great day, Kathy
Author: Kathy Owen (Petticoat Junktion)
Kathy is the founder of PetticoatJunktion.com, a home décor blog focused on repurposing and upcycling furniture, old hardware, rusty stuff, and thrifty finds into unique home décor. Kathy's projects have been featured on the Home Depot Blog, Plaid Crafts, Behr Designer Series, and in numerous magazines. Read more about Kathy here.