I got a bunch of the good stuff again. I've been doing pretty well at the auctions. Been able to snag some inexpensive junky pieces that need painting. I'm sharing my latest finds and would appreciate some makeover ideas especially for the stereo cabinet.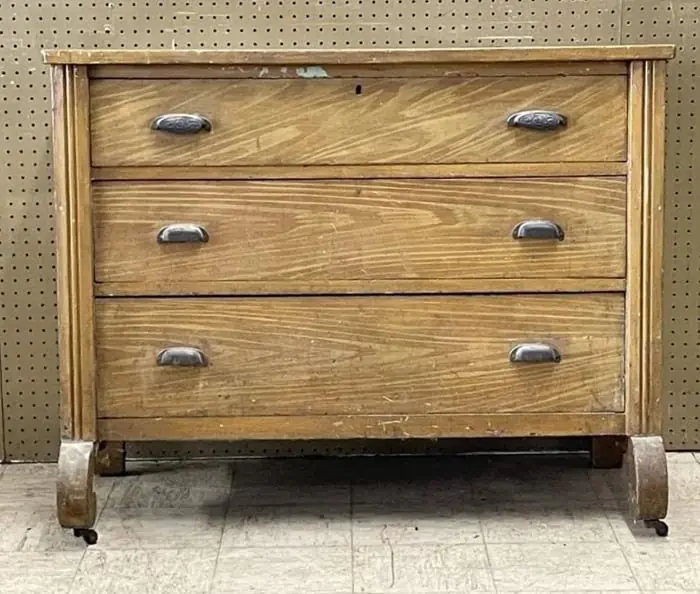 I paid a total of $87 for the two furniture pieces and the 7 chairs. Not too bad. The chest of drawers is a hot mess. Take a look at the drawer photo below.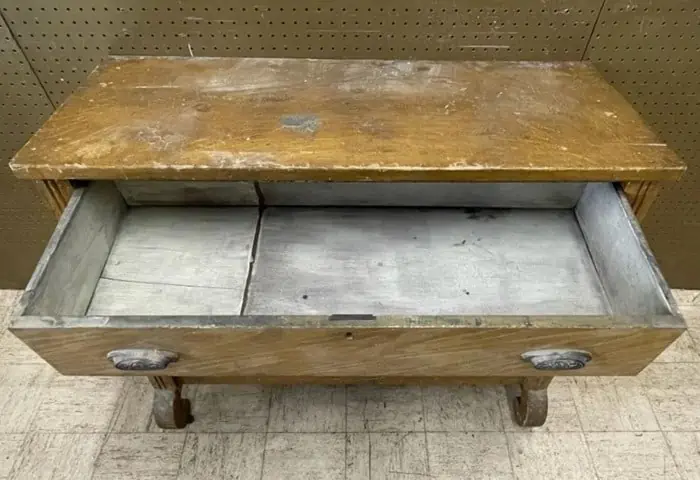 We  haven't picked up the furniture yet so these photos are from the auction website. Not sure what is going on with the drawer and don't know if all three are like this one. I hope not. The chest of drawers was $20 so I think it was worth that.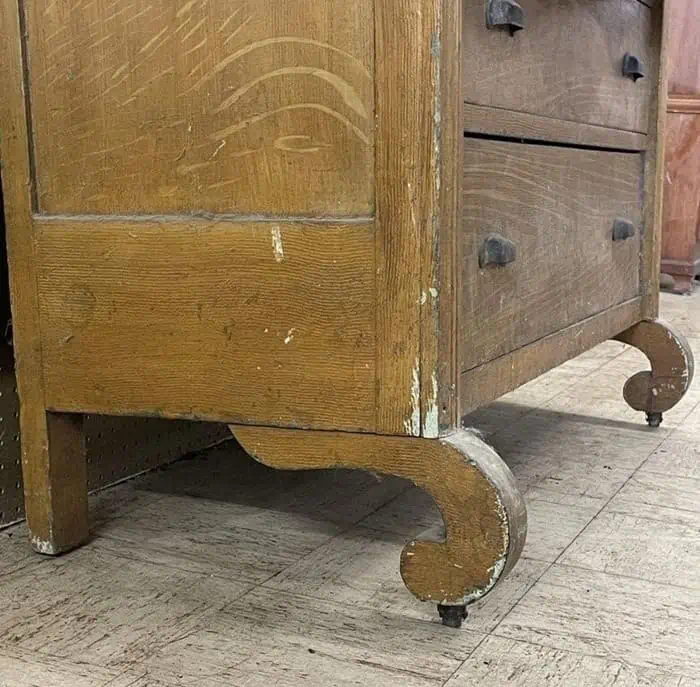 Don't you just love those feet. Seems like they might be a tripping hazard though!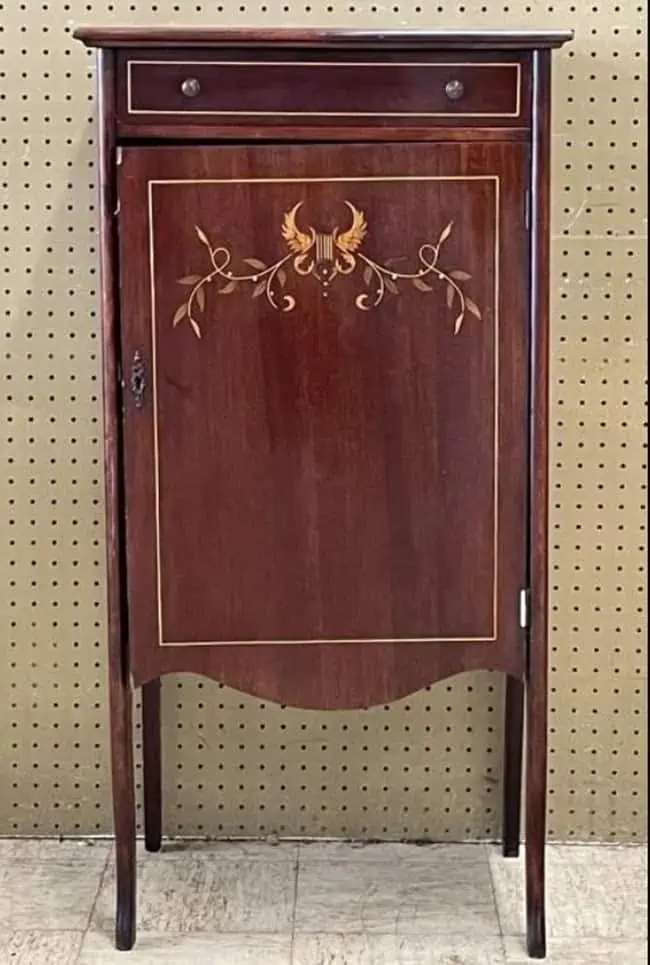 I like old stereo record storage cabinets but have never managed to buy one. This one is not as nice as a lot I've seen but it will do.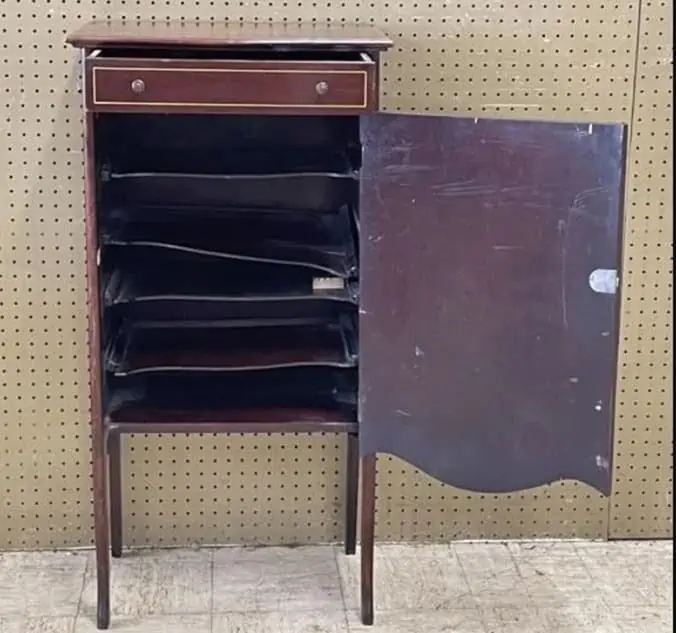 The shelves inside need some major work. I might kind of remake the inside so I can store other things besides records….since I don't have any.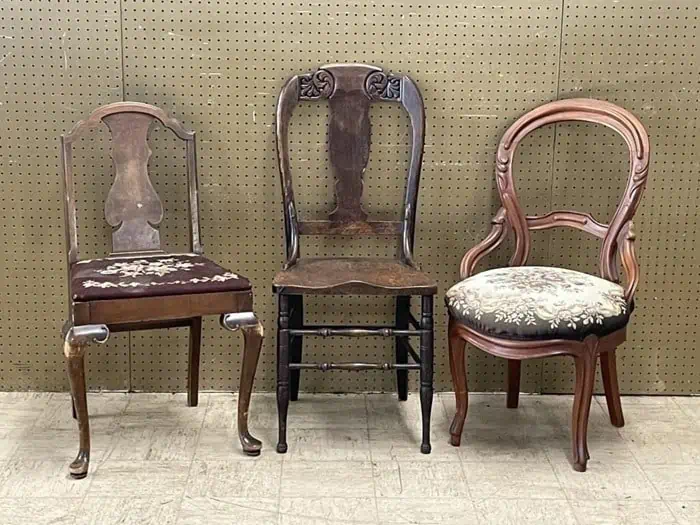 These three chairs all came in one lot together and I paid $6 for the three.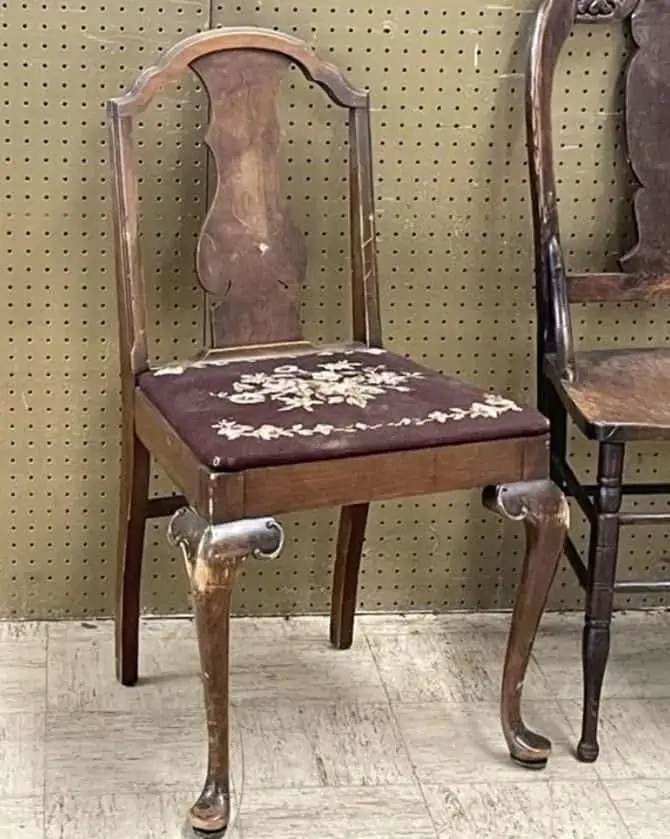 I think this chair will be BEAUTIFUL  painted with some new fabric on the seat. No idea what color or fabric yet.
I may not paint this chair just try to revive the finish. I think it is really old.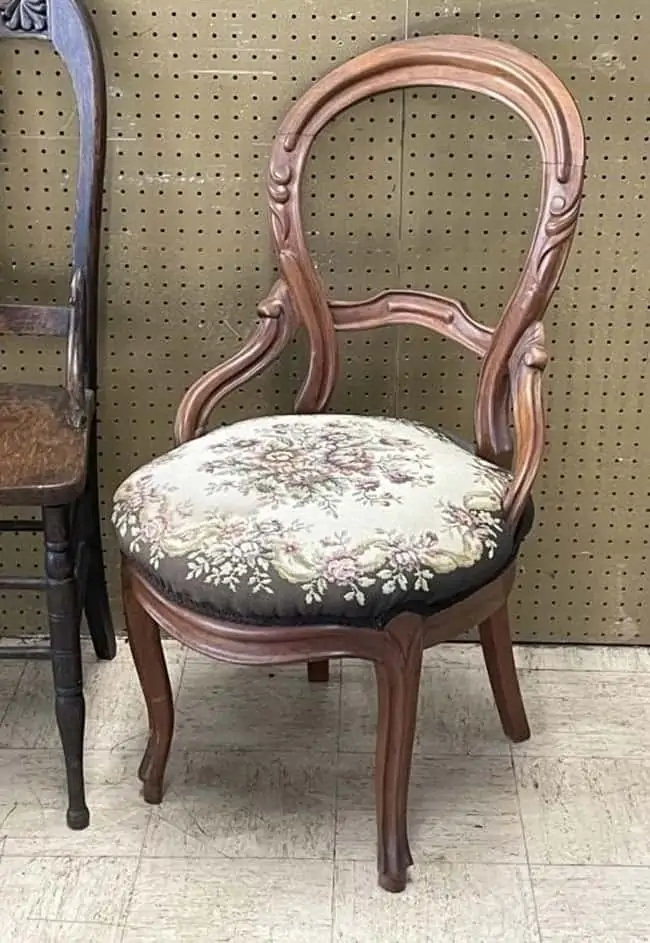 I'm not a fan of this type of chair but it came with the lot. I will probably try to sell it as is.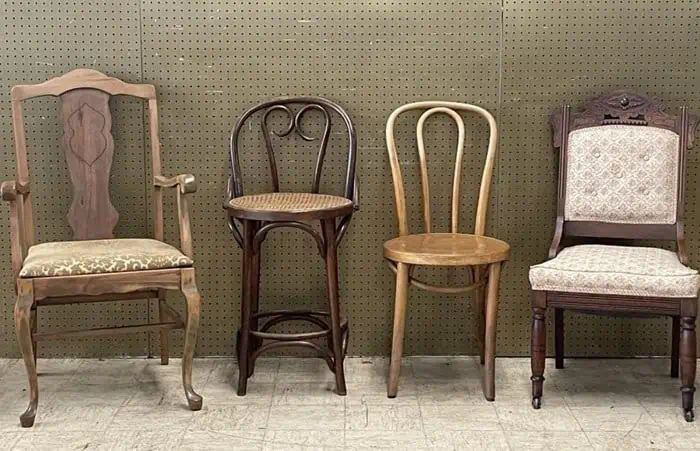 This group of four chairs was $12.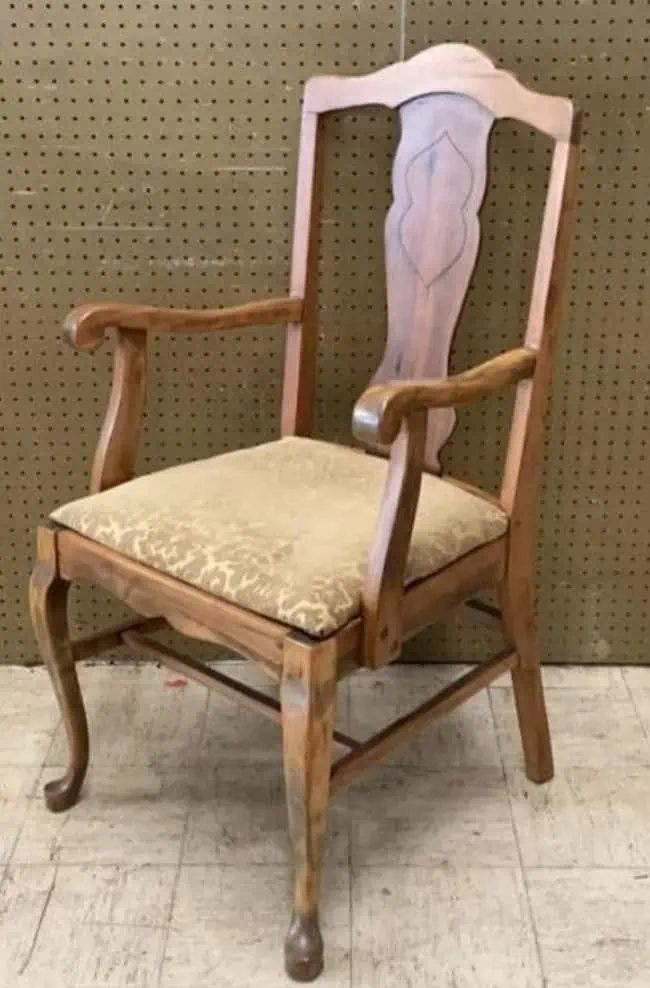 I love dining table arm chairs and this one is really nice. No idea yet about color or fabric.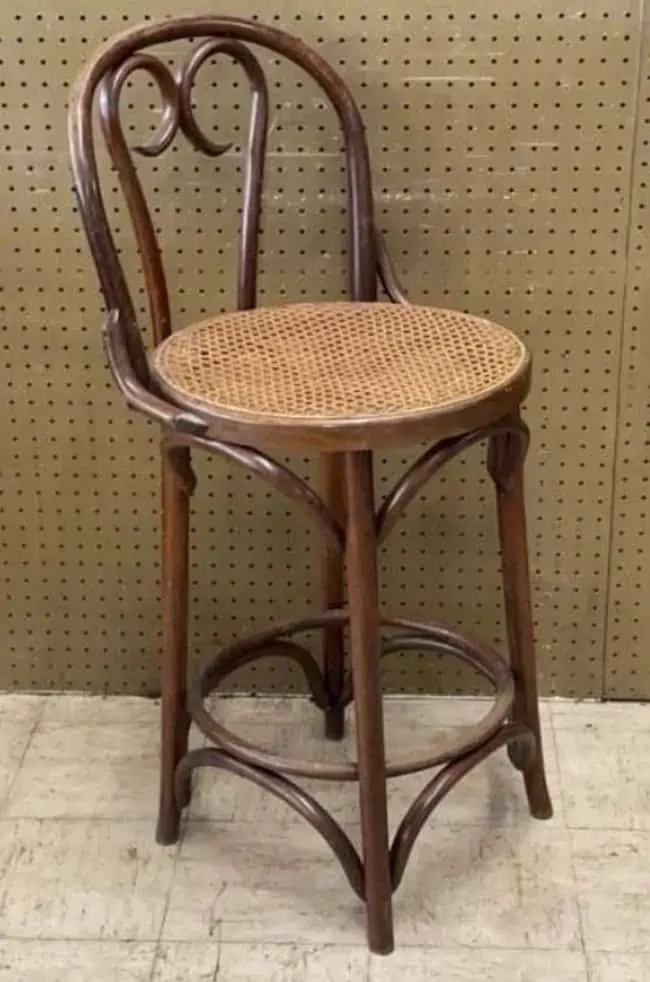 I may also just refresh the finish on the bar stool. It looks pretty nice.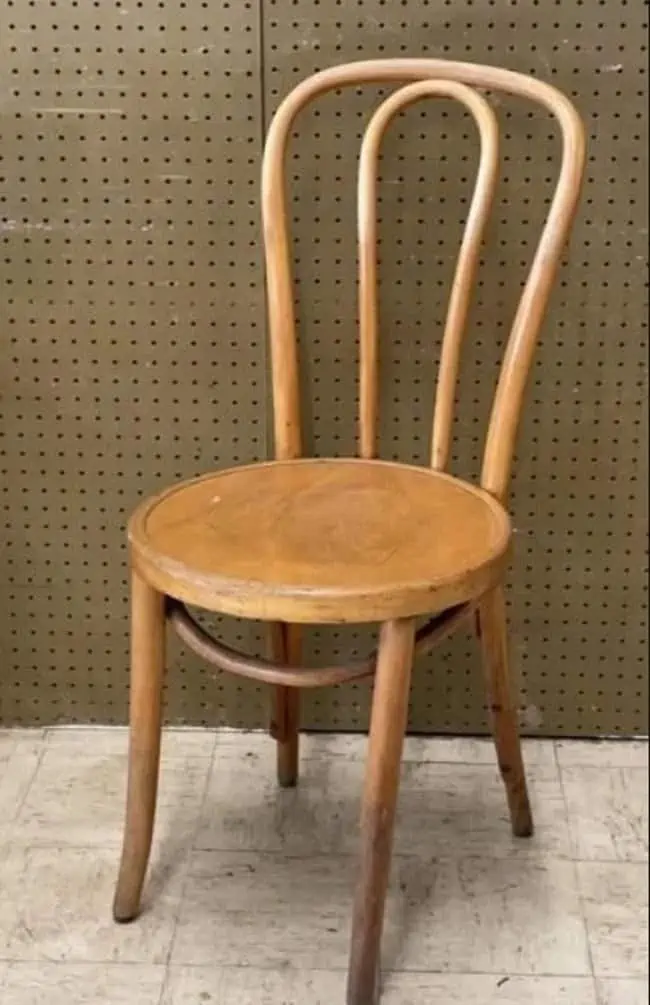 I will definitely paint the bentwood style chair. Maybe spray paint it a metallic color.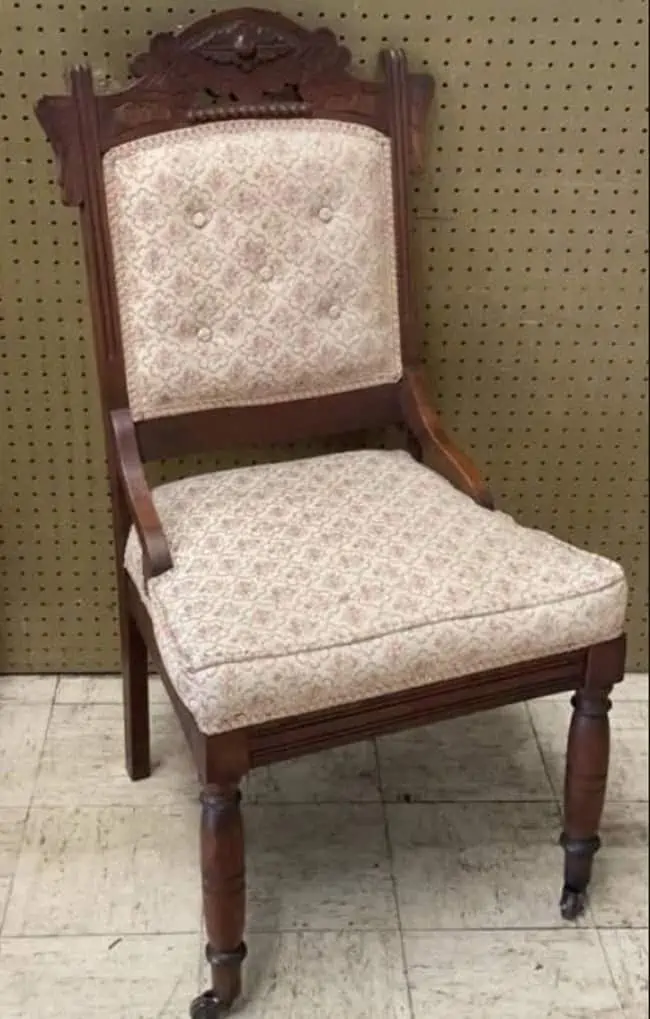 I'm really not a fan of this chair and I will try to sell it in my booth as is.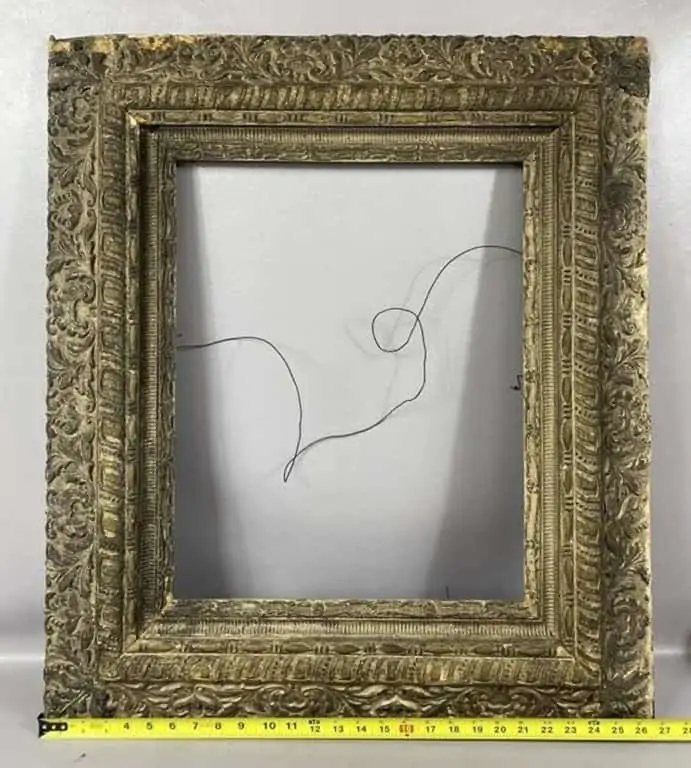 I got this nice picture frame too. It was $14 and I will paint it.
That's it for my treasures today. Which ones did you like and do you have paint or makeover suggestions? Thanks for being here, Kathy
Author: Kathy Owen (Petticoat Junktion)
Kathy is the founder of PetticoatJunktion.com, a home décor blog focused on repurposing and upcycling furniture, old hardware, rusty stuff, and thrifty finds into unique home décor. Kathy's projects have been featured on the Home Depot Blog, Plaid Crafts, Behr Designer Series, and in numerous magazines. Read more about Kathy here.