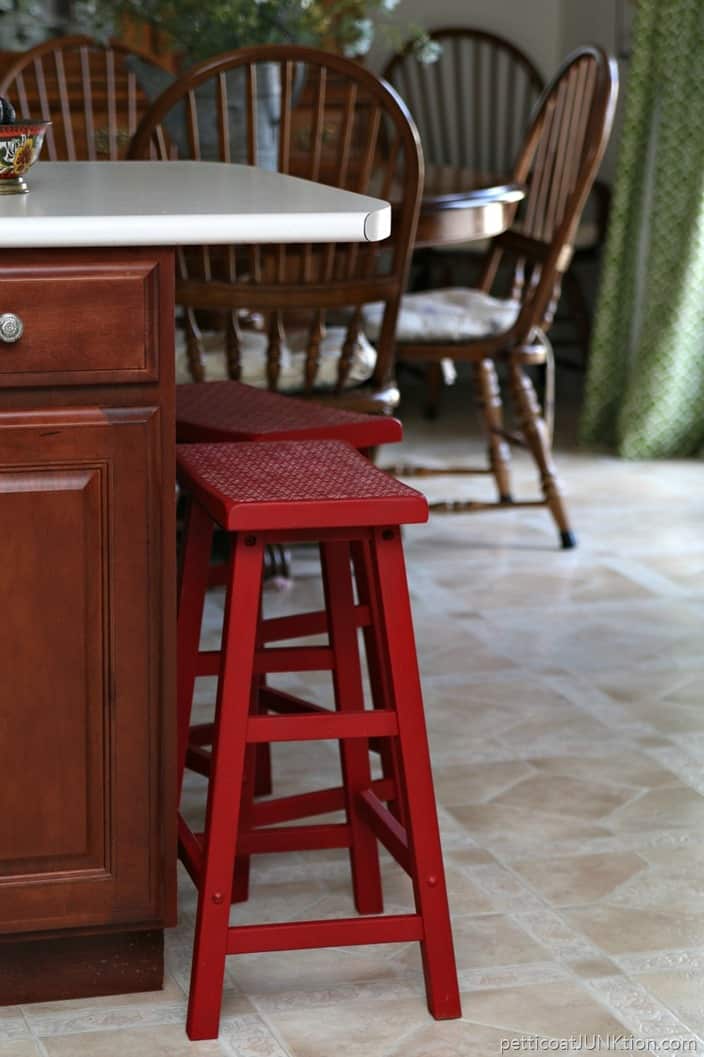 Why I Painted My Bar Stools Imperial Red
Folk Art Home Decor Chalk
Hey guys! Remember a few weeks ago when I posted about being a Plaid Creator? If you missed the announcement, I'll catch you up to speed. Plaid Crafts is celebrating their 40th anniversary this year and as part of the celebration they put together the first Plaid Creators team. We will be sharing creative projects of all kinds and inspiring you to get your craft on in 2016.
Plaid debuted their Top 10 Hot Trends for 2016 and I chose the "Comfort" trend as inspiration for my first project.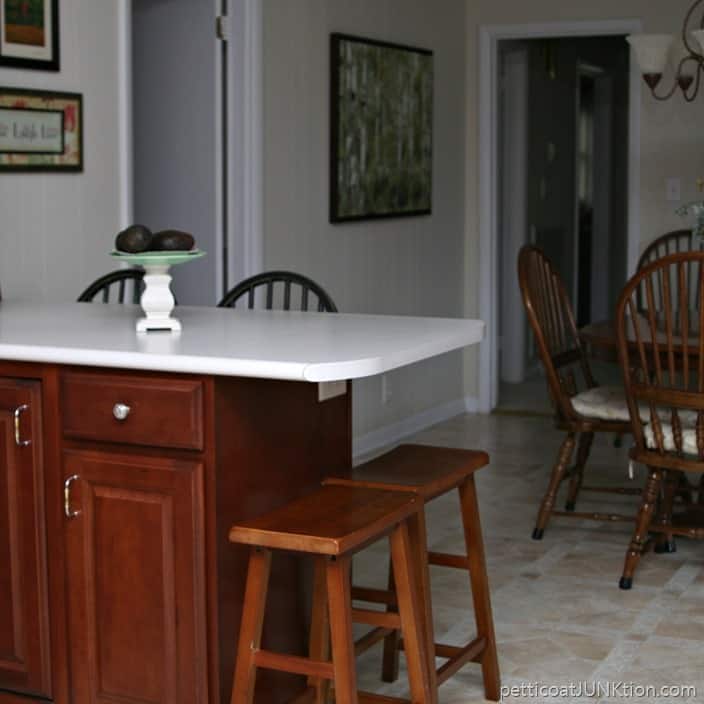 To say the pair of bar stools at the end of the bar/counter in our kitchen are boring is a bit of an understatement. Time for a makeover.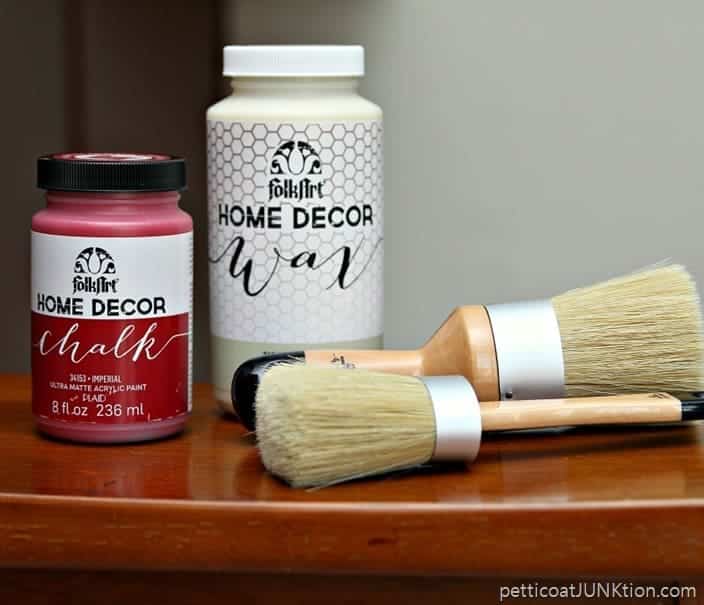 The color I chose for the bar stools is Imperial in FolkArt® Home Decor Chalk. The color is a beautiful, vibrant red. My dear mother always loved red. It was, and I guess still is, her favorite color. As most of you know, my mom is suffering from Alzheimer's. We visited her in Arkansas last month and she was wearing a lovely red robe my sister got for her. When I looked at the color board for the FolkArt Home Decor Chalk I knew immediately what color the stools would be.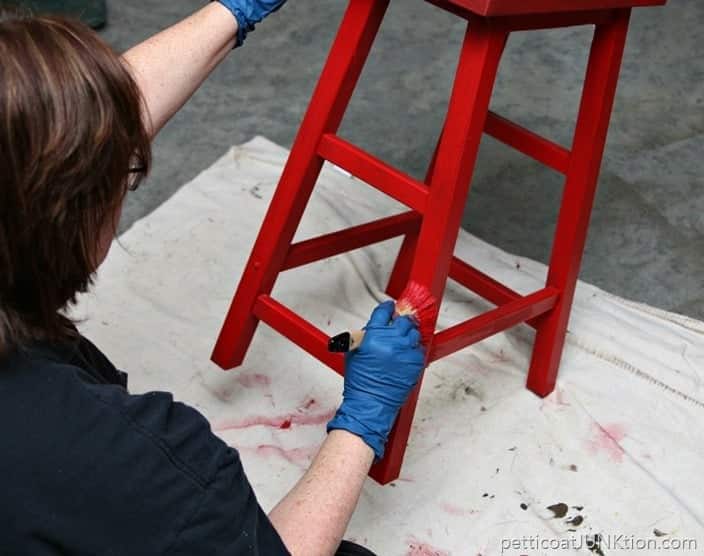 Petticoat Junktion is a participant in the Amazon Services LLC Associates Program. As an Amazon Associate I earn from qualifying purchases.
The JTS (Junktion Technical Specialist, aka my hubby) is getting pretty good at this photography thing. I adjust the settings on the camera and he clicks away.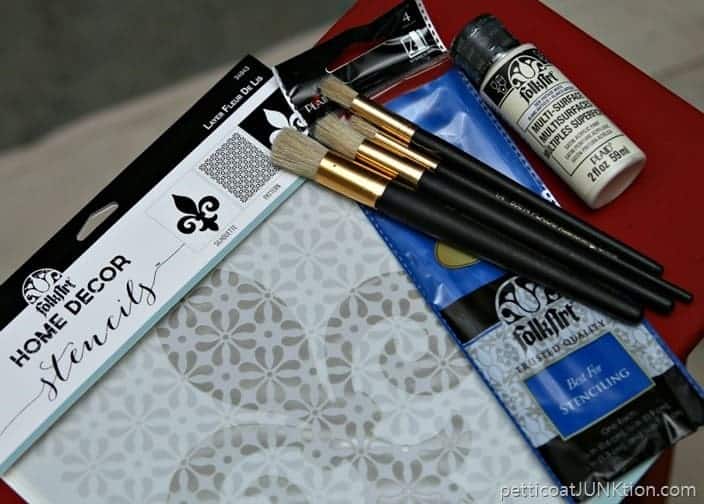 You guys know I couldn't just brush on a coat of paint and be done. The stools needed to be gussied up with a few flowers.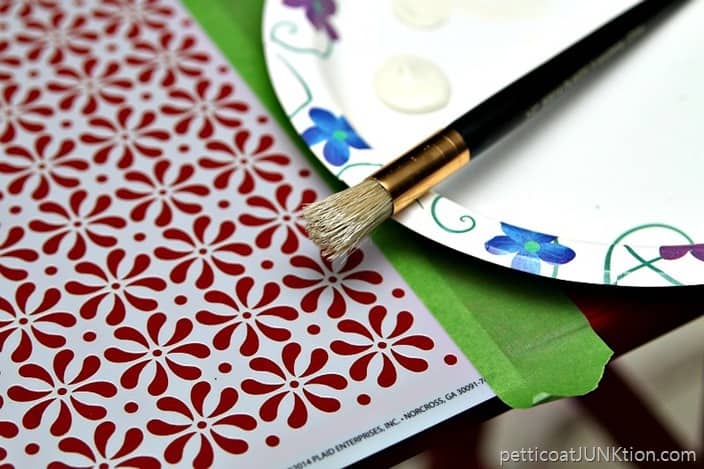 I taped the stencil to the stool…..poured a small dab of Vintage White FolkArt Acrylic Paint onto a paper plate…..dipped the stencil brush in the paint……brushed almost all of the paint off on a paper towel…..then started stenciling. The secret to stenciling is a really, really, really dry brush.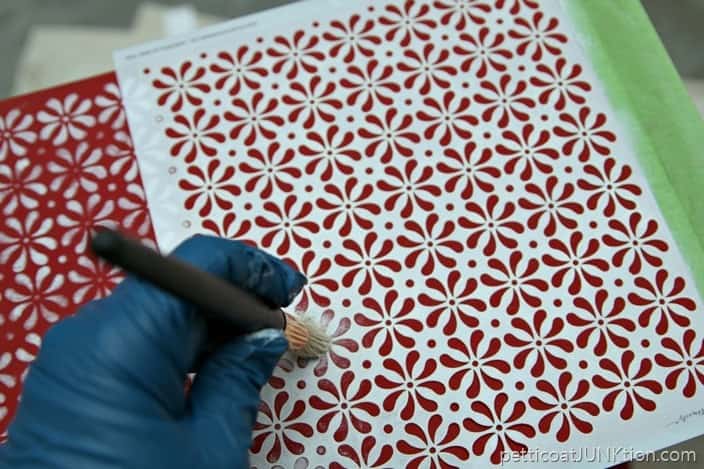 All the Best Beds in a Box. Lowest Prices Guaranteed. Get Your Favorite Brands Like Nectar, Lull, Purple and Tuft & Needle Shipped to Your Door for Free. Shop Now at MattressFirm.com!
I stencil by making small circles over the stencil. Some DIY'ers prefer a sponge brush and pouncing. What ever works! I started stenciling at one end of the stool and moved the stencil down as I went. The little dots on the stencil serve as registers……makes for easy alignment.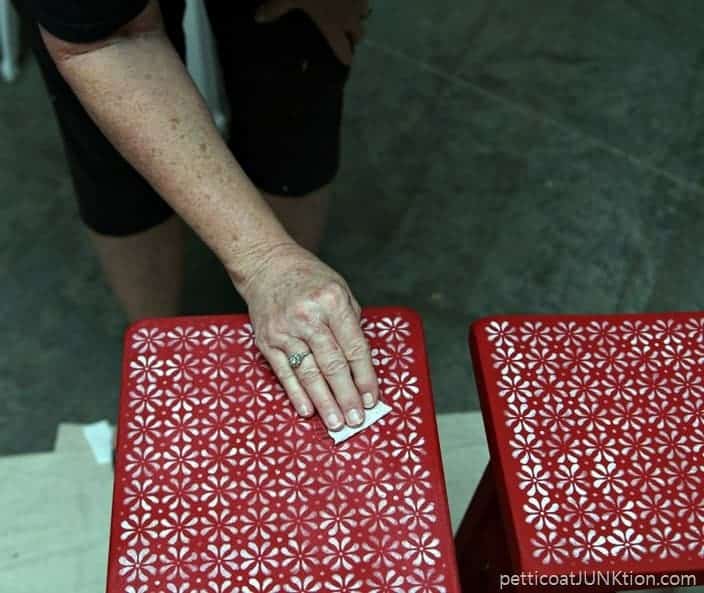 I'm not called the "Queen of Distressing" for nothing. I used 100 grit sandpaper to lightly distress the stool. The flowers recede into the paint and don't look like they are just sitting there.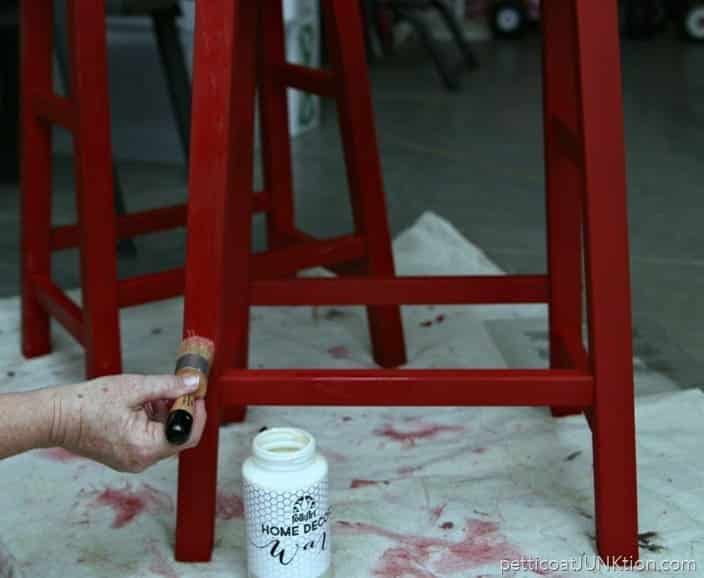 For the finishing touch I brushed on FolkArt Home Decor Clear Wax. I let the wax dry overnight then buffed it with a white lint free cloth.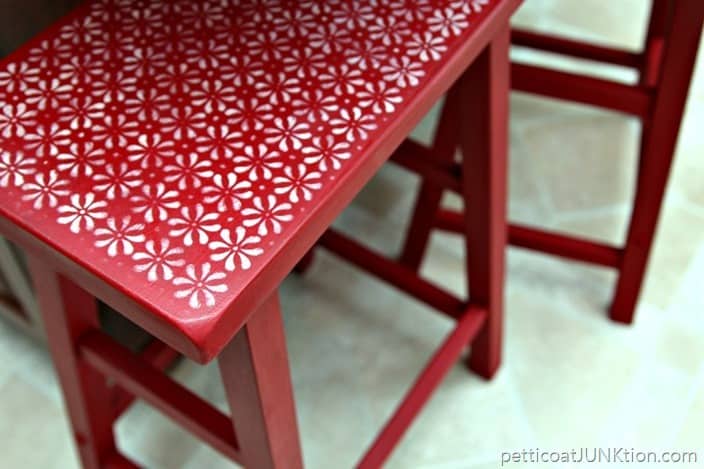 Ta-dah! The bar stools aren't boring now. The beauty of stenciling is the perfectly imperfect look. You don't want all of the flowers or any stenciled detail to be perfect. Looks too store bought, not one of  a kind.
List of Products for this project:
FolkArt Home Décor Chalk- color Imperial
FolkArt Home Décor Clear Wax
Folk Art Chalk Brush and Wax Brush
FolkArt Layering Stencil- Fleur de Lis
FolkArt Stencil Brushes
Vintage White FolkArt Acrylic Multi-Surface Paint – Vintage White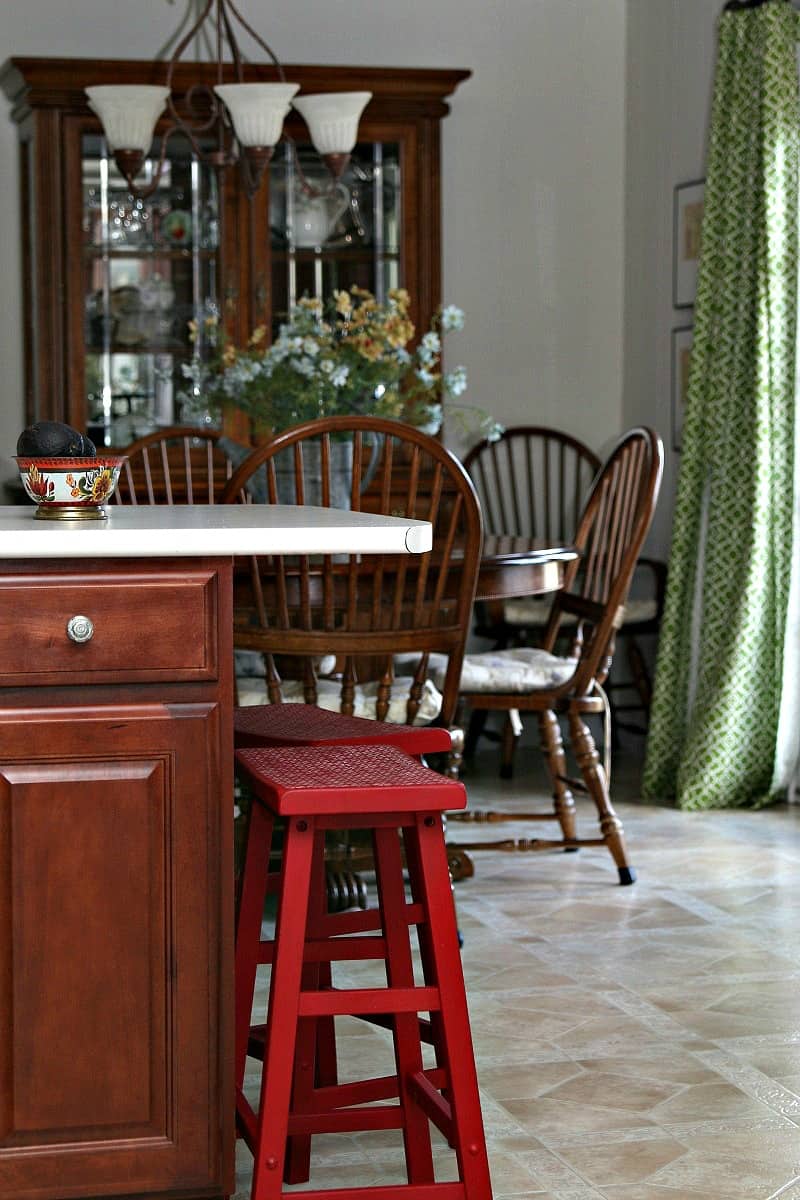 I can't wait to hear Granddaughter Sofi's comments on the stools. She pulls a one of the bar stools up to the oven every Friday night when we make chocolate chip cookies.
Well, that's my first project as a Plaid Creator. What do you think of the red…..and the flowers?
As part of Plaid's 40th Anniversary Celebration they will be sharing throwback crafty trivia, highlights about the history of crafting, and special giveaways all year long. To join the fun sign up for the Plaid newsletter and follow them on social media. Just click the "pink links" below.
Plaid Newsletter, Plaid on Facebook, Plaid on Pinterest
See the Top 10 Hot Trends for 2016 and tell me your favorite trend. Also get a look at the new Plaid products being introduced this year.
Have a great day!
Click here to have Petticoat Junktion updates delivered to your email for free!