The Vaseline Petroleum Jelly layered paint technique is my favorite way to layer or distress paint. That doesn't mean it always goes well. Take this project for instance.
I worked on this small table forever because I overdid the Vaseline. I finally achieved the layered paint finish I was going for…..it just happened in a roundabout way. I'll tell you all about it.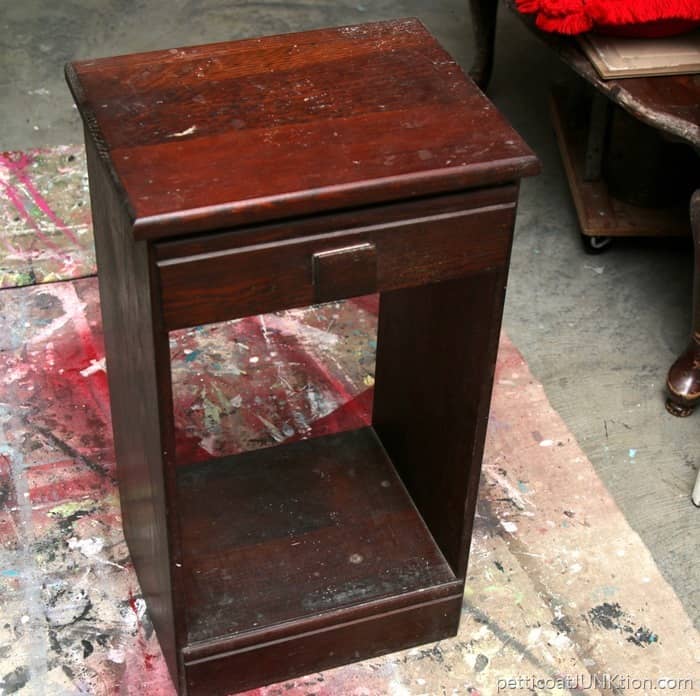 This is the nightstand/side table the JTS paid $22 for at an auction. Usually, my max price for a nightstand is $10, but I really prefer to pay no more than $5. The boxy nightstand is darn cute after the makeover.
When I take the finished piece to the shop to sell, I will price it at $35. That's probably top dollar in my area of the country. Not much profit on this project after you consider the paint and other supplies, plus the shop owner gets a 10% commission on the selling price.
The JTS is new to the buying furniture part of the buy/sell process. He's usually behind the scenes doing furniture repairs and the not-pretty part of furniture makeovers. He's warming up to this whole auction thing, though and I love that he wants to buy project pieces for me.
I started this project with the idea of having three layers of paint….white, pink, and gray. I did accomplish that. But things definitely did not go as planned.
I'm happy with the layered finish. It almost looks natural, like the piece was painted three different colors over a period of time and the paint distressed naturally over the years. I especially like seeing some of the original wood finish.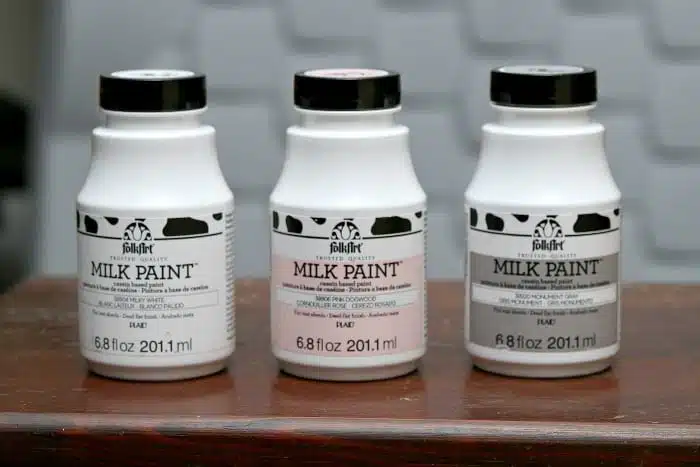 The paint I decided on for the project is FolkArt Milk Paint. This milk paint doesn't chip off like other milk paint. It's more like regular paint but it does need to be waxed or sealed or the finish is flat. The colors are Milky White, Dogwood (pink), and Monument Gray.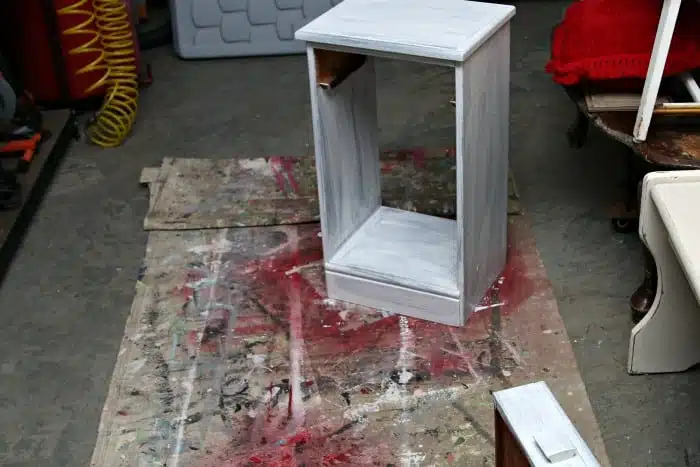 I brushed on a coat of white paint not really worrying about full paint coverage. Remember I was planning to have 3 coats of paint, 3 different colors.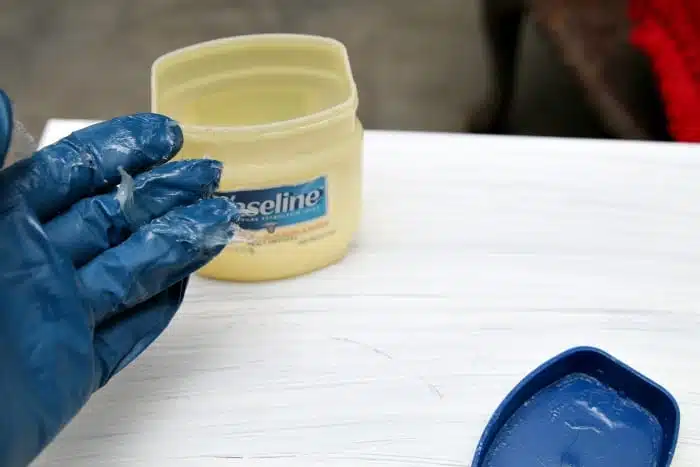 Once the paint was dry I put on a pair of gloves and dabbed some Vaseline on my fingertips. As you can see, I have a lot of Vaseline on the gloves.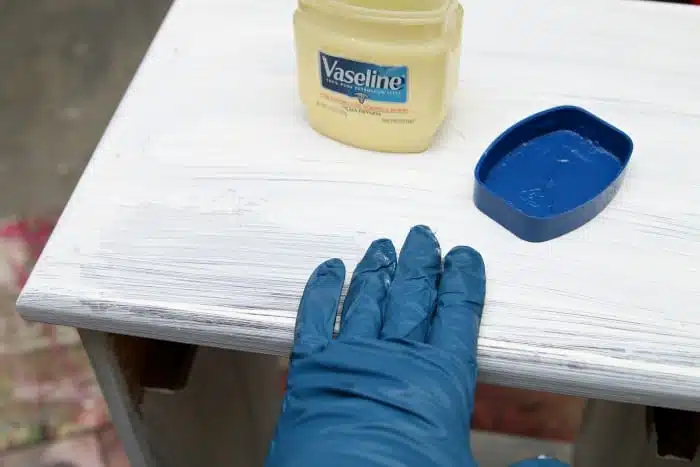 Then I rubbed the Vaseline over the painted surface. If you look closely you can see the darkened area to the left of my hand where the petroleum jelly has been applied.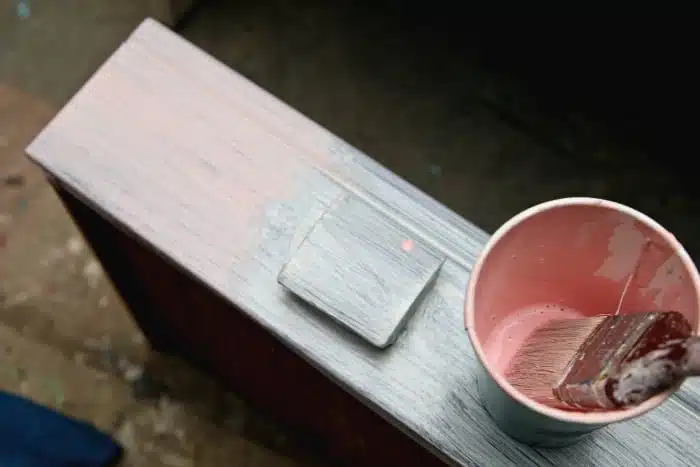 No need to wait for the Vaseline to dry.....because it doesn't really dry. I brushed on a coat of the Dogwood color and I could tell immediately that there might be a problem. But me being me I kept painting.
Things went from bad to worse. See, when the coat of Vaseline is too thick the next layer of paint gets slimy. That's what happened. I wiped the Vaseline on too thick to start with.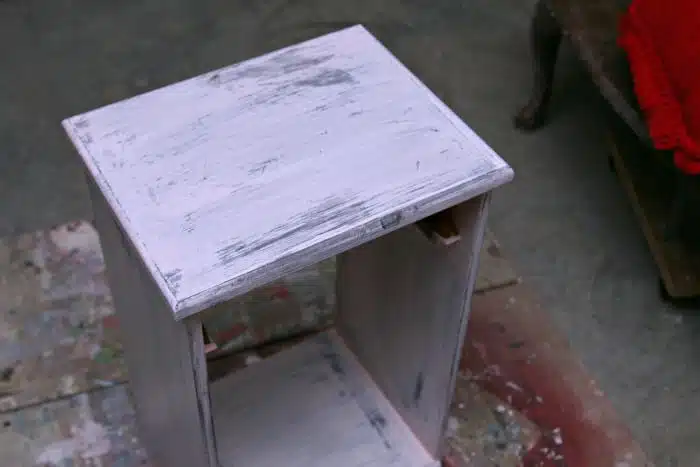 After I applied the pink paint, I had a gunky mess. I decided the best thing to do was take a dry rag and start wiping the nightstand down. I wiped off everything that wasn't dry. The photo above shows what was left. There were still areas of pink paint and some areas where a little Vaseline remained.
My next step was to just paint on the top layer of gray paint. I could have brushed on more pink paint but at this point, I was frustrated and just wanted to be done. I don't have photos of me wiping off the mess or of me brushing on the gray paint. When I run into problems, I start winging it and trying to figure out what to do next. The camera gets put aside.
Moving on to when the gray paint dried..... I took a damp rag and rubbed it all over the nightstand, and then in a few areas, I used a sanding block to remove more of the top layer of gray paint. And everything was perfect. I can see pink paint and white paint in the distressed areas. That is just what I intended.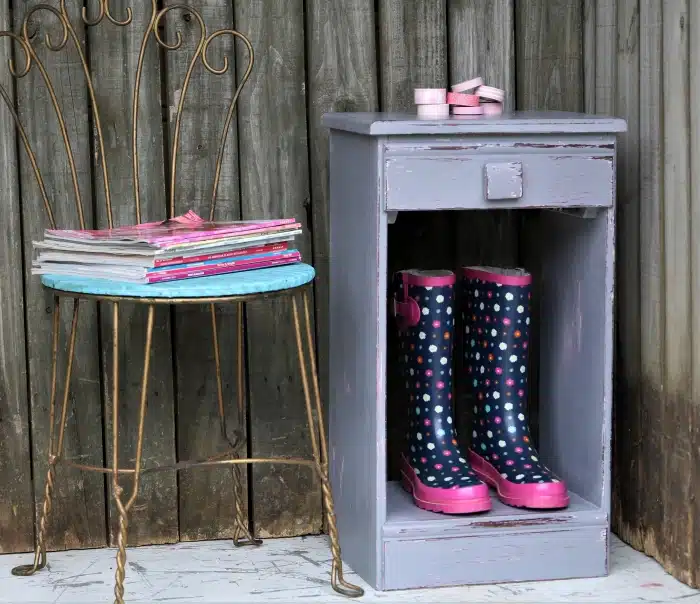 I rubbed on a coat of Howard's Wax in Neutral to protect the paint and give it a slight sheen.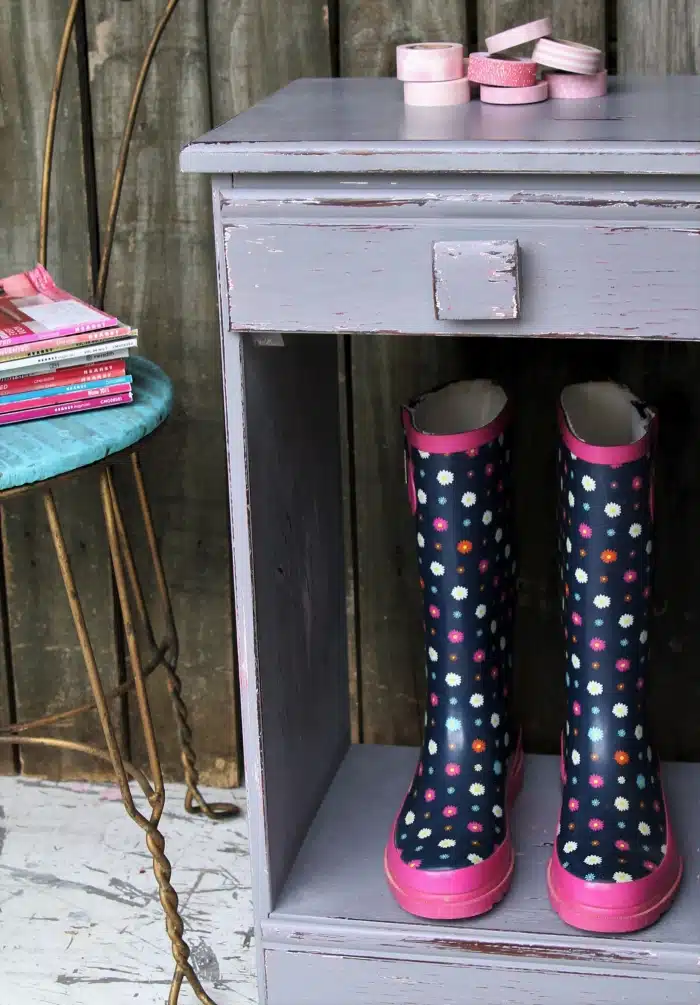 It takes the wax about 20 minutes to dry then it just needs to be buffed a little. Remember always to use a lint-free rag to apply and buff the wax.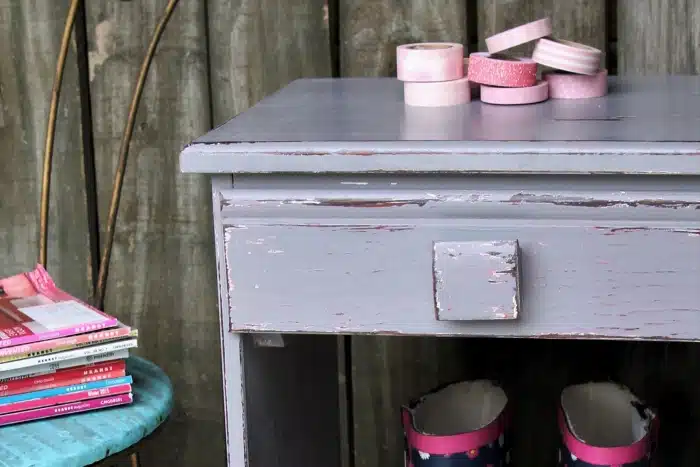 The process I went through is definitely not one I want to go through again. I thought that sharing where I went wrong would help you. I do things wrong all the time, but I usually find a way to make the project work.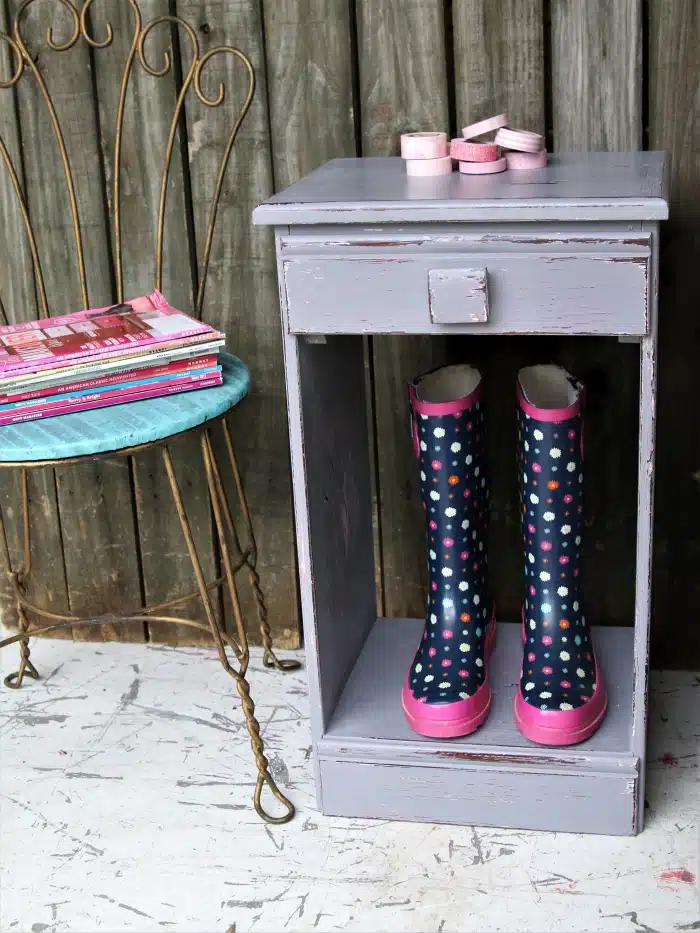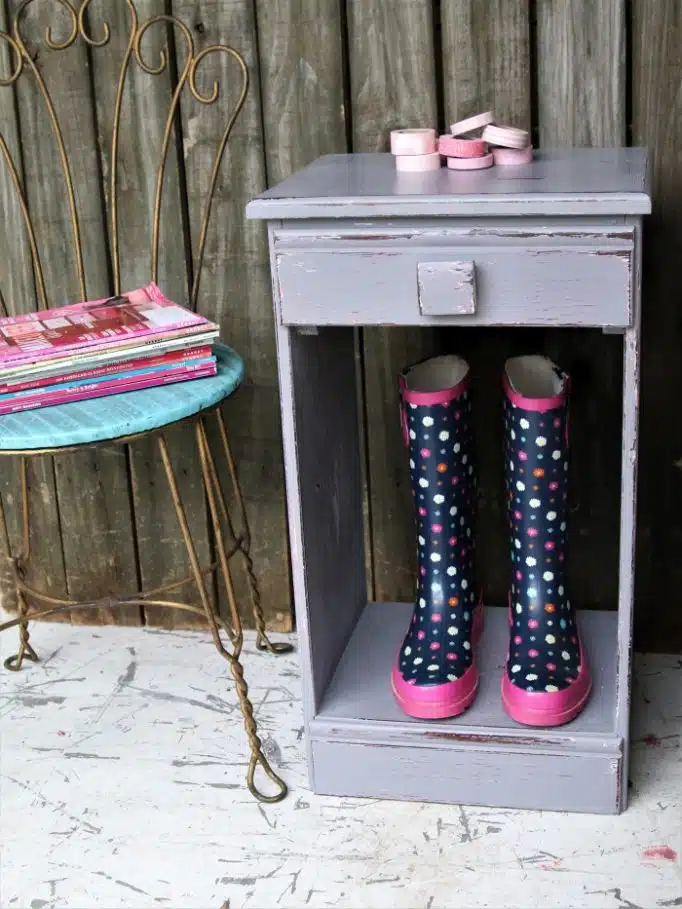 If you want to see the proper way to do the Vaseline layered paint technique, here is a video I made just for you....
How To Layer Paint Using Vaseline Petroleum Jelly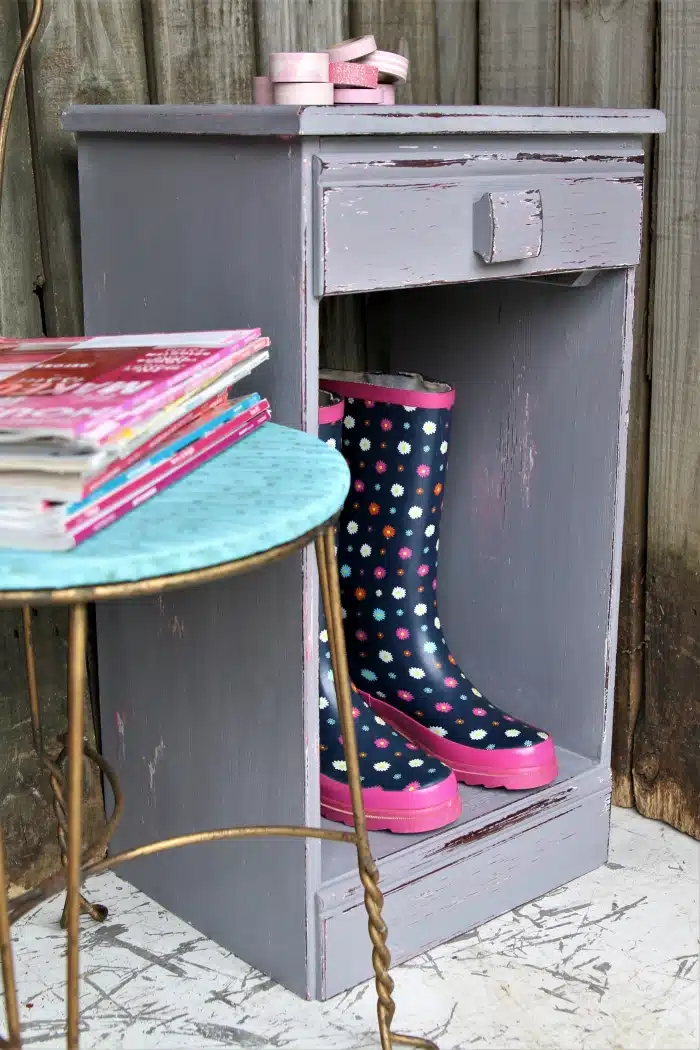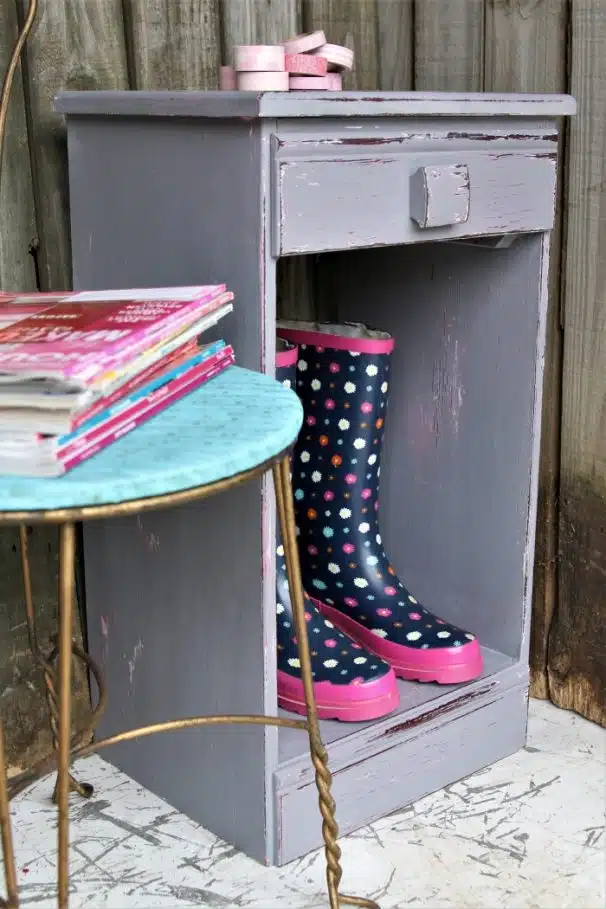 Thanks for being here, Kathy
Author: Kathy Owen (Petticoat Junktion)
Kathy is the founder of PetticoatJunktion.com, a home décor blog focused on repurposing and upcycling furniture, old hardware, rusty stuff, and thrifty finds into unique home décor. Kathy's projects have been featured on the Home Depot Blog, Plaid Crafts, Behr Designer Series, and in numerous magazines. Read more about Kathy here.