These dining chair makeovers include new fabric-covered seats and pretty painted finishes in all colors.
Painted dining chairs with fabric seats are at the top of my favorite makeovers list. You can paint wood chairs, metal chairs, and plastic chairs. The difference between the before and after is so dramatic. I can't say that about a sideboard, a chest of drawers, or a desk makeover, maybe because those don't involve fabric. Anytime you add texture to the mix, it's a good thing. Tell me your favorite chair makeover......
Bold Seat Fabric For Painted Dining Chairs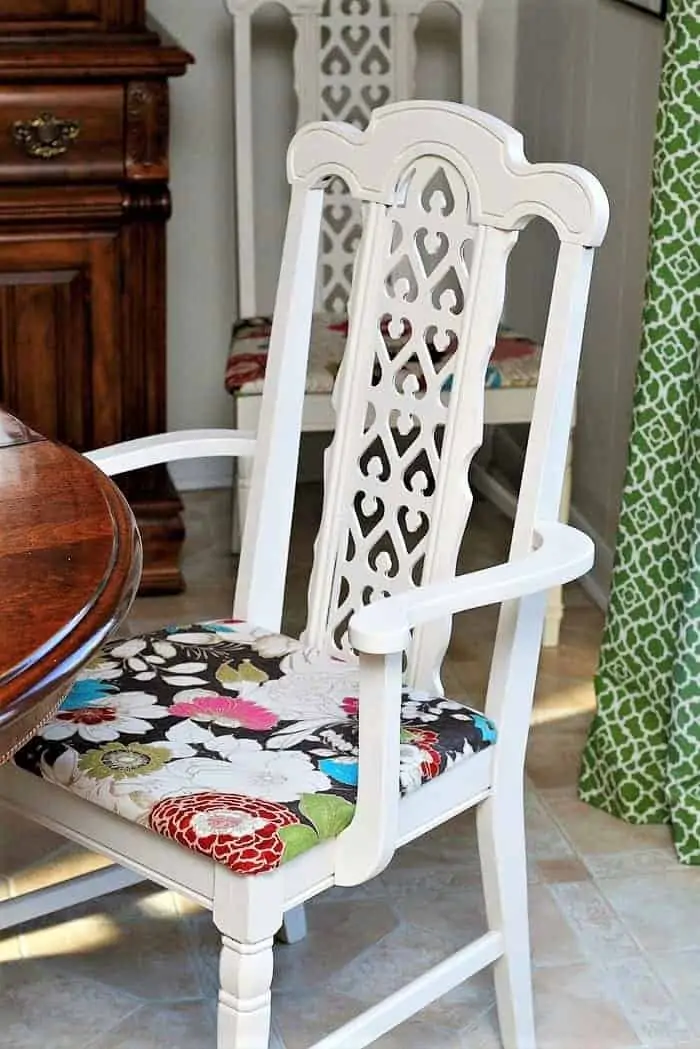 This first chair makeover is one of my favorites. Probably because I love the fabric so much. The paint is 0fff-white Beyond Paint. I didn't have a complete set of chairs, just 3, but they sold right away.
Favorite Seat Fabric - Drop Cloth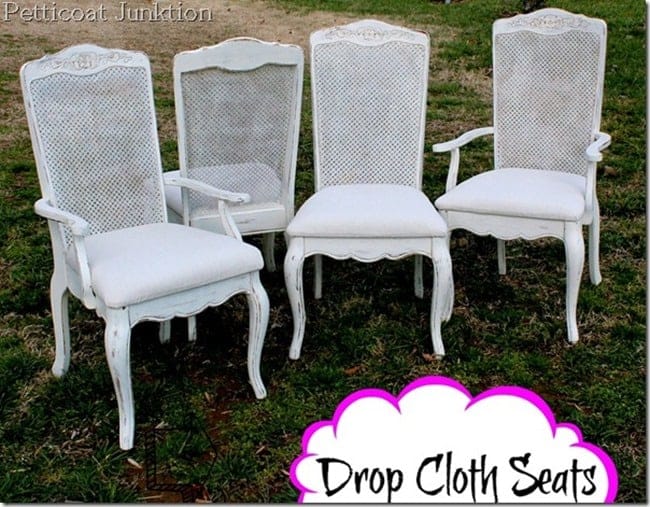 This is the first set of chairs where I used a drop cloth for the seat covers. I wasn't sure how they would work, but I loved the look and have finished several chairs with drop cloth seats.
Green Chair with Floral Fabric Seat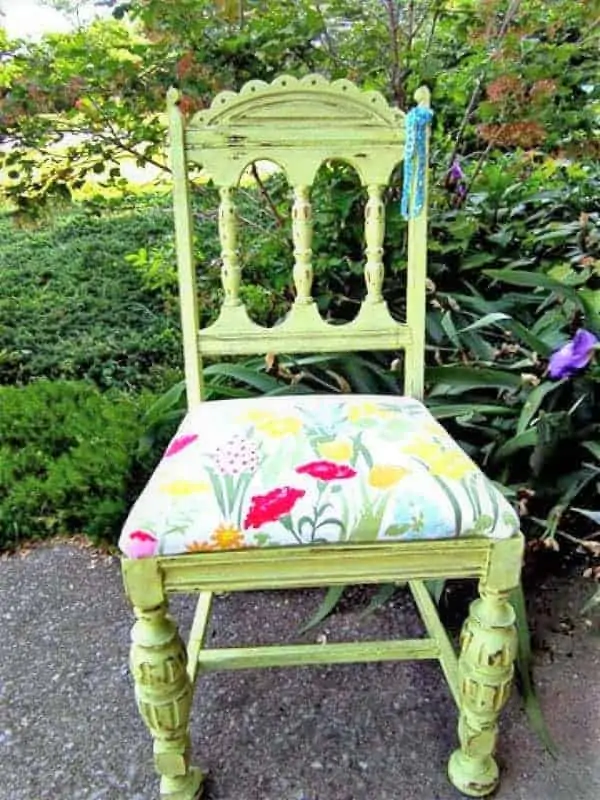 The green chair above is the first project I posted on my blog in 2011. The fabric was either a curtain or tablecloth. I can't remember which, and the green paint was a favorite color, and I don't have the color name or color chip anymore.
Painted Dining Chairs With Buffalo Plaid Fabric Seats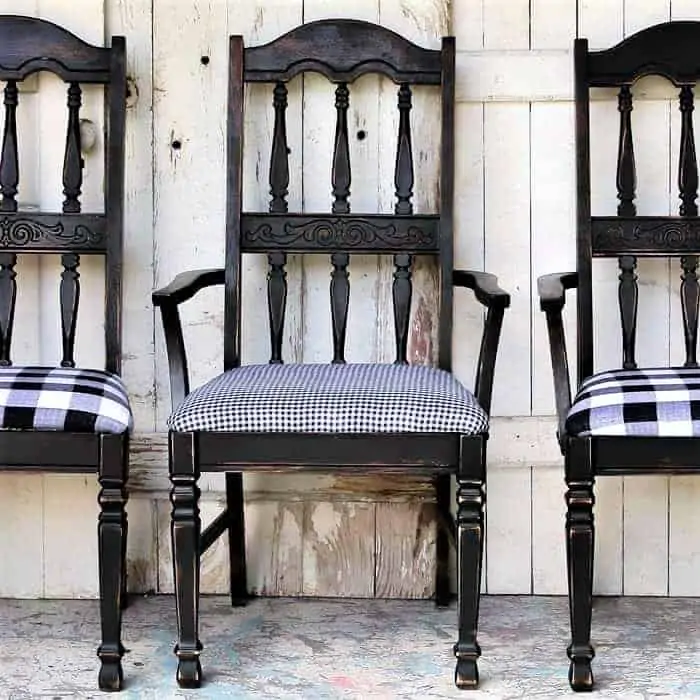 Again, one of my favorite makeovers. When you paint wood chairs, they look clean and fresh, no matter the color. But black paint is a classic and a favorite of mine. The buffalo check plaid prints I used just add more drama.
Burlap Fabric Chair Seat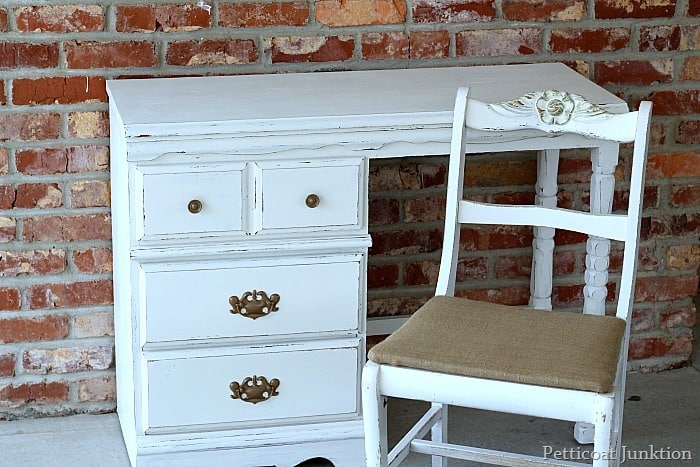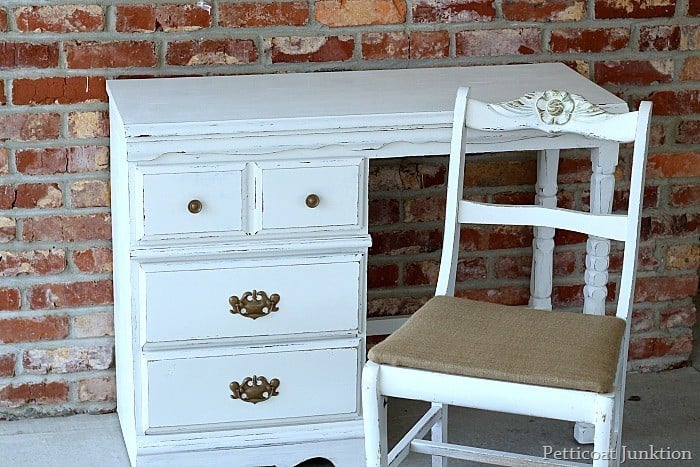 You might be saying, "Not burlap!" I get it. Burlap is stinky. This burlap is different. It is similar to regular fabric. It is more tightly woven and doesn't have the odor regular burlap does. The burlap on the chair matches the spray paint color I used on the drawer pulls. We still have this desk and chair in our living room, and I painted them in 2014.
Gray Painted Chairs For A Soft Look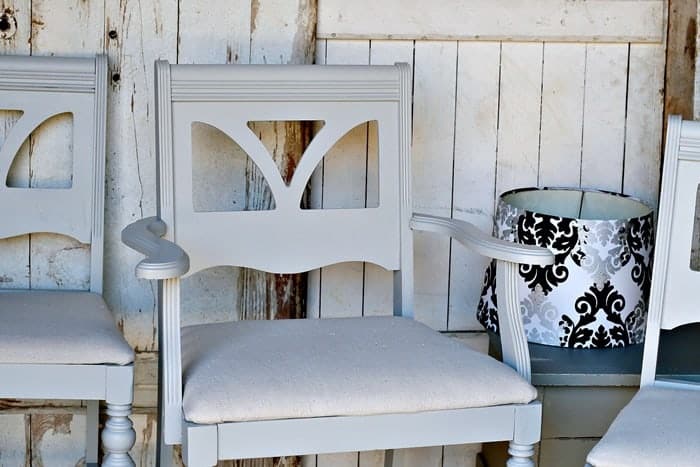 This gray color is so soft. It could be used in just about any color scheme. And there are those awesome drop cloth covered seats again. Drop cloths work well with any color! One thing to note.....always wash the drop cloths once or twice before using them in a project. Gets out the smell and softens them up.
Spray Paint A Chair Blue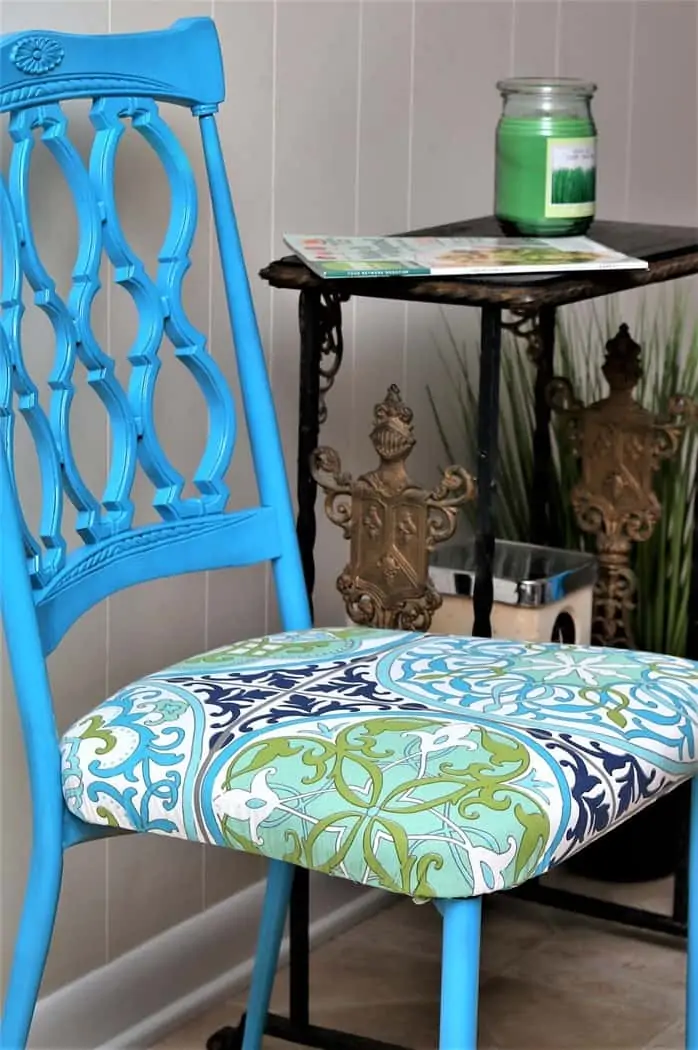 This chair is metal and plastic. Yes, you can paint plastic and metal with spray paint and it will not chip off if you use a good brand of paint like Rust-Oleum. The seat fabric is one of my old shower curtains. Never throw stuff away!
White Dining Table Chairs With Drop Cloth Seats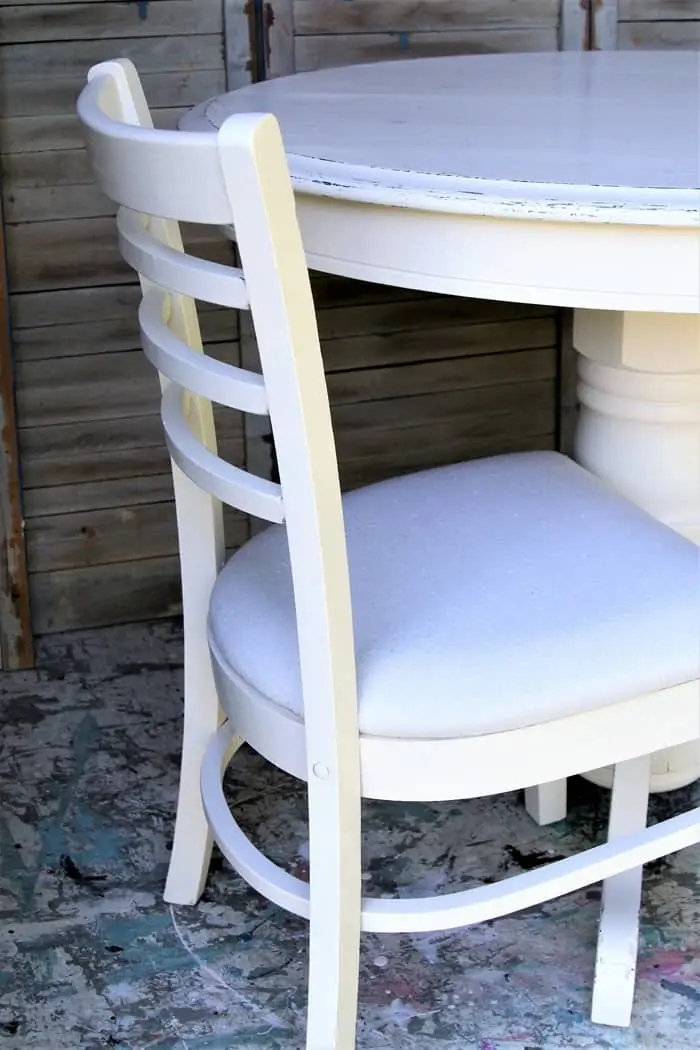 Can you tell off-white paint and drop cloth seats are a favorite of mine? That's because this combo works well on any chair's style, size, or shape.
Decoupage Fabric To Desk Drawers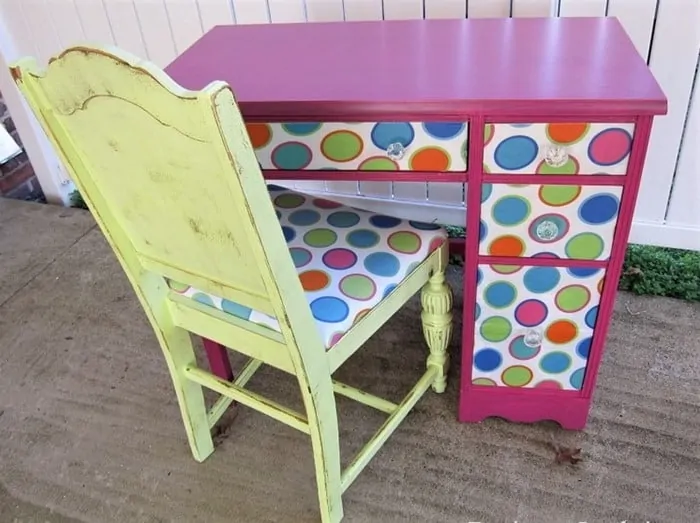 The decoupaged desk and the green chair are other projects from my early blogging days. The fabric I decoupaged to the drawer fronts is a recycled curtain. Using the fabric to cover the seat was a no-brainer.
Pillowcase Seat Cover For Painted Cane Back Chair
These cane back chairs look so good painted. I painted the chair with a corally pinkish color, then lightly dry brushed white paint over the cane and the wood parts of the chair. The seat cover is a vintage pillowcase.
Fancy Bold Yellow Chair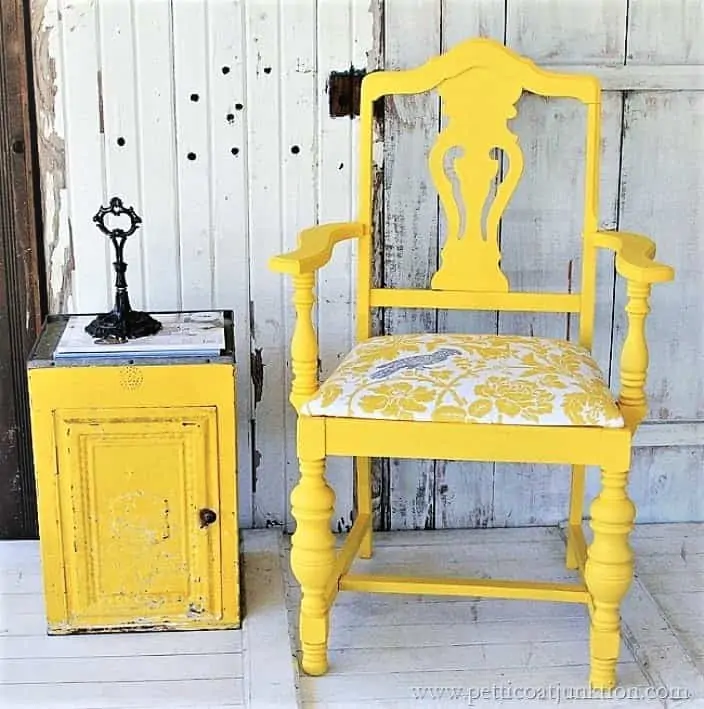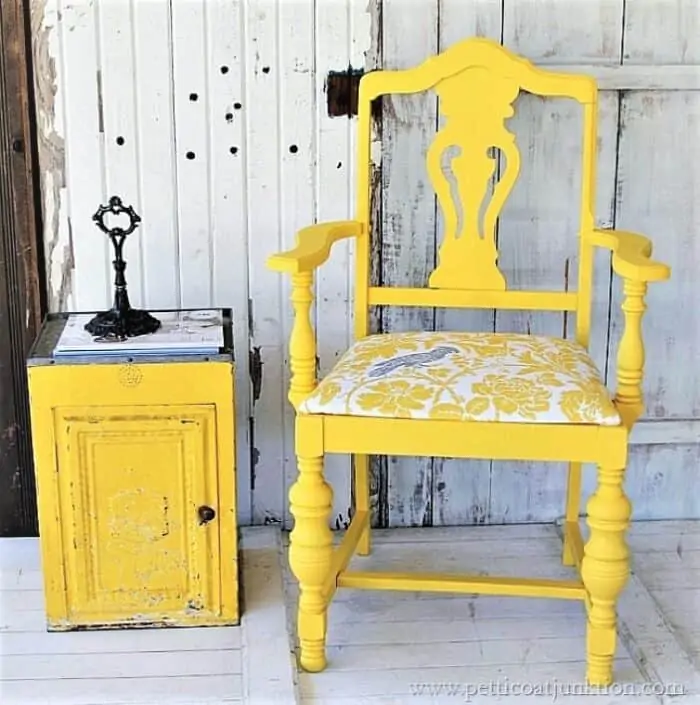 How fantastic is that yellow! It definitely needed a great fabric to go with the bold color. I fell in love with the fabric at first sight. I bought it not knowing what I would do with it.
Paint An Antique Chair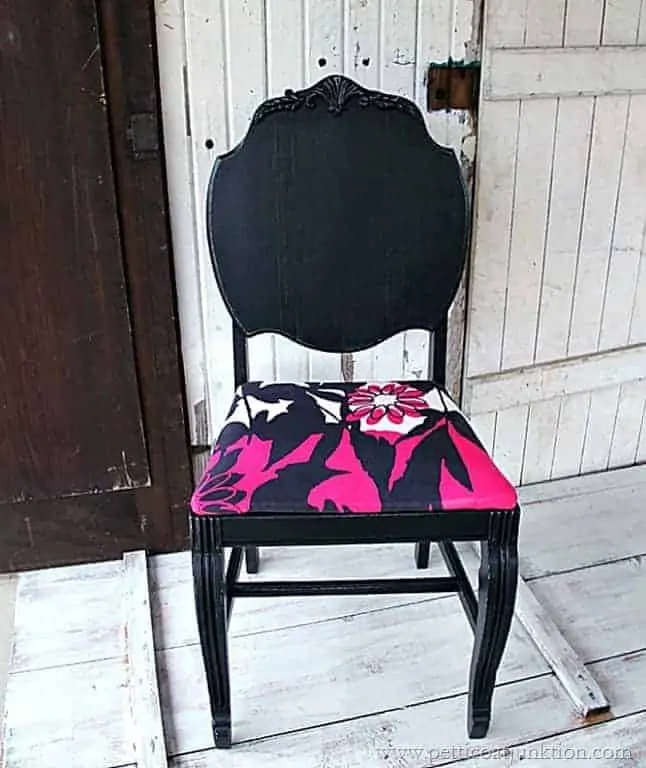 I got a lot of comments about this chair makeover. A few of you wanted me to add something to the back of the chair because it is so bare. I agree it is kind of bare, but I think anything on the back would have been competing against the bold fabric design. The fabric was an old shirt of mine. See, don't throw anything away.
Black Table Set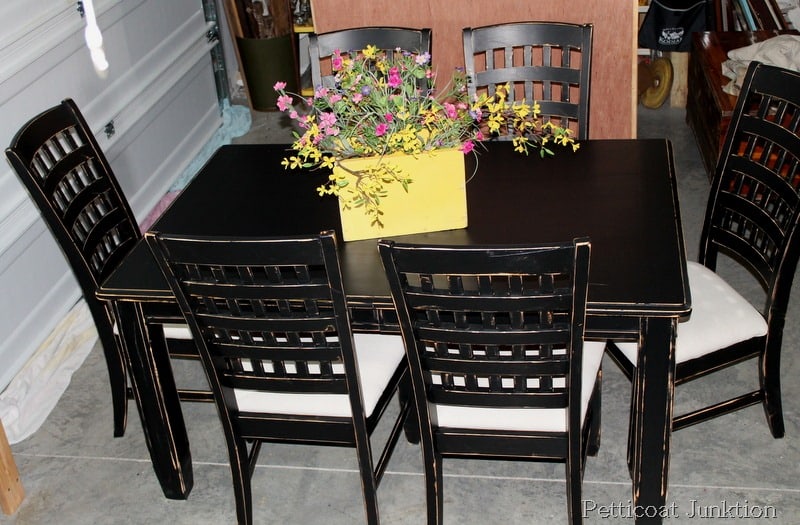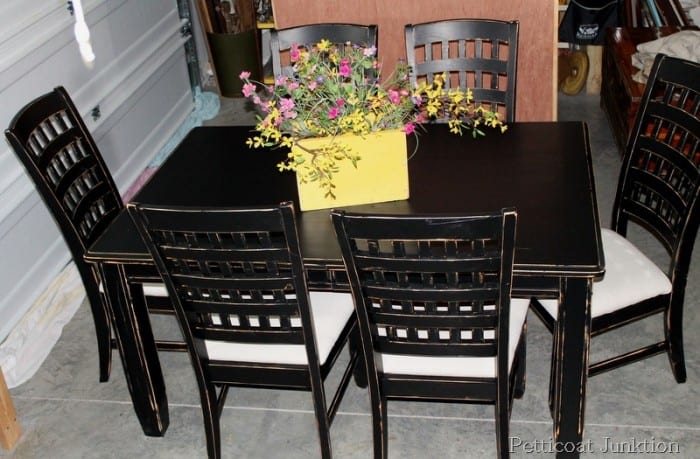 I don't have the post for the black table and chairs anymore. I deleted it some time ago. This was a custom makeover for a long-time customer. The black paint is Beyond paint and the seats......you guessed it.....drop cloths.
Pillowcase Covered Chair Seat And White Distressed Chair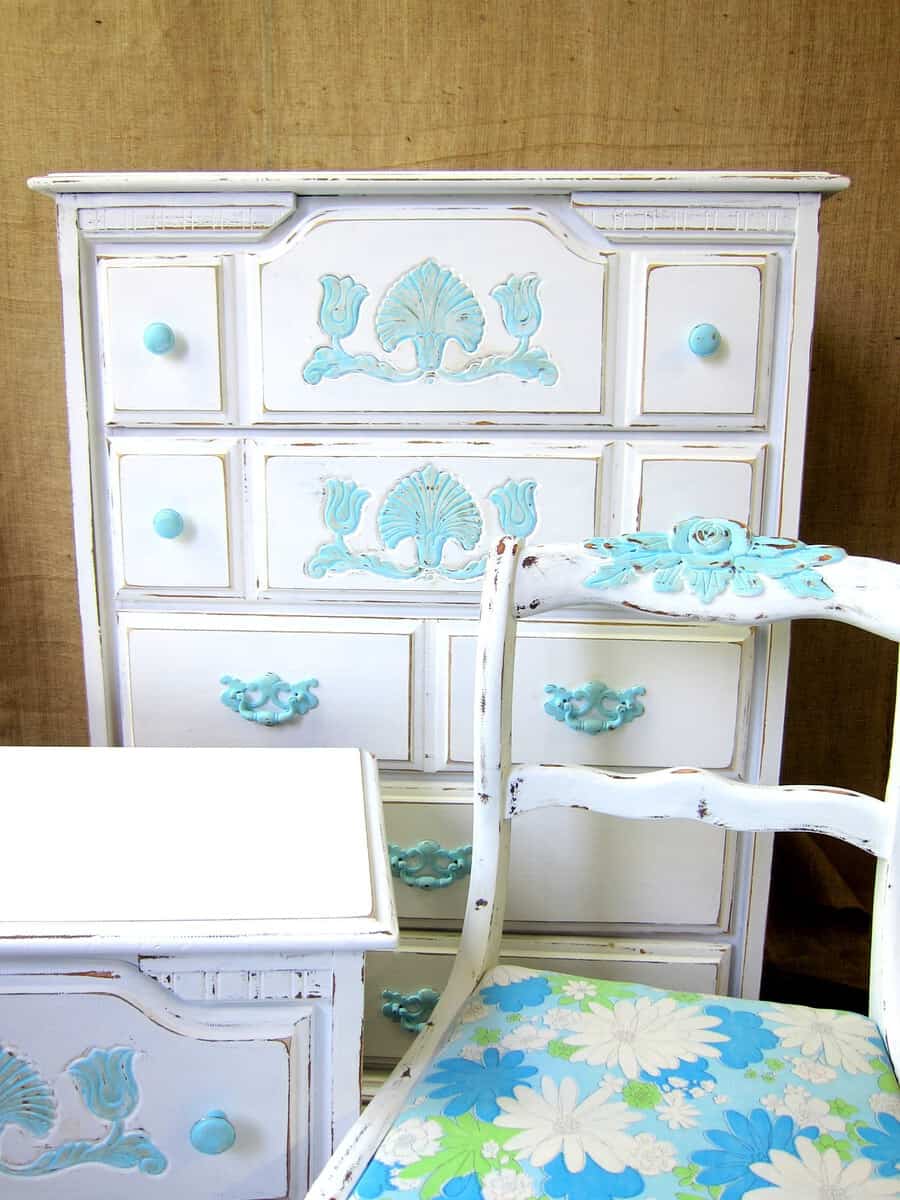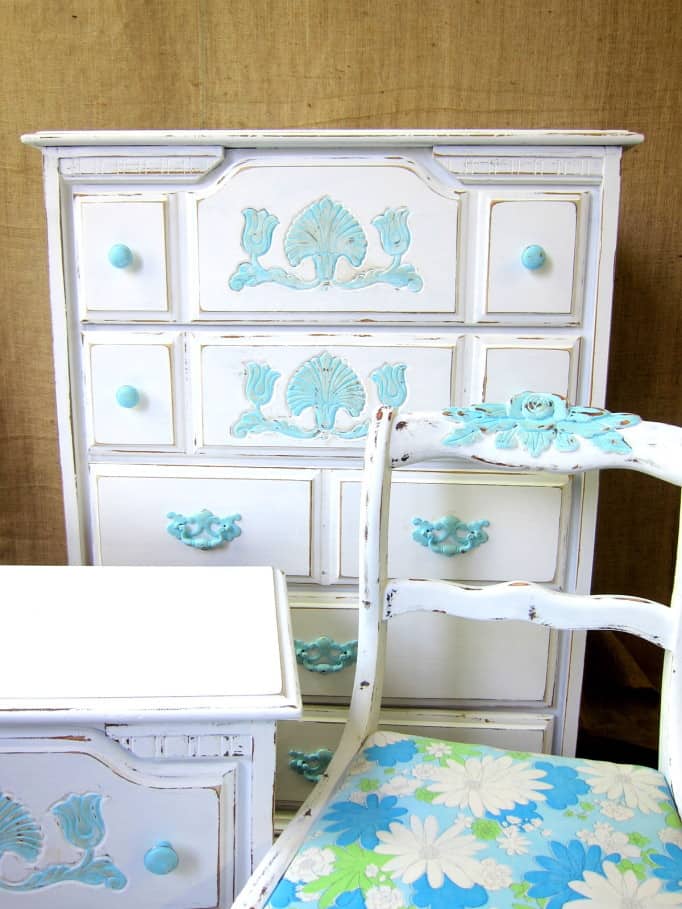 This was also a custom paint project for a high school girl—another project from years ago. I painted and distressed the chair, then used a vintage pillowcase to re-cover the seat.
$10 Chair Gets A Makeover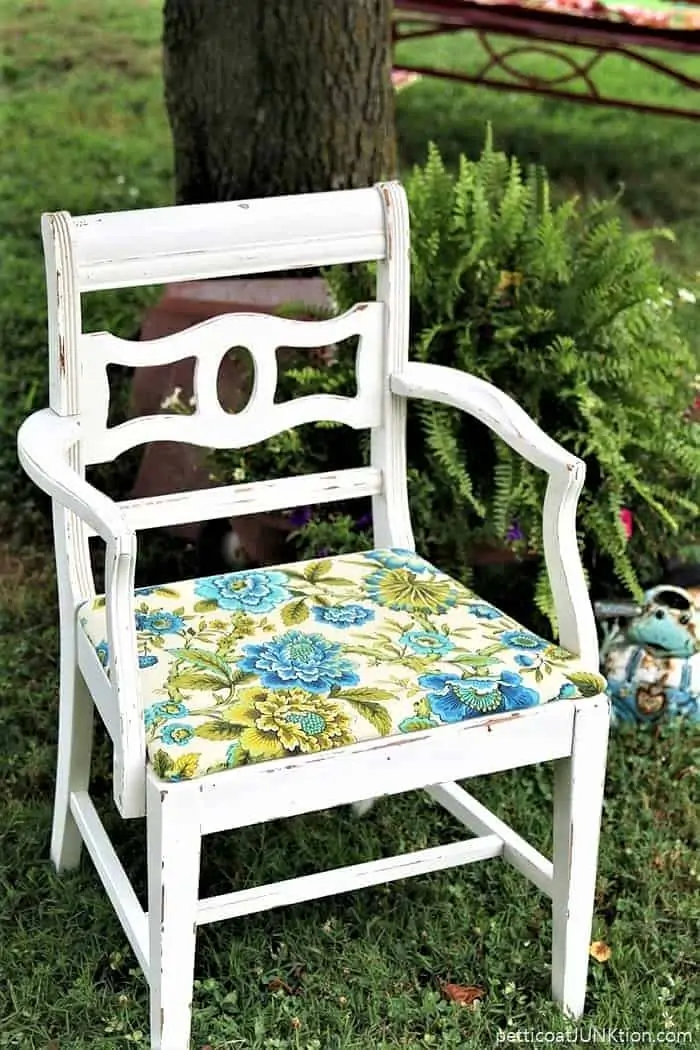 This chair was already painted when I got it. I had to distress the paint a bit more and cover the chair seat. The fabric is one I found at my favorite junk shop! Very rarely do I get fabric at the junk shop.
Color Match Paint To Fabric For Chair Makeover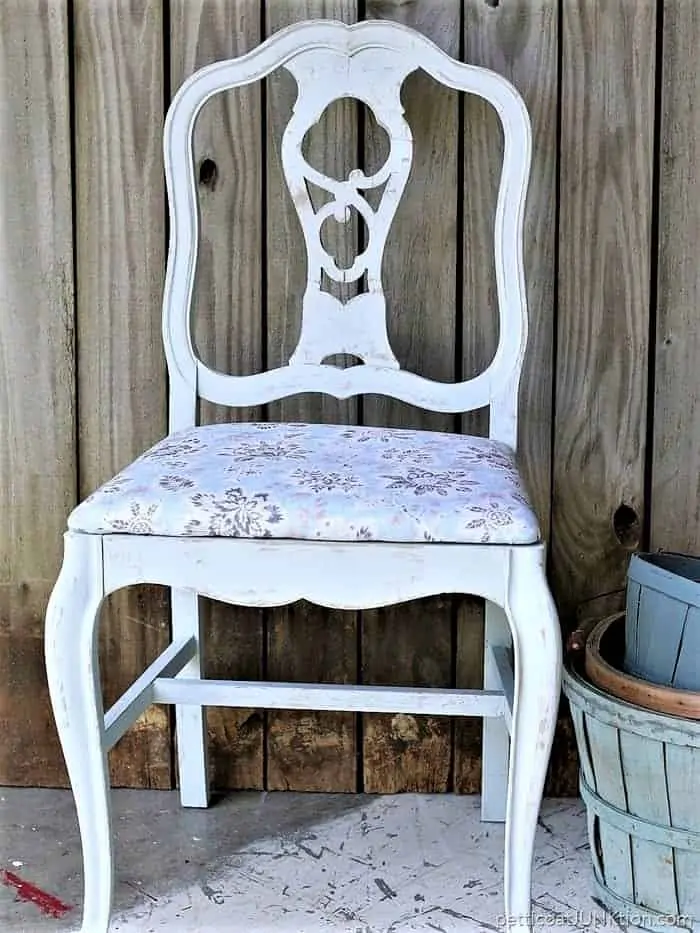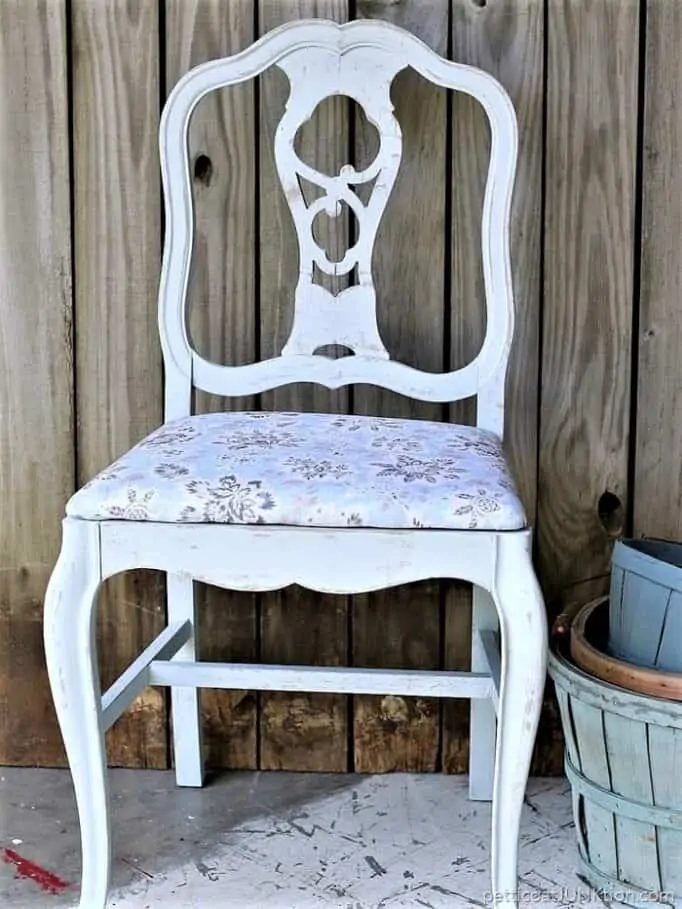 The seat fabric for this chair is from Waverly and the paint is by Waverly. They had a paint line made to match their line of fabrics. Pretty good idea.
Off-White Chairs With Drop Cloth Seats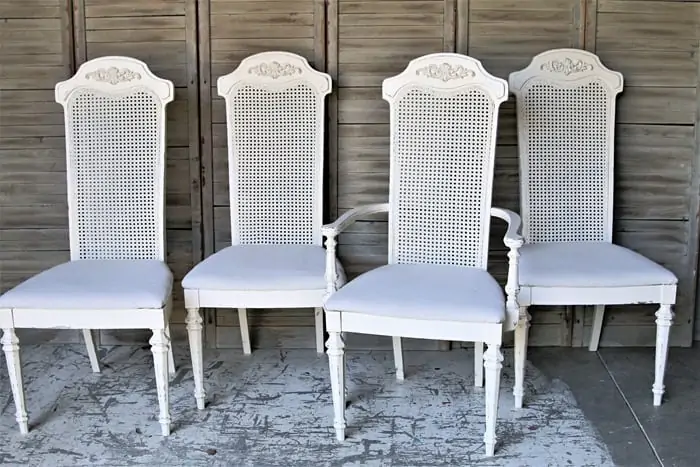 I found more cane back chairs! Another off-white paint job with drop cloth seats. I love when I find a set of chairs with an arm chair.
Paint A Desk Chair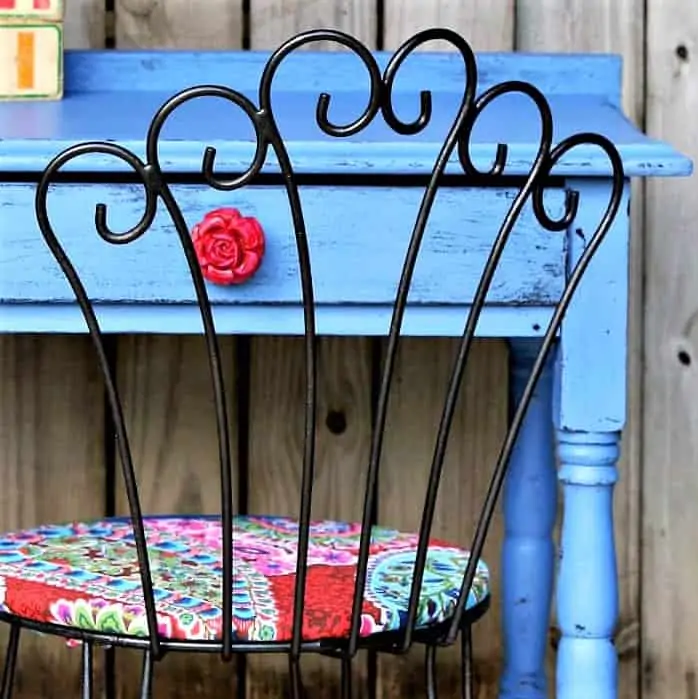 You guys know I love this colorful project. The blue just called for that red knob. I painted the knob with spray paint. The fabric is one of my old shirts. I really like recycling my clothing and home decor. Saves money.
Spray Paint a Metal Chair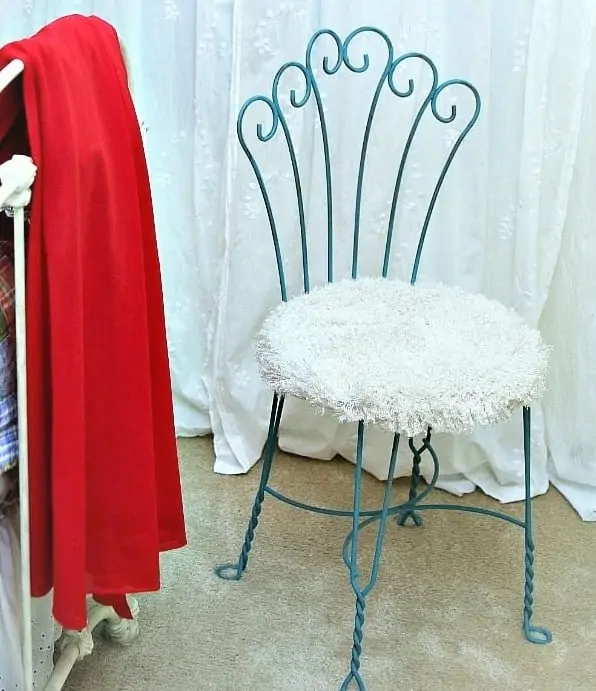 Isn't this the perfect girly chair? The metal chair is from the Nashville Flea Market. I spray-painted the metal frame and then bought the soft furry fabric for the seat.
Fabric Seat Matches Desk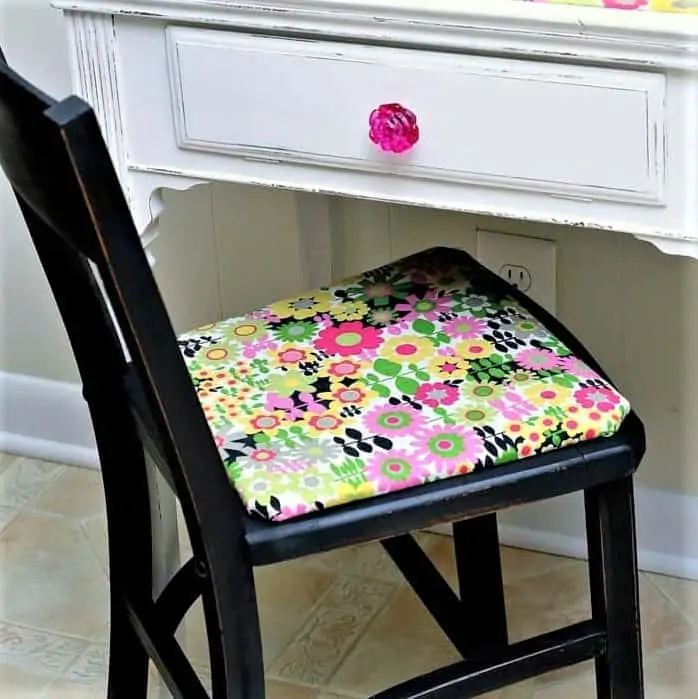 Another girly project, but don't worry, the next one is for the boys. The floral fabric for the seat has a bit of black, which is one reason I chose black for the chair color. It also contrasts nicely with the white desk. I decoupaged the same fabric to the top of the desk. The "desk" is an old sewing machine cabinet.
Fun Chair Makeover

I said this one was a boy-themed project but girls like helicopters too. Blue is such a deep rich color. It reminds me of my school's color, which was royal blue.
Stool And Cedar Chests Makeovers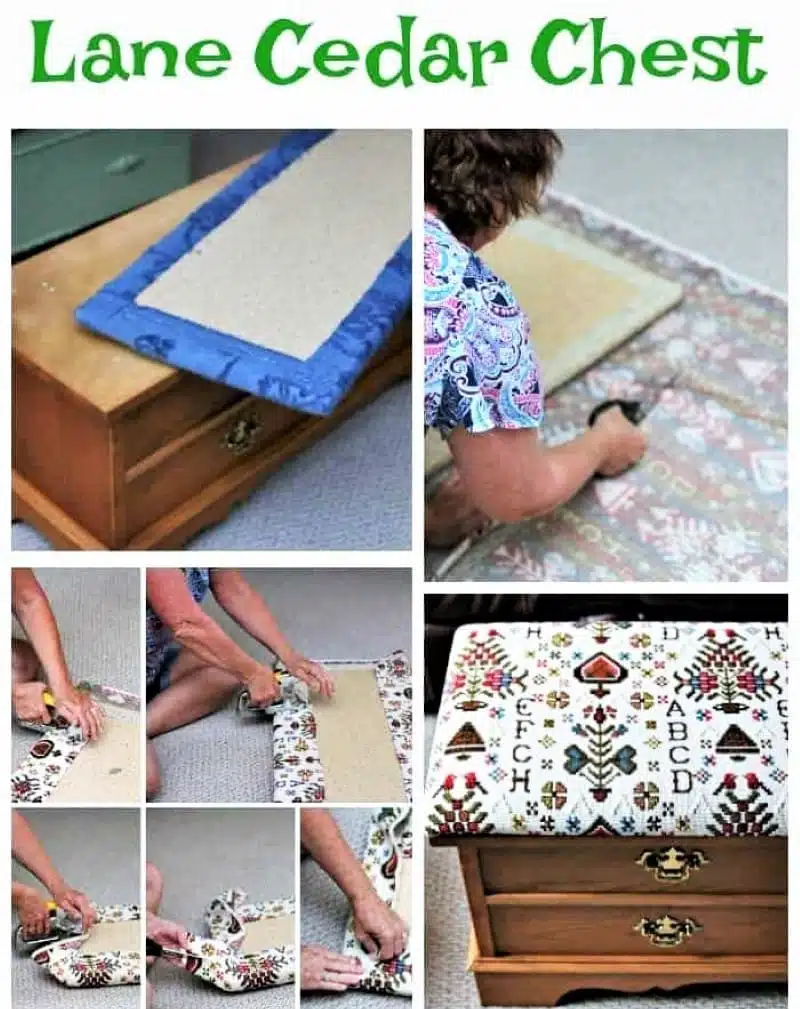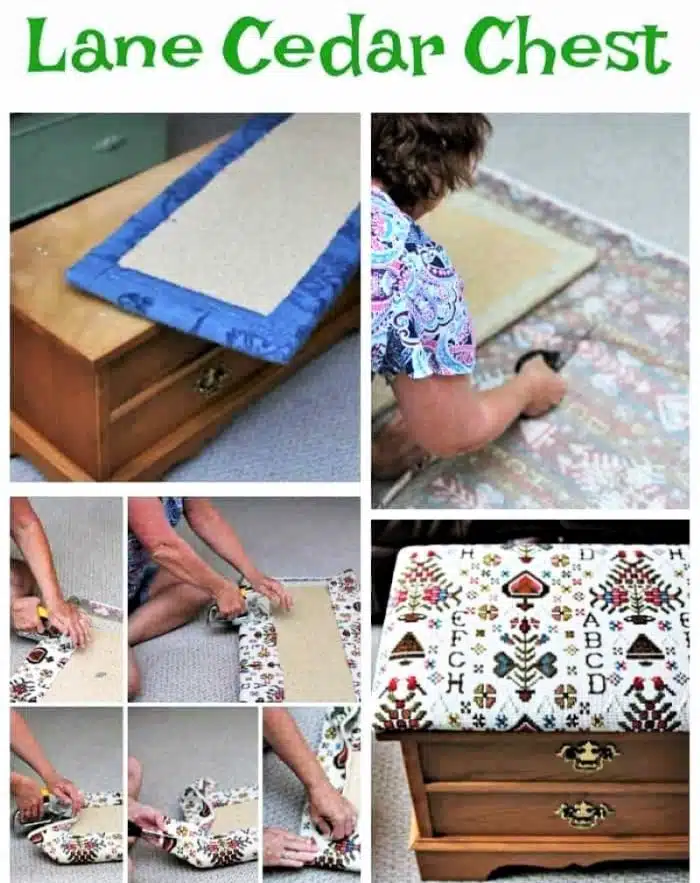 The process for painting stools, cedar chests, benches, etc., and re-covering with new fabric is basically the same as a dining chair makeover. Take a look at this project... How To Re-Cover A Lane Cedar Chest Seat With New Fabric
21 Chair Makeovers
That's it for the chair makeovers. Which one was your favorite? Do you have any color schemes or fabric ideas for me? Leave a note if you have time, and thanks for being here, Kathy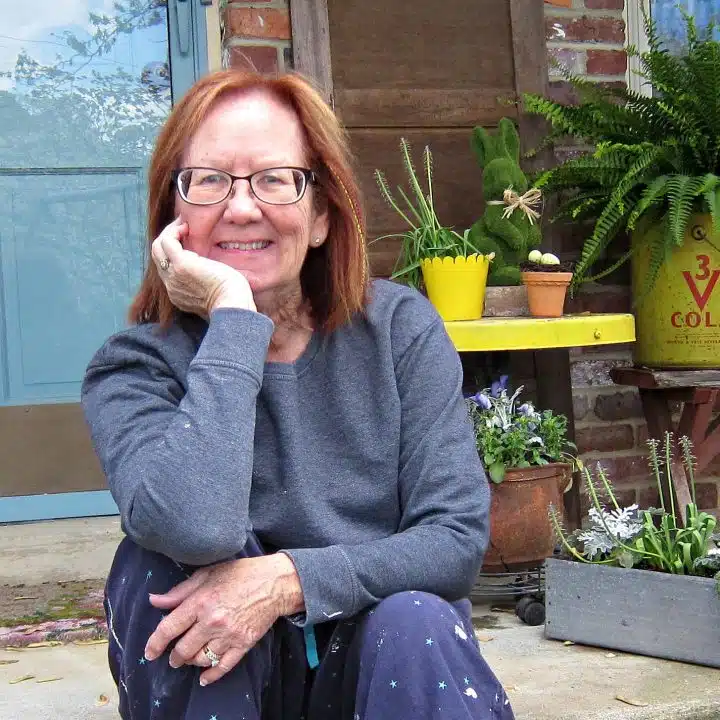 Author: Kathy Owen
Kathy Owen is the founder of the home decor blog Petticoat Junktion where she shares tutorials on painting furniture and upcycling thrifty finds into unique home décor. Her DIY projects have been featured on the Home Depot Blog, Plaid Crafts, Behr Designer Series, and in numerous magazines. Kathy's newest website is HappyHomeDIY.com