Cover chair seats with drop cloths for an easy, stylish, and inexpensive update.
I love it when a project comes together as I envisioned. That doesn't always happen. The beautiful white chairs with the drop cloth seats make me smile.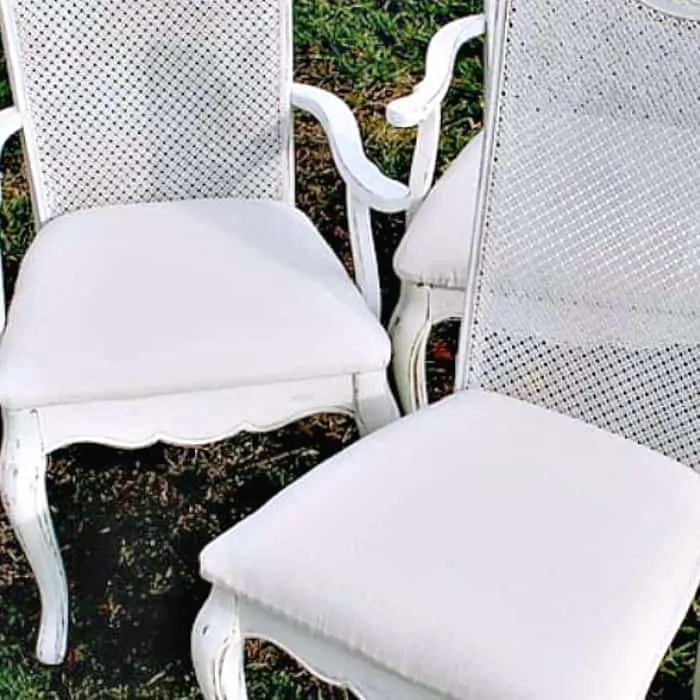 Painting a chair and recovering the fabric seat produces the most dramatic furniture transformation with the least amount of work than any other type of furniture makeover. At least that's my opinion.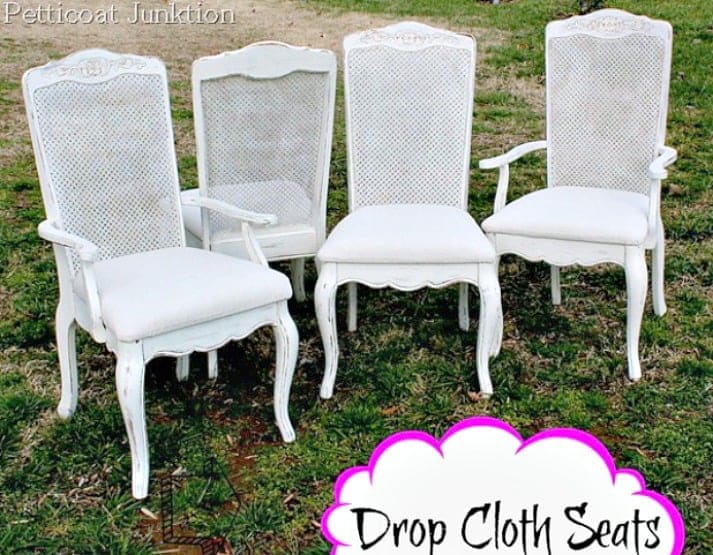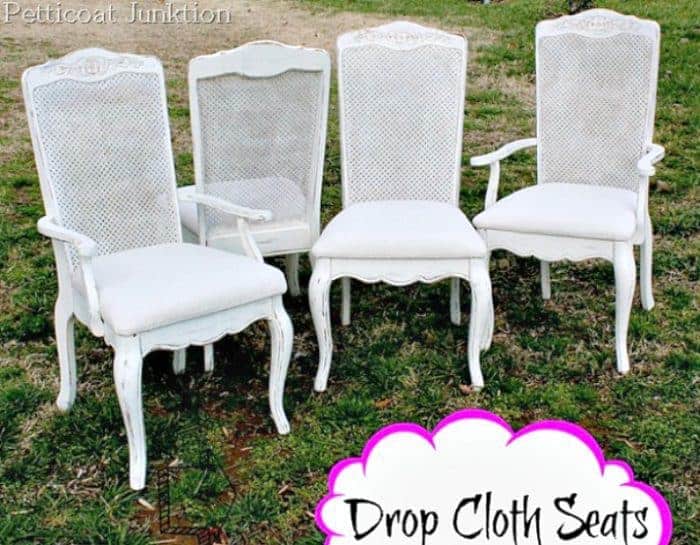 drop cloth DIY idea - cover chair seats
Nothing prettier than white distressed paint either. The chairs are gorgeous now but they sure didn't start out that way.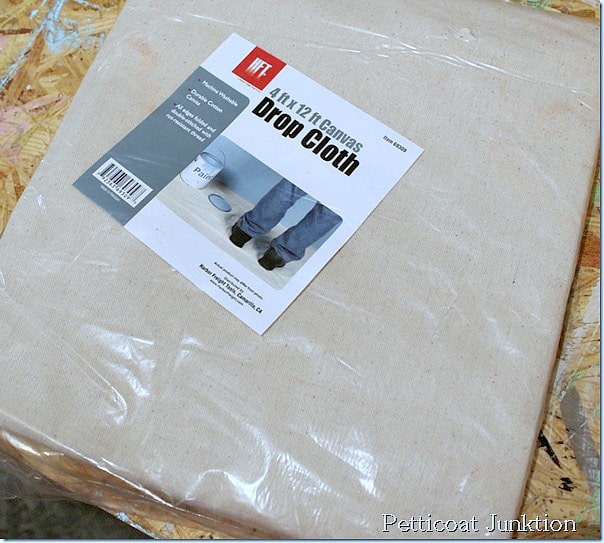 Drop cloths are inexpensive and this one was $6.99 at Harbor Freight. The size is 4'x12'. Plenty big enough for this project with some left over.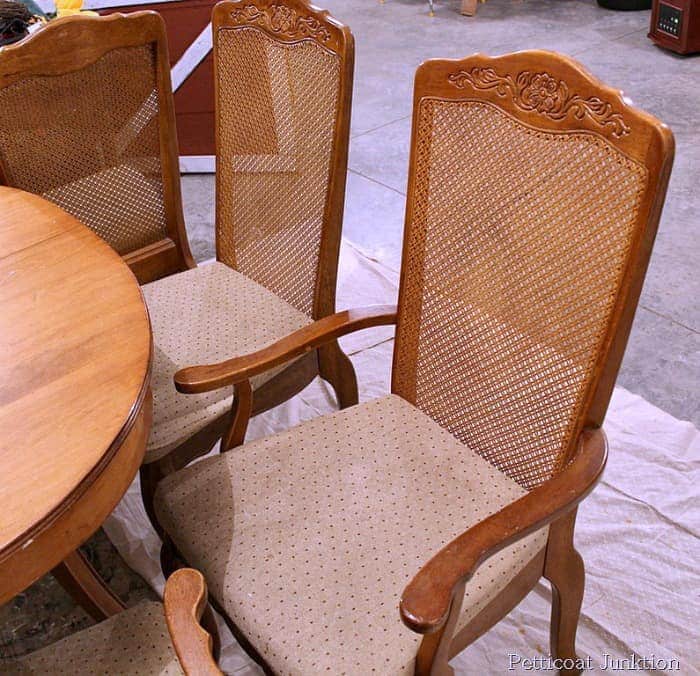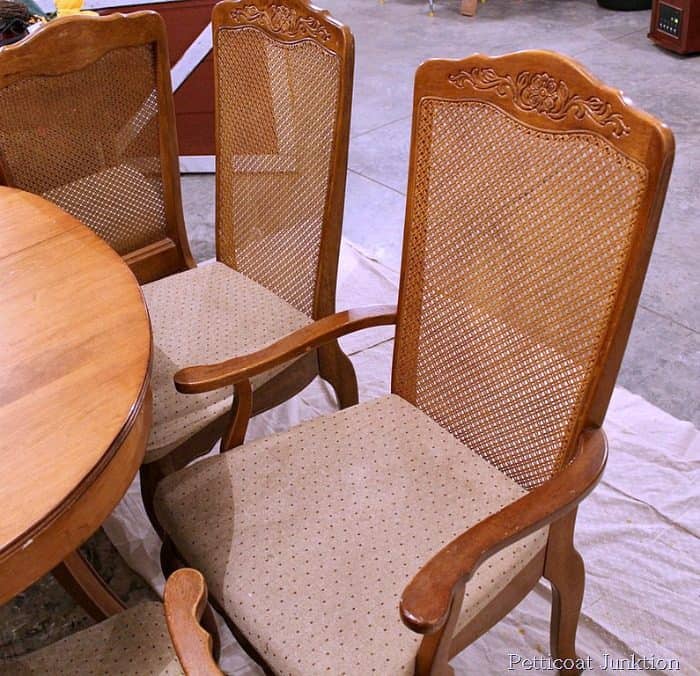 yucky chairs
The chairs were a thrifty find. I love this style of chair....when it is painted....not as it is now. The cane back looks so pretty with a little paint and distressing.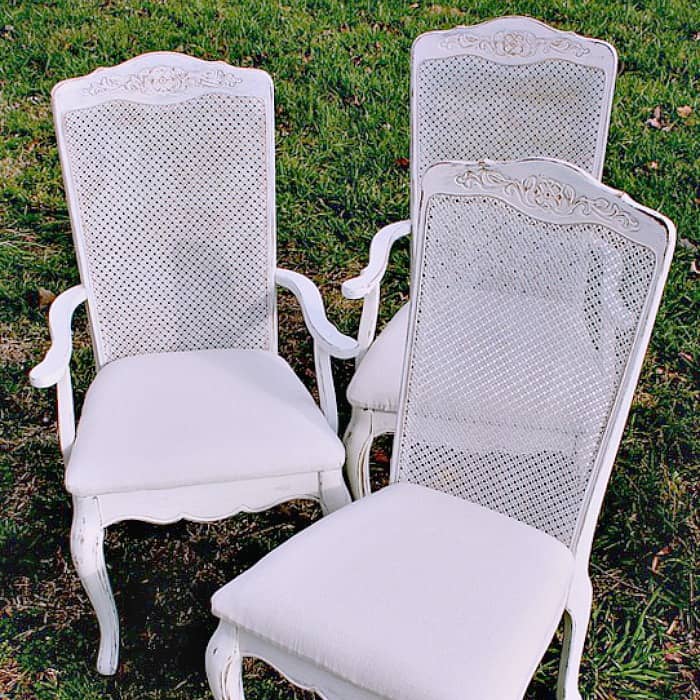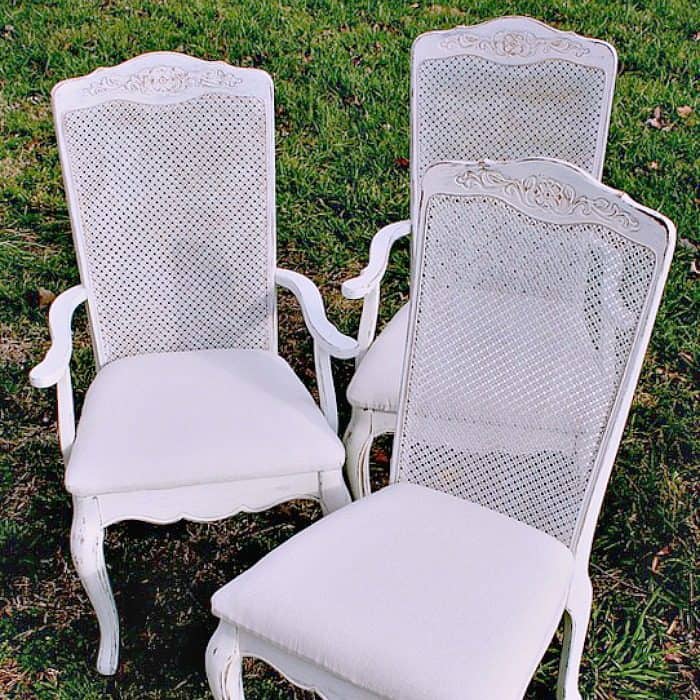 Don't look like the same chairs at all do they. Distressing painted furniture is a favorite technique of mine. I am knows as the "Queen of Distressing".
Just a few minutes with a piece of sandpaper adds character to a hum drum flat look paint job. I distressed the chairs by hand using 100 grit sandpaper.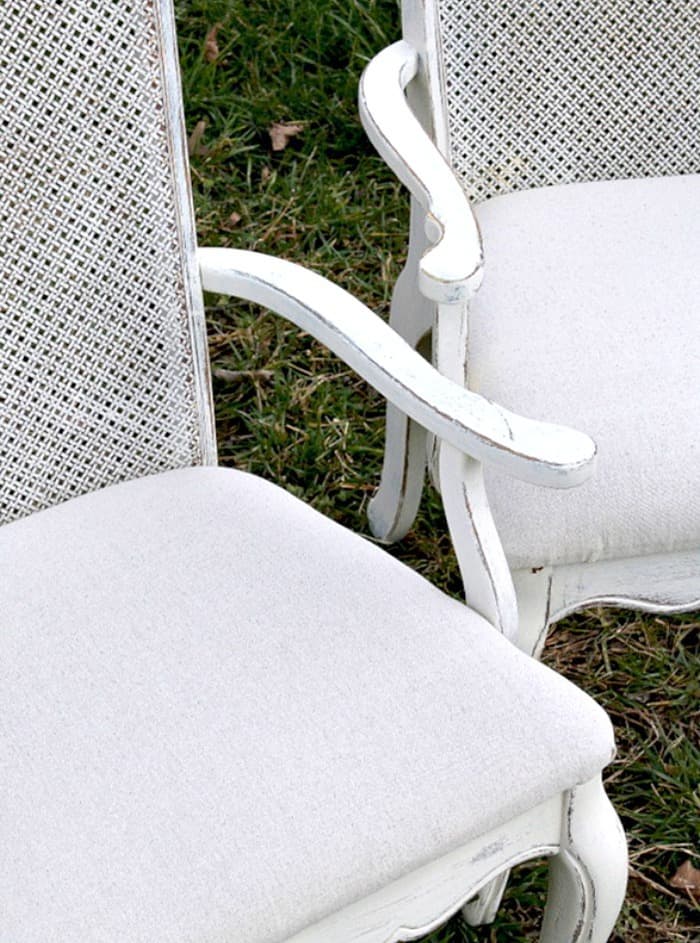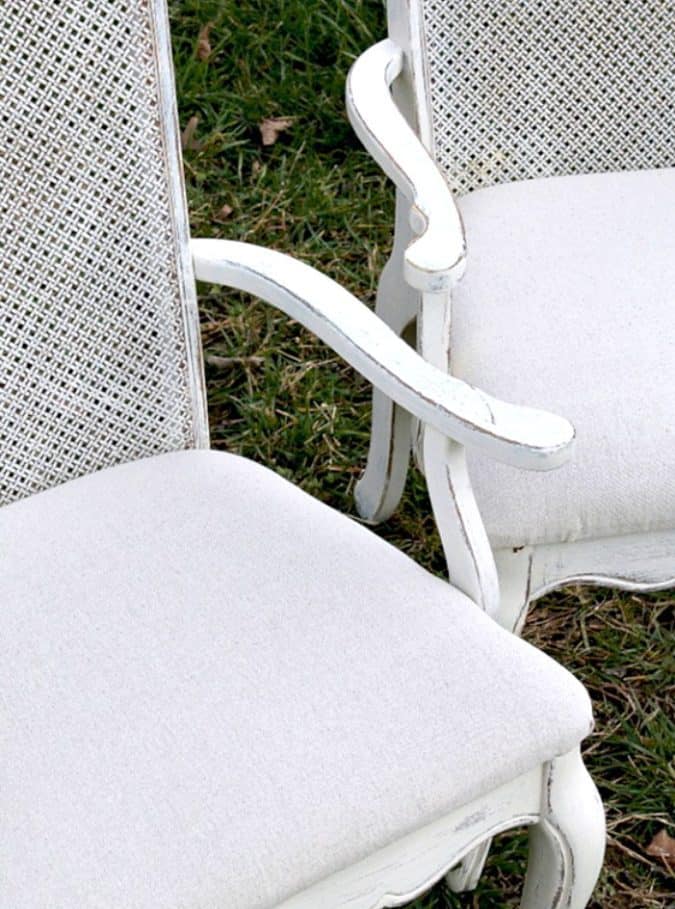 Beyond Paint in Off-White was my paint choice for this project. The paint is a 3 in one product, primer, paint and sealer. The neutral color drop cloth looks great with off-white paint, or with any paint. Very durable too.
Can you believe these are the same chairs? See what I mean about dramatic results with just a little work. This project didn't take any time at all to complete. You can find another of my drop cloth seat projects here and it's a doozy.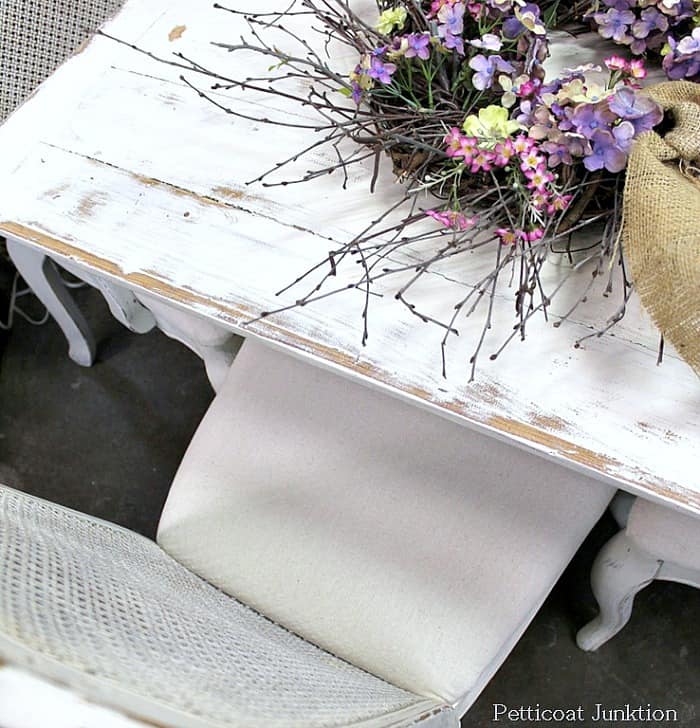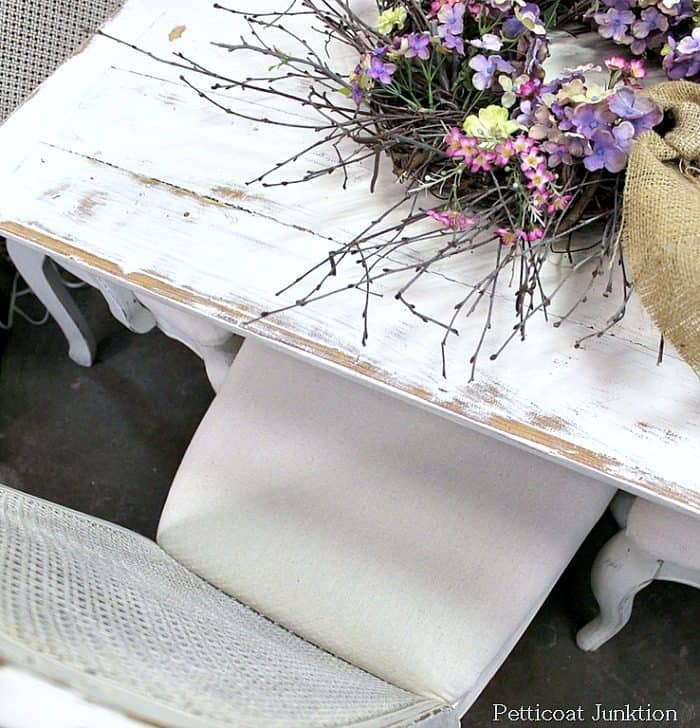 I paired the chairs with the Up-Cycled Table I painted a couple of weeks ago.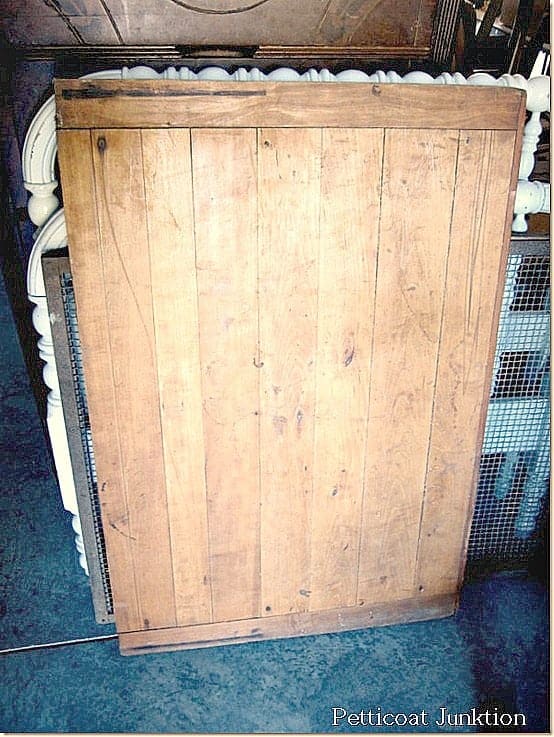 The table is one the JTS put together for me from reclaimed parts.
I bought the countertop or table top or whatever from the Nashville Flea Market a few months ago. I knew I would find a base for it eventually.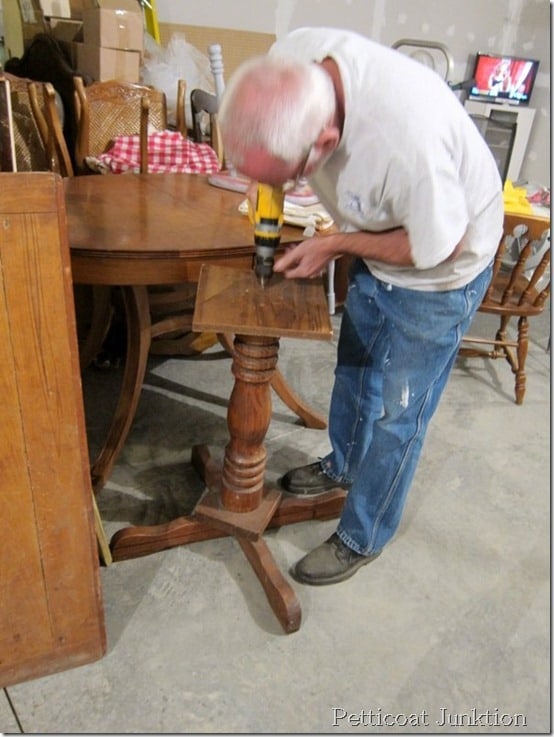 And I did. The table base came from My Favorite Junk Shop. I kind of thought it would be a good match for the top stored in the workshop. The little board at the top of the base is for stability. It was a lot on the warped side.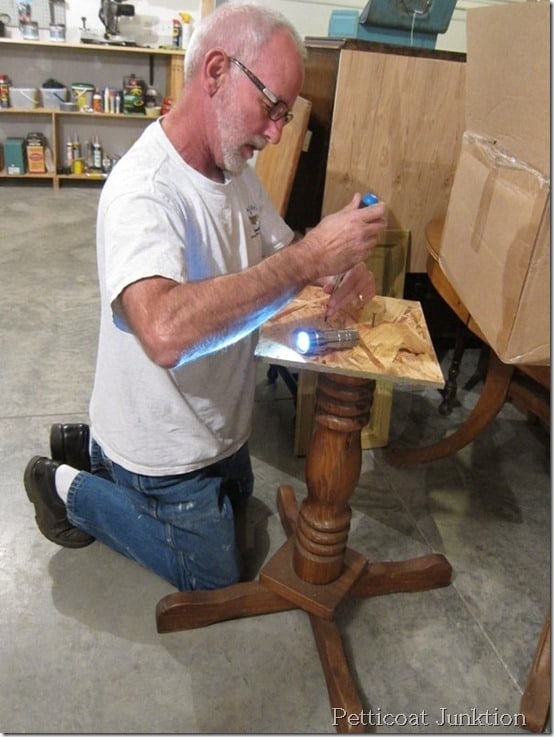 The JTS cut a new board to replace the warped one.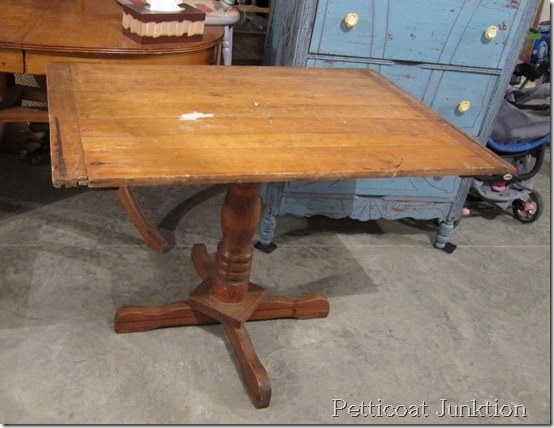 All put together and ready to be painted. Someone had to putty a hole in the tabletop…….um, just a little off on the first drill.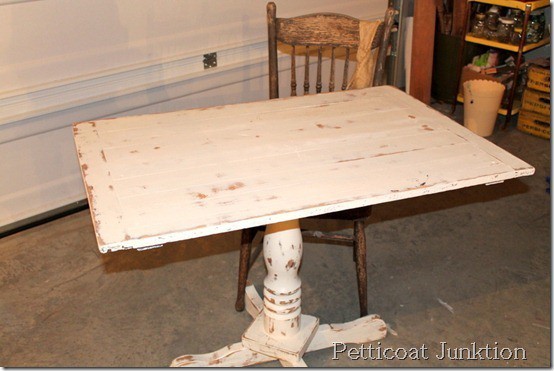 I painted the table to go with the newly painted chairs with the drop cloth seats. They are perfect together! I distressed the table using an electric sander. I went to town with that thing. I love distressed paint!
I took the table and chairs to my booth yesterday.Hope they sell fast.
Want to know how to update a bunch of home decor items at once? Gather all the items you want painted the same color an go for it. Here's a video showing you how....
Paint And Distress Home Decor - Big Time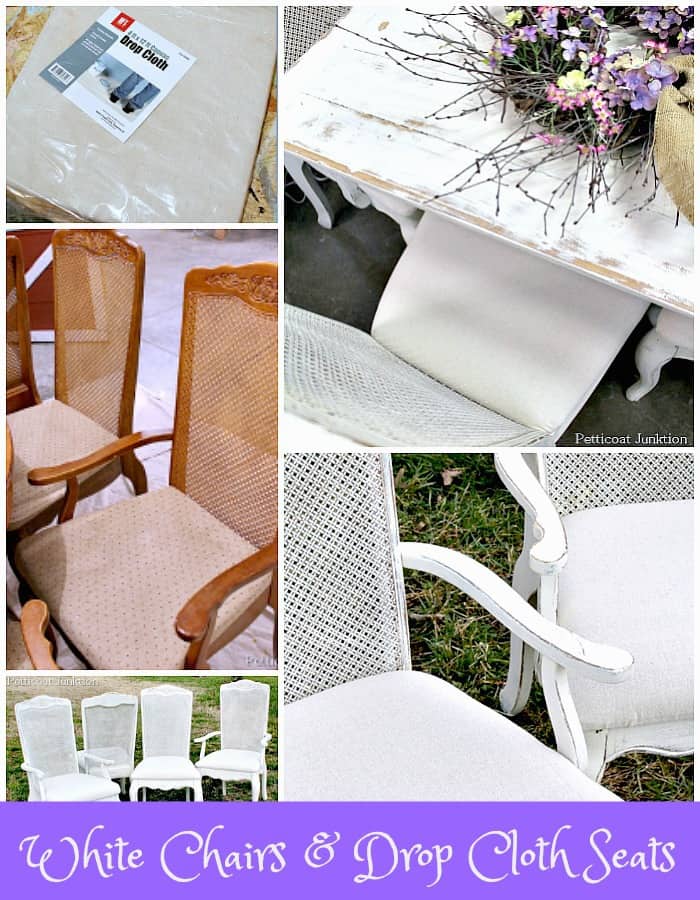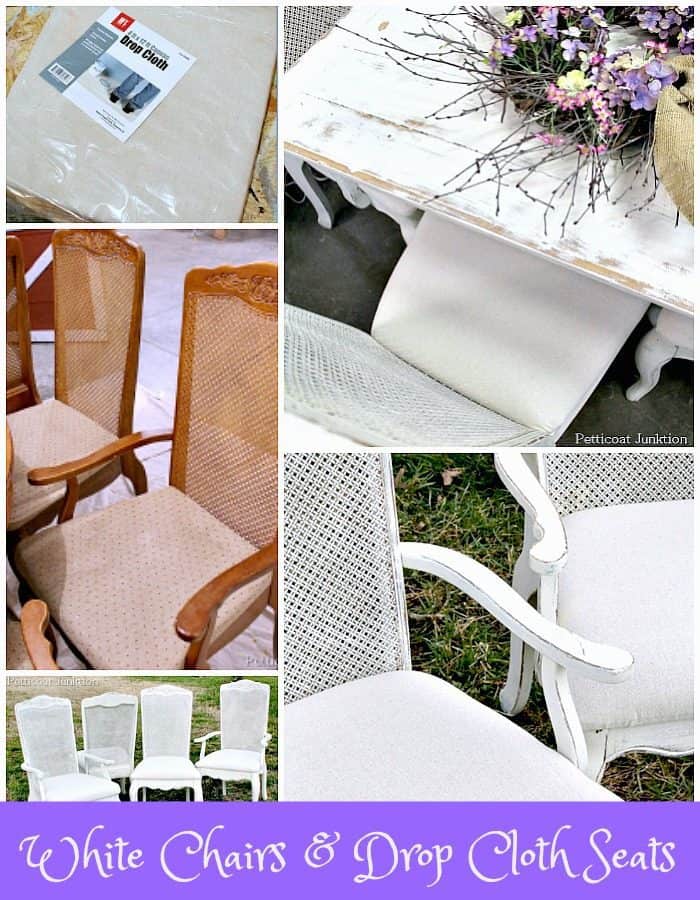 Easy Drop Cloth DIY Idea For Covering Fabric Chair Seats
I keep pinning drop cloth projects and some of them are really cool. This is my first. I'm definitely going to use drop cloths again in a diy project. Maybe as curtains?
Thanks for stopping by and have a great day! Kathy
Author: Kathy Owen (Petticoat Junktion)
Kathy is the founder of PetticoatJunktion.com, a home décor blog focused on repurposing and upcycling furniture, old hardware, rusty stuff, and thrifty finds into unique home décor. Kathy's projects have been featured on the Home Depot Blog, Plaid Crafts, Behr Designer Series, and in numerous magazines. Read more about Kathy here.