We had to replace the wood stool seat on my latest project. I didn't know the padded seat was covering rotten wood. You can't see that stuff by just looking but you know something is wrong as soon as you sit down. This project took a took a little more that just paint and new fabric. Time for a new wood seat.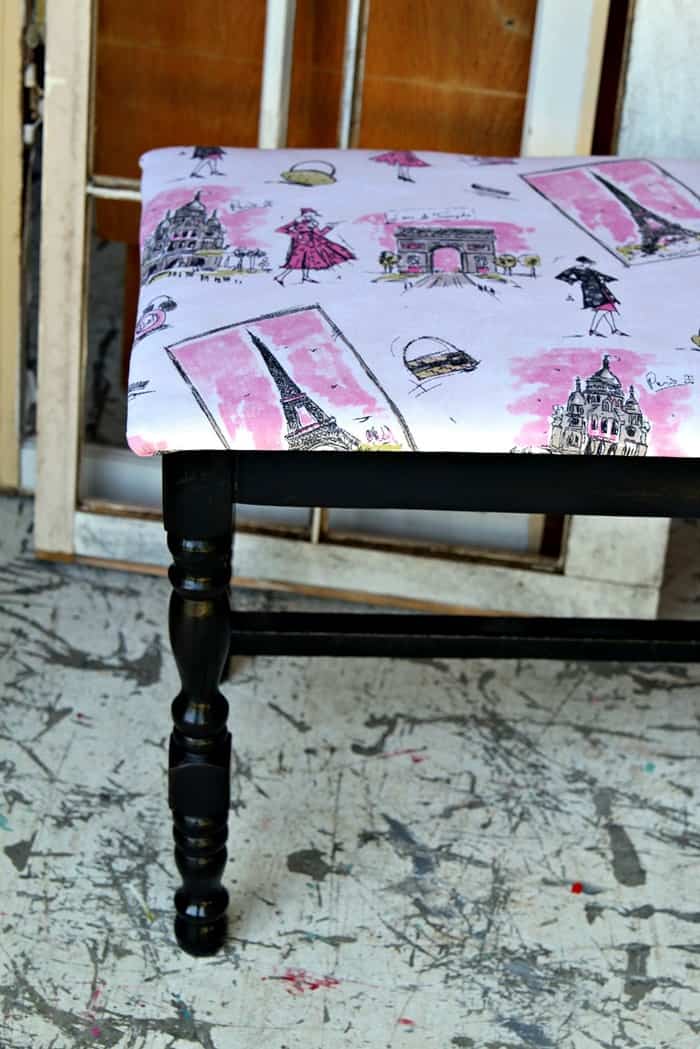 Padded Seat With Paris Themed Fabric
The paint job was easy. Just a 5 minutes of paint spraying and it was done.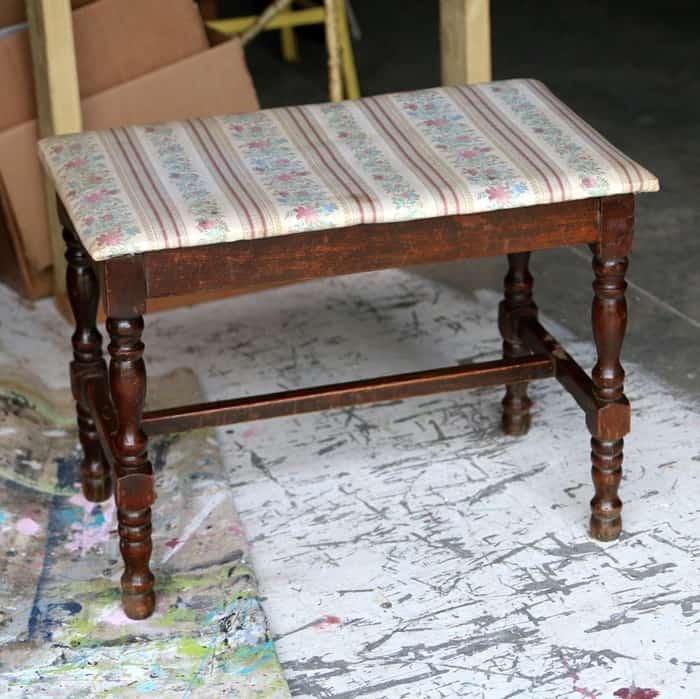 The stool was a freebie and as you can see it definitely needed a makeover.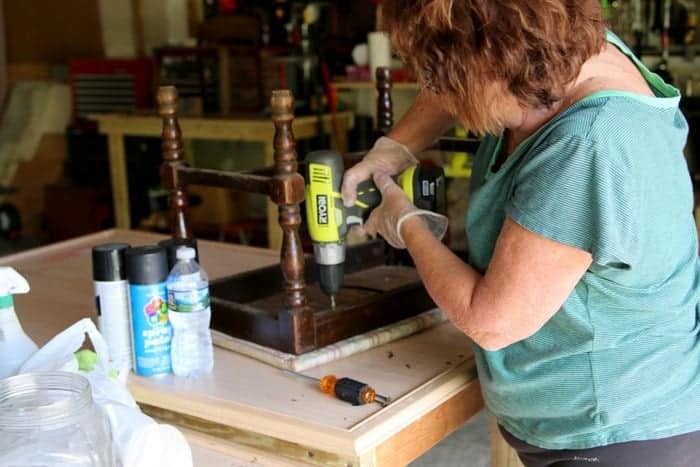 The first thing to do is remove the padded seat. You can use either a screwdriver or and electric drill. When I first started painting furniture and putting little craft projects together the only power tool I had was a drill. Since the JTS retired and we do more in depth projects now we have a variety of power tools. The drill is still my favorite although my electric sander is a close second.
The padded seats on chairs, benches, etc., are usually attached by screws to the furniture. Just flip the piece over and remove the screws.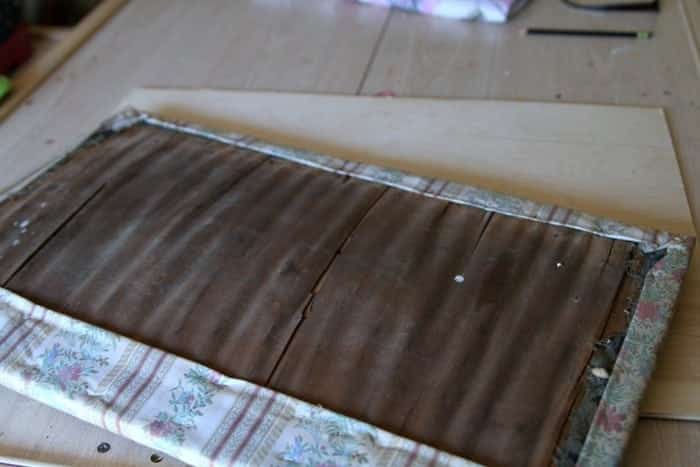 We can see why I almost fell through the seat. The wood is split and soft, very soft.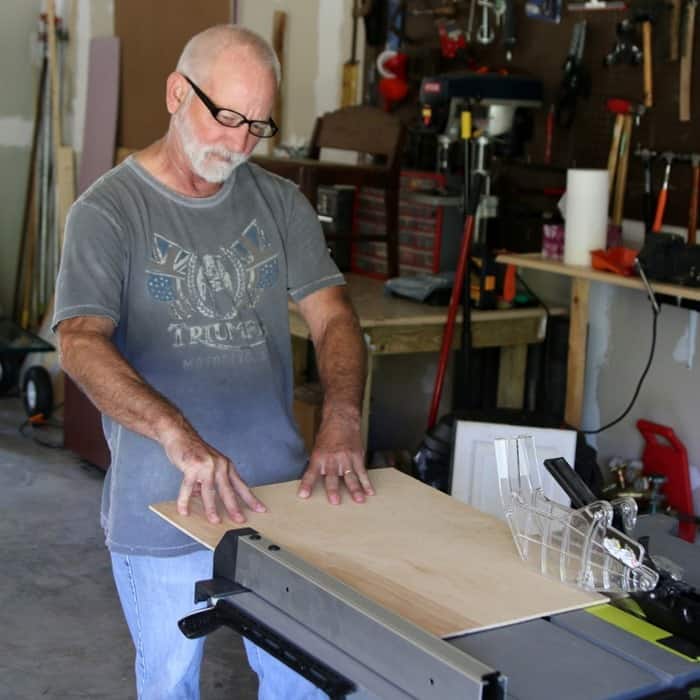 I found a piece of luan in the wood stash and the JTS measured and cut a new seat using the table saw. Luan is not as strong as plywood but is perfect for this job. We also use Luan to replace the backs on furniture or just add a back to some pieces. You would be surprised at the number of pieces with missing backs.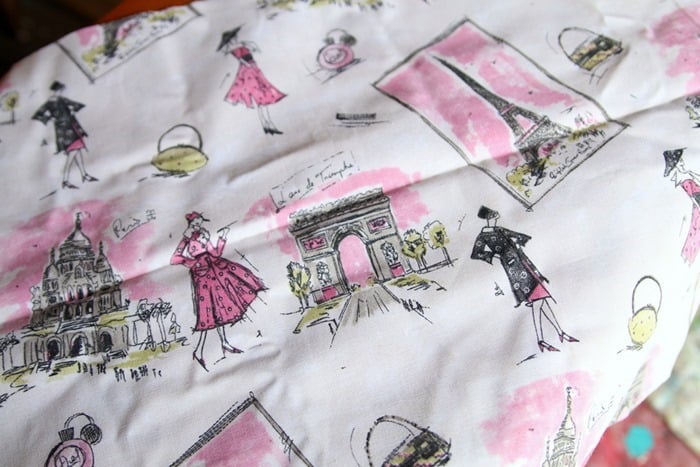 The Paris themed fabric I selected for the new seat cover is one I've used on several projects. I like the pink and black color combination.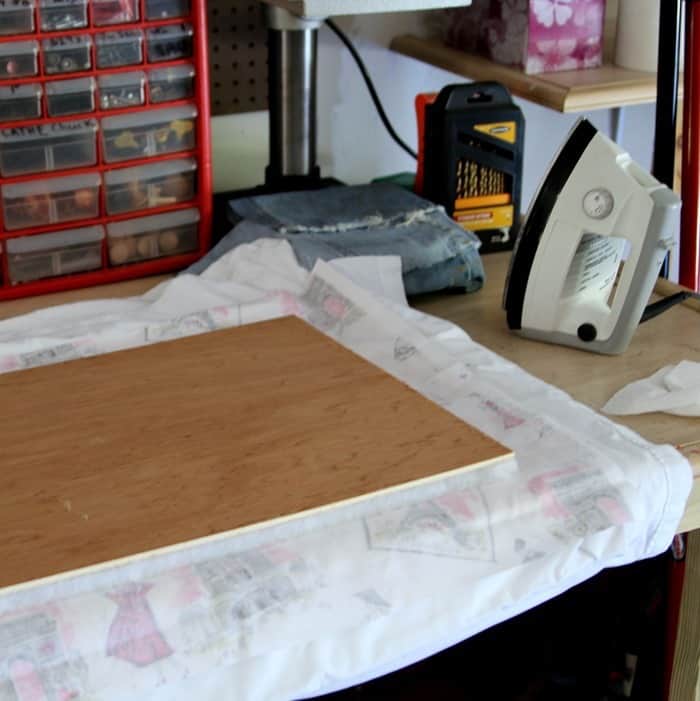 I found a bag or roll of polyester filler hiding at the back of a storage shelf. It is pretty darn thin but I used it anyway. That heavy duty foam is really expensive so I didn't run to the store to buy some. The JTS just bought a small-medium size block of foam at an auction but this project was already wrapped up. I cut everything to size and ironed the wrinkled fabric.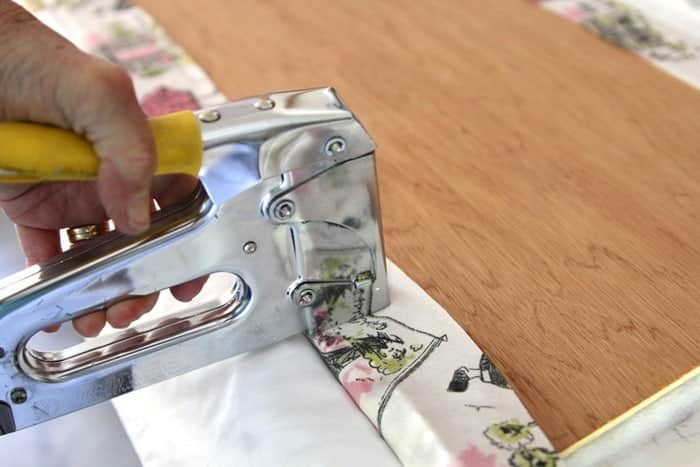 Then I started stapling. I won't go into the details, I think you guys have this down. If not you can find how to recover a padded seat here.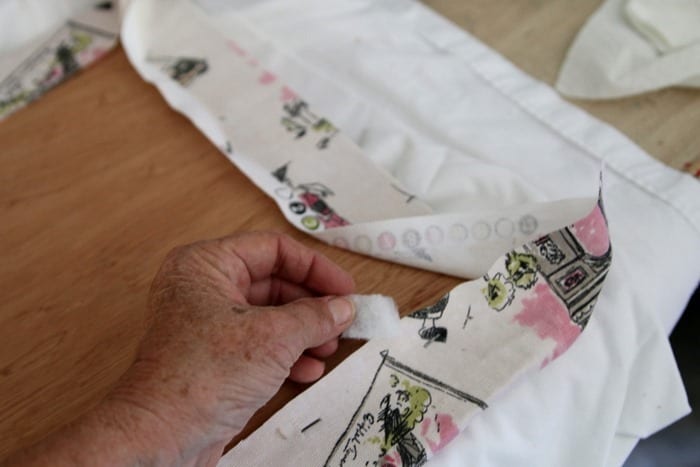 I sanded the corners of the luan to round them a little then added extra padding around the each corner. Don't want the wood to rub through the fabric cover.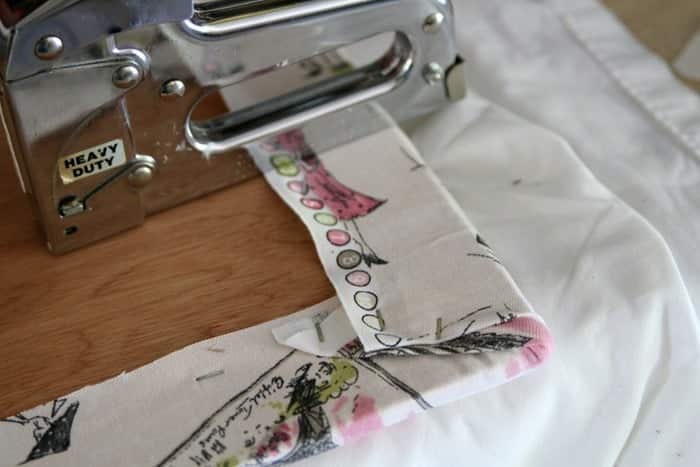 Getting the corners nice and smooth and wrinkle free is the only difficult part of any seat re-cover job. All it takes is a little time and working the fabric to get a nice corner.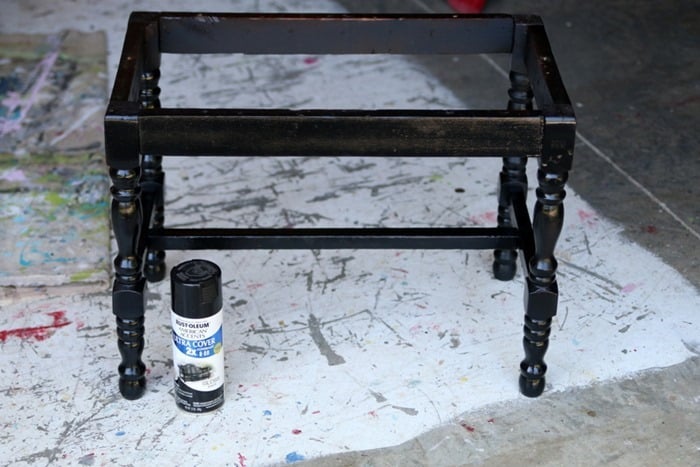 The curvy legs called for spray paint. I choose Rustoleum Gloss Black to highlight the pink and black fabric. I like using spray paint for very small pieces of furniture that might be difficult to brush paint.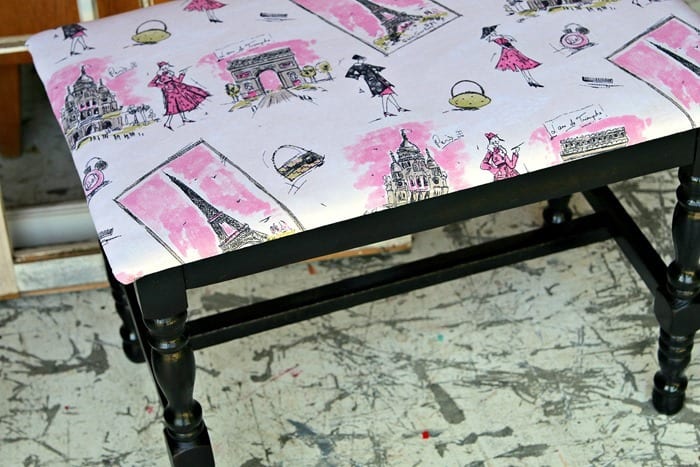 I put the new padded top on the stool an called it good. No distressing for the paint.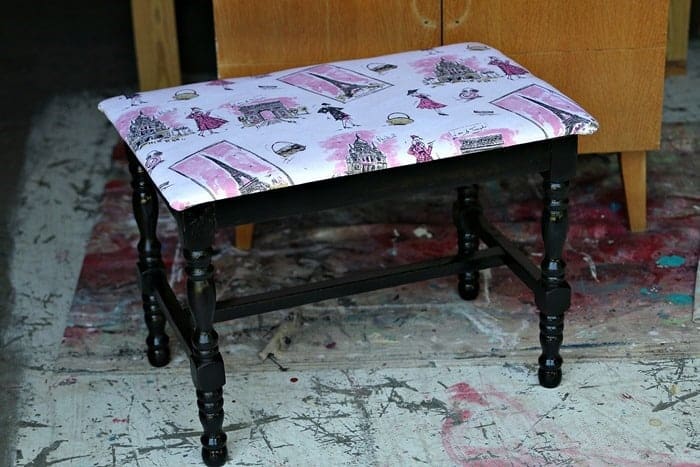 The stool is cute as pie but would have been better with thicker foam padding.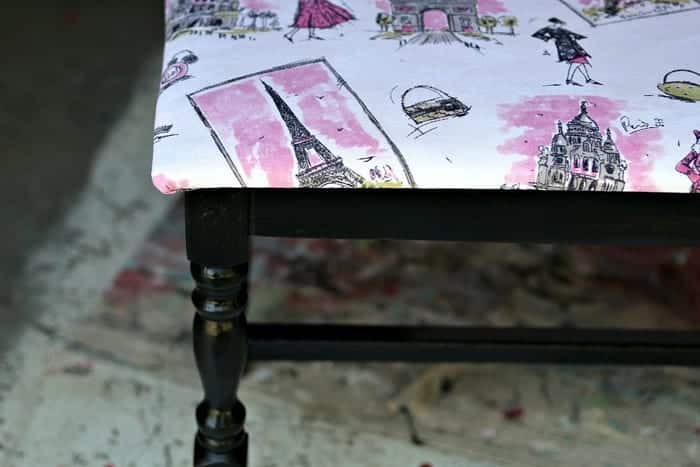 I've recovered and remade a bunch of chair/bench seats. You might be surprised at things I repurpose as a seat cover. Click the photos and check out the projects below.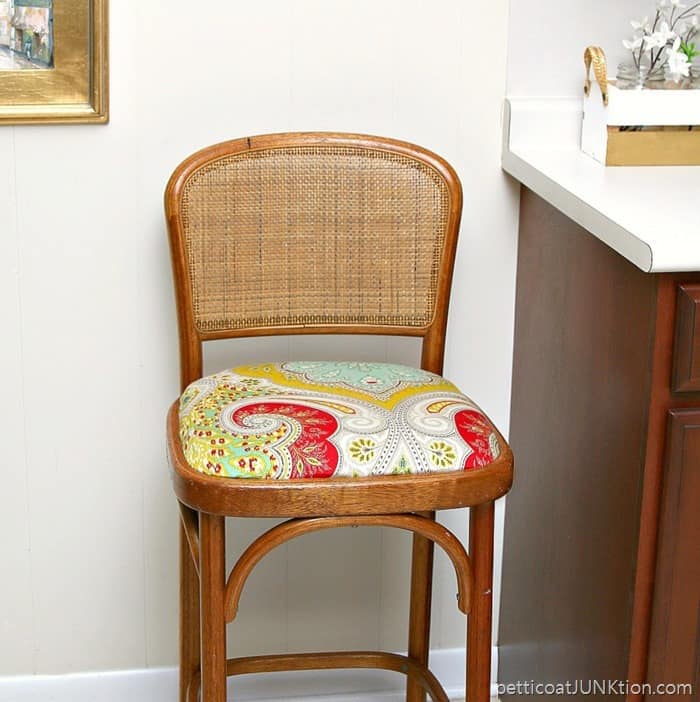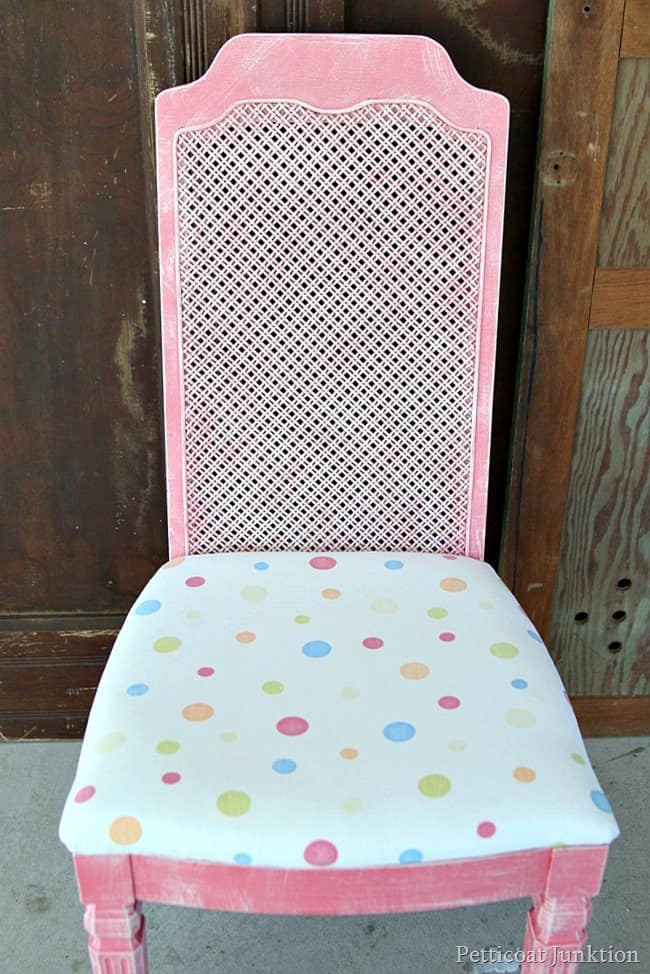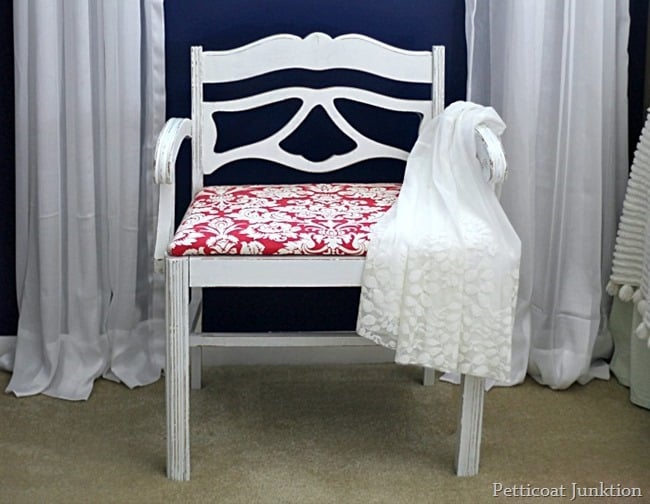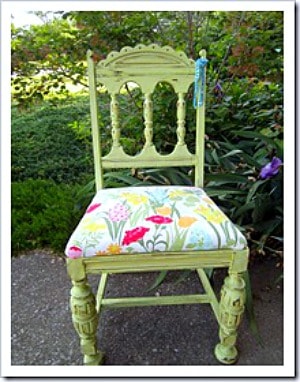 Hope you enjoyed this post. Thanks for being here and I'll see you tomorrow. Kathy
Author: Kathy Owen (Petticoat Junktion)
Kathy is the founder of PetticoatJunktion.com, a home décor blog focused on repurposing and upcycling furniture, old hardware, rusty stuff, and thrifty finds into unique home décor. Kathy's projects have been featured on the Home Depot Blog, Plaid Crafts, Behr Designer Series, and in numerous magazines. Read more about Kathy here.